If you buy through links on our site, we may earn an affiliate commission at no additional cost to you. Thanks for your support!
Hikers of all experience levels can often underestimate the effect of hot weather. Many see a warm sunny day and think it's the perfect time to go hiking, while others will consider hiking while on vacation in places with extraordinarily warm climates. Both can result in being overwhelmed or held back by hiking clothes not meant for warm weather.
There are tons of options worth picking up if you don't know what to wear hiking in hot weather, many of which give you massive comfort in the face of everything the heat brings. If you plan on going on some summer hiking but think your gear might be too thick or heavy, these are a few guidelines for what makes clothes great for hiking in hot weather and a few suggestions to keep an eye out for.
Hot Weather Hiking Tops
Your top is easily the most important piece of hiking clothing in hot weather, including what you wear as a shirt or jacket over your torso. Your upper body is where you're going to get a lot of sweat, meaning you want something breathable that's ready for your body heat to increase wildly. At the same time, you don't necessarily want something too revealing, as warm hikes with intense sunlight will also provide risks to your skin.
That said, make sure you also keep in mind what type of heat you're going to be hiking in for each of these. Some tops might be better at handling your body heat, but others can be more absorbent to humid environments, while others can't keep you refreshed in dry heats. Nonetheless, so long as you have something extra breathable, it'll be much easier to keep going while also having to carry your backpack.
Pros
Excellent UV ray protection
Extremely breathable fabric
Hood and facemask
Cons
Slightly unconventional appearance
Thumbless holes sometimes uncomfortable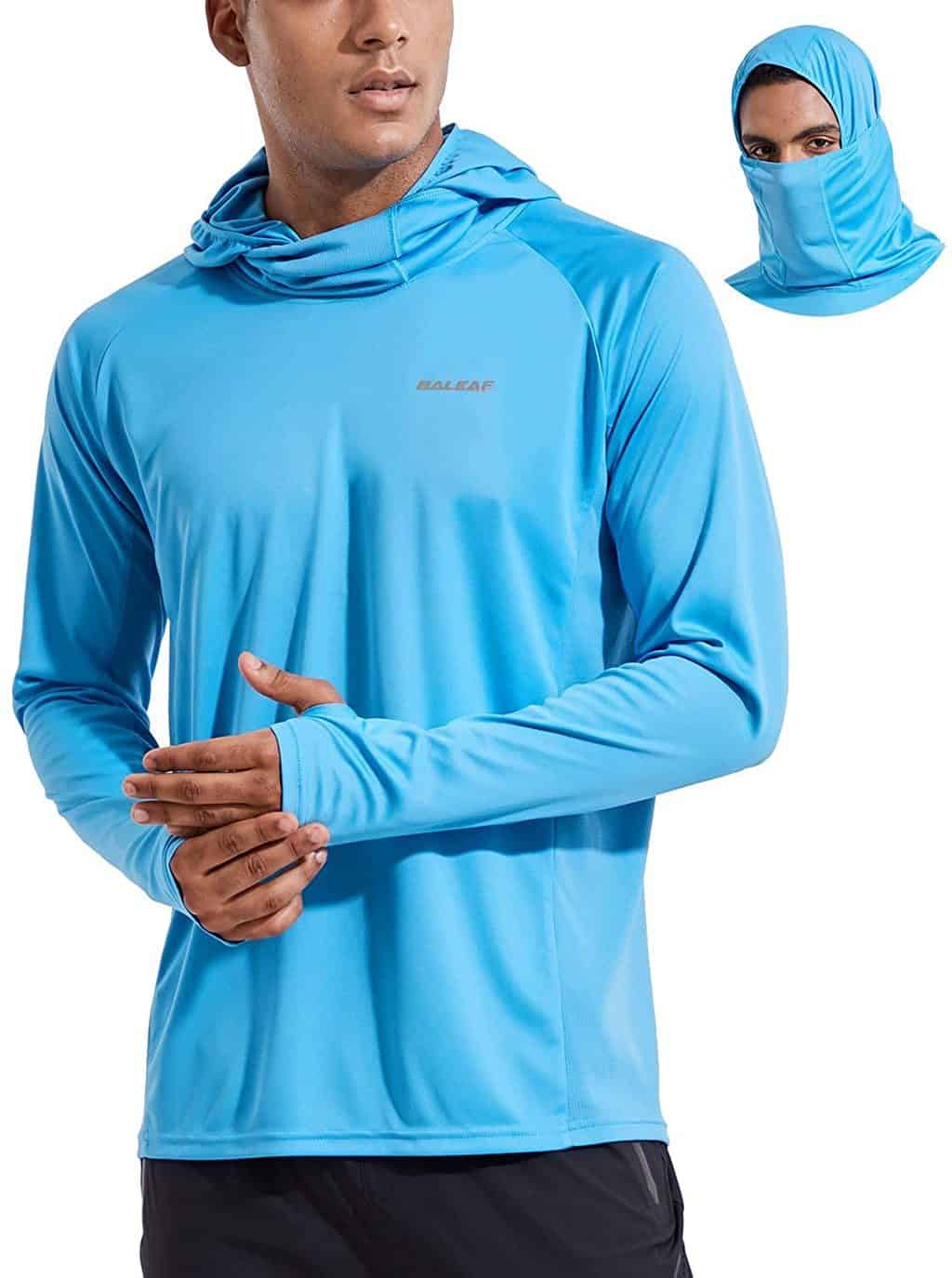 As mentioned, handling sunlight is an important aspect of a hiking top, and you must look into tops that cover more skin with a breathable material to handle your body heat and movement. Buying a long-sleeve shirt for warm weather is not always something you'll reflexively purchase, but they're often worth the cost.
BALEAF products do this perfectly, with this particular option providing a remarkably thin material that even comes with a hood for those concerned about their face when hikes go longer than expected. It's especially great for trail runners and speed hikers who are going fast, but it's a wonderful option for a summer hiking shirt that provides a special degree of solar protection.
Pros
Thin and airy moisture sensing material
Built-in UV protection
Affordable pricing
Cons
Poor skin coverage
Sizing can be somewhat baggy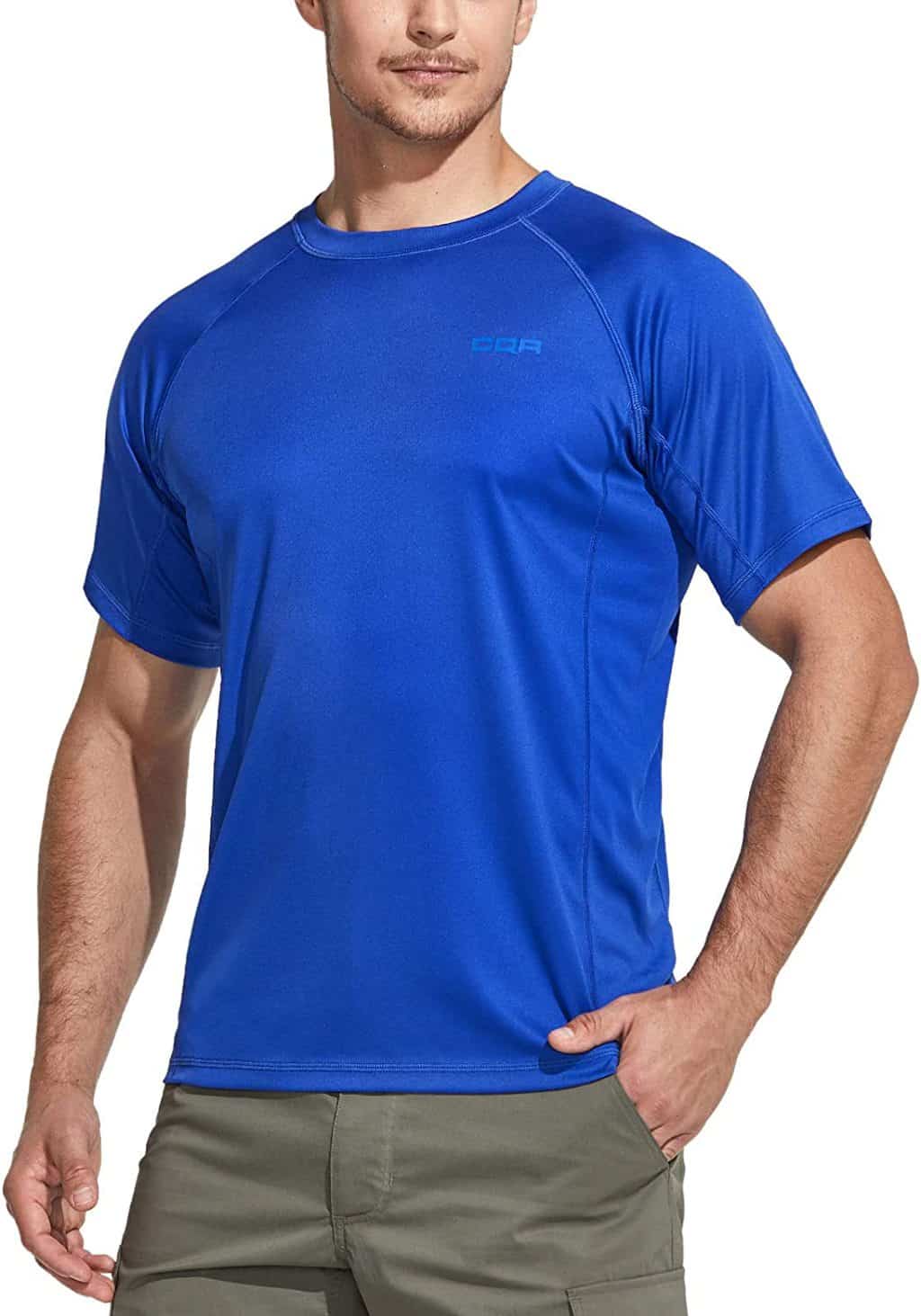 The main reason to go after this particular shirt over the BALEAF option is if you don't appreciate the full coverage. Those who run especially warm may find the long-sleeve options extremely unpleasant, and thankfully there are tons of brands like CQR making clothes that give UV protection to a smaller area.
This might seem pointless given that sun protection should be able to cover as much skin as possible, but this also means you can apply less sunscreen than usual and have better coverage over skin that's also likely to be carrying your backpack. It helps absorb heat at one of the warmest points of your body.
Pros
Pro
Much more stylish and form-fitting
Cons
Less certain sizing risks
Thumbless holes sometimes uncomfortable
Oddly enough, women often have much better products than men in terms of warm weather hiking, but that doesn't mean just anything will work. It can be easy to use most tank tops or tighter workout clothes for warm weather hiking, but it's just as important for women as men to choose a wardrobe that suits the environment.
HMILES's Women's Athletic Hoodie is similar to the BALEAF product mentioned earlier, but this time is a lot more slick and stylish and even features some convenient zip-up pockets. The sizing can be somewhat strange because non-male bodies can often have more variance, but this type of shirt is recommended for anyone, and finding a shirt similar to this is great for hikers of any gender.
Hot Weather Clothing Bottoms
Bottoms can vary just as much as tops, but since they often get less direct sunlight, they don't need as much consideration for UV protection as tops generally should. Instead, look at shorts for how well they can provide storage, as many warm weather hikers may not want to bring a backpack full of supplies on short hikes where they can easily return to their campsite.
As a result, hiking shorts end up being superior to thin leggings, but you don't necessarily want something too baggy or uncomfortable that'll cause chaffing or discomfort when worn through during a long hike. As a result, some specific pairs of shorts are great starting points to guide you towards a better hot weather hiking shorts option.
Pros
Tight and comfortable fit
Convenient pocket placement and variety
Excellent rare below-knee length
Cons
All zippers are bright green
Thick and less-stretchable material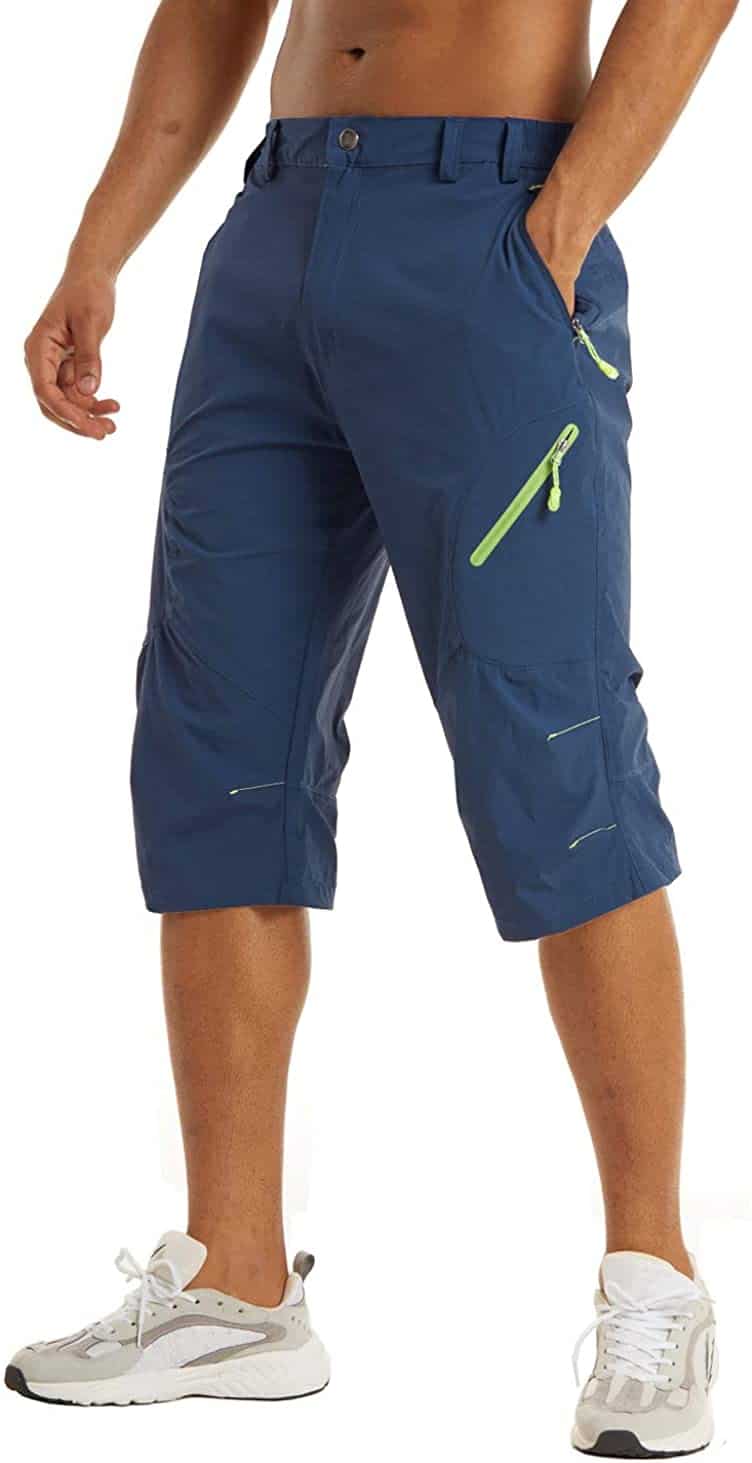 You might not think of capris as ideal hiking shorts, but LACSINMO has a great selection that's worth the cost given the degree of safety and utility they provide without a bulky appearance. These nylon and spandex shorts have a wide set of pockets and manage to go below your knees, which gives you better protection when falling than most shorts tend to be.
It also comes with several convenient zippers and buttons that don't go outward, meaning you can have a fairly compact pair of shorts instead of the more traditional baggy cargo shorts that some hikers often regret over time. That said, while appearances don't always matter, keep in mind that these shorts have green zippers regardless of the fabric color you choose, which can make for an odd burst of color in your outfit during daylight hiking.
Pros
Great UV protection
Durable and stretchable material
Deep internal pockets
Cons
Baggy exterior pockets
Shorter length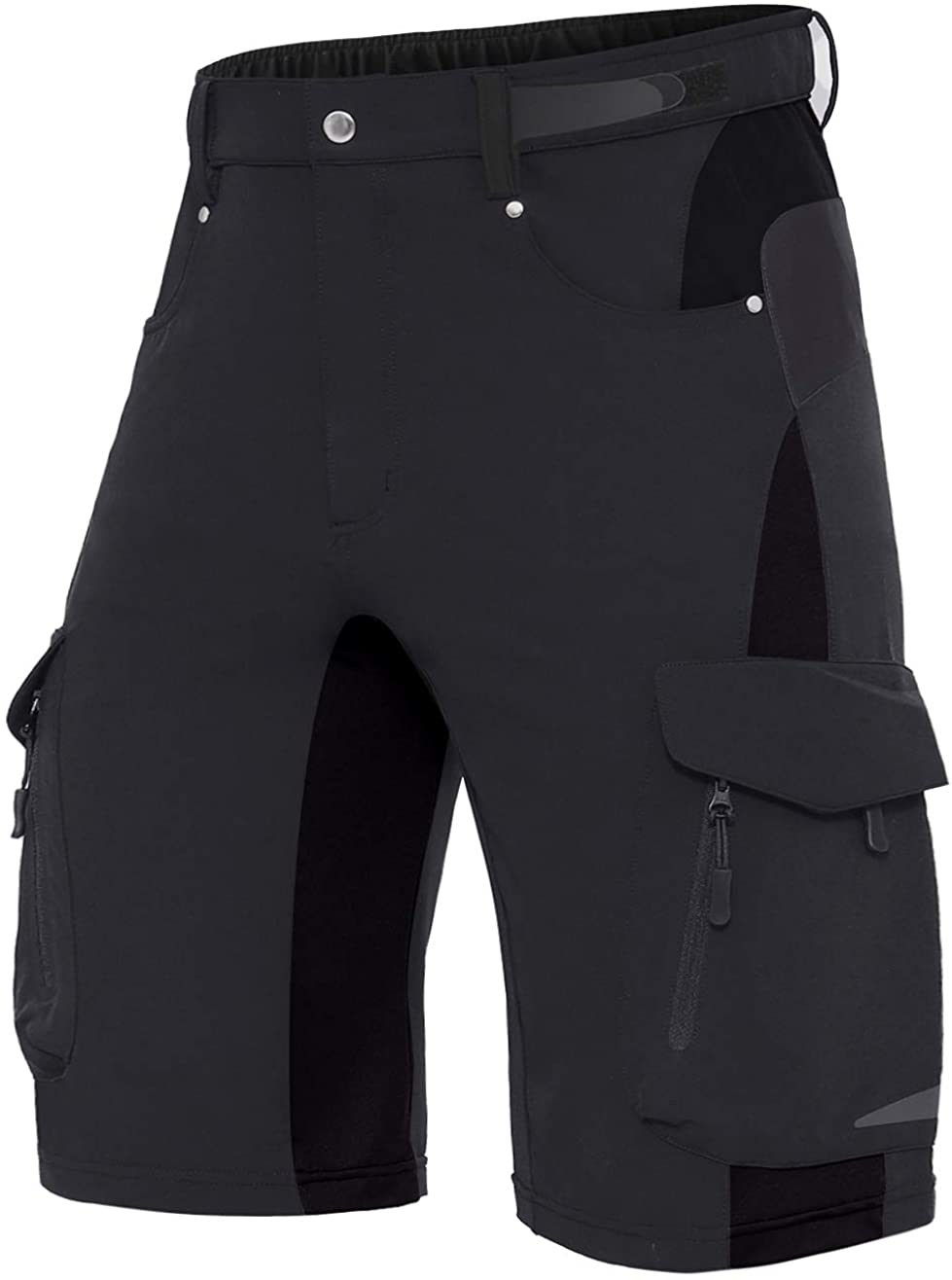 Rather than the LACSINMO offering mentioned a moment ago, XKTTAC has a much more breathable option that feels like an upgraded version of the classic cargo shorts. These shorts have a tighter fit that makes it more comfortable to walk in with great UV protection and a wide set of interior and exterior pockets.
The exterior pockets are certainly large, but it's worth noting that they do go quite a bit out from the rest of the shorts. It's not necessarily great to carry heavy things in these as it can get quite uncomfortable fast, but it's a good way to hold onto anything smaller like a compass or snack when you don't want to bring a larger backpack or waist bag.
Hot Weather Hiking Footwear
It can be difficult to decide on the shoes you choose for hot weather hiking. Any pair of hiking shoes you go with needs a good mix of both safety and comfort, and many brands will typically offer this through thick shoes that essentially provide a thick layer. In warm weather, though, this can lead to a lot more sweating and discomfort as you're lifting heavier footwear.
Generally speaking, this is why you'll want to go with lighter shoes for your summer and hot weather hikes, as having something breathable becomes way more approachable. There are two usual ways you can go about this, and the two products listed below give good examples of each style of ideal hiking shoes for hot climates.
Pros
Traditional hiking shoe appearance
Wide and breathable vent
Comfortable interior
Cons
Slightly color-heavy appearance
Thin outer soles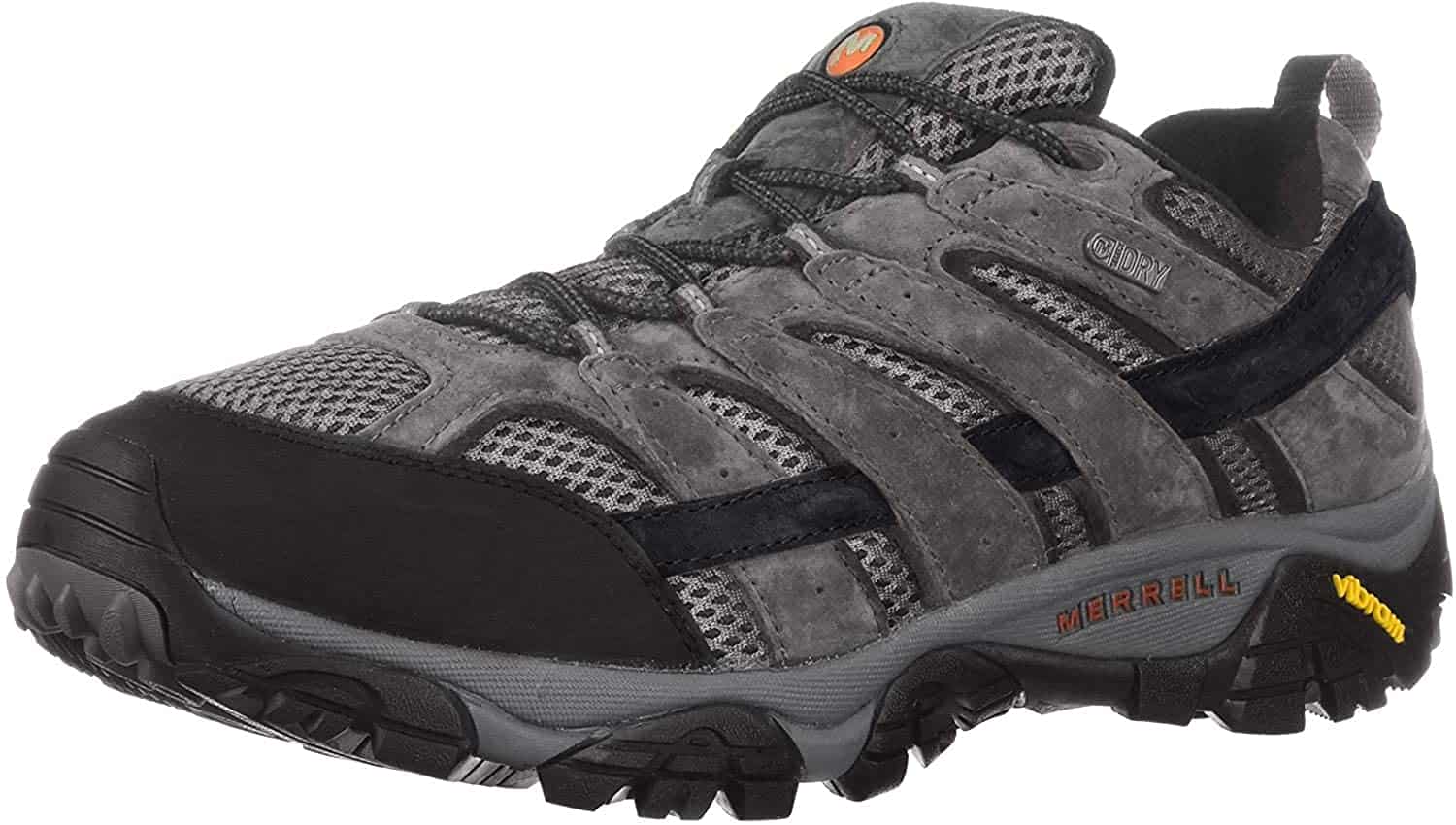 The first thing you can look for with hot weather hiking shoes is breathable versions of traditional hiking shoes. Many typical hiking boots are too heavy, but choosing something that goes below your ankle will often be made with lighter material since it doesn't need to support as much weight.
The Merrell Men's Moab shoe is a great example of this, having breathable strips of thin fabric to make sure your foot doesn't feel too enclosed and doesn't trap sweat. This model has some slightly less-than-ideal soles that aren't as rigid as many other types of hiking shoes, but it'll still provide far better grip than alternatives like trail runners.
Pros
Surprisingly lightweight
Smooth modern appearance
Comfy OrthoLite interior
Cons
Thin sole ridges
Little side-ankle support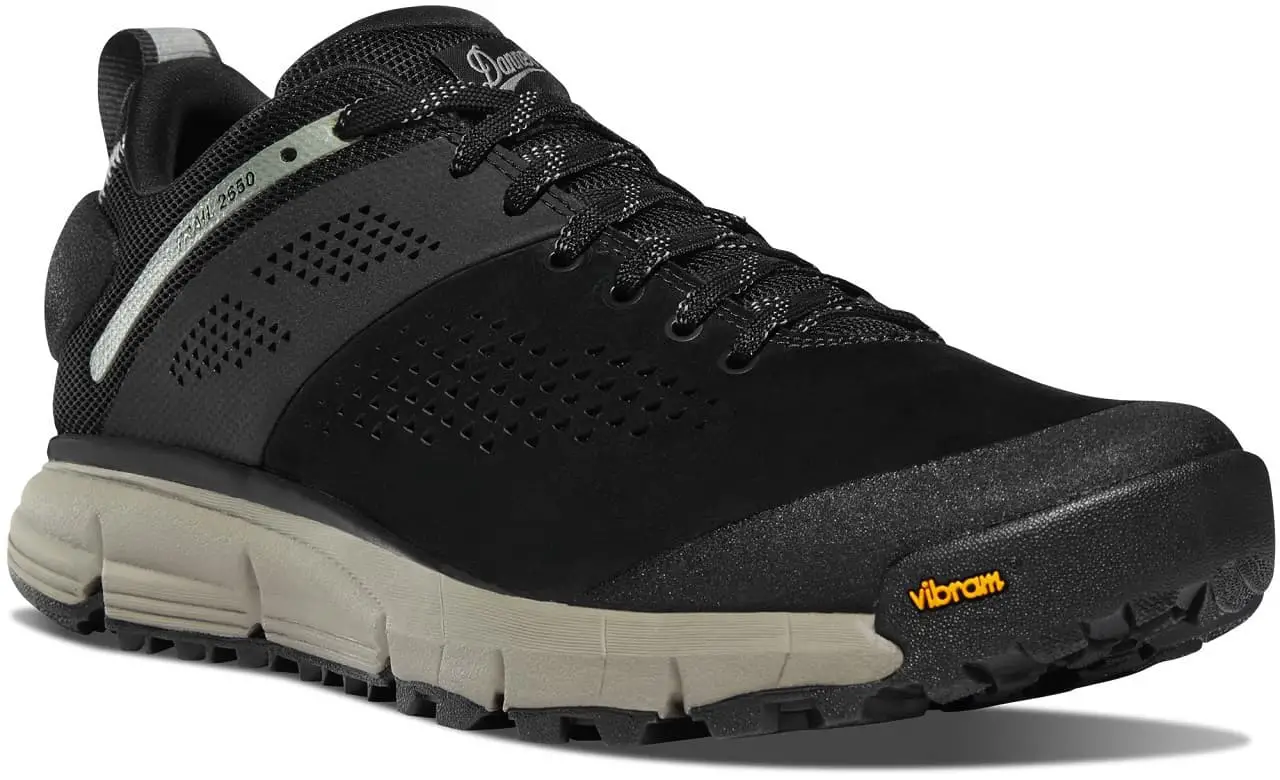 Speaking of a trail runner shoe, these often suit your hot weather hiking far more. Without worrying about resisting heavy weather conditions and with the exhaustion that comes with high heat, you'll want something inherently more lightweight that won't exhaust you to move or carry.
For those who wear women's sizes, the Danner Women's line is excellent. This product, in particular, is one of the more comfortable models that provides similar amounts of support to a hiking shoe but with the look and walking style of a trail runner. These types of shoes all usually lack thick ridges at the bottom to provide great traction, but unless you plan on hiking through extremely rough terrain, they should keep from any sudden terrain-based falls.
Hot Weather Hiking Accessories
The last products that to consider are accessories, as there are some additional things you may want to consider bringing on your warm-weather hikes. Having backpacks that can stay securely on your back while not feeling too thick or heavy is certainly important, but even more valuable is a pair of sunglasses that can help you keep ideal vision outside of any shade.
Generally speaking, these can vary wildly from person to person, as it's most important to find something that fits well and doesn't get in the way of your peripheral vision. So long as these qualities are satisfied, and they provide just enough UV protection, you should generally have a pair that'll suit you, but we have at least one example to help you find a pair that's especially good for hikers.
Pros
Lightweight and comfortable frame
Wide and non-restrictive light protection
Full UVA and UVB protection
Cons
Slightly distracting nose grip
No connective back-strap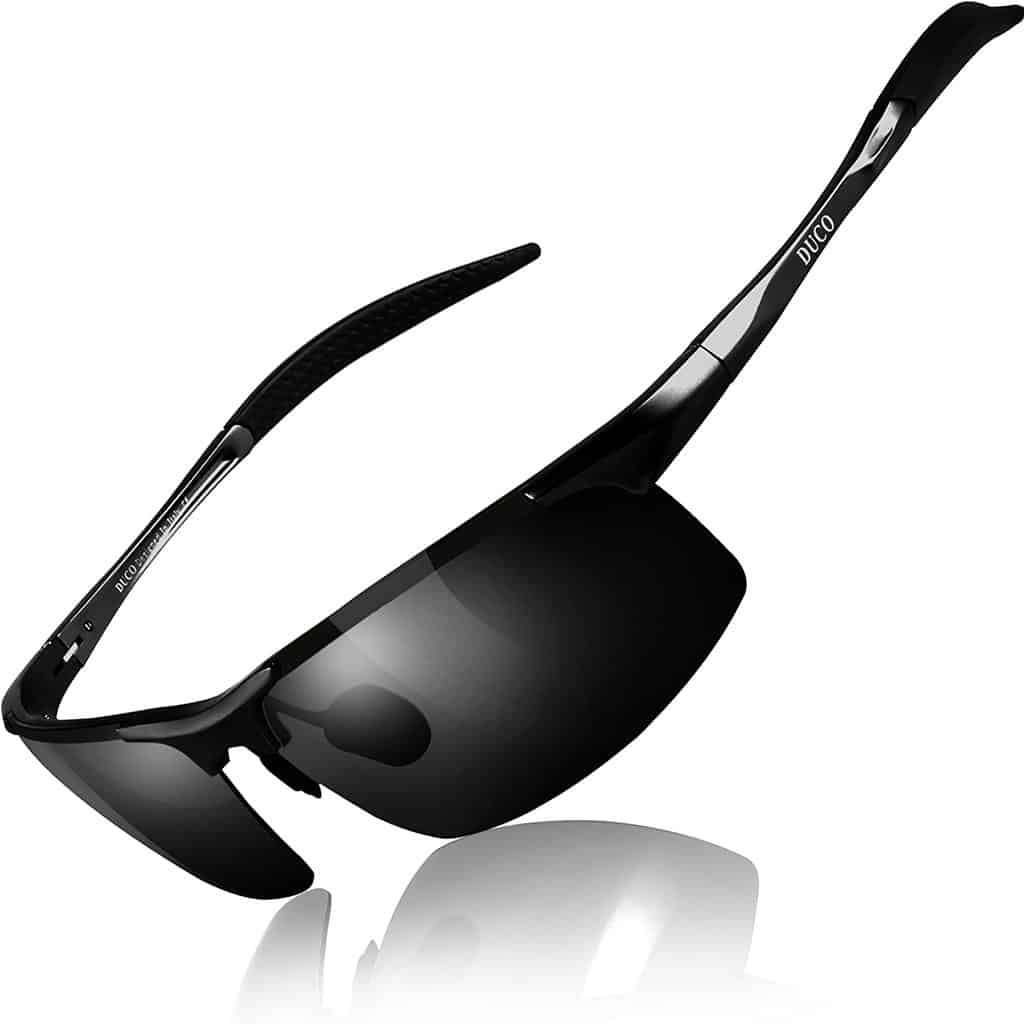 These sports sunglasses from DUCO are exactly what most hikers will look for. By not having side frames, they provide no restrictions to your vision while giving an excellent amount of vision protection from the sun. Besides your eyesight, these glasses also feature polarized lenses that block UVA and UVB rays, all without tinting the glasses too much to blur your vision.
Even better is the lightweight material these are made from, a thin metal that fits comfortably without putting much strain on your nose and ears. It's extremely comfortable to wear these, and if you plan on being in hot weather that involves a lot of direct sunlight, DUCO will give you the facial protection you need.
Final Thoughts
Whatever you choose to wear on the hiking trail, always make sure you're going with the option that's most comfortable for you. There are all sorts of factors you should be looking into for hot weather hiking, but the best clothes for this type of hike come down to what you feel most comfortable in and what you feel most confident wearing.
Once you've found a set of clothes that fits your style and feels comfortable to exercise in, you'll be ready to go on your hikes in the warmest climates and extreme heat of summer. These often result in the most beautiful hikes around and opens up so many routes that you normally can't go to during the cold weather. Dressing for the occasion is just as important as any other stage of planning and packing.