You probably already have some idea of the essentials you need for camping: a tent, sleeping bag, waterproof socks, sleeping pad, and hiking footwear with a durable rubber outsole. But in this article, we're checking out a piece of essential gear for your next camping or hiking trip that you might not have thought of – camp shoes! Camp shoes are an extra pair of shoes for you to wear around your campsite and are an often overlooked piece of clothing for an enjoyable camping trip. There's more uncomfortable than having to wear your hiking boots around the camp that you've been walking in all day!
We're telling you everything you need to know about camp shoes and how you can pick the best shoes for your next trip.
What are Camp Shoes?
Before we get started, it's important to note the distinction between camp shoes and hiking shoes. Camp shoes are likely not the shoes you will be wearing to get to your campsite. They are not the same as your favorite rugged backpacking or hiking shoe.
Camp shoes are comfortable shoes worn while you are settled in at your campsite, sort of like a camp slipper. They're a comfortable, functional, and versatile alternative to your hiking shoes to give your feet a rest while you move about camp.
In the next section, we'll give you the top six considerations for choosing the best camp shoe for your requirements.
Choosing Ultra Lightweight Camp Shoes – Factors to Consider
In this section, we're evaluating the top six considerations for choosing a camp shoe. Your best bet is to compare these factors against your personal preferences and foot shape, then decide on the best option for yourself.
1. Weight
Since this article is titled ultra-lightweight camp shoes, finding a lightweight shoe was an obvious first consideration to mention! Getting lightweight camp shoes is important for a few reasons.
First of all, there's the comfort factor. Lighter shoes are more comfortable to wear and allow you to move about more freely without weighing yourself down. You wouldn't want to sit down at camp and relax wearing a heavy boot.
Lightweight shoes are also important so that you don't weigh down your pack. Any camping supplies should be as light as possible so that it's not overly difficult to lug your gear to the campsite.
Ideally, you want to shoot for camp shoes that are between 6 to 14 oz. in weight. As with other pieces of equipment, you will often sacrifice durability and functionality for a lightweight shoe, but it will also depend on the quality of the shoe itself. You want to balance your weight requirements against the other factors which we will mention next.
Read next – Best Barefoot Hiking Shoes for Women
2. Breathability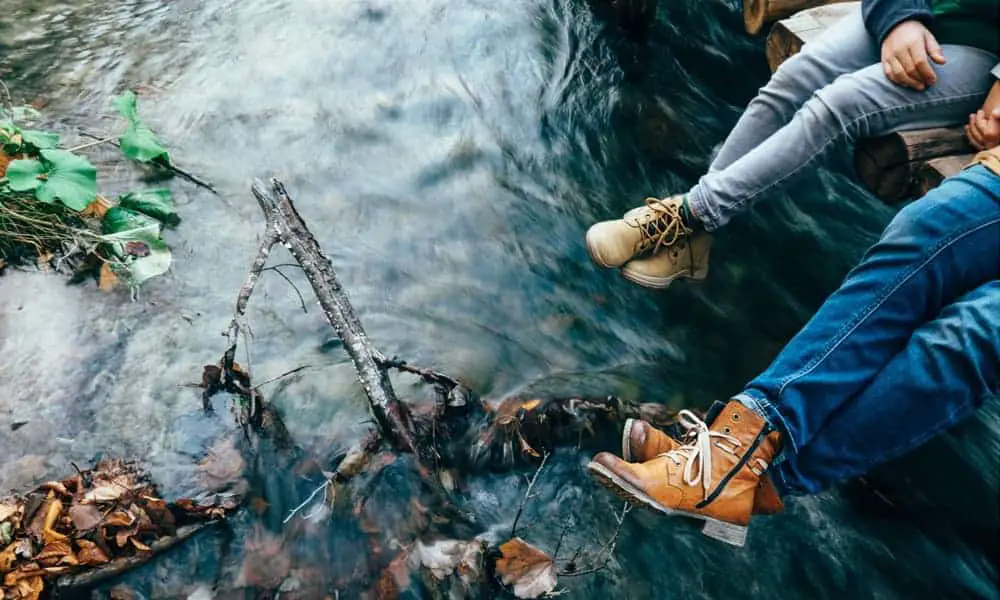 Breathability is an important factor in almost any shoe, but it's especially important in camp shoes. Most of the time, you'll get to the site, and your feet will be hot, damp, and sweaty from an entire day in your bulky hiking shoes. Nothing is more satisfying than slipping on a light, airy pair of camp shoes that allow your feet to breathe. Your feet can dry off as they breathe, and you are still able to walk about camp without hurting your feet on any sharp surfaces.
As you can imagine, there are varying degrees of breathability. Some campers opt for a completely open-top hiking sandal. However, the less supportive fabric, the worse the shoes will protect your feet, and the worse you can expect your traction and support to be. The trick is finding a balance between breathability and support, bringing us to our next point…
3. Grip
Although camp shoes aren't built to provide the support of hiking shoes, you still want them to provide decent traction. You will still be walking on the uneven terrain of your campsite and may have to take short hikes down the trail to your water supply. For this reason, you should still pay attention to the level of grip and traction provided by your camp shoe.
Traction varies based on the soles of the shoe and the level of support provided by the top of the shoe. Closed-toed shoes allow more maneuverability and control, while open-toed shoes or sandals provide less. But once again, you need to balance this against the added breathability – it's all a delicate balance.
4. Comfort and Fit
Comfort and fit are a primary concern for any footwear, so obviously, camp shoes are no exception.
When it comes to comfort, it's important to note the distinction between comfort and softness. Many people mistakenly believe that a soft shoe will be the most comfortable option. While this may be true for the first few minutes of wearing the shoe, they might eventually lack the support required for long-term use. And if shoes lack proper support, you can bet they won't be comfortable in the long run!
While camp shoes aren't necessarily meant for long-term use over rugged terrain, you'll still want to pick a shoe that offers good support to your feet and a shoe that fits you properly. If possible, it's always a good idea to try on footwear before buying.
5. Waterproofing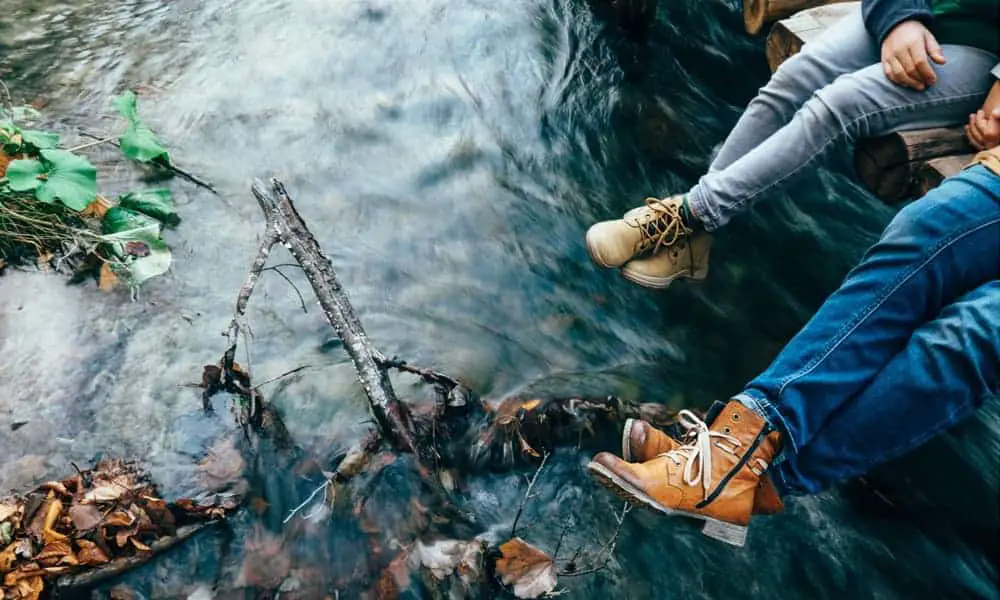 Waterproofing is a crucial factor for effective camp shoes. The fact is that your feet will get wet while walking around your campsite – especially if your campsite is near water. The soil can be damp, the morning dew could be prevalent, and you might have to walk through shallow rivers, streams, and lakes. No matter the case, you'll be happy that you got properly waterproof shoes.
Waterproof shoes are also a good idea because they are quick to dry. You can take a wade in the lake and leave them out for a few minutes in the sun to dry off. After drying, you'll have perfectly comfortable shoes for walking around camp. Any effective pair of camp shoes should be waterproof.
6. Ease of Access
The final factor we'll consider is something we have dubbed "ease of access". Basically, how do you put these shoes on? We recommend shoes that are extremely easy to put on. It's so convenient to have camp shoes that you can easily slip into and out of. You don't want to spend too much time lacing up your shoes. After all, your campsite should be relaxing!
There are many options to choose from in this category, and it will largely come down to preference above all.
Some shoes slip on easily due to their flexible nature, such as Crocs or flip-flops. These shoes have varying degrees of security. We recommend one with a heel strap to help keep them in place. Other shoes (such as water shoes) slip on easily because they don't have laces. These are a good middle ground between convenience and security. Finally, you have good old shoes and traditional laces. While these shoes are quicker to take on and off, they do provide that extra level of security and traction. Pick the design that you prefer!
Some of Our Favorite Camp Shoes
Now that we've taken you through our guide to choosing the best ultra-lightweight camp shoes, let's get into some of our top recommendations. As you've seen above, the best camp shoes will depend largely on your personal preferences. Keep these preferences in mind, and try to match them with some of our top choices below:
Product Overview
That's right, some of the best camp shoes are just simple Crocs. Croc's provide the perfect mix of comfort, waterproofing, traction, grip, and style (well, that last one's debatable).
We particularly like these sleek new Croc's Swiftwater. These shoes have been specifically designed to be easy-access, and provide an extra level of fit over the classic Croc. They grip your feet much better and allow you better traction for the uneven surfaces you will encounter while camping.
That said, they retain all the benefits of a classic Croc. They're soft and foamy (yet still quite firm), fully waterproof, and have ample openings for optimal breathability. They're exactly what we look for in a camping shoe.
All that said, they won't provide you the level of grip and traction that you might require at a more uneven or particularly wet campsite. Also, they're not quite as lightweight as some other options on our list.
Although we like this Swiftwater version of Croc's, you can always go with the classic version if you're so inclined. The choice is yours!
Pros
Classic Croc advantages – waterproof, slip-on design, breathable, and comfortable.
Very affordable.
Decent grip and traction (better than classic Croc's).
Cons
Lightweight design, but not quite as light as other options.
Traction is good but not excellent. Not good for hiking.
Product Overview
Water shoes are another type of shoe that is excellent as camp shoes. These shoes are highly waterproof. However, they're also great camp shoes because they provide full coverage for your feet. They grip your feet well and give you added traction and security for getting around camp.
We like these Mishansha unisex quick-dry shoes. There's nothing fancy about their design. They're easy to slip on and off, they have decent traction on the soles, they have adjustable laces, and they're highly breathable. Not much else you could ask for from a camp shoe, especially at such an affordable price point. They even come in lots of fun colors!
If you're noticing a theme, it's that you don't need anything too fancy. These are basic water shoes, but they'll get the job done great. They're ultra-lightweight shoes, and they can easily be squished and packed into a bag.
Don't be expecting the most durable or long-lasting shoes, but they'll get you through several camping trips with ease.
Pros
Lightweight design.
Breathable, waterproof, and great traction.
Quick-drying materials with breathable holes to allow draining.
Very affordable.
Cons
Not the most durable shoes.
Product Overview
Another shoe from Crocs? You bet! We think they're the perfect choice for a camping sandal.
These sandals combine the best of both worlds. They have an open, breathable design while still gripping your feet quite well for optimal stability. None of that standard loose sandal feel.
The sandals are also fully waterproof and made with 100% leather which will repel water to a good extent. Leave these out in the sun for a little while to dry, and they'll be good to go in no time.
Croc's sandals combine durable leather design with classic Croc foam soles. They're extremely comfortable to wear, and they even have decent traction for climbing hills and navigating uneven terrain.
We especially like how these almost fully grip the feet. It feels almost like wearing normal shoes, but your feet are open and breezy, allowing them to refresh after a long day wearing hiking boots. Additionally, because they use less material than closed shoes, they're more lightweight and easier to pack into a bag.
We've linked to the men's version of the sandals, but they make this sandal in women's sizes as well.
Pros
100% leather straps for durability and comfort.
Waterproof design with quick-dry materials.
Straps do a great job gripping feet for extra security.
Soles have impressive traction. 
Super comfortable foam soles.
Cons
They're still sandals – won't be ideal for any heavy hiking or exploring.
A bit on the pricier side.
The Bottom Line – You Don't Have to Spend Much!
We hope you've enjoyed our guide to picking the best ultra-lightweight camp shoes! Our aim with this guide was to give you the top considerations for choosing the best camp shoes for you.
The bottom line is that camp shoes are meant for comfort and usability. Leave the heavy work to your hiking shoes. Your camp shoes should be an opportunity to slip into something comfortable and functional.
As you can see from our above list, you don't have to spend much to get quality camp shoes! We know that camp supplies are expensive, and the costs can add up quickly. Use our guide to pick up a comfortable pair of camp shoes without breaking the bank!