On the hunt for the perfect hiking shoes? You've probably come across the two big brand names in the outdoors industry. KEEN and Merrell are both very popular brands that manufacture leisure footwear specifically for outdoor activities.
Since KEEN and Merrell both have a similar reputation, these are the two brands that are constantly compared. But just doing one search on both the brands can tell you how big the competition is. There are so many discussion boards wondering the same thing you are: Keen vs. Merrell hiking shoes – which is a better choice?
Finding the best hiking shoes for hikers means searching for the most comfortable and the most durable. You don't want to drop hundreds of dollars on shoes just because they're expensive or look the nicest. To help you decide between these two brands, we've compiled some information on both of them, giving you a glimpse of their stats and the pros and cons to helpyoudecidewhich is the better choice. Keep reading to find out.
Background on KEEN
KEEN is an American brand that was founded in 2003. The company is based in Portland, Oregon, and its products are sold in outdoor retail locations throughout the U.S. and Canada, with the availability to be distributed worldwide.
The origin of KEEN started with the "Newport Sandal," which was invented in 1999 by Martin Keen, who officially launched the brand by putting it into production in 2003. KEEN found a market in sailing and other water activities, offering products for many outdoor activities.
In terms of sustainability, KEEN works hard to make a difference in the world, calling its effect"The KEEN effect." Every KEEN boot, sandal, or sneaker a customer buys funds programs to make the outdoors more accessible for everyone. To help leave an imprint and do its part to detox the planet, the company spent four years getting extremely toxic chemicals out of its products. And it now tries to weave recycled plastic into boot insulation and anywhere else it can in its products.
KEEN started as a small company and grew steadily into one of the biggest names in the outdoor market, and one that is making such a global impact in the world.

Atpresent, KEEN creates footwear perfect for any outdoor activity. The company is always expanding and has recently launched steel-toed boots for construction workers. It also sells clothes, bags, hats, drinkware, and other products that fit under the outdoor niche.
Background on Merrell
Merrell is an American footwear brand that was founded back in 1981. This company was founded by Clark Matis, Randy Merrell, and John Schweizer, creating high-performance hiking boots. In a short five years, the company's sales hit a whopping 25,000 boots.
With sales increasing by 50% in 1989, Merrell was experiencing rapid growth. By 1990, about 300,000 pairs of boots were being sold annually, and its sales for the year surpassed $10 million. The company expanded as a global enterprise after this and established divisions in Canada, the United Kingdom, Scandinavia, and other locations in the U.S.
Similar to KEEN, Merrell also gives environmental sustainability high importance. Its products are made with recycled and natural products. Rubber and polyester are all recycled materials that it uses when manufacturingits products. The President of Merrell claims, "At Merrell, we believe in the profound power of the trail and we strive to be a dedicated steward of our environment. We exist to inspire everyone to explore the outdoors, and we need a healthy home to do just that."
Today, Merrell has expanded to sell trail running shoes, apparel, and outdoor accessories in retail stores and online. It partners with many organizations to help people enjoy the outdoors and do their part in keeping the world sustainable.
KEEN vs. Merrell – Comparison at a Glance
| | | |
| --- | --- | --- |
| SUBJECT | KEEN | MERRELL |
| Weight | Lightweight (approx. 320g) | Lightweight (approx. 350g) |
| Sizings | Wide sizing | Narrow sizing |
| Durability | Break down after few months of heavy use | Longlasting even after intense use |
| Pricing | Affordable | Expensive |
| Ideal For | Short hiking trips. Infrequent use. | Long hiking trips or treks. Regular use. |
Deeper Look at Keen
KEEN is a popular pick among hikers because it manufactures comfortable shoes at a reasonable price. But what about the specifics?
KEEN delivers what hikers need by including necessary and innovative features into its products. Most of its shoes and boots are made with lightweight mesh and waterproof leather. Its shoes are flexible, and most models offer traction in the soles for difficult terrains. KEEN shoes are wider than other outdoor shoes and boots. If you have high foot arches, you might find that KEEN hiking shoes are an uncomfortable fit for you.
KEEN footwear is made with a flair of style, and the company is always looking for new ways to vamp up its products. It likes to be creative and think of different design features that will make its shoes and boots stand out from the competition. But some question whether that very innovative tendency means forgoing durability. Most KEEN footwear is made with a casual design for outdoor activities such as jogging, traveling, or trekking. Since KEEN shoes are lightweight, they can be easily packed and stored, which is great for travel. KEEN shoes have important features such as odour control, flexible soles, and dual-density footbeds that can be replaced if needed.
There is an undeniable number of positive reviews about the level of comfort KEEN shoes and boots provide. But the repeated negative reviews are about how long these products last. Frequent use will wear the sole down and wear out the sides of the shoes. Even if they're used infrequently, these shoes won't last you as long as other brands' footwear – including Merrell's – which means you have to replace them much sooner than with another brand.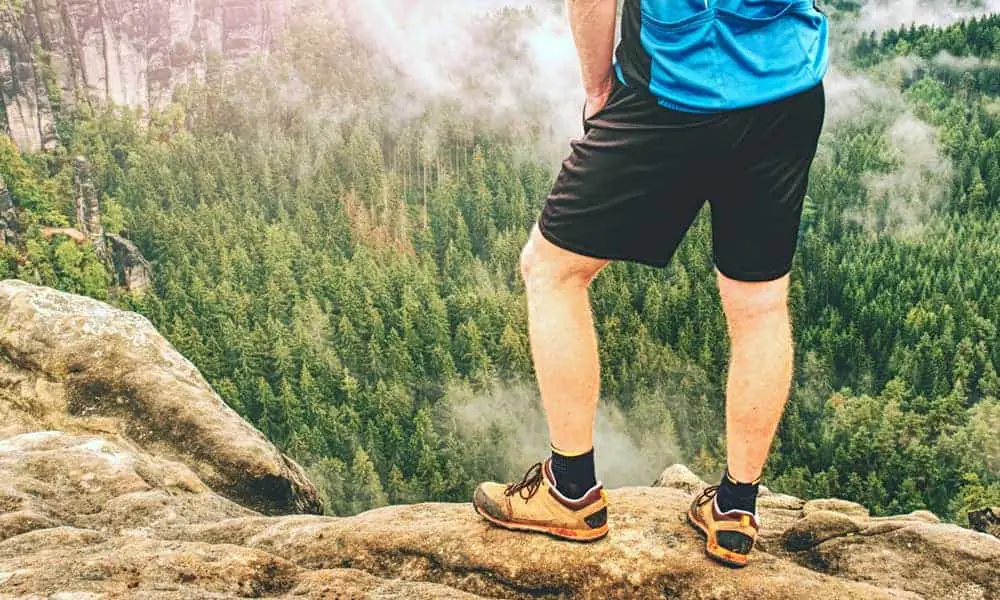 Pros:
– Waterproof materials
– Reasonably priced
– Can be used for multiple outdoor activities
– Can be used for casual use
– Lightweight
– Sustainable
Cons:
– Not durable or longlasting
– Leather will tear after multiple uses
Deeper Look at Merrell
Merrell is an industry topper because it manufactures insanely durable shoes. But what about the specifics?

Merrell is a revolutionary brand for more intense users and adventurers. Unlike KEEN products, which are more for general use, Merrell is made for more durable use. It provides high quality, high comfort, and the perfect fit, naming this personalized touch "Merrell Magic."
Merrell is known for being much more durable than Keen. Where Keen's hiking shoes may wear down after a few rough uses, Merrell shoes won't be affected thanks to its high-quality materials and ability to handle rough conditions.
This brand prides itself on customers finding their true comfort and fit with features for all different kinds of people and so many different kinds of activities. Unlike KEEN, which makes its footwear with a casual design, Merrell is made specifically for rough outdoor activities, with durability as a key component. All its products are carefully designed with traction, waterproofing, breathability, and durability in mind, making it's brand a superior choice in outdoor footwear as a whole.

Merrell shoes are made to be waterproof, and they are made of leather and mesh, adding to users' prime comfort. They use air cushions, protective pads, and nylon arches to help add even more comfort when in use. Merrell is a brilliant brand in terms of comfort, quality, and durability.

The problem that most have with Merrell is that it is on the expensive side. But it's worth it, and if you are into heavy-duty adventuring, you should look at it as an investment. It will last you a long time and you won't have to even think about getting a replacement for years.
Pros:
– Very durable
– Comfortable with an airy, light feeling
– Waterproof
– Strong traction
– Ideal for longterm
Cons:
– Expensive
– Narrow-made, not comfortable for wide feet
Popular Products
Let's take a look at popular, best-selling hiking shoes from both brands. This list will include a popular pick for men and women.
Popular KEEN hiking shoes are as follows: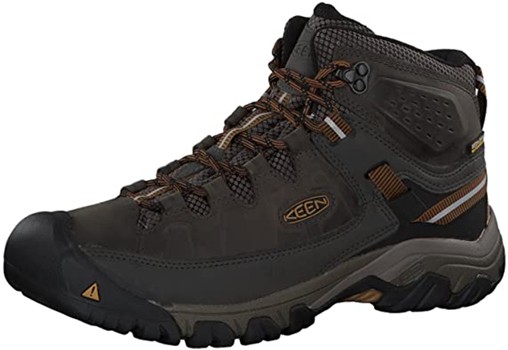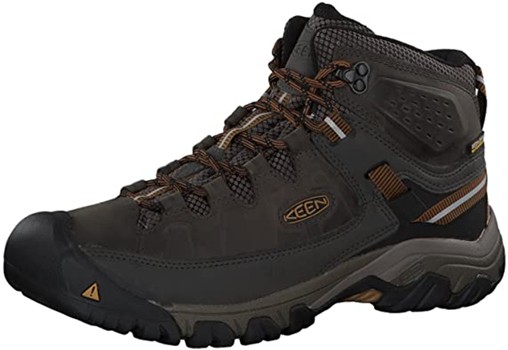 The Targhee III Mid for Men is KEEN's iconic hiking boot, made for all-terrain adventures. It is award-winning for its fit, durability, and performance. It has waterproof protection and a breathable membrane that lets vapor out without letting water in. Plus, it provides excellent arch support and is perfect for wide feet.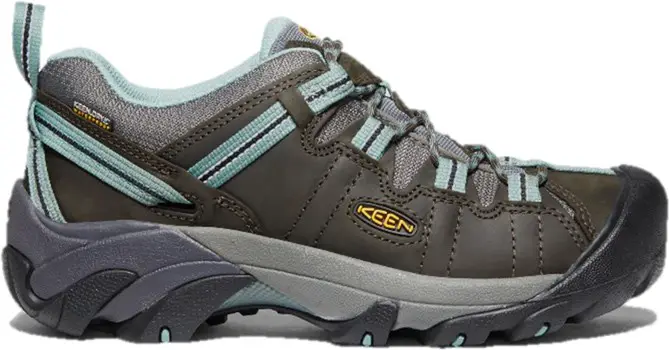 The Targhee II Women's Hiking shoe is built for off-road adventure. It has waterproof protection that can withstand wet weather and the outsole adds traction when you're on the move. The dry membrane on top makes the shoe breathable. It is available in many different color selections.
Popular Merrell hiking shoes are as follows: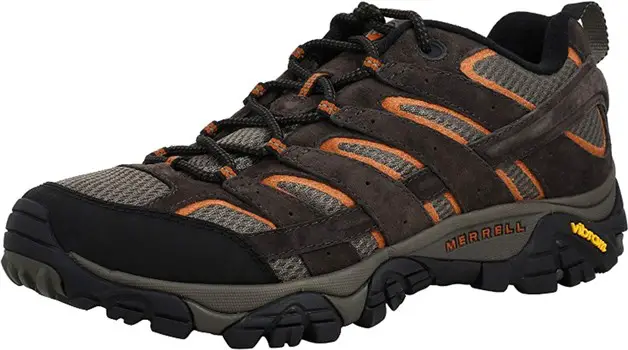 The Moab 2 Vent Hiking shoe for men is one of the most popular products of the entire brand. The material it's made out of is suede leather and has a Vibram TC5+ sole to withstand any type of terrain you venture on. Ventilation comes through the mesh and it is mainly made from recycled materials.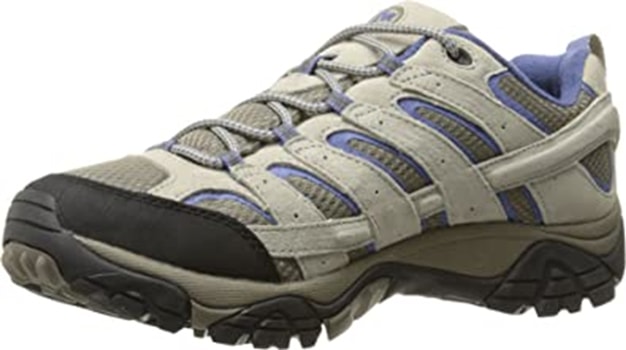 The Moab 2 Vent Hiking shoe is waterproof and the most popular pick for women. Just like the men's version, it has a Vibram TC5+ sole to make walking and climbing on any terrain more comfortable. The durability of this shoe is what makes it so popular.
KEEN vs. Merrell Hiking Shoes – Which is a Better Choice?
Both KEEN and Merrell have their own set of advantages and disadvantages. Overall, they both have positive and negative reviews from users. To understand how they compete against each other, let's compare KEEN vs. Merrell side by side to truly figure out which is a better choice.
Quality
Both KEEN and Merrell products are made from high-quality materials. They place importance on sustainable living and manufacture their footwear from recycled high-quality material. But when you take durability into consideration, Merrell products are the clear winner. They last a much longer time than KEEN shoes, even after rough use, because Merrell'sdon't suffer from wear and tear. KEEN Footwear, unfortunately, is not as durable.
Comfort
Comfortable shoes are so important for hikers because of the active lifestyle they live. It's hard to determine which of the two brands is more comfortable than the other because comfort is purely subjective and differs from person to person. What may feel comfortable to you may not feel comfortable to the next person because feet are unique.
It's recommended that you try shoes on before buying them to make sure they fit your feet. KEEN products are made for wide feet, while Merrell's are the perfect fit for those with narrow feet.
Pricing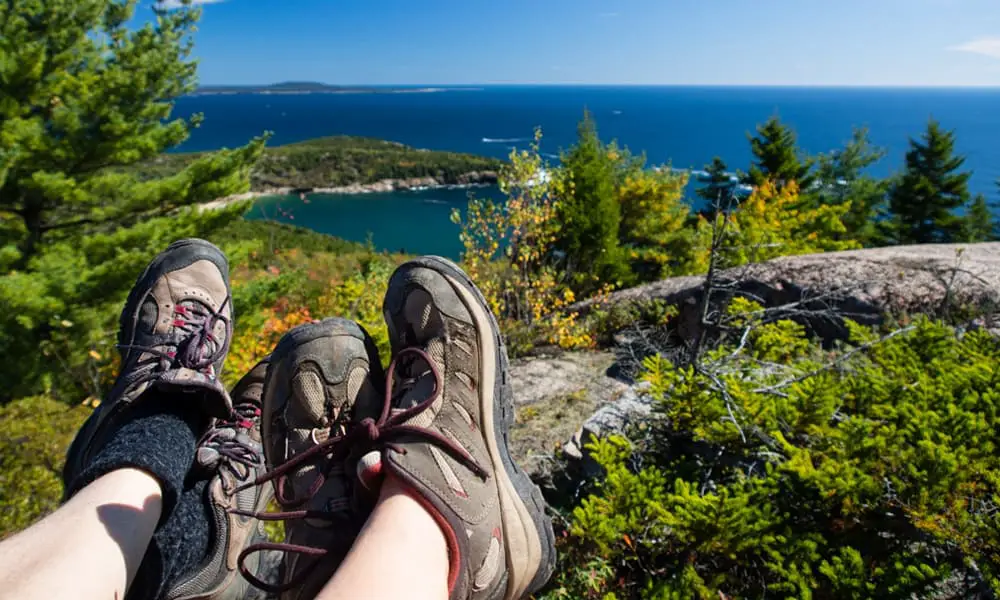 In terms of price, Merrell's products are more expensive than KEEN's. But you truly do get what you pay for. In this case, Merrell's will last a very long time so they will cost you more reasonably so.
Merrell products start at about $80 and can go up to $250. KEEN products start at about $80 and go up to $180. Merrell's, although more expensive, seem like a fair price, considering the high quality and durability.
If the cost seems like a lot, try to wait for a sale or promotion on the companies' online shop, which will probably be cheaper than if you were to go into the retail location. You can also check out outlet stores for discounted prices.
Which is better?
Merrell has been in the footwear and outdoors industries for longer than KEEN, giving the company a longer time to hone its craft. It has more experience and is known on a much more global scale than KEEN. But it's undeniable that both companies provide high-quality products and superior comfort.
It's obvious why so many people struggle in answering the question about which brand is better in terms of hiking shoes. Both names use advanced technologies, are innovative, eco-friendly, and have approximately the same price range.
But when it comes down to all the different features, Merrell rises above as a winner. It's a "safe" purchase in that you don't have to worry about spending more money on replacing your shoes any time soon after your purchase. Whereas, if you buy KEEN hiking shoes and were to walk on a rough terrain a few times, you will need to buy another pair of hiking shoes to replace them.
Final Thoughts
Both KEEN and Merrell hiking shoes are definitive leaders in their category. Both companies prioritize comfort and fit to make sure customers have a pleasurable outdoor experience. They have unique designs catered toward their desired customers – KEEN for casual outdoor wear, and Merrell for intense outdoor wear. And they are both eco-friendly, making sure they do their part to provide sustainable living.
Overall, both KEEN and Merrell are excellent choices for hiking. The bestoption for you is entirely up to your needs and personal preferences. If you need a comfortable hiking shoe for infrequent hiking expeditions and don't plan on wearing it on rough terrain, check out KEEN's range of products. But if you need a comfortable hiking shoe for many intense hikes or treks and plan on hitting harsh terrain, go for Merrell's range of high-quality products.
If you decide to go for Merrell, just know that its shoes may seem pricey, but they're worth the investment.They'll last you a long time, even if they're used frequently and roughly.
The question of KEEN vs. Merrell is still a very relevant and debatable topic. Hopefully, this article helped break down the pros and cons of each and will help you make an informed decision.
Good luck and safe travels.