If you're planning on taking a hiking trip, you're naturally going to take a backpack over a suitcase. Hiking backpacks can carry a lot of items, which make them great for long trips.
However, as they can hold a lot of weight, they can be quite large. This makes people wonder if they can take a hiking backpack on a plane or not. 
The answer isn't as simple as yes or no, as it depends on a few factors. If this interests you, keep reading. We'll cover whether hiking backpacks can be brought on a plane in this article.  
Are Hiking Backpacks Allowed As Carry-On Luggage?
In most cases, airlines have rules that specify what you are allowed to bring as carry-on luggage. These rules vary with different airlines, as they will all have specific width, height, depth, and weight requirements.
Most backpacks can be measured in dimensions and liters. Generally, most airlines will allow you to carry a backpack as carry-on luggage, as long as it does not exceed 45 liters in volume.
You'll still need to weigh your bag to make sure that you follow the airline's weight requirements. Some cheaper airlines may ask for your carry-on bag to be less than the usual 22lbs limit, though you may be able to pay an extra fee to carry more weight.
The maximum size allowance depends on your chosen airline, but the most common dimensions are 22 x 14 x 9 inches. This normally includes handles, wheels, and external pockets.
Always check with your airline a couple of days before you fly, as they might have different rules.
The form of your luggage doesn't matter. As long as you follow the size and weight requirements, you can take a hiking backpack, suitcase, or handbag.
Will Hiking Backpacks Be Checked?
For safety reasons, airport security will look at your luggage before you board. They will always check the contents, but whether they check the size and weight varies with each airline.
Carrying oversized luggage can draw attention to you, so even if security doesn't check the size of your bag, they may stop you regardless.
There's a greater chance that less expensive airlines will check your luggage compared to higher-end ones. This is normally because cheaper airlines are tight on space, so they need to make use of all available capacity.
To be on the safe side, it's best to follow the airline's rules.
What If My Hiking Backpack Is Too Big?
If your backpack is already too big for carry-on luggage rules, here are some things that you can do. The first is to hand your backpack in at check-in instead of taking it as a carry-on.
If you're traveling with several others, you could share any extra space and put some of your things in their bags. Similarly, if no one has any extra room, you could use one larger piece of luggage for everyone's belongings and hand it in at check-in.
Instead of paying for each person, you'll save money by using one piece of luggage. You'll also save room in everyone's carry-on bags.
If your bag is just over the size or weight requirements, check if the airline allows you to take an extra item with your carry-on. For example, you may be able to take a carry-on bag and your laptop.
If this is the case, simply take your laptop, or other permitted item, out of your bag before you get to security.
How To Pack Hiking Backpack Per TSA Regulations?
Most airlines will let you take miniature bottles of liquids, as long as they don't exceed 3.4 ounces. Roll-on deodorants and insect repellent containers cannot go over 100 milliliters.
To save as much space as possible, pack non-liquid versions of toiletries, such as bar soap, shampoo bars, solid deodorants, and toothpaste tabs. If you plan on hiking through areas with bears, always go for unscented options.
The TSA does allow you to carry some gear like knives and firearms, but only in checked luggage. These must be stored within a hard casing or a sheath that matches their regulations.
If you don't meet these, your gear will be taken from you, and in more serious cases, you could face criminal charges.
Things like poles, pickaxes, and trowels must be carried within checked luggage. If you do plan on hiking around bears, do note that you must leave repellent and bear bangers at home.
These aren't permitted to take on airlines, but you're free to purchase these when you arrive at your destination. The same rules apply to personal safety items, like pepper spray.
If your airline doesn't permit gear that you cannot hike without, you can get these shipped to your destination. Companies like FedEx, DHL, and UPS can ship and hold these at your desired location. You can pick them up later by showing your passport as proof of identity.
If you plan on this method, make sure that you send these items as early as possible. Shipping companies handle multiple items each day, so they need adequate time to do so. Make sure that your gear arrives before you land.
Bringing Hiking Backpack As Checked Luggage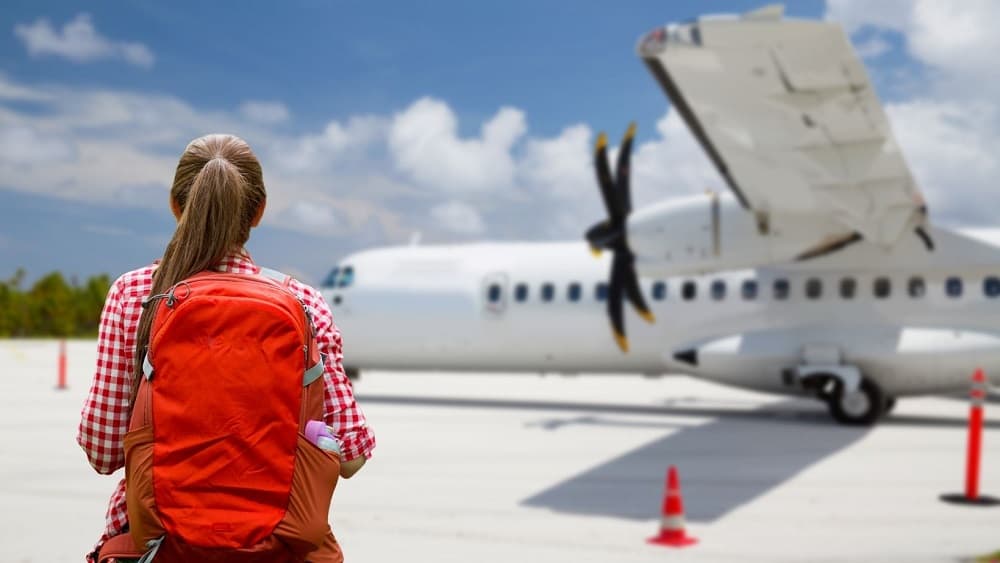 If your backpack is too big to take with you on the plane, you'll have to hand it in as checked luggage. Before you do so, there are a few things that you should keep in mind.
A lot of hikers have external gear on their backpacks, so it's important to be careful with this when you hand it over at check-in.
A possible scenario is that a tent fastened to your backpack's exterior might detach in the airplane's luggage area. This also concerns sleeping pads and hiking poles.
Here are some ways to avoid your external gear becoming an issue on the airplane. One involves casing your backpack within a rain cover. This acts as a barrier that protects your gear from damage and prevents it from causing harm.
If you have enough space, you can take your external gear off of your backpack and store it within your carry-on bag. This will give you peace of mind that your gear is safe and won't cause any issues in the luggage area.
Before you do this, always check the airline's rules to see if your gear is allowed through security.
For example, TSA doesn't allow trekking poles to be taken on board a plan under any circumstances. However, some airlines do allow you to take folding staffs or poles that aren't sharp in your carry-on.
These rules depend on the airline you're flying with, so always check the rules before you fly.