We don't have to sell you on the importance of quality footwear for hiking and backpacking. It goes without saying that a good hiking shoe, boot or trail runner is vital. But it may simply be the case that you don't quite know what to look for in a quality pair of boots.
In this article, we're providing you with a full reference guide for picking the best long distance walking shoes for hiking. We'll start with what to look for and then jump into our top picks on the market. 
Minimalist Hiking Boots?
When we say minimalist hiking boots, we mean they have a full range of functionality without excess features that won't do you any good. A quality pair of minimalist boots won't be weighed down (literally) by unnecessary features and will be a quality, comfortable pair of boots for tackling various terrain.
Here's what you want to look for in a good minimalist boot:
Lightweight
Of course, since we're talking about minimalist hiking boots, you want them to be lightweight! Minimalist hiking footwear is lightweight in nature, and you'll find that a lightweight boot is much more functional for backpacking or even as an approach shoe. Lightweight boots allow you to travel great distances without added weight and stress on your feet. It also makes your pack a lot lighter if you ever need to pack up your shoes for small periods.
Overall, you want a lightweight hiking boot that doesn't sacrifice durability. Many quality hiking boots use lightweight materials that are also strong and durable (such as the ones we'll show you below).
Versatile
Versatility is key for backpacking. You want boots that can tackle a wide variety of terrain. From rocks to streams to mud to loose sand and everything in between – you never know what you're going to encounter backpacking. You want a pair of boots that is up to the challenge. You want boots that have good traction but not to the point where they are too grippy.
Easy Lacing
Another aspect of minimalist design is that the boots are easy to take on-and-off. We're not into boots that have overly complicated lacing systems. We want easy boots, and that includes easy lacing! The boots we've chosen feature classic lacing systems, or systems that are easy and intuitive.
If it ain't broke, don't fix it, and that's a phrase we'd apply to hiking boots.
Best Minimalist Hiking Boots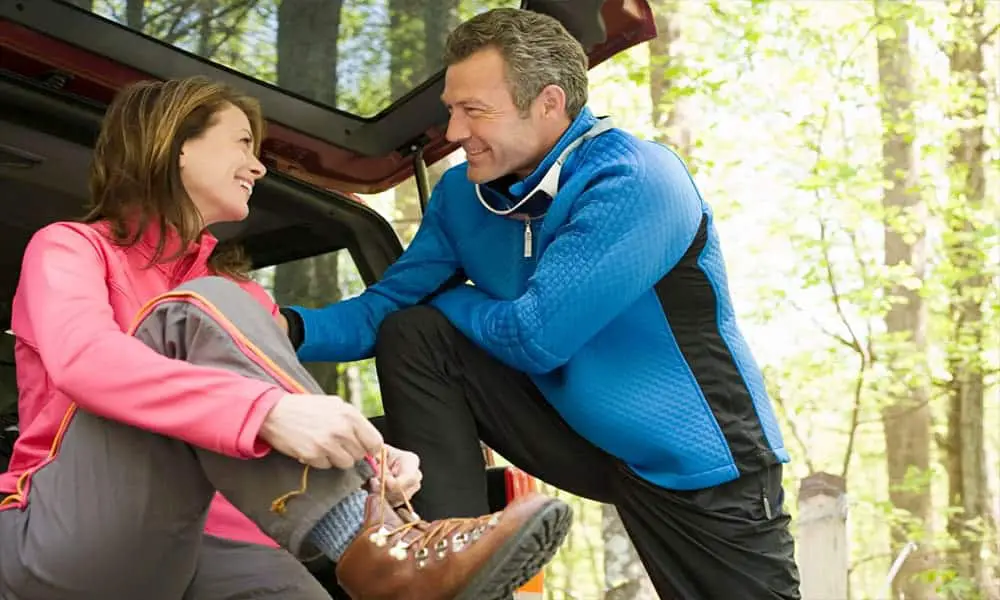 Now that we've examined what to look for in a quality hiking boot, let's check out some of our favorites. These boots are highly functional, and any would make a great choice. As with any decision, try to match your own preferences to one of the choices from our list below.
Product Overview
First up, we have the Columbia Newton Ridge. This boot is a great place to start because it is one of Columbia's all-time classics. Nothing fancy here, just a quality boot built to last.
This boot features a classic lacing system and is made from durable leather, mesh, and suede. It's built to handle whatever you can throw at it, and the omni-grip soles are ideal for a variety of terrain. Much of the exterior is made from a breathable mesh, preventing your feet from overheating.
These boots have a lightweight midsole, using fully lightweight materials across the entire design. There are no unnecessary features here. The focus is fully on performance and durability.
There's something to be said for buying a signature boot such as this. It became a classic for a reason, which is why we think it's a great choice. Plus, it's tough to beat that price.
Pros
Easy lacing.
Strong, durable materials.
Breathable mesh.
Omni-grip soles.
Lightweight design.
Cons
Might get a bit hot during the summer.
Product Overview
Here's another great option, this time from Salomon. It's a bit more advanced in its functionality than some hiking boots on our list, but it's still a simple, practical boot for a wide variety of purposes.
This vegan hiking boot uses 100% synthetic materials. While that may sound off-putting, it does result in a boot that is very durable and versatile. It is ideal for a wide range of terrain, with strong arch support to grip your foot on steep downhills. The upper also has a layer of foam for extra comfort.
The sole combines two different rubbers and multiple grip patterns for ideal traction across various terrain. It emphasizes grip but doesn't sacrifice speed.
We could go on about why these are great boots, but we've got more products to examine! Just know that these boots are crafted with care for backpackers across varied conditions and surfaces. They're a bit on the expensive side, but we think they justify the price.
Pros
Highly durable.
Built with advanced arch and chassis to ideally grip feet across different terrain.
Advanced rubber soles with carefully optimized grip patterns.
Easy-lacing system.
Cons
Slightly on the expensive side.
Not quite as simple as other boots on our list.
Product Overview
The Foxelli Hiking boots are nothing fancy and are simply designed to be a quality hiking boot of classic design. They're basic, comfortable, versatile, and will serve you well across various terrain. A great budget option for backpackers of all kinds.
They're made from suede leather and breathable mesh, and they're highly water-resistant, keeping your feet dry through wet ground, streams, and more. The mesh allows them to breathe quite well, which keeps your feet cool and fresh.
We also like the traction and support. The rubber soles have crafty grip patterns, and the arch support is quite solid. They have built-in rand guards to add support to certain areas of the boot.
Overall, we like these boots. The price is right, and they're surprisingly high quality. As far as minimalist hiking boots go, you could do a lot worse. A simple option that gets the job done.
Pros
Simple, functional design.
Very fair price.
Great traction and arch support.
Breathable/water-resistant design.
Cons
Not very stylish.
Not the most long-lasting boot.
Product Overview
Here's another classic from Merrell. The Merrell Moab boot is one of their top hiking boots, and it's easy to see why. This style is an affordable pick that has just about everything you could want from a hiking boot.
It's made with suede leather and a mesh design. This boot leans heavily on the mesh, which makes it a good choice on hotter days. But, even with all the mesh, the moisture stays out of the boot well, thanks to the closed-cell design of the tongue.
The soles are firm with excellent traction across different terrain. You'll benefit from the arch support, and we liked the overall feel of these boots. They're just comfortable, less rigid than most boots on this list, but still sturdy enough to offer great support.
These are great boots, especially at the price tag. Like any good minimalist boot, they're nothing flashy, they just work. Strap these on and take them on any backpacking adventure!
Pros
Very breathable, with an advanced mesh design.
Great traction on the soles.
Great arch support.
Highly water-resistant.
Cons
Not as ideal for cold weather (thanks to all the mesh).
Product Overview
This product comes from Timberland, a name that needs no introduction in the boot community.
This boot is 100% leather design, which offers impressive warmth and waterproofing thanks to the seam-sealed design and the waterproof leather uppers.
We also really enjoyed the lacing system. The laces are big, easy to grip and slide through the hooks with ease, which offers great support to your entire foot, and the boots feel sturdy and consistent across different backpacking terrain.
Overall, this is one of Timberland's traditional boot designs, but they're exactly what we'd look for in a pair of minimalist hiking boots. They have Timberland's classic rubber outsole design, offering a great mix of grip and flexibility that's great on the trail.  Another fairly priced minimalist boot for you to consider.
Pros
Great price.
100% leather design.
Impressive waterproofing across the boot and at the seams.
Great grip pattern.
Cons
Might be a bit hot on certain days due to the 100% leather design.
Product Overview
The Khombus hiker boot takes our pick for the best budget option. If you're looking for a simple boot for an extremely affordable price, then this is going to be what you want. They're a surprisingly functional boot for their bargain bin price.
We won't lie to you and say these boots are extremely durable or that they're built to last many years. They're a basic functional hiking boot that feels surprisingly good to wear and offers pretty impressive traction across various terrain.
The Khombus boots use synthetic materials and utilize a mesh tongue for superior breathability. They're surprisingly lightweight and are comfortable for hiking and backpacking for several hours at least.
Overall, these aren't going to be a pair of boots that last forever, but what can you expect given that price tag? They're a solid, functional boot, and they'll get you through a few backpacking trips with ease.
Pros
Surprisingly lightweight.
Very breathable with their full mesh tongue.
Great traction.
Comfortable lace system.
Very affordable.
Cons
Not the most durable boot.
Product Overview
The Salomon Quest boots ride the line between minimal and advanced. They're a great place to end our list and a good example of a more advanced hiking boot. But be aware that they also have the matching price tag!
This boot uses 100% synthetic materials for optimal performance. They have strong arches and very impressive traction. Although they're a bit more difficult to take on and off thanks to the high ankle supports, they do offer more stability than most boots on our list.
Salomon claims that these boots were built with running shoe adapted technology so that you can hike or backpack at a brisk pace.
Overall, a great boot, albeit a bit less minimal than other options on our list.
Pros
Waterproof and durable.
Great traction, without sacrificing speed.
Very supportive.
Advanced chassis to reduce fatigue.
Cons
Quite expensive.
More difficult to take on and off.