Located in Honolulu, Hawaii, is one of the most unique and challenging hiking spots in the whole country. Ka'au Crater is not for the faint of heart. 
This is a long hike that can last between 3 and 6 hours depending on skill level. It's pretty much all up-stream as you follow the trail that sports three stunning waterfalls, and an abundance of wildlife and greenery.
The views and undoubtedly worth it – but only if you're prepared for the tough hike. 
If you happen to be near Honolulu (or just on the island of Oahu in general) and you're looking for a thrill-seeking adventure, you have to consider the Ka'au Crater hike. 
Where is the Ka'au Crater? 
The Ka'au Crater hike trail is located 15 minutes away from Waikiki by car. Waikiki is on the south shore of Honolulu, and is one of the most popular places for tourists to reside due to the expansive hotels and resorts. 
Fortunately, as this is a popular hiking spot, Ka'au Crater is easy to find on a map (whether physical or technological). 
Where can I park to get to Ka'au Crater?
It's not easy to find a parking space near Ka'au Crater. There is a tiny parking lot near the entrance to the hiking trail, but other than that, you've got to get creative and park at a nearby neighborhood. 
Ka'au Crater Hike Trail
Duration: 4-6 hours
Difficulty: Intermediate/Advanced 
Distance: 5 miles
Altitude: 2,500 feet
Open and close: Sunrise and sunset (controlled by guard)
Foot traffic: Low
Ka'au Crater Hike Description and Sights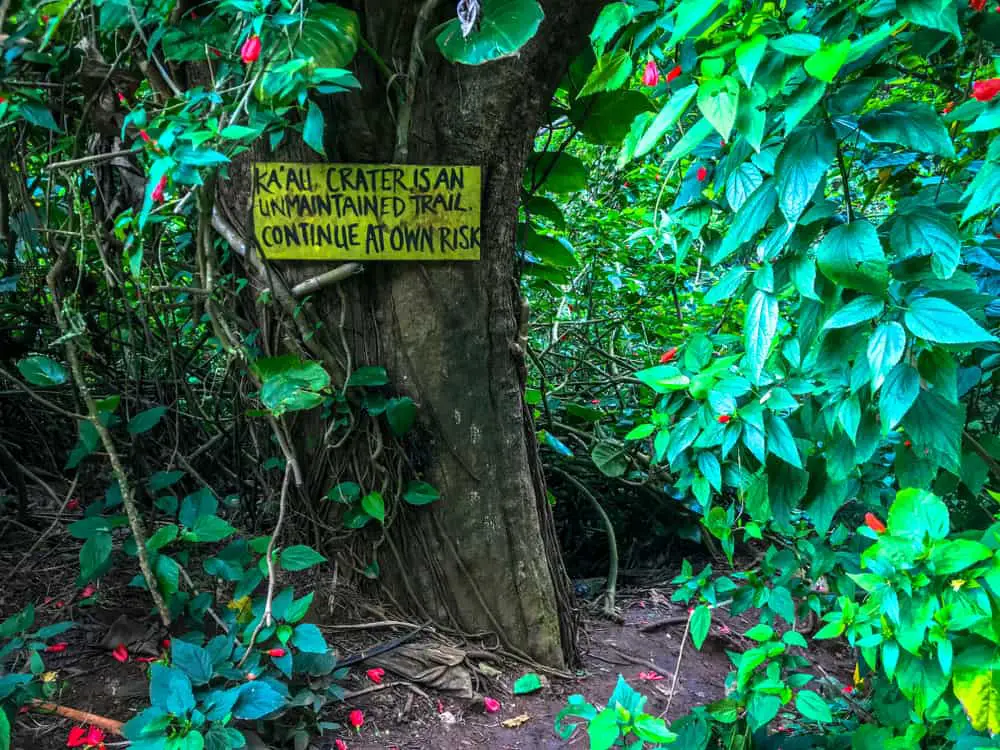 As you can imagine, Ka'au Crater offers some of the most beautiful sights across the whole of Oahu.
However, the one of the first things you will see is a sign that states the trail is unmaintained and hikers should continue at their own risk. Not exactly the most welcoming sign, but this hike isn't a walk in the park, after all. 
This hike starts the minute you pass this sign. Nothing about this trail is forgiving – though there are some handy signs and colored tape to direct you throughout the trail.
The majority of this trail is following a stream uphill, so you will be surrounded by little waterfalls and creeks. 
At one point, you will begin to follow a thick pipe that helps you to navigate through the forest area.
It will feel and look exactly like a rainforest due to how moist the area is, which is an ideal time to take in your surroundings and look for local wildlife. 
The first waterfall can be hard to navigate at first and you will have to go slightly off-trail, but the results are worth it. This waterfall might not be huge, but it is a majestic hideaway hidden between the valley. 
Some rock climbing will be needed for you to reach the second waterfall (aided by some handy ropes). This waterfall is much larger than the first, but the stream is narrower. If it's raining, the second waterfall will be gushing with water. 
The third waterfall is another 30-minute walk from the second waterfall, but due to its size, it's far easier to spot. Thing is – you'll have to climb down a rocky decline to get to the base of the waterfall.
We did say this trail wasn't for the faint of heart. This is the perfect time to have a snack, because the next part is one of the hardest stages – you have to climb up the waterfall. 
Once you've climbed the waterfall and done a bit more navigating, the next stop is the iconic crater. The Ka'au Crater is one of three craters on Oahu (other than Koko Head and Diamond Head), so get your pictures in while you can. 
Just when you think it's over, it's not. The trail then leads hikers to the summit. The higher you go, the better the views. This is when people tend to slow down to either catch their breath or take endless photos. 
Once you reach the top, there are no words to describe how beautiful the views are. You can see right across the whole island, which is something few people can say.
Hikers spend a long time up here taking in the views and treating themselves to snacks and drinks after their long, hard climb. 
Going back down the hike trail is all downhill, but it's very steep. As the area isn't maintained, it can be possible to miss the exit, so keep your eyes peeled!
What can you see from Ka'au Crater?
When you hike this trail, you can expect to see:
Three waterfalls
Ka'au crater
Honolulu
Winward side
Diamond head
Ka'au Crater Hike Challenges
We cannot stress how challenging this hiking trail is. Of course, the views and experience are totally worth it, but this trail should only be completed by advanced to experienced hikers. 
This hike is steep – both in the incline and decline. Sure, there's the occasional rope to help you climb rocks, but you have to take this slowly.
As Ka'au Crater is notoriously moist due to all the waterfalls and the stream you walk along, the trail becomes very muddy quickly.
You must wear the appropriate shoes to provide some grip – and take it slowly. This isn't the hike for clumsy hikers!
Also, this place has very uneven flooring. There have been accounts of hikers slipping and twisting their ankle or injuring their knees, so you must be aware of how unpredictable the environment can be. 
The hike trail itself isn't maintained by humans or guards. It is a place of natural wonder and beauty, which means you are literally up against the elements that the trail has to offer.
It is imperative that hikers are aware of the challenges to prevent themselves from causing an injury. 
Final Words
Despite how challenging the Ka'au Crater hike is, it's no secret that the views are worth the climb. Be prepared to get very muddy and be as patient as you can!