The Gillespie Pass Circuit has it all – a challenging few days of hiking, rivers, forests, mountain passes and glacial lakes. All this and to top it off, we saw very few people over 4 days, which is a remarkable difference from the Great Walks of New Zealand such as the Routeburn Track. Personally I found this to be one of the most memorable few days hiking that I've experienced and I highly recommend it. Weather, like always, is a big factor along this route and can make conditions treacherous so confidence around the forecast is important. Read on to see how our 4 days on the Gillespie Circuit panned out, and how we very narrowly missed out on some extremely challenging weather when navigating the pass.
The Details
Distance: 53-58 km (depending on initial river crossing)
Duration: 4 days (with 1 day for a side trip to Crucible Lake)
Start / Finish: Makarora
Direction of Travel: Circuit
Elevation Gain: 2,377 m
Max Elevation: 1,602 m
Difficulty: Difficult – Advanced 
Season: Summer only. Not recommend in winter due to snow and ice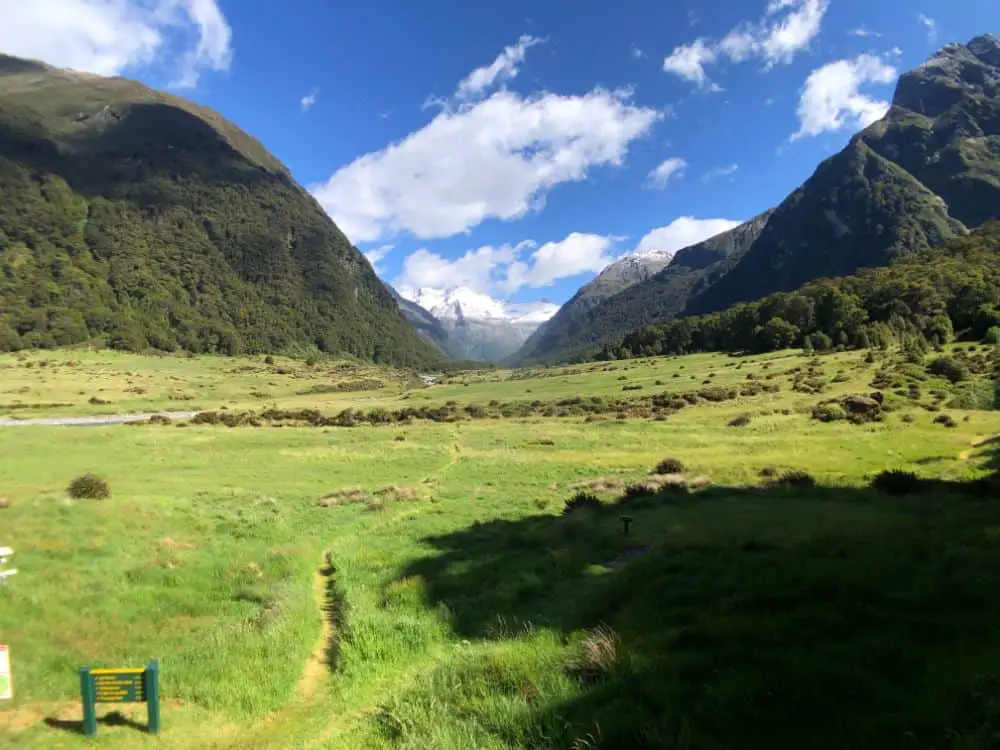 Our plan for the Gillespie Pass Circuit
I'd stumbled upon the Gillespie Pass on a hiking blog a few years ago and had never been able to get it out of my mind when thinking about a trip to New Zealand. The pictures were stunning and the fact that it was a circuit a bit less travelled than the Great Walks of New Zealand, really appealed to me. 
Equally I'd read about the area's reputation for sudden swings in weather, and particularly tough stories of some hikers who had met their fate on this very route. We'd been watching the weather forecast for weeks and knew that there was a patch of heavy rain for at least 1 day.
Arriving in Queenstown, we headed straight to Wanaka in our hire car for 2 nights before setting off on the Gillespie Pass Circuit from Makarora. Wanaka was great – like a smaller version of Queenstown with plenty to do – hikes, the lake, restaurants and bars. We needed some time to pick up supplies and sort out ourselves before the trip which saved us rushing there to start the hike.
Like most people suggest, and as I would recommend, we planned to take 4 days to complete the circuit with 2 nights in the Siberia Hut to allow a whole day for the optional side trip to Crucible Lake – a small glacial lake located around 7km from Siberia Hut.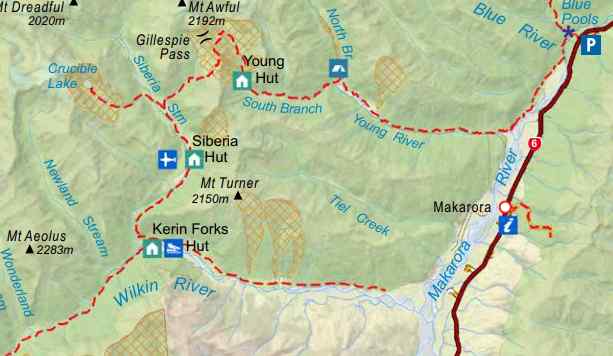 Trip report
Day 1 – Makarora to Young Hut – 20km / 7 hours
(add 4km and 1.5 hours if starting from Blue Pools)
The first challenge which immediately presents itself on the Gillespie Pass Circuit is how to cross over the Makarora River. There are three options, the quicker of which is to find a suitable place to cross the Makarora, and the second is start at Blue Pools which avoids the river crossing but adds approximately 4-5km or 1.5 hours to the start of the hike. The third is a jet boat, but these do not operate every day.
We chose the first option. We travelled from Wanaka in our hire car, and parked this alongside a few other vehicles just off the main road. Following a fairly obvious path, this leads down along a fence line to the Makarora itself. From here you need to turn right and follow the banks of the river until you reach a suitable crossing point.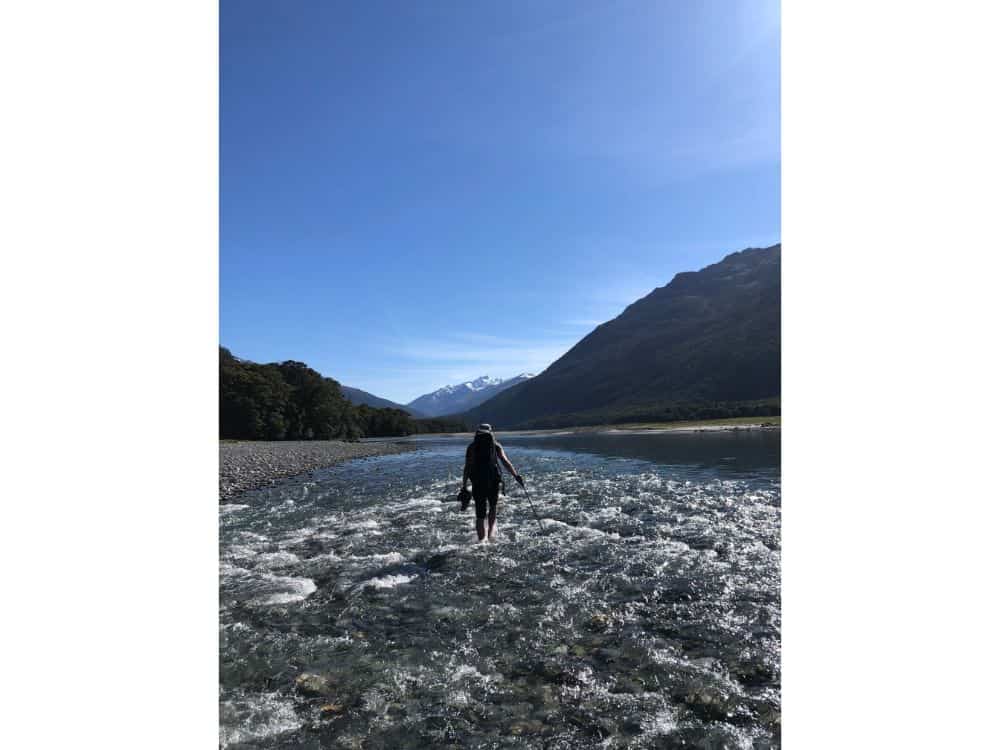 Now, firstly, the advice is clear that if there's been any kind of rainfall you would be best to skip the crossing and head to Blue Pools. Secondly, the river bed must consistently change so I don't believe there is a consistent crossing point.
We followed the river crossing over a shallow section of stream to an embankment in the middle of the river and kept along this until we travelled past the Young River fork of the Makarora, which eventually joined to the embankment on the trail side of the Makarora. We never got deeper than shin deep, so counted ourselves very lucky. As I said, I doubt this is often the case. Interestingly enough other sections of the river were very deep and quickly flowing, so we did not expect to almost cross over on dry ground.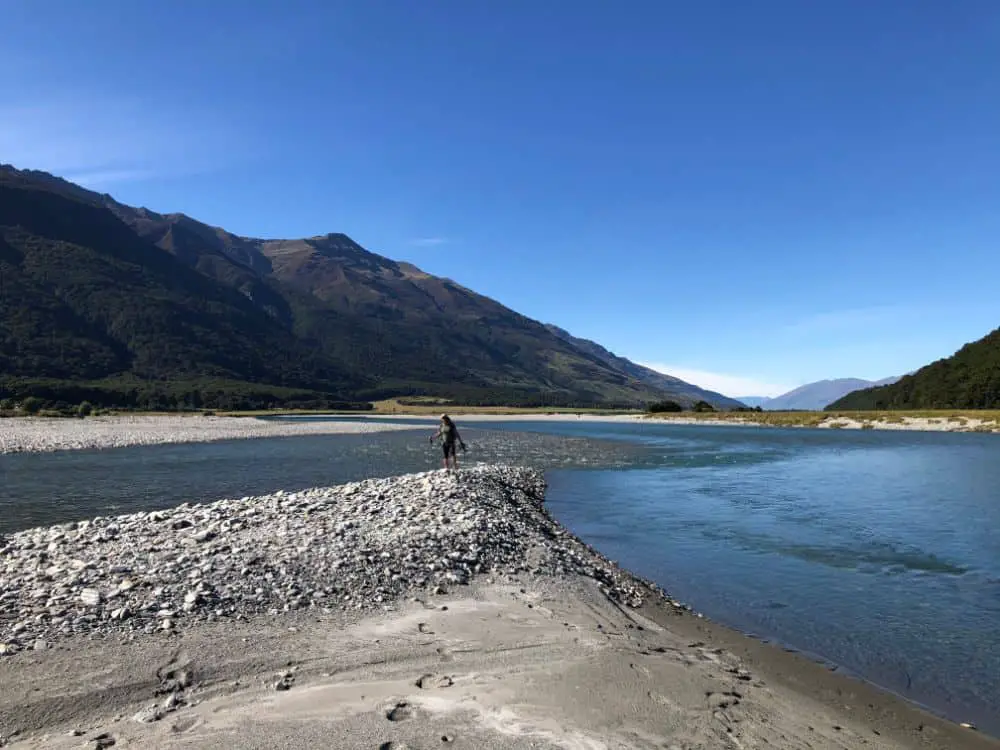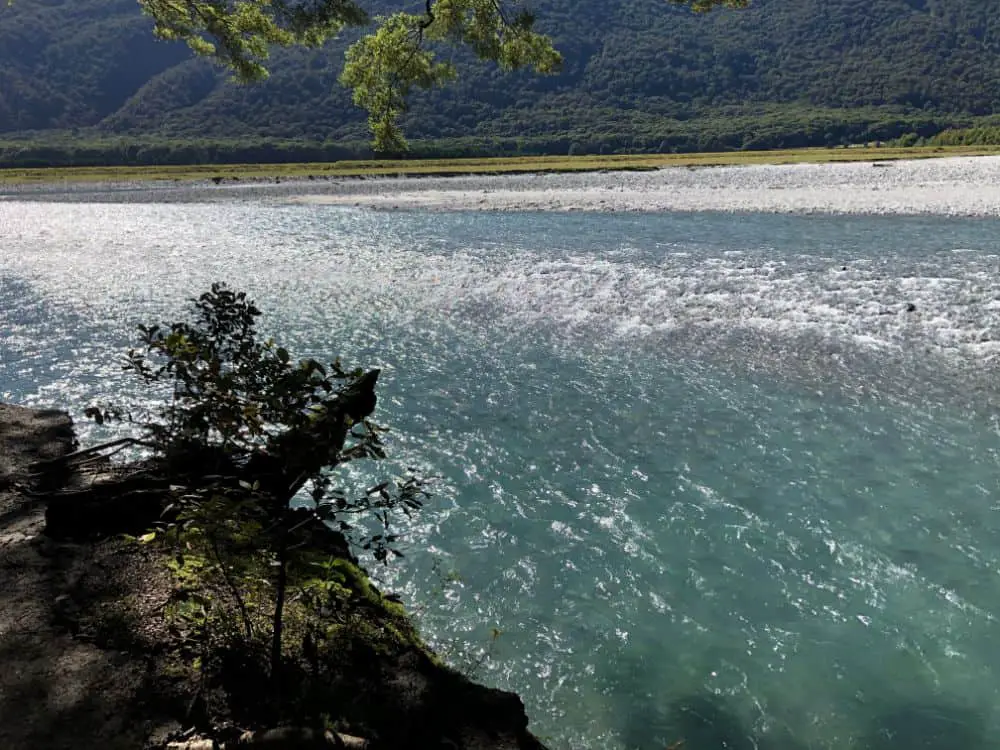 From here, we got on the main track which for several kilometres follows the Young River in shaded forest. There are some lovely spots to stop on the river here and the water is amazingly clear. It's a spectacular spot.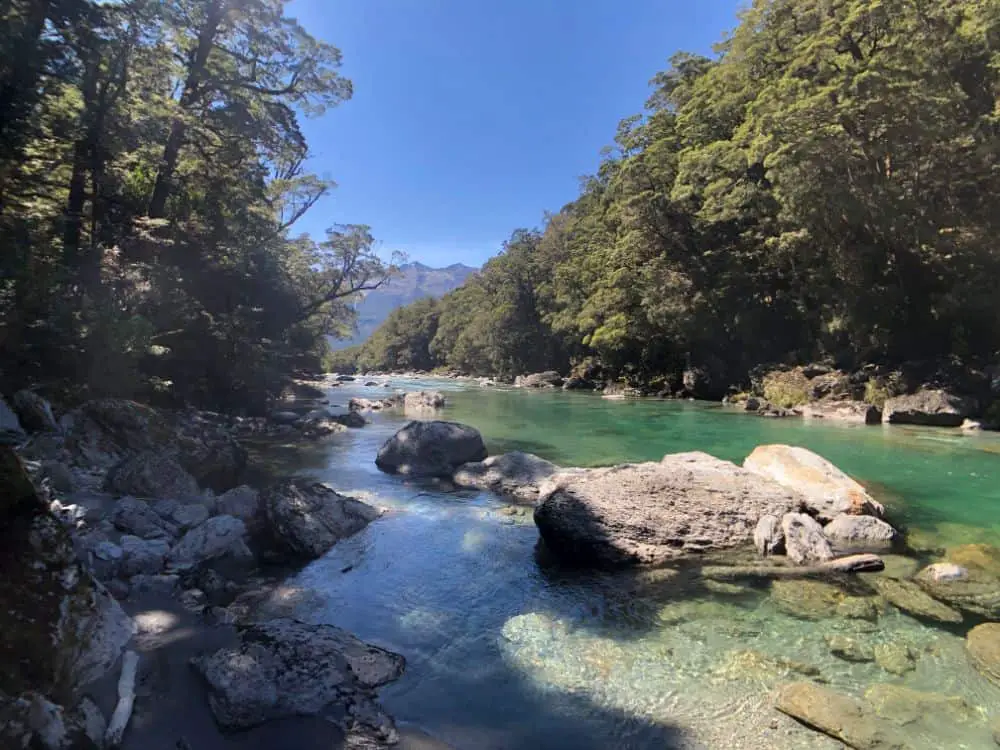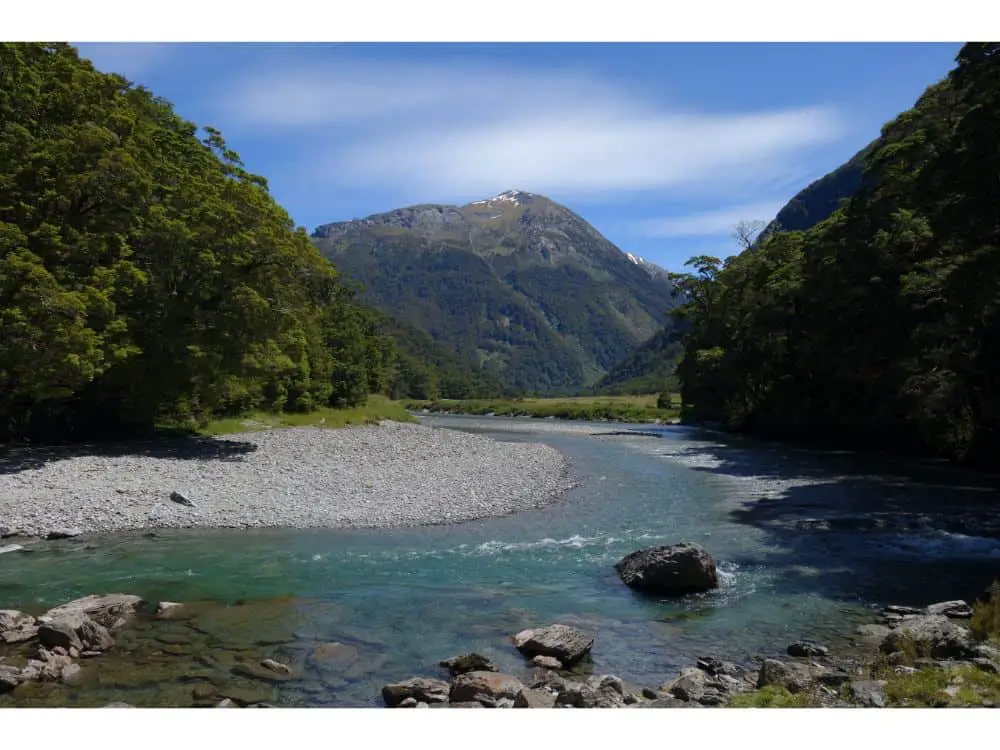 We were gifted with perfect weather, so the morning's hiking was very pleasant and nothing too difficult with a gentle incline most of the way. Further up into the Young Valley with great views up into the mountains that we would climb the next day, eventually crossing over the Young River by foot bridge.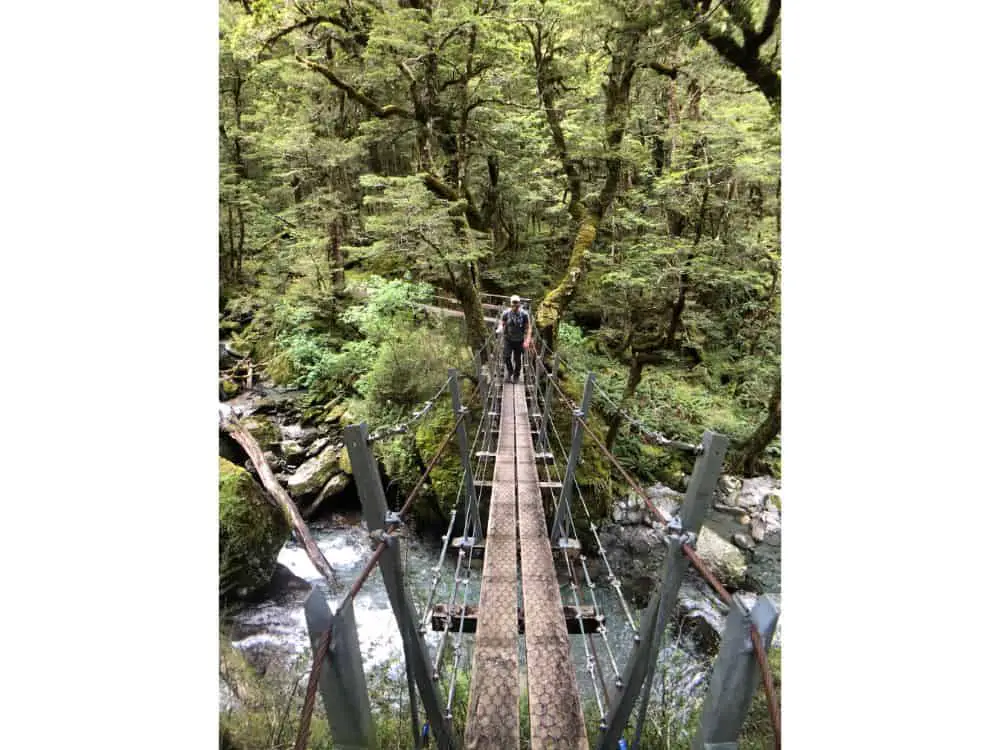 We stopped for lunch at a camping spot here, and spoke with a small group of hikers who were returning from a few nights at Young Hut, and who had tried to head up to Gillespie Pass, but had turned around as they found it difficult (at least one of the party perhaps). 
Back on the trail, the route from here winds up steeper terrain and we crossed a few sections where the trail had recently been impacted by some landslides. The day really stepped up in intensity here as we went up and up, by the end we were pretty keen reach Young Hut.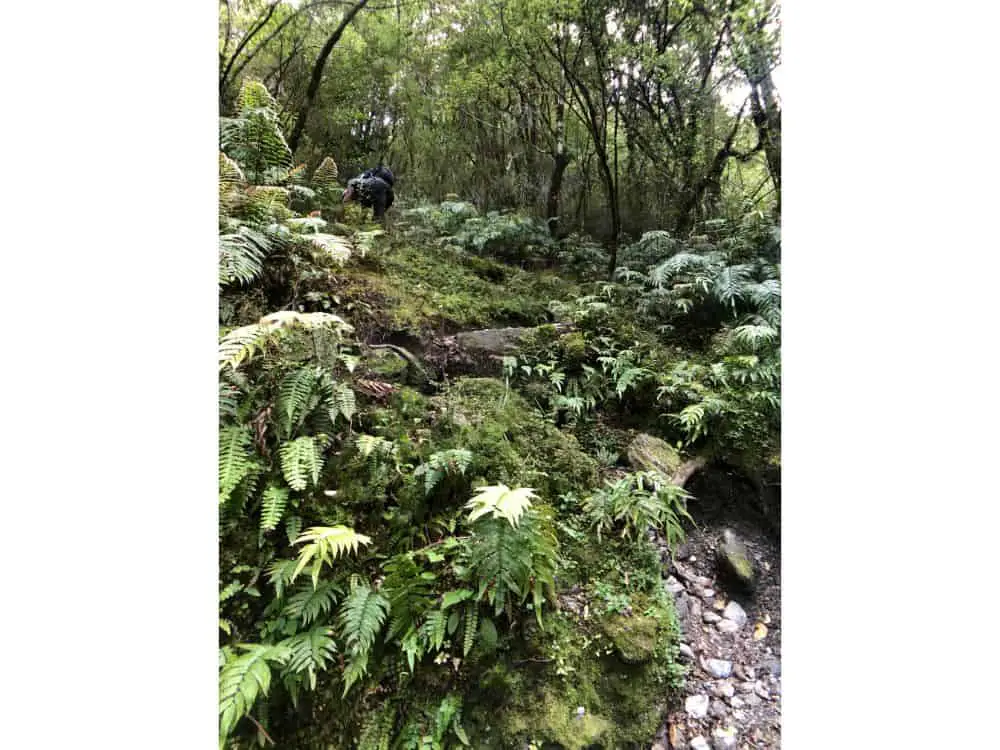 Finally arriving at the Hut, we ditched our hiking boots outside and got inside. 
There were about 5 or 6 other hikers in Young Hut that night, which comprises two bunk rooms and a kitchen/dining area. It's a fairly basic hut but overall comfortable.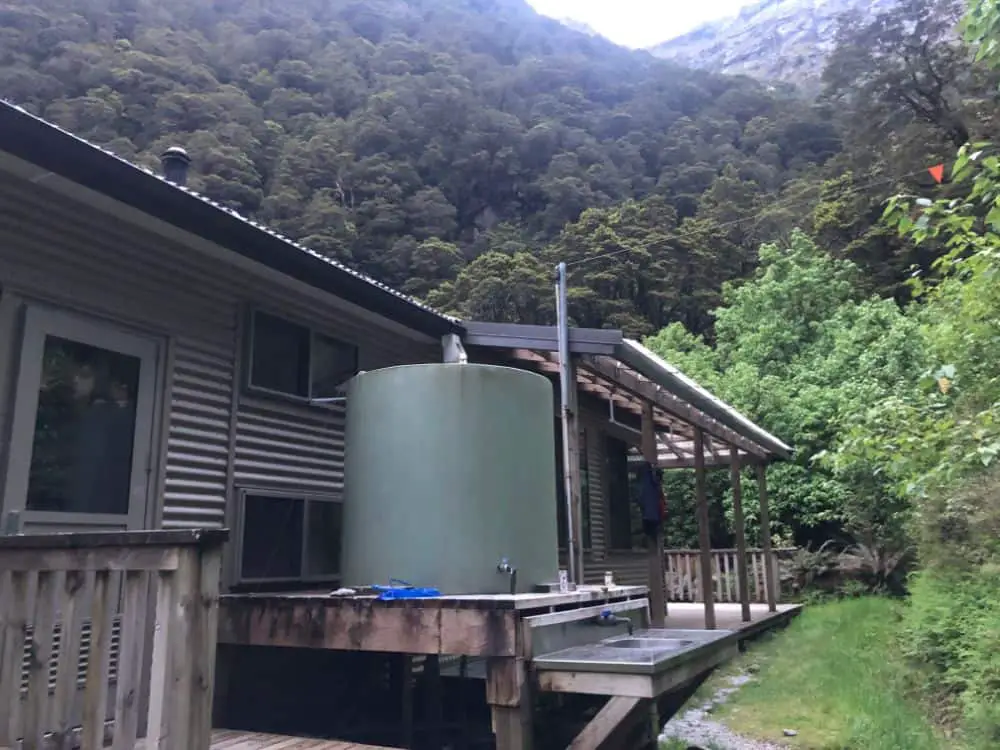 Everyone else was heading back down the Young Valley the next day, so it looked like we were on our own to take on the Pass, in what was looking like a very raining morning.
Day 2 – Young Hut to Siberia Hut – 12km / 8.5 hours
We woke up the next morning after a good sleep to a torrential downpour outside. Having studied the weather forecast in the days leading in, we kinda knew that the heaviest rain was forecast from early morning up until around late morning/midday. So we had decided already to take it easy in the morning and wait for the heaviest of the rain to hopefully pass.
At around 9:30-10:00 we decided to get on with it. Donning all the wet weather gear, we finally bit the bullet and headed out in what was still pretty consistent and heavy rain. 
Initially the track from Young Hut is further winding up through covered forest which provided some respite from the rain but eventually opens up. The wind was fierce and rain was coming in sideways. I wasn't feeling great about the prospect of the 1,000 m climb we were about to start.
It was at this point that we ran into a German couple who had just descended from the Pass, and told us about the harrowing conditions they'd faced at the top – snow, hail, wind and rain. They were quite terrified and actually told us that they didn't recommend we head up. 
As we said goodbye and waved them off, Jim and I nervously mapped out what our options were. Turn around and head back to Young Hut? And then back to Makarora the next day. This would be such a bummer. After probably 10-15 minutes of umming and ahhing, we decided that we'd start the ascent and if it got too hairy, we'd turn around. Maybe not the smartest plan but we were clinching to the hope that the weather was starting to somewhat clear. 
Remarkably, as we started up the switchback route up the side of the mountain, the weather did start to clear. Bit by bit, blue skies opened up and after 20-30 minutes we were astonished at the turn of events. At every section we were expecting strong gusts of wind to start blowing us around but they never came. The skies opened up into blue. Luck was on our side, and clearly not the Germans who'd passed through only an hour ago. 
It was a fairly steep climb, but nothing overly technical and to be honest as we were expecting the worst, it was really not bad at all. 
Reaching the pass, we could not believe our luck, barely a breath of wind – blue skies, and magnificent views in all directions. How could it have been snowing and hailing up here only a few short hours ago. We couldn't get over it!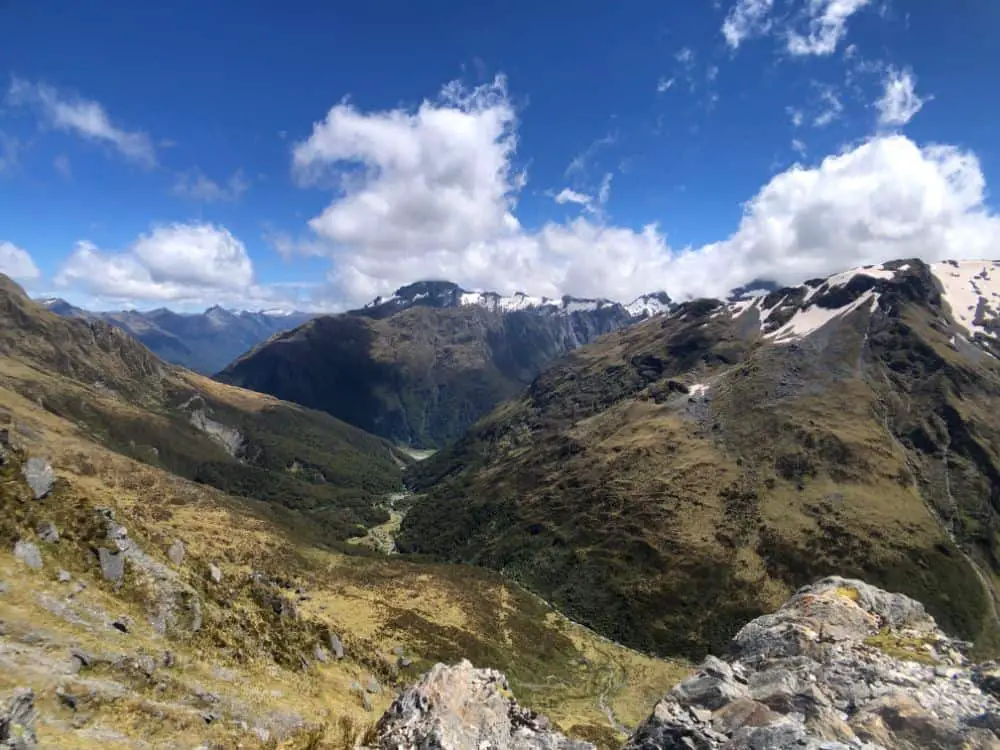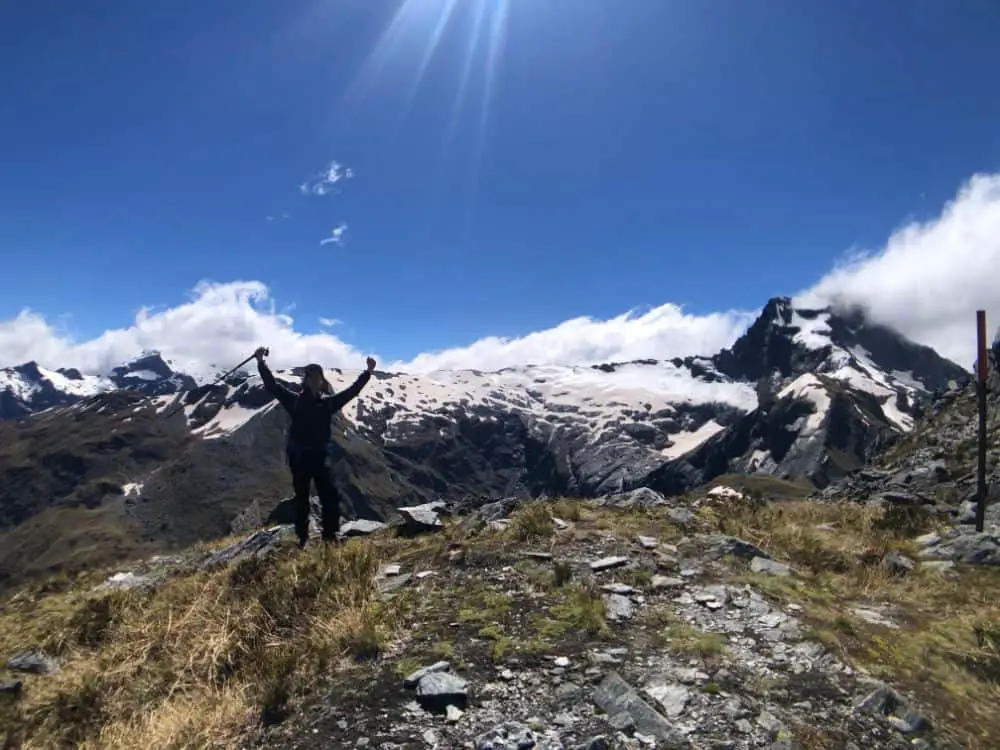 We stopped for lunch, and struggled to wipe the grins off our faces. We felt so sorry for the German couple. From here, the 1,000 m descent into the next valley starts immediately and we found this much harder overall than the climb on the other side.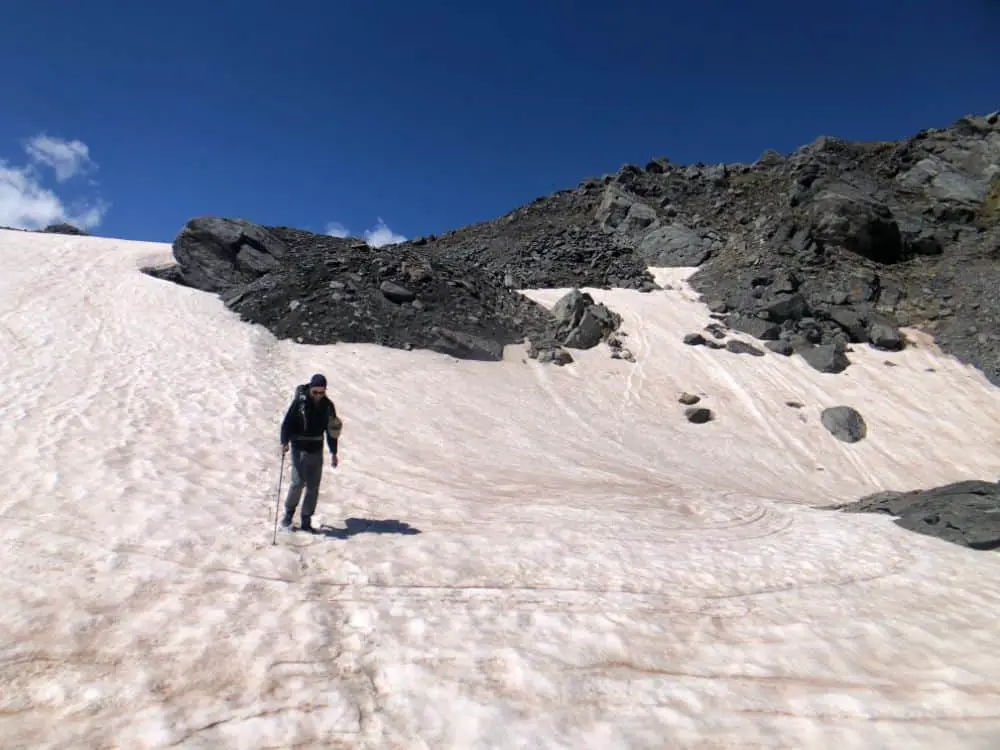 After an hour or two, with sore legs and starting to get a bit tired, we reached a flat section of the valley which follows along the river, which is a really beautiful area. Heaving the packs onto the ground, we decided to take a load off in the afternoon sun.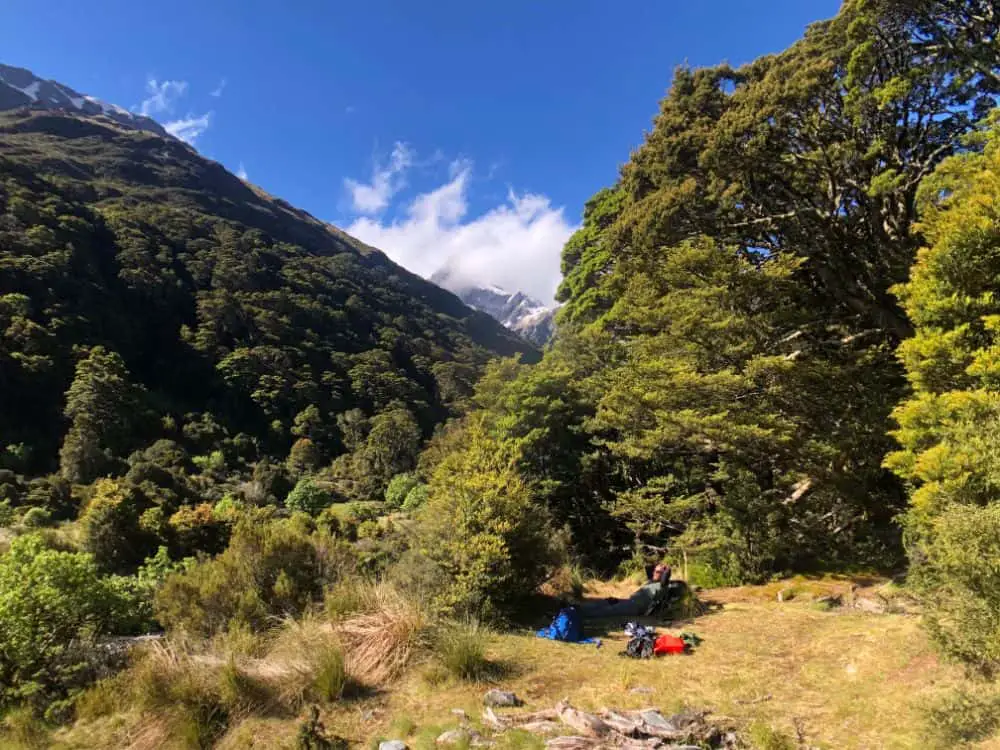 From here, there's more down and down and down through forested areas with lots of tree roots etc which make the going a little tiresome. Eventually arriving into the Siberia Valley, we were pretty stoked to be there!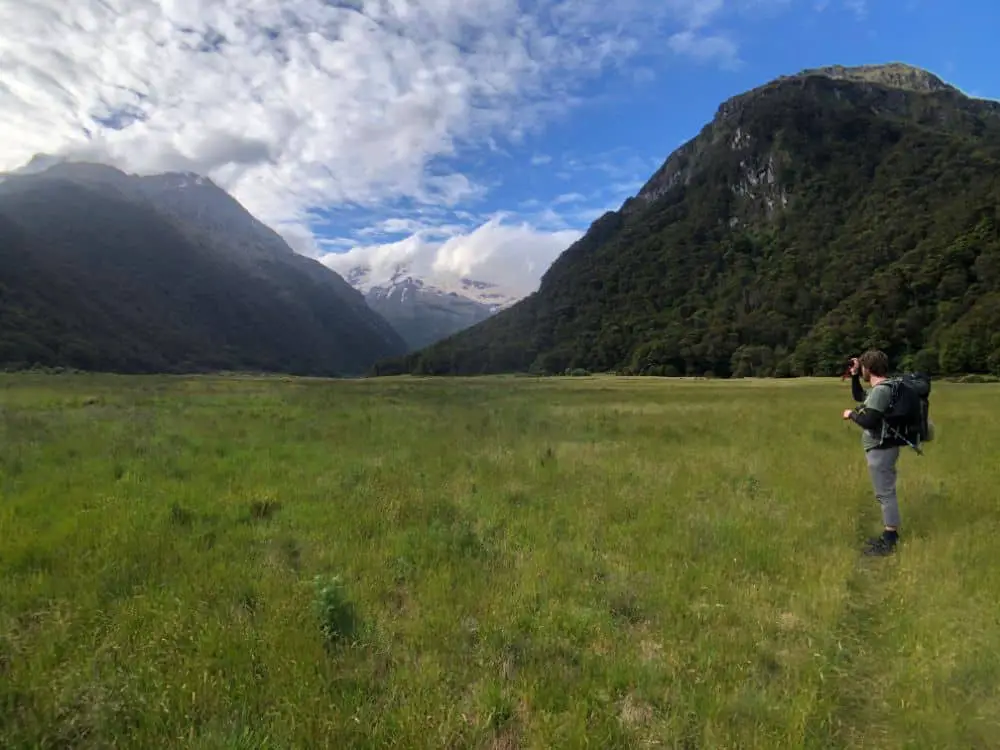 The sun was starting to cast shadows, and we made our way down the valley which takes around 40 minutes to an hour to reach the Siberia Hut. It's a pleasant and stunning valley and easy enough walking, but by this point we were intent on getting to the hut. 
As we finally peaked over the end section of the valley, we caught a gimple of the Siberia Hut. This has got to be one of the most perfect spots for any hut in New Zealand. Tucked into the corner of the valley near its own waterfall, this hut is really unique and a major upgrade on Young Hut the night before, which to be fair was quite decent.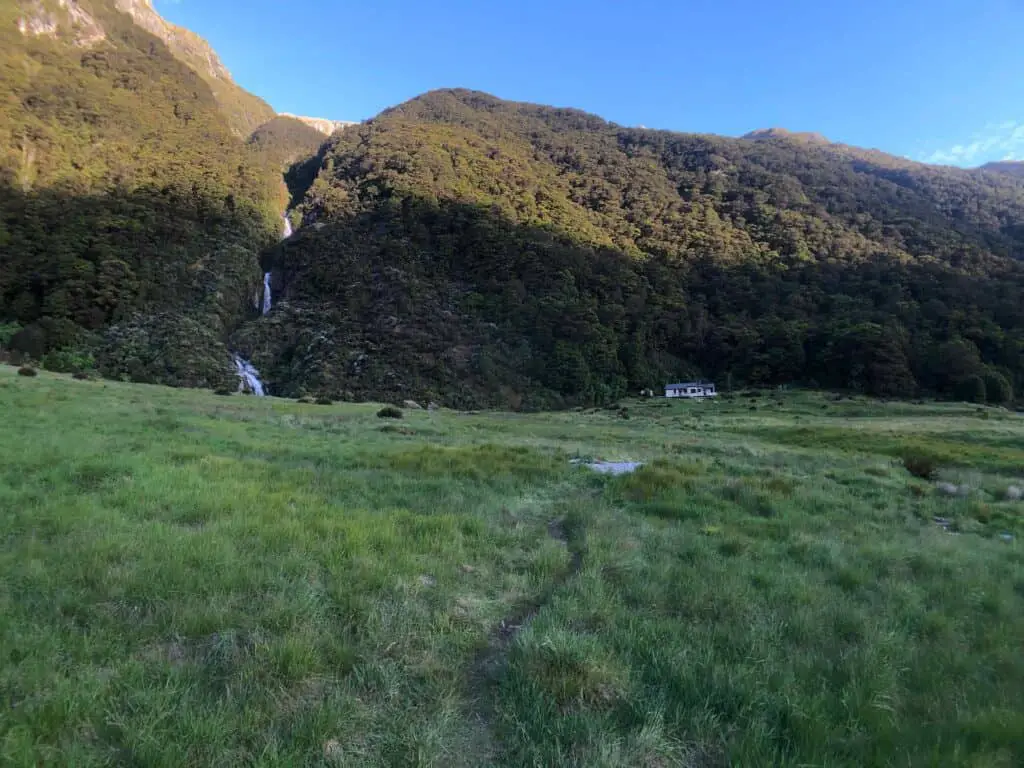 We arrived to find only one other hiker in the hut along with the hut warden, who is permanently stationed during the hiking season in their own separate living quarters next door. The warden informed us on arrival that the three of us were the only ones booked in for the evening. I was surprised by this as I was sure the hut was seemingly booked out every day when made our bookings some several weeks before.
This was pretty perfect, as Jim and I ended up with a whole bunk room to ourselves and another great nights sleep. The setup here was excellent and everything was immaculately maintained.
Day 3 – Optional side trip to Crucible Lake – 14km return / 7 hours
We woke up to a beautiful morning and blue skies above the stunning valley, with amazing views out the window from Siberia Hut while we had our breakfast and coffee. 
The legs admittedly were pretty sore but the day would probably be a whole lot easier, carrying only a small pack for our trip up to Crucible Lake. It was probably the pictures that I had seen of Crucible Lake which had most attracted me to the Gillespie Pass Circuit, so we were excited to see it. 
We set off back the way we had come through the valley the evening before – about 1 hour, just beyond the point at which you descend from the Gillespie Pass. Crossing over some streams – I was wearing my xero z trail sandals which came in handy a few times on this trip, we then started the steep ascent up the other side of the valley.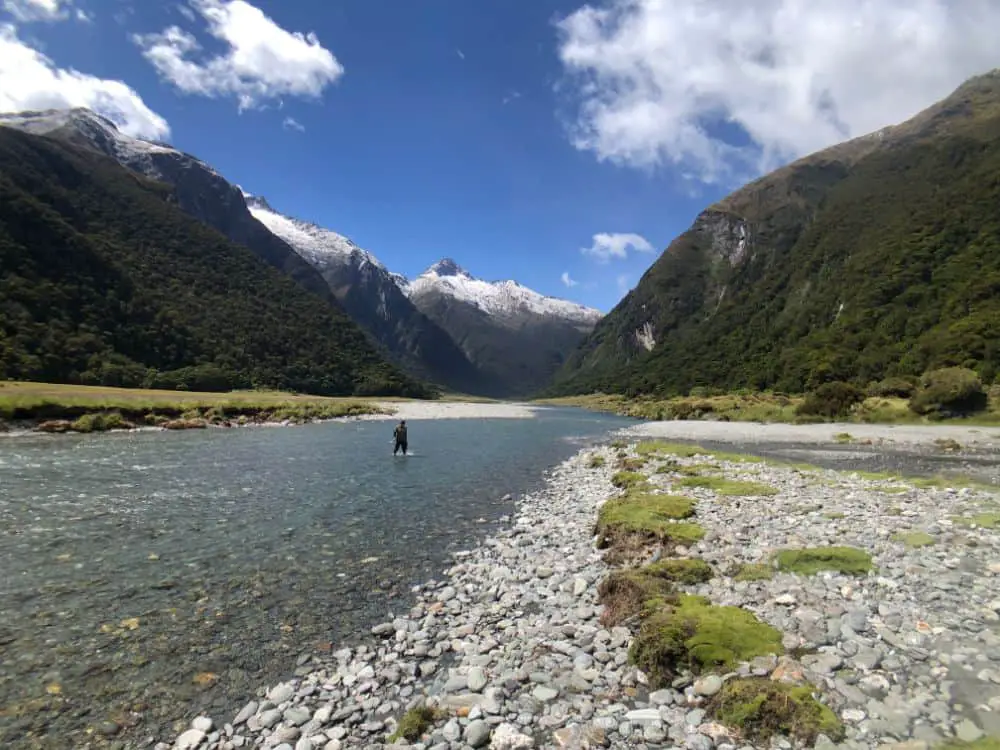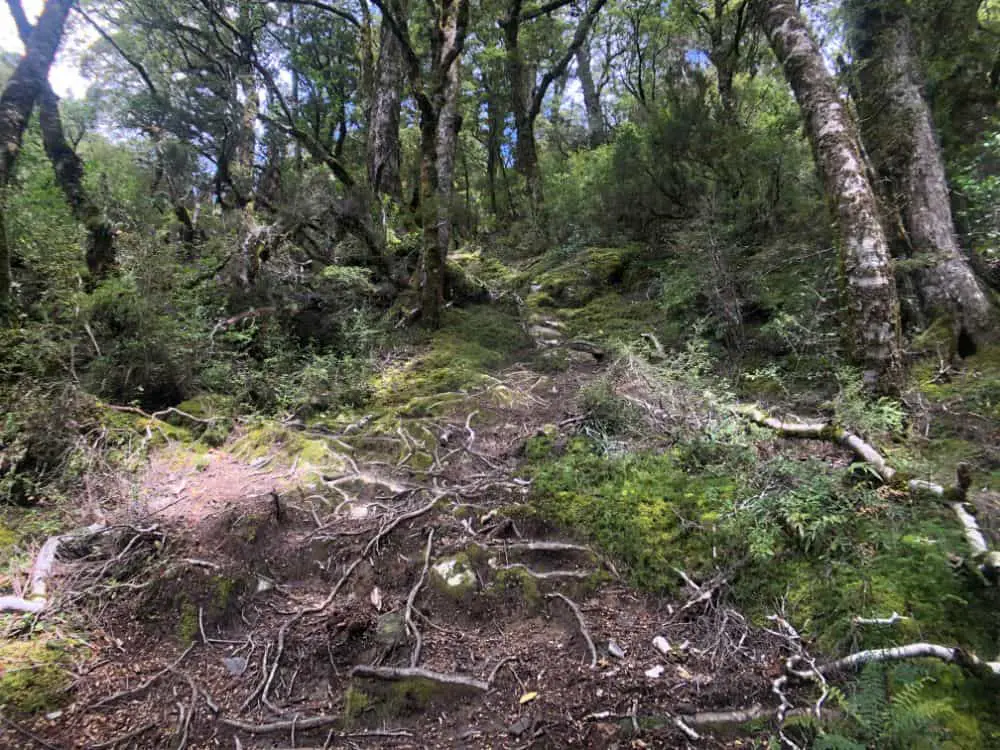 It's a bit of a slog up here with tree roots and lots of varied terrain under forest cover. After 45 mins or so we reached the a water crossing – which all comes from the Crucible Lake itself further up. There was quite a lot of water moving through here but we found a few options to rock hop across. 
The trail from here continues its way up and is generally easy to find and follow, although at one point we found ourselves heading up a dry water coursea few hundred metres, by which time we realised our mistake and back tracked.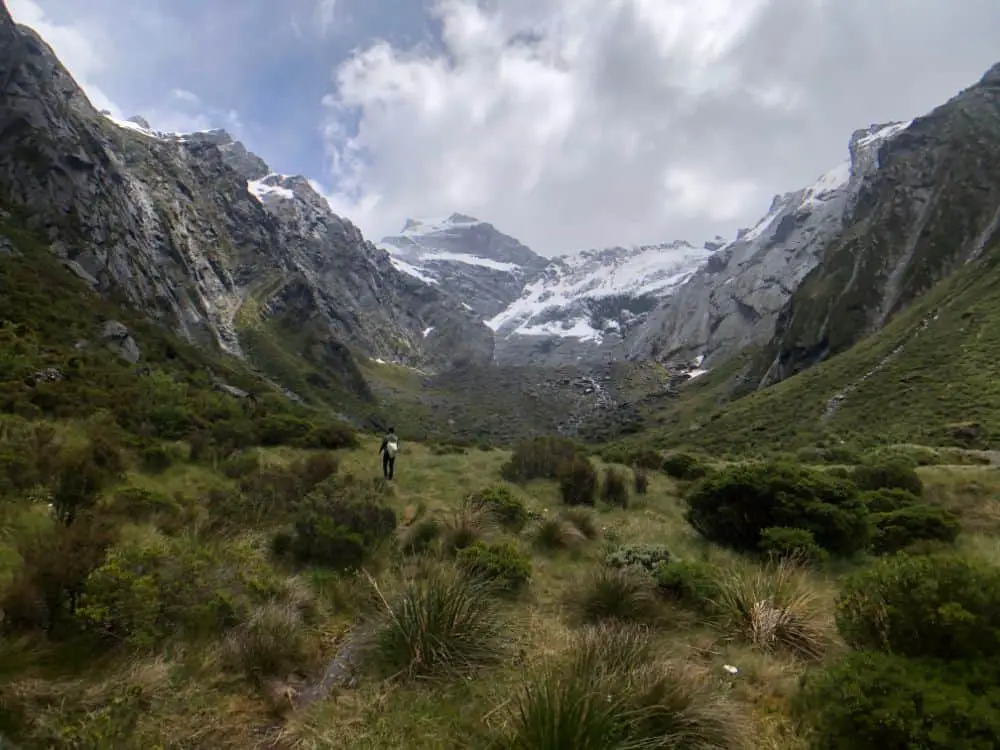 The top of the valley comes into view and we can see the sides of the lake up ahead. The further we got up it quickly became much cooler and we ended up adding some layers.
When we finally made it to the top we were in for a bit of a surprise.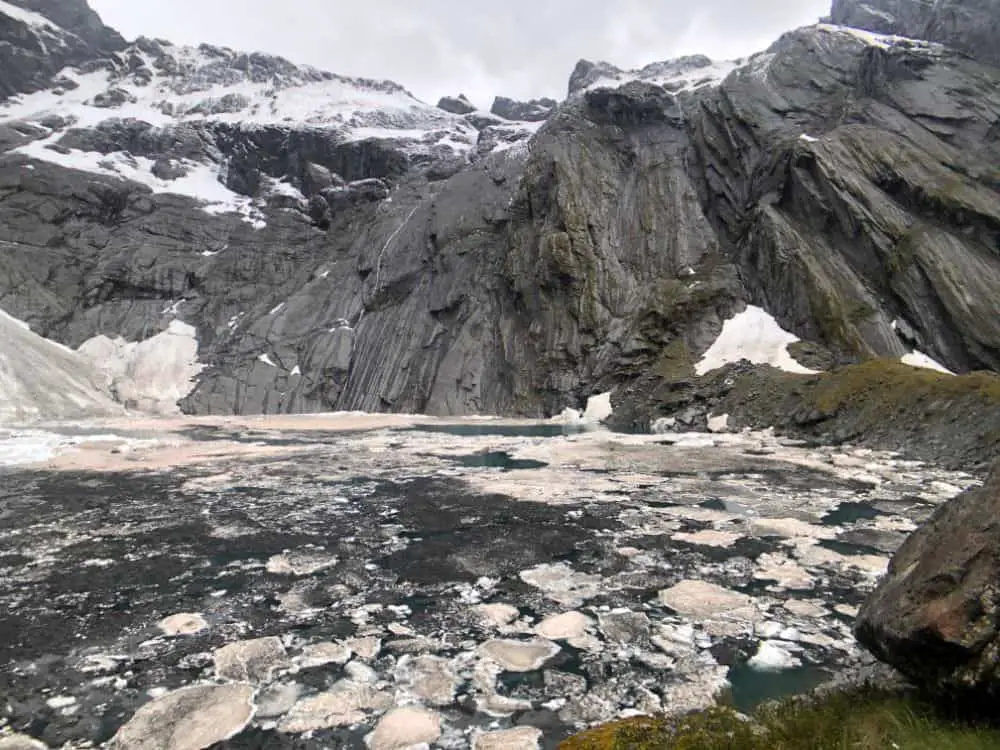 The Australian bushfires of late 2019 and the resultant smoke and ash which had made its way to New Zealand had left its mark at the top of some peaks which we'd seen from the Gillespie Pass but this was something else. It was a shock to have the perfect turquoise lake's image in mind to be greeted with what looked like a dark lake of some other world!
It was damn cold up here, as I'd said and it even started to lightly snow. We had a snack and took a few photos before heading back down the way we'd come. The weather seemed to be worsening as we were on our way down, yet we passed several groups of people going up. 
We arrived back to Siberia Hut where would spend a second night to a much different scene than the previous afternoon. 2 large guided groups and another group of self guided new zealanders had all come over the pass so the Hut was completely full. The rooms were jammed and the kitchen and dining areas loud and busy. Everyone was lovely and it was nice to talk to everyone but sleeping in a full bunk room is quite shit, with the chorus of snoring.
Day 4 – Hike to Kerrin Forks & Jet Boat (Or Helicopter?!)
The following morning we were all set to head off for the 2-2.5 hour hike (7km) out to Kerrin Forks, the pick up point for the Jet Boat we had booked back to Makarora ($115 NZ – one way). The jet boat is what most people seem to choose for the Gillespie Circuit. The alternative is to hike the whole way which I believe is a further 19km from Kerrin Forks and a pretty tough hike from all accounts. There is another Hut at Kerrin Forks (first in first served – 10 bunks as an alternative option).
However, during breakfast at Siberia Hut the warden came in to tell us that Wilkin River Jets had called him to ask us if we'd mind getting a helicopter out instead and they could pick us up just a few hundred metres from Siberia Hut! So, this could be considered the lazy option but who were we to refuse a helicopter ride out of here. We were pretty happy with ourselves.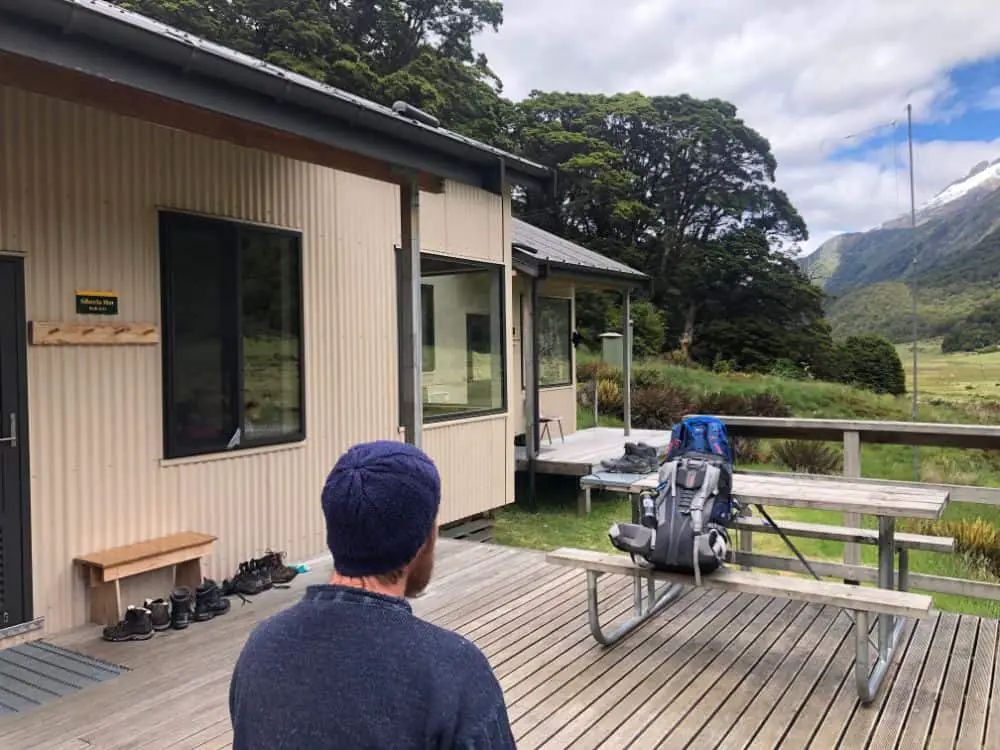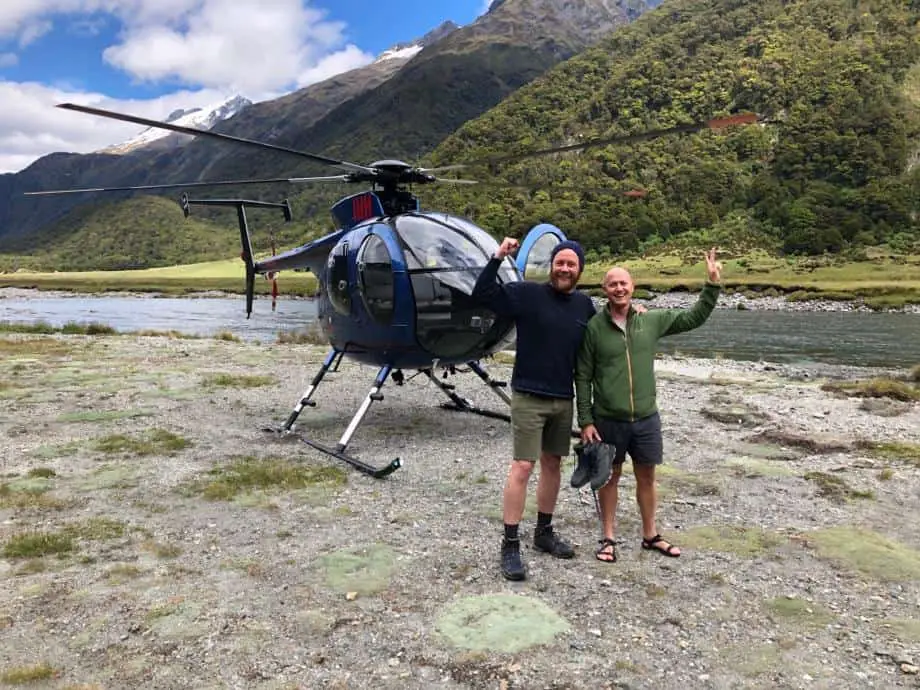 An hour or two later we found ourselves being whisked away in the helicopter and enjoyed a different perspective on the magic area we'd spent the last few days in and within a short 15 or so minutes we were landing back in the centre of Makarora.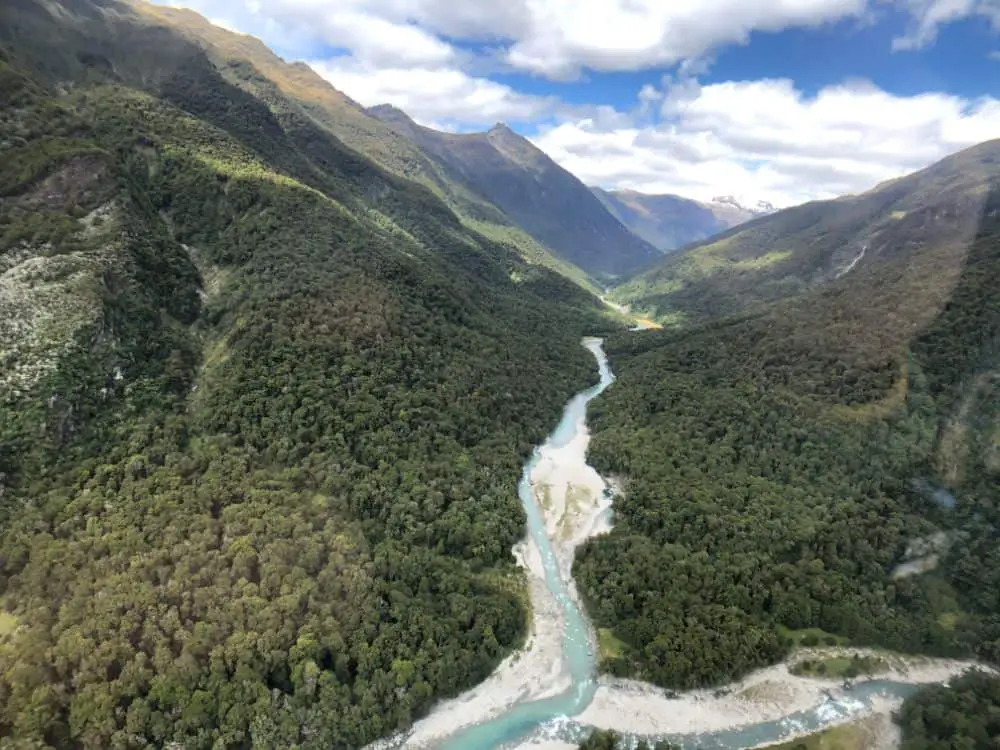 From here it was a couple of km back to where we had parked the car.
FAQ: Gillespie Pass New Zealand
How difficult is the Gillespie Pass Circuit?
The Gillespie Pass is physically demanding, more so than it is technically difficult but for this reason I would recommend it only to experienced hikers who can confidently lug a pack up steep terrain and have completed previous longer distance hikes. 
I say this in light of talking with a few people along the circuit who either struggled with the pass and turned back, or who arrived at Siberia Hut and evidently really struggled with it.
Weather
The other factor and probably the most concerning is the weather and unpredictability, which we saw first hand but luckily timed perfectly, when we tackled the Pass itself. 
This isn't isolated to this particular region, New Zealand is famous for its swings of weather, extreme rain, snow and wind. 
The other factor to consider here is the large amount of waterways and rivers particularly between Makarora and Young Hut, and Siberia Hut to Makarora. When rain falls, these areas and trails which follow them become very dangerous and this is where a number of incidents have occured in the past. 
My suggestion would be if there is extended periods of rain on the horizon, the region should best be avoided, but then again that could be advice for any hiking area in New Zealand!
Permits & Huts
Permits are not required however hut tickets are, so if you are going to be spending the night at the huts along the route (Young Hut, Siberia Hut, or Kerin Forks Hut) you will need to obtain these beforehand at a DOC office.
For Young Hut, you will need to leave your hut ticket in the ticket box located within the hut. There is no booking required for Young Hut.
For Siberia Hut, however, you will need to book in advance rather than purchase a hut ticket, which you can do online: https://www.doc.govt.nz/parks-and-recreation/book-online/?op=departme75&pid=10648
When to go?
January to March are noted as the best months to complete the Gillespie Circuit,  however Sibera Hut takes bookings from 1 December to end April. 
How do you get to Makarora? 
We travelled to Makarora from Wanaka in our hire car, which is of course very easy and convenient. The drive from Wanaka is approximately 50 minutes.
There is also a bus route from Wanaka to Makarora which is approximately 1.5 hours. 
How to get to the trailhead 
As we mentioned, you've got a few options at the start of the hike. The first and generally safest option is to start from the Blue Pools Trailhead, 8 km north of Makarora. From the Blue Pools Trailhead you cross the Makarora River over a foot bridge before linking back up with the Gillespie Pass Circuit via a 4km trail which runs alongside the River.
The second option is to cross the Makarora River about 2.5 km north of the town of Makarora, which is what we decided to do and were lucky enough to have very calm and low water conditions. There is a signpost that designates access to the Young Valley on the left side of the road. You can park there and hike toward the river and find your own crossing. However, this is not a feasible or safe option when it has been raining and the river can become extremely dangerous.
The third option is to book a jetboat drop off with Wilkins River Jets. This is the easiest option, as it takes just one 10-minute boat ride to take you to the start of the trek and you don't have to complete a river crossing. However, this option costs $25 per person and it doesn't run every day.