Some of the best hiking trails are found in the US and although there are many amazing and truly enormous national parks throughout the country, California boasts some of the most incredible hiking trails anywhere to be found.
Big Sur in particular is one of the best spots with an amazing mixture of locations that offers a wide variety of difficulty levels, access, and sights, offering something for everyone.
There's a lot to see here, from amazing beaches to rugged ridges, waterfalls, hot springs, and redwood forests sprawling out into the distance.
It's a truly awe-inspiring place with some of the best and most popular hiking trails anywhere in the world, many of which can be found near to each other and linked up to form longer hikes and journeys.
The only drawback is that the sheer beauty and popularity of these trails can make them quite busy and well-trodden, so choosing the right time of year to hit these trails is crucial to get the best experience possible.
In this list we're going to look at 10 of the best trails and hiking sections to visit in the Big Sur area, highlighting key features, distances, difficulty levels, and sights to see in order to give you the best idea of where to head next depending on your preferences.
Best Trails
1. Buzzards Roost Trail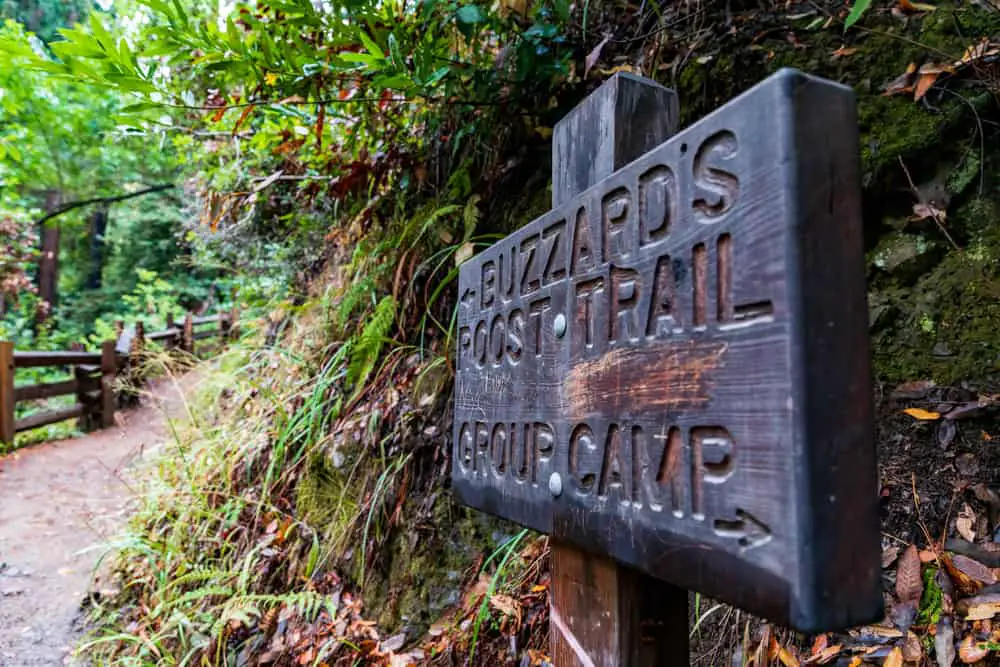 Location: Pfeiffer Big Sur State Park
Distance: 4.8 Miles
Difficulty: Moderate
Highlights: Dense woodlands and ridges with coastal views
One of the most famous and popular Big Sur hiking trails is the Buzzards Roost Trail, which is known for its dense woodland sections and high ridges which give amazing views of the nearby pacific coast.
The trail is also known for its beautiful flora, featuring many wildflowers and a diverse selection of trees giving nature lovers and bird watchers a chance to see some of the rarest sights in the world.
In terms of difficulty, this trail is around 5 miles long and is rated as moderately difficult, with some steep sections giving beginners a bit of a challenge and step up from shorter more gentle trails. 
The difficulty is worth it though and is best traversed between March and October to experience the peak beauty of all the amazing flora and fauna as well as the best weather conditions.
The elevation gain is around 300 meters meaning there are some climbs but this is a relatively friendly medium distance trail.
2. Creamery Meadow and Ridge Trail Loop
Location: Creamery Meadow
Distance: 8 Miles
Difficulty: Moderate
Highlights: Beautiful beaches and rivers
The Creamery Meadow to Ridge Trail loop is one of the most popular routes and has an excellent blend of beautiful beach views and riverside hiking giving a great variety of scenes and views.
In terms of difficulty, this is another moderate route with some elevation, around 440 meters worth, with some relatively challenging climbing sections to test your fitness levels.
Hitting around 8 miles in length, this trail is a little longer than some others but is still a fairly manageable day hike and loops conveniently back on itself to give hikers a good idea of where they are and where they need to go.
Views of Point Sur itself are available on certain sections of this route, but the striking panoramas of the coast and distant ridgelines are most abundant and look spectacular. Crossing the Big Sur River is also a highlight.
3. Tan Bark Trail
Location: Starts 2 miles north of the park entrance at Julia Pfeiffer Burns State Park
Distance: 5.6 Miles
Difficulty: Moderate – Hard
Highlights: Coastal views and creekside trails
This is a slightly more difficult route that benefits from coastal views and creekside hiking.
Although slightly shorter in length than some of the moderate trails, Tan Bark has some quite challenging sections and the dense woodland can feel very hot at the peak of summer.
4. Sykes Hot Springs via Pine Ridge Trail
Location: Starts at the Big Sur Trailhead
Distance: 18 miles
Difficulty: Hard
Highlights: Beautiful hot springs!
This is one of the longest routes in the area and is definitely on the difficult side, however, it's worth the challenge with some of the most unique sights in the area.
The trail is a great multi-day choice for less experienced hikers, however, some ambitious individuals may attempt to traverse it in a single day if feeling particularly energetic. 
The trail is difficult, with around 18 miles of trail and several difficult sections making up around 1600 meters of elevation.

The highlight of the trail is that it takes you near to hot springs, which is one of the marvels of the natural world and worth all the effort on its own.
5. Mount Manuel Trail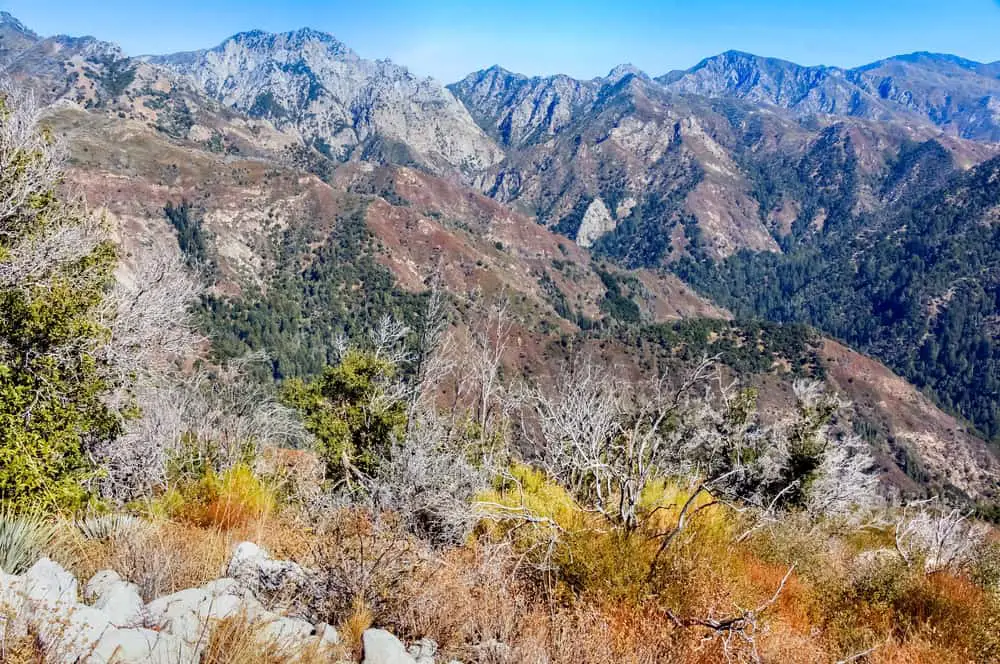 Location: Begins at the Oak Grove Trail at Pfeiffer Big Sur
Distance: 8 Miles
Difficulty: Hard
Highlights: High elevation, amazing panoramic views
This is another fairly difficult trail that is around 8 miles in length and which takes you right to the peak of Manuel Peak, at 3379-foot elevation. This one definitely isn't for the faint of heart.
6. Molera 8 Mile Loop
Location: Andrew Molera State Park
Distance: 8 Miles
Difficulty: Moderate to hard
Highlights: Coastal views and beach access
This loop is a lovely coastal trail for more experienced hikers, offering beach access at various points and stunning views, linking several smaller trails into one complete loop.
7. Pfeiffer Falls Trail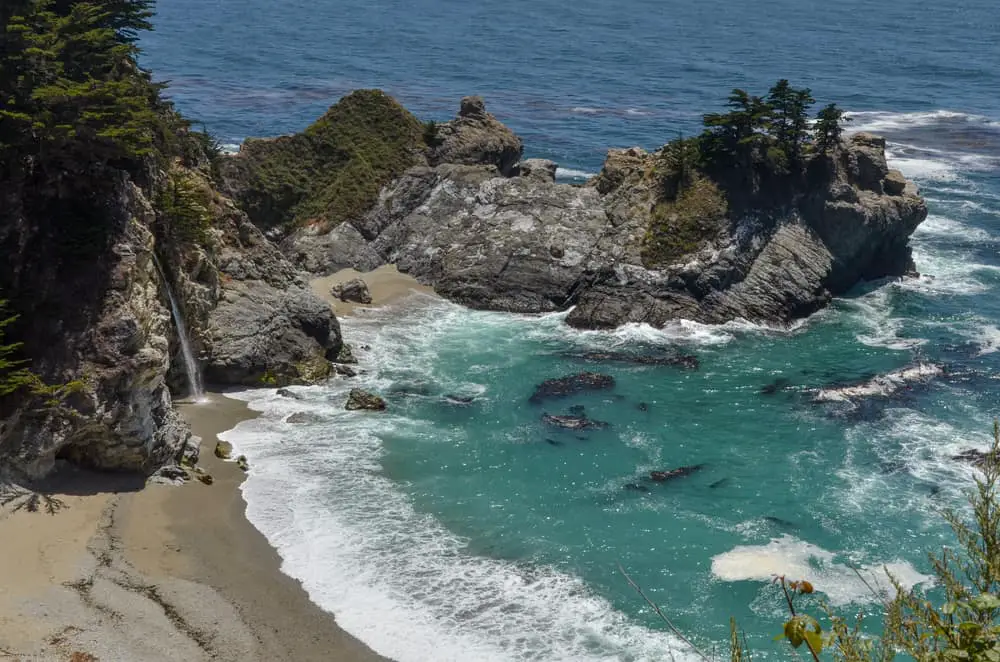 Location: Pfeiffer Big Sur
Distance: 1.4 Miles
Difficulty: Easy
Highlights: A 60ft waterfall
This relatively short and simple trail is a good one for beginners or more senior hikers who still want to experience the glorious beauty Big Sur has to offer.
Only 1.4 miles in length, this trail is very easy and gentle, but still gives views of some of the most pristine redwood groves in the world and ends with a view of a huge 60' waterfall, which is enough to make this a worthy trip for even experienced hikers.
8. Partington Cove Trail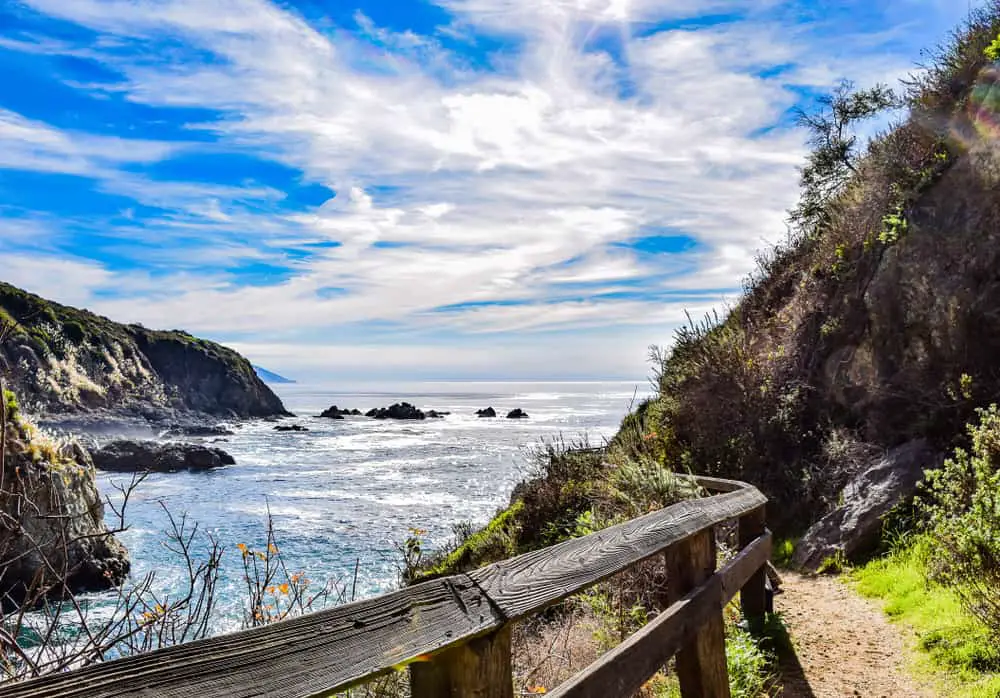 Location: ¼ Mile from Highway 1
Distance: ¾ Mile
Difficulty: Easy
Highlights: Historic logging tunnels
This is another relatively short trail that is geared towards those with an interest in history and heritage. Featuring a section that runs through a historic logging trail, this is a very interesting and gentle option for beginners.
9. Rocky Ridge Trail
Location: Garrapata State Park
Distance: 4.6 Mile loop
Difficulty: Moderate
Highlights: Rugged coastal bluffs
This trail can either be a 5-mile loop or a 6 mile out and back depending on your preference and is a great choice for intermediate-level hikers who want to experience the rugged coast of Big Sur.
10. Oak Grove Trail
Location: Pfeiffer Big Sur
Distance: 3 Miles
Difficulty: Easy-moderate
Highlights: Beautiful and varied woodlands including impressive redwood groves
This relatively easy trail is a good compromise for beginning and intermediate hikers who want to experience the majesty of the various redwood and oak groves Big Sur has to see.