Puerto Vallarta is a Mexican resort city located in Jalisco.
Situated on the beach, Puerto Vallarta exhibits everything a person could ever want – the seaside, a thriving city atmosphere, and stunning natural sights as you venture outside the city. 
This unique city is located in close proximity to the Ameca River, which is why Puerto Vallarta is one of the most interesting places to go hiking.
One day, you're relaxing in an urban city environment. The next, you're in the midst of a jungle. 
If you're planning on going to Mexico, or perhaps you're looking for some unique hiking spots, you've come to the right place. Here are the best trails for hiking in Puerto Vallarta!
Monkey Mountain
Challenge level: Easy to moderate
Distance: 6.74 km
Elevation gain: 1093 feet
Time: 3-4 hours
Located slightly off the beaten track is one of Puerto Vallarta's best jungle trails, affectionately known as Monkey Mountain.
This is also one of the best trails for beginner and advanced hikers who want to enjoy an easy hike with some slightly challenging areas. 
Monkey Mountain (or Cerro del Mono) is a privately owned trail that will involve hiking through privately owned land like farms and properties.
This is all in the fun of the trail, as it means hikers get to mingle with locals. As a result of this, most hikers take a guided tour with a tour company. 
The trail itself is fairly straightforward. It takes about an hour and a half to reach the top of the mountain, where you can get stunning views of the ocean and jungles. Then, you go straight back down again!
This means that all hikers need to bring are a pair of good walking shoes, sunscreen, insect repellent, a hat for sun protection, and lots of water. While hikers are unlikely to break a limb on this trail, heatstroke is a possibility. 
Finding the trail is as straightforward as hiking it. The trail is located along Juan Escutia street, located in the main square of Higuera Blanca. It's easy to get a bus directly to this square from anywhere in Puerto Vallarta. 
It's worth mentioning that, despite the name, it's highly unlikely that hikers will encounter actual monkeys. 
Sendero a las Cascadas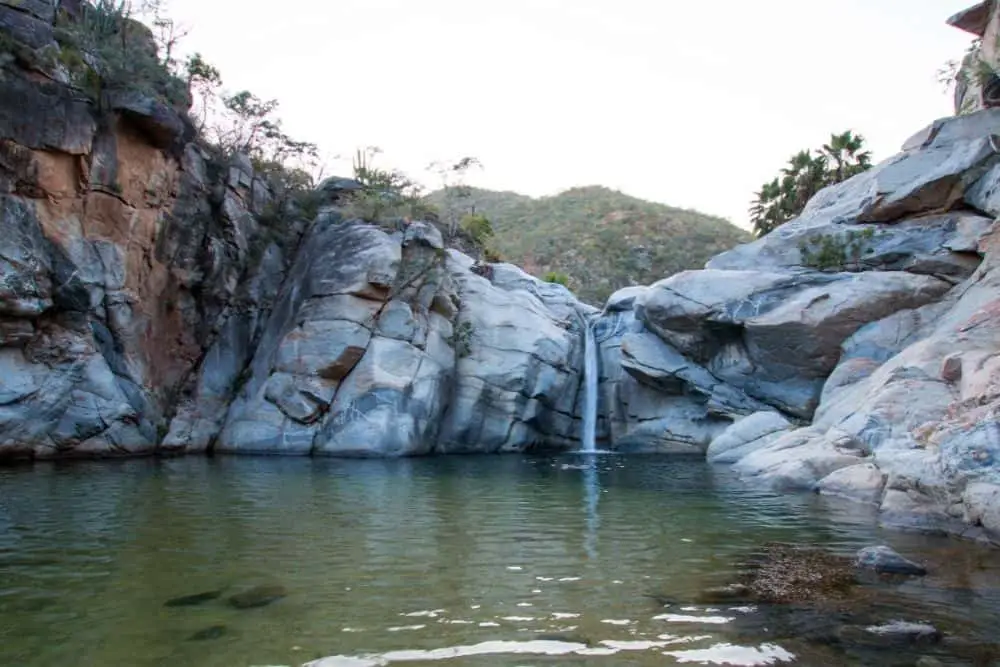 Challenge level: Easy
Distance: 2.3 km
Elevation gain: 81 m
Time: 1-2 hours
This hiking trail is ideal for beginners and those with time constraints, as it only takes 1 to 2 hours to climb. Sendero a las Cascadas is separated into two sections – Cascadas Bajas and Cascadas Altas.
The first section takes only 20 minutes, while the second takes around 45. 
Sendero a las Cascadas is all about the views. If you're a photographer or influencer looking to take gorgeous photos and videos without risking the damage to yourself or your gear from dangerous trails, this trail is ideal for you. 
If you go in the dry season, it's likely that the first waterfall will have dried out. However, there is a second waterfall slightly off the main trail, which is a bit more challenging to reach.
Even so, remember to bring a bathing suit and towel just in case you manage to find a pool of water to swim in.
As with any hike in a jungle atmosphere, wear the appropriate clothing and shoes, and bring lots of water, sunscreen, and insect repellent. 
Boca de Tomatlan to Las Animas 
Challenge level: Easy to moderate
Distance: 5 km
Elevation gain: 122 m
Time: 2-4 hours
Hey – not all hiking spots in Puerto Vallarta are in the jungle! This is a seaside city, after all, so there are some great hiking trails along the coast.
This particular trail is often nicknamed the Beach Hopping trail by tourists, and for good reason. 
This hiking trail is ideal for all skill levels. While it's not always guided, the path is well-marked and hikers are bound to mingle with locals and tourists alike.
This trail is all about exploring the stunning beaches that Puerto Vallarta has to offer. 
Starting at Boca de Tomatlan (a small fishing village), the trail gradually takes you to larger beaches. While it usually takes around 2 hours to hike the trail, most hikers will take longer just to take in the gorgeous views.
You will want to stop and admire the beauty – not to mention the beaches you'll want to explore. 
The key things to bring on this trail include sunscreen, lots of water, insect repellent, comfortable footwear, and swimming items such as bathing suits and towels.
Most of the trail is under a jungle canopy aside from the beach stops, but it's better to be safe than sorry. 
Once you reach Las Animas, hikers can opt for a boat to take them back to the start of the trail at Boca de Tomatlan. 
Mismaloya Waterfalls
Challenge level: Hard
Distance: 8.8 miles / 14.2 km
Elevation gain: 3,398 ft / 1,036 m
Time: 5-6 hours
Not all hiking trails in Puerto Vallarta are easy. Mismaloya Waterfalls is an example of this. As the name suggests, this hiking trail is all about exploring the breathtaking waterfalls that Puerto Vallarta has to offer.
This trail is off the beaten track and just outside the city. 
Getting to these waterfalls on the trail is not as easy as it seems. This is a moist, wet trail that requires skill, patience, and a lot of balance to not slip.
Some of the trail will include walking on mud, and other parts will require climbing rocks. 
Due to the risk of injury on this trail, most hikers are recommended to take this trail as an excursion with a tour guide. Most of the trail isn't maintained, so it's best to hike alongside the experts. In fact, most of the trail is marked by locals. 
The key things to bring on this hike include exceptional footwear, sunscreen, insect repellent, water, and swimming gear. Also, bring your cameras and GoPros, because there won't be a second of the trail that you'll want to miss.