It's officially the spring season! With beautiful weather outside people are trying to find different ways to get in some fresh air and exercise. Hiking is perfect for those who want to soak in the sun and get their bodies moving!
But heading out in the woods with the wrong hiking clothes can ruin your fun! Everyone knows you need a good hiking boot or hiking shoe, good socks, and a comfortable pack, but what about your shirt? The best hiking shirts are the ones that minimize friction, don't restrict your movement, and feel great on your skin. It's important to choose hiking clothes carefully because there are so many choices available on the outdoor apparel market. The key features to look for in hiking shirts are moisture management, odor control, and temperature regulation. All of these features can be paired with the best material, and you will be all set to start your hiking expedition!
So what is the best material for hiking shirts? Keep reading to discover the best material, top picks of the year, and a buyer's guide before making your purchase!
Materials on the Market
When you walk into any outdoor clothing store, you will find a plethora of selections for hiking shirts, and it can get confusing! What is the best material, and how can you tell? Let's break down each popular material for you:
Cotton material:
This fabric is simply not suited for hiking. A cotton shirt can stop your sweat from escaping in warm weather. If it gets wet, it will continue to stay wet for a very long time, causing discomfort while you are on the move. Although it may seem like a good idea to grab your go-to cotton t-shirt to hike in, it's best to avoid that option if possible.
Pros:
– When hiking in a desert, the wet fabric can give cool relief

Cons:
– Prevents sweat from escaping
– Not efficient at wicking and drying
– Will make you feel clammy and sticky
– Will lock in odor
– Does not dry easily
– Can cause chafing
Synthetic material: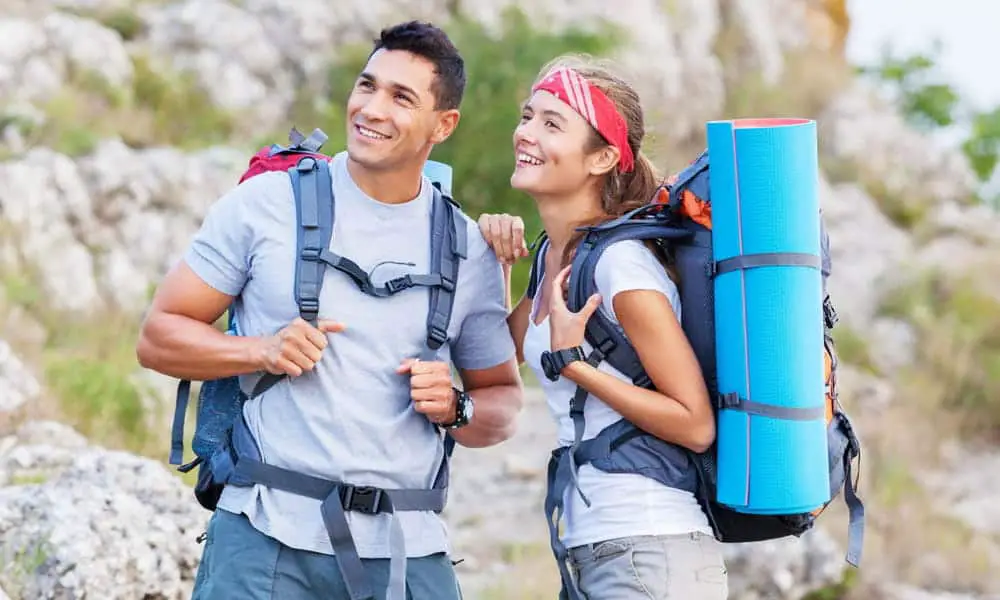 Polyester and synthetic fabrics are popular choices for hikers. They are usually relatively affordable and the most common material you will find at outdoor clothing stores. Synthetic material is known for its moisture-combatting qualities, so if your shirt gets wet, it will dry quickly! The only problem with synthetic material is that if your shirt catches body odor, chances are it's going to continue to stink until you throw it in the wash.

Pros:
– Affordable and popular
– Great at wicking moisture
– Does not hold water
– Blocks UV rays

Cons:
– Catches bad odors quickly
– Does not provide warmth when wet
– Production of synthetic fabrics has a negative ecological impact
Blend-material:
A hiking shirt with a blend material means a mix of nylon and spandex. These blend materials in a hiking shirt are usually more flexible than polyester and cotton and use thin, flexible, and soft material. If what you're searching for is something that is fitted and will move with your body while hiking, a shirt that has a higher blend is what you need! The only downfall of blend materials is that it doesn't have strong odor control and carries any bad odor until you wash it.

Pros:
– Flexible and moves with the body
– Usually comes fitted
– Does not absorb water/sweat

Cons:
– Not breathable material
– Usually does not have odor control
Merino Wool material:
This hiking shirt material is the clear winner when you consider all of the choices. Merino wool material is known for its highly breathable qualities and keeping moisture from locking in. It's lightweight, comfortable, and usually elastic. This fabric has natural antimicrobial traits that will help prevent odors from accumulating. The main concern for most about merino wool is the fact that it's the most expensive. If you're seriously considering hiking regularly, merino wool hiking shirts will most definitely be a great investment for you.

Pros:
– Very breathable
– Naturally antimicrobial
– Moisture-wicking
– Odour control
– Temperature control
– Provides warmth when wet
– UV Protection
Cons:
– Expensive
– Takes a long time to try
– Controversy over how wool is obtained
Top Picks
We've scoured the web to find the top hiking shirt picks of 2021. It will include two of each of the materials (except cotton) stated above.
Best Synthetic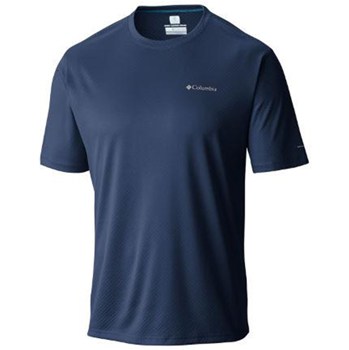 Fabric: Polyester
Antimicrobial: Yes
UPF Rating: 30

This short-sleeve hiking shirt has a classic fit and comfortable stretch. It has built-in blue rings that react with perspiration to lower the fabric temperature. Along with the cooling technology, it has sun protection. Available in multiple colors.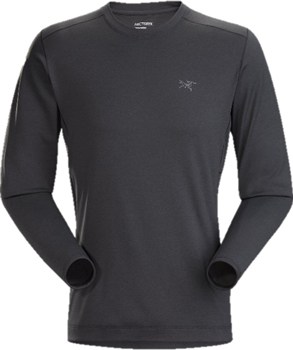 Fabric: Polyester
Antimicrobial: Yes

This crew base-layer hiking shirt is a comfortable garment designed for high performance. Although on the pricier end of the spectrum, it is comfortable on the skin, quick to wick away moisture, and adds warmth to your body. It's popular and usually sold out, but if that's the case, you can check out other hiking shirts under this brand – all excellent selections.
Best Blend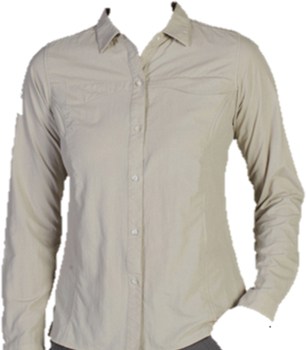 Fabric: Nylon
Antimicrobial: No
UPF Rating: 30
Additional: Insect shield technology

This hiking shirt is a long-sleeve button front. It has built-in Insect Shield technology and flow-thru ventilation, which will keep you cool and prevent odor! Since it does guarantee to repel bugs, it does run on the pricier side. Available in a few different colors.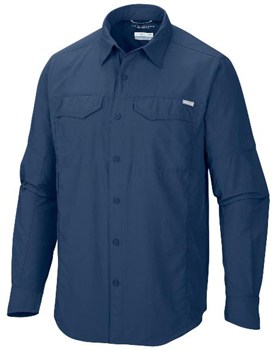 Fabric: Nylon
Microbial: Yes
UPF Rating: 40

This long-sleeve, button-front hiking shirt is great at moisture-wicking and rapidly evaporating any perspiration. With the button up, it has convenient venting and has an antimicrobial treatment to prevent bacteria growth – all for a relatively affordable price. You can check out their Silver Ridge collection for shirts for men and women, with varying designs!
Best Merino Wool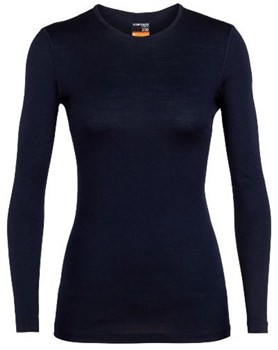 Fabric: Merino Wool
Microbial: Yes
UPF Rating:

This long-sleeve crew hiking shirt uses 100% merino wool which is very breathable and good for all climates. It's a base layer by design but can also be worn alone in hot weather. Available in a few different models, colors, and styles.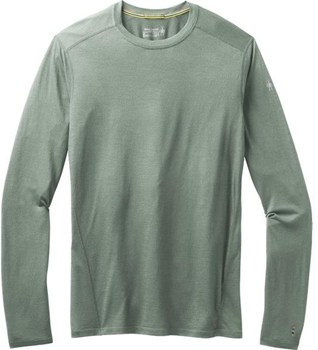 Fabric: 87% Merino Wool, 13% Nylon
Antimicrobial: Yes
UPF Rating: 20

This short-sleeve hiking shirt is a mix of merino wool and nylon, built for longevity and comfort. It uses a flatlock seam on the shoulder area and sides, which prevents any chafing from backpack straps. The merino wool naturally wicks away moisture and prevents odor and bacteria growth. Available in multiple colors and designs.
Difference Between a Hiking Shirt and a Regular T-Shirt
So what is the big deal? Is there a difference between hiking shirts and regular shirts?
Yes, there is a big difference.

Hiking shirts have multiple technological features that are simply not present in regular t-shirts. The most effective hiking shirts usually use fabrics like merino wool or polyester because of their moisture-wicking and quick-drying tendencies. Regular t-shirts simply don't offer this kind of technology to account for a comfortable hiking trip.

If you're going to opt for a regular cotton t-shirt the next time you go hiking, don't expect the same comfort and performance as a hiking shirt. It simply does not compare!
#1 Design Feature to Look For
There are a few design features on shirts that make for the best hiking experience. But the most sought-after design that will increase the comfort and fit on your body is a flatlock seam.
These seams are made by putting two pieces of fabric beside each other and sewing the raw edges directly together. Flatlock seams are discreet and help prevent unnecessary chafing. Without these seams, hiking shirts would be too bulky and uncomfortable to wear for long periods.
Flatlock seams also help reduce the rubbing of backpack straps on shoulders. This feature allows for an overall great fit and flexibility, allowing you to have more pleasurable hiking adventures!
Buyer's Guide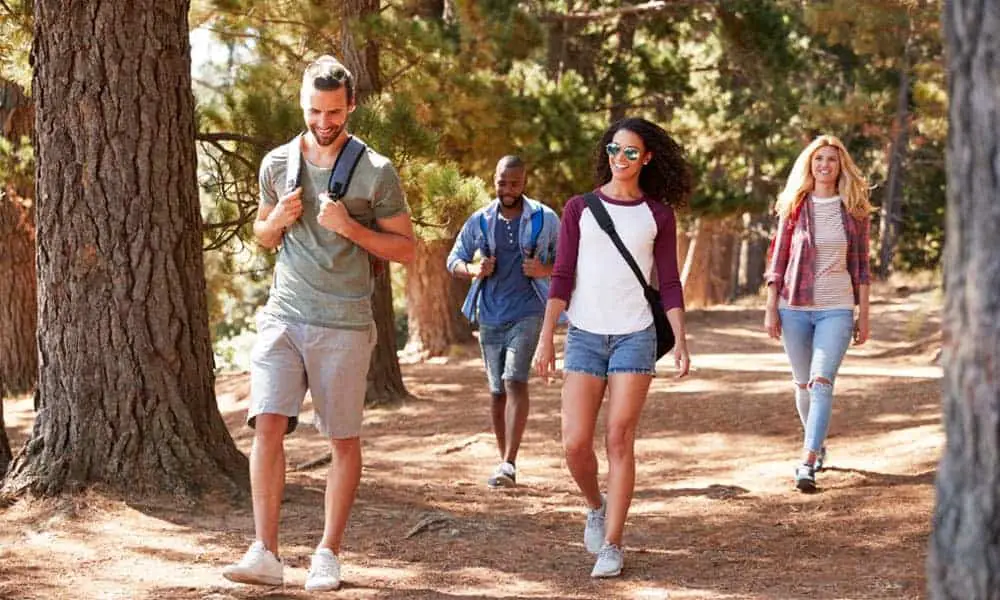 Before making your hiking shirt purchase, there are a few more things to consider. On top of selecting the right material for your hiking needs, other features will help you narrow down the perfect pick!
So what are some things to consider before buying a new hiking shirt?
1. Shirt Style
There are three common hiking shirt styles. It's important to consider which one of the three will suit your hiking needs. There are short-sleeves, long-sleeves, and button-shirts.

Short sleeve hiking shirts are a great choice for warm-hot temperatures and can even be used as a base layer for extra warmth under other pieces of clothing, meaning you can wear them both in summer and winter during your hiking expeditions.
A long-sleeve hiking shirt is a good choice to protect your arms from the sun during summertime hiking, keep you warm during winter hiking or protect your arms when trekking through bushes. The sleeves will give you extra warmth, and if it ever gets too hot, you can always roll them up!
Also read – Most common winter hiking mistakes
Button shirts are popular and the most flexible. It's a good pick for temperature control and sun protection. When it gets too hot, it's easy to unbutton the front of your shirt to cool your body down. The collar of a button-shirt can also serve as an added sun protectant when you pull your collar up over your neck.

Opt for the type of shirt that will benefit your hiking demands. Since there are so many on the market, it all boils down to personal preference.
2. Sun Protection
Since hiking involves exposure to the sun, it's important to consider your hiking shirt's level of protection against UV rays. If you know you're going to be under the sun, go for a shirt that is UPF 30 or higher. The higher the UPF, the better protection against UV radiation. If a hiking shirt has a UPF rating of less than 15, it is not providing any protection.

Polyester and synthetic materials usually block UV rays. Pay close attention to their UPF rating before you make your selection. But merino wool naturally protects against the sun, again, making it worth what you pay!

Although merino wool is the best material for hiking shirts, if sun protection is important to you, choose a shirt that's rated higher than UPF 30!
3. Comfort
Being comfortable while on the move is so important. When considering which hiking shirt to buy, make sure you feel comfortable because you will be wearing it for a long time, sometimes under extreme weather.
A merino wool shirt is the best choice because it is lightweight and elastic. It will feel flexible on your body and easy to move. These shirts tend to be more fitted. Fitted styles move with you, while looser shirts give you more airflow. So choose a style that you feel the most comfortable in. One tip – try on the shirt first… if you don't feel comfortable, don't buy it!

The comfort of your shirt while piling on layers or even a backpack is almost important to consider. It's typically agreed that some nylon blend materials feel uncomfortable on the skin when it brushes with a backpack, so think about that as well if you're planning to carry a bag on your shoulders.
4. Wicking Properties
Wicking is a material's ability to control the humidity level. A good hiking shirt will wick away moisture from your body and helps with evaporating any water or perspiration, an important factor to consider when purchasing a new hiking shirt.

While polyester and nylon materials are good at moisture wicking, it's agreed that merino wool is one of the best with wicking properties. It does a good job at transporting sweat and moisture away from your body as vapor.
5. Antimicrobial Properties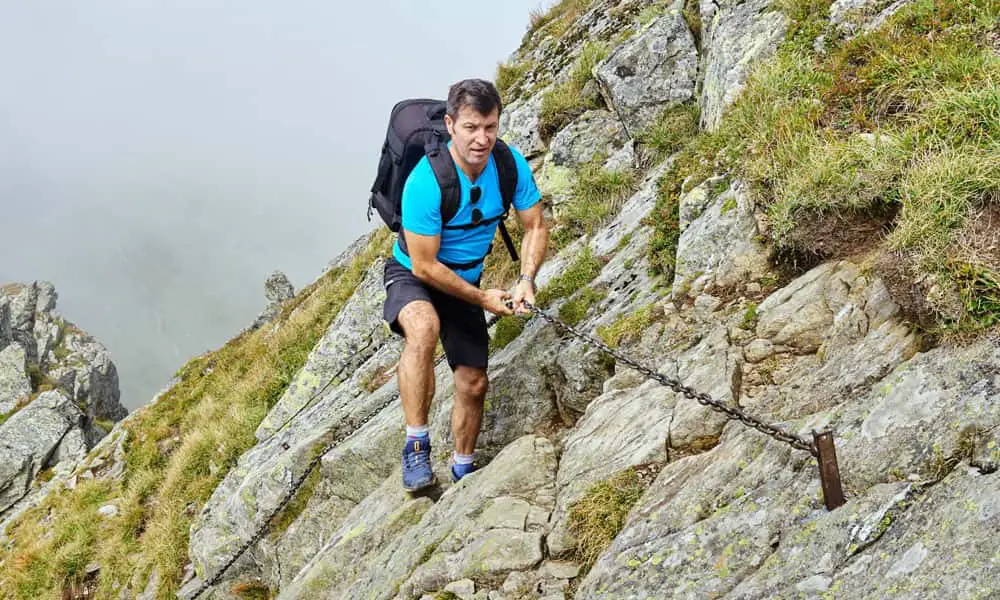 When hiking for longer periods, wearing a shirt that has antimicrobial properties is vital. It helps keep your body and shirt smelling fresh and helps prolong the life of the material. Effective antimicrobial fabric will fight off microorganisms and bacteria while promoting moisture movement, giving you an overall pleasurable experience hiking.
Some synthetic material shirts use anti-odor technology, so if that is important to keep that in mind when picking your shirt. The best material in terms of antimicrobial agents is, you guessed it, merino wool! Merino wool is naturally antimicrobial and will naturally fight off bacteria, keeping you and your shirt smelling clean for longer.
6. Odor Resistant
First-time hikers may not think of this particular feature until it's too late. Cheap hiking shirts don't have any anti-odor technology which aims to evaporate sweat and odor instantly. Purchasing a shirt that is not odor-resistant will result in an uncomfortable hiking experience.
So try to pay attention to all the features listed when you're making your purchase. Any anti-odor technology will benefit your entire experience – especially if hiking in hot climates!
7. Durability
The durability of a hiking shirt means the ability to withstand any wear, pressure, or damage. Choosing a hiking shirt with excellent moisture-wicking and antimicrobial properties will help keep the longevity of it.

Read up on how to wash and dry the shirt before making the purchase. The durability of a piece of garment lies in how you care for it after each use.
As you can tell, there are quite a few things to consider before buying a hiking shirt. Most tend to buy the most affordable or popular option without giving features a second thought. The features mentioned in this buyer's guide may or may not be important to you. But what is important is narrowing down on the features that matter, thus helping you choose the best hiking shirt for you!
Final Verdict
Hiking shirts are usually lightweight so that they can be used as a base layer in cold climates and alone in warm climates. Having a shirt with a thin build ensures airflow through the fabric and prevents too much perspiration.
When you are looking for a good hiking shirt, you ideally want it to meet all the criteria stated above in the buyer's guide. The best hiking shirt material should be able to check all of them off. The reality is that you're going to have to compromise on one or more if you're trying to prioritize one property over others.
The best material that certainly meets most of the important properties is Merino Wool. The only real downfall of merino wool is that it's quite expensive. It would be an investment, seeing as it will last a long time and has so much more pros than any of the other material available on the market.

Choosing the best hiking shirt for you, whether you're going on a short hike or a long expedition, will keep you feeling comfortable and energetic. Wearing a shirt that doesn't get wet easily, blocks odor, keeps you warm, has good ventilation, and is comfortable on the skin will ensure happy hiking adventures! So choose wisely and enjoy!
Have you tried any of the materials stated in this article? Which material would you want to buy next?