The city of Syracuse is not particularly known for its immense hiking trails like other areas on the East Coast but it still manages to boast some lengthy beautiful trails and routes for hikers of all levels to enjoy throughout the year. 
Syracuse is not the hilliest of destinations, so if you're a keen hiker who's looking to put your boots to the test then you won't find anything that'll test your limits here. 
However, Syracuse is up there with being one of the snowiest cities in the US, so if you're planning to venture out on a hike mid-winter, then make sure to wrap up warm and plan your trip so you don't get lost or stuck in a snowstorm. 
Best Trails in Syracuse
1. Webster Pond and Rand Tract
Distance: 3.5km    Difficulty: Easy
Back in 2020, the Rand Tract connection project was finally finished, with the installation of the entrance and also a dedicated hiking path for walkers that allows visitors to now enjoy the pond and forestry areas more easily.
You can even take a break on one of the many benches to eat your lunch or buy some duck feed to feed the ducks and the geese on the pond. 
If you're planning on bringing along any beloved pooches then it's best to keep them on the leash as there is plenty of wildlife around including chipmunks who won't appreciate being chased or disturbed. 
2. Edgecliff Loop
Distance: 6.4km    Difficulty: Easy
Just a short 20-minute drive from the center of Syracuse is Edgecliff Park located in Camillus.
The route gives walkers and hikers a chance to see the wildlife through forestry and rocky areas and also the freedom to veer off on many of the mini routes off the main loop to explore interesting areas.
It can get extremely muddy when there's been heavy rainfall so bring along your rubber boots just in case regular hiking boots may not be adequate. 
Most people recommend the best times for walking to be between March and October when the weather is calm and more pleasant. 
3. Bear Trap Creek Trail
Distance: 5.3km    Difficulty: Easy
This is an easy paved trail for all levels to enjoy whether you're going for a stroll or a brisk hike next to the highway. It's not the most peaceful of trails but you'll still see plenty of nature along the route all year round.
You may even get to spot some birds of prey whilst walking the trail if you're lucky.
You can even bring your dog along for this trail but they must be kept on leash for other people's safety and their own. 
The trail is also used for mountain bikers and runners, so please be aware before you embark on the journey with any young children running about. 
4. Cliff Trail to Pulpit Rock Trail Loop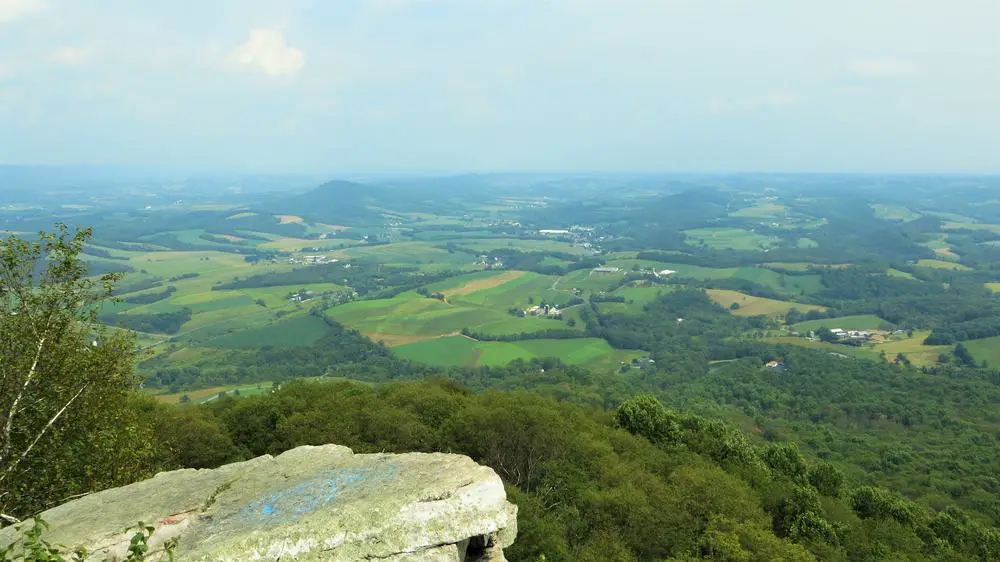 Distance: 1.8km    Difficulty: Easy
If you're looking for a true hikers experience then you'll need to check out this trail located in Clark Reservation Park located just outside Syracuse.
The trail is well marked and easy to follow with a variety of surfaces to walk on to suit your hiking level. 
There are lots of rocks, and scenic views of the lake whilst walking around the trail that looks picture-perfect in both summer and wintertime. 
5. West Shore Trail
Distance: 14.5km    Difficulty: Easy
The West Shore Trail at Onondaga Lake Park boasts one of the longest hiking trails in Syracuse, meaning you'll be out for a large portion of the day.
The route is flat so suitable for all hiking capabilities so everyone can enjoy the local wildlife and the surrounding views of the lake. 
The trail is not out of earshot of the highway so if you were looking for a serene spot to escape the hustle of regular life, then you won't get it here. 
6. Onondaga Creekwalk to Onondaga Lake
Distance: 8.4km    Difficulty: Easy 
Another lengthier trail is the route from Onondaga Creekwalk to Onondaga Lake. It's an easy urban trail allowing you to admire the local architecture as well as enjoying the natural beauty of the creek.
Foot traffic is pretty minimal on the route so you won't find overcrowding is an issue. 
The wind can blow hard down by the lake so it is not recommended to do the trail on a blistering cold day. 
7. Hiawatha Lake Loop
Distance: 1.4km    Difficulty: Easy 
The Hiawatha Lake Loop route is an ideal one to do on your lunch break or just to get some fresh air in the evening and get your steps in.
The area is well maintained and very calming and you could be considered more of a walk than a hike. 
8. Cliff, Table Rock, and Mildred Faust Trail
Distance: 0.6km    Difficulty: Easy 
Another trail at the Clark Reservation State Park is this Cliff, Table Rock, and Mildred Faust route, and is relatively easy when the weather is good.
After rainfall, the route can be slippery and the inclines can be more challenging without proper footwear.
The trail can get busy between April to September and you'll need to beware of the mosquitos near the swampy areas. 
9. Upper Tree Trail
Distance: 2.1km    Difficulty: Easy 
Upper Tree Trail at Elmwood park offers some idyllic scenery with the furnace brook and the pretty greenery that looks almost whimsical on a summer afternoon. 
The area is an under-appreciated gem in the city so you may often find yourself alone on the trail for some time before coming across someone else.
10. Pleasant Valley Preserve
Distance: 4.8km    Difficulty: Easy 
The Pleasant Valley Preserve hiking trail is lightly trafficked and perfect for the whole family to enjoy.
The quiet scenery has lots of wildflowers blooming and forestry areas for kids to run around in, as well as good spots for bird watching between the trees.
The best time to go is during the fall when the foliage is the most colorful.