When you go on a long family hike with toddler, your child, if they're old enough to be able to walk, may not have the same endurance as yourself.
And the only way to stop them crying at the idea of walking further than they want to, is to carry them yourself.
And while holding your child for a moment in your arms is ok, sadly the same cannot be said for carrying them long distances.
Not only do you need a carrier that will hold them safely for you, but it also has to be as comfortable as possible.
If it adversely affects your posture or makes you too sweaty, you'll be tempted to give up on your hike before you're even halfway through.
Product
Best Overall
levrPlus Cross Country Hiking Child Carrier
Runner-Up
Kelty Journey PerfectFIT Signature Series Child Carrier
Best Value
Luvdbaby Premium Baby Backpack Carrier
Osprey Poco Child Carrier
Deuter Kid Comfort Child Carrier and Backpack
Image
The solution, of course, is to get yourself a top quality kid carrier. Lucky for you, we've been checking out some of the best kid carriers on the market today, and have put together a shortlist of our top 5 favorites to review for you. 
But we get that choosing one can be tricky, so we've also put together a buying guide that will walk you through all the key things to think about before you buy.
And without further ado, let's get straight to it! Here are our reviews, in no particular order.
Talk about flying off the shelves! 
When this article was written, this best-selling child carrier had seen about 2,000 individual customer ratings on Amazon alone.
Better yet, the average customer rating still managed to come in at an impressive 4 and a half stars out of 5.
Customers rated it at 4 and a half stars out of 5 for a number of specific features, including easy to use, lightweight, ergonomic, comfortable, weight distribution, and durability.
This child carrier is also the winner of the Amazon's Choice title for the category. Such a title is only given to products that are both of excellent quality and available at a good price.
It's a good, sturdy child carrier that can carry babies or toddlers. You can adjust the fit as the child grows, as it's suitable for babies from 9 months old up to toddlers of a whopping 4 years old, provided that they don't exceed 33 pounds in weight. You simply adjust all the straps as necessary.
It features a sturdy metal frame, with a kickstand that folds in when not needed. And It's very comfortable to wear, since it weighs a mere 5.5 pounds and features thick padded shoulder straps and bolsters.
And the padding is energy absorbing, so it keeps you cool as you hike.
The carrier also features a special canopy that's designed to protect the child from both the sun and the rain, so you're good to go whatever the weather.
There are also several pockets attached, including bottle holders, a large pocket at the back, sleeves and side pockets. There's even a washable drool pad, should the baby drool a little as they sleep.
It's available in two color options, both of which are quite gender-neutral, green or red.
Amazon occasionally has significant deals on this particular child carrier. Simply click on "Check Price" to see if there's a deal on now. But to be honest, it's still great value for money even if you end up paying the full list price.
Pros:
Best-selling product, flying off the shelves
Lightweight, ergonomic & comfortable
Features a canopy for both rain & shine
Features several storage compartments
Even features a washable drool pad
Cons:
The canopy does not always remain in place
Here's another best-selling child carrier that has earned outstanding ratings from customers. On Amazon, for example, the average rating is a full 5 stars, even after well over 300 individual ratings.
Customers rated it at 5 stars for value for money, and at 4and a half stars for comfort and for being lightweight.
Both you and your little one will feel very safe and secure with this child carrier. The baby or toddler gets a 5 point harness, and side stirrups. While the adult gets padded shoulder straps, and a chest strap and waist strap. 
There's additional comfort features for the child in the form of a wide seat base, fabric foot stirrups, and a sun canopy.
And as for the adult's comfort, you get cords either side of the carrier that you pull to get a comfortable fit. And a mesh back panel to help keep you cool on your hike.
Not only is it an excellent child carrier, but it also features an additional pack behind the child carrier's cockpit, which is perfect for stuffing with diapers etc.
And there are several other storage compartments besides, including side pockets on your waist, which are perfect for stashing small snacks or your smartphone, or any small item you want quick access to.
When you're ready to put the baby down, you can push out the kickstand, so that everyone remains safely balanced when you set the backpack down.
There's also a handy drool pad for the little one, that can be removed for washing.
It's designed for babies and toddlers of weights ranging from 16 pounds up to 40 pounds.
There are two nice color options available to choose from, namely dark shadow, or insignia blue.
Pros:
A best-seller well-loved by customers
Child carrier is very safe and secure
Features a deluxe cockpit with stirrups
Includes an integrated sun canopy
Comfortable adjustable straps for all
Has a convenient removable drool pad
Cons:
With the backpack positioned behind the child, it can be a bit bulky
Kelty Journey PerfectFIT Signature Series Child Carrier, Dark Shadow
The Kelty PerfectFIT Suspension System easily adjusts to fit both mom and dad so you can both comfortably share the load
Integrated sunshade, just in case you forget the sunscreen. Body Fabric - Poly 420D Small Back Stafford
5-point safety harness and padded aluminum roll cage for no-worries trekking on any terrain
Wide seat base and adjustable foot stirrups mirror your kiddos natural rest state
Multiple grab handles to carefully lift, shift, and set down the child carrier.Large zippered pocket with internal stretch pockets that store extra layers, toys and anything else you may need.Zippered hip belt pockets keep water, snacks and phone readily accessible, 75D Poly x 140D Nylon Blend
Here's another great backpack that's been really flying off the shelves!
On Amazon alone, there have already been well over 1,200 individual customer ratings, and better yet, the average rating still comes out at an impressive 4 and a half stars out of 5.
Customers gave it 5 stars for comfort, and 4 and a half stars for being lightweight.
Your child will be perfectly safe in their little padded cocoon, complete with a safety harness and stirrups. There's even a removable sun visor to keep the sun off, and a rain cover.
And you, too, will be just as comfortable, thanks to the ergonomic design, adjustable straps, padding, mesh ventilation, and clever weight distribution for zero back strain.
There are multiple storage pockets available, including an insulated pocket for food or a bottle, a large pocket on the back, and pockets on the waist belt for small valuables such as keys and your smartphone.
We also love how it features a diaper changing pad, so you always have a clean surface on which to change the baby's diaper. 
It's a child carrier that's really built to last, made with premium materials such as aluminum for the frame, and waterproof 600 Denier and 300 Denier ripstop polyester fabric.
There are two color options to choose from. We like the black and gray, but if you prefer, there's also an orange and gray.
Amazon occasionally offers great deals on this particular backpack, simply click on "Check price" to see if there's a deal on now. Though, to be honest, it's still great value for money if you end up paying the full listing price.
Pros:
Best-seller, flying off the shelves
Excellent price & value for money
Multiple pockets for storing gear
Comes with a diaper changing pad
Premium materials, built to last
Cons:
Sale
Luvdbaby Hiking Baby Carrier Backpack - Comfortable Baby Backpack Carrier - Toddler Hiking Backpack Carrier - Child Carrier Backpack System with Diaper Change Pad, Insulated Pocket, Rain and Sun Hood
★ CARRY YOUR KIDS SAFELY AND COMFORTABLY: Your child will be carried safely in his padded cocoon with safety straps and stirrups. This Baby Hiking Backpack Carrier also has a removable sun visor that shields your little one from the elements
★ YOUR BACKPACK BABY CARRIER WILL PROTECT YOUR BACK AS YOU CARRY YOUR CHILD: You may be carrying your toddler for hours. We have designed our baby back carrier to be height adjustable. The straps are heavily padded and the belt is load bearing
★ MULTIPLE POCKETS + INSULATED POCKET FOR BOTTLE: We know how much gear goes with you and your baby so we have designed our toddler backpack carrier with mesh pockets. easy access pockets for your phone and an insulated pocket for baby's bottle
★ DIAPER CHANGING PAD INCLUDED: We know that when your little one has to go, they have to go. We have even included a foldable diaper pad for on the go changes. Place your child on it and you have a clean safe surface in all outdoor environments
★ TODDLER BACKPACK CARRIER THAT'S BUILT TO LAST: Our baby back pack carrier is made from premium hiking materials that will stand the test of time. The main material is waterproof Ripstop Polyester material that is very durable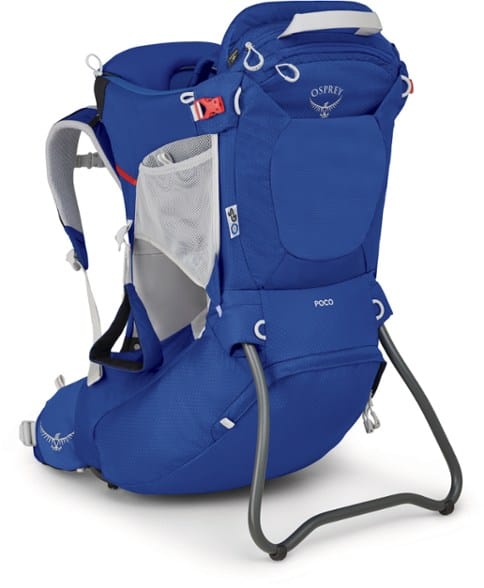 Now, this is a child carrier with some phenomenal customer ratings and reviews.
After well over 500 individual customer ratings on Amazon, the average rating still comes out at a whopping 5 stars. And it has nearly 5 stars on rei.com, too.
Customers also rated it at 5 stars for specific features, namely for being comfortable and for being lightweight.
It comes from a good, well established brand that has been around since 1974, and is of excellent quality.  The child gets a deluxe cockpit, with a double halo harness and removable adjustable foot stirrups for extra comfort.
There's also an excellent built-in sunshade which can be deployed to deliver UPF 50+ UV sun protection.
It has fully adjustable straps, designed to accommodate children anywhere between 16 and 48.5 pounds in weight.
And likewise, the adults have adjustable shoulder, waist and chest straps, too. The back panel features a ventilated mesh panel to help keep you cool as you carry the child.
There are plenty of storage compartments around the carrier, including stretch hip belt pockets, zippered pockets at the front and bottom, and cockpit side pockets.
The star feature of this child carrier, though, has to be the external hydration sleeve, where you can keep a water bladder of up to 1.5 liters, which is just what you need for long hikes in the countryside. 
It also features a removable washable drool pad, so that the baby's drool won't wear the fabric of the carrier. And it features cord attachments, for items such as the baby's pacifier, which you can't risk falling on the ground.
It's available in two color options, with the blue sky one at a slightly cheaper price than the starry black version.
Another thing that impressed us about this child carrier is that it comes backed by Osprey's  7-Year All Mighty Guarantee, whereby they agree to fix any issues free of charge for up to 7 years from the date of manufacture.
If you find yourself on the product page for this child carrier, you should also check out the additional accessories you can buy for it as well, such as the hydration bladder or the rain fly.
Pros:
Excellent customer ratings & reviews
From a top, well established brand
Has an external hydration sleeve
Features a removable drool pad
Features a cord for the pacifier
7-Year All Mighty Guarantee
Cons:
Premium product at a premium price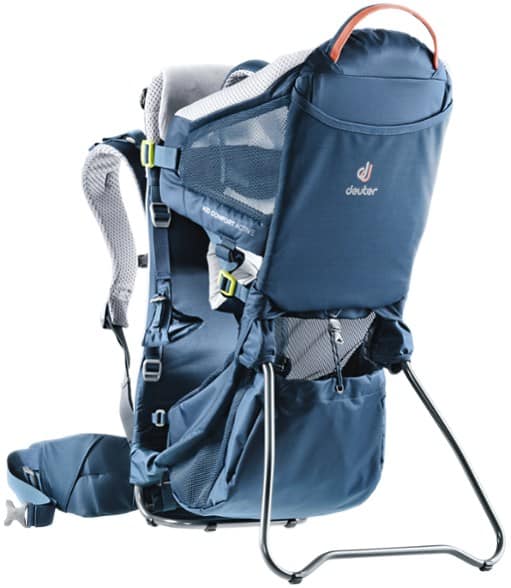 Again we have another best-seller amongst the leading online retailers that has been met with outstanding customer feedback, having earned a full 5-star rating, even after nearly 300 individual customer ratings on Amazon alone.
And there's a reason that the manufacturer includes the word "Comfort" in its title. First there's how the straps are all customizable and adjustable, then there's the VariSlide system to adjust the back length.
Then there's the Aircomfort system, which describes how the airy mesh back creates ventilation space behind the wearer's back for any sweat to dissipate.
As you enjoy your hike, your little one will remain entirely safe and secure behind you, and your child will be just as comfortable as you in their ample and cushioned cockpit.
And their seats are height adjustable, too. There's also a handy sun visor to help keep the sun off the little one.
The carrier features a special dirt and water repellent coating, so if you were to hit a little light rain on your hike, the child carrier will remain unaffected. 
What we really love about this child carrier is just how durable and long-lasting it is. This is thanks to the 210 Denier polyamide fabric, with its strong rip stop threads, and abrasion resistant nylon.
The very durable frame is constructed with a break-proof spring steel to achieve an even distribution of weight. That's what makes it worth the money.
It's available in 2 great color options, namely midnight (which is blue), or maroon. 
Pros:
Excellent customer ratings & reviews
Expertly made for long-lasting durability
Has a sleeve to store a hydration bladder
Features a dirt and water repellent coating
Very comfortable to use, with even weighting
Cons:
There's no removable drool pad
There are no foot stirrups for the child
There's not much in the way of storage pockets
Sale
Deuter Kid Comfort Pro Child Carrier 2021 - Midnight
Aircomfort Sensic Vario backsystem of airy yet durable mesh tensioned on a flexible spring steel frame resulting in maxiumum ventilation on three sides and 25% less perspiration. Designed with an arched profile the frame transfers up to 70% of the load seamlessly into the ergonomic hip fins for effective load transfer and energy efficiency. Vari Slide exact and wide ranging back length adjustment so both parents can comfortably carry the child.
Ventilated, perforated shoulder straps. Load adjustment straps at shoulders . VariFlex - Pivoting articulated 3D hip fins are concave shaped and ultra-padded, made of multi-layered, PE-stiffened foam to respond flexibly to the wearers movements. Pull-Forward construction makes the hip belt easy to fasten and tighten even with heavier loads. Two zipped pockets on hip fins. Two elastic side pockets; elastic front slot pocket with adjustable hook and large bottom compartment with zipper.
Long side zipped compartment for hydration system or rain/sun roof accessories. Height and width adjustable chest strap. Easy to understand and access saftey harness system with color-coordinated buckles. Height adjustable child seat with variable width for an ergonomic sitting position. Height adjustable foot rests with adjustment ot fit the child's feet. Airy ventilated cabin with side mesh pockets. Comfortable and safe side entry for the child.
Kickstand with audible click-in function for putting the carrier down safely with ease. Large stretch pocked on back. Tip-resistant sturdy aluminium frame with broad platform. Soft, cushioned, removable pillow and side support cushions which gentle support the head. Large chin pad compatible (sold separately). Sun and rain roof compatible (accessories sold separately). Deluxe rain cover available (sold separately).
Different cover material in child's seating area: airy and soft in the comfort xone and robust and washable in the food areas. Completely material covered seat frame and hinges. Foldable for easy transport. Comfortably carries up to 48.5 lbs.. Unisex fit. Fits waist size 24 - 54". Total volume 14L. Two grab handles at the top. Key clip. 3M reflectors. Limited lifetime warranty
Buying Guide
As promised, here's your buying guide.
Safety and Security
It will come as no surprise to you that we made safety and security our top consideration. That's why all the child carriers that made our shortlist feature good, sturdy frames, and plenty of straps to keep them safe and secure.
Protection from the rain and sun is also important, so a canopy of some sort is a must.
Comfort
When choosing a child carrier, you need to consider both the child's comfort, and your own. This means that there should be plenty of padding, and adjustable straps to ensure the best possible fit.
There should also be mesh ventilation so that if you do get a little sweaty carrying the child, the sweat will dissipate, and you will remain relatively cool.
The child carrier should be ergonomically designed so that the weight of all your cargo is evenly distributed, so you won't have to endure any back strain as you hike.
A canopy can also aid the baby's comfort as you hike, as can foot stirrups.
Storage Pockets
When you have a child carrier strapped to your back, you don't have the room for a backpack as well, which is why we would argue that it can be good to go for a child carrier that has ample storage compartments for your needs. 
If you like to go on long hikes, then it's important that all parties keep sufficiently hydrated, so a water bottle holder, or a hydration sleeve to store a water bladder is a great plus.
Accessories
Some child carriers come with handy accessories, such as the Osprey Poco which features a cord to hold the baby's pacifier attached.
Or the Luvdbaby Premium Baby Backpack Carrier which comes with a handy diaper changing pad, and an insulated pocket for milk or food. Or, several of the carriers in the shortlist come with a removable drool pad.
Built for All Seasons
If you like to go hiking all year round, then your child carrier must be up to the task too.
This means it should have a water resistant coating for the rain, a canopy to keep off the sun, and mesh ventilation to keep your back from getting too sweaty when you get hot.
Value for Money
Kid carriers for hiking can really vary in price, with some costing as little as $45, and others costing as much as $340. That's why it's so important for you to check the prices as you go along.
But we're going to level with you here and be honest and say that you cannot get a good quality child carrier for under $100. And if you want to get one that's really going to last, you can expect to pay closer to $300.
Frequently Asked Questions
What is the best kid carrier for hiking?
This is a tricky question to answer, but if we had to pick one, it would be our number four pick, the Osprey Poco Child Carrier.
It's of excellent quality, will keep the little one safe and secure, and be comfortable for you to wear on long hikes. It also features a sleeve for a hydration bladder, and a cord for the baby's pacifier.