As you know, long hikes in the wilderness require a few essentials, but especially if you're in new, unfamiliar territory.
Imagine going on a long hike, getting separated from the crowd and having no GPS system or phone app to guide you back to safety.
Product
Best Overall
Blavor Solar Charger Power Bank
Runner-Up
Feeke Solar Power Bank
Best Value
Anker 21W Portable Solar Panel
Goal Zero Nomad 20 Solar Panel
Goal Zero Guide 12 Solar Kit With Nomad 5 Solar Panel
Image
Runner-Up
Image
Best Value
Product
Anker 21W Portable Solar Panel
Image
Even more frustrating, however, is when you're lost on a hike with your handy little GPS, only to find that your GPS has run out of battery.
The solution, of course, is to get yourself a solar panel to charge up all of your essential devices as you hike…
Lucky for you, we've been checking out some of the best ones on the market. 
And without further ado…
Talk about flying off the shelves! This little beauty has managed to earn well over 22,900 individual customer ratings on Amazon alone.
And better yet, the average rating still works out at an impressive 4 and a half stars out of 5.
You can use it to charge up any device that takes a USB lead, including many Android smartphones.
And it can also handle qi wireless charging for all the latest iPhones. You can use it to charge up to 3 devices at the same time. 
In addition to solar charging, this power bank can also be charged by an adapter as well, so if you're not sure if you'll have good weather during your hike, you can prepare for it by charging the power bank up at home before you go.
It has some extra features too, like LED flashlights, which can come in super handy if you decide to camp out overnight.
And there's also an included portable compass kit, which can also come in very handy if you don't have a GPS. 
It's very lightweight and won't weigh you down as you hike, and it's very compact. But it's certainly not flimsy, it's very rugged and durable.
It's available in a choice of colors, which is great if you decide to buy more than one, so you can tell who is who's.
Amazon occasionally has deals on this particular solar charger – simply click on "Check Price" to see if there's a deal on now. But even if you were to end up paying the list price, it's still amazing value for money.
Pros:
Bestseller, flying off the shelves
Capable of Qi wireless charging
Also doubles as an LED flashlight
Comes with a portable compass kit
Works with a wide range of devices
Charge up to 3 devices simultaneously
Cons:
The panel size is rather small, the solar charging is just a back-up, and you should charge the power bank up before you set off
BLAVOR Solar Charger Power Bank, Qi Wireless Charger 10,000mAh External Battery Pack Type C Input Output Dual Super Bright Flashlight, Compass Carabiner, Solar Panel Charging (Light Blue)
Brand-Oriented & Outdoor Charger Pro: With over ten years of experience in solar power banks, BLAVOR has already gained the favor and trust of millions of global users. BLAVOR only uses the highest-grade materials, to provide the most reliable and safe products to customers.
Leading USB C Input&Output Tech and Qi Wireless: 5V 2.4A output, 50% faster-charging speed, and zero damage to your devices. Support charging 3 devices simultaneously, multiple output/input methods, freeing your worries of a power outage. Compatible with almost all smart devices, such as iPhone, ipad, Samsung, etc.
Premium Battery & Smallest Solar Charger: BLAVOR uses the safer Lithium-cobalt battery, which is 50% more cycling times than a normal Li-polymer battery. The smallest and lightest portable charger on the market, real-rated 10,000mAh. When fully charged, it can charge the iPhone8 3.6 times, iPhone14pro 2.2 times, and the iPad Air once.
Safe Material and Comfortable Design: The outer case is made of flame-retardant ABS+PC materials. The waterproof silicone better protects the internal structure of the charger. Rubber skin-feel oil coating process to form a protective film on the surface, comfortable touch, and exquisite appearance.
Multi-Purpose Outdoor Power Bank: BLAVOR portable solar charger is made to be IPX5 waterproof, dustproof and shockproof. The built-in dual super bright flashlights and the included compass carabiner can further ensure your safety when traveling outdoors, making it an ideal companion for outdoor enthusiasts.
This solar power bank is also a bestseller with the leading online retailers, and has earned some impressive customer feedback, such as an average customer rating of four and a half stars on Amazon.
This is a large capacity power bank that's capable of charging up to 4 devices at the same time.
There's a high speed Type-C input and 2 Micro USB ports, and it also offers wireless Qi charging, too, which means that it can be used to charge up a wide range of devices. Please check out the product page for a full list of all the phone models it's compatible with. To get to the product page, just click on "Check price".
The capacity of this charger is so high that a full charge can charge up an iPhone XS more than 8 times over! And it has the highest possible charging speed, which is almost twice as fast as a standard power bank.
The Feeke power bank also doubles as a flashlight, and has an SOS flashing mode for emergency signalling.
What makes it such a good solar charger for hiking is its rugged design, and how it can stand up to harsh conditions. It has excellent dustproof properties and impact resistance if it was dropped on the ground.
And although it's not designed to be submerged in water, it can easily handle a little rain. And it can take temperatures between -10 and 50 degrees centigrade. 
It comes complete with a lanyard and a carabiner, so you can either wear it round your neck or attach it to your backpack or belt. And it's lightweight, so carrying it around is a breeze.
It's available in two color options, black or red.
Pros:
 A bestseller with the leading online retailers
Has an extremely large 32800 mAh capacity
Charges up x2 as fast as a regular power bank
Can charge up to 4 devices at the same time
Designed for all kinds of weather conditions
Comes with accessories for easy carrying
Cons:
Solar charging is not recommended as the main charging method
Solar-Charger-Power-Bank - 36800mAh Portable Charger,18W PD QC3.0 Fast Charger Dual USB Port Built-in Led Flashlight and Compass for All Cell Phone and Electronic Devices(Blue)
The Solar chatger power bank is made of environmentally friendly silicone, high-strength ABS and PC materials, with a protective cover attached to the outside of the charging/discharging port, which is waterproof, dust-proof, and drop-proof, very durable. It can still work normally in various harsh environments. It also comes with a carabiner that you can attach to your backpack while hiking and charge this power bank with solar energy.
Solar power bank has two 5V3.1A high-speed fast charging USB output interfaces, which is 50% faster than the old 5V2A output interface. Able to fully charge your mobile device more efficiently. The built-in intelligent IC chip can automatically identify the charging product and convert it into the corresponding current and voltage. It is compatible with 99% of electronic products and equipment on the market.
Power bank is equipped with two super bright LED headlight flashlights, and the large battery capacity supports the flashlight to work continuously for about 100 hours. This is a very useful extra function whether you are experiencing a power outage or outdoors. In addition, the power bank also has a built-in high-precision compass, which has been precisely corrected before leaving the factory to point out the direction for you, so that you will no longer get lost in outdoor activities.
Solar charger is mainly charged via USB, but can also be charged via the built-in solar panel. However, since the charging speed is affected by the sunlight intensity and the conversion rate of the panel, it takes a long time to fully charge. Solar charging is for emergency use only. It is an additional feature and not the main input. Therefore, it is recommended that you use an adapter with a power above 5V2A to charge the solar charger for daily use.
Now, if you're looking for a top quality solar panel rather than merely a power bank that happens to offer solar charging as an add-on, then we think this is one of the best ones on the market, and it's available at a very reasonable price.
When opened out, it measures 26.4 by 11.1 inches, which is big enough to cover your entire backpack, so you can get it to absorb plenty of sunlight for charging up your devices.
It will charge up your devices pretty quickly at a rate of 2.4 to 3 amps per port, thanks to its multilayer panels and advanced technology. 
It provides a whopping 21 watts of power and has an energy efficiency of 21.5 to 23.5 percent, which is significantly better than a standard solar panel, which has an energy efficiency of 13.5 to 15.5 percent. 
Despite being able to convey so much power, however, it's also very safe to use, with its short circuit and surge protection technology.
It's very lightweight, which is great for taking on long treks, but at the same time it's also very durable, thanks to the industrial strength materials that also offer excellent weather resistance, too. 
There are durable stainless steel eye-holes on each of the corners, which makes it super easy to attach to your backpack, or to a tent.
If you don't need to keep it open for the whole of your hike, you can fold it up quite compactly for easy storage, and slide it away out of sight. In fact, it's one of the most compact portable solar panels on the market, and 44.3% lighter than your average one. 
It has 2 USB output ports, so it can charge up 2 devices at the same time. It's compatible with a wide range of smartphones and tablets, including certain iPhones, iPads, Samsung, and HTC phones. (There's a fuller list on the product page, which you can get to by clicking on "Check price".) And it features a pocket that you can slide your devices into.
One of the things we love about this solar panel is how it comes backed by a lengthy 18-month warranty, and approachable customer service. Very reassuring.
Pros:
Available at a very reasonable price
More energy efficient than a standard one
44.3% more lightweight than a standard one
Very durable and resistant to weather conditions
It will charge up to 2 devices, and quickly
Backed by a Lengthy 18-month warranty
Cons:
This is not a power bank battery and does not hold its own charge
Solar Panel, Anker 21W 2-Port USB Portable Solar Charger with Foldable Panel, PowerPort Solar for iPhone 11/Xs/XS Max/XR/X/8/7, iPad Pro/Air/Mini, Galaxy S9/S8/S7/S6, and More
The Anker Advantage: Join the 50 million+ powered by our leading technology
Fast Charging Technology: PowerIQ delivers the charging speed up to 2.4 amps per port or 3 amps overall under direct sunlight. 21 watt SunPower solar array is 21.5-23.5% efficient, providing enough power to charge two devices simultaneously
Incredibly Durable: Industrial-strength PET polymer faced solar panels sewn into a rugged polyester canvas offer weather-resistant outdoor durability
Highly Portable: Compact size (11.1 × 6.3in folded or 26.4 × 11.1in opened) and stainless-steel eye-holes on each corner allow easy attachment to backpacks, trees, or tents. Lightweight and ultra-thin design make it ideal for long treks
What You Get: Anker PowerPort Solar (21W 2-Port USB Solar Charger), 3ft Micro USB cable, welcome guide, our fan-favorite 18-month warranty and friendly customer service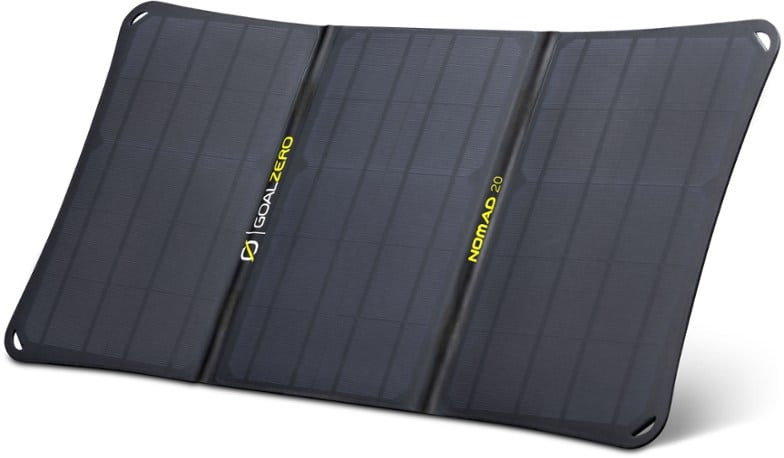 Goal Zero is one of our absolute favorite brands for portable power solutions, and has been earning a solid reputation since its founding back in 2007. In fact, we like Goal Zero so much that their products earned two spots in our shortlist.
It's 21.5 inches long by 11.6 inches wide and 0.1 inches thin, and is made up of three separate but connected panels, and is able to provide a whopping 20 watts of power to your devices. This is thanks to its monocrystalline solar cells.
What we love about this one is that it's not just designed to power a small selection of smartphones, but can also  be used to power GPS devices, headlamps, and other rechargeable USB devices. 
We also love how it features integrated cable storage, so it stops cables getting tied up with other items in the bottom of your backpack.
When you're not using the panel to absorb the sun's energy, you can either fold it away very compactly for storage, or you can use the accompanying adjustable kickstand, so that it can continue to absorb the sunlight while you stop for a bite to eat.
It features deliberate holes in each of it's 4 corners, so you can attach it to your backpack, or anything else you might have with you on your hike. And carrying it is a breeze, since it weighs just 2 pounds, 1.6 ounces.
It's compatible with other Goal Zero equipment, such as the Goal Zero Flip 12, Flip 24, and Flip 36.
Pros:
Comes from a well established brand
Can also be used to power GPS devices
Can provide a whopping 20 watts of power 
Has an adjustable kickstand & integrated storage
Very lightweight at just 2 pounds, 1.6 ounces
Cons:
Premium product at a premium price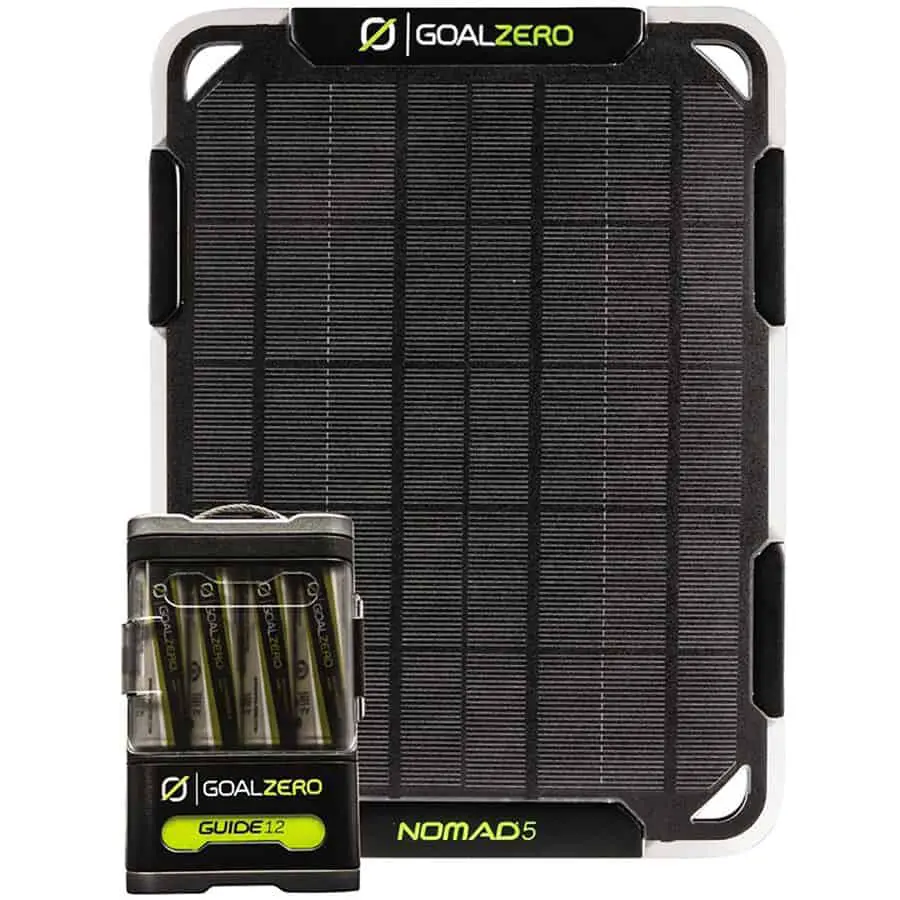 Goal Zero has done it again!
Now, this isn't just a portable solar panel, but an entire solar charging kit that comes complete with a set of Goal Zero brand rechargeable AA batteries.
This means that it can be used  to power up anything that takes AA batteries, such as most flashlights and headlamps, and of course GPS devices. So handy.
It's sturdy and rugged, and features eyeholes in all four corners for strapping to the rest of your gear.
And when not strapped up  to catch the sunlight, you can set it down with the integrated kickstand and find the best angle to absorb the most sunlight.
It also comes with a USB-A to USB-C charge cable, and an AAA adapter for cameras, and other devices.
What makes it such a good solar panel for hiking is just how lightweight it is for carrying around, seeing as it weighs a mere 6.4 ounces. 
We're also pleased to report that it  comes backed by a 1-year manufacturer's warranty. 
If you click on "check price" you will be taken to the product page, and from there you can either pay in full or in installments.
Pros:
Comes with 4 rechargeable AA batteries
Can be used to charge all manner of devices
Very lightweight to carry around at 6.4 ounces
Easy to attach to gear or to stand up in the sun
Comes backed by a manufacturer's warranty
Cons:
Doesn't do wireless Qi charging
Cannot be used to charge up several devices at the same time
Goal Zero Nomad 5 Solar Panel, One Color
5 Watt panel gives you the solar collecting capability needed to charge your phone anywhere the sun shines
Built-in kickstand clicks into place at multiple angles, so you can easily position your panel for optimal solar collection
Rugged and durable, built to last as long as your adventures do
Model number: 11500
Buying Guide
As promised, here's your buying guide. We'll walk you through some of the key things to think about before you buy.
What Can It Charge?
Most portable solar chargers these days are compatible for charging up all the major brands of smartphones, which is great.
But, if you need to charge up a GPS, or a camera, or some rechargeable batteries, then you will need to check that the solar charger you want to invest in has the right kind of ports to do so.
A micro USB port will generally be sufficient for most devices, but if your device doesn't use a micro USB port, then you will have to check whether your device is compatible.
Size Of The Solar Panel
Simply put, the larger the size of the solar panel, the more of the sun's energy can be absorbed by the panel…
However, when you're out hiking you don't want to be carrying around too many heavy items, so the more lightweight the solar charger is the better.
Water Resistance
The good news is that if you are under the cover of clouds, your portable solar charger will still be able to absorb the sun's energy.
But if those clouds are going to drop a little rain on your hike, then you need to ensure that your solar charger is built to withstand it. 
Extra Features
Two of the solar panel chargers that made our shortlist also happen to double as flashlights, which can be useful if you like to go hiking in low light, or if you are camping out.
These include our number one pick, the Blavor Solar Charger Power Bank, and our number two pick, the Feeke Solar Power Bank. The Blavor one also comes with a portable compass kit.
Brand
One of our favorite brands for solar panels and chargers is Goal Zero. It is one of the most reliable brands of solar chargers out there, and is readily available with all the best retail stockists.
Value For Money
If you haven't really looked into it before, you'll be surprised at just how much portable solar panels and chargers can vary in price.
You can get some for as little as $25, and others that literally cost hundreds of dollars. So, it definitely pays to check prices as you go along.
When you learn what your money can buy you, it's so much easier to make a good, well-informed decision about how much your budget should be.
Frequently Asked Questions
What is the best solar panel for hiking?
We would argue that the best solar panel for hiking is our number one pick, the Blavor Solar Charger Power Bank. It's a very prominent bestseller with the leading online retailers, and for good reason too.
Not only can it charge up a wide range of devices, but it can do so wirelessly, and it also doubles as a flashlight, and comes with a portable compass kit.
Are solar chargers worth it for camping?
If you are camping without any electricity, we would hands-down recommend investing in a portable solar panel.
Many modern devices such as smartphones and tablets won't last a whole day if they are in GPS mode unless you have some sort of means of continually charging them, as you can with a portable solar panel or power bank.
What is the best camping solar panel?
If you intend to go camping rather than just hiking, then you may be interested in a solar panel that features an integrated kickstand, such as the Anker 21W Portable Solar Panel, or either of the Goal Zero solar panels we showed you earlier.