Thinking about spending a holiday or getaway in Italy? You're not alone! Italy has such a diverse landscape, rich culture, and history in every city you visit, making it a highly sought-out destination.
This European destination offers many of the best hikes on the continent and a variety of trekking options – thanks to its endless Mediterranean views, warm temperatures, cute villages, stunning alpine regions, and majestic seascapes, making for an unforgettable hiking experience.
If you are looking for the best hikes in Italy, you've come to the right place. We will highlight the eight best hikes that can be completed in one day, as well as the must-know regions and even a few tips before you set off on your adventure. So, buckle up and let's get started!
Best Hikes in Italy
1. Cinque Terre Hike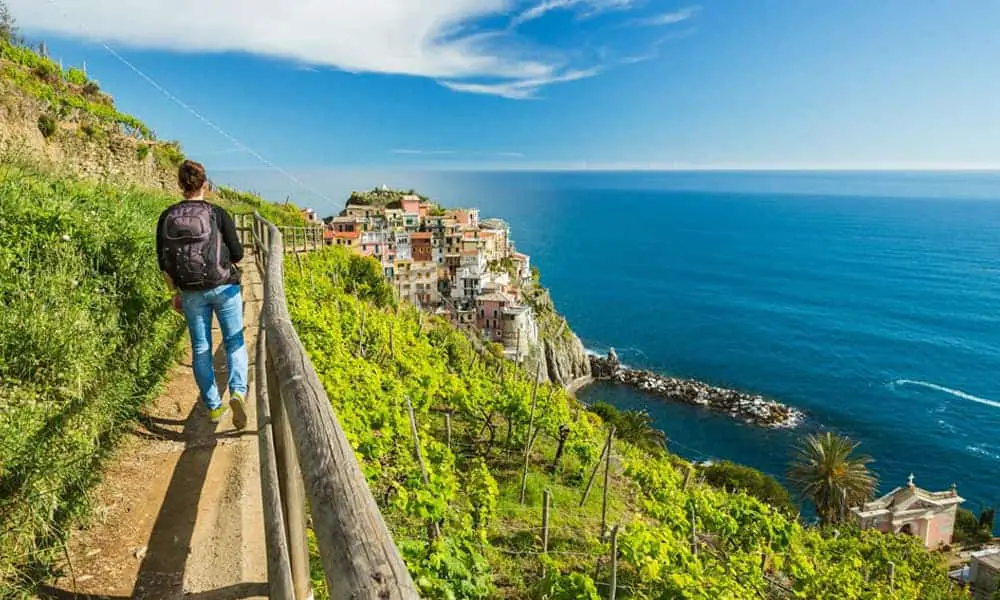 Location: 180 km/112 miles northwest of Florence
Distance: 32.5 km of hiking trails between villages
Difficulty level: Moderate to difficult
Best for: Coastal views and exploring villages in between

This is considered one of the top hikes in Italy. "Cinque Terre," which translates to "Five Villages," contains 120km of trails along its coastline. There are approximately 48 hiking trails to choose from, although you must have a Cinque Terre card to access all the trails here.The five villages that Cinque Terre is comprised of are: Riomaggiore, Manarola, Vernazza, Corniglia, and Monterosso al Mare. These villages are built on cliffs which are linked by a series of walkable hiking trails. The trails involve a lot of stairs, so if you choose Cinque Terre, be prepared to ascend and descend stairs all day.

The Cinque Terre hiking trails are considered to be the most beautiful in all of Europe, so be prepared for stunning views.
2. Monte San Primofrom Lake Como
Location: 12 km away from Bellagio
Distance: 10.3 km/6.4 miles
Difficulty level: Moderate
Best for: Mountainous and lake views

Monte San Primo and the entire Lake Como area are a must-see sight. Lake Como, which is 46km in length, has a distinctive "Y" shape and is fully surrounded by mountains, making every angle a gorgeous viewpoint. There are many trails at every level, but the one with the best view is Monte San Primo. With a variety of trails, you can choose to reach the peak, consider the options and get ready for an adventure.
3. "Path of the Gods" on Amalfi Coast
Location: Close to Positano
Distance: 7.8 km/4.8 miles
Difficulty level: Easy to moderate
Best for: Amalfi Coast views

If you're looking for the best hikes in Italy, the "Path of Gods" must be on your bucket list. This walking route will stun you! The path begins in Bomerano and the trail leading up to the end has the most gorgeous views of the Amalfi Coast. You will end up in Nocelle, which is a short walking distance from the picturesque, coastal town of Positano.
4. Camogli to Portofino (Regional Park of Portofino)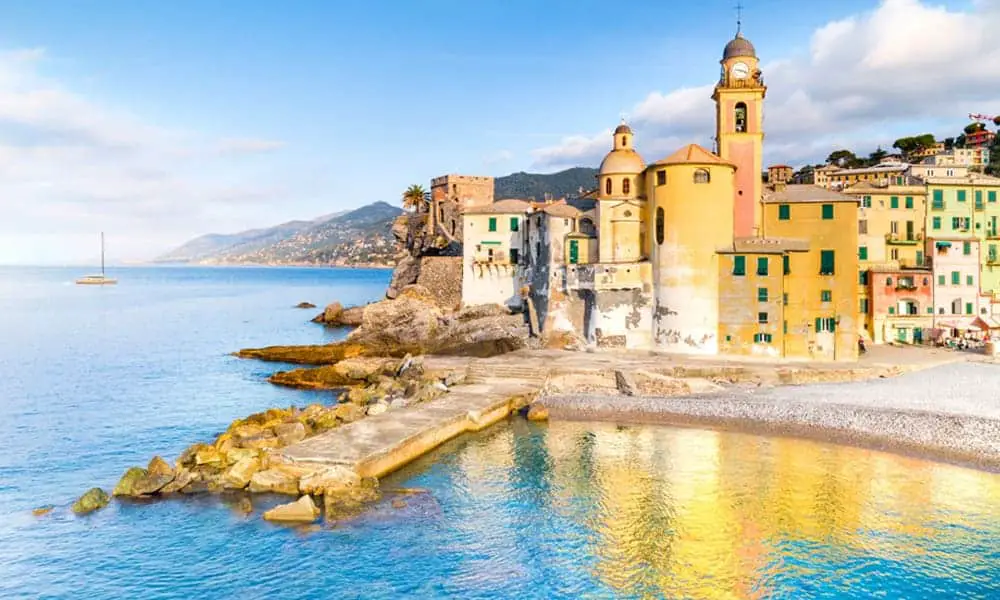 Location: Camogli and covers the entire peninsula of Portofino
Distance: 13 km/8 miles
Difficulty level: Easy to moderate
Best for: Panoramic views of the Mediterranean

This hiking trail runs from Camogli to San Fruttuoso (three hours) and from there to Portofino (two hours). It's popular for being between hills and the sea, passing through olive tree terraces and sheer rocks. This trail is a pleasure for all the senses and is rich with history. However, avoid traveling here in the summer months because of hot weather and insane crowds.
5. Appian Way – from Rome to Roman Castles
Location: Downtown Rome
Distance: 20 km/12 miles
Difficulty level: Easy (suitable for families)
Best for: Experiencing the history of Rome

The Appian Way, located near Rome, was one of the straightest and oldest Roman roads of the ancient republic. Poet Statius once wrote, "The Appian Way is the queen of the long roads." Taking on this trail will throw you back in time as you walk along large cobblestones and enrich yourself in the history around you. If you choose this trail, remember that the road you walk on has been marched on by many before you over the past 2,300 years.
6. Monte Vesuvius
Location: 24 km/15 miles from Naples
Distance: 35 mins – 1 mile with 850 ft elevation
Difficulty level: Easy
Best for: Views of the deep coast and mountains

This hike is located to the east of Naples and it is an active Somma volcano. It maintains a status for being one of the most dangerous volcanoes in the world since approximately 3 million people live in the eruption radius.

Monte Vesuvius is popular despite the threat because of the thrill it gives adventurers. The hike starts at Vesuvio National Park where you pay to enter before climbing 850 ft. It's a relatively short hike but it's packed with beautiful views of the Gulf of Naples, the national park, and the nearby city of Pompei.
7. Tre Crime di Lavaredo Loop, Dolomites
Location: 32 km/20 miles from Cortina
Distance: 10 km/6 miles
Difficulty level: Easy
Best for: Mountain views

The Dolomites are a true wonder for the eyes. If you're planning to do a one-day hike in the Dolomites, choose the Tre Crime di Lavaredo. This trail is located in the Parco Naturale Tre Crime. When you ascend to Forcella di Lavaredo, it will give you spectacular views of the Tre Crime, which refers to a trilogy of peaks. This trail can get busy during the summer months, so try late spring and start early in the day for the ideal experience.
8. CornaTrentapassi in Lago D'Iseo
Location: Village of Vello
Distance: 7.5 km/4.6 miles
Difficulty level: Easy to difficult
Best for: Amazing views of the lake and surrounding mountains

This mountain is said to have inspired many, including the likes of Leonardo Da Vinci. The hiking paths for the CornaTrentapassi are well signed with difficulty ratings classified per path. Choose wisely according to your experience level. Just remember that all paths give you stunning views of the lake and surrounding mountains.
Regions to Know Before Deciding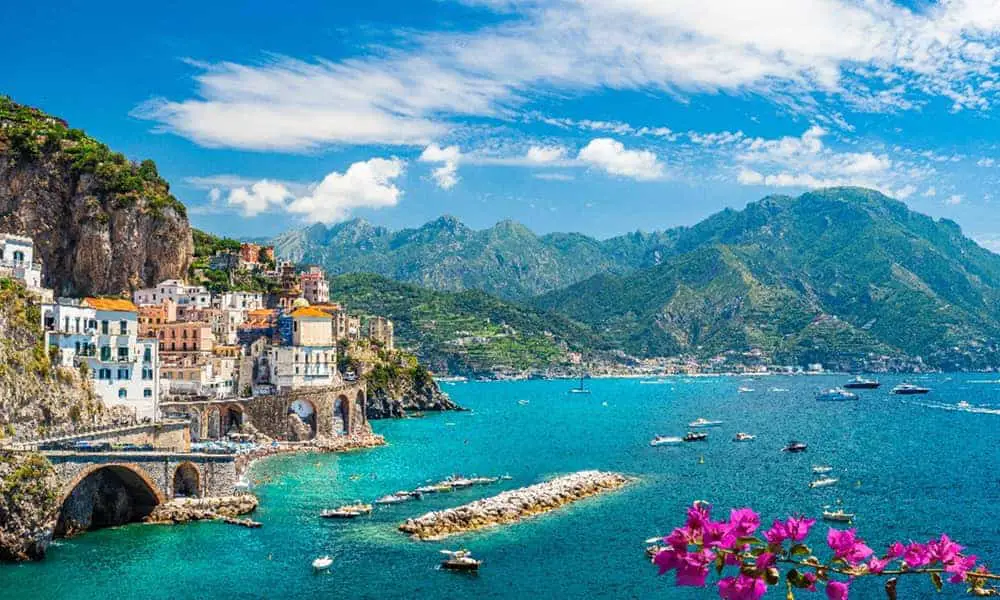 Several different regions around Italy are notorious for their hiking trails and spectacular views. Before deciding on a hiking destination, it's best to go through all the regions the country has to offer that suit your taste.
– Amalfi Coast
Ask any avid traveler, and they will tell you about the beauty that is the Amalfi Coast. This is a 50km stretch of shoreline on Italy's southern coast. It's sprinkled with colorful towns and magnificent views in every direction!
– Dolomites
If you've never heard of The Dolomites before, you're in for a treat. This is an incredibly unique place to visit if you're planning a vacation in Italy. Combined with its natural greenery and extraordinary mountains, it's a visual delight. The mountains, upon first glance, look snowy and frosty, but they are formed of light-colored dolomitic limestone. The shape of the mountains, with the formation of sharp points and jagged angles, was caused by erosion over time, making them one of the most unique geological wonders of the world!
– Gran Paradiso National Park
This national park is a beautiful piece of land rich with history. Located close to Mont Blanc, Gran Paradiso harbours the only mountain fully within the borders of Italy that is over 4,000 meters (13,123 ft) high. It was also the first national park established in Italy. Many challenging hikes are offered in the Gran Paradiso, including ones that lead up toward the summit.
– Liguria
Also known as the beautiful Italian Riviera, Liguria is a major tourist spot for good reason. The mountains reach the Ligurian Sea, which means you can expect exceptional views, stunning beaches, and a plethora of history during your hikes. You will find fishing villages, famous resort towns, and a rocky coastline throughout this region.
– Tuscany
This region is so popular due to its landscape and history-rich hiking options. Tuscany is known for its influence on high culture, so, naturally, anyone that imagines a holiday here will be dreaming of vineyards, olive gardens, and scenic hilltop views for days. The charm of this region lies in the beautiful coast with its diverse coastlines, beaches, and hiking trails.
10 Tips for Hiking in Italy
Although there are hundreds of different hiking expeditions you can venture on in Italy, there are some important tips to remember on any hike you choose. These tips have your safety and well-being in mind, so consider them carefully.
1. Plan ahead
Know your hike trail and terrain before you start. Research as much as you can online to plan your hike. If you can find the park's website, scour through it to find all you can about your chosen trail.
2. Start small
Your first hike shouldn't be the most challenging expedition. Find a day-long hike or a family-friendly hike to get your body and mind used to the activity before attempting a challenging one.
3. Know what difficult trails are
When a hiking trail promises to be "difficult" and "challenging," it means it has increasingly difficult terrain, steep elevations, and very long distances. The thrill of it may sound exciting, but some of these trails are only recommended for experienced hikers and not first-timers.
4. Pack smart
One of the most important rules about hiking is being smart about what you pack to take with you. A beginner hiker will most likely get tired carrying a bag full of snacks, water, extra clothes, and gadgets such as your smartphone and a bulky camera.

Keep in mind that you will have to carry your bag with you for several kilometers on the trail, so keep it light. Essentials include a first aid kit, an extra pair of clothing, sunblock, some food, and water.
5. Water is essential
Remember to bring as much water with you as possible. You are going to be in the sun, which means you will need to stay hydrated. This may seem like an obvious tip, but this one is probably the most overlooked and regretted when not followed.
6. Avoid getting sunburned
When you venture on these hikes during the spring and summer seasons, it's easy to get sunburned if you're not prepared. Wear head and arm coverings, especially in high altitude and sunny areas. And, most importantly, wear and pack sunblock with you and use it as often as needed.

7. Be comfortable with no service
Most hiking routes in Italy won't have cell phone service. Whether you're climbing a mountainous terrain or venturing through a vineyard, cell phone service will not work. If you're relying on your phone's GPS, think again. You're better off printing out a map and studying it before you set out on your trip.
Final Thoughts
Italy has no shortage of scenic views, incredible landscapes, majestic waters, and geographical wonders. Choosing any hiking trail in Italy will promise you a feast for the eyes and an amazing experience. You will find a plethora of options, so choose one that fits your adventure needs. Pay close attention to the tips provided and, most importantly, enjoy yourself.

The eight best hikes in Italy mentioned in this article will bring you to every amazing region this country has to offer. Whether you are walking through the infamous Cinque Terre trail or walking along the oldest Roman road on the Appian Way, you can dazzle yourself with the rich history and culture all the villages have to offer. Experience yourself like never before on these best hikes in Italy!