It's essential to spend money on a compact, light hiking first aid kit which you can keep in your backpack for both long and short trips.
So, regardless of whether you are new to hiking or a seasoned hiker, you will certainly benefit from reading this article and creating the ultimate hiking first aid kit.
Why Should You Bring A First Aid Kit With You On A Hiking Trip?
A first aid kit is not only part of the essential things you need to have with you on a hiking trip for any case of emergency on the trail.
It is also useful when treating small calluses, wounds, and cuts that are unavoidable during a hike.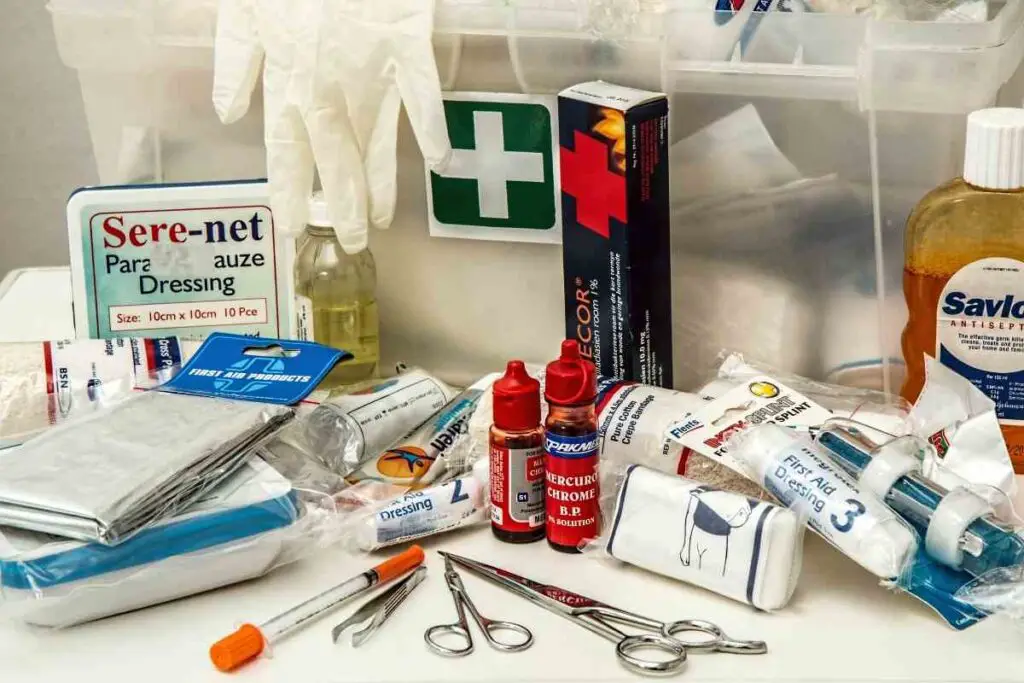 While there are some instances where you might not need it like a short-day trip, when the time comes that you'll need to use something from the kit, you'll be glad you made the effort to prepare it and bring it with you.
A first aid kit can come in handy in a variety of situations in the wilderness. It can be as simple as a tiny cut from a tangled bush or a twisted ankle on a bumpy path.
Perhaps you have allergies as a result of the high levels of pollen in the atmosphere. Transit just before as well as during your excursion may also cause constipation or diarrhea.
Luckily, there are numerous options for a one-day hiking first aid supplies kit. You can consider purchasing pre-made ones from shops, or you can assemble your own custom kit.
Sale
I GO 85 Pieces Hard Shell Mini Compact First Aid Kit, Small Personal Emergency Survival Kit for Travel Hiking Camping Backpacking Hunting Marine Car
【Essential Preparedness Kit】: Contains 85 essential first aid supplies for treating common cuts, scrapes, minor aches and injuries, will prepare you for any potential emergency at home, in the office or on the go
【Safety Medical Kit】: Safety approved, 85 pieces of comprehensive first aid treatment products are manufactured in modern safety approved facilities, exceeding safety standards for adults and kids in all kinds of emergencies
【Organization Survival Pouch】: Clear mesh lining and two-way full open zippers in water-resistant EVA pouch,this 1st aid kit provides you an organization and quick access to first aid supplies in an emergency
【Portable Safety Kit】: Size 6" x 4.3"x 2.4", weighing only 0.56 pounds, small and lightweight,this safety kit is in proper size for fitting nicely into your pocket, backpack, boat, vehicle compartment or desk drawer
【General Purpose Medkit】: Each medkit comes with an aluminum carabiner, which allows you to hang the kit in various places for immediate retrieval in outdoor activities like camping, hiking, backpacking, boating, cycling, fishing, hunting and sports
What Should Be In A Hiking First Aid Kit?
Hiking first aid kits will differ depending on the size of the team – whether you are alone, with one more person, or with a bigger collective – and the activity.
While you can carry a bigger first aid kit when hiking with many other people, we do suggest you carry your own personal first aid kit to make sure you have enough supplies for one person in all case scenarios.
You ought to be capable of treating partly or completely small scratches and burns, joint pain from overload, and minor occurrences of diarrhea, allergies, and so on with an adequate first aid kit.
It's critical to know what's in your first aid kit, make adjustments according to your necessities, and know how to utilize everything that is included.
So, regardless of whether you buy a pre-made first aid kit or make your own, make sure you have everything you will require for the ultimate kit.
The following items should be included in your basic hiking or backpacking first aid essentials: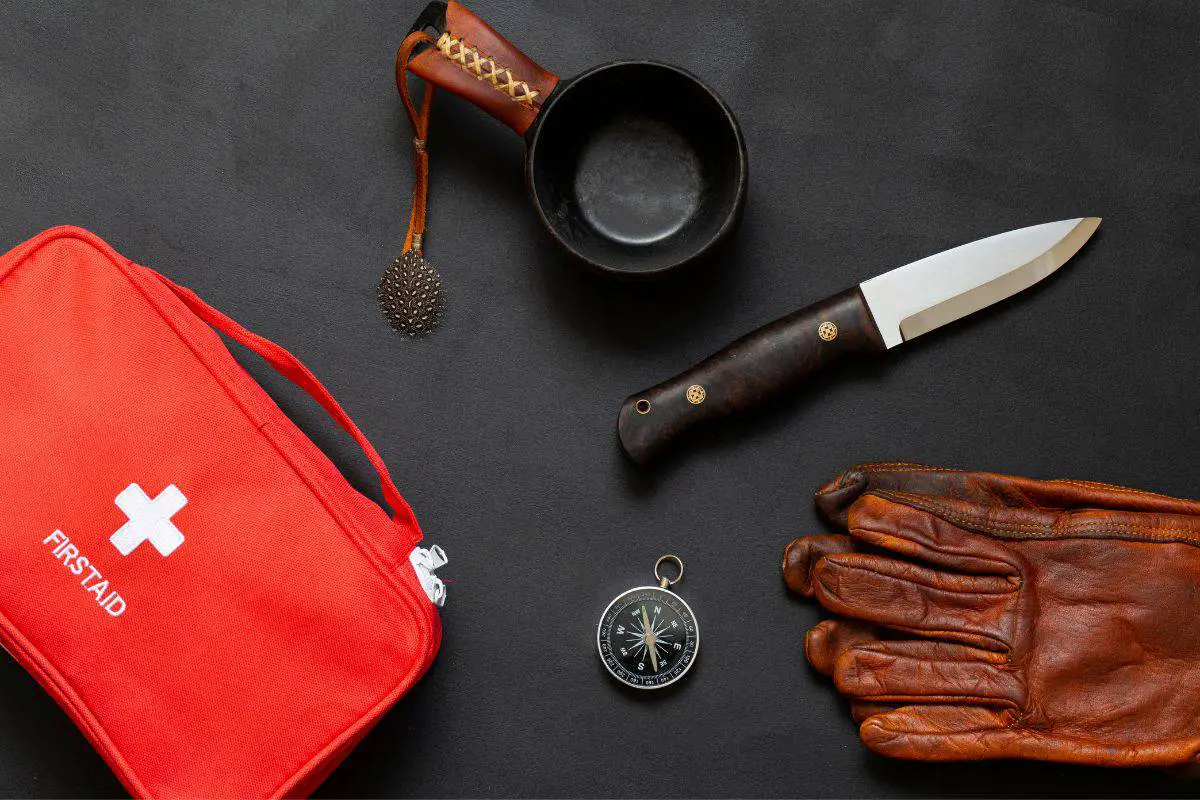 First Aid Kit Pouch
First and foremost, you will require a pouch to put your first aid kit in. Most pre-made kits are ideal, as long as you will be able to add any additional items into that pouch.
The majority of the pre-made ones are also water-proof and lightweight, so you have those things covered too.
In case you decide you are making your own hiking first aid kit, you can buy a small, zippered bag to use as a pouch — just make sure it's small, light, and waterproof. A simple 1-liter dry bag can also do the work.
After you've made your pouch, you can utilize plastic containers to assemble related items together for an extra organization to make sure it is all completely waterproof.
Medication
A hiking first aid kit must include meds to ameliorate pain on the path. It is important to remember that this is not the type of medication that can end up saving your life.
Even so, they will definitely minimize annoyances like a migraine, irritation of the eyes, or stomach ache easier to deal with while you are out in the wilderness and miles away from a drugstore.
Sale
EVERLIT 250 Pieces Survival First Aid Kit IFAK EMT Molle Pouch Survival Kit Outdoor Gear Emergency Kits Trauma Bag for Camping Boat Hunting Hiking Home Car Earthquake and Adventures
✅【250 PCS First Aid Survival Kit, Meaningful and Cool Gifts Ideas for Families and Outdoorsman】Designed by army veterans and survivalists, the most compact and robust survival first aid kit contains essential first aid supplies and survival tools required for emergencies. Weighs only 2 Lbs, the kit is a must-have for your bug-out bag.
✅【Be Prepared for the Unexpected, Complete Comprehensive First Aid Essentials Exceeds OSHA Guidelines】The product includes more than enough med supplies to treat a single family under emergency circumstances. Perfect for taking care of any medical or emergency needs during outdoor wilderness adventures such as camping, backpacking, boy scouts, hiking, hunting and mountain biking.
✅【Molle EMT Pouch, Durable, Portable, and Water-Resistant】The military grade bag was made from 1000D water-resistant nylon, it offers three large compartments and many straps to get your supplies organized. The overall dimension of the kit is 8'' x 6.5'' x 5''. The kit can be attached to any molle system: backpack, vest, vehicle molle panel.
✅【Top Quality Survival Gears Safeguard Your Next Adventure】Stuffed with the most essential survival gadgets: mylar space blanket, 3-mode tactical flashlight, multi-function paracord bracelet (compass, whistle), flintstone, knife, saber card, two 12 hour glow sticks and emergency rain poncho.
✅【All Weather, All Age, Multi-Purpose Survival Kit】From outdoor actions to general home and office needs, for the outdoorsman, preppers to boy scouts. With its comprehensive contents and coverage, you will be prepared anywhere you go.
Most of us already have many, if not all, of these medicines at home and take them whenever we experience symptoms that can be treated at home, like headaches.
As a result, it's simple to use reusable jars or containers that can be refilled for every hiking trip of yours.
You should have at minimum 2 doses of these types of medications in your kit:
Pain relievers
Antihistamines
Anti-itching meds
Anti-diarrheal meds
Laxatives
Heartburn relievers
Anti-allergic and nasal decongestants
Epinephrine Injections (if needed)
Wound Treatment
Although we hope you won't have to use your hiking first aid kit to treat any wounds, getting some blisters, scratches, and small burns are sometimes inevitable during a hike.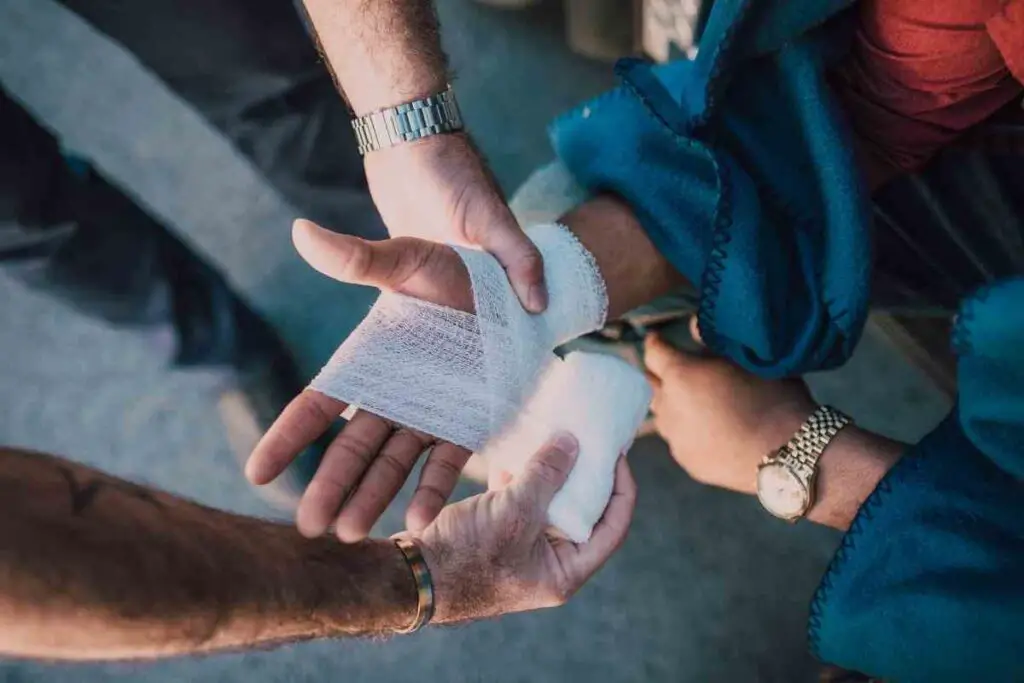 Severe injuries, of course, will necessitate a visit to the nearest hospital, but a decent first aid kit should have everything you need to treat superficial cuts and prevent them from getting infected.
To prepare your kit correctly, you must include and understand how to employ the following items:
Band-Aids: Include a variety of different-sized band-aids to protect small scratches and cuts. To be fully equipped, add blister and knuckle bandage sets to the kit too.
Roll Gauze: For bigger scratches, use a roll of gauze, although it could be unnecessary if you take sizable band-aids with you.
Medical or Athletic Tape: You can use this tape to hold the gauze or bandage in place.
Skin Closures: Closing bigger cuts are essential but stitching them up during a hike might not be feasible. That is when you can use Steri-strips instead of stitches to close a cut.
Single-use Surgical Gloves: to avoid having your wounds contaminated, always have a couple of pairs of single-use surgical gloves in the kit.
Antibacterial Wipes: To disinfect a wound and sanitize your first aid supplies.
Triple Antimicrobials Lotion: To assist in killing any bacteria on a wound.
Tools
Apart from medicines and wound dressings, you will have to have the following tools to treat any wound or cut:
Pincers: To remove any stings, pieces of glass, or anything that pierces through your skin.
Scissors: To cut bandages, tapes, and so on.
Antibacterial gel: To clean and disinfect your hands and first aid equipment before performing any first aid task.
Suncream: To prevent getting burned by the sun.
Emergency Medical Card: Create a small medical card with your details to have in hand in case you require immediate medical attention.
Emergency blanket (foldable, approx. 70 grams): To provide warmth if you have to spend the night out in the cold without shelter.
Waterproof Firestarter: To signal assistance or stay warm.
Hiking First Aid Tips
There are numerous types of accidents that can occur during a hike. A hiker, for instance, could trip and sprain their ankle, while someone else could have a cardiac arrest or be attacked by a snake.
It is also difficult to know for sure how to act if one of these mishaps occurs, but certain pointers are worth mentioning.
There's one thing you need to do for sure: keep the injured person breathing, prevent them from bleeding, and keep them warm. Then dial 911 for assistance.
Assisting An Injured Person Who Haven't Lost Consciousness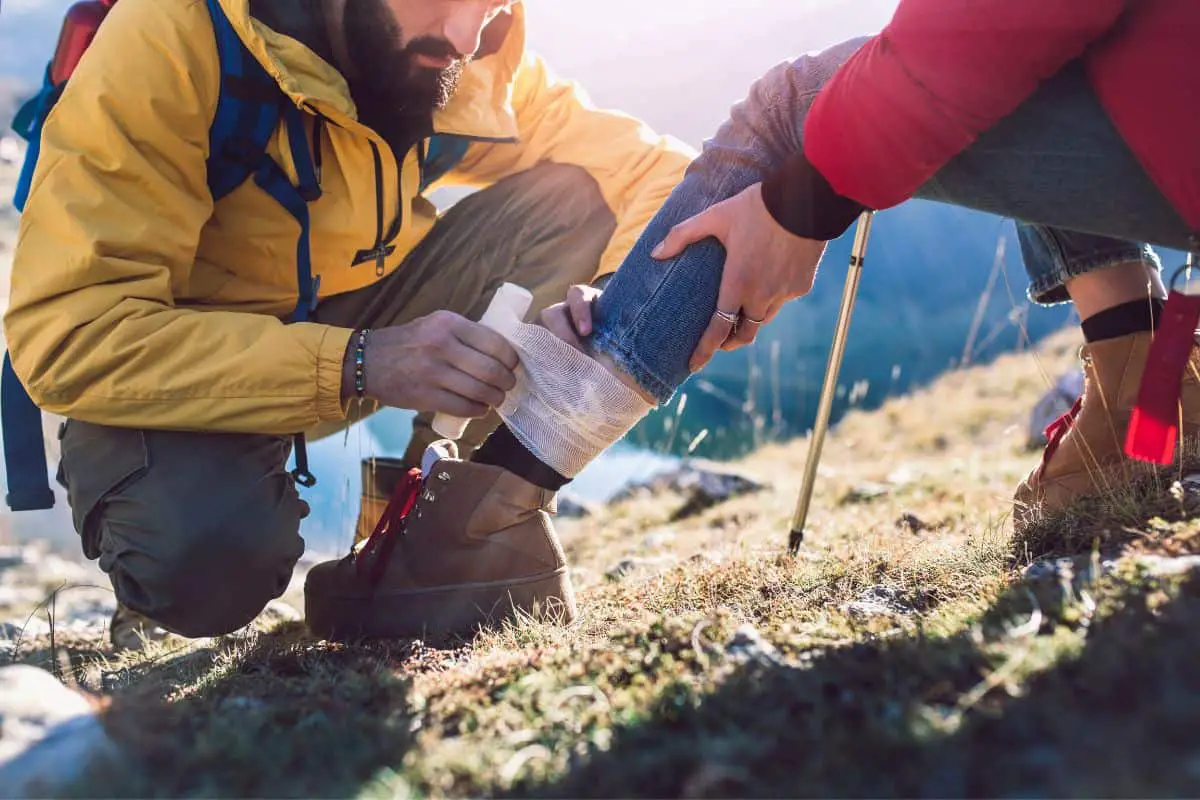 Help
Because a person injured is probably to be gobsmacked and confused, assume control of the situation and lend a hand. Maintain their calm by literally holding their hand.
Ask For Consent
You should get the injured person's consent to assist them. Even in cases where someone definitely requires first aid, they have the right to decline your assistance.
Most people will not, but if they appear to be mentally sound and continue to refuse assistance, you must simply walk away.
Check Vital Signs
The degree of response, respiration, heartbeat, skin hue, and temperature are the signs you should be checking.
It is critical to keep a record of every one of these signs so that if urgent assistance is needed, you could then inform the medical personnel.
Leave The Trail
In case a person is injured, it goes without saying that they shouldn't keep on with their hiking trip. If you are the one helping them, you should leave the trail and take them to the nearest hospital.
Assisting An Injured Person Who Have Lost Consciousness
ABC
ABC stands for Airway, Breathing, and Circulation. This will assist the first responder in determining the severity of the injury problems.
It is highly suggested that you enroll in a first aid course to learn how to help people who have lost their consciousness on the trail.
Position
Move the injured person to the recovery position and check their vital signs as previously explained.
CPR & Assistance
Perform CPR if you have been taught and practiced it during the first aid training and call for assistance immediately so that the casualty can be taken care of by professionals.
The Bottom Line
A hiking first aid kit with all the essentials is one of the most important things you must carry in your backpack.
It doesn't matter how long or short your hiking trip is; first aid supplies are essential and in case of emergency you will be thankful you had everything planned ahead of your excursion!