Half Dome, one of Yosemite National Park's most iconic landmarks, stands tall at 8,846 feet and offers hikers a challenging yet rewarding journey to its summit.
The towering granite rock formation is a popular destination for experienced hikers, attracting thousands each year eager to soak in the breathtaking panoramic views from the top.
With a total distance of 17 miles round trip and an elevation gain of 5,457 feet, the hike up Half Dome is considered extremely strenuous, typically taking 10 to 14 hours to complete.
Before embarking on this adventure, proper preparation is essential. Hikers must obtain a permit to climb the subdome and the Half Dome cables, which are in place from Memorial Day through Columbus Day, weather permitting.
As hikers traverse through lush forests, alongside impressive waterfalls, and over rugged terrain, they will eventually encounter the famous Half Dome cables. These metal supports assist climbers as they make their way up the steep and exposed granite face of Half Dome.
Training and safety measures should not be overlooked. It is important for those planning to hike Half Dome to adequately train and familiarize themselves with the route, weather conditions, and other potential hazards.
By taking the necessary precautions and respecting the park's regulations, hikers can experience an unforgettable journey to one of Yosemite's most awe-inspiring summits.
The Appeal Of Hiking Half Dome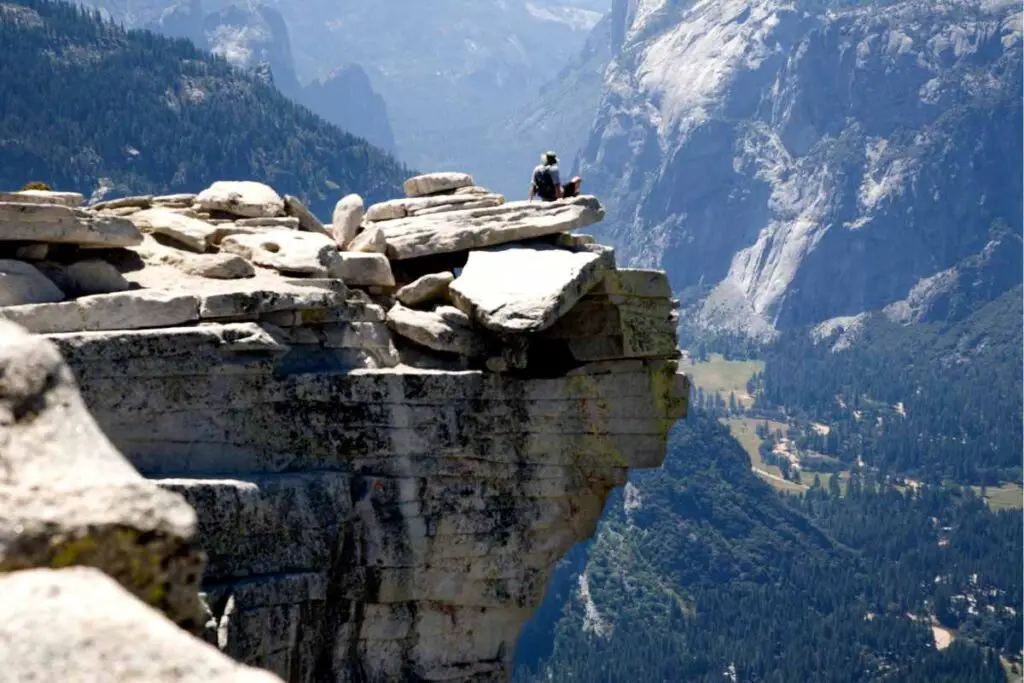 Panoramic Views
One of the primary reasons that the Half Dome hike is so popular is the breathtaking panoramic views it offers.
As you ascend the trail, you'll pass iconic Yosemite landmarks such as waterfalls and majestic sequoias. At the summit, standing at 8,846 feet, you'll be rewarded with stunning views of Yosemite Valley, immersing you in the natural beauty of the surrounding landscape.
The experience of taking in these unforgettable sights is something that makes the Half Dome hike a must-do for many outdoor enthusiasts.
Accomplishment Feel
Tackling the Half Dome hike is not an easy feat. With a distance of approximately 17 miles for the entire round trip, and a total ascent of 5,457 feet, this trail is considered extremely strenuous.
It typically takes hikers between 10 to 14 hours to complete the journey. However, the sense of accomplishment that comes from reaching the summit, pulling yourself up the steel cables, and standing atop the iconic granite formation is unparalleled.
Conquering this challenging trail is an achievement to be proud of, and for many, it has earned a spot on their bucket list.
The Half Dome hike is not only a physical challenge but also a test of determination and commitment. Having the mental fortitude to push through difficult sections of the trail, such as the climb up the Sub Dome and the cable ascent to the summit, adds to the overall feeling of achievement.
The journey to the top of Half Dome is an unforgettable experience, with the combination of awe-inspiring views and personal triumph making it a once-in-a-lifetime adventure for those who dare to take on the challenge.
Also read – Backcountry Camping In Yosemite
Preparing For The Hike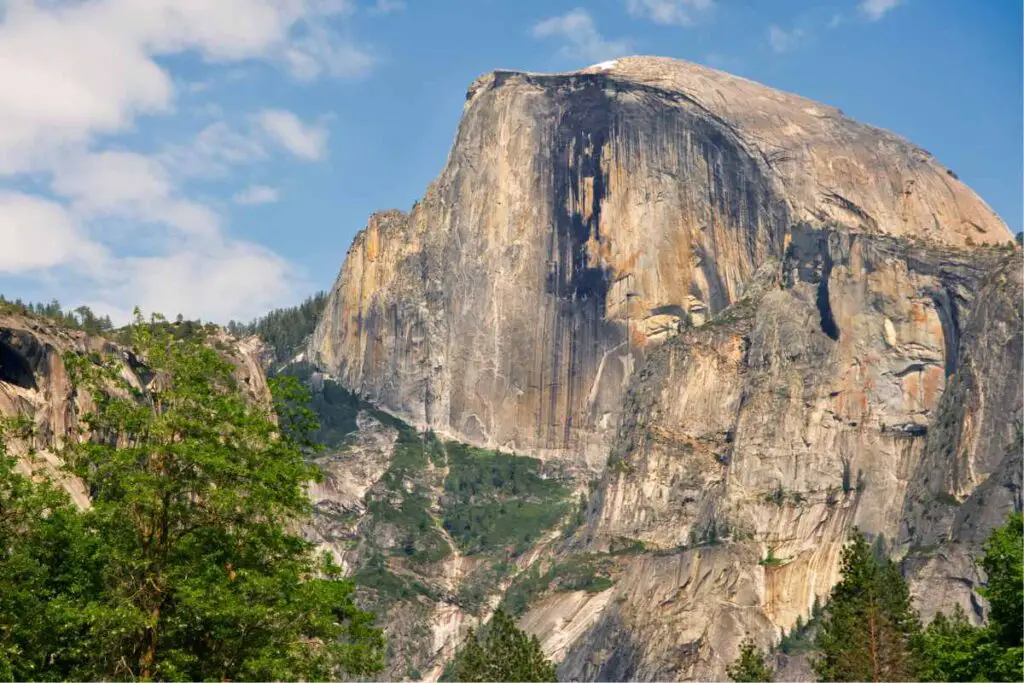 Before embarking on the Half Dome hike, it's essential to plan and train properly to ensure a successful and enjoyable experience.
This hike is strenuous and steep, demanding both physical and mental preparation. It's crucial to familiarize yourself with the route through maps, understand the challenge you're taking on, and take necessary precautions.
A key aspect of planning involves obtaining a Half Dome permit, as this is required for anyone wishing to climb the subdome and use the Half Dome cables. The permits are awarded through a lottery system, typically held at the end of March.
Training for the Half Dome hike should involve both cardio and upper body strength exercises, as the climb entails steep inclines and requires pulling oneself up steel cables.
Incorporate activities like jogging, stair climbing, and upper body exercises in your workout routine several months before the hike. Wearing comfortable, sturdy, and well-fitting hiking shoes is also essential to effectively navigate the adventurous terrain.
Hydration is a significant factor to consider when preparing for the hike, as there will be limited opportunities to refill water along the trail.
Carry enough water to keep you well-hydrated throughout the hike, which may take up to 10-12 hours, depending on individual pace.
Lastly, make sure to pack the right gear for this demanding hike, including:
Gloves: These are particularly important for gripping the steel cables of the Half Dome.
Maps: These can be instrumental in navigating the trails and staying on track.
First Aid Kit: Carry basic first aid supplies, such as band-aids and pain relief medicine, to address minor injuries.
By thoroughly preparing for the Half Dome hike, you'll increase your chances of successfully completing this incredible and challenging adventure.
Be confident in your planning and training, and tackle the hike with a clear and knowledgeable mindset.
Read next – How to Train for Hiking Without Hiking
Understanding Permits And Reservations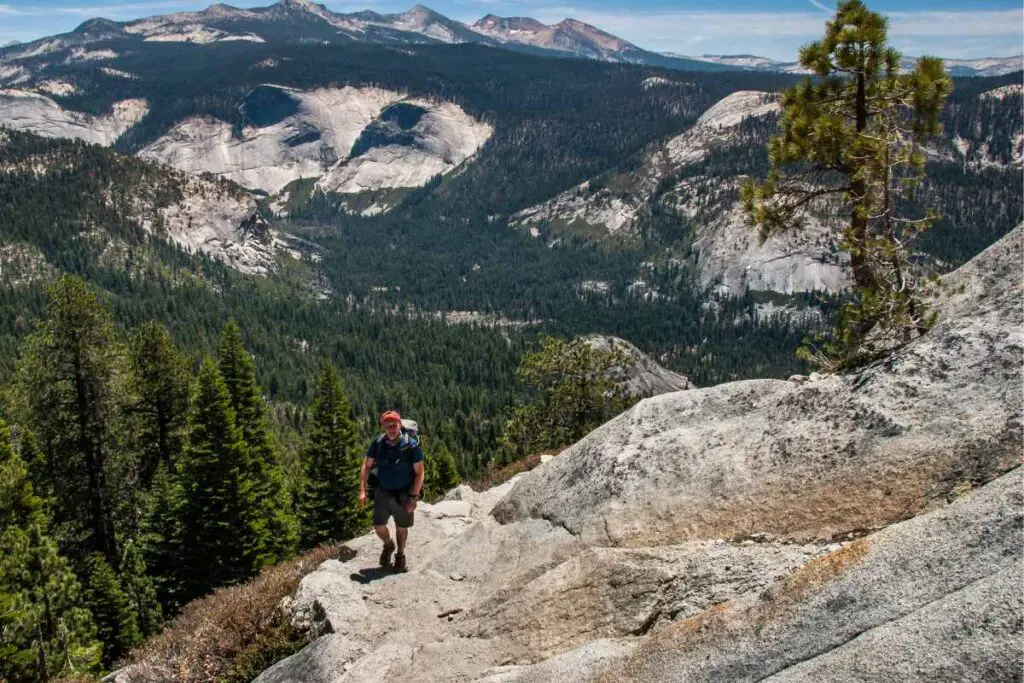 When planning to hike Half Dome, obtaining a permit is a crucial step since permits are required for all hikers, both day hikers and backpackers.
The aim of these permits is to protect Wilderness character, reduce crowding, protect natural and cultural resources and improve safety.
Permits are available through two main methods: Day Hiking Half Dome Permits and Yosemite Wilderness Permits.
For day hikers, there is a lottery system through which about 225 permits are available daily, while around 75 permits are allocated to backpackers.
The Half Dome cable season typically begins around Memorial Day and runs until the cables are taken down.
Day Hiking Half Dome Permits
To obtain a permit as a day hiker, you would need to participate in the preseason lottery, which usually runs from March 1-31 annually. Applicants are notified about their selection in mid-April. An additional 50 permits per day are available through the daily lottery, for which hikers should apply two days prior to their intended hike date.
Yosemite Wilderness Permits
For backpackers planning a multi-day trip, obtaining a Yosemite Wilderness Permit is necessary.
To secure a Half Dome permit, you'll need to apply one day before your desired hike date. It is important to note that only 25 Half Dome permits are available daily for backpackers.
In addition to the permits, a Day Use Reservation is also required for entry into Yosemite National park. If you already hold a valid Wilderness permit, campground reservation, or Half Dome permit, you do not need a separate Day Use Reservation.
However, if you do not have any of these permits, you can obtain a Day Use Reservation through recreation.gov for a nominal fee.
In conclusion, it's essential to understand the different types of permits available for Half Dome hikers and the methods for obtaining them.
Proper planning and permit acquisition will ensure a safe, enjoyable, and successful hike up the iconic Half Dome.
Knowing The Trail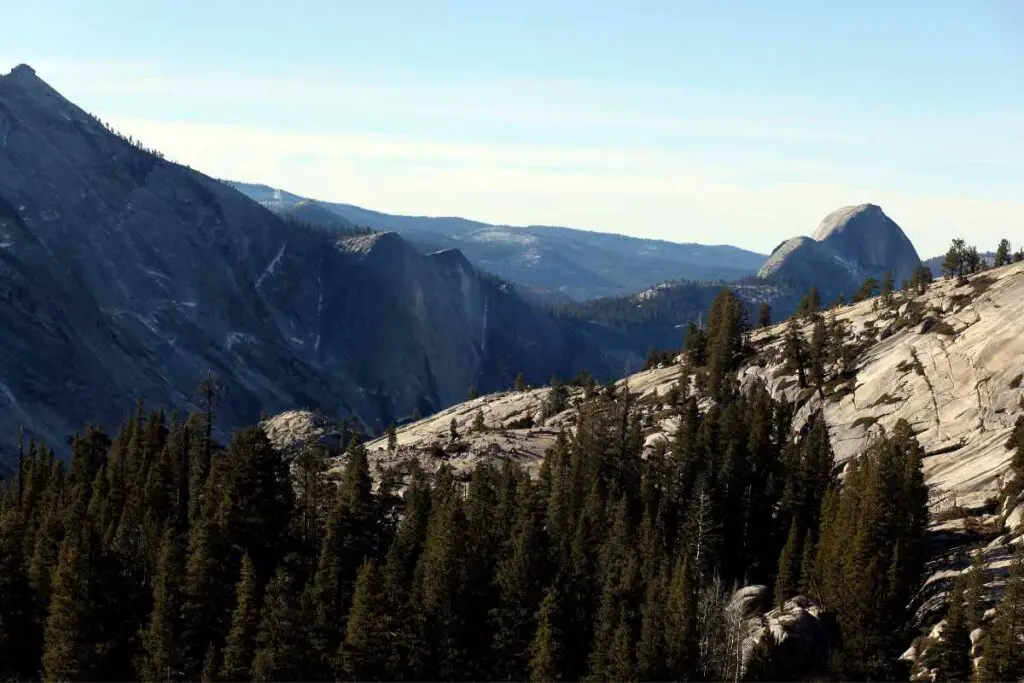 The Half Dome trail in Yosemite National Park is a challenging yet rewarding hike that leads you through some iconic scenery, including:
Nevada Fall
Vernal Fall
and Little Yosemite Valley
The trail features a considerable elevation gain, stairs, cables, and spectacular views at every turn.
The total distance of the Half Dome trail is approximately 17 miles round trip, with a total ascent of 5,457 feet. Starting at the Happy Isles Trailhead, hikers will follow the Mist Trail to encounter Vernal Fall, a stunning 317-foot waterfall.
Be prepared for slippery conditions on the Mist Trail, as the spray from the waterfall can make the granite steps quite wet.
After ascending past Vernal Fall, the trail continues through the lush Little Yosemite Valley, providing breathtaking views of the surrounding landscape.
Further along, hikers will encounter Nevada Fall, the spectacular 594-foot waterfall that adds to the beauty of this iconic hike.
At this point, hikers may choose to take the John Muir Trail (also called the Muir Trail), which offers a more gradual ascent to the junction with the Half Dome trail.
Though slightly longer, the John Muir Trail may be preferred by those seeking a less steep approach before tackling the challenging final ascent to Half Dome.
As you approach the Sub Dome, the trail becomes steeper and more strenuous. Hikers will need to navigate a series of steep granite stairs that lead to the base of the Sub Dome. A permit is required to climb both the Sub Dome and the Half Dome summit.
Finally, after conquering the Sub Dome, hikers face the famous Half Dome cables. This section requires physical strength and mental determination, as climbers pull themselves up the steep, smooth granite face using the steel cables for support.
Reaching the 8,846 feet summit of Half Dome brings a sense of accomplishment, and panoramic views of Yosemite Valley and beyond.
Having a trail map and trail guide handy can be invaluable for navigating this challenging and iconic hike. Planning your hike during the cable season (typically from Memorial Day to Columbus Day) is crucial, as the cables are necessary for the final ascent to the summit.
Be prepared for a full day of hiking, taking anywhere from 10 to 14 hours, and ensure you have adequate water for the journey.
Staying Safe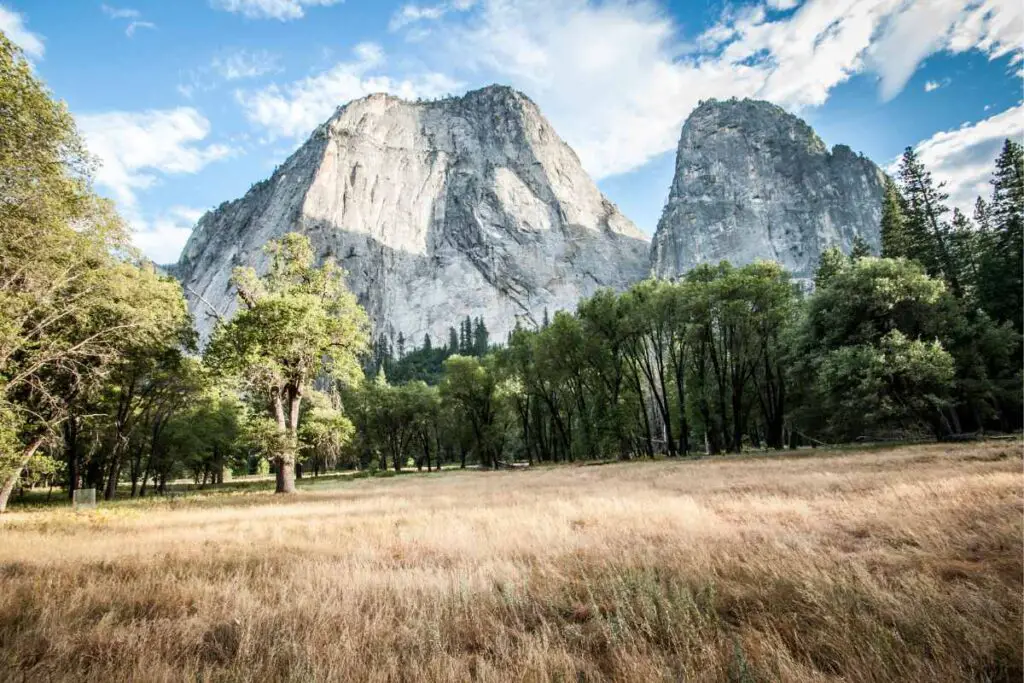 When embarking on the Half Dome hike, you should prioritize your safety above all else.
Hiking up Half Dome can be an exhilarating experience, but it also poses some risks.
To ensure a successful climb, follow these safety tips:
Be cautious of the weather: Always check the weather forecast before starting your hike. Thunderstorms and lightning pose a serious hazard, especially at higher elevations. If storms are predicted, avoid hiking that day or make a quick decision to turn back if conditions change.
Stay hydrated: Dehydration can impede your performance and increase your chance of injury. Carry enough water and drink regularly throughout the hike. Yosemite's climate can be hot and dry, so proper hydration is essential.
Bring a flashlight: Sometimes, the hike can take longer than expected and if you find yourself on the trail after dark, a flashlight will be invaluable. Headlamps are a popular option, as they keep your hands free for climbing.
Know your limits: Do not push yourself too hard, as exhaustion may lead to poor decisions or accidents. Take rest breaks when necessary and be prepared to turn back if needed.
Plan for winter conditions: If you're hiking in winter months, be aware of the additional risks like ice, snow, and colder temperatures. Wear appropriate gear and tread carefully, especially on slippery surfaces.
Adhere to Leave No Trace principles: Respect the environment by disposing of waste properly, staying on designated trails, and not picking plants or disturbing wildlife.
Remain calm in scary situations: The Half Dome hike can be intimidating, especially when heading up the cables. Maintain a clear head and focus on your movements, and stay within your comfort zone.
Always remember that safety comes first. By staying vigilant and informed about conditions and potential hazards, you can enjoy a rewarding Half Dome hiking experience.
Dealing with Crowds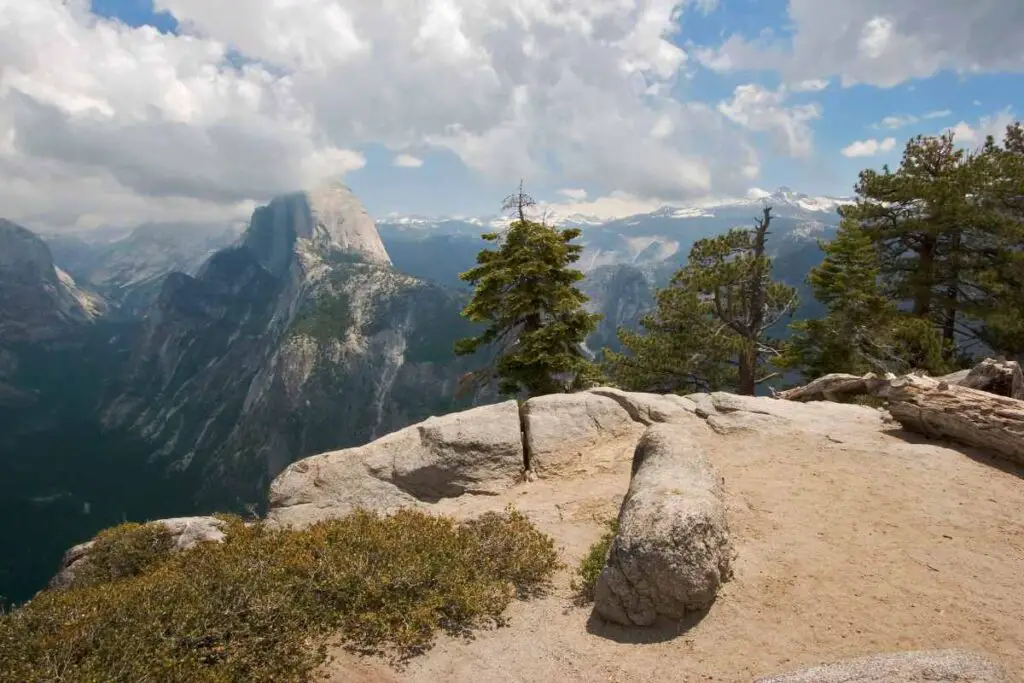 Hiking Half Dome at Yosemite National Park is an iconic trek, drawing large crowds and making the trail quite busy during peak seasons.
To ensure an enjoyable experience, there are ways to avoid excessive crowds and better manage your time on the hike.
One of the best ways to beat the crowds is to start early in the day. Set off before sunrise to make the most of your day and avoid long queues on the trail.
You will have an easier time navigating the cables section and have ample time to enjoy the summit before making your descent.
Another excellent way to avoid crowds is to plan your hike during weekdays. Many visitors tend to hike during weekends, which can make trails busier and lead to more traffic on the cables route.
By choosing to hike during a weekday, you can benefit from a quieter experience, which is especially useful for first-time hikers.
Considering the season you choose to hike is also essential. The Half Dome trail is most crowded from June to September, so planning your hike during months like October or March can make a difference in terms of crowd levels.
Keep in mind that weather conditions should be factored in when planning your hike such as potential snow or extreme heat. Also, be aware that the month of October has longer daylight hours than March, providing more time for hiking.
Lastly, being updated about current conditions on the trail before setting out is important.
Check the National Park Service website for information regarding Half Dome trail conditions and crowd levels. This will help you plan your hike better and ensure you are prepared for any circumstances you may face on the trail.
By taking these factors into account, you can plan a successful and enjoyable Half Dome hike while minimizing the impact of crowds.
Read later – Best Multi-Day Hikes In Yosemite
After The Climb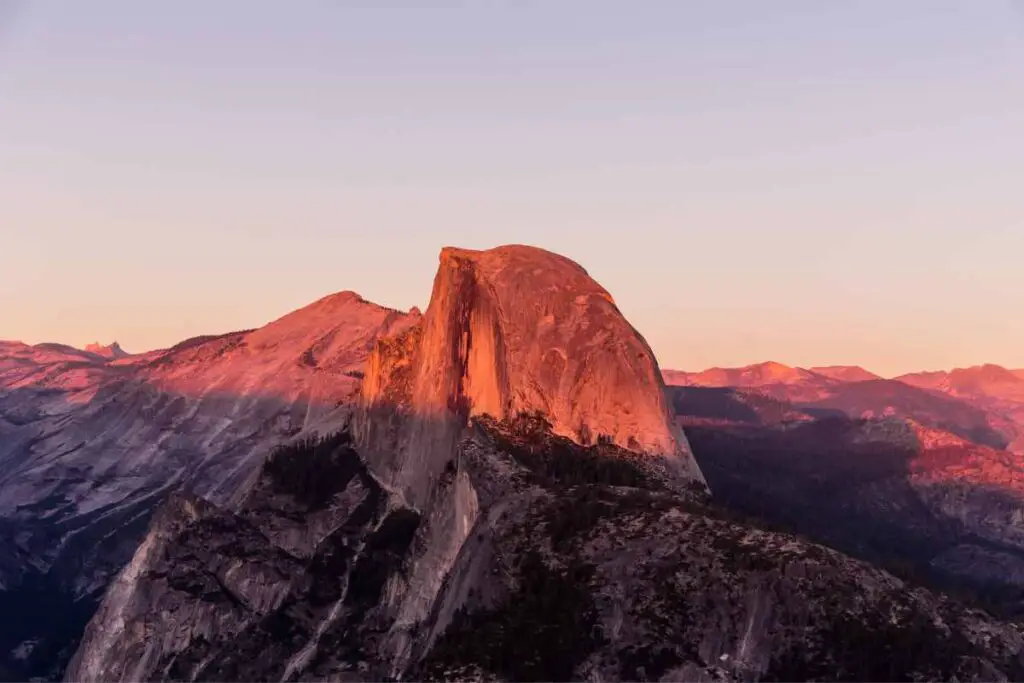 After completing the strenuous hike up Half Dome, you'll likely feel a mix of exhaustion and accomplishment.
The Half Dome cables and steep granite surface of the last section make for a challenging ascent, but reaching the summit grants a spectacular view of Yosemite Valley.
With an elevation gain of nearly 5,000 feet, it's important to take some time to recuperate and enjoy the achievement.
While at the top, make sure to hydrate and refuel, as the descent will still be demanding. Keep an eye on the weather, especially for any storm clouds that may be approaching.
Thunderstorms can make the granite dome slippery and dangerous, so it's essential to start your descent early enough to avoid adverse conditions.
As you head back down, remember that proper footwear is crucial for a safe return.
The granite surface on Half Dome can be rough, so sturdy shoes with good traction are a must to navigate the steep terrain. Continue to hydrate and replenish your energy, as the hike itself is physically demanding.
Upon reaching the base, take a moment to appreciate the adventure you've just completed. The wilderness permit requirement and strenuous nature of the hike can make reaching the summit of Half Dome an exclusive experience, and you should feel proud of your success.
It's also essential to be aware of the facilities available around the Half Dome trailhead. Restrooms can be relatively scarce, so make sure to take note of any marked locations before starting your trek.
Although rock climbing may not be allowed in some areas, there are other options for exploring Yosemite's diverse landscape, including venturing around the valley and discovering other scenic spots.
With proper planning, preparation, and respect for the environment, your Half Dome journey is sure to be a rewarding experience.
National Park Rules and Regulations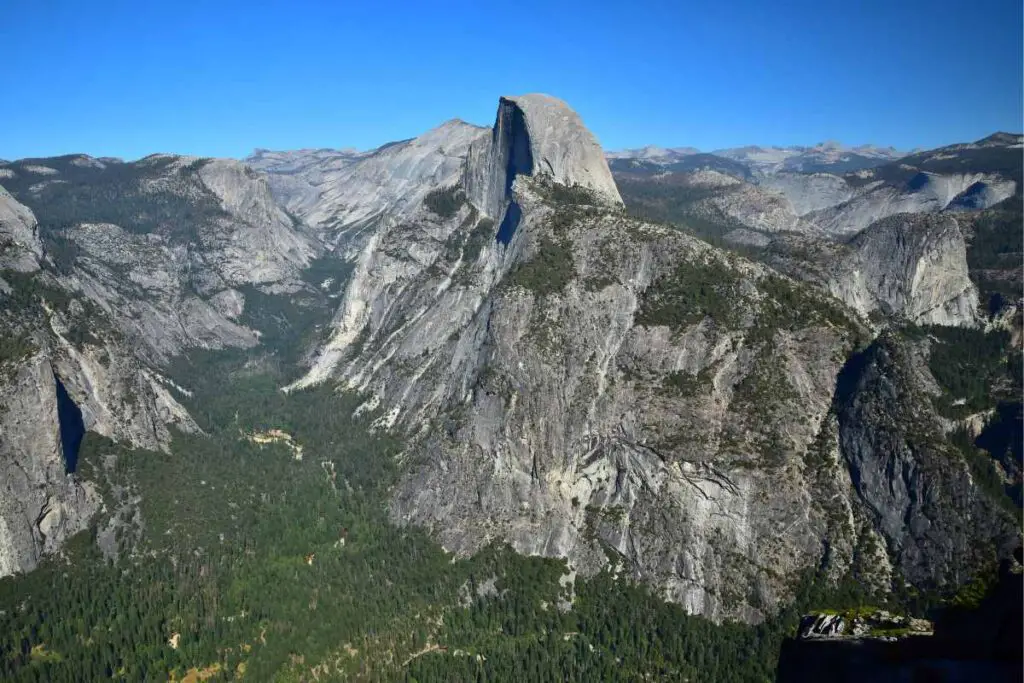 Yosemite National Park, encompassing the iconic Half Dome, follows strict rules and regulations to preserve its natural beauty and ensure the safety of visitors.
Adhering to these guidelines is crucial when hiking up Half Dome or any other wilderness areas in the park.
Permits
To hike Half Dome, a permit is required. The park allows a maximum of 300 hikers per day, with around 225 day hikers and 75 backpackers.
Permits are distributed through a preseason lottery in March and daily lotteries during the hiking season via Recreation.gov.
Plan your trip accordingly to secure a permit within the limited availability.
Leave No Trace Principles
Yosemite National Park encourages all hikers to follow the Leave No Trace principles. These include:
Planning ahead and preparing
Traveling and camping on durable surfaces
Disposing of waste properly
Leaving what you find
Minimizing campfire impact
Respecting wildlife
Being considerate of other visitors
By adhering to these guidelines, hikers can help minimize their impact on the environment and maintain the pristine nature of Yosemite's wilderness areas.
Wildlife Regulations
In Yosemite National Park, it is crucial to respect the wildlife and maintain a safe distance.
Feeding animals is strictly prohibited, as it can alter their natural behavior and put both the wildlife and park visitors at risk.
Additionally, follow proper food storage practices, such as using bear-proof containers, to avoid attracting animals to your campsite.
Backpacking and Camping
If you plan to backpack or camp in the park, be sure to obtain a wilderness permit.
Camping is allowed only at designated campsites or in designated wilderness zones, and fires are restricted in certain areas. Check with the park's visitor center for specific guidelines on where to camp and any seasonal restrictions.
By following these rules and regulations when visiting Yosemite National Park and hiking the Half Dome trail, you can ensure a safe, enjoyable, and environmentally-conscious experience for both yourself and future visitors.
Read next – Yosemite National Park El Capitan Hike
Camping Information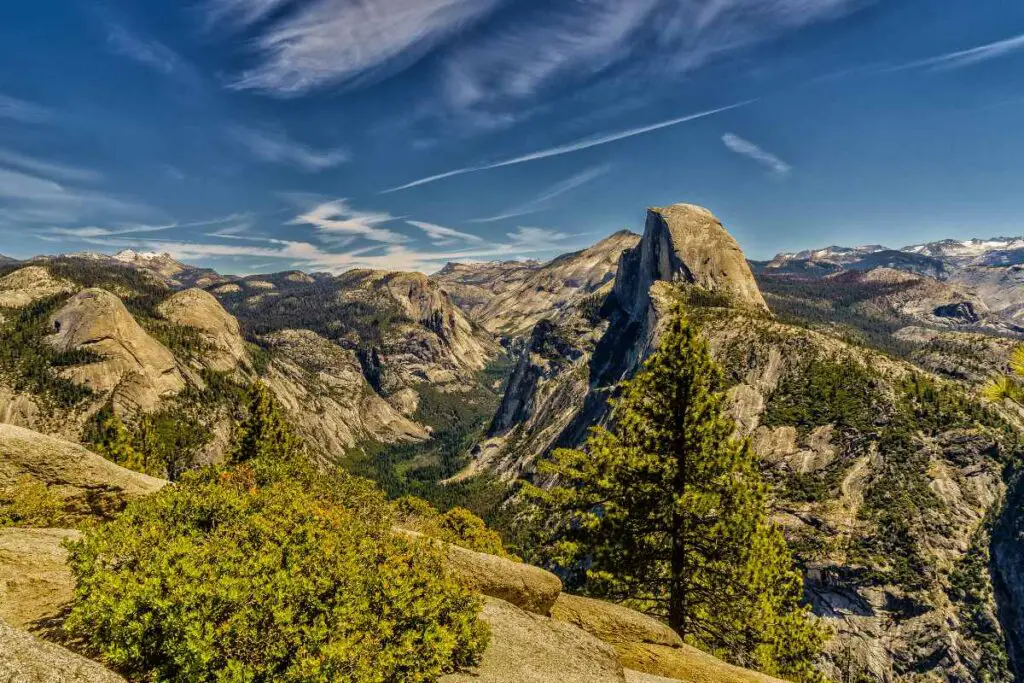 When planning to hike Half Dome, it is essential to take camping information into account.
The two main areas to consider for camping are Little Yosemite Valley Campground and obtaining a wilderness permit for the trip.
Little Yosemite Valley Campground is the first available camping site along the way to Half Dome. It is important to note that camping is not permitted between Yosemite Valley and Little Yosemite Valley. The campground offers a convenient location for hikers to rest before taking on the strenuous hike ahead. This area can be popular during peak hiking season, so it is advisable to plan ahead.
Wilderness permits are required to campovernight in Yosemite's wilderness, which includes the area around Half Dome. Obtaining a wilderness permit also serves as your Half Dome hiking permit. The permits are available through a lottery system, which is usually conducted between Memorial Day and Columbus Day. Keep in mind that permits are limited, and demand can be high, so it's essential to apply in advance.
For a successful Half Dome hike and camping experience, remember the following key points:
Secure a spot at Little Yosemite Valley Campground
Obtain a wilderness permit well in advance
Familiarize yourself with camping and hiking rules in the area
Plan your trip accordingly to ensure you have enough time for both camping and hiking
Be prepared for a physically demanding and rewarding adventure
Frequently Asked Questions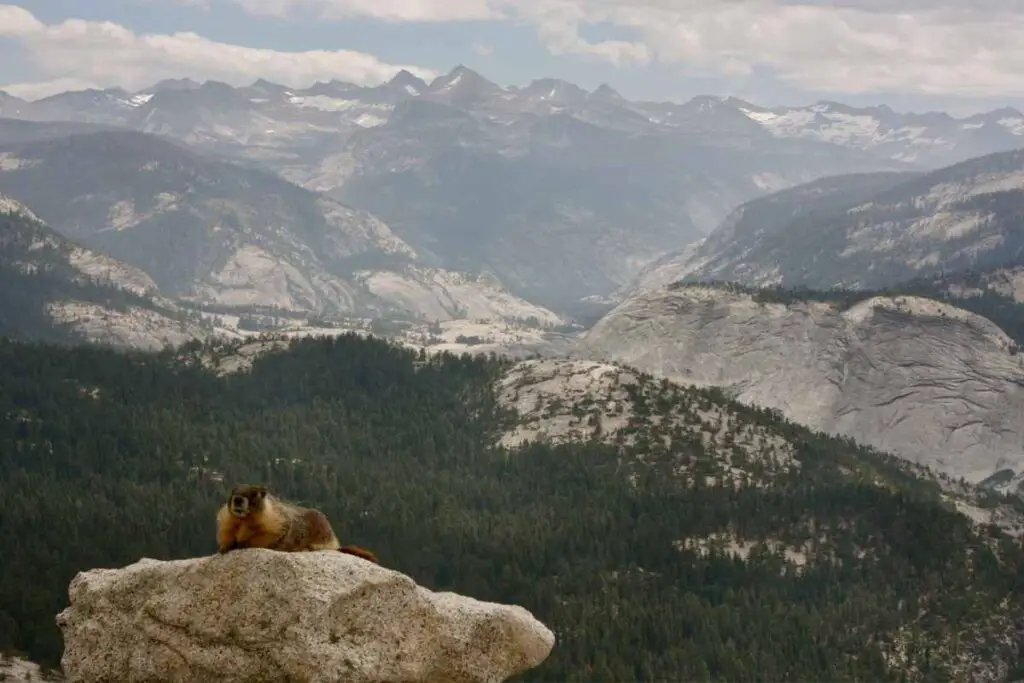 What is the best time of year to hike Half Dome?
The best time to hike Half Dome usually falls between Memorial Day and Columbus Day, as this is when the cables are up, permitting conditions.
It's important to be aware of the weather before starting your hike, as it can greatly impact the trail conditions.
What is the elevation gain on the Half Dome hike?
The Half Dome hike has a total elevation gain of 5,457 feet. The summit of Half Dome stands at 8,846 feet above sea level, providing a spectacular view of the Yosemite Valley below.
How do I obtain a permit for hiking Half Dome?
To hike Half Dome, you need a permit to climb the subdome and the cables. Permits are issued through a lottery system managed by the National Park Service.
You can apply for the permit lottery during designated application periods that typically occur early in the year. Check the National Park Service's website for specific details and deadlines.
Are the cables necessary for climbing Half Dome?
Yes, the cables are an essential part of the Half Dome hike. They provide support and safety for the steep and slippery sections near the summit.
Hikers use the cables to pull themselves up the final stretch of the trail, which has an incline of about 45 degrees. It's crucial to wear proper hiking shoes with a good grip and secure any loose items while using the cables.
What is the average time to hike Half Dome?
The average time to hike Half Dome is 10-14 hours, depending on your fitness level, pace, and the time spent at the summit.
The hike is approximately 17 miles round trip, making it an extremely strenuous endeavor that requires adequate preparation, physical fitness, and supplies.
Is prior experience required to hike Half Dome?
While prior experience is not strictly required, Half Dome is not recommended for first-time hikers or those who are unprepared for its challenging terrain and length.
Previous experience with long, strenuous hikes and appropriate physical conditioning will increase your chances of a safe and successful Half Dome hike.