Hiking is a great way to see the country and keep fit and there's not much you need to take with you if you are just heading out for the day. One very important thing to take with you however is a means to filter or purify your water.
Whether you are going alone, with a friend or as part of a group the size and type of water filter that best suits your needs will vary. 
We have looked at some of the best hiking water purification systems, so you can choose the right one for you. 
Water Treatment For Hikers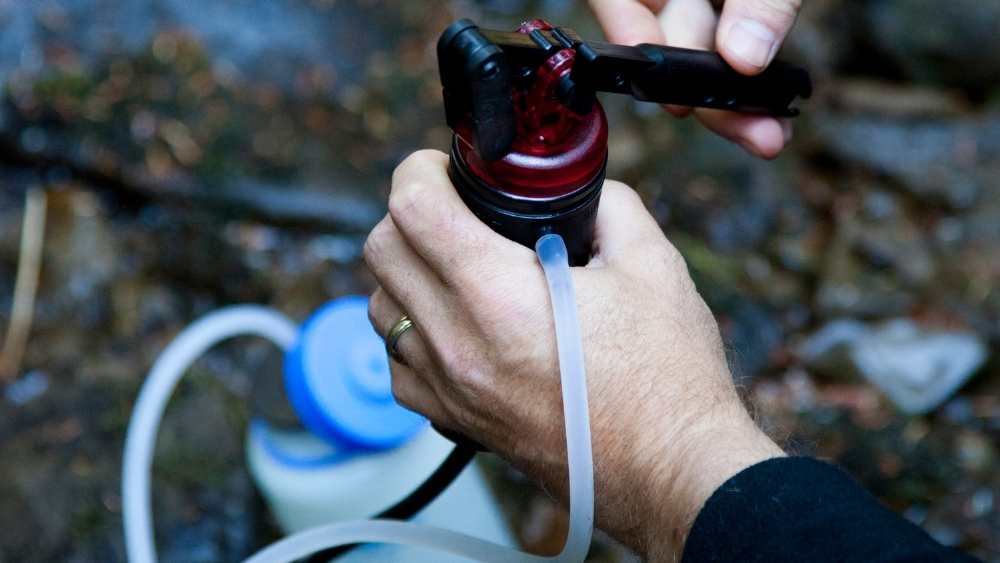 When it comes to making your water safe to drink when you hit the trail there are quite a few options to choose from. 
Filter Straws
If you are heading out on your own and don't want to weigh yourself down you can take a filter straw with you instead of heavy bottles of water. A filter straw allows you to drink water safely straight from a source such as a creek or lake. 
The straw filters out the dirt, bacteria, parasites, microplastics, sand and cloudiness from any source. This means you will never be caught without clean water to drink. 
Gravity Water Filters
For two or more hikers a large water filter will be needed, and a gravity water filter is just the thing. It is lightweight and easy to transport and once you find a water source you can just fill it up and let it do its magic.
These water filters work by using gravity to move water from one reservoir to another passing through a filter as it goes to remove harmful substances from the water and making it clean and safe to drink.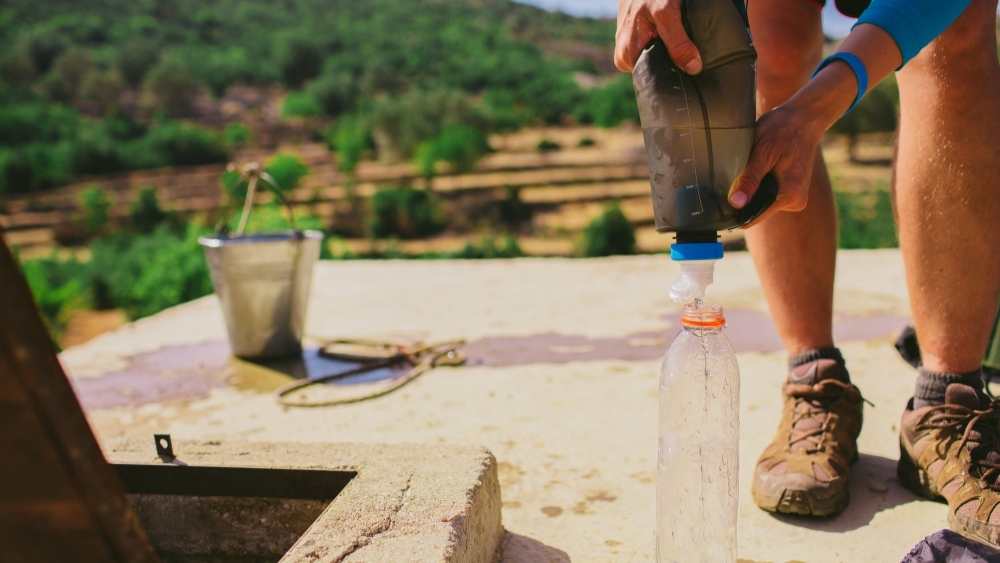 Chemical Treatment
Using chemical treatment to purify water works by adding tablets or liquid drops containing chlorine, chlorine dioxide or iodine to source water.
These deactivate bacteria, viruses and parasites present in the water making it safe to drink. 
Although it makes the water safe it can leave a distinct taste in the water, but it is a convenient and lightweight solution to purifying water while hiking or in an emergency. 
Combination Water Filter Or Purifier
A combination filter/purifier  is a serious piece of equipment and does a very serious job of  physically removing bacteria, viruses, protozoa and dirt quickly and effortlessly.
 It may be better suited to backpacking trips rather than a day's hiking or for emergency preparedness.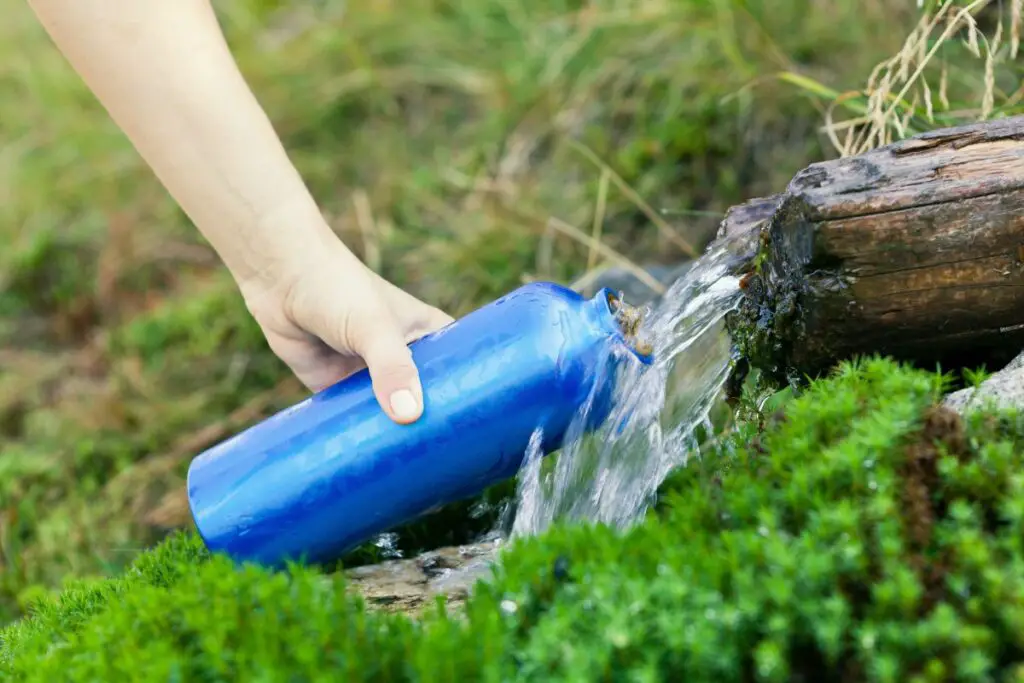 Bottle Filters
Bottle filters are ideal for hikers, they have activated carbon combined with a binder inside the bottle which filters chlorine, metals, viruses and bacteria out of the water making it safe for you to drink. 
UV Light Water Filters
The UV light water filter is so convenient to use and very compact and lightweight. You simply put it into your bottle of source water, tip it upside down and agitate it for around a minute and a half.
Presto, you have safe water to drink. 
Inline Filter For Hydration Reservoirs
An inline filter is a hollow fiber water filter designed to be used with a hydration system.
It means you can fill up your reservoir with water straight from the source and the activated carbon inline filter cleans out chemicals, particulate matter and bacteria.
Best Hiking Water Purification System
Product
Katadyn Micropur MP1 Purification Tablets
Katadyn BeFree 0.6L Water Filter
Sawyer Products Squeeze Water Filtration System
Platypus GravityWorks Group
Image
For hiking water purification needs you will want something that is compact, lightweight and not very bulky.
You want to enjoy your hike not feel like a pack mule on a quest. So what are the best hiking water purification methods?
Purifying Water While Hiking
Water purification while hiking can be the difference between having a great day in the wilderness or being very ill for a few days.
If you drink water from a natural source without filtering it first you have no idea what you are taking into your body. 
The best hiking water purification method is the one that removes all harmful elements from the water you are drinking.
Filter straws, purification tablets, and bottle filters are best if you are just hitting the trail for the day. They are all lightweight, compact and easy to carry. 
Hiking Water Purifier Reviews
A water filter hiking best buy can be difficult to pin down as each has their own merits. It really depends on the type of filter you want to use, how much water you will need to filter and how easy it is to use. 
Let's take a look at a few options, so you can decide which one suits you best. 
Water Filter Straw
A water filter straw hiking companion is going to be your best friend outdoors.
With this amazing piece of equipment, you can drink directly from any natural source of water without worrying about bacteria, protozoa, and microplastics getting into your system. 
The best water filter straw that we have found currently on the market is the Lifestraw Personal. 
Lifestraw Personal
No products found.
This is the best water filter straw on the market today and costs less than $20 in most cases. It is consistently voted as a top quality water filter and is perfect for hikers. Lightweight and compact it weighs only 2 ounces. 
It removes waterborne parasites and microplastics as well as bacteria including E. coli and salmonella. So simple to use that it's great for kids when you are out hiking. 
No products found.
Pros
No electricity or battery power required
Lightweight and compact
Removes microplastics down to 1 micron
Will filter 1,000 gallons of water
Cons
What Water Purification Tablets Are Best?
Water purification tablets are ideal for taking up little space in your backpack and are capable of removing all kinds of impurities from your water. 
They are also great as an emergency back up if your other filtration systems let you down. 
The best water purification tablets we have found are Katadyn Micropur. 
These tablets work in all water conditions and can remove bacteria, viruses, giardia, and cryptosporidium. They can work in as little as 30 minutes or for colder, dirtier water they may take up to four hours.
But the water will be safe for you to drink and there is no aftertaste. 
Each tablet is carefully pre-measured to treat a liter of water, so there is no need for measuring before use. 
Katadyn Micropur MP1 Purification Tablets (20 count)
Crafted from the highest quality material ensuring quality and durability
Perfect for indoor and outdoor use
Made in the U. S. A.
The only tablet or liquid proven effective against viruses, bacteria, Giardia, and Cryptosporidium in all water conditions
Works in 30 minutes in most water (four hours if the water is cold and dirty)
Pros
Only tablet or liquid proven effective against viruses, bacteria, cryptosporidium and giardia in all water conditions

Each tablet can treat one liter of water
Cons
Takes four hours to purify cold dirty water
Best Way To Purify Water While Hiking
The best personal water purification for hiking is the filter bottle. You can carry it in your hand as you are walking or put it in your jacket pocket. Some have a handy sports bottle top too for convenience while you are on the go. 
Many water filter bottles are collapsible and most will filter out bacteria and protozoa without the use of chemicals. 
The best water filter bottle we have found is the Katadyn BeFree 0.6 L Water Filter Bottle. 
This is a collapsible hydrapak soft bottle flask, easy to clean with no back flushing required. It removes bacteria as well as protozoa like giardia & cryptosporidium and can filter up to 1,000 liters of water without using chemicals. 
The filtration membrane can be cleaned by shaking the bottle or swishing it to loosen debris. There is no need for back flushing and no special tools are required. 
BeFree 0.6L Water Filter, Fast Flow, 0.1 Micron EZ Clean Membrane for Endurance Sports, Camping and Backpacking (8019639)
0. 1 micron water filter removes harmful organisms like bacteria 99. 9999% and protozoa like giardia & Cryptosporidium 99. 9%, surpassing EPA standards
Collapsible 0. 6L hydrapak soft bottle flask packs down small to fit in tight spaces (pant or jacket pockets, purses, cycling jerseys, fly vests
EZ-clean Membrane is simple and easy to clean by simply shaking or swishing the filter to clean debris, no backflushing or extra tools required
Filters up to 1, 000 liters of contaminated water without using chemicals or other devices and hydrate quickly and easily with the free flow channels fast flow rate
Stay clean drink nozzle keeps the mouthpiece clean and sanitary (replaceable with standard plastic water bottle Caps)
Pros
Harmful organisms easily removed
Surpasses EPA standards
Easy to fit in tight spaces
Filters 1,000 liters of water without using chemicals
Cons
Flow can slow after multiple uses
Purifying Water While Backpacking
For those who are going backpacking for longer periods of time a different water filter system may be needed. 
For water purification camping hiking gear should include a gravity filter system which will remove impurities and harmful substances. 
What Is The Best Water Purification System For Backpacking?
If you are looking for the best way to purify water when backpacking there are several options depending on how many people you need to provide clean, safe water for. 
We have found five water purification systems that we think are some of the best on the market at the moment. 
Let's take a look at all of them in more detail.
An easily portable water purification system the Sawyer Squeeze can be used to drink water from a natural source with the peace of mind that 100% of microplastics are filtered out as well as virtually all bacteria and protozoa, up to 99.99%. 
Pros
Highest rate of filtration on the market
Lightweight and portable
Drink straight from the pouch or fill a bottle
Cons
Doesn't remove chemicals, pesticides, heavy metals or viruses
This water purification system is available in 4 liters or 6 liters.  It has a dirty water reservoir and a clean water reservoir with the treated water passing through the replaceable filter.
The Platypus GravityWorks removes giardia, cryptosporidium, E. coli, cholera and salmonella. 
Pros
High capacity hollow fiber system
Removes bacteria, protozoa, including giardia, cryptosporidium, E. coli, salmonella, cholera
Delivers 4 liters of filtered water for cooking or washing in 2.5 minutes
Includes dirty water and clean water reservoirs
Cons
Filter cannot be used below 32F(0C)
A quick and easy way to purify water on the go, the Platypus Quickdraw is ideal for a lone backpacker. It has a wide mouth and a handle for easy filling. The cartridge has a life of 1,000 liters.
Platypus Quickdraw Ultralight 1 Liter Backpacking Water Filter System, DrinkCap Only
Ultralight and compact, the QuickDraw 1L system fits in almost any pocket making it perfect for backpacking, thru-hiking, and camping
Wide mouth and handle allow for quick and easy filling at any water source making the included reservoir the perfect dirty bag for custom filter systems
Super fast 3 liters per minute flow rate when squeezed and 1.75 liters per minute when used in a gravity water filter setup
Easy to clean with no tools required, just a simple shake-to-clean or backflush to restore flow rates and remove debris
Hollow fiber filter is individually tested and meets the stringent NSF & EPA P231 protocol, ensuring the removal of 99.9999% of bacteria and 99.9% of protozoa
Pros
Filters water at 3 liters per minute
Wide mouth and handle for easy filling
Two easy clean techniques
Lightweight and simple to use
Cons
Filter needs to be cleaned regularly to maximize filtration efficiency
The Katadyn Steripen Ultra UV water purifier is a UV-C purification system that protects you from the risk of botulism, dysentery, cholera, and typhoid.
In order to purify your water from a natural source you simply push a button and agitate the water. 
It will purify 16 fl.oz. of water (cold or warm) in under a minute or treat 32 fl. oz. in 90 seconds.
Its small size makes it perfect for a day's hike or a longer backpacking trip as it can be charged from any USB port either on your laptop or portable solar panel. 
SteriPEN ULT-MP-EF SterPen Ultra UV Water Purifier
UV light destroys germs' ability to reproduce and make you sick; The SteriPEN destroys over 99.9% of bacteria, viruses, and protozoa
Battery Life: Up to 50 treatments per charge and 300 charge discharge cycles; This is equivalent to 15,000 liters
Simple OLED display shows everything you need to know - treatment, lamp, and battery status; USB rechargeable from a computer, wall, or solar panel
Pros
Destroys protozoa, bacteria and viruses
Protects against the causes of  botulism, dysentery, cholera, and typhoid
You can use it up to 8,000 times
You can recharge the battery from any USB power source
Cons
Not effective in sediment laden water
The MSR Guardian is a military-grade water purifier pump using medical-grade fibers to provide protection from the tiniest waterborne threats.
It removes viruses, bacteria, protozoa, and particulates from any contaminated water source.
This filter can withstand the harshest conditions including freezing weather, drops and heavy use. It will pump 2.5 liters of water every minute, self-cleaning at every stroke to ensure a consistent flow of water. No back flushing or filter scrubbing will ever be needed. 
Sale
MSR Guardian Water Purifier for Backcountry Use, Global Travel, and Emergency Preparedness
Military-grade water purifier pump removes viruses, bacteria, protozoa, and particulate from contaminated water sources virtually anywhere on earth
Meets NSF protocol P248 testing standard of the U.S. military, using medical-grade fibers to provide protection from the tiniest waterborne threats
Pumps at a rapid 2.5 liters per minute, treats up to 10,000 liters of water, and withstands freezing, drops, heavy use, and harsh environments
Pump self-cleans on every stroke, providing consistently fast flow rates with zero hassle—no backflushing or filter-scrubbing ever required
Ideal for backcountry, expeditions, global travel, and survival; purifier pump measures 8.2 x 4.7 inches and weighs 17.3 ounces; made in the USA
Pros
Military grade water filter
Pumps 2.5 liters of water per minute
Treats 10,000 liters of water 
Self cleans on every stroke 
Cons
Very expensive
Weights 2.5 pounds
Final Thoughts
When you head out on a hike or for a backpacking trip safety should be at the top of your priority list. Not just safety from wild animals or physical injury but safety from the hidden dangers in many natural water sources. 
Having a water purification system that you can trust when you go hiking is worth its weight in gold. Not only will you be properly hydrated, but you will also be protected from any harmful substances in the water.