The first time most of us go backpacking, we end up carrying around 50 pounds and then wonder why every single step on the trek hurts.
However, the more experience we have, the more we learn about backpacking, so questions like "what is a good base weight for backpacking" become very easy to answer.
Most of us also go from heavy backpacking to ultralightweight, so we figured it would be useful to go over what constitutes a good backpacking weight and offer some tips for lightening your pack.
What Is A Good Base Weight For Backpacking?
This will differ depending on the duration of your hiking trip, the season, as well as the valuables you plan to carry with you.
Each backpacker on the trek will have a varying weight necessity depending on their physical conditioning and skills.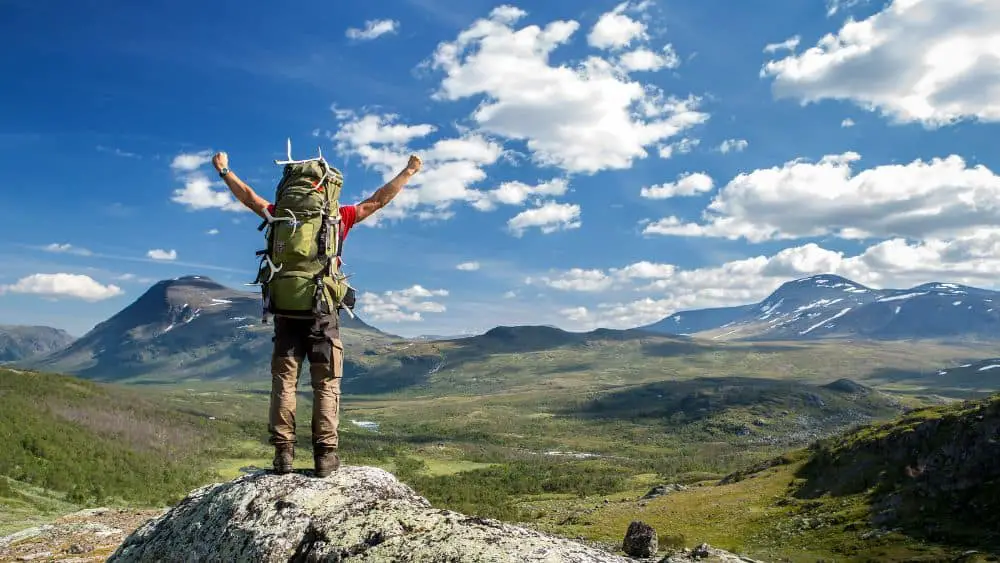 However, a general rule of thumb is that a fully loaded backpack that includes food and water should not weigh over 20% of its carrier's body weight.
To prevent any joint injury and make backpacking as easy as possible, the ideal weight to carry is 10-15% of your body weight.
Without food and water, that means the best backpacking reference weight for the majority of backpackers is from 10-20 lbs.
In Most Cases – Simply carrying it around your house or around the block will help you decide whether the weight you are planning to carry with you is good for a long backpacking journey.
Spend half an hour carrying it around and if you see that it becomes too painful for you that it brings some kind of discomfort, this means that you have packed too many things.
If you are bringing your kid along, then it is best to use the scales for accuracy rather than asking them to carry their backpack around the neighborhood.
How Much Weight Can A Kid Backpack With?
Once you have determined your backpack's weight, what is the best way to get the children's backpacks ready, and how much weight is it best for them to carry during your journey?
The AOTA advises a backpack weight of only 10-15% of a kid's body weight, so a 100-pound kid should carry a bag of no more than 10-15 pounds.
This suggests that a kid could contribute to the family's effort in carrying all the things they need for their backpacking trip with ease.
This way, parents can also create a sense of belonging for the kids and make them feel like valuable members of the backpacking team!
What Is The Average Backpacking Base Weight?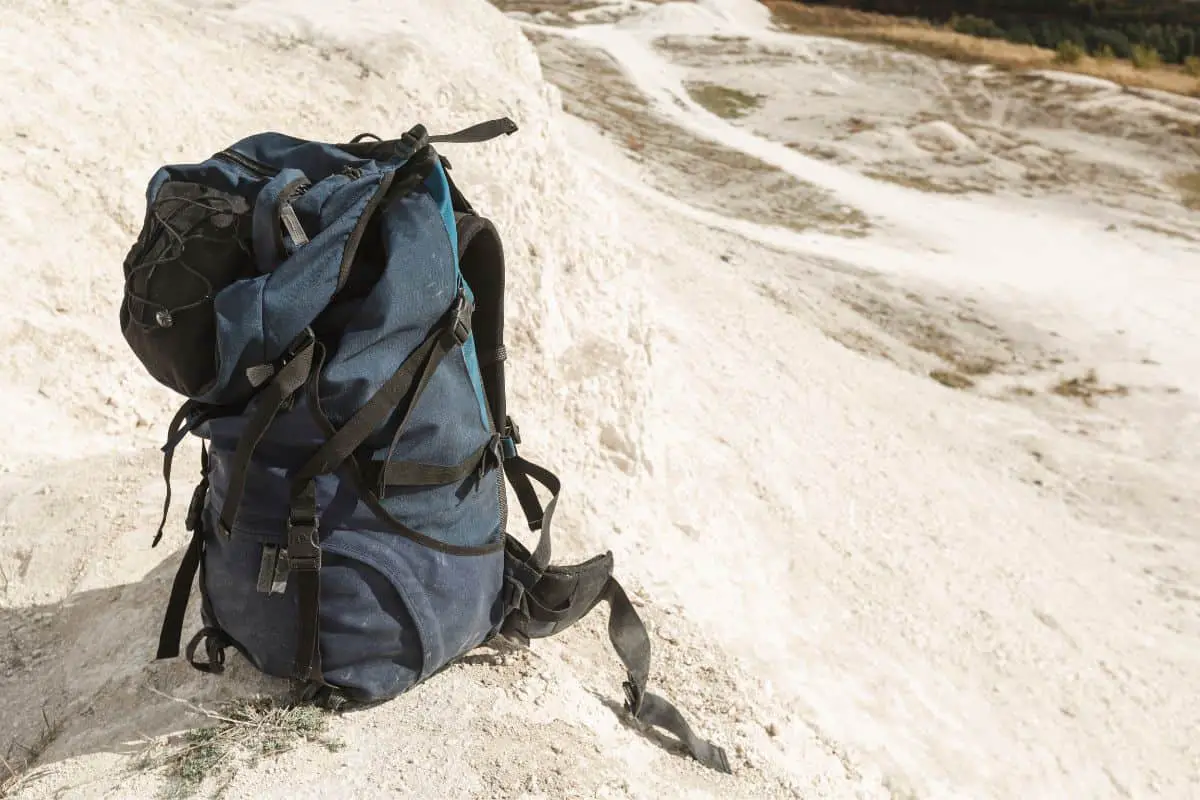 The average backpacking base weight has been estimated to be somewhere around 20 and 30 pounds.
Many beginning backpackers will buy backpacks weighing between 25 and 30 pounds.
There are two reasons why this is the most common weight for first-time backpackers.
For starters, when you first start, you do not typically have lightweight equipment.
Many people start by using equipment they already have that weighs way more than they can comfortably carry around when trekking or hiking, such as heavy tents of 5 pounds or more!
Furthermore, many are not sure what they really have to pack for a lighter-weight, yet pleasant backpacking trip. As a result, they overpack.
This is often the reason why first-time backpackers have much heavier loads on their shoulders.
Some bring more clothes than they actually need, and others carry useless pieces of kitchen equipment or other unnecessary stuff.
Others do not know the tricks of backpacking like food dehydration, or they have no idea how much food they will need for backpacking. The result once again: overpacking.
The majority of people do not stick to the regular backpacking base weight.
They soon understand that having to carry 30 pounds over uneven ground is exhausting.
As a result, they upgrade their equipment, tweak their packing list, and transition to lighter-weight backpacking.
What Constitutes A Light Backpacking Reference Weight?
Lightweight backpacking is considered as having a reference weight of 10 to 20 pounds.
The overwhelming majority of trekkers fit into this category (18-20 lbs).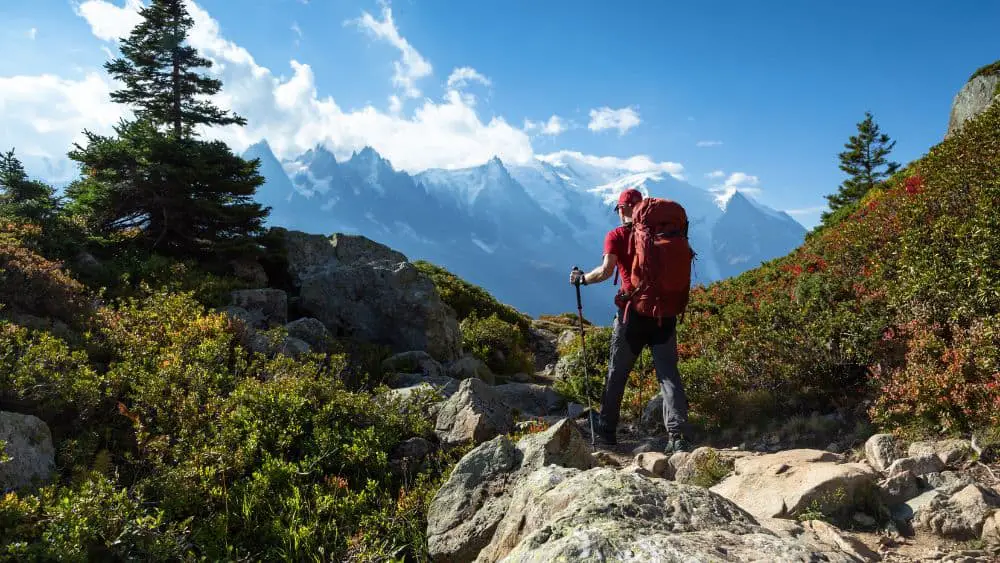 If you're careful with the number of things you bag, you can successfully get a lightweight reference weight without using pricey, lighter-weight equipment.
What Is The Definition Of An Ultralightweight Backpacking Reference Weight?
A base weight of fewer than ten pounds characterizes ultralightweight backpacking.
Ultralightweight trekkers must make substantial weight and convenience compromises to reach this low base load.
They also generally necessitate ultralightweight equipment, which can be very costly.
Even if you assume that your 4 main pieces (backpack, sleeping bag, sleeping cushion, and shelter) each weigh a bit more that 1 lbs, that means that you are only left with approximately 5 lbs for the remainder of the things you'll need to carry.
With that being said, we are not suggesting that ultralightweight backpacking is unrealistic; rather, it requires a combination of lighter-weight equipment and certain other compromises.
What Is Included In A Backpacking Base Weight?
You might be wondering what is included in the average base weight.
While many people believe it refers to everything that people pack in their backpacks, that is actually not the case.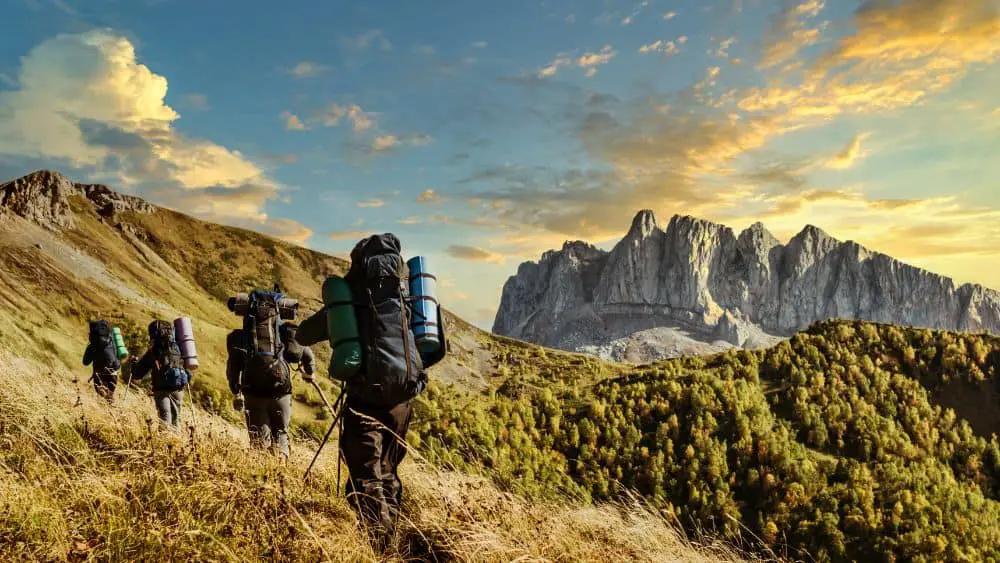 Based on the distribution of equipment in your bag, your base weight and total backpack weight are two distinct things.
Your bag's base refers to the weight of the items in your bag that do not shift during the journey, such as food, water, cooking gas, as well as the apparel you are carrying.
This is because these figures vary based on the number of days journeyed, the season, and the climate.
This indicates you have two different sets of equipment:
the base equipment (base weight)
and the supplies (water, food, gas, etc)
So, which pieces of equipment will account for the lion's share of your backpack's overall weight?
To answer that, we need to look at what we carry when backpacking to see how you can best lean out your equipment and where your focus should be.
The Biggest Influencing Factors That Weigh More
There are three major items that you carry when backpacking and which weigh more: the backpack, the shelter, and the sleeping bag.
These three pieces of equipment usually are the most expensive and the ones that also weigh the most and thus affect the total base weight of the backpacking.
Backpack
There are numerous backpacks available in various sizes and prices, but the majority of them require a substantial initial investment.
Making a hasty decision with this purchase could cost you long-term.
TETON Sports Explorer Backpack Full Internal Frame - Adjustable backpacking Travel Gear - Water-Repellant Rainfly Cover, Sleeping Bag & 3-Liter Hydration Bladder Pack Storage - Green, 65L
AWARD WINNING BACKPACK: Continues to be a best-selling internal frame backpack on Amazon at a great price for such a feature rich backpack; Perfect for hiking, backpacking and camping
TETON TOUGH: Lasting memories are made with durable gear; Perfect for every Adventure; comes in 65L, 75L or 85L sizes to fit the biggest excursions; Room for Hydration
CUSTOM COMFORT: Multi-position torso adjustment fits medium and tall adventurers; Durable open-cell foam lumbar pad and molded channels provide maximum comfort and airflow; Backpack for men and women
WHAT CUSTOMERS TELL US: Thousands of 5-star reviews testifying to the great quality and design; large sleeping bag compartment, multi-directional compression straps, and multiple compartments and pockets, a place for everything
TETON SPORTS PROMISE: Reach out to our AMAZING product support team if you have any questions or concerns; YOU CAN COUNT ON US to get you taken care of and back OUTDOORS
Therefore, you should buy a backpack that fits your budget while also being large enough liter-wise and with a decent capacity to carry your hiking load.
Just about all backpacks weigh between 1 and 5 lbs for the bag by itself, so if you would like to keep your overall base weight low, you should buy the lightest bag for your requirements and the journey you are planning to make.
Shelter
The shelter you select will most likely be one of three options:
a hammock
or a tarp-only covering
All of them have their own advantages and disadvantages as to why you might decide to use them on a long hike.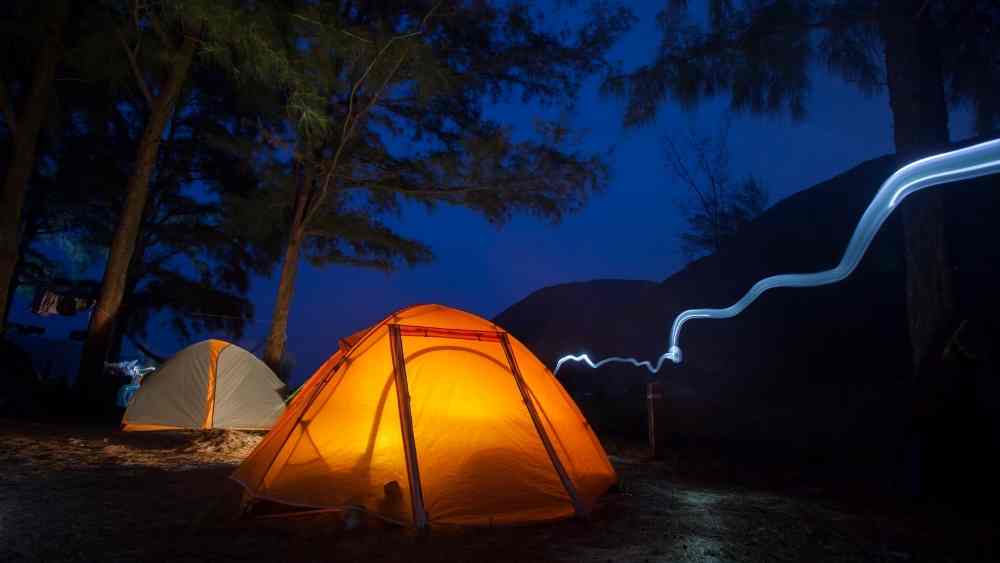 A tent is a structure that sits on the ground but offers an enclosed area where you could leave your equipment and apparel and have some privacy.
On just about any trail and in most camping areas, this is the most popular type of shelter.
Hammocks are usually either adored or despised because they necessitate a greater understanding of the terrain to function properly, such as the range between trees required for cordage, and so on.
They can be superb when trekking through areas famous for their low-lying waters within campgrounds.
Sleeping Bag And Sleeping Cushions
I'm pretty sure you have used a sleeping bag before, whether at home or a sleepover at a friend's house.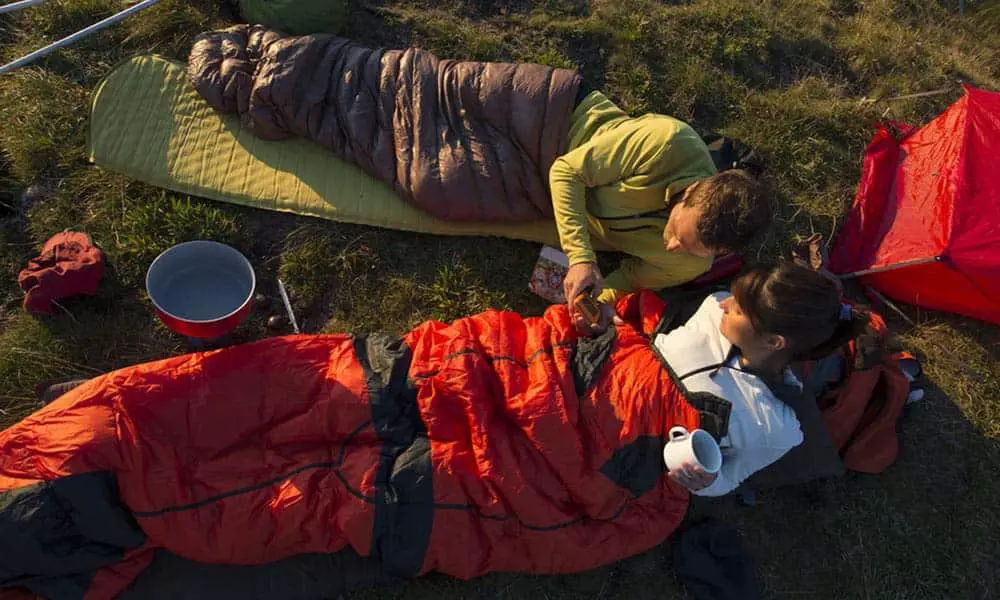 Sleeping quilts usually have a rather pointed toe box but as they move up, they acquire a more blanket-like style, allowing for greater movement and comfort.
Sleeping cushions are usually ignored, and backpackers rely on the old blue flat cushions, which may not be very insulative and do not come with great pads.
As a result, most people end up feeling cold and wake up with aches and a soaring neck.
The Bottom Line
There is no magic number that we can give you as an ideal base weight, as what works for us might not work for you.
However, the average base weight percentages are a great way to estimate whether you have packed your backpack with the right load for you.
Finally, if you are looking to reduce the weight of your backpack, you might need to make some compromises or go for some more expensive pieces of basic equipment, such as a backpack or tent, that will weigh less and be easier to carry.