Introduction – Backpacking Tents
Packing for a backpacking trip is a complicated endeavor. It's always a careful trade-off between comfort and portability. In other words, you want to bring as much as you can to make your life easy withoutoverpacking and weighing down your journey. It's a delicate balance, and your tent will always be an important consideration.
In fact, your tent – whether it's a backpacking tent or a camping tent – might be the most important consideration, providing shelter so you can sleep comfortably and stay out of the elements. It deserves your full attention. Here, we'll examine the bestbackpacking tent brands and give you a full buyer's guide for choosing the best tent for your own needs.
The Best Tent Brands for Backpacking
As you go through this list, remember that the best tent brand for backpacking is really going to depend on your own needs and how you prefer to backpack. If you're unsure how to make your choice, feel free to skip ahead to our buyer's guide.
About the Brand
Mont is an independent Australian brand, which has been known for making quality tents since 1981. It's named for its founder (Monty), who started making his own camping gear in 1978 and started the brand shortly after.
Mont remains a privately owned outdoor adventure company and is headquartered in Canberra, Australia. Its focus is on making premium adventure gear. It's not cheap, but Mont is trusted by many adventurers and backpackers throughout the world.
Mont makes all types of adventure gear, including clothing, footwear, equipment, and, of course, tents.
Mont Tents
Mont has continued to grow its tenting arsenal since its founding in 1981. This has resulted in a highly extensive number of available tents. Mont has whatever an adventurer needs, from one- to four-person tents, from ultralight tents to four-season products, and even a bivvy collection. The company also sells many tenting accessories, such as pegs, poles, flies, etc.
Mont's tents are all of very high quality. It's a trusted brand for a reason, but the tents don't come cheap.
In fact, if you don't know what you're looking for, it's very possible to get a little overwhelmed at all the choices available. If you're not sure what type of tent you need, skip ahead to our buyer's guide below.
Notable Tent
We'll finish each section by highlighting an offering that is ideal for backpacking purposes. And although Mont has a lot to choose from, we've chosen to highlight the Batcave 2.
The Batcave 2 is an ultralight tent, made with coated 20 denier nylon. It weighs in at only 595 grams (plus six pegs weighing 54g). It's rated for waterproofing up to 5,000mm. It packs down into a bag that almost fits into the palm of your hand.
Overall, we think it's an ideal choice for backpackers. The tent is lightweight and durable with effective waterproofing. It's designed as a three-season tent, which means it won't be ideal for colder months. It can fit one person comfortably or two people snugly. Overall, we think it's an awesome choice, but you'll have to compare it to your individual backpacking requirements (check out our buyer's guide below).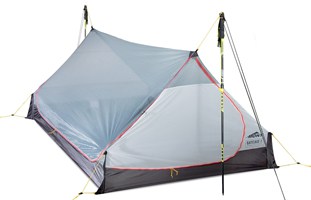 About the Brand
Next up, we have One Planet. One Planet is a trusted brand, started in Australia in 1979. It pridesitself in making innovative, functional, specialized, and downright awesome adventure gear. All of the gear is designed and made in its Melbourne factory, which means the company adheres to rigorous quality control standards.
Similar to Mont above, this is a premium brand. It offers high-quality gear and it'strusted by many adventurers, but don't expect it to come cheap. One Planet makes a wide range of camping gear, from packs, to sleeping bags, to tents, to clothing/footwear, and more.
One Planet Tents
One Planet has many tents available, many of which are quite ideal for backpacking purposes. The company offers everything from lightweight backpacking tents to extra-insulated tents for polar conditions. They also offer more "basic" options for traditional camping.
Perhaps the best choice for backpackers is the "Goondie" series, which is a line of lightweight, weather-resistant tents. There are many types of Goondie tents available, depending on how much space you need, among other requirements.
Notable Tent
As mentioned, One Planet's Goondie series is great for backpacking. We've chosen to examine the Goondie 1 Mesh as an example. The Goondie 1 Mesh is a one-person tent, which features a design that heavily emphasizesmesh. The mesh is great for breathability, making this a warm weather tent. However, the tent also comes in several variations, with some substituting mesh for nylon, which provides extra insulation against colder conditions.
Overall, the Goondie 1 is an excellent choice for solo backpackers. It has a packed weight of between 1,395g – 1,720g, depending on the variation you choose. While not the most ultralightweight option on the market,it makes up for this by providing extra space for stretching out or sitting up. This weight-versus-size trade-off is one of the most important considerations in choosing a tent.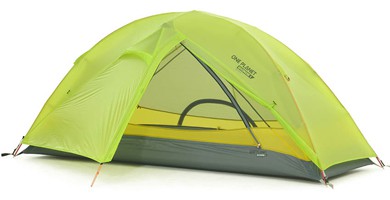 About the Brand
MSR was started by Seattle-based mountaineer Larry Penberthy in the 1960s. He was disappointed with the quality of mountaineering gear at the time and decided to take it on himself to rectify this problem.
MSR has developed quite the reputation for top-quality mountaineering and adventure equipment. It now makes all sorts of quality outdoor equipment. From tents, to sleeping gear, to outdoor cookware, to climbing gear, and more! They've been engineered to withstand the harshest conditions, and this commitment to quality is evident in everything MSR makes.
MSR Tents
MSR has an extensive tent lineup. It engineers everything from simple camping tents to rugged mountaineering tents. The company also has a good selection of backpacking tents, which we'll check out here.
The tents are engineered for everyone from one to six people, and tents are available that weigh under half a pound. MSR has a pretty solid browsing tool on its website, where you can search tents based on capacity, weight, primary purpose, and more.
Notable Tent
MSR's best-selling tent is itsHubba NX Solo Backpacking Tent. This tent strikes a nice balance between portability and livability.It's a spacious one-person tent – as far as backpack tents go –and it's built to offer ample head and elbow room. It weighs only 2 lbs 15 oz. when packed, or 2 lbs. 7 oz. minimum trail weight.
Perhaps the most notable feature of its construction is the Easton Syclone Poles, which are an innovative material with an extremely impressive strength-to-weight ratio. It features Xtreme Shield waterproof coating, which is meant to last up to three times longer than competing brands.
Overall, this is an excellent choice for solo backpackers. And if you're camping with a group, MSR has an entire lineup of backpacking tents to choose from.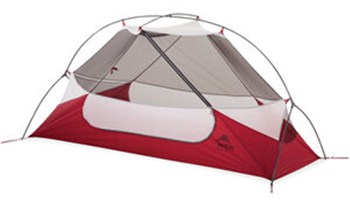 About the Brand
Big Agnes was started almost 20 years ago in Steamboat Spring, Colorado.The original concept was the "Big Agnes system," a method of affixing a sleeping bag and pad. Its brand grew from there, as the company now offers all sorts of backpacking equipment.
Big Agnes' mission is to inspire everyone to get outside, and to give them the gear to make it easy. It offers all sorts of outdoor gear, from tents, to sleeping bags and pads, to bags and accessories, to camp furniture, and more.
Big Agnes Tents
Big Agnes specializes in all sorts of tent designs, but it puts a special emphasis on lightweight camping and backpacking gear. In fact, it featuresthree levels of lightweight tent – crazylight, ultralight, and superlight.
Crazylight is its most lightweight tent design and features an extremely impressive amount of lightweight technology. Most of these tents barely weigh one pound. If you're a backpacker who wants the lightest pack possible, then the crazylight line is for you.
Notable Tent
One of the best examples of Big Agnes'crazylight design is the Fly Creek HV 2 Carbon. This award-winning lightweight tent is made with Dyneema Composite Fabric and carbon tent poles for an ultralightweight design, weighing only 1 lb. 7 oz. when packed.
The architecture is optimized to provide maximal interior space while using minimal materials. Basically, it feels a lot bigger than it looks.
It's a three-season tent, with optimal breathability for hotter conditions. It's rated to withstand harsh winds and heavy rains, remaining fully waterproof throughout. Another feature is its "single-pole" architecture, making it easy to set up and takedown.
Overall, this is a great backpacking tent. If you're in the market for something extremely lightweight, you can't do much better than this.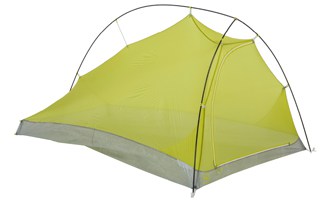 About the Brand
Six Moon Designs was inspired from a hike along the Pacific Coast Trail. Ron Moak developed his own ultralightweight space-saving techniques for his pack and realized that these ideas would be useful to backpackers everywhere.
Since 2002, Six Moon Designs has been crafting and selling adventure gear for backpackers, hikers, and recreational users alike. It strives to offer lightweight, high-quality, and affordable backpacking gear. The companyis among the most affordable brands on our list, which is why we think it's a great company to cap it off.
Six Moon Designs Tents
Six Moon Designs has a clear niche, and that niche is ultralight shelters. It offers ultralight tents, tarps, and shelter accessories. This makes it a top choice for backpackers.
After a quick browse of its backpacking tents, one thing should become clear – these products are quite affordable! Six Moon Designs offers impressive lightweight functionality for the price point. It's not quite as durable or functional as some of the options we've surveyed above, but it makes a very ideal budget choice for backpackers everywhere.
Notable Tent
Six Moon Design's most popular backpacking tent is the Lunar Solo Tent. It's the most popular option for a reason, offering a lightweight solo tent with an impressive range of functionality. Plus, have we mentioned the price?
The Lunar Solo is made from a 100% silicone-coated polyester material. This material is durable and water-resistant, and capable of packing down very small to maximize backpack space. The minimum pack weight is 740g (or 1.63 lbs.).
The tent is easy to setup and quite spacious once erected. It features 26 sq. ft. of living space with a peak height of 49 inches. It's very much a no-frills tenting option, but sometimes that's all you need for backpacking! It's not quite as durable or waterproof as some of the options above, but it's at a much more accessible price point.
Buyer's Guide: Factors to Consider in Choosing a Backpacking Tent
As you can see, there are a lot of reputable tent manufacturers. And when you consider that all these brands have several tents on offer, you're left with a lot of choices! You might be feeling a little overwhelmed, to the point where you don't even know where to start.
It can help to break your decision down into a list of factors. These factors act as your criteria in making your decision, ensuring that you get the perfect tent for your backpacking needs. Here are the most important factors to consider in choosing a backpacking tent:
Weight
Let's start with what is probably the most important factor – weight. It goes without saying why this factor is especially important for backpacking, where you need to consider the overall weight of your pack.
As with most backpacking gear considerations, picking an ideal weight will have trade-offs. Lighter tents tend to be smaller, pack fewer features, and are somewhat less durable overall. That being said, it can still vary quite considerably depending on the quality of the materials used.
Minimum Trail Weight vs. Packed Weight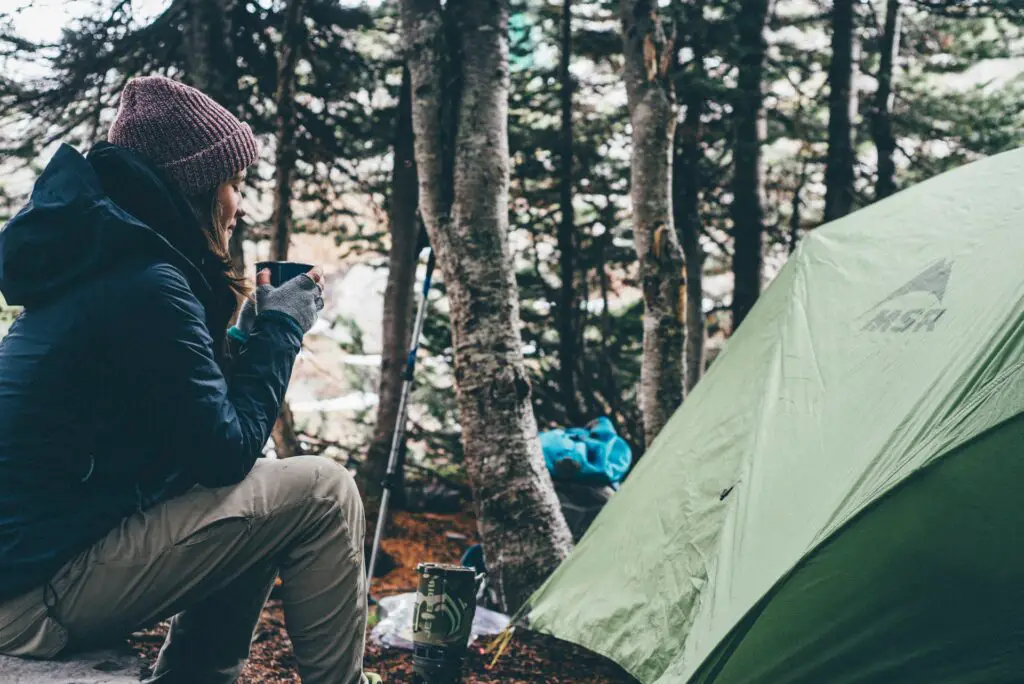 When shopping for a tent, you will often see specs that state the minimum trail weight as well as the packed weight.
The minimum trail weight refers to the weight of the tent when you pack only the bare essentials. This means the tent structure, the tent poles, and rainfly. This is generally considered the least number of components to have a functional tent, and it can be utilized by backpackers who really want to save on pack weight.
The packed weight refers to the weight of the tent when all the components are packed. This includes the stakes, the pack bag, the instructions, etc. Of course, as a backpacker, you can also expect the weight you carry to be between the minimum trail weight and the packed weight.
Lightweight backpacking tents will generally weigh under 5 lbs. High-quality tents might have a packed weight of closer to 3 or even 2 lbs, or even lower for a solo tent.
Pack-down Size
This variable is so closely related to a tent's weight that we're including it in the same section. The weight of your tent is just about as important as it's packed-down size. This size refers to the size of the tent when it is packed into a tent bag. With backpacking, the smaller the better, as pack space is at a premium.
The pack-down size will be influenced by the components, but also how they are organized within the tent bag. Pay attention to the instructions, because there are often detailed methods of packing your tent in the most compact way possible.
The pack size will be listed in the specs for any reputable tent manufacturer. Lightweight tent pack sizes tend to average close to 20 x 5 inches, with variability in either direction.
Comfort
Backpacking will always include a trade-off between portability and comfort. When it comes to a tent, this trade-off is critical. As we examined above, backpacking tents are very lightweight. This lightweight nature means you are sacrificing some elements of comfort. That being said, you can still consider many comfort factors when packing your tent. Here are some common considerations:
Floor Space
Floor space is important for obvious reasons. Having space to stretch out and space to put extra belongings will add a great deal of comfort to your backpacking excursion. Of course, extra floor space also means the tent is bigger overall, which means it will weigh more and take up more space in your bag.
Some backpackers get very snug in their tents and pack just enough floor space for themselves or any others they are camping with.
Interior Volume
It's not only about floor space, you also have to consider ceiling space, which, taken together, will make up the overall volume of your tent. A tent with higher ceilings will feel more comfortable, and contribute more to the comfort of your stay. Also note how the walls are shaped. Walls which are more sloped into the center will offer less interior space than those which are dome-shaped.
Other Features – pockets, zippers, windows, etc.
There are other features to consider for a comfortable stay. Features such as wall pockets, the number of doors, mesh ventilation windows, and more. All of these features will add to the comfort of your stay, but they also tend to add weight, and price, to the tent itself.
The bottom line is that you need to choose a tent you will be comfortable in. A tent is one of the most significant tools you can bring on a backpacking trip. At the end of the day, you want to be able to settle into somewhere you are comfortable. If a slightly heavier pack means a much more comfortable night, then we think it's a trade-off worth making.
3- or 4-Season Tent?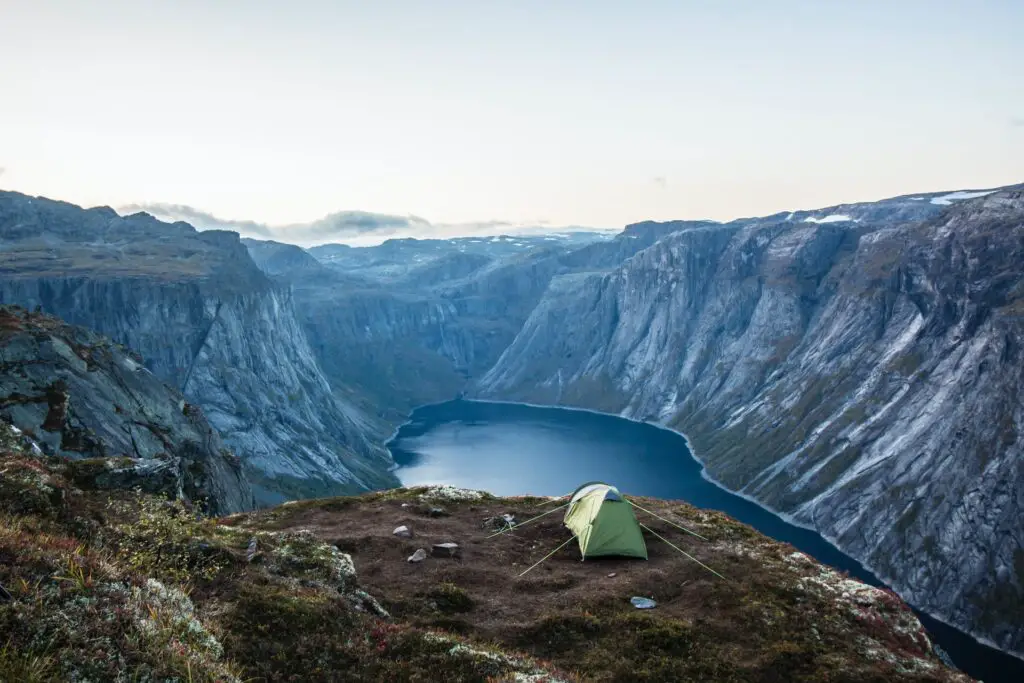 Another very important consideration is the level of insulation your tent will provide. Simply put, some tents are built for cold weather and some are not. You'll want to consider the conditions you are camping in and plan your tent accordingly. The two main categories of tent are three-season tents (for warmer weather) and four-season tents (with the fourth season being winter).
3-Season Tents
Three-season tents are ideal for temperatures thatdon't reach frigid levels. They are also built to withstand hot temperatures, giving you plenty of options for ventilation, airflow, and breathability. Three-season tents tend to be lighter because they don't need to be as heavily insulated as four-season models.
The most important thing is to pay attention to the nighttime low temperature in the area where you will be camping. Prepare for the extreme conditions, whether it be the heat or the cold, because you want your tent to adequately prep you for all conditions.
4-Season Tents
Four-season tents can also be used for winter. As you might imagine, these tents are more adept for handling colder conditions. They do this with more heavy-duty materials, tighter seams and less ventilation, and doors that close tight with no leakage. They also need to be rated to withstand heavy winds and snow falls and have roof designs that allow snow to slide off the sides.
Although these tents are called four-season tents, they actually would get quite hot in the summer months. For this reason, it's better to think of them as a winter tent. If you're serious about backpacking in the summer months, you'll want a tent with more ventilation.
The bottom line is you should only purchase a four-season tent for backpacking if you truly require it to withstand frigid temperatures.
Materials
Tents will be made of different materials that effect their weight, durability, functionality, and more. It's important to pay attention to the materials of the tent fabric and also the tent poles.
Tent poles are important because they contribute to the weight of the tent, but they also need to be strong enough to support it through all the elements. A quality tent pole is usually made with aluminum, which has an impressive strength-to-weight ratio.
The tent fabric tends to be either a nylon or a polyester. The fabric itself doesn't matter as much as how it was constructed. Basically, there's such a range of quality in either fabric that it's more important to pay attention to the weight and durability of the tent overall.
Pay attention to the factors we mentioned above. As long as you keep them in mind and buy from a reputable brand, then you should receive a tent made with top-quality materials.
This brings us to our final point:
Value
To end our list, we have price. Although not a hard and fast rule, you can expect to pay more if your tent is more sophisticated. For example, if your tent is more lightweight and packs down more efficiently, then you can expect to pay more for it.
This is an important trade-off. Consider all the above factors, but also keep in mind that tents jump in price with the more features they contain. An ultralight backpacking tent that'smore durable will cost more, and you'll need to adjust your expectations accordingly.
Settle on a price range you are willing to pay and try and find the best tent within that price range. This will narrow your choices, but also ensure that you receive a tent you are happy with.
Top Tip – Know Your Preferences
Choosing a backpacking tent is really just about one thing – matching a tent to your unique needs. "Backpacking" can represent a broad range of activities, from a short camping trip to a week-long trek. You need to decide how you prefer to pack your bag. Do you want a tent that is as lightweight and portable as possible? Or do you want a tent with more livability?
There are no wrong answers, but you need to know what you want before starting this process. Once you have a rough idea of what you want, you can use our buyer's guide and list of recommendations to make the ultimate choice for yourself. There are so many quality backpacking tents to choose from, but the best choice is the one that's most suitable for you.