When you are hiking, you want to be able to watch the night sky in comfort which is why sleeping quilts are important.
Here is a list of some of the best sleeping quilts that you should add to your hiking gear.
What Is A Sleeping Quilt?
A quilt is a cover for your body while sleeping, rather than a bag that you crawl into and surrounds you on all sides.
A quilt designed for camping usually does not have a zipper, but it does include a foot box that wraps around the sleeping pad and usually has straps that wrap over the pad as well.
A camping quilt is roughly half the size of a sleeping bag and does not include a hood for your head.
It is made from the same fabric and insulation as a sleeping bag. As a result, a camping quilt is lighter, smaller, and easier to transport.
Benefits Of A Sleeping Quilt
Quilts have several benefits over regular sleeping bags. They are lighter and smaller, which appeals to gram-counting, space-saving campers, and hikers.
Furthermore, the absence of bulky and wasteful zips, hoods, and backs makes sense.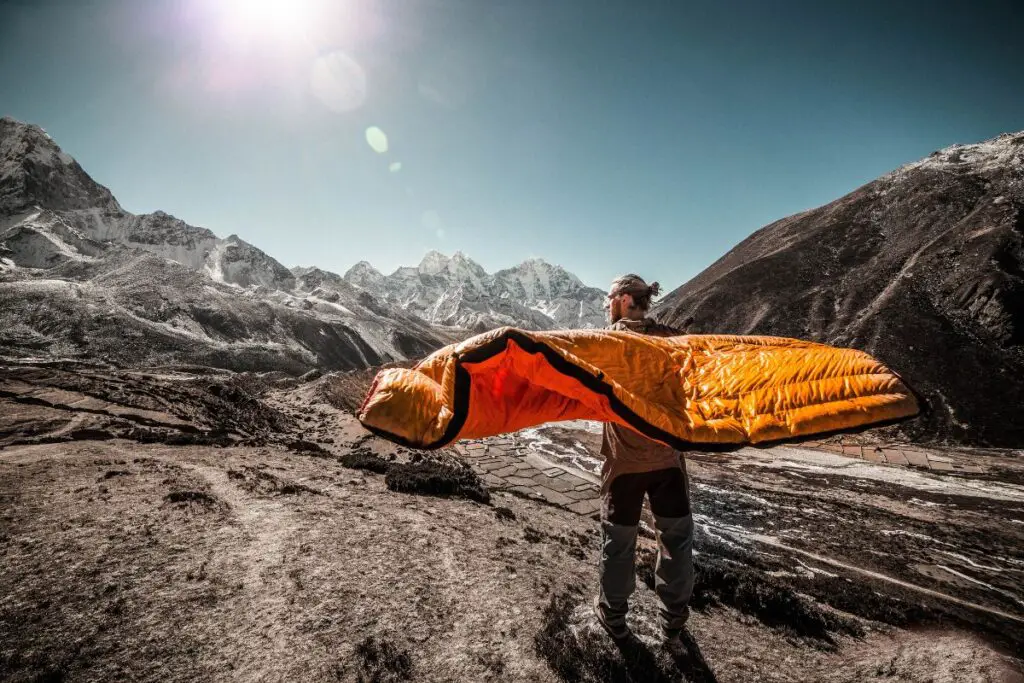 When sleeping in a mummy-style sleeping bag, the insulation beneath your body is crushed by your weight, destroying its loft and leaving it essentially useless – so why not eliminate the full-length zip and back entirely?
And, honestly, do you need a hood when you have a hat in your rucksack?
However, it is not all about weight. Quilts are also popular due of their versatility.
Traditional sleeping bags are constricting and uncomfortable for many people, especially side sleepers and those who toss and turn at night.
Quilts are also adaptable. If you're feeling hot, lay them loosely over yourself like a blanket; if you're feeling chilly, tuck them securely about your body; and if you're in the middle, opt for a halfway home.
The possibilities are limitless. Quilts are also frequently less expensive than typical down sleeping bags, which can only mean one thing: more money for your excursions.
Quilt VS Sleeping Bag For Backpacking
Backpacking quilts are becoming increasingly popular as a replacement for sleeping bags since they are lower in weight, more compact, and more comfortable, especially for side sleepers.
A camping quilt will take up less room than a sleeping bag with comparable insulation.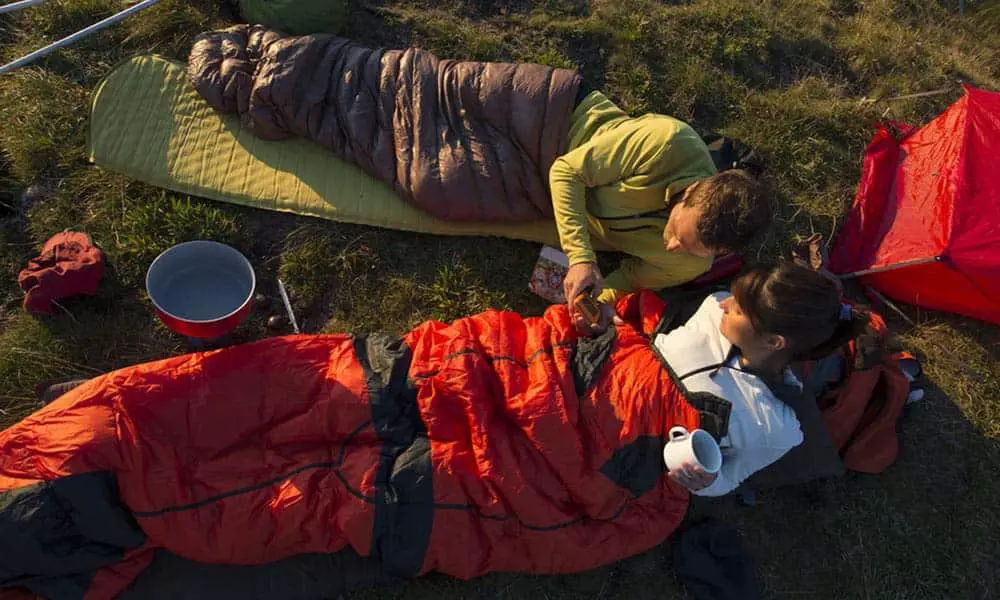 Furthermore, because it takes up less space to begin with, you're less likely to compress it, which means it won't take as long to re-loft when you take it out of your bag.
If it's freezing outside and you just want to go into your tent, this means you'll warm up faster under the quilt.
The primary distinction between a quilt and a sleeping bag is that a quilt does not have an underside.
Backpacking quilts are often designed like regular blankets but are composed of high-grade down or synthetic insulation rather than fleece and cotton.
Ultralight Quilt VS Sleeping Bag
Some people who love to hike and camp feel that weight is a very important thing.
Having a heavy sleeping back in your bag can not only take up a lot of space that could be used for extra water or equipment but it can also be very heavy considering what it is made out of.
Quilts are great for being ultralight, however, you must be careful that you do not sacrifice the weight for warmth.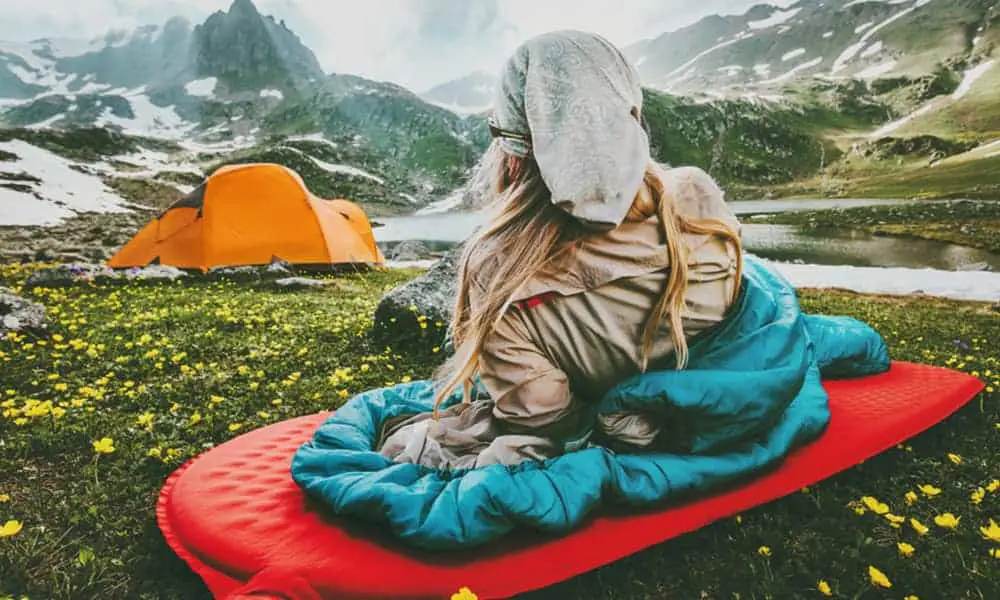 It is quite common for a quilt to be very lightweight but therefore lacks enough filling to be as warm as it needs to be for colder climates.
Therefore, it depends on what you prefer and what areas you are camping in. If you are camping in warm, humid climates then an ultralight quilt would be the better choice over the sleeping bag.
You also don't want to be lugging around a heavy pack when you are sweating and overheating.
However, if the temperature is not that warm and you feel the chill at night then you should pick a sleeping bag over an ultralight quilt.
Difference Between Top Quilt And Sleeping Bag
A top quilt is essentially a blanket. Many top quilts are made of cloth that resembles a sleeping bag, but they do not wrap around your complete body like a sleeping bag.
Many top quilts have a foot box that nearly entirely encloses your feet, while the rest of the top quilt is open on the back.
One advantage of using a top quilt is that you are carrying less weight.
The reason for using a top quilt instead of a sleeping bag is that sleeping bag insulation gets squeezed when you lay on it, thus you lose the advantage of the insulation.
You rest directly on your bottom insulation while using a top quilt.
How Often Should Quilts Be Washed
Maintaining good maintenance is the greatest method to extend the life of your quilt or sleeping bag.
If you notice a decrease in the loft of your sleeping bag, taking it through a washing cycle might help it come back to life.
Many travelers wash their quilts once a year to eliminate any dirt and grit that has accumulated over their treks.
However, how frequently you should wash your quilt is determined on how you use it. Keep an eye on the performance of your quilt to see if it needs to be washed.
Best Sleeping Quilts For Hiking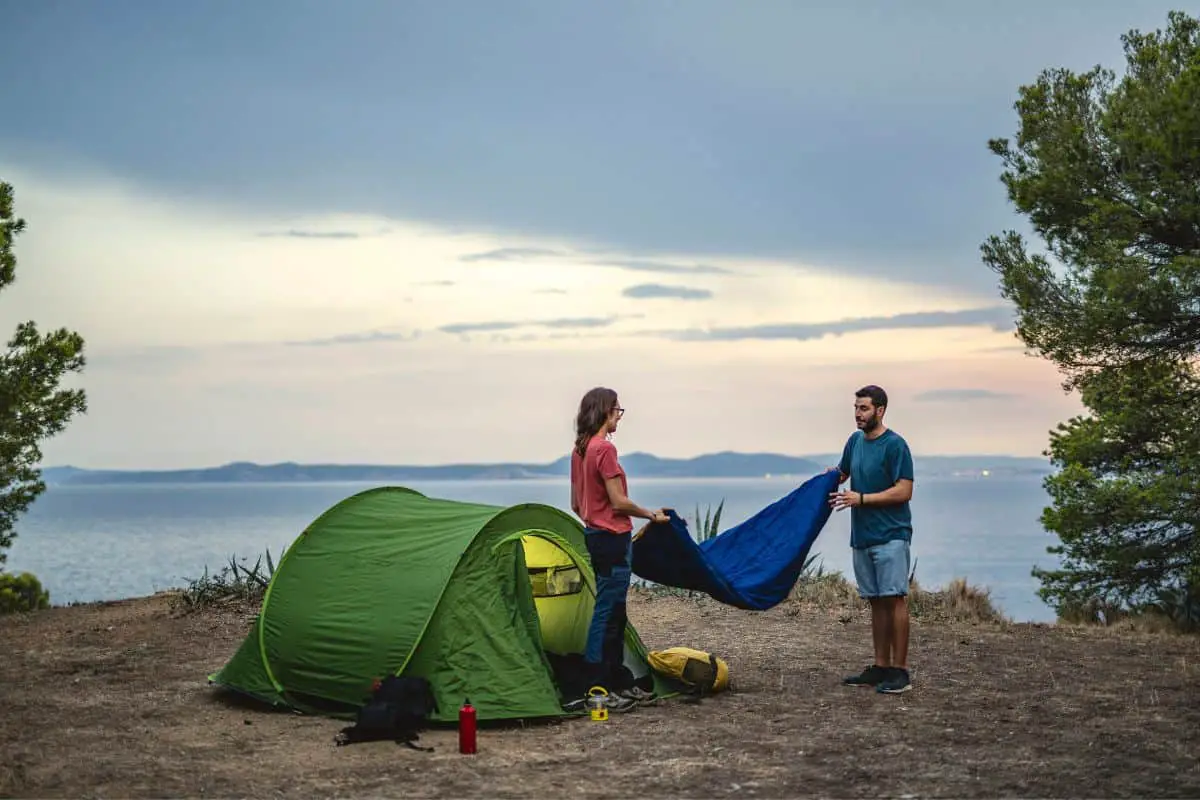 This is a luxurious, well-designed quilt.
The foot box has a shock cord combination and zipper for full closure to keep your feet warm; the snap and drawcord neck closure allows you to fine-tune the tightness of your quilt; and the sleeping mat attachment system uses clips and elastic straps for the quilt to be secured to your mat is an advanced, intelligent feature for locking out draughts on cold nights.
It is great at draught exclusion compared to a lot of other quilts, yet without making you feel cramped or claustrophobic. That's a difficult balance to achieve but this quilt does it well.
The Revelation is also incredibly adaptable, allowing you to change your setup based on the circumstances.
You can fully open or close the foot box as well as leave it at any level you want.
The adjustable straps snap buttons and for the most snug, cocoon-like fit, or use only one clip on one strap to effectively hold the quilt to the mat while maintaining an airy, blanket-like system.
Pros
Versatile – you can adjust this quilt in lots of ways to make it fit you perfectly.
Warm – it's nice and warm with the aid of a nice snug foot box.
Cons
Weight – this quilt is a bit heavier than others.
Also available at Revelation
The Thermarest Proton quilt is simple but ingenious. It's lightweight and breathable, making it ideal for usage outside the tent, over the campfire, or in conjunction with a sleeping bag.
The Thermarest Proton performs an excellent job of controlling body heat without overheating you.
The quilted fabric is waterproof and repels moisture, keeping you dry. This top quilt compresses down to a manageable size and is quite lightweight.
The drawcord at the quilt's bottom edge helps to keep draughts at bay. There are little snap clips that allow you to clasp it and seal it to a Thermarest sleeping pad to limit heat loss.
The Proton quilt is a highly comfortable piece of clothing with a light and fluffy filling. There are no zippers to contend with, and the cloth is very soft.
The quilt has the form of a bigger throw or blanket, but with a delicate taper to the feet. It is long enough to be used as a blanket and wide enough to cover the entire body.
This is the camping quilt to get if you want a heavier survival blanket. As a result, it is not ideal for extremely cold temperatures. But it still provides adequate warmth without the weight and bulk.
Pros
Very Lightweight – the filling is very light and fluffy which makes it great for backpacking.
Breathable – as well as being warm when it needs to be, this quilt is also great for warmer weather.
Cons
Can be cold – if you are backpacking through cold climates, this quilt might not be able to keep you as warm as others.
Also available at Salglobald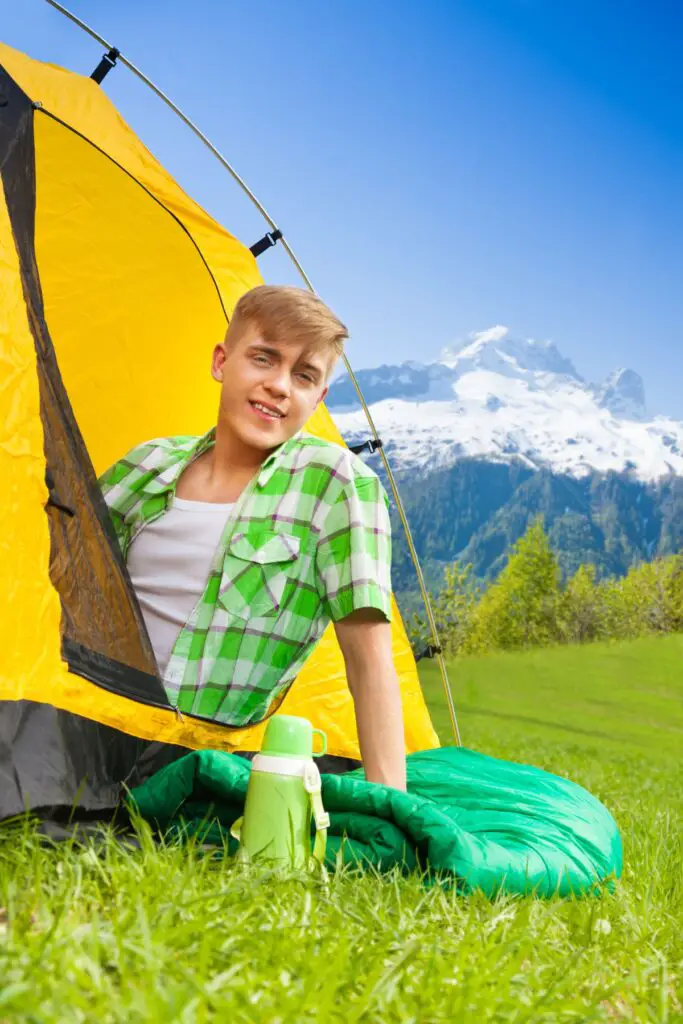 The Sestrals is made with Climashield Apex synthetic insulation and has a staggering 425g fill weight. It has a 0C comfort rating and is thus an ideal choice for chilly weather.
The insulated foot box allows your feet to stay nice and warm and you can fit the base of your sleeping mat for better quilt-mat integration, and the longer length allows you to cover your neck and head if the temperature decreases.
Two snap buttons also allow for a tighter fit around your torso, which is useful when keeping draughts out.
The Sestrals lacks the more elaborate strap and clip systems seen in other blankets, making it not very versatile.
The materials utilised in the Sestrals are another plus. Climashield Apex holds its loft well after compression, and the quilt has a very thick insulating layer.
Furthermore, like with other synthetic fabrics, it keeps its warming characteristics better than down when wet.
Pros
Value for money – considering how well this quilt performs, the price is very affordable.
Warm – the adjustability allows the quilt to prevent draughts of cold air from getting in.
Cons
Bit heavy – you can get lighter backpacking quilts than this one.
This quilt is not only lightweight, but it also packs down little, indicating that it was built with the minimalist hiker in mind.
A sleeve at the quilt's base accommodates your sleeping mat, guaranteeing tighter synergy between pad and quilt; a simple, but effective, shock cord may be threaded through six webbing loops to limit draughts and cocoon the quilt around your mat and body.
In addition, there are top corner hand pockets that allow you to wrap the blanket around your body when sitting.
This quilt is ideal for folks who are bigger in stature, since it spans just over 200cm long and 152cm broad.
Pros
Lightweight – you can take this quilt backpacking without having to feel it weigh down your pack.
Versatile – it can be wrapped around you even when you are in a sitting position, keeping you warm whilst getting things done around the campsite or just enjoying the view.
Cons
Not the warmest – it is best to use this quilt if your nights do not get that cold.
Also available at Big Agnes
Big Agnes Kings Canyon UL (Primaloft) Ultralight Camping Quilt, Gray/Palm
ULTRALIGHT QUILT – The Kings Canyon UL quilt is ideal for hut trips, couch surfing, or warm summer nights while thru-hiking. Designed as a minimalist quilt that you can tuck around yourself using the top corner hand pockets.
OPTIONS! – Using the integrated snap system you can create a simplified mummy bag for colder nights. Or affix your quilt to your pad to create a secure sleep system using the included 10 snap patches. It also works as an extra layer over your sleeping bag.
COZY UP – Cinch bag tight around shoulders with one-handed cord lock to seal in heat. Insulated with 70% recycled PrimaLoft Hi-Loft Ultra Silver
TECHNICAL, LIGHT, PACKABLE – Stitch-free shell construction for maximum thermal efficiency and water resistance. Nylon rip-stop shell with water-repellent finish combined with a soft Polyester Taffeta lining creates the perfect durable, ultralight, and packable quilt.
SPECS – Weighs just 15 oz. and packs down to 4 x 6 inches. Fits campers up to 6' and is compatible with any pad size and style (sold separately). Storage and stuff sack included, as well as 10 3M snap patches.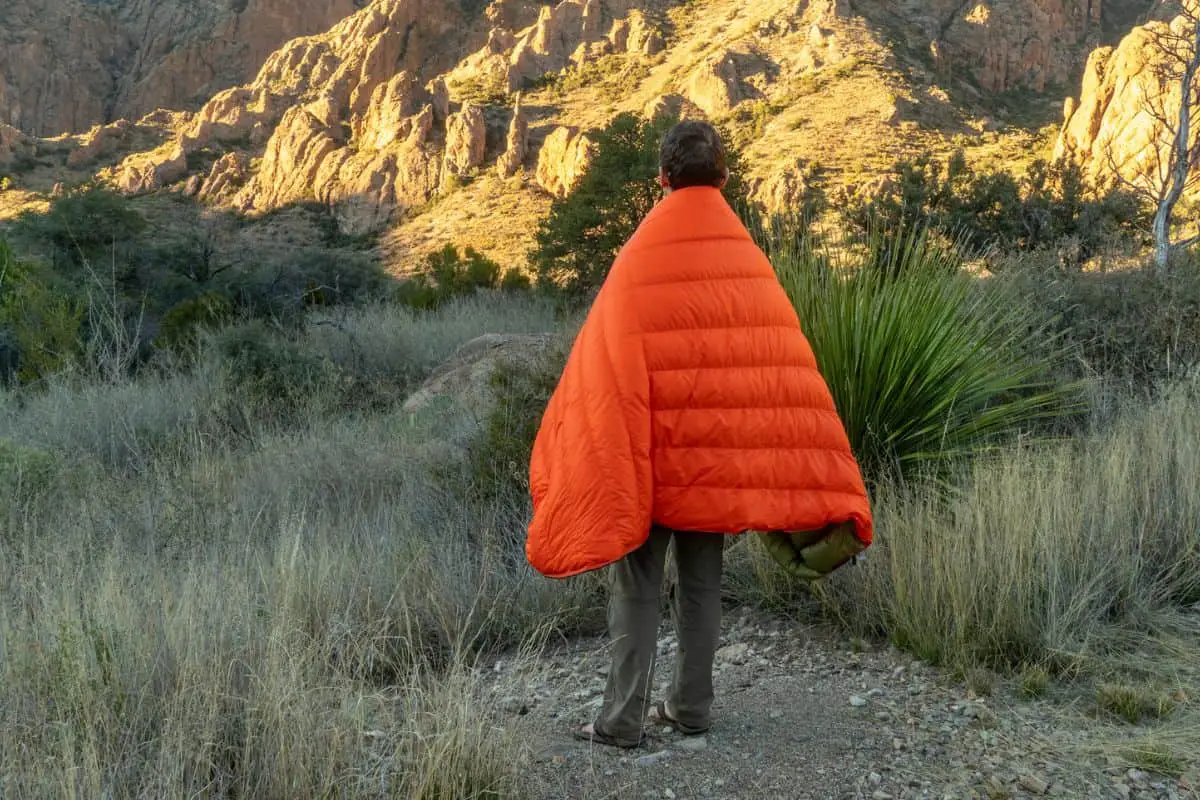 Hikers and backpackers fell in love with it right away because of its utilitarian design and high-quality materials.
The Rei Co-op hiking quilt may surely compete with more expensive items in terms of warmth.
Because there are no snaps or zippers, there is less possibility for warm air to leave, and the foot box feels toasty. Because of the continuous baffle construction, the down lofts up nice and high.
The draught tube around your neck and the pad system keep warm air trapped as you sleep.
The Magma might keep you warm in temperatures as low as 30°F if you use a comfortable sleeping pad and proper head protection.
Surprisingly, the brand's temperature rating is on the cautious side. You can avoid the cold by burrowing inside the Magma during sudden snowstorms and cold weather.
The Magma has a neck draught tube to assist you to retain a secure seal at the top. A cinch cord can be used to compress the top of the quilt even more tightly around your neck.
Pros
Affordable – it is a great choice for beginners as it is budget-friendly but performs well.
Comfortable – it is padded and warm which makes it very comfortable.
Cons
Bulky – you won't be able to roll this quilt up as tightly as others.
Buyer's Guide
Insulation
Insulation is, of course, an important factor to consider while selecting a sleeping quilt. High-quality goose and duck down are the way to go if you want to emphasize insulation over pack weight.
Not all quilts are insulated with down, and if you're not camping in cold regions or on chilly nights, you may not require down.
Some blankets are filled with synthetic insulation. However, you must evaluate the coldest environment in which you will use your quilt, as well as the quantity of insulation required for such conditions.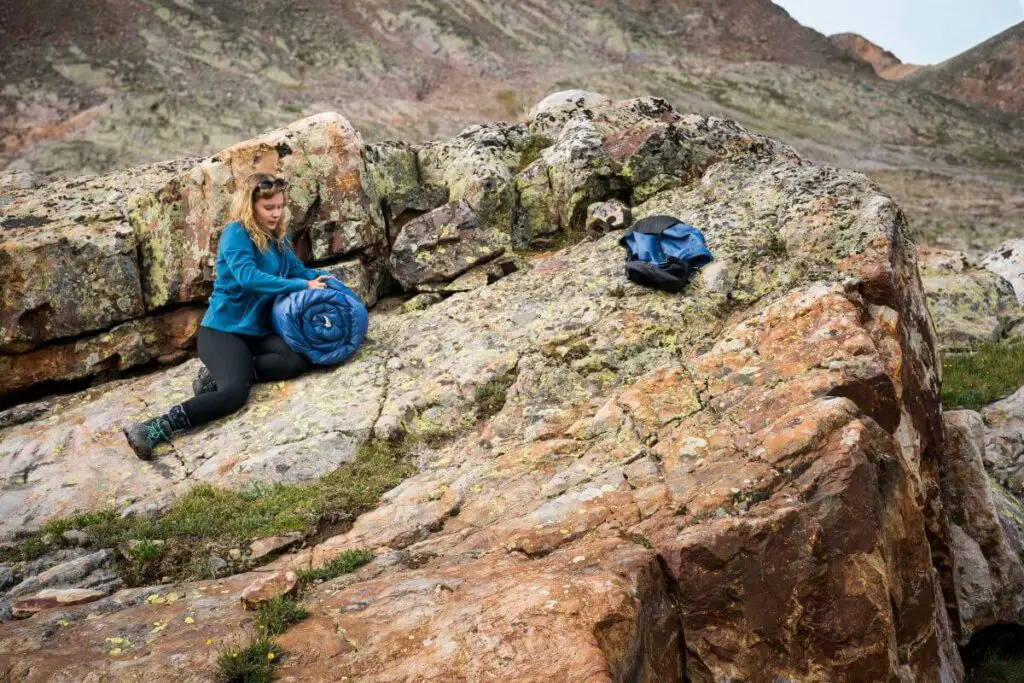 Fill powers of 800, 850, 900, or 950 are ideal for warmth since they are lightweight and give excellent insulation. A higher warmth rating indicates a more comfortable night's sleep.
Temperature Rating
To assure you'll be warm enough, the current rule of thumb is to get a hiking quilt rated for 10 degrees below your needs.
There is a strong motivation for lightweight quilt producers to quote low gear weights, so carefully check their customer ratings.
Women may wish to add 15-20 degrees of insulation since, due to their lower body mass, they sleep cooler than males.
Water Resistance
Although down is inherently water-resistant, it's still a good idea to take excellent care of your quilt. You don't want to risk anything so it is best to get a bag that is waterproof to store your quilt in.
Size
When measuring a quilt, it's crucial to know if the length includes the foot box or not, because a foot box takes up several inches of cloth.
When specifying sizes, quiltmakers frequently provide recommended heights for users, so keep an eye out for these.
Ground sleepers require additional fabric and insulation to tuck under their sides to keep draughts at bay. A width of 55′′ is quite normal for ground sleepers. Larger people may wish to go a little broader.
Weight
Weight should be considered, and it is a great benefit of sleeping quilts, but your top priority should be to ensure that you will be warm.
Surprisingly, the lightest component of a quilt is usually the insulation. The remainder of the quilt's fabric is the heavier component.
Frequently Asked Questions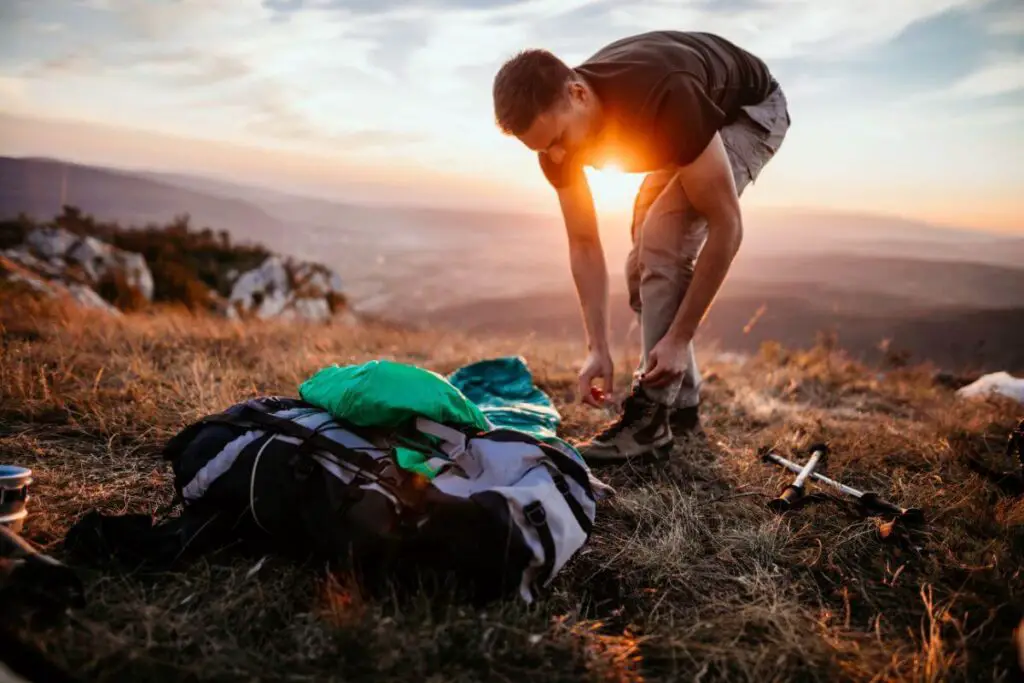 Can You Use A Sleeping Bag As A Quilt?
You can, but the consequences will be different. The camping blanket includes straps that constrict your body, however, your sleeping bag does not, so it will be draughtier.
The down insulation may also slip down the edges of the bag where it touches the ground rather than remaining on top of your body, resulting in less actual warmth.
Can You Use Quilts In The Summer?
It depends on the quilt that you have and your own personal preferences, but generally, a quilt will be suitable to be used in the summer.
They are great at holding in the heat but are also nice and breathable which will prevent you from getting too hot.
What Sleeping Pad Should You Use With A Quilt?
Except for inflatable air mattresses, self-inflating pads, and foam sleeping pads, most sleeping pads function well with quilt-pad attachment methods.
Summary
As you can see, there are a lot of options out there that range in warmth, size, weight, and more.
They may look similar and sometimes it is easy to just get whatever quilt looks best but when you are out there in the middle of nowhere with nothing but your gear, you will be thankful that you went for a quality quilt.