Although there are several fantastic day hiking trails in the Grand Canyon, the most enjoyable way to see everything the canyon has to offer is by taking an overnight hiking trip for a day or more.
So, if you are determined to go on that overnight hiking trip in the Grand Canyon, keep reading below for some tips on where to go and how to safely hike and camp.
What to Expect from Overnight Hiking Grand Canyon
Grand Canyon National Park as well as other neighboring places of interest are a hiker's paradise, with endless trails to discover mainly by seasoned hikers.
That is because the Grand Canyon is a tricky environment to organize an excursion to, and its trails and paths are more difficult than those of comparable places.
The reward of such an undertaking, though, comes the moment you get under the rim and gaze at the incomparable grandeur of the landscape.
Overnight Hiking Trails In Grand Canyon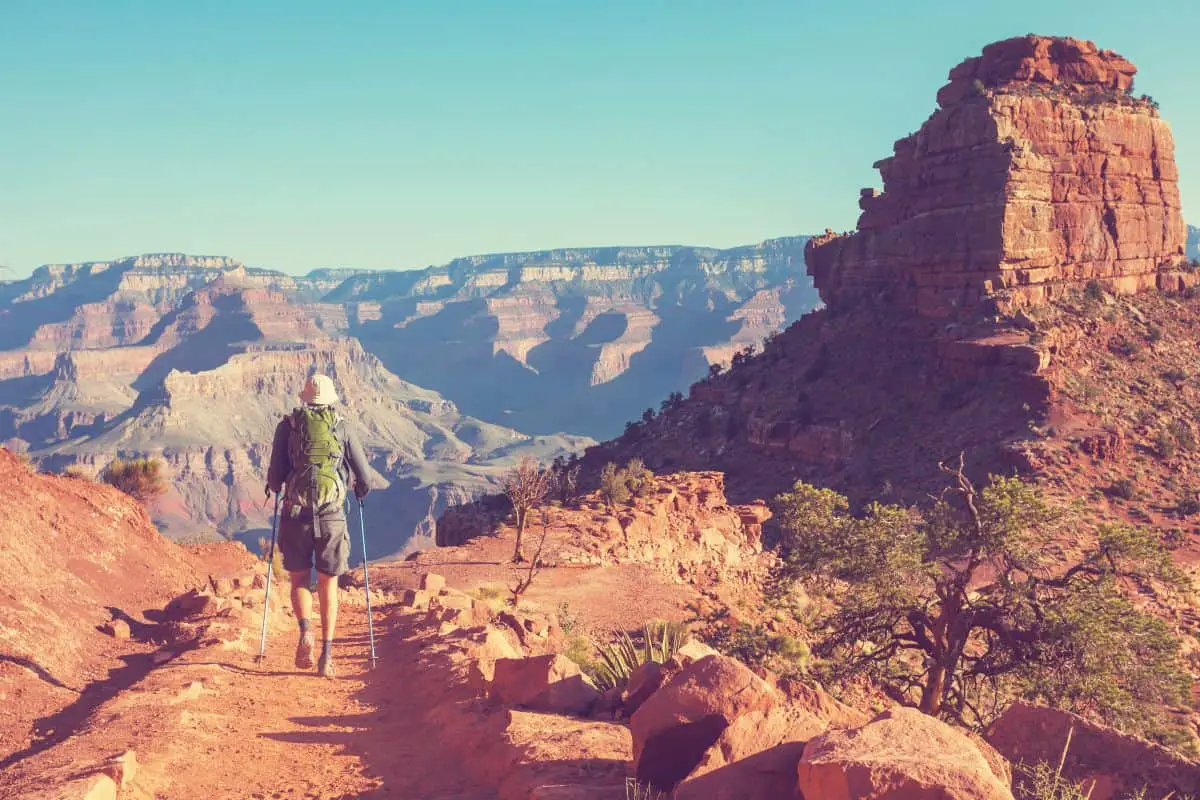 Bright Angel Loop
This is the typical Grand Canyon hiking trail, and it's a fantastic first-time canyon trip. During the trail, you can wander in the geomorphic past of the majestic Colorado River.
You can then camp in the Bright Angel Campground which you will get by following the South Kaibab Trail, a pathway created by the park service for its open views.
This is an excellent spot for fishing, hiking, exploring, and relaxing while admiring the beauty of the inner gorge.
The trail will also take you through Devil's Corkscrew and along Garden Creek through several lovely sandstone narrows and the to the Indian Gardens. So, you can continue hiking before returning to the campground before nighttime.
Indian Gardens
This is the simplest and most direct hiking and camping trip in the Grand Canyon, and it's a fantastic way for newcomers to experience what it's like hiking in this world-known location.
Taking the Bright Angel Trail along the Bright Angel Fault, you will be essentially walking on the same path as the old Puebloans.
Before arriving at Indian Gardens, you can take a break whilst admiring the cave paintings and rock formations at the Brahma Temple and Cheops Pyramid.
Once you are there, you can set up camp in the arid oasis of historic cottonwoods for the night.
Horseshoe Mesa
This cleverly named trail has sweeping views, limestone caves, and eternal streams on both sides.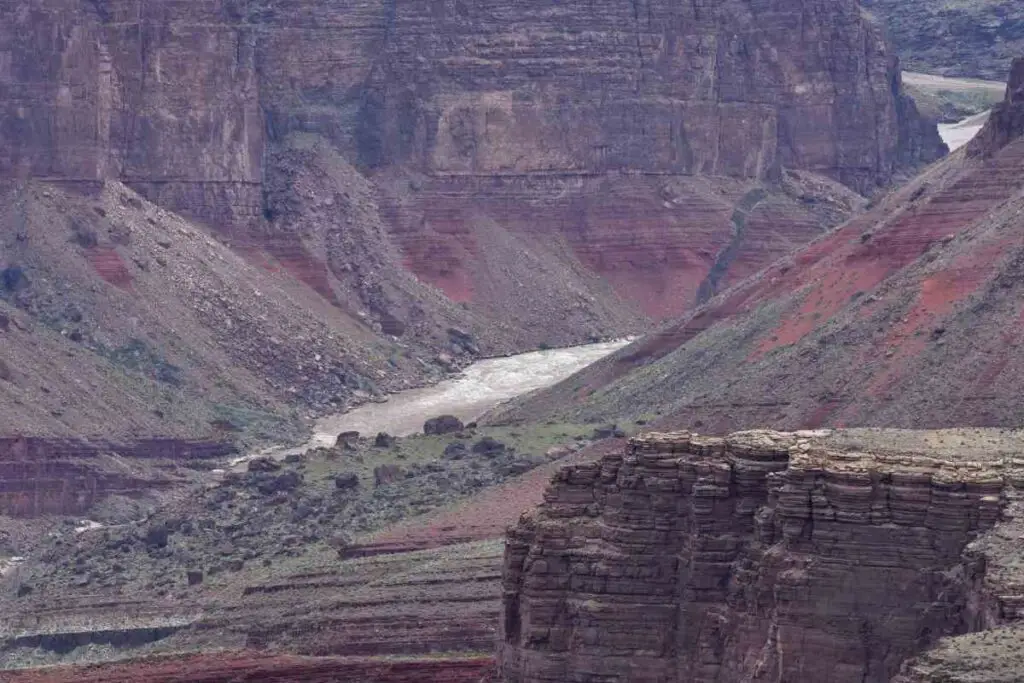 When copper was unearthed on the mesa in the late 1800s, the Grandview Trail as we presently know it was constructed as an entry to the Last Chance mine.
A significant portion of an old copper mine, in addition to numerous ancient spots, can still be found on the Mesa today.
Once you reach the Mesa, you can visit the Cave of the Domes, which is the Grand Canyon's only accessible cave.
That is a great place to set up your tent and spend the night with light cavepeople.
Havasu Falls
A visit to Havasu Falls is an unforgettable experience with several possibilities for hikers who are fortunate enough to visit this unique area.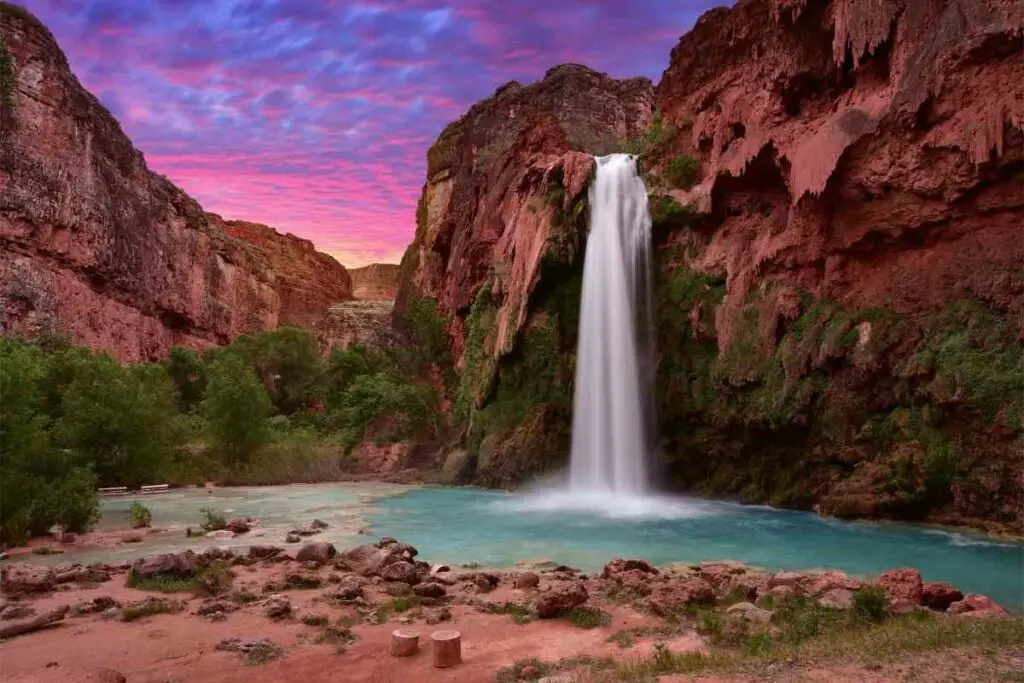 The hiking trail starts from the Hualapai Hilltop and continues through gorgeous red rock canyons to a breathtaking campground below Havasu Falls.
You will also come across rugged peaks, old cave paintings, and immaculate rivers as you make your way to Supai Village, the only spot in the Grand Canyon still occupied by Indigenous people.
Tips For Overnight Hiking In Grand Canyon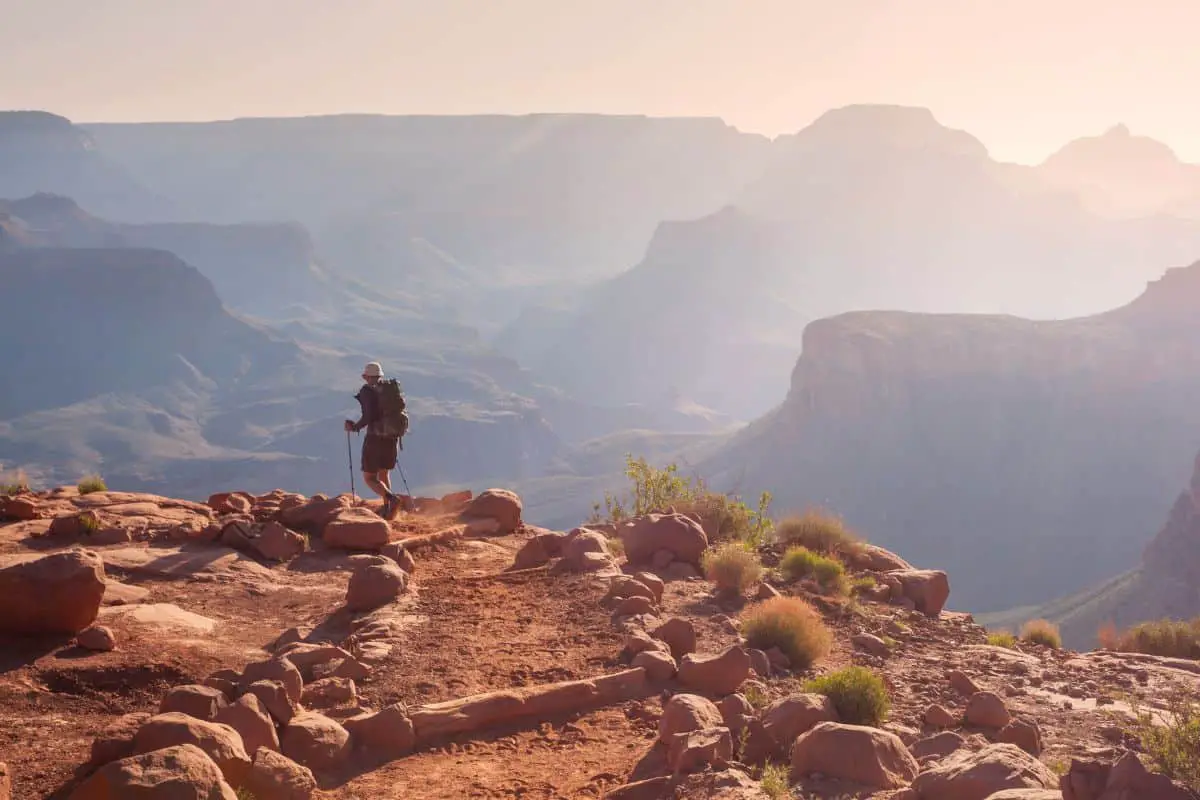 Like with all hiking destinations, and even more so those in which you plan to spend the night in, there are some things you need to consider and be aware of to enjoy the trip and have a risk-free experience.
Here is what you need to consider when it comes to overnight hiking in Grand Canyon:
Weather
The Grand Canyon's climatic condition is most likely the most important thing to take into account when planning your overnight hiking trip.
Northern Arizona is a big desert with myriad guises, and even though there aren't any sand dunes or camel paths, dangerous and deadly reptiles and arachnids do live there.
The Canyon's elevated desert terrain consists of low-scrub brush and hotter weather on the South Rim to chilly, high desert woods on the North Rim.
Keep The Wildlife At Bay
Make sure to keep your tent zipped up throughout the day. Double-check all your clothes and footwear before going in your tent to ensure that no scorpion or rattlesnake managed to sneakily hide there.
Moreover, if you plan to camp in the Grand Canyon and bring extra food and cooking equipment with you, don't leave them outside your tent or uncovered.
Snakes might not be into human food, but mice are, and snakes love mice.
So, if you want to avoid inviting any rodents to your food and any snakes that will come along to eat them, keep your food stored and covered in places where they won't be able to access it (camping fridge, inside the tent, etc).
Follow All Fire Regulations
Please follow all fire regulations and open any campfire in demarcated locations. Northern Arizona's woodlands are extremely dry and easy to break, which makes them extremely susceptible to fire.
Therefore, if you see any fire prohibitions in place, do not ignore them.
Summer Storms
A yearly monsoon season typically sweeps through the Grand Canyon in the afternoon during the summertime.
So, if you are planning your overnight hiking trip anytime between June and August, make sure to carry the appropriate rain gear.
The appropriate waterproof jacket, pants, and hiking boots are essential, and so are a waterproof tent and a large tarp so that you can sit outside the tent and enjoy the summer storm while cooking your dinner.
The Bottom Line
There isn't a bad approach to experiencing the Grand Canyon, and the park has a little of everything to suit everyone's needs
So, even if you are a big group of people and not all of you want to go hiking, you can always stay in a campground all together and then go for short day hiking trips with those who wish to, to then come back to the campsite and spend the night all together!