The Nano Air Light hybrid jacket made by Patagonia is their latest winter wear product. It is designed to be a lightweight and breathable item of clothing, while also offering excellent insulation for hiking in cold weather or skiing.
In this review, we will be breaking down positives and negatives of this jacket, so you can see if it is the right product for adding to your winter wardrobe. 
Patagonia – Company History And Reputation
Patagonia was founded by a Californian blacksmith called Yvon Chouinard, who started the company to be a supplier of essential climbing gear and equipment. 
Originally, the company only sold pitons and other metal equipment used by rock climbers, at this time it was simply known as Chouinard Equipment.
From these humble beginnings, the company gradually expanded to start selling outdoor clothing for hikers and rock climbers. Now Patagonia is one of the world's leading manufacturers of high quality clothing and equipment.
They sell a wide range of products, from board shorts and wetsuits for surfers, to heavy-duty jackets for trekking through snow and other adverse weather.
No matter what kind of outdoor activities you enjoy, Patagonia sells all the gear you need for doing it.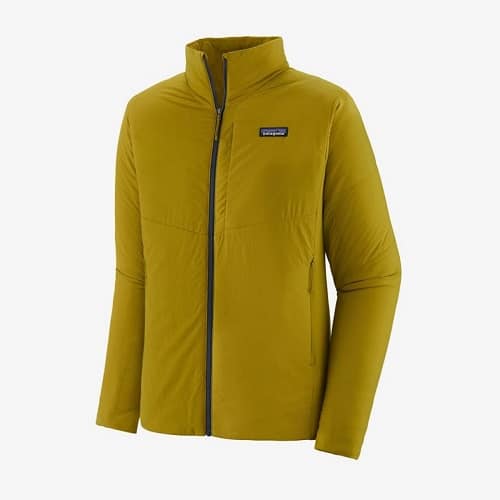 The Nano Air Light Hybrid is an ungraded model of Patagonia old Nano Air jacket. It is designed to be more lightweight than its predecessor, and more breathable, without sacrificing insulation. 
While still far from a summer jacket, this is a great piece of clothing for those who enjoy intense winter sports like skiing or ice climbing. 
Over the next few sections, we'll be looking at the overall design of this jacket, as well as how much insulation and protection it provides against the elements. 
Design & Materials 
The Nano Air Light Hybrid features a new design with padded insulation on the front and a breathable mesh lining on the back that allows air to flow freely around the body. 
This means it can keep you warm, but not too warm that it becomes sweaty or clammy during physical activities.
As such, it is the ideal piece of kit, for those who enjoy winter sports such as skiing, or ice climbing as well as anyone who likes to hike in colder climates. 
The padding on the front is made from 40g FullRange insulation, which is lighter than the 60g variety used in the original Nano Air. 
This makes the jacket much more breathable, which is great for any one moving around a lot during cold weather. The sleeves are made from the same waffle knit as the back panel, which offers great arm mobility. 
This jacket can be worn on its own when doing intense exercise, but it also makes a great mid-layer since it is thin and easy to put another jacket on top of.
When used like this, you can rely on the Nano Air hybrid to keep you very warm in all but the coldest climates. 
Insulation 
Despite being designed to be cooler and more breathable, the Nano Air Hybrid can still provide a lot of warmth when worn with the correct base layers.
With a tight long sleeved shirt underneath, this jacket can be more than enough to ward off the cold by itself.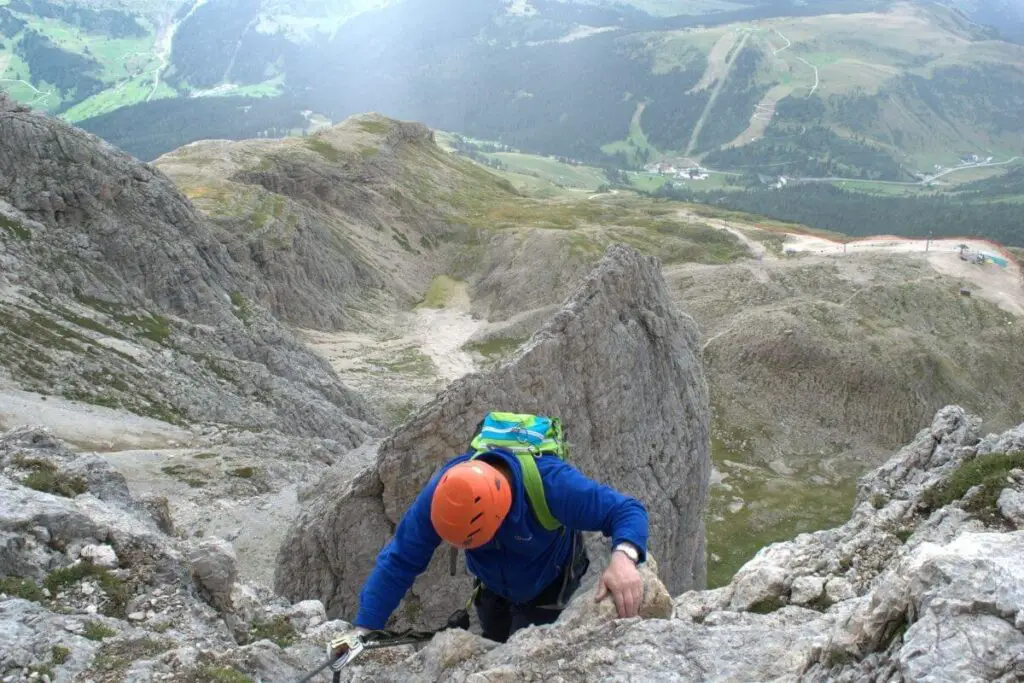 If you enjoy going for long hikes or camping trips in snowy mountains, then you will love how versatile this jacket is. 
As we said above, it is very thin and hugs the body close enough that you can easily put another layer over the top without being uncomfortable or limiting your movement. 
Even if you only wear this jacket with a single base layer, you may still work up a sweat while exercising in snowy conditions. As such, it is definitely not appropriate for wearing during the warmer summer months. 
Protection Against Rain And Wind
Due to its breathable design, this jacket won't offer much protection against wind and rain. While this isn't a problem if you are going for a jog on a snowy day, anyone who wants to use it for skiing will need a windproof layer over the top. 
You may also find yourself getting cold much faster if you aren't moving around enough and there is a strong wind. 
When it comes to rain, the front panel has been DWR treated to offer some level of water resistance. Even when it does soak through, this layer is still very warm, and the insulation won't lose its effectiveness. 
Unfortunately, the meshing on the back isn't waterproof at all, so bear that in mind before you decide to wear it in heavy rain or snow. 
Comfort & Durability 
The weak parts of this jacket are the cuffs, which have a small loophole for putting your thumb through.
This is designed to keep your sleeve from rolling back up your arm, and therefore this area will likely receive the most wear and tear.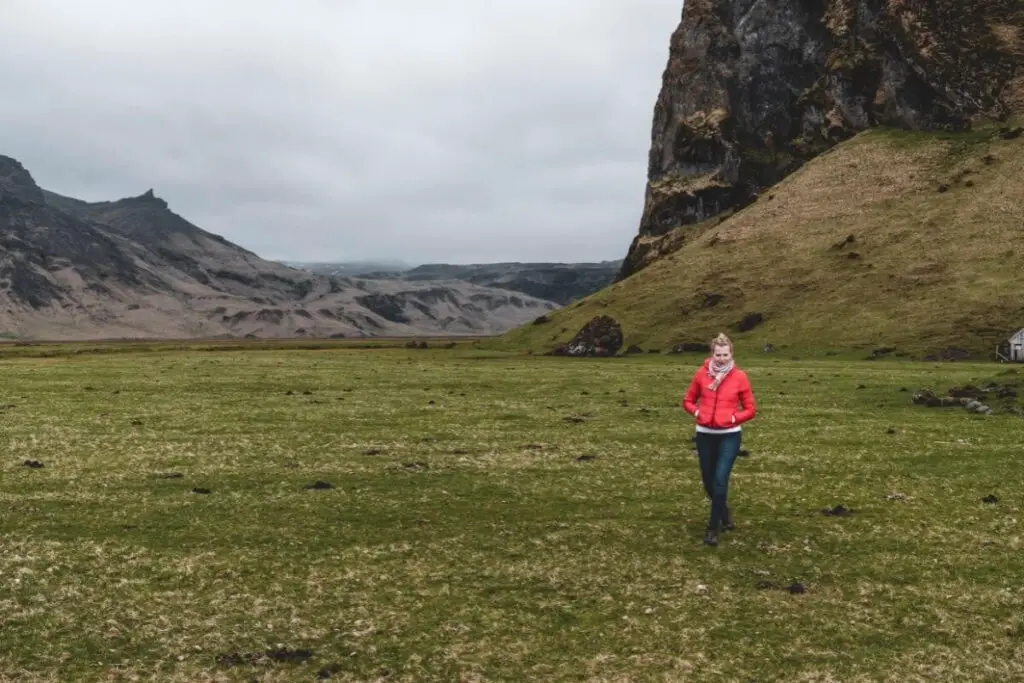 You'll be happy to hear that these weak points have been reinforced to make them surprisingly durable. If you do snag your jacket on anything, then you can just snip off the loose thread, and it is unlikely to unravel any further. 
When it comes to comfort, the Patagonia Nano Air is an absolute joy to wear. The fabric is stretchy enough that it won't restrict  your movement, but it still hugs your body enough to keep you warm in cold conditions. 
There are front pockets which are located high up the jacket, so you can access them even when wearing a rucksack with a belt harness.
It is worth noting that the available sizes run a bit large, so if you want a snug fit, you may want to buy a size down. 
The DWR layer on the front is resilient and shouldn't come off unless you wash it at a very high temperature.
As such, as long as you are sensible with the temperature, you shouldn't run into any problem when washing Patagonia Nano Air products. 
Pros
FullRange Insulation keeps you warm while still being breathable.
Great for intense exercise in cold climates. 
DWR front panels do an alright job at keeping water out. 
Lightweight and easy to fold away for packing. 
Stretchy and comfortable to wear. 
Thumb loops at the end of the sleeves prevent them rolling back up your arms.
Made from durable materials.
Harness compatible pockets.
Cons
Not wind resistant at all. 
While the front is DWR coated, the waffle mesh on the back gets soaked through very quickly. 
No hood. 
Might not be warm enough if you aren't moving around a lot while outside in the cold.
Sizing runs large.
Competition
Now that we have covered all the basic aspects of the Patagonia Nano Air Hybrid, we thought we would compare it to some other, similar products. 
This should give you some other options for great winter, exercise, jackets, as well as displaying how well Patagonia holds up against the competition. 
Arc Teryx Atom LT Vs Patagonia Nano Air
Arc Teryx is another company that makes high quality winter jackets and base layers. The Atom LT is their product for performing intense exercise in cold climates, and as such is very appropriate for comparison to the Nano Air. 
In terms of insulation, both jackets are roughly equal. The main difference is in breathability, with the Atom LT only having breathable side panels, unlike the Nano Air Hybrid which has a waffle mesh on the sides and back.
 This means that the atom wins out when it comes to standing around in cold weather, but loses when it comes to carrying out intense activities. 
Because it only has breathable side panels, the Atom also performs better in rain and wind. As such, if you don't plan on doing lots of exercise all the time, it may be the better all-purpose winter jacket. 
However, the better weather resistance comes at the expense of heat dissipation, which means you will work up a sweat much faster wearing this jacket.
Arc'teryx Atom LT Hoody Men's | Versatile and Lightweight Synthetic Insulated Hoody
ATOM LT HOODY - If you have one, you know: this one of our most trusted, best loved hoodies.
ATOM LT HOODY - If you have one, you know: this one of our most trusted, best loved hoodies.
ATOM LT HOODY - If you have one, you know: this one of our most trusted, best loved hoodies.
ATOM - Versatile synthetic insulated mid layers with a high degree of weather resistance.
LIGHTWEIGHT - High performance, minimalist design that is durable for its weight.
Another important thing to remember is that the atom doesn't condense down very well, which may make it difficult to pack in a suitcase or backpack. 
The Nano Air, on the other hand, folds away into a very compact bundle that can be easily slid into your backpack or luggage. 
Overall, when it comes to the Arc Teryx Atom LT vs Nano Air, Patagonia's jacket wins out for its versatility, while the atom wins on weather resistance. 
If you want a warm mid-layer for hiking or camping, then the Atom may be the slightly better choice for you.
However, if you want to go on long runs in the snow, or skiing trips, you will be better off with a Nano Air Hybrid instead. 
Outdoor Research UberLayer Vs Patagonia Nano Air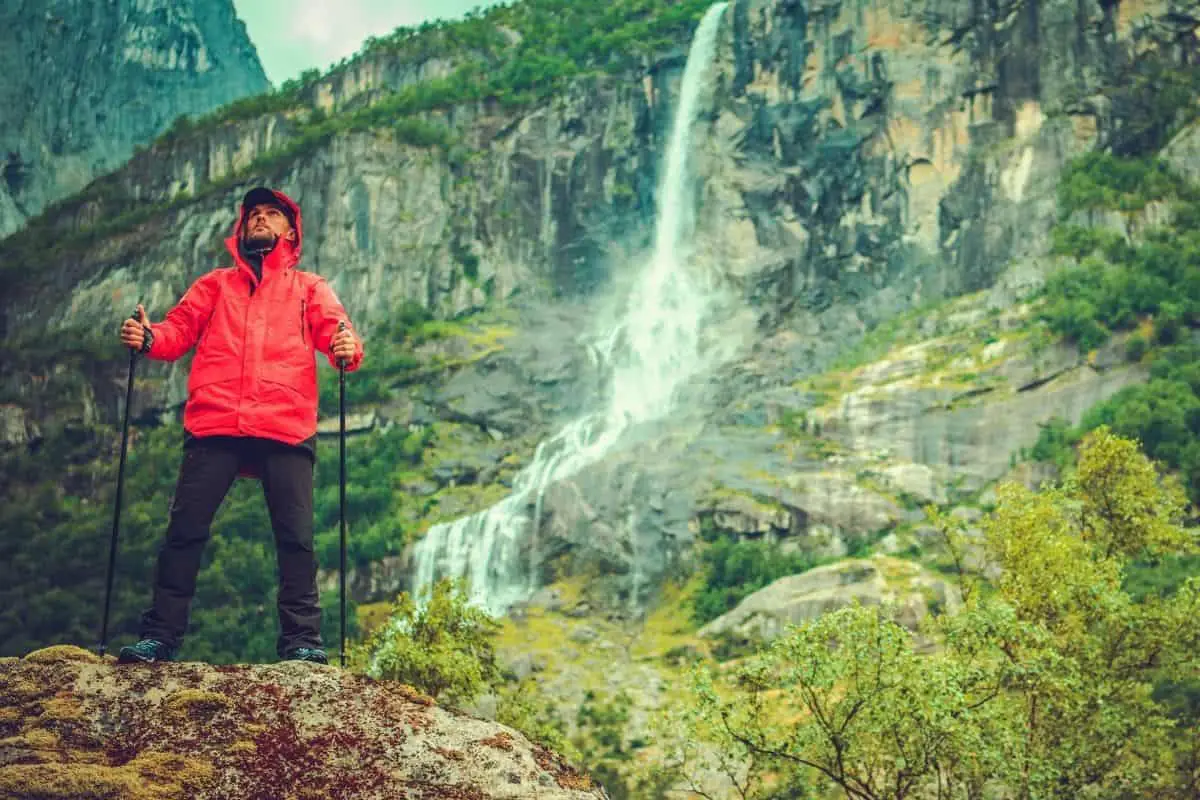 The UberLayer made by Outdoor Research is another high performance winter jacket worth comparing to Patagonia's Nano Air. 
It has slightly thicker insulation, but unlike the Atom LT, it is still very breathable and a great choice for anyone who frequently exercises in cold climates. 
Thanks to the hood, the UberLayer is even slightly warmer than the Nano Air Light Hybrid and only marginally less breathable. 
Outdoor Research's UberLayer is slightly heavier than the Nano Air, which can make it a bit more difficult to pack away if you are traveling with it. 
It comes with a small bag for keeping it compressed and compact, but fitting the jacket into this pouch is a fiddly experience that takes way too much time. 
Where the UberLayer really excels is in comfort. The jacket is well padded and moves with your body very well. 
The addition of a hood makes it even more cozy to wear in snowy conditions, and when you lower the hood, it is still a great piece of kit for intense exercise. Sadly, this comfort comes at the price of weather resistance. 
Outdoor Research's jacket has no DWR coating and soaks through much faster than Patagonia's Nano Air Hybrid. When it gets wet, the jacket will be even heavier, so it is not recommended to wear this in heavy rain or snow. 
If you do decide to wear it in these conditions, make sure you bring a slim waterproof layer for putting over the top.
That said, the waffle mesh on the back of the Nano air is also bad at keeping water out, so it only wins out in this regard by a bit. 
Overall, both are great jackets for exercising during winter. Which one you prefer will largely come down to what kind of activities you are doing and your own personal preference. 
Pricing 
The MSRP of the Nano Air Light Hybrid is currently resting at 249 dollars, making it slightly more expensive than the Arc'Teryx Atom LT and cheaper than the UberLayer. 
While it may seem expensive, this is a fair price for a versatile jacket that will allow you to perform intense exercise in sub-zero conditions. 
While the Atom LT is a little cheaper, it is also less breathable, which means you will build up a sweat much faster during strenuous activities like ice climbing. 
Final Thoughts 
Overall, Patagonia's Nano Air Light Hybrid is an excellent all-purpose winter jacket. It can be used as an effective mid-layer for long hikes and camping trips, or worn on its own for jogging in the snow. 
The 40g FullRange insulation does its job of striking the right balance between keeping the heat in, and still allowing air to flow around the body.
As such, you can stay warm while doing a lot of fun activities in this jacket without feeling clammy or sweaty in the process. 
It isn't the most weather resistant, however the DWR on the front panels will do a fair bit to stop you getting totally soaked through.
Even if it does get wet, the insulation is still very effective at retaining heat even when waterlogged. 
One of the best things about this product is that it can be folded away into an extremely compact bundle, making it easy to pack into any suitcase or bag. 
While there are better jackets out there, few offer such good value for money. So if you like going for a run in the snow, or enjoy other winter sports, this is definitely a worthy jacket to add to your collection of gear.