What is the best day hike in Grand Canyon National Park? Grand Canyon National Park is one of America's most popular parks, with breathtaking views of the canyon for miles around.
There are many great hiking trails here, and this article takes a look at a few of our favorites.
Hiking In The Grand Canyon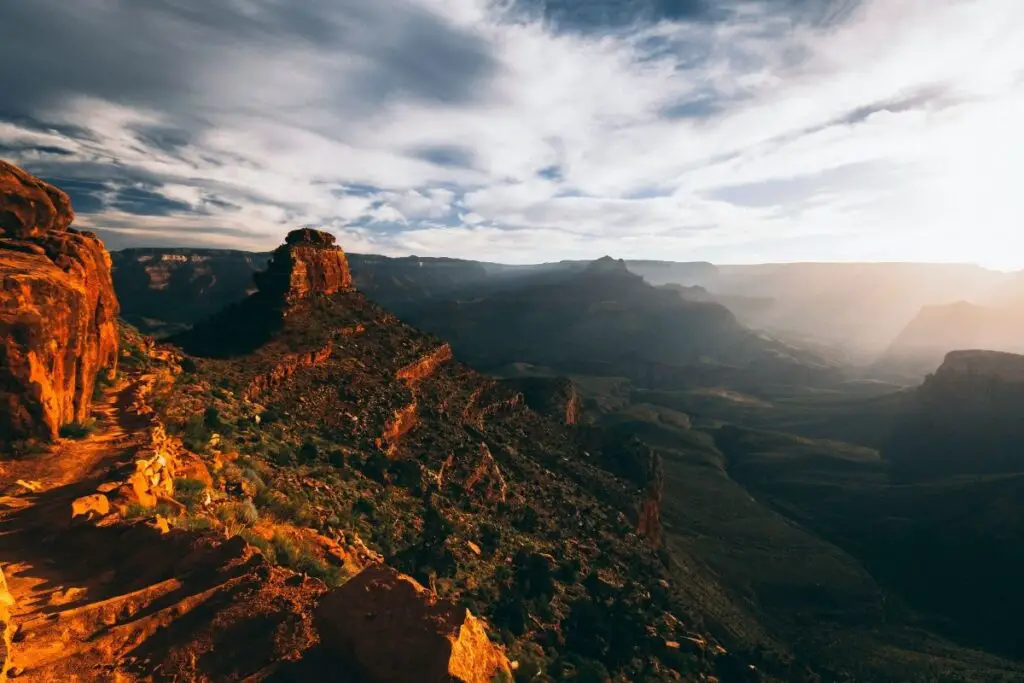 We look at some of the best day hikes for you to explore, whether you are visiting for the weekend, just passing through, or living nearby.
Let's get to it!
1 – Bright Angel Trail
Bright Angel Trail is located near the South Rim of Grand Canyon National Park and will take you around an hour and a half to complete.
It is a moderate hike and allows you to descend from the parking lot and nearby lodges. The trail starts steeply uphill, but gradually levels out.
After reaching the rim, there is a short downhill section and when you reach the bottom of the canyon, you can see the Colorado River.
The trail ends at the river, marking your 1200 feet descent from the top.
2 – North Kaibab Trail
North Kaibab Trail is located near the North Rim of Grand Canyon National Park. It is nearly 1000 feet higher at the trail's head than the South Rim trails, and hikers will pass through ecosystems that are in place between Canada and Mexico.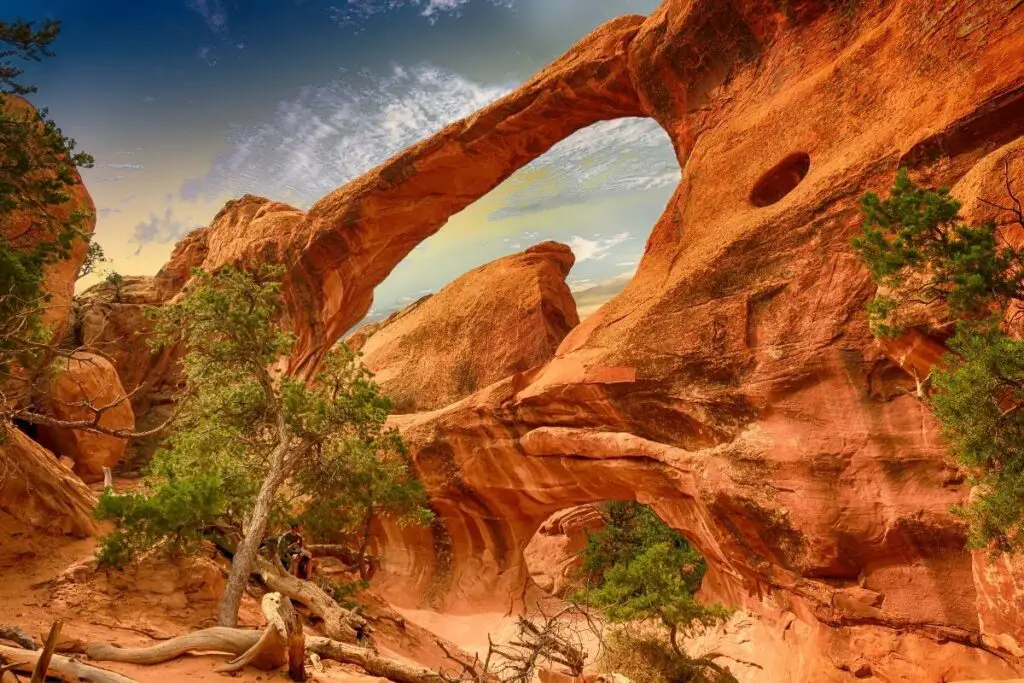 Once you reach the rim, you will find yourself walking along the edge of the canyon.
At the end of the trail, you will reach the North Rim of the Grand Canyon and you can take a look at the maw of the Bright Angel Canyon through plenty of fir trees and aspen, wildflowers, and ferns.
Read next – Hiking Rim to Rim Grand Canyon
3 – Hermit Trail
The Hermit Trail allows you to hike to Santa Maria Spring. It is a 5-mile round trip and 7 miles if you head to the Dripping Springs.
The conditions of the trail are tougher than the Bright Angel and South Kaibab Trail, and there are neglected steep areas which require caution.
The trail starts west of Hermits Rest, around 500 feet, and it's a trail you want to have some strong hiking boots to help you out along the way.
4 – South Kaibab Trail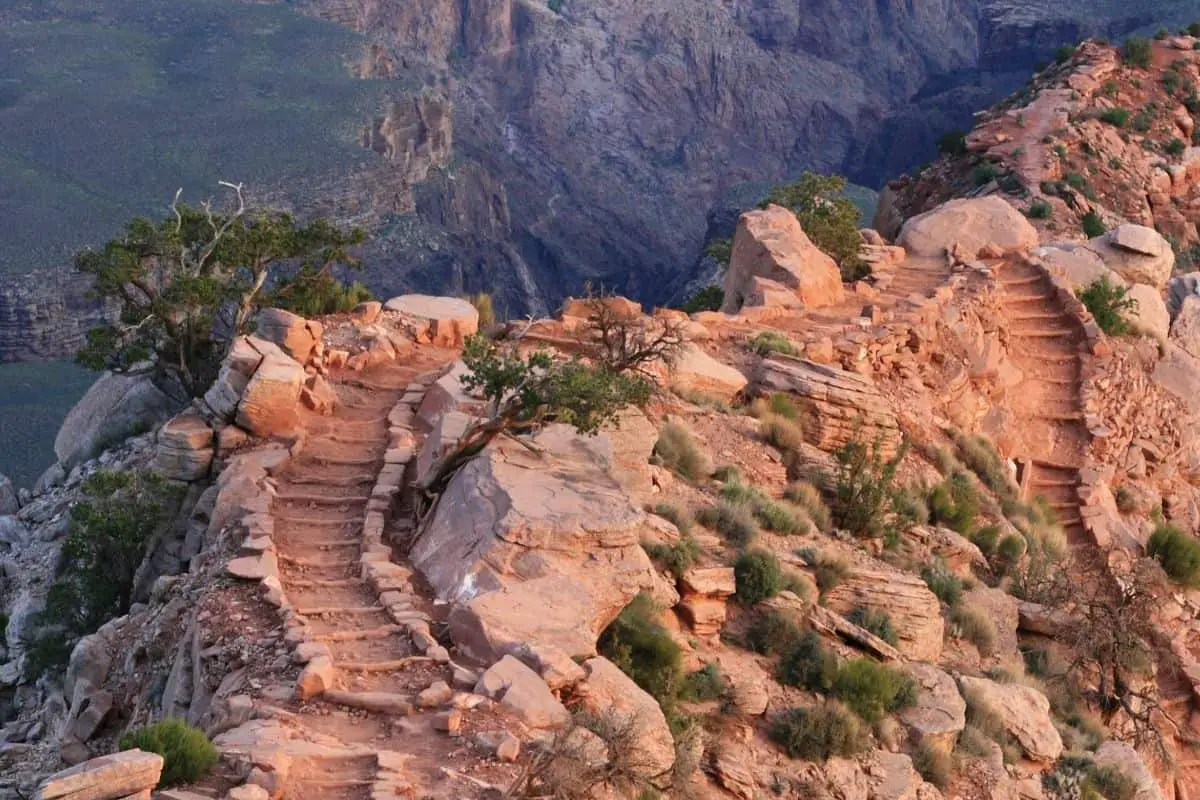 South Kaibab Trail is another great option for hikers looking for a challenging hike. This trail is a little more difficult than the others because it requires you to climb up and down a series of switchbacks.
It begins south of Yaki Point, which you will find on Yaki Point Road, and you can only access the trailhead by shuttle bus. It is a perfect day hike for hikers of all skill levels.
It has hikes across the trail that are up to 6 miles for a round trip.
This trail leads you to the base of the South Rim, where you will find a visitor center and restrooms. From here, you can capture the canyon and enjoy the view.
5 – East Rim Trail
The East Rim Trail starts on the east side of Yaki road. You will also find the mule stables located here.
While the trail follows the east rim of the canyon, it doesn't provide too many opportunities to view the canyon from the trail. This is because it winds through a pinyon and pine forest.
That said, it is still an interesting trail with some varying terrain and challenges.
6 – Grandview Trail
This very steep trail offers hikes to Coconino Saddle, which is around 2.2 miles for a round trip and 6.4 miles if you head to Horseshoe Mesa.
The trail conditions are tough and there is some very steep terrain to watch out for, so it is recommended only for experienced hikers.
It starts on the canyon side of the wall at Grandview Point, which you will find on Desert View Drive. This is around 12 miles east of the village of Tusayan.
7 – West Rim Trail
West Rim Trail is one of the most popular trails in the Grand Canyon. It is a 3-mile loop that takes you past several viewpoints including Grand View Point, Desert View, and Sunset Point.
You will also find a few natural arches along this trail, and they are worth checking out while you're hiking. These arches were formed after the last major flood event in the area.
Tips For Hiking At Grand Canyon National Park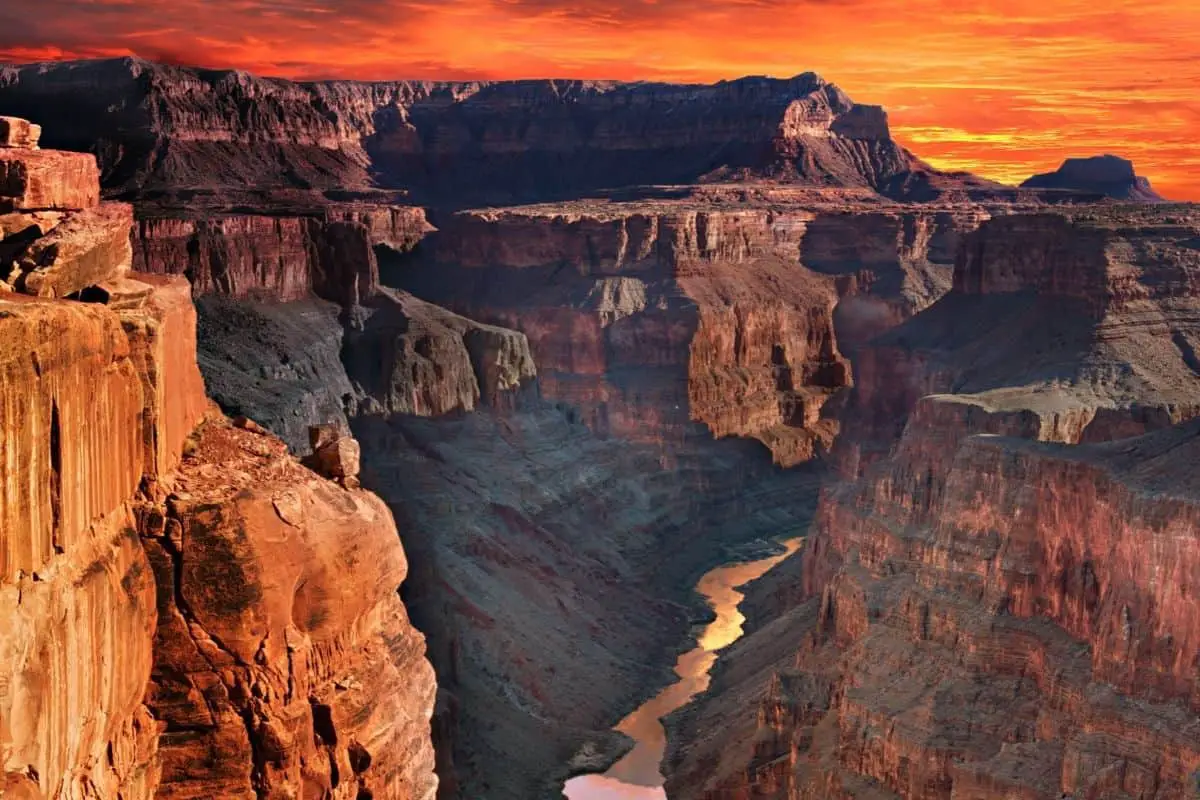 Bring plenty of food and water
The Grand Canyon is an unforgiving place with temperatures reaching into the hundreds during the summer months.
Make sure you bring enough supplies to keep you going throughout your journey and fill your water up as much as you can to avoid dehydration.
Be prepared for extreme weather
Summertime temperatures often exceed 100 degrees Fahrenheit, but the heat isn't the only thing you need to be concerned about when visiting the Grand Canyon.
Winter storms can cause flash floods which can make travel treacherous. Always check the weather forecast before heading out on any hike.
Read Next – Grand Canyon Winter Hiking
Don't forget your camera
If you plan on taking pictures of the scenery, make sure you pack a good-quality digital camera. There are lots of places to stop and capture amazing views of the canyon.
Don't underestimate the distance
When planning your hike, don't assume that you will have enough time to cover every mile of the trail.
Many people overestimate how long their hike will take them and end up being exhausted halfway through, or even notice it is getting too dark.
Plan Accordingly
Also, remember what comes down, has to come up. Since many of the hikes at the Grand Canyon begin with a descent, this is easy to forget, and you don't want to be struggling when it comes to getting back.
Note down how far you have gone, and keep in mind you are going to have to climb back up, so save your energy where you can.
Don't Forget Sunscreen
Sunscreen is another must-have item for hikers at the Grand Canyon. Since the weather is usually sunny, you need sunscreen to protect against the harmful UV rays.
Make sure you apply sunscreen every day you go hiking, even if you plan on spending most of the rest of the day indoors.
Final Thoughts
We hope after reading this article you have learned everything you need to know about hiking in the Grand Canyon and have noted down some of the best hikes to experience the most breathtaking views of the Canyon and the Colorado River.
Grand Canyon National Park is one of the most incredible hiking areas in the world, so grab your hiking boots and head to the trails!