The Tour du Mont Blanc is among Europe's greatest and most widely known hikes covering an extremely long distance, and completing this hike should be at the top of your travel list.
There's no denying that doing the Mont Blanc tour can be the most remarkable thing you can plan to do while visiting Europe, which is why we have an epic guide with everything you ought to know about this tour!
What Is The Tour Du Mont Blanc?
The Tour du Mont Blanc is one of the most famous Mont Blanc trekking trails, and it also happens to belong to the list of world's oldest trekking trails.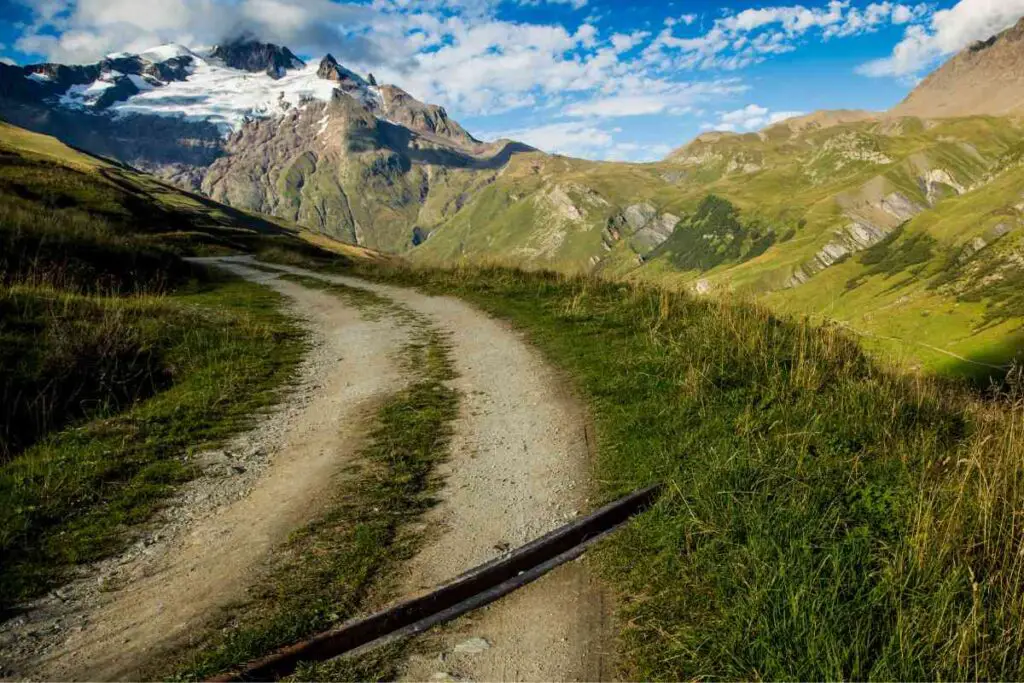 The loop is frequently featured in articles and lists titles as the '10 Best Hiking Trails In The World,' which is only fair given how spectacular the trail and its views are.
We'll talk about the details of the trail later in this article, but expect breathtaking views, delectable food, and authentic mountainous adventures.
On just the first day, you'll see massive snowy mountains, massive ice caps, majestic streams, and lush greenery.
Who Formed The Tour De Mont Blanc?
The trekking routes that comprise the tour du Mont Blanc loop, similar to the greatest treks in the world, were initially walked by shepherds who used to move their cows from one valley to the other.
However, it was a geologist from Switzerland who popularized this tour in the 18th century.
The funny thing is that this "discovery" of his happened by accident as what he was trying to do was to figure out how to ascend Mont Blanc.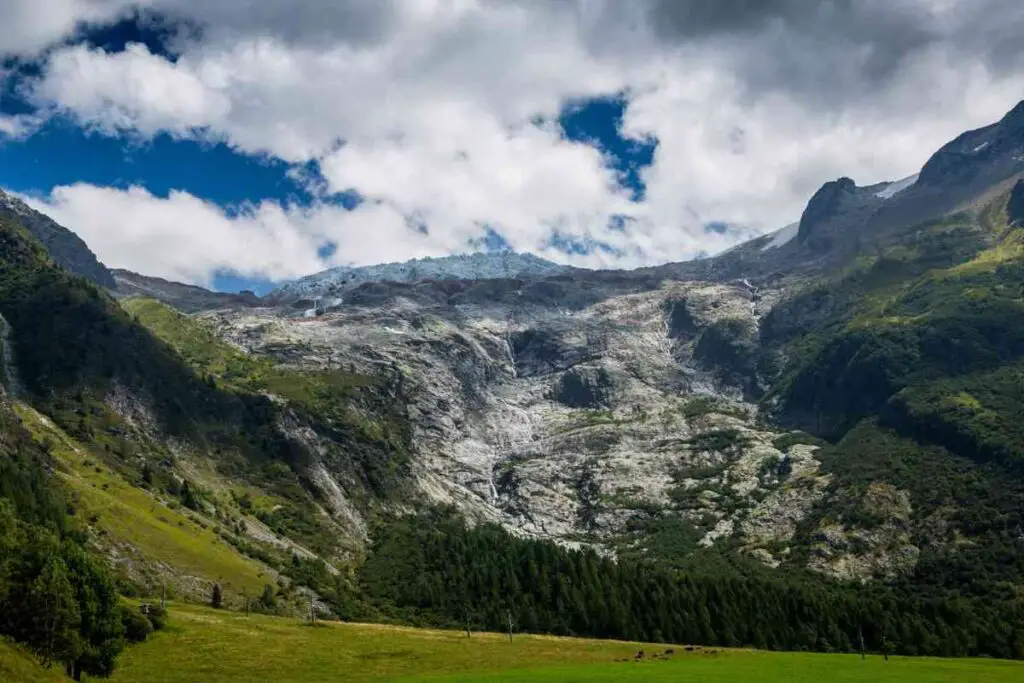 However, he ended up completing a circular trip around the entire mountain searching for the most suitable pathway, and thus was the first one (at least to our knowledge) to walk this trail.
The exact route the geologist followed is unconfirmed, but he went back to the mountain many times, desperately trying to reach the top.
Following several unsuccessful tries and circles around Mont Blanc, promised remuneration to whoever would reach the peak of the mountain.
It was in the late 1780s that two people from Chamonix were given the reward and managed to make the first climb.
He then was the third one to take the same path and reach the top of this famous European mountain.
Historically, Celtic tribal groups and the Roman army had used Col du Bonhomme, a spot located on the tour du Mont Blanc, as a route from which they moved their supplies through the Alpine areas.
Even today, you can discover the tattered remains of the Roman people and armies, with an old bridge built by their army remaining in good condition there, to many people's surprise.
Where Is The Tour Du Mont Blanc?
TMB circumnavigates the mountain range, passing through Switzerland, Italy, as well as France.
Despite the fact that the trail does not reach the summit, everybody is familiar with Mont Blanc, and its name draws thousands of backpackers, hikers, and mountaineers each year.
How Long Is Tour Du Mont Blanc?
The Tour du Mont Blanc loop is a circuit that is 170 kilometers long and circles the Mont Blanc Mountain range.
Tour Du Mont Blanc Hike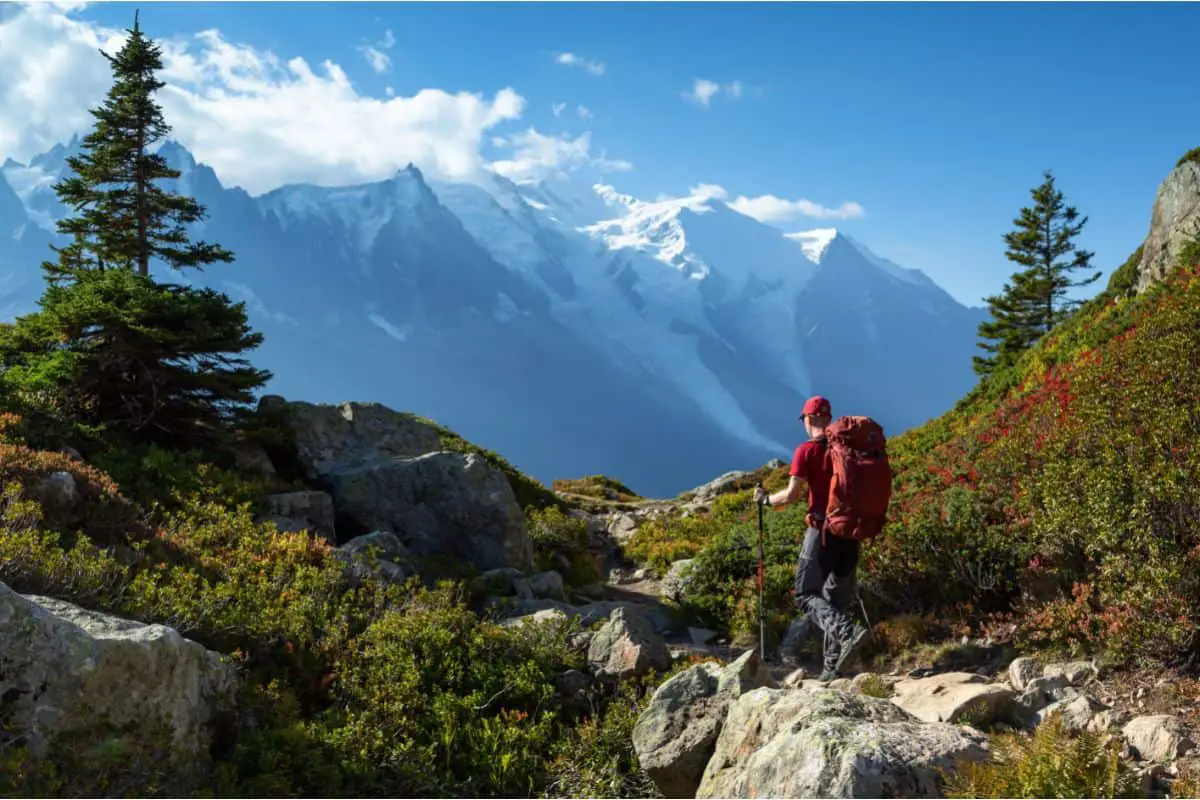 Tour Du Mont Blanc Starting And Finishing Point
The Tour du Mont Blanc starts and finishes in Chamonix, an alpine town and adventure sports mecca on the French side of the Alps.
Despite its small size, Chamonix has always been overflowed with tourists and people looking for adventure thrills.
It is also a highly regarded ski retreat at the bottom of Mont Blanc, which means that there are many skiers and outdoor enthusiasts of all levels, as well as a booming mountaineering community and an abundance of trekking and mountain-bike paths to explore once the snow melts in the warmer months.
Chamonix is only 90 kilometers from the Geneva Airport and has numerous transportation choices available, rendering it a very accessible Alpine town.
The drive takes slightly more than an hour, bus services approximately 2 hours, and trains take closer to 3 hours, contingent on connections.
This town is also known as the World's Capital of Adventure thanks to its busy rhythms, a plethora of fun activities, and simply stunning mountain ranges right next to it.
Tour Du Mont Blanc Route/Trail
The route follows a long loop of secluded pathways that circumnavigate the Mont Blanc massif in an anti-clockwise direction.
Of course, you have the option to follow the path in a clockwise direction, but the majority of people tend to go the other way around, and this is one of those cases where it's preferable to go with the flow.
The trail is not challenging if you have prepared and trained right for it, but there are a lot of steep ascents.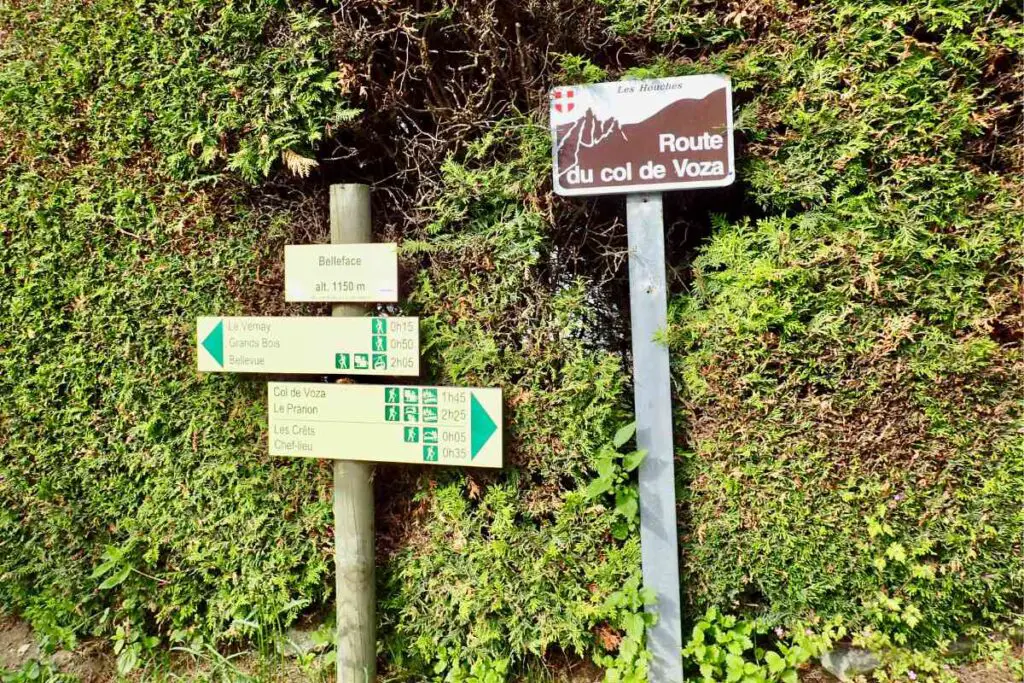 Nevertheless, there are also many variants and easier routes to take, so you can take paths that are slightly more demanding and then continue an easy downhill.
Moreover, the Tour du Mont Blanc trekking trail includes forest areas, desolate rugged terrain, and extensive green hillsides.
You'll also be surrounded by the ultimate combination of majestic scenery and snow-covered highs above, with each day being unique.
However, if there's one thing the majority of your tour days have in common, it is the fact that you will be following the same pattern of hiking across hilly areas, or mountain passes, before going down to a Refugio or hotel to rest.
Similarly, your days will begin with an enjoyable uphill walk to a picturesque point where you can enjoy your snack or meal while gazing at the scenery, and then continue with your final hike downhill for a hearty evening meal and some fresh beer.
Tour Du Mont Blanc Altitude
Mont Blanc, Western Europe's highest mountain, is 4.808 meters above sea level, making its altitude one of the greatest and most challenging ones.
However, as we have previously mentioned the Tour De Mont Black does not involve ascending to its top.
In fact, the highest peak along the standard route is 2.537 meters above sea level, which is considerably lower than the top of the mountain.
This peak is at the Grand Col Ferret, which also serves as a frontier between Italy and Switzerland. Nevertheless, a few alternative routes can take you to the greatest heights.
So, for example, you also have the option of going higher up to enjoy the beautiful scenery from 2.665 meters above sea level. on the Col des Fours or Fenetre d' Arpette,
Tour Du Mont Blanc Itinerary
Because of the long distance of the trail, most people complete the Tour du Mont Blanc route in 7 to 10 days. 
Below you can find the itinerary for a 10-day hiking trip, and which is typically the one most people follow when doing the Tour du Mont Blanc for the first time!
10-Days Itinerary
Day 1: Chamonix – Les Contamines
On the first day, you'll take the minibus to Les Houches and start your tour.
This first stage from Les Houches to Les Contamines is filled with lovely pine forest pathways, steep uphills and downhills, and areas of low trees and bushes carpeted with wild blueberry shrubs.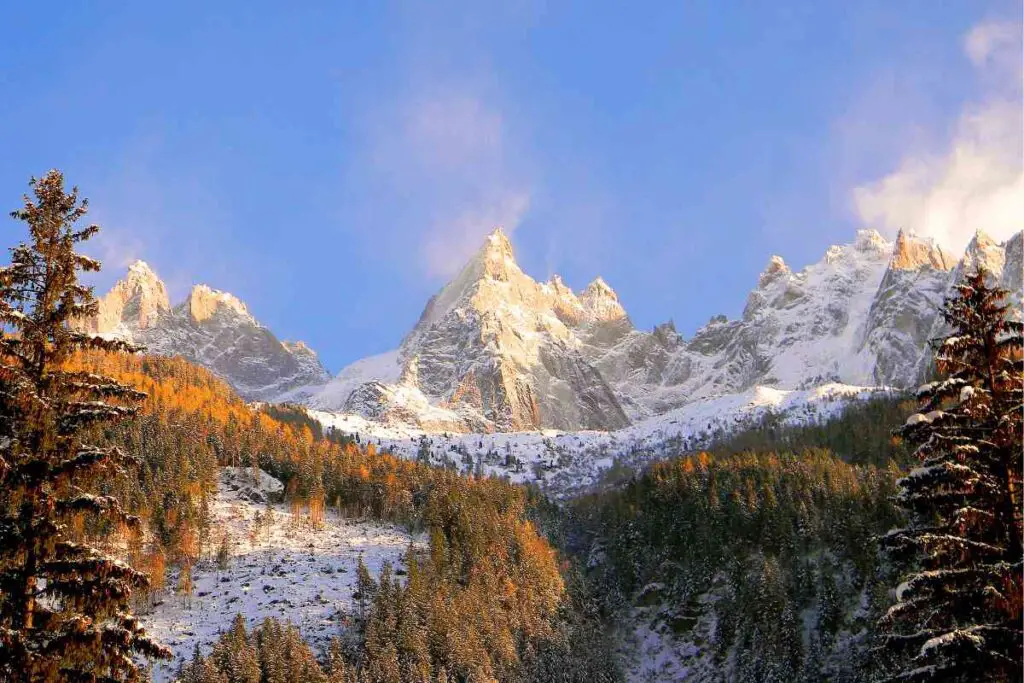 Nevertheless, you won't be able to avoid the steep hills for the first hour, and if you choose to go from the variant, you can expect approximately 1500 meters of elevation, compared to the 650 meters of the standard route.
If you choose the challenging path, stop for lunch at the Refuge de Miage for some delicious and nourishing salad, and then continue your hike to Les Contamines for a night's rest and more food.
Elevation Profile (Gain): 1500 meters of elevation gain for the variant, 650 meters of elevation gain for the standard route
Day 2: Les Contamines – Les Chapieux
After spending the night in a chalet, you'll start the second day of the tour with an uphill trek up to the renowned Col du Bonhomme.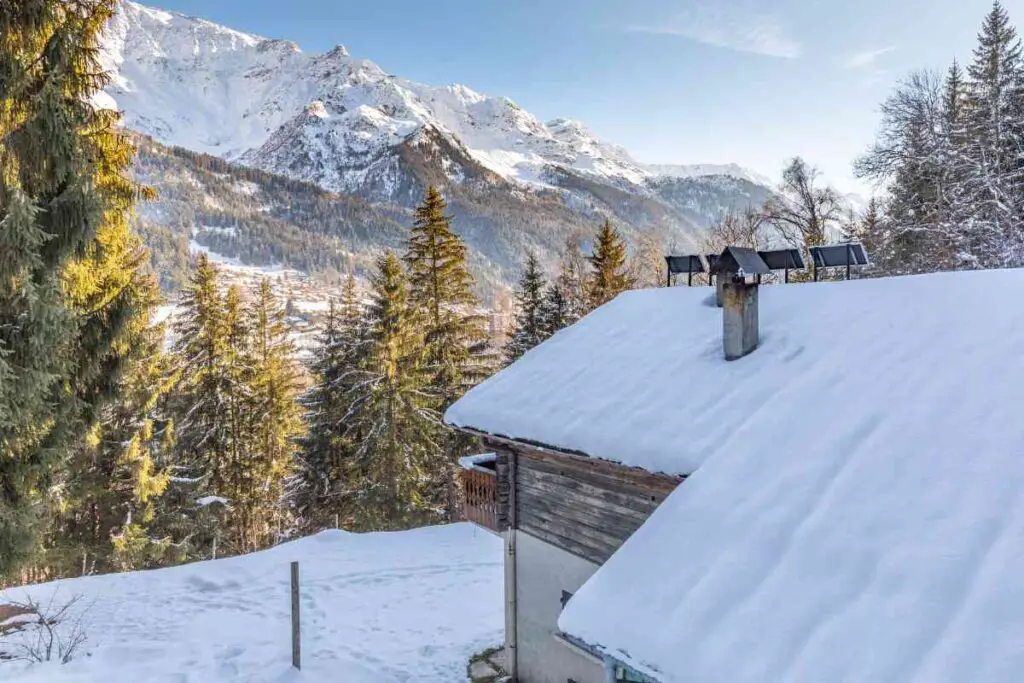 A few hours later towards the late afternoon, you'll hike across the Croix de la Bonhomme and head straight to Les Chapieux.
This stage of the tour offers much better scenery and is less challenging, so you will certainly enjoy it more.
Les Chapieux is so small that it hardly qualifies as a town, but it's quite lovely. There are a few guesthouses nearby. There also is a local products shop, where you must absolutely try their goat cheese!
Elevation Profile (Gain): 1300 meters of elevation gain
 Day 3: Les Chapieux To Rifugio Monte Bianco
The third day will get you to Italy as you will be on the Col, which is approximately 1000 meters higher than the starting point.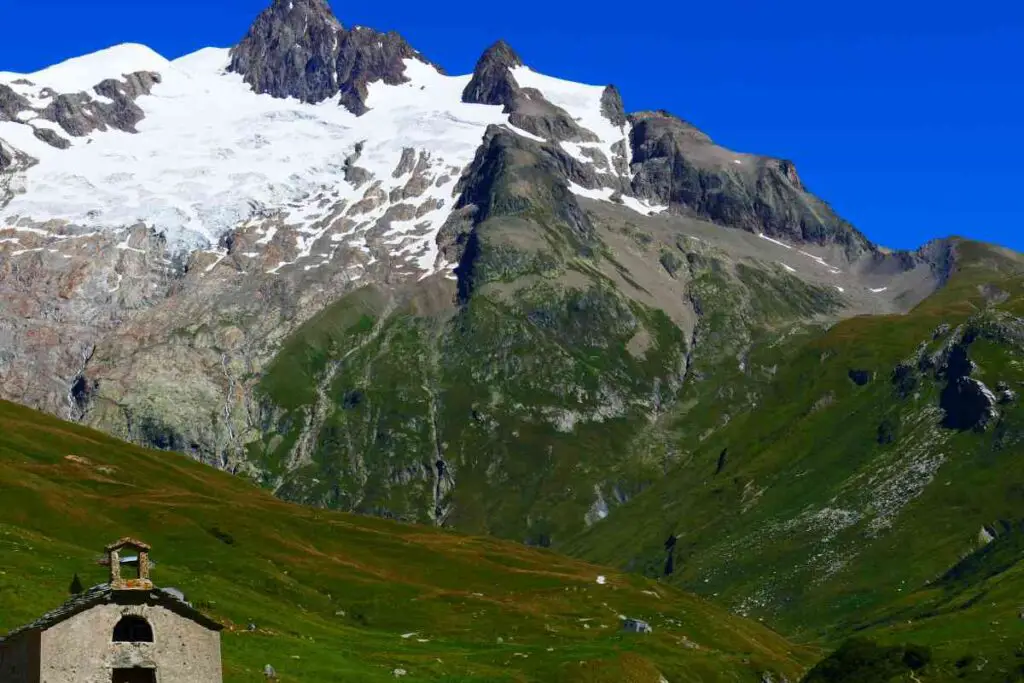 The hike begins with a mild uphill through the valley, followed by several steep hills to the col's summit. Although there is some altitude gain, this col is among the easiest ones to reach.
After you cross the col and until you reach Refugio Elisabetta it's an enjoyable downhill. There you can spend some time enjoying some comfort food, and if you choose to stay the night, you'll get a large dinner and an incredible view of the sunset.
Elevation Profile (Gain): 1000 meters of elevation gain
 Day 4: Rifugio Monte Bianco – Courmayeur
This is undoubtedly the simplest hiking day.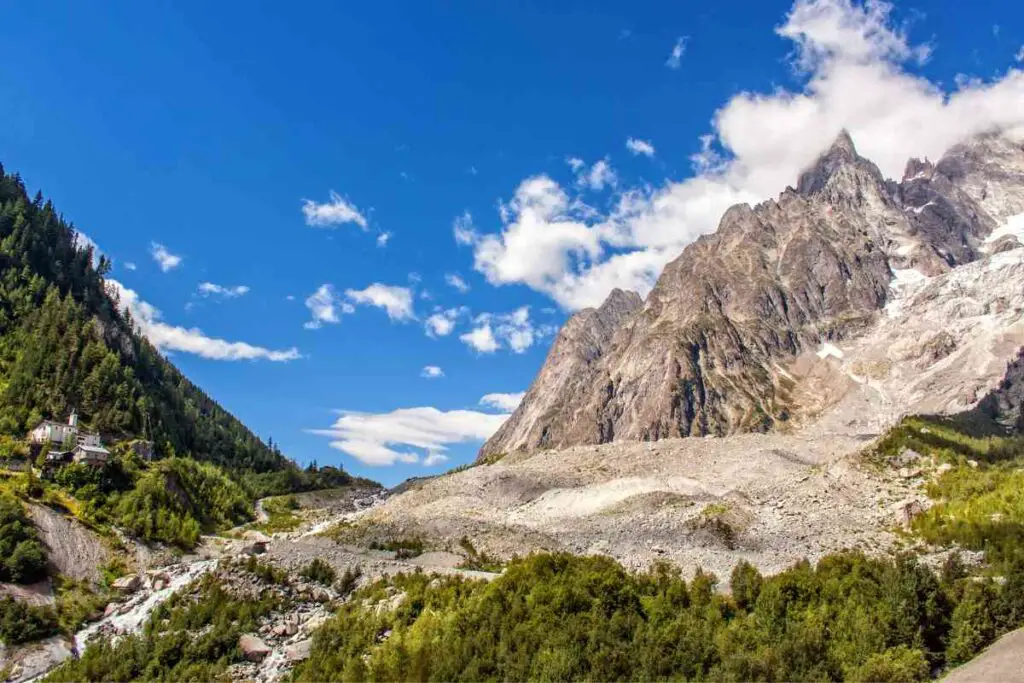 An easy walk down the route to Courmayeur (that is nonetheless more than 4 hours long), a little town with many tourists, and you can have a nice break there, dine, enjoy a drink, and walk around the town.
 Day 5: Courmayeur – Val Ferret
The fifth day begins with 800 meters of walking up a steep hill for approximately 2 hours, which is not that challenging.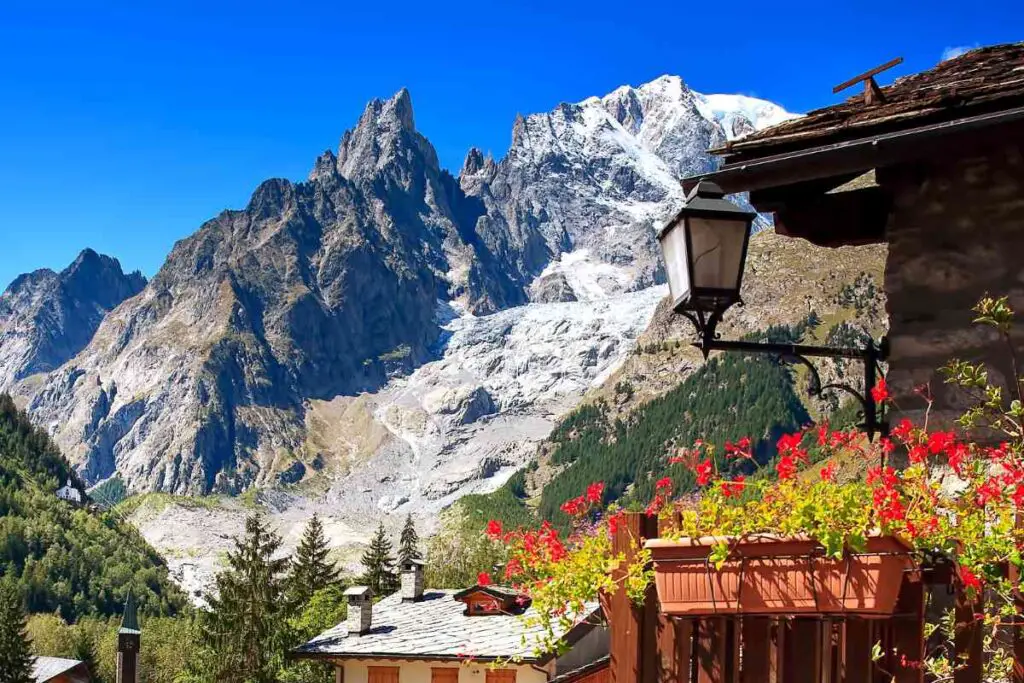 The hike from Courmayeur, at 1224 meters, to Refugio Bertone which is at 1996 meters, is mostly through a lovely forest area full of pine trees and it takes you along the Val Ferret, in between Italy and Switzerland.
When you get to the Refugio at the top, you can decide whether or not to complete the variant, which goes up 500 meters more and is 100% worth it.
Elevation Profile (Gain): 800 meters of elevation gain
 Day 6: Val Ferret – La Fouly
On your sixth day, you'll walk an easy 4-hour trail from Col Ferret to the little town of La Fouly, where you can try the delicious local cheese and other delicacies they offer.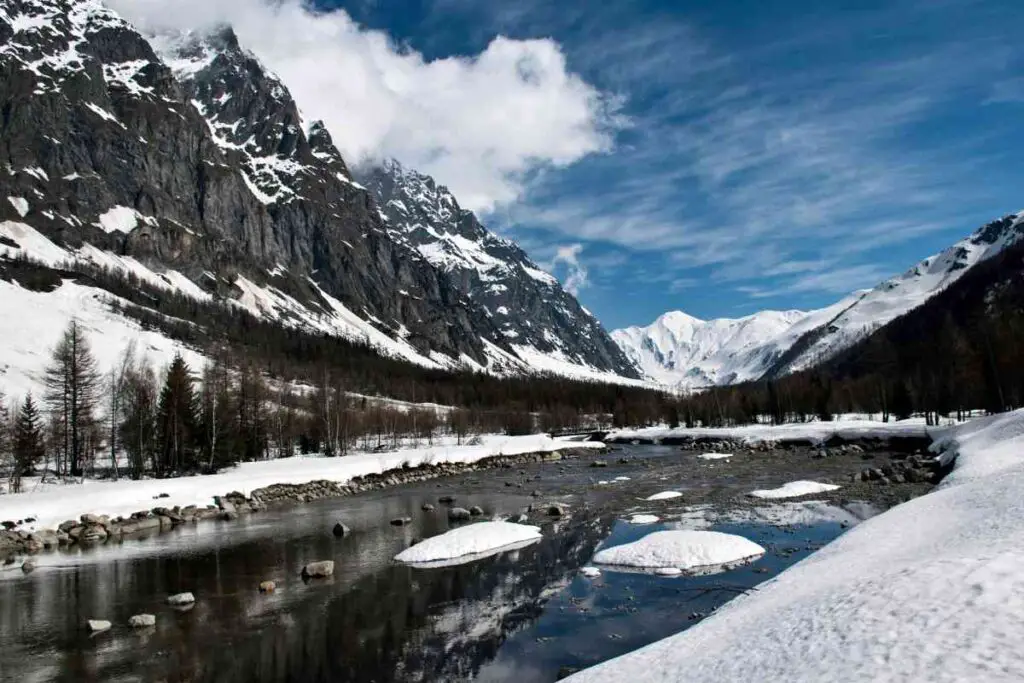 An easier uphill walk all the way to a col will have you literally standing between France and Switzerland! As you descend, you'll realize that the meal prices in the different Refugios skyrocket but spending some money on food there is worth it.
Day 7: La Fouly – Champex-Lac
This is a pleasant day with a hike through beautiful alpine grasslands and Swiss rural areas. You'll finish your day in Champex-Lac, an idyllic Swiss settlement with a lovely lake where you can swim on a hot summer day!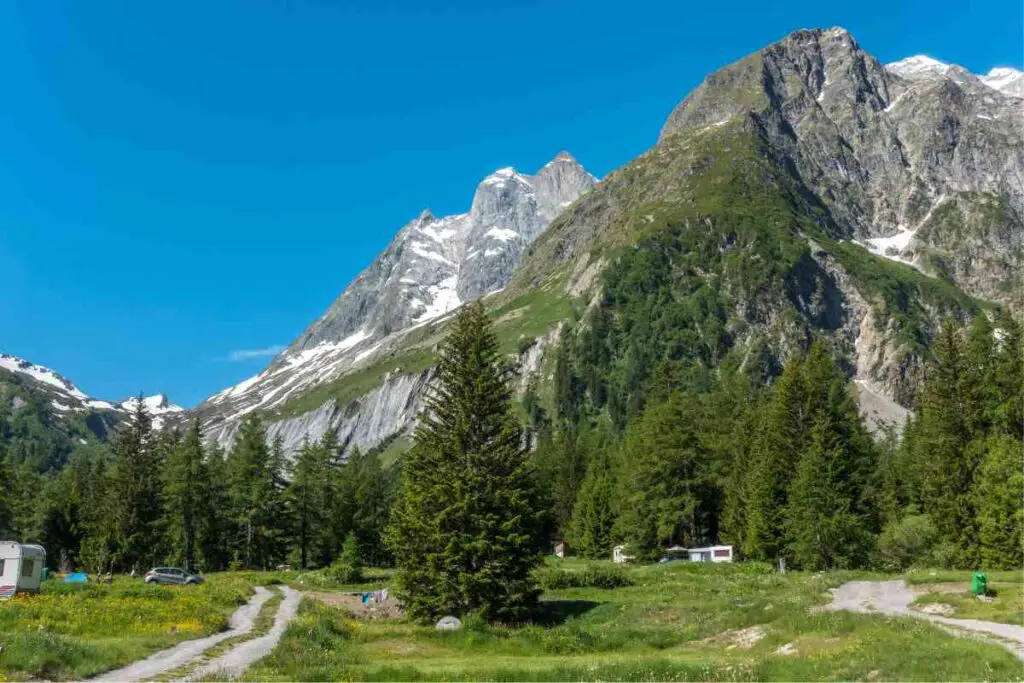 There are also many towns to stop in between, so despite the relatively short hike (in comparison to the 8-hour ones on other days), you need to take into account the hours you'll spend exploring the towns.
Elevation Profile (Gain): 637 meters of elevation gain
 Day 8: Champex-Lac – Trient
After a wonderful night in Champex, you can move on with your journey and begin the long but easy ascent to Bovine. From that point, you can descend to Trient via the Col de la Forclaz.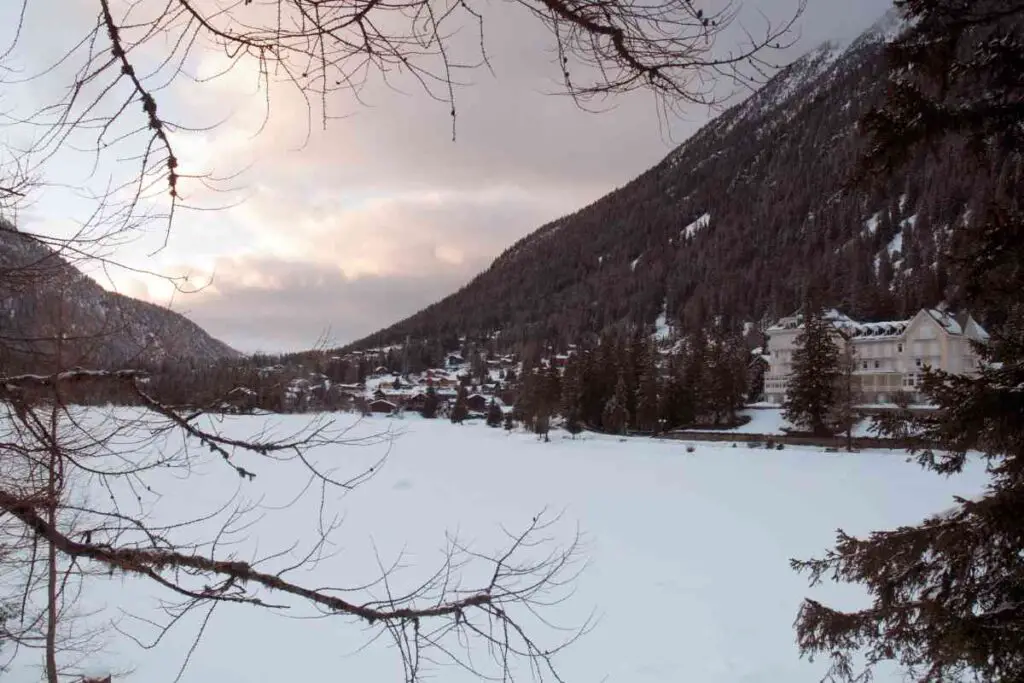 This day begins fairly flat before climbing approximately 1200 meters. The 1200-meter climb isn't too difficult, and when you get to the top, there is also a cute spot to eat lunch and take in the views.
There are no grocery stores in Trient or La Peuty, so restock in Champex or enjoy your meals in any of the Refugios along the way.
Elevation Profile (Gain): 1200 meters of elevation gain
 Day 9: Trient – Argentiere
The penultimate day starts early in the morning with an uphill trek up to Col de Balme, which offers Mont Blanc on a plate.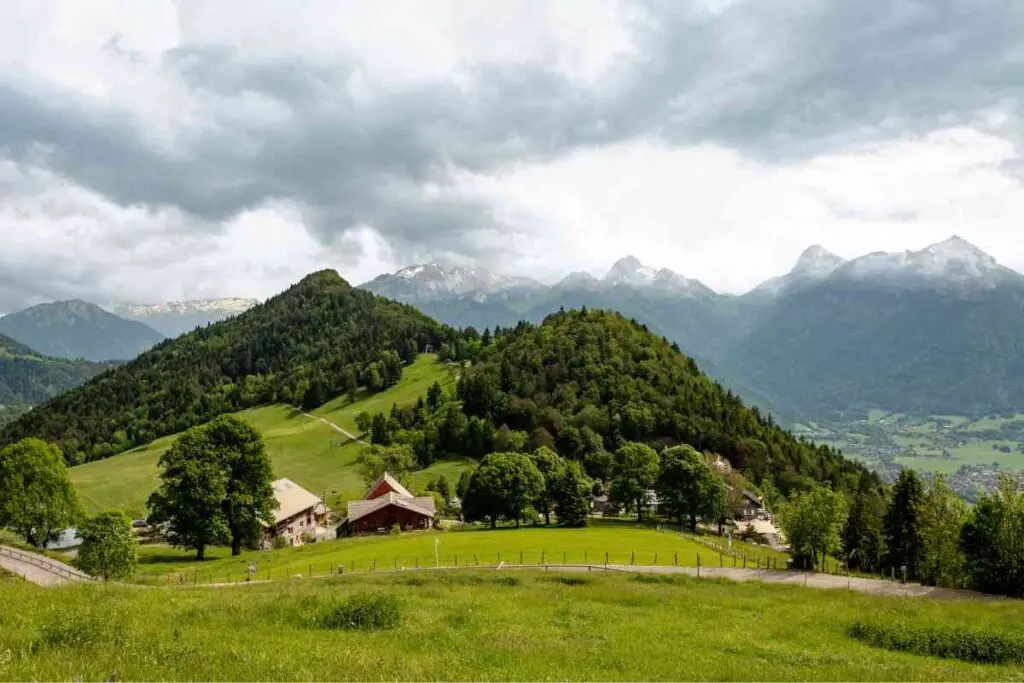 There's also a variant that takes you up to Col des Possettes and the Aiguillette des Possettes peak that you can take, while the downhill to La Tour will mark the end of the hiking part of the day, leaving you time to relax and unwind.
Elevation Profile (Gain): 1180 meters of elevation gain
 Day 10: Argentiere – Chamonix
The last day of your tour offers either the chance to ascend over Lac Blanc on some daring stairways or choose the standard and easier route.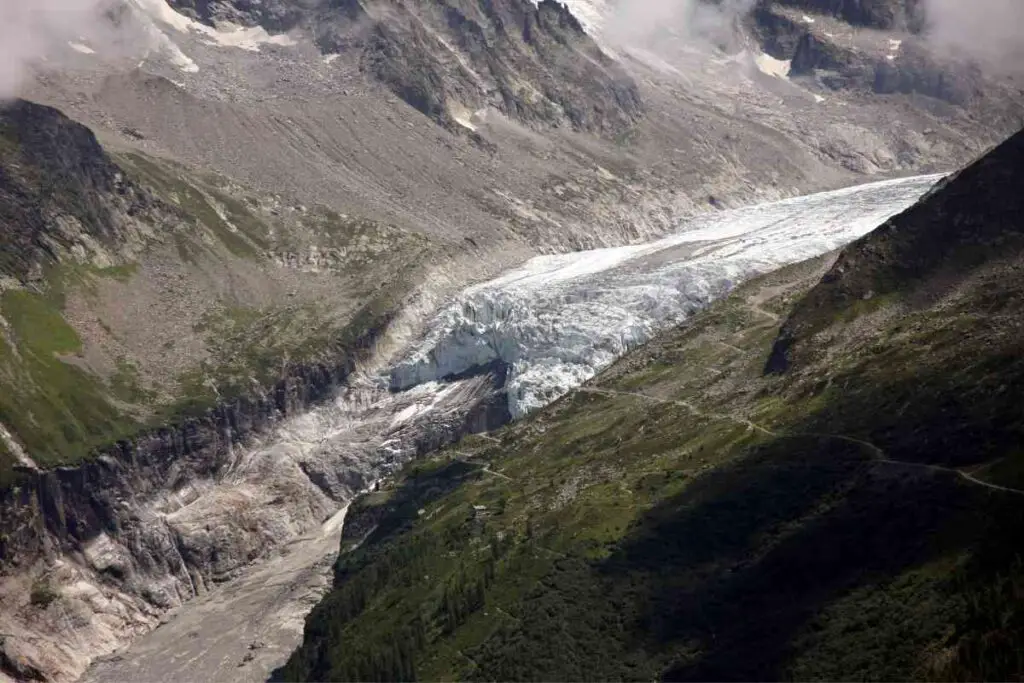 Some of the most breathtaking views are being enjoyed in this last stage of the trip, which will finish with a downhill walk with Chamonix as the final destination.
Elevation Profile (Gain): 1260 meters of elevation gain
Tour Du Mont Blanc Tour Options
There are both guided and self-guided tours you can join to complete the Tour du Mont Blanc, and depending on what you choose to do, the costs will be different.
Here are some examples of guided and self-guided tours offered:
Tour Du Mont Blanc Map
Mont Blanc Treks offer several maps such as those of the easterly and westerly circuits as well as one of the full circuits around Mont Blanc, and a chart of the elevation profile of the tour.
Tour Du Mont Blanc Packing List
If you are planning on camping throughout the tour, you need to make sure you are packing as light as possible as you will be carrying the extra camping equipment with you which includes a tent and a sleeping bag, as well as a sleeping pad.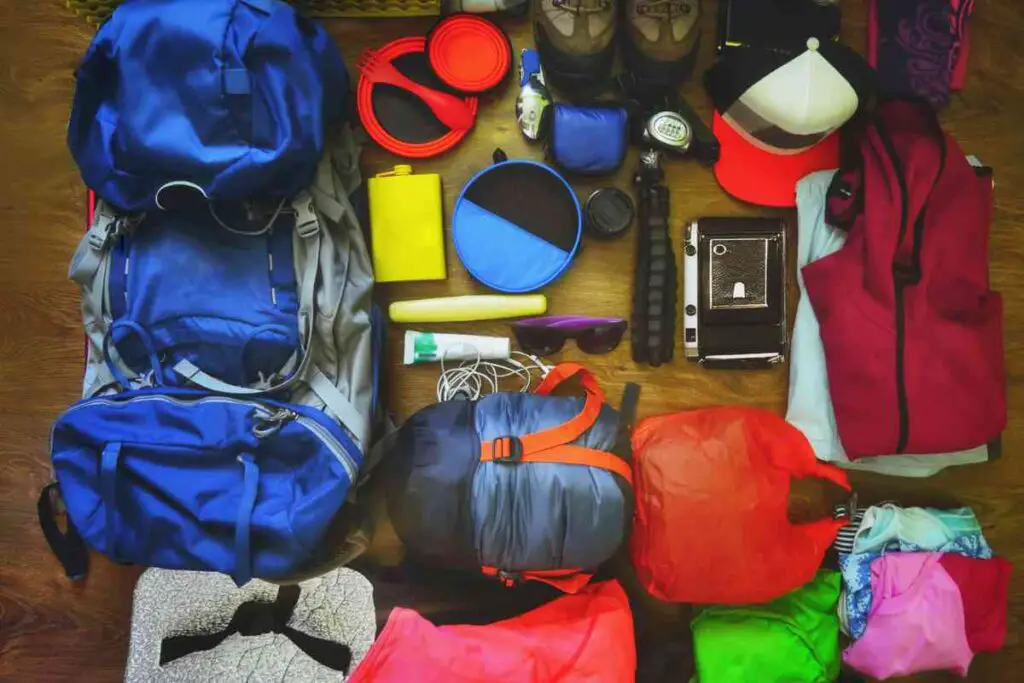 The rest of the things you need to carry are:
Water bottle
Clothes: fleece or sweater (depending on the weather), extra socks and underwear, shirts and shorts, and long trousers.
Accessories: bandanas, caps, headlamp
Microfiber towel
Power adapter
Suncream
Torch
Cash
Passport and/or ID
When To Hike the Tour Du Mont Blanc?
The best time of the year to walk the tour du Mont Blanc is in the summertime when the climate is softer, the sun is up, and all ice has melted.
Given its high altitude and Alpine winters, going there in the summer can guarantee you a good night's sleep when you choose to camp for the night as well as warmer weather for your hike.
Training For Tour Du Mont Blanc
Depending on which path you take, you should train and get ready for a little more or a little less strain on your legs and work accordingly on your cardio fitness level.
No matter how many variants you choose to hike and how fast or slow you choose to go, you need a great fitness level, so you either have to train consistently for months, even years, before embarking on your journey, or be very athletic and fit.
Previous experience with long-distance hikes will also make this trip easier, but this does not mean you won't need to prepare for it just because you hiked coast to coast in the UK years ago!
Tour Du Mont Blanc Accommodation
A common question and topic of discussion among hikers to-be of the Tour du Mont Blanc is that concerning the lodging options.
To begin with, there are numerous places to spend the night. If you have a lot of money, you have a plethora of choices.
However, if you'd like to complete your journey without breaking the bank, you can either choose camping or stay in one of the many refugios or guesthouses.
Tour Du Mont Blanc Refuges
A Refugio is a refuge, also called a mountain hut. It is basically a mountain hostel with simple interior decoration and amazing food!
Many Refugios offer private rooms, however, some of them only provide shared hostel-style lodging.
Tour Du Mont Blanc Camping
You also have the option of setting up camp every night. Clearly, it will be the most cost-effective option, but it is also one that allows you to experience this adventure in the best way possible, as it kind of completes the overall experience.
Furthermore, you won't have to worry about making any reservations, as you can simply arrive at the campground and find a spot to set up your tent.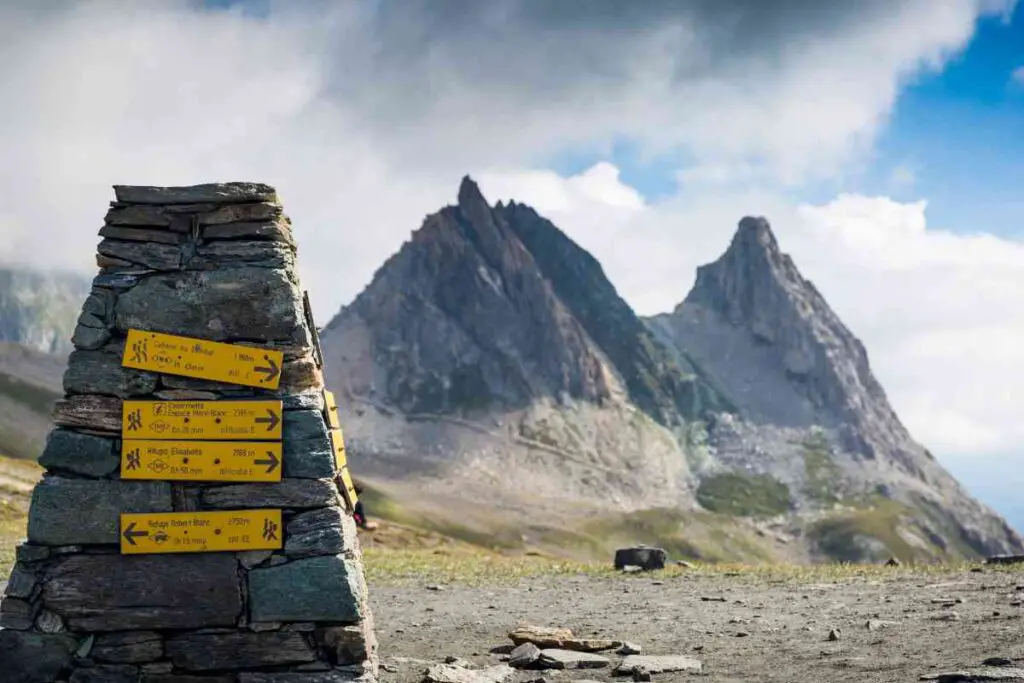 There are numerous ways to organize your trip, in addition to the several accommodation alternatives.
Many people prefer to schedule and plan things on their own, including booking their own accommodation and transporting all their belongings, but sometimes it is better to have some assistance.
During the peak tourist season, which is in July and August, it is preferable to let somebody else book your accommodation and luggage transfers.
Even so, keep in mind that if you choose to stay in accommodations rather than go camping, that means you'll have to pay in advance and do your best to stay committed to the planned itinerary.
Any delay or injury incident might mean you can lose a night's stay and, hence, money spent on a room you won't stay in after all.
On the other hand, if you do the hike off-peak season, you can always make a same-day booking as it is always available in most hotels and guesthouses.
Either way, this website of the Tour De Mont Blanc is very useful for planning your stay throughout the tour.
You can select your intended destination and a precise date, and it will display a list of accommodation options you can stay in, which would include the walking distance from one to the other.
The Bottom Line
The Tour du Mont Blanc is without a doubt an epic multi-day hike on this planet and experiencing this journey is something you will remember forever.
The good thing is that you can always visit this destination again and if you go there on a guided tour the first time, challenge yourself by going on a self-guided tour the next one!