If you are the kind of person who loves hiking, then chances are you enjoy the pastime for the fresh air, beautiful landscapes and the opportunity to immerse yourself among the great outdoors.
So if you are a hiking enthusiast who is looking for a new adventure, then we have everything you need to experience some of the most beautiful hiking trails that the United States has to offer. 
In this article, we have compiled a list of the best hikes in North America, from the mountainous terrain of Colorado to the rugged ledges of the Maine coast.
Not only are these hiking trails known for their breathtaking scenery, but they are also the perfect way to meet fellow hikers and start conversations, as well as create some wonderful memories that will last for years to come. 
So take a look down below and see what hike will become your next adventure! 
West Maroon Creek Trail 
Location: Colorado 
Distance: 10 miles (point-to-point)
Colorado is known throughout the world for its beautiful hikes, with the Rocky Mountains being a must-see site for both locals and visitors alike. However, there is one hiking trail that many hikers consider to be the best and it's called the West Maroon Creek Trail. This 10-mile hike takes you through a bountiful glacial valley, where you will soon find yourself overlooking the world-famous Maroon Pass. 
Known for its amazing sites and stunning scenery, the Maroon Creek Trail is probably best enjoyed during July, when the wildflowers transform the rocky terrain into a vibrant carpet of shades of hues. 
Harding Icefield Trail 
Location: Alaska 
Distance: 8 miles (round-trip)
Located in Kenai Fjords National Park, this 8-mile hiking trail transports hikers to a long-forgotten world of woolly mammoths and sabre-toothed tigers.
Featuring a steep 4-mile climb, this trail takes hikers from valley floors to snow-dusted forests before depositing them at the edge of the Harding Icefield – an enormous sheet of ice that stretches over 300 miles of land. 
Beyond this, the trail also provides picturesque views of Resurrection River and the Exit Glacier and has been known to shelter black bears during the warmer months. So make sure you are up to date with bear safety before you go. 
Precipice Trail 
Location: Maine 
Distance: 1.6 miles (round-trip)
If you are the kind of hiker who wishes to experience mountainous landscapes and ocean views, then you should add the Precipice trail to your bucket list.
Situated in Acadia National Park, this trail takes hikers along steep narrow ledges that skirt the eastern face of Champlain Mountain, providing stunning (and nauseating) views of the spectacular Maine Coast. 
Although this particular trail may be one of the shortest hikes on our list (1.6 miles round-trip) it is not for the faint of heart. Not only does the journey encompass vertical climbs and uneven terrain but it's also very high and may not be suitable for people who are scared of heights. 
Angel's Landing Trail 
Location: Utah 
Distance: 4.8 miles (round-trip) 
The next trail on our list can be found in Zion National Park, where it remains one of the most impressive and beautiful hikes in the whole of Utah.
Featuring a 2.4-mile trail that leads hikers along the course of the Virgin River, this hike allows locals and visitors to experience the Angel's Landing – a 1,448-foot rock formation that includes one of the most stunning 360-degree views in the United States. 
Known for its tall heights, the National Park Service recently reinforced the trail with chain fences, making this thrilling hike more safe and enjoyable.
However, we do recommend that you take plenty of water, as the trail can reach elevations of 6,000 feet, which means dehydration could be imminent. 
Kalalau Trail 
Location: Hawaii
Distance: 11 miles (point-to-point) 
Located on one of the most beautiful islands in the world, the Kalalau Trail cradles the Napali Coast and can lead adventurous hikers to a secret beach that is only accessible by land or water.
Known for its beautiful views and idyllic beaches, the 11-mile hike takes hikers through a variety of different environments, from lush tropical forests to volcanic valleys and salt-sprayed cliffs. 
When travelling to Kalalau Beach, hikers may also encounter a dirt path that will lead them to an inland grove, which is abundant in ripe fruit trees that you can pick to your heart's content – just make sure to leave some for the other visitors! 
Mooney Falls Trail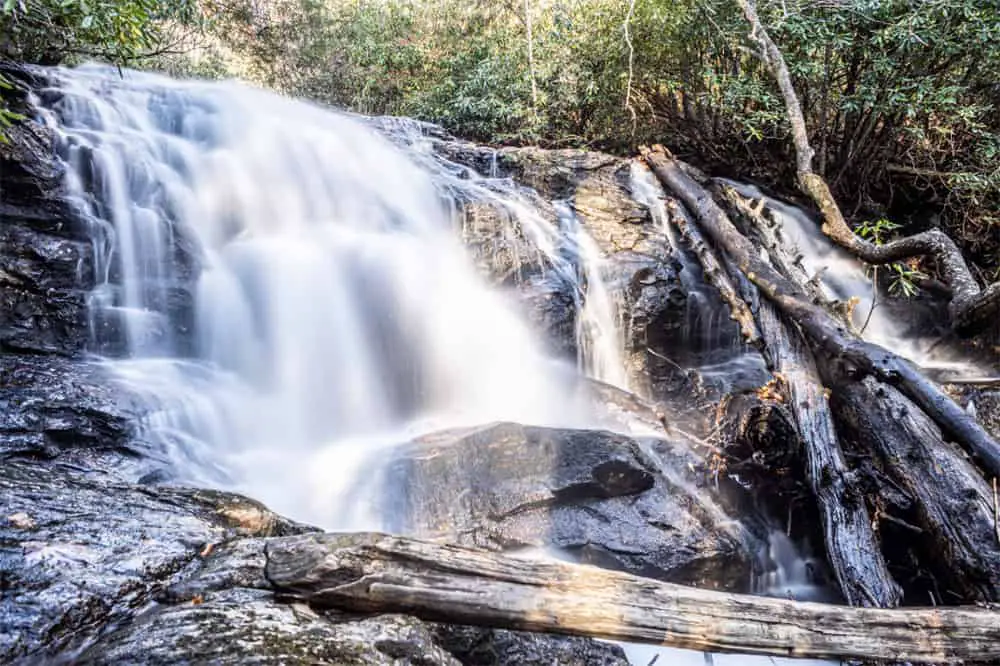 Location: Arizona
Distance: 6 miles (round-trip) 
Sometimes all we want to do is go on an adventure and there is no hiking trail more adventurous than the Mooney Falls Trail.
Situated in Grand Canyon National Park, this hike is characterized by its thrilling terrain, with the route featuring two travertine tunnels, steep iron ladders and anchored chains that allow you to grip the vertical rock face.
Known for its stunning views, the final reward for completing this hike is an azure plunge pool, which remains hidden among the red rock of the canyon walls. 
If you are interested in tackling this trail, then there are guest lodges in Supai and a campground at the two-mile marker.
The hike is also a great excuse to experience all that the Hualapai Canyon has to offer, from Navajo Falls to the authentic Native American village. 
Red River Gorge Trail 
Location: Kentucky 
Distance: 500 miles (trail system) 
Known as a popular destination among daredevils and rock climbers, the Red River Gorge Trail is located in Kentucky and offers some of the most unique views in the whole of the United States.
Known for its distinctive rock formations, this hike follows a canyon system alongside the Red River and features hidden caves, stone arches and sandstone cliffs, unlike anything you have ever seen before. 
Offering a Jurassic hiking experience, this hikers also contains numerous paths and trails, each with its own unique features and views.
One of your personal favorites is the Bison Way Trail, which takes hikers to the aptly named Indian's Staircase, which offers full panoramic views of the gorge and the surrounding wilderness. 
The Highline Trail 
Location: Montana 
Distance: 7.6 miles (point-to-point) 
The next hike we would like to recommend is the Highline Trail, which is currently located in Glacier National Park. Following the length of the Continental Divide, this hike is probably one of the flattest on our list and features aerial views of Lake McDonald and the surrounding glacial meadows.
Just make sure the route is open before planning your trip, or you could find yourself stuck in the wilderness with nothing to do. 
Because the trail is based in Montana, it has been known to cross through Grizzly territory, although you are more likely to see a mountain goat than a fully-grown bear. However, we do suggest taking bear spray just to keep things safe. 
John Muir Trail 
Location: California 
Distance: 211 miles (trail system)
At 211 miles, this is probably one of the longest hiking trails you will ever encounter, although you don't have to cover the full distance to experience this amazing hike.
Beginning in Yosemite Valley, this trail takes hikers through Ansel Adam's Wilderness, Devil's Postpile National Monument and Kings Canyon before ending at the peak of Mount Whitney – which stands at 14,497 feet and is considered the highest point in the whole of the contiguous United States. 
If you want to experience this trail to its full potential, then we recommend choosing one of the parks it runs through and spending a day there.
This way you can fully immerse yourself in the great outdoors and embrace all of the natural beauty that California has to offer. 
Greenstone Ridge Trail 
Location: Michigan 
Distance: 40 miles (point-to-point) 
Situated on Isle Royale (the biggest island on Lake Superior) the Greenstone Ridge Trail is a high ridge course that takes hikers from one end of the island to the other.
Along the way, backpackers will see stunning views of the cobalt blue lake, as well as the 400 other islands that also make their home in the lake's cold waters.
Considered one of the lesser-known trails in America, you will probably traverse Isle Royale alone, making it the ideal destination for solitary hikers. 
If you are interested in making this trail your next adventure, then you will be able to fully explore the island thanks to the 36 campgrounds situated there, allowing you to fully experience the 40-mile trail across the span of five days. 
Nugget Falls Trail 
Location: Alaska 
Distance: 2 miles (round-trip) 
For the final trail on our list, we have what is probably one of the smallest hikes we have covered.
Based in Tongass National Forest, this hike encompasses only a small portion of what the park has to offer, which includes 700-miles of trails, hidden caves, dark forests and swampy bogs that can be traversed using helpful wooden walkways.
Although the Nugget Falls Trail is comparatively simple when compared to the hikes we have discussed, it does offer remarkable views of the surrounding waterfalls and glaciers, transporting hikers back to a time where humankind had not yet left its mark on the world. 
Ideal for nature lovers, this trail is also home to a variety of native species, such as the mighty Bald Eagle, Sockeye Salmon and, of course, black bears. Just make sure you keep to the mapped out paths and we promise you'll be fine.