Located in northeastern California is one of the country's most unique hiking spots – Lassen National Park. Lassen National Park is most famously known for the Lassen Peak, which is the world's largest plug dome volcano, as well as the other volcano types exhibited around the park – cinder dome, shield, and stratovolcano. 
As one of the most underrated hiking spots in California (especially in comparison to sights like Yosemite and Mount Rainier), there is still so much to explore at Lassen National Park.
This park is teeming with history, science, geography, and an abundance of breathtaking scenery. 
Here are the best places to go hiking in Lassen National Park!
Bumpass Hell (via Cold Boiling Lake)
The park's largest hydrothermal area is known as Bumpass Hell – a round-trip hike that features steaming vents, bubbling warm pools, and warm pots of mud.
There are two ways to walk this trail, but we recommend taking the longer route via Cold Boiling Lake. The other route, the Bumpass Hell Trail, is 3 miles long. 
The route via Cold Boiling Lake is 5.2 miles long and takes you on a roundtrip across both Bumpass Hell and another hydrothermal area known as Cold Boiling Lake. As the name suggests, this lake is cool and bubbling, making for a relaxing pit stop. 
This trail takes around 2 to 3 hours to complete and is most suitable for moderate to experienced hikers. The reason it's not ideal for beginners is due to the lack of toilets and shade, which some beginners aren't adequately prepared for. Plus, injuries can occur as a result of the acidic boiling water or if you wander off-trail. 
Summit Lake Loop Trail
If you happen to be camping at the Summit Lake Campgrounds, there's no better way to start your morning than to walk the Summit Lake Loop Trail. This is undoubtedly the easiest and most beginner-friendly trail in Lassen National Park, as the whole trail is flat and takes 30 minutes to complete. Make yourself a coffee and take a lovely morning stroll as you watch the sunrise over the beautiful lake!
Lassen Peak 
Are you even an experienced hiker if you've not at least attempted to hike Lassen Peak? Lassen Peak is a plug dome volcano that last erupted in 1915, and it's certainly not the climb for the faint of heart. With an 8,500-foot-high trailhead meeting the 10,457-foot-high summit, be sure to wear gripping shoes and take your time with this hike. 
Hikers will experience an array of tricky terrains to tackle, from switchbacks to rugged pockets of trees. The views are astounding as you hike the trail, but the real standout view is when you reach the summit. With a 360-degree panorama of the whole park and what lies beyond it, you'll be kicking yourself if you forget to bring a camera.
To make the most use of these views, the best time to hike this trail is in summer – though this is also the busiest time. 
You've got to prepare yourself for a lack of shade, toilets, and a lot of wind. Make sure to bring a warm jacket and ensure to reapply sunscreen often.
If it's not too windy at the summit, you might notice a rotten egg smell that indicates the volcano is still active. 
The Lassen Peak trail is 5 miles long out and back and takes 4 hours to complete. 
Kings Creek Fall Trail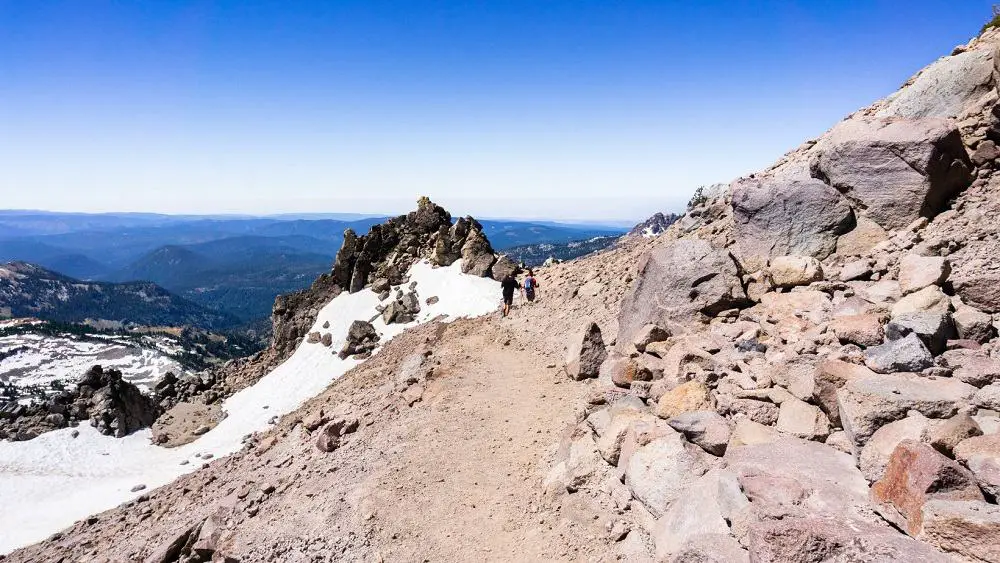 Kings Creek Fall Trail features one of Lessen National Park's most impressive waterfalls. This is a 3-mile circuit trail that is ideal for hikers of all skill levels, taking roughly 1 and a half hours to complete. Although the waterfall itself is the standout feature of this hike, the entire trail is riddled with stunning natural beauty – from the calming Lower Kings Creek Meadows to a rocky canyon that's super fun to climb. 
The waterfall itself has several viewing platforms depending on how close you want to get to the waterfall. There is also an option to go slightly off-trail to climb down to the base of the waterfall just to take in the height of the rocks. 
As well as the natural sights, Kings Creek Fall Trail is also home to an array of native wildflowers (depending on when you go) and an abundance of local wildlife, including Clark's nutcrackers and mule deer. 
Manzanita Creek Trail
In the northwest of Lassen National Park, the Manzanita Creek Trail offers a huge array of scenic sights, from the views of background mountains to the large Manzanita Lake in the foreground. When the sky is clear, you can see Lessen Peak and Chaos Crags from the safety of the low trail. 
This trail is 1.5 hours long and is mostly flat, making it ideal for hikers of all skill levels. Families are particularly fond of this trail as it's not too strenuous for kids, but gives them enough of a chance to explore. 
Manzanita Creek Trail is undoubtedly the best trail in Lassen National Park for those who love wildlife. Wildlife photographers will hike this trail to catch glimpses of ducks, geese, and woodpeckers along the shore of the lake.
It's also common to see otters, deer, beavers, and – if you're lucky – a mountain lion or two. 
Plus, the park's largest campsite is near this trail, so hikers have access to toilets and eating facilities. 
Brokeoff Mountain Trail 
One of the longest trails in the park, Brokeoff Mountain Trail is 7.4 miles long out and back. This is a strenuous 5-hour long trail that is most ideal for experienced and moderate hikers who crave a bit of solitude away from tourists.
Brokeoff Mountain trail has it all – from dense woodland areas to remote mountainous scenery. 
Once at the top of the mountain, this trail offers clear sights of Lassen Peak and the national park itself. Hikers are recommended to carry bear spray with them, as black bears are often spotted wandering around the woodland areas.