So you love hiking, you can't get enough! You're relaxing at home and you want to watch other people's experiences and stories. 
But you're finding it hard. Which ones should I watch? Where do I find them?
Relax, we got you covered. Take a seat and let's explore – what are the best hiking documentaries?
Mile… Mile And A Half
This feature length documentary records an artist group taking on the hiking challenge of the John Muir Trail in California.
That's over 200 miles (Yosemite to Mount Whitney.) They task themselves to finish the challenge within 25 days whilst documenting the natural beauty of their surroundings on the way. 
It has fantastic cameratography and is a far cry from a home-made movie. It captures the real hiking experience with all its fun, exhausting elements and adventure.
If this documentary doesn't make you want to lace the hiking boots up and head for the door, then nothing will! 
Our rating: 4.5/5 stars 
Only The Essential: A Hike From Mexico To Canada On The Pacific Crest Trail
For hikers, this journey is an absolute dream. This documentary follows two hikers; Colin Arisman and Luke Kantola. They met whilst both hiking the trail (mile 109) and became firm friends. Arisman was already about a week in with footage, but Kantola soon became an avid cameraman and the documentary had begun. 
During the 2659 mile trail, they meet new friends, face new challenges and wild weather. This 40 minute long film will inspire you and at times, make you feel emotional. Highly recommended. 
Our rating: 4.5/5 stars 
Six Million Steps
Another journey across the Pacific Crest Trail. This documentary shows hikers trudging the challenge across 3 states enduring pleasure and pain. 
It explores the hikers' decision to ditch their everyday lives for a while in search of real adventure and in doing so covering the famous six million steps in 165 days. 
The adventurers face tough times and ecstatic happiness while they attempt to reaffirm their human faith. It's a really beautifully shot documentary with excellent scenes being covered along the journey. 
For any hiking enthusiast, this is a great watch that captures the true experiences of a challenge to such magnitude. 
Our rating: 4/5 stars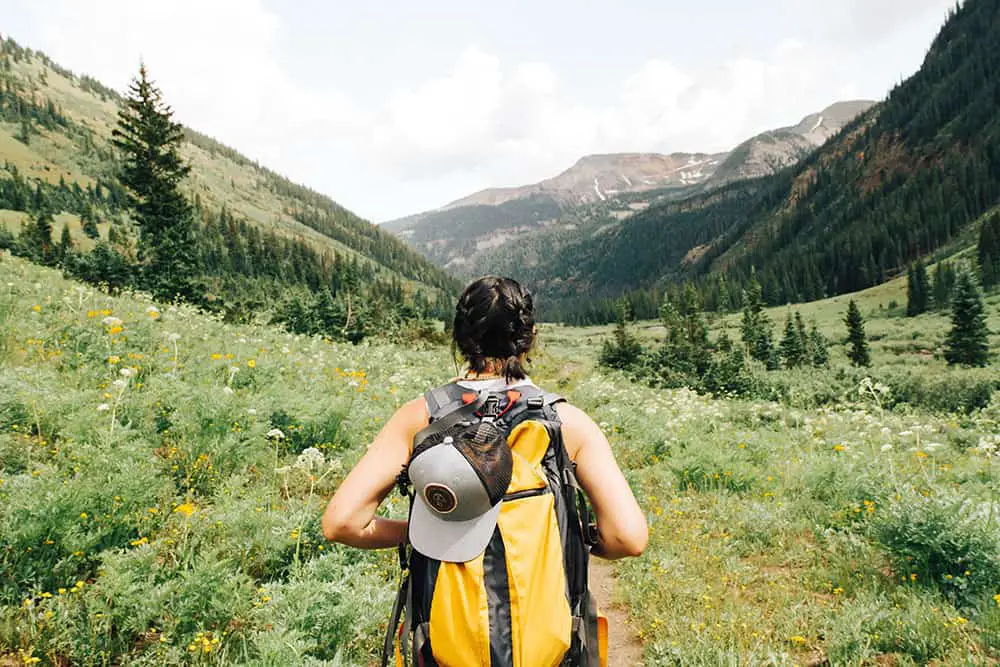 180 Degrees South: Conquerors Of The Useless
This adventure undertaken by Jeff Johnson was inspired by the original 1968 hike completed by Yvon Chouinard and Doug Tompkins.
The journey depicts Jeff heading to Patagonia with the ultimate aspiration to ascend Cerro Corcovado, a huge Chilean mountain. 
This idyllically filmed film is paired with an inspirational and apt soundtrack.
Stopping at iconic settings like Easter Island, you find that the film takes you along the journey with Jeff and you begin to understand the unity with nature and the world that allows you to live within it. 
Our rating: 4.5/5 stars
Through The Great Southwest 
A wonderfully filmed documentary that leads us along The Arizona Trail. An historically and geographically important hike, those that have trekked this trail know of the difficulties that are paired with the glory. 
You feel yourself getting behind the hikers, urging them along. The subtle difference with this film compared with others is that it centres its attention on the filming process as well as the subject they're filming about. 
It captures the diverse nature of the trail which welcomes hikers, bikers and adventurers of all kinds. It does a great job of explaining the history of the land and its importance, and as viewers, you feel more at one with the mission. 
Our rating: 4/5 stars
Figure It Out On The Hayduke Trail
This is a docuseries that portrays Alex Maier accepting the challenge of an 800 mile hike over Utah and Arizona.
Each episode shows the struggles Alex faces, as he tries to use skills and methods learned to survive on the trail and maybe incorporate them into his home life upon his return! 
It's a real feel-good docuseries that provides us with lessons and inspiration. We begin to understand that actually, the world is bigger than our town/city and there's A LOT we don't know or understand. 
Our rating: 5/5 stars
Paul's Boots 
The Appalachian Trail is an absolute dream for the true hikers of the world. Some manage to fulfil that dream. For Paul, it remained a dream. Before he could complete it, he sadly passed away. 
Paul's wife, M'Lynn decided to fulfil Paul's dream for him. Living in her husband's boots, she takes on the mammoth task of the 2,189 mile journey.
To help her succeed, she's joined by a small group of experienced hikers, who not only struggle with the physicality – but also the emotion of the objective. 
A truly inspirational and heart-breaking story of true love and dreams, this will certainly make you want to attempt the journey. 
Our rating: 5/5 stars 
The AT Experience 
This unsurprisingly has received multiple awards. This one and a half hour documentary takes us with Andrew and fellow hikers across the Appalachian Trail.
Their stories are captured in a way we begin to identify with each and every one of them on a more human level. 
Battling against the changing weather, landscape and wildlife – Andrew and co's journey shows us exactly why so few people have ever completed these trails to 100%. 
Our rating: 4/5 stars
Honorable Mention: 127 Hours 
127 hours isn't a documentary but it needs to be included for its importance. The movie is based on the true story of Aron Rolston, who headed out hiking in the Canyonlands National Park, Utah. 
After becoming trapped with his right arm in a boulder, and nobody who knew he was even gone – he must decide on his next steps… or risk dying. 
It's directed by Danny Boyle and stars James Franco as Aron, so huge star power for your viewing pleasure! 
We hope this list has given you some ideas for what to watch – enjoy!