Although this coastal city is mostly known for its music, Mardi Gras, and delicious southern cooking, you might be surprised to find that New Orleans actually offers some gorgeous hiking opportunities!
There's plenty of scenic walking trails in and around the bustling central areas, but to really hit the beautiful spots, you might have to take a short drive to the countryside. 
Handpicked to provide you with the best views, the following sightseeing highlights are a mix and match of both near and far destinations, so you'll have somewhere to check out whatever your circumstances.
New Orleans City Park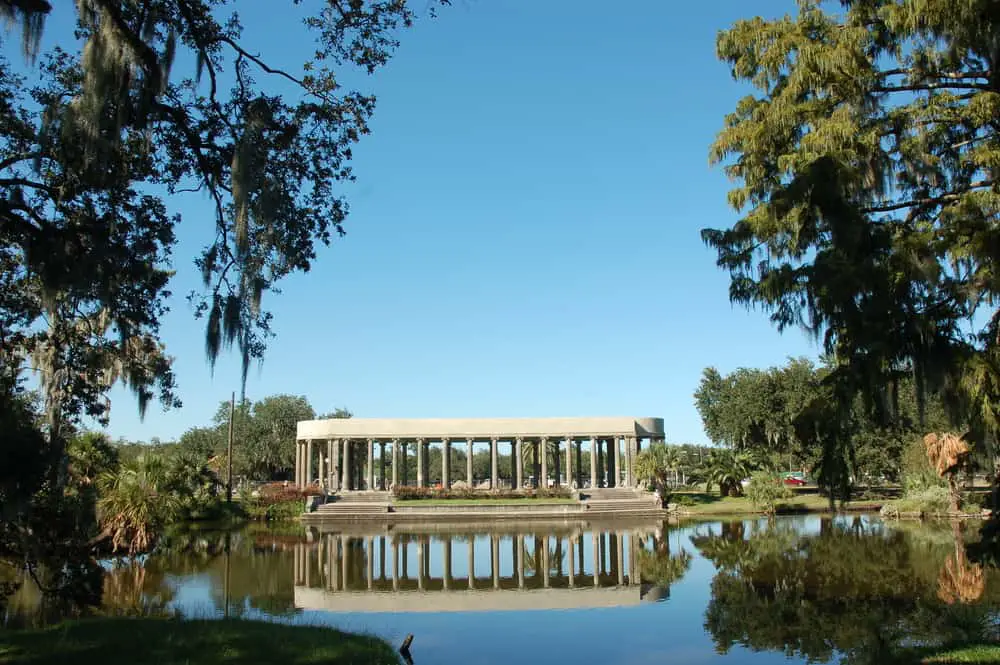 Perhaps the city's most popular natural attraction, the City Park really does have something for everyone.
From the Carousel Gardens Amusement Park to the Botanical Gardens, there are over 1300 acres to explore – so it's definitely worth going back a few times, as you won't see it all in just one day.
Hike-wise, the Couturie Forest and Arboretum is perfect for an afternoon hiking through scenic waterways, a variety of native trees, and of course, some captivating wildlife.
Put it this way – it isn't unusual for a birdwatcher to spot over 40 different species in a single walk!
As it's home to the highest point of elevation in New Orleans, Laborde Mountain, you might want to take advantage of the useful sherpa and oxygen hire facilities, as being 43 feet above sea level can leave you feeling a little cold and breathless.
Mississippi River Trail
Often abbreviated to MRT, as well as being known as US Bicycle Route number 45, this designated zone for pedestrians and bikers alike winds all the way along the Mississippi, from its headwaters, Lake Itasca in Minnesota, to the river's mouth, found in Venice, Louisiana.
Split into three main sections – Northern, Southern, and Central, respectively – you can walk along both sides of the river, the most popular part is equally traversed by tourists and locals and takes you all the way from Audubon Park to Bonnet Carre Spillway.
Flat, well maintained, and patrolled by rangers regularly, it's not a particularly intensive afternoon of hiking, but it's one the whole family can enjoy, whether on foot or pedaling.
Audubon Louisiana Nature Center
Free to enter and open seven days a week between the hours of 8 AM and 4 PM, Audubon Nature Center is smack bang in the center of East New Orleans, and its three glorious walking spots are not to be missed.
If you fancy something shorter by the sea, you can take the mile-long boardwalk hike for a salty breeze and breathtaking views. Prefer to be off the beaten track?
You have two longer, two-mile trails to choose between, which wind around a more secluded area but both circle back to the Nature Center's main campus.
Whilst you're there, why not check out the awe-inspiring Planetarium, botany center for budding horticulturists, and family education programs they also have on offer?
The Nature Center isn't just a place to take a walk, it's a free day out for the whole family, though you may have to pay for some of the attractions.
Brechtel Park
Renovated back in 2011 to rebuild native ecosystems and restore the lagoon, Brechtel Park is another glorious New Orleans spot, found nestled up in between two of the Mississipi's bends.
It is home to many birds and fish and is considered a major spot on the Louisiana Wetlands Birding Trail.
With a thick border of hardwood forest trees to guide you, it's open seven days a week from 8 AM to 5 PM, so there's plenty of time to navigate the 110 acres with plenty of hiking trails to check out, each offering various levels of difficulty. 
There are also playgrounds, benches, and picnic tables so you can have a rest and let the kids run wild for a little while when you're done walking.
It's worth noting that there aren't that many signs for the trails, nor is it easy to know how long each one is in person, so do your research before heading over there!
Bayou Sauvage National Wildlife Refuge Ridge Trail
Giving inner-city urbanites the opportunity to mingle with nature close to home, allowing those Americans who don't get that many chances for hiking an experience amongst the wildlife that they won't soon forget.
Their most popular hiking spot is definitely the Ridge trail, with a looped boardwalk extending for three miles, boasting beautiful views of some stunning bottomland forestry and creatures hiding in their marshland habitats. 
Perhaps the most exciting thing about BSN is the chance to get relatively up close and somewhat personal to gators in their natural habitat, though it goes without saying that you must absolutely not feed them at any point!
It is advisable to stock up on bug spray, sunscreen and plenty of drinking water – there's not much shade to take refuge under, and there are plenty of critters around who'll want to chow down on your sweaty skin.
Jean Lafitte National Historical Park and Preserve
Scattered across six different sites, this beautiful and historic parkland has a plethora of hikes, trails, forestry, and other fun family activities to enjoy – you're sure to find something everyone on your trip will enjoy!
There are six main walking trails to choose from, ranging from 1 to 7 kilometers in length; the 26,000 acres of preserve include marshes, swamps, bayous and boardwalks, so your surroundings are new and exciting the whole time.
Using the various pathways, you have a chance to find a variety of animals, with more than 200 species of birds and a constantly changing exhibit of plants, wildflowers and trees that make perfect photo opportunities.
Take a self-guided tour, walk with a dedicated tour guide or even use your smartphone to lead you around the trails, check out the visitor center, enjoy all of the free and kid-friendly activities and exhibits… the possibilities are endless and all free!