Bali is home to some of the most beautiful scenery in the world and a visit to this exotic place will bring you fun, relaxation, new experiences and fantastic food.
Spread throughout this magical land you will come across beautiful beaches, towering temples, forested volcanic mountains, infamous rice paddies, spectacular waterfalls and more!
There's so much going on there, there is something for everyone. While many holidaymakers like to visit Bali for its serenity and use the trip to relax and unwind, if you are a more adventurous traveler, you just have to try out one of the many hiking trails dotted around the island.
A hiking tour across the Indonesian island is the best way to immerse yourself into the authentic, natural side of this island paradise.
Even if you aren't a keen hiker, don't be put off, there's a trail available for all levels, so everyone can experience the island's true beauty.
Mount Agung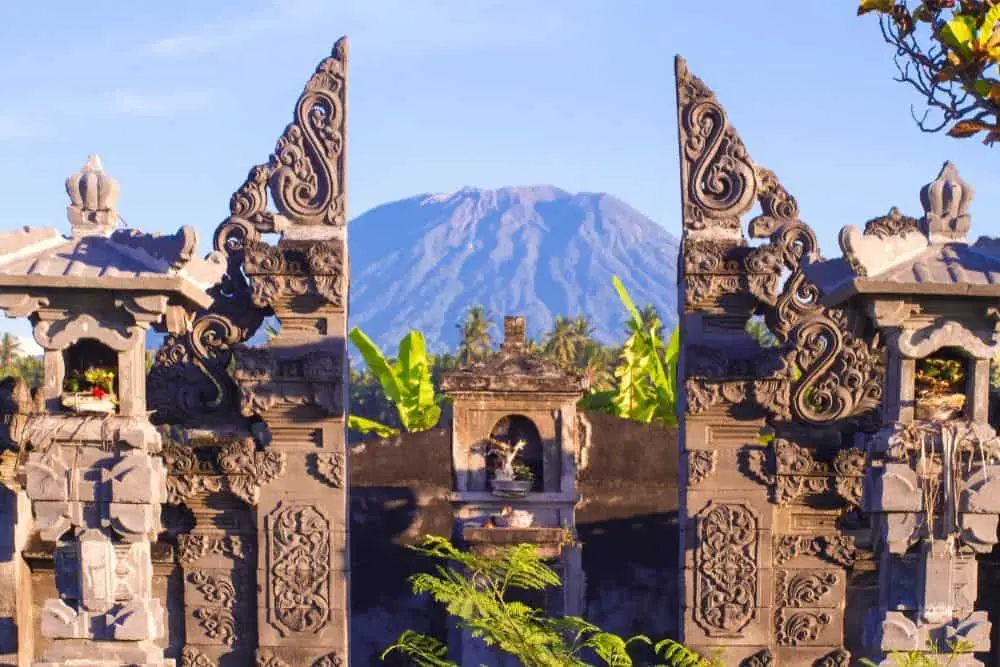 Mount Agung is the highest peak in Bali at a breathtaking height of 3, 031 meters. It is also considered the island's most sacred point as it is home to Pura Besakih, Bali's Hindu mother temple.
This is certainly one for the adrenaline junkies among us as conquering this summit will take four to five hours from Pura Pasar Agung or six to seven hours from Besakih.
Along this hike, you will experience awesome views. Lots of people like to start the hike super early to witness the sunrise at the top.
On top of these gorgeous warming scenes, you will also have a view of the majestic Mount Rinjani, Lake Batur and the Caldera Batur crater.
In terms of difficulty and fitness level required to undertake this hike, it's very physically demanding and can be steep/ hard to navigate at times, so this one is really best suited to very confident and experienced hikers.
Mount Agung pre-hike information
Where is it? – Mount Agung is situated in Jungutan, Bebandem in the Karangasem Regency
How much does it cost? – The price of this hike is about INR 7,000 per person which is less than a dollar!
How do you climb it? – You can choose from two routes:

4-5 hour hike – leaving from Pura Pasar Agung in the south
6-7 hour hike – leaving from Besakih temple in the west. This is a much more challenging hike and required trekking through the jungle of Besakih before taking on the climb

What else is nearby? – If you're looking for something to do after your hike, or somewhere to grab a bite to eat, you can visit the village of Sebudi near the temple
Mount Batur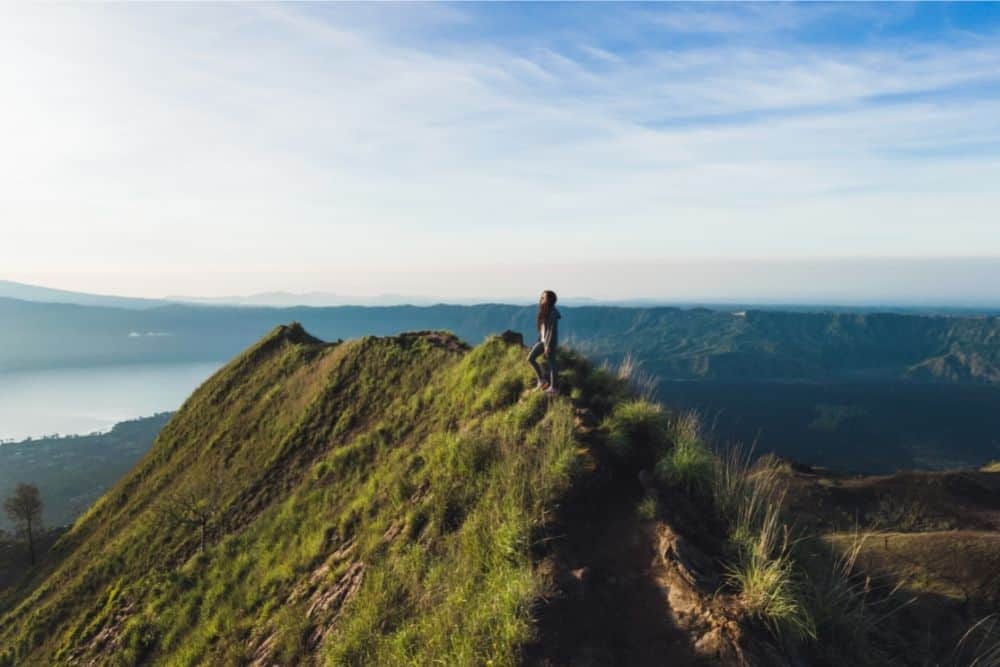 Mount Batur is an active volcano and the second-highest peak in Bali at an impressive height of 1,717 meters above sea level! It's also one of the most famous hiking routes in Bali as it provides incredible views from the top.
Most commonly, hikers will wake up early and begin their hike in the dark so that the heavenly sunrise greets them at the top – the views are truly breathtaking! You will also be able to see Mount Rinjani and Caldera Lake from the top.
While Mount Batur is the second-highest peak in Bali, if you are generally fit and healthy, you shouldn't find this hike too difficult.
Typically, the entire hike will only take you around two hours depending on your fitness level, how quickly you walk, and if you take any breaks.
Mount Batur pre-hike information
Where is it? – Mount Batur is situation in the Bangli Regency
How much does it cost? – The price of this hike is about $60 per person
How do you climb it? – Commonly hikers will hire a tour guide for this trek and will start at Pura Jati or Toya Bungkah which is a two to three-hour hike to the top depending on fitness, walking speed and breaks etc.
What to do once you've reached the top? – lots of hikers like to camp on Mount Batur once they have climbed it. This way they get to experience the mystical views at sunset and gaze at the stars at night
West Bali National Park
The West Bali National Park is situated at the edge of the island and is home to a whole host of plants and animals, many of which are endangered.
This is the perfect hiking trail for animal lovers, but it really has something for everyone. Throughout your trip you will come across rainforest, beaches, dive sites and more.
Spot unique animals such as the endangered Bali starling as well as iguanas and wild pigs. You really will experience pure tropical beauty throughout the entire trek – a must-see during your visit to Bali!
Sambangan Secret Garden Waterfall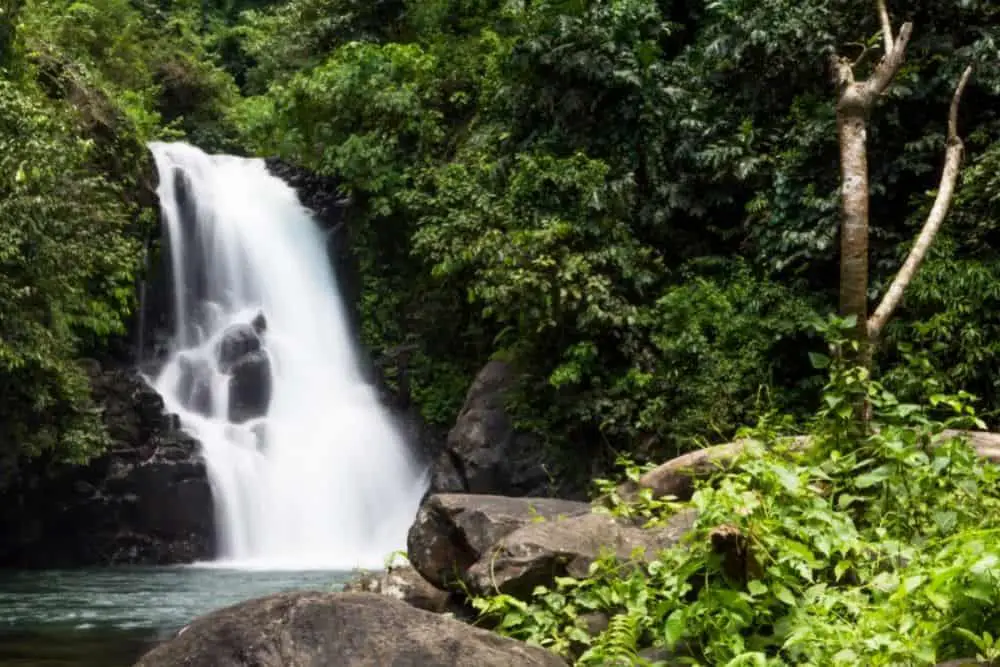 If you're looking for something a little more off-grid, the Sambangan Secret Garden Waterfall trail is a truly blissful experience.
Situated north of the island, this hike features incredible scenery including three cascading waterfalls: Kembar, Pcuck and Kroya.
Along the trail you will also come across a dreamy Blue Lagoon, perfect to take a dip in to cool off after walking in the heat.
This hike is a spiritual experience for sure!
Lake Tamblingan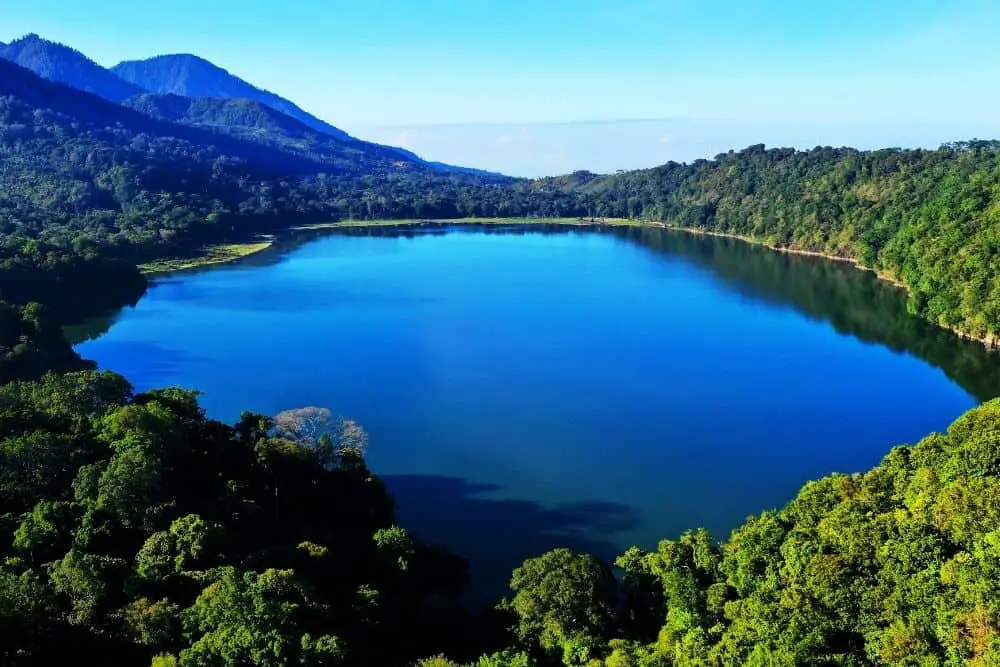 Lake Tamblingan is situated in the mountainous region of Bali is a place called Munduk. It's common to do the guided trek through the tropical rainforest that surrounds the lake. Then, you can even cross the lake by traditional dugout canoe.
On your hike you will witness jungle, beautiful fruit trees and rice paddies as well as the glorious lake itself.
The different hiking trails can take from two to six hours depending on which route you choose. Some trails are harder to navigate than others but there's something for everyone, even children on the shorter trails.
What to Bring with You on a Hike
Flashlight
Walking shoes
An extra layer of clothing as it can be very cold at the top
Sunscreen