When it comes to your camping trip, there are a lot of things you need to think about. For instance, you need to make sure you have all the parts of your tent and plenty of clothes.
However, you also need to be aware of what kind of food you are going to be bringing with you also.
We have put together this guide, to let you know what good you should be bringing with you on your camping trip.
What To Bring Camping Food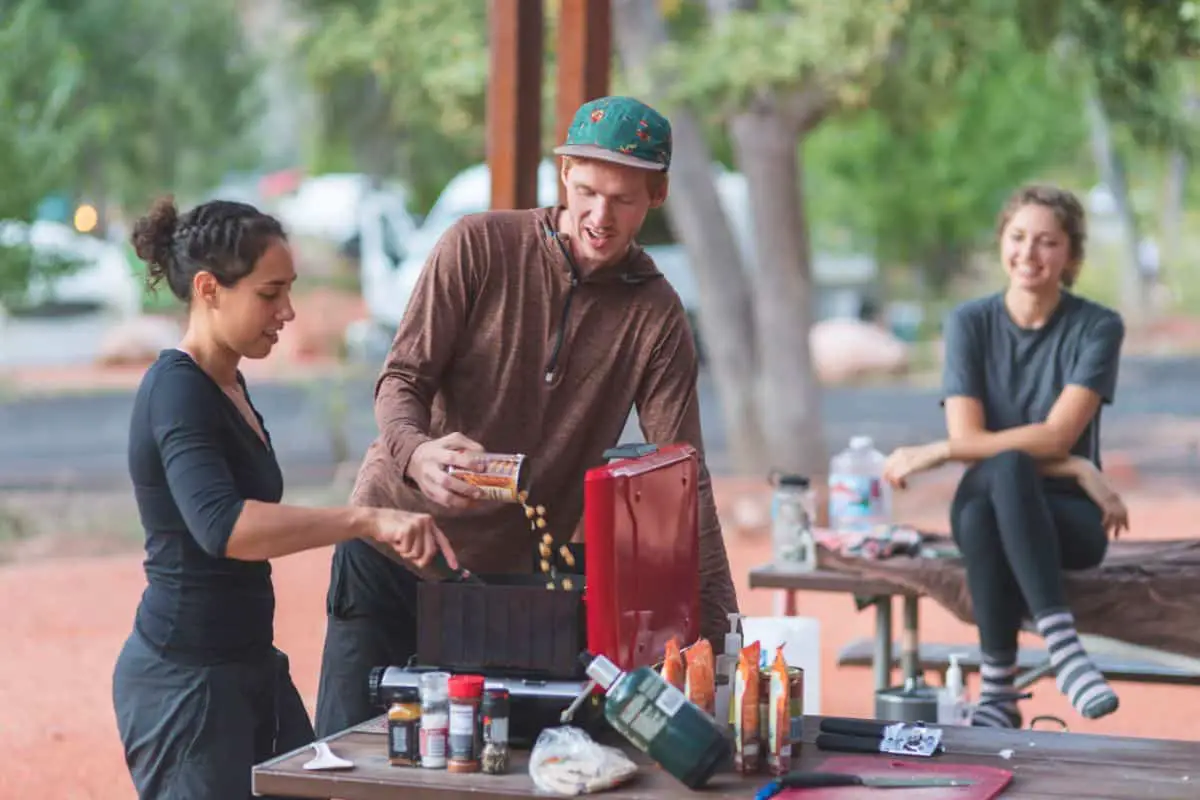 What you decide to bring with you on your camping trip shouldn't be that worrisome. It's all about bringing some staples, such as bread and pasta and adding some fresher foods as well, such as fruit and vegetables.
There are lots of foods that you can choose from, but it depends on whether you are bringing a cooler with you or not. You want to ensure that you are bringing foods that cover all the food groups.
Some main things you will need to think about are the following:
Proteins, such as meats.
Fruit and vegetables.
Carbohydrates like bread, rice and pasta.
Dairy
However, you don't want to forget to think about the drinks you want to bring along with you. In addition to any little treats you enjoy snacking on.
Further on in this article, we have thought about every situation possible, so that you will know what food you can bring with you.
Camping Food You Don't Have To Refrigerate
If you are going camping and won't have any access to a fridge, you need to make sure that you keep your food in the shade, so that it will last longer and won't spoil.
Also be aware of foods that don't need to be refrigerated until they have been opened. As you will want to also avoid these products.
Some products you should consider taking includes the following:
Meats – Canned meats (beef, chicken fish, or ham), Pepperoni, Beef jerky, summer sausage, and precooked bacon.
Canned Soup
Nuts
Peanut Butter
Milk – Powdered or evaporated milk.
Eggs – In a lot of countries they don't need to refrigerate their eggs, therefore you should be able to take them camping with you. However, remember to keep the theme in a shade when not in use.
Hard Cheese
Dried Fruit
Fresh and vegetables – Just remember, do not cut your fruit up before you leave, as this may make the fruit go off quicker.
Grains – Pasta, rice, cereal premade pancakes, instant potatoes.
Bread
Condiments – Jars of sauces, seasonings, oil, honey and syrup.
Camping Food For A Week
If you are going camping for a week and need to pack 7 days worth of food. Then in this situation, it is best to make a meal plan.
This way, you will know exactly what you are eating every single day. Then you can know exactly what food you need to bring with you.
In addition to that, you don't want to be creating really complicated meals while you are camping for a week. Sometimes simplicity is much better, however it can be difficult to know what you will want to eat a week in advance.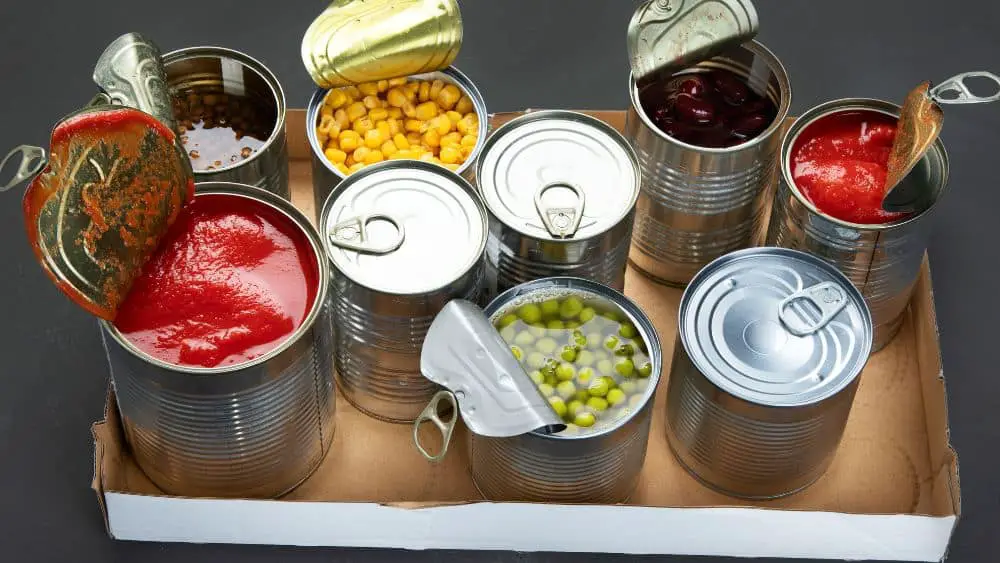 When it comes to breakfast, you could stick to cereals or fruit all week. However, you could switch it up and have a fry up consisting of sausage and bacon one day.
Lunch is normally the hardest meal to prepare for, especially if you need to prepare it in advance if you are doing an activity that day.
Easy lunches such as sandwiches, wraps, grilled cheese sandwiches are ideal. In addition to that, you could have any leftovers from the previous night as your lunch.
Dinner can be a lot of fun to plan, as there are lots of choices. You should keep it simple, such as hot dogs, kebabs or burgers. However, tin foil dinners are always popular, when you bake vegetables and fish in tin foil.
Why not also try chicken and rice.
When it comes to camping for a week, it's best to plan your meal in advance. This will then let you know how much and what to bring with you food wise.
Camping Food: Without Cooler
If you don't happen to have a cooler that you can bring with you while camping, then you need to be careful what you are bringing with you. Thus, you need to avoid items of food that ask to keep them cool or to be refrigerated.
Similar to the section above that talks about what to bring if you don't have a refrigerator. You need to avoid foods that will spoil easily.
Therefore, you need to stick to fresh fruit and veg, and canned meats. You will be surprised how many products don't need to be kept cool.
Camping Food: Hot Weather
If you happen to go camping, and you know you are going to suffer with really hot weather, then you need to watch your food.
This is because it can easily spoil in the hot weather, as the majority of microorganisms thrive in hot weather conditions.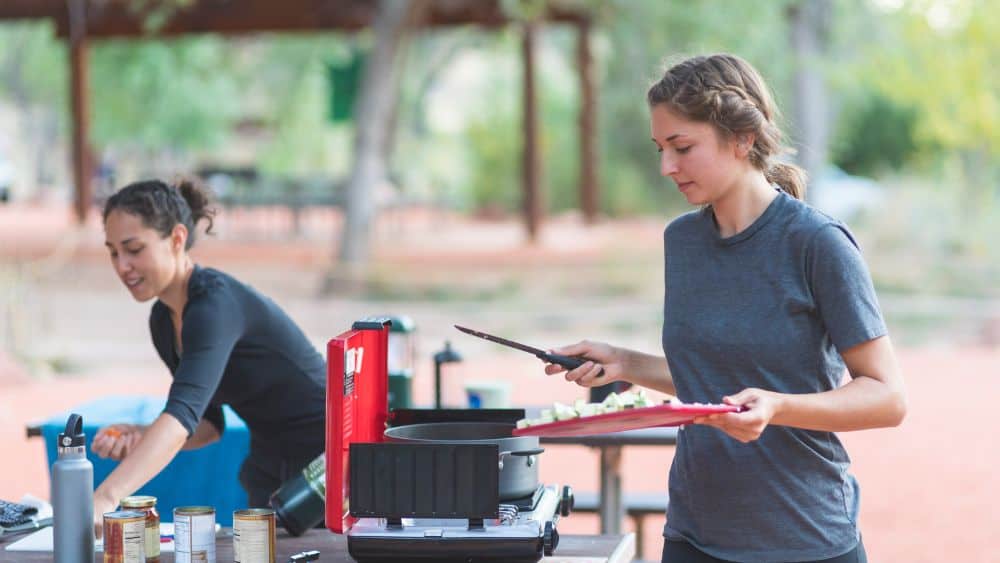 As a result, when it comes to camping, it's best to eat your cooked food straight away after you have cooked them. In addition to that, you should leave any raw foods in a cooler until they are needed.
This will ensure that they stay at a nice cold temperature, where micrograms can't spoil them and make them dangerous for consumption.
You need to keep a close eye and take extra special care when it comes to raw meats left in humid conditions. Thus, your cooler should be left for just raw foods and perishables.
However, once you take something out of the cooler, then you ought to use it. Otherwise, the item of food will spoil quicker.
Canned goods that ideally have low sugar and sodium contents are ideal to bring along with you. This can be canned meats, vegetables and fruits, as these items of food won't spoil.
However, it is best that you make sure they are stored in the shade, just to ensure that their flavor isn't affected by the heat.
In addition to that, you could always cook certain foods before you leave. That way, all you need to do is reheat the meals once you are on your campsite.
This is a great thing to do, if you are nervous about keeping raw meats and other products in your cooler.
With that being said, if you are going camping, and you know it is going to be hot, you really do need a cooler.
You can get away with not having a cooler, but if you decide to bring with you perishables and raw meats, then it is safer for you to keep them in a cool place such as a cooler until they are needed.
Camping Food: No Cooler, No Cooking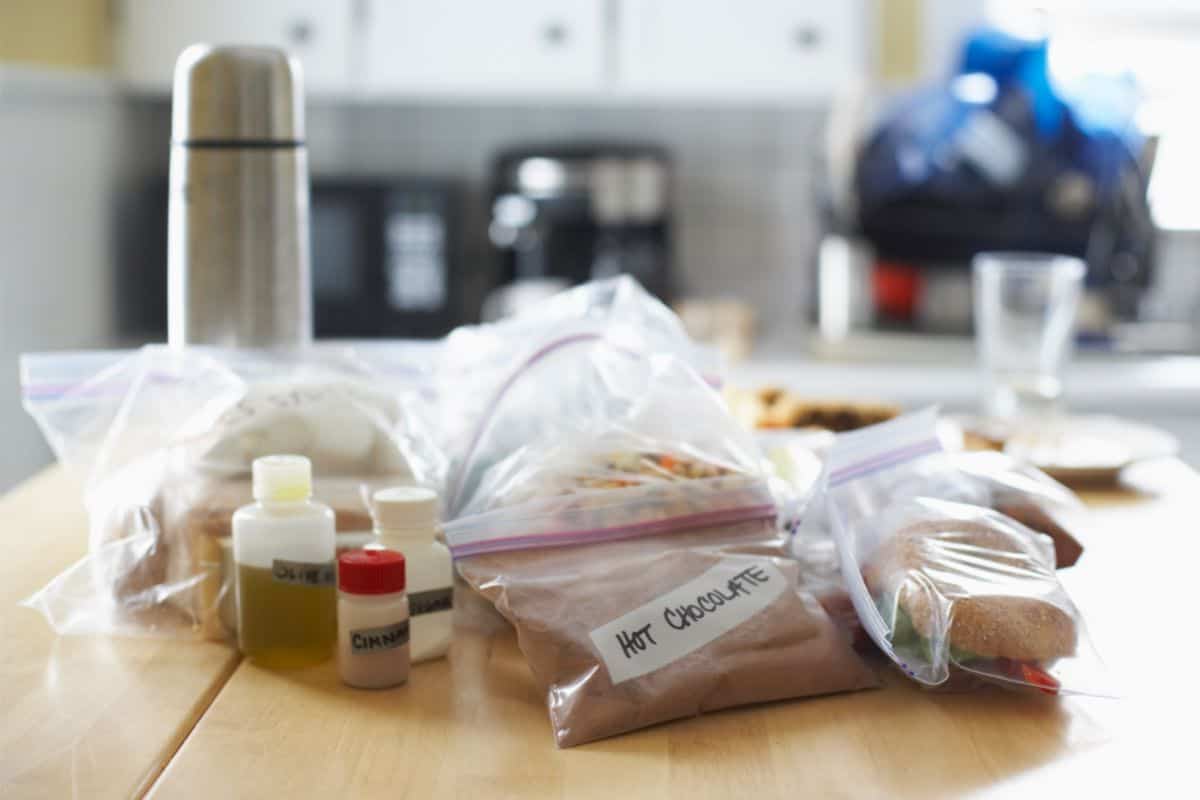 Not everyone wants to cook while they are away. Thus, it is common for people to go camping and not want to cook. In addition to that, not everyone wants to bring a cooler with them as it takes up more space in the car.
As a result, if this sounds like the kind of camping trip you want to be on, then when it comes to your food packing list, you want to make sure you pack foods that don't need to be kept cold.
Once again, it is best to make a food plan for the week. This will ensure that you don't over pack, but also give you an idea on what you will be doing, food-wise, all week.
Fresh and dried fruits and vegetables are really versatile and can be used for all three meals. Then, if you want to bring meat products with you, then you will need to look into canned or pre-cooked meats.
Yet, these can also be used for both lunches and dinners.
Keep In Mind – Grains such as granola or cereal are ideal for breakfast. Alongside that, think about bringing powdered or long life milk for your breakfast and any hot beverages you wish to take with you.
With that being said, if you really want to cut down on the gear you are bringing, why not try pre-made or mixed meals. It is your choice whether you eat these meals cold or heat them up by placing them in the sun.
Yet they taste great and don't require any cooking at all.
Camping Food Necessities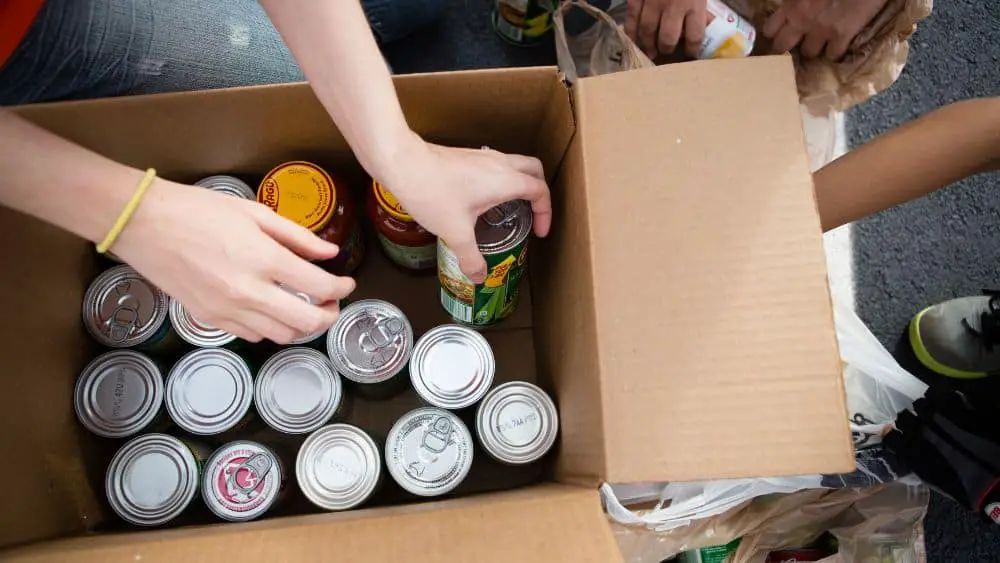 No matter whether you are going camping with or without a cooler, there are some necessities you need to think about.
Dry Foods – One of the main necessities you need to consider are your dry foods such as cereal, bread, rice and pasta. You don't need to bring one of each, but you want a couple of these dry foods to help create your meals. These are also foods that will give you plenty of energy.
Milk – You'd be surprised how much milk we actually get through every week. Therefore, you need to consider how you are going to prolong the milk you bring with you while camping. Usually, this is some sort of powdered milk, which can be used in tea, coffee or as a milk for your cereals in the morning. Although, you could also consider long life milk which has a lid, making it easy to use again and again.
Eggs – It is a misconception that you need to refrigerate eggs, but you don't have to. Therefore, there's no reason why you can't bring eggs with you. They are a great source of protein and fuel that can be eaten at any time of the day.
Tinned foods – If cooked can be a lifesaver as they don't have to be refrigerated and there is a wide range of food available in canned form. Thus, you can purchase canned meats, soup, beans and even fruit.
Jars – We may talk a lot about canned foods, but don't forget about your jars, either. They are also a necessity as they don't need to be stored in a cooler. In particular, stir in sauces can elevate any dish to make it taste even better.
Condiments – Don't forget about your sauce like mayonnaise or ketchup that you use on a daily basis. Alongside that, jams, and peanut butter are great to have on hand to have something a bit different one day.
Drinks – If you drink tea, coffee or hot chocolate on a daily basis, then don't forget to pack that as well. They are a great morning or evening drink. Or you can even pot up and take it with you to enjoy during the day.
Your essential list isn't too exhaustive. You need to make sure that you have the right balance of nonperishable foods that will help you to create delicious meals.
The last thing you want is lots of fresh foods that go rotten quickly.
Camping Food: Wild Packing
When it comes to wild camping, there is a guideline to follow on what you can and can't bring with you. You can still go on wild camping adventures, but that doesn't mean that your food has to suffer.
Therefore, you will notice that there is no processed food, but instead there is a focus on highly nutritious and flavored foods instead.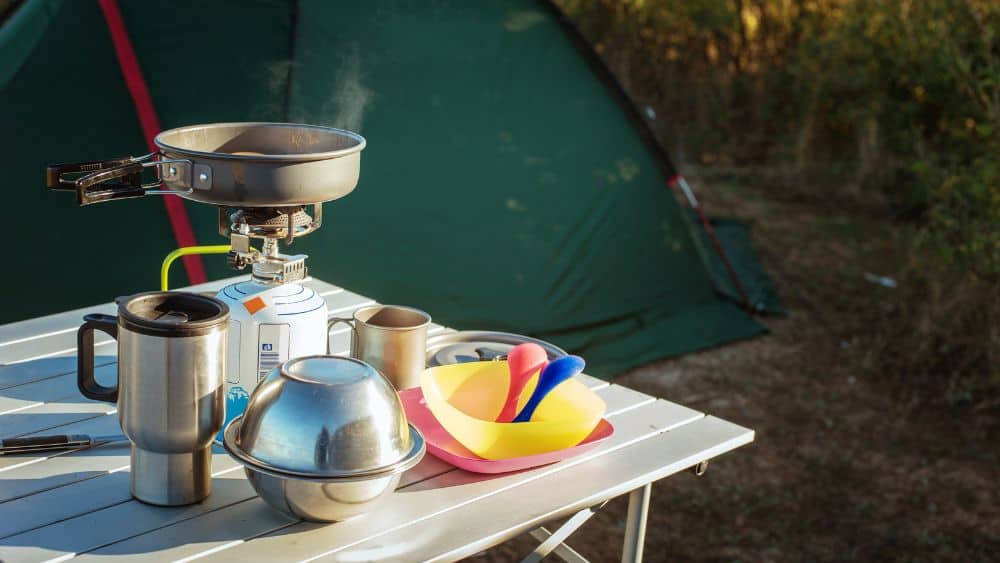 When it comes to breakfast, bring along granola, powder milk and fresh fruit. Or try oatmeal with some of your favorite toppings like jam, honey, nuts, berries or seeds.
However, you can also have a hot breakfast one day as well. You can have a fry up, toast or pancakes served with your favorite sides. 
For lunch, it can depend on the weather and what you may be dancing. Sandwiches are easy, but they aren't always the most exciting.
Especially after a couple of days, you can get bored by eating the same thing. Therefore, try switching it up with a soup.
Bring along a can of your favorite soup that you can reheat on the stove in the morning, put it in a thermos and have it still warm when you are ready later in the day. 
Also, why not try a meze type of lunch full of bread cured meat olives, cheese and dips. All preserved well, don't need a fridge, and continue to taste great.
Then, when it comes to dinner, quick cooking grains such as pasta, polenta, pre cooked rice etc., are great alongside an easy protein such as cured meat, eggs or tinned tuna.
Then you can serve these dishes with vegetables. In addition to that, any leftovers you have from your dinner can be your lunch for the next day.
3 Day Camping Trip Food
No matter how long you are going camping for, whether it is for days or over a week, you may worry about what kind of food you should be taking with you.
For a 3-day camping trip, you are going to want to bring items of food that are suitable to be cooked over a campfire. You also want to include some on the go meals and snacks for your days out when you aren't at the campsite.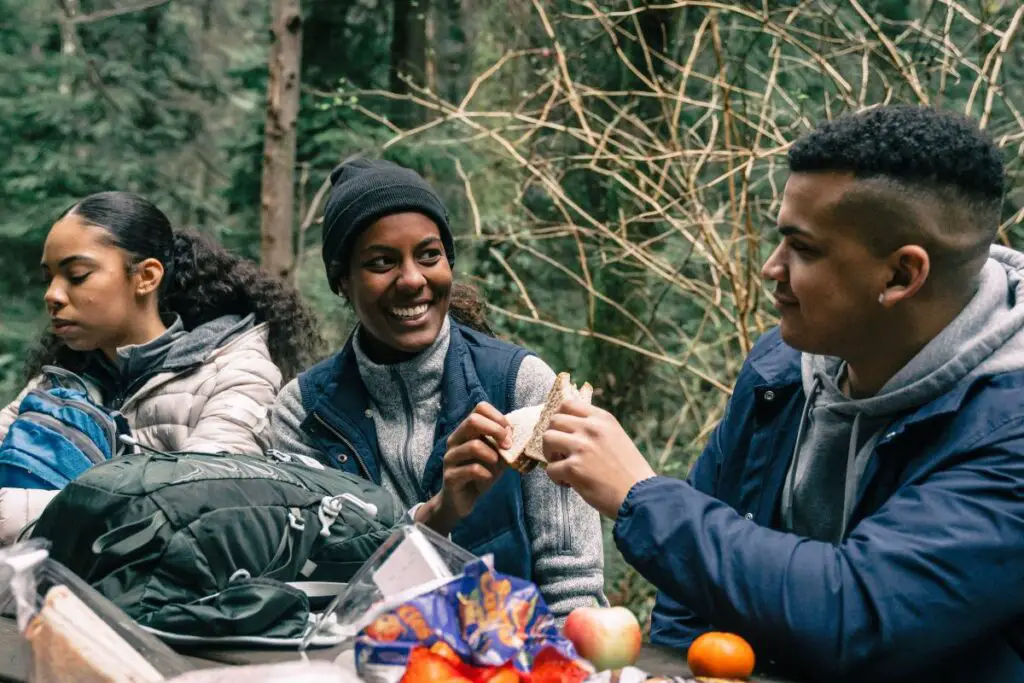 As a result, you should bring food such as eggs, which are extremely versatile, they can be used for omelette, fried and boiled.
Eggs can then be eaten for any meal and in a variety of dishes as a source of protein. In addition to that, you should bring some kind of bread with you for sandwiches.
Other carbohydrates to think about are pasta and rice for quick and easy evening meals. 
Bring along with you various meats that can be added to any dish, and fruits and vegetables to be able to make salads or used as sides to your meals.
As long as you have the necessities, you'll be surprised how many meals you can make with a few particular ingredients.
Camping Food: Desserts
Just because you are out camping, doesn't mean you can't still enjoy a desert after a meal. Thus, there are a  lot of campfire recipes out there that will help create the most mouth-watering desert to enjoy around the fire. 
Cooked bananas in tin foil and syrup are a really popular option for a hot and sweet desert. You can add various extras such as chocolate chips and marshmallows to make it really indulgent.
With that being said, any kind of stewed fruit that is caramelized in foil tastes great around a campfire.
However, if you are going camping, then marshmallows are a must alongside some chocolate and biscuits. S'mores are a favorite when it comes to camping.
Frequently Asked Questions
How Do You Store Your Food While Camping?
During the day, while you are off on your adventures, your food should be kept in a secure place.
It is important that you never leave any food or trash in your tents, instead keep all your food in some kind of container such as a cooler or car.
Then at night, any loose food should be placed inside a cooler or some form of meal bear box. 
It is important that you don't leave any food unattended, because animals such as squirrels, chipmunks, raccoons and bears are all known to go after untrained food.
If you are camping in an area that is known to have bears around, you should avoid putting food in your car because bears have been known to damage cars to get to the food inside.
As a last resort, you may want to consider hanging your food if there is nowhere else to keep it. 
How Do You Plan How Much Food You Need For A Camping Trip?
When you are going away camping and thinking about the food to bring, the best thing to do is a meal plan.
That way, you will have a plan on what you are going to eat for every meal and what you will need to bring with you  to achieve this plan.
However, you also want to think minimally, you want to bring as little food with you as possible. 
Simple dishes that don't require a lot of ingredients are the way to go, as it means you don't need to pack as much.
In addition to that, don't forget your favorite condiments and reusable plates and cutlery. This way you are being eco-friendly and less space is being taken up. 
How Much Food Should You Bring?
A reasonable goal to consider is to bring between 1 ½ to 2 ½ pounds of food for each person a day. However, you also need to consider how many calories you will be burning a day.
Someone who is doing a 10-mile hike will burn a lot more calories and need more food, for someone that only covers a couple of miles in a day. 
Hence, the activities you are planning to do, will also affect how much and little food you need to bring for each person.
Also, don't forget that children will eat a lot less food than an adult, so this will also affect the amount that you are bringing. 
This is also why it is important to plan your meals in advance, as you can see how many people you are going to need to feed.
Conclusion 
As you can see, there are many food options for you to bring with you on your next camping trip. The best thing to do is plan your meals in advance to prevent you from over packing and only bringing exactly what you need.