If you buy through links on our site, we may earn an affiliate commission at no additional cost to you. Thanks for your support!
Camping meal planning can be difficult for anyone, but vegan meal planning is even trickier when you plan on going on an outdoor adventure. Vegan campers will often need to bring their own food in a large group, and the challenge gets even harder if they need to prepare food for others who might not share their vegan diet.
If you don't know what vegetarian camping food to bring in this situation, there are tons of options you can try that feature all kinds of ingredients, many of which require little preparation at home and don't require any cooking whatsoever. If you need a few creative vegan camping food ideas to give your camping meals a bit more variety, here are just a few that require little-to-no cooking before you dig right in.
Trail Mix
Before getting into your afternoon and evening meals, it's important to talk about the snacks and breakfasts you'll be taking on your camping trips. These two can often be interchangeable, with most breakfast items that require no cooking being great quick pick-me-ups, while many snacks provide a fulfilling morning meal before hiking or packing up to leave.
The iconic snack and breakfast substitute is trail mix, a valuable hiking food that will always please any camper, thanks to the variety of sweet flavors found in both pre-packaged and homemade forms. If you follow a vegan diet, you'll likely want to make your own using some oats, dried fruit, chia seed, nuts, and vegan candies, but any hiker will appreciate having access to a container of trail mix at any time of day.
Trail Parfaits
With trail mix comes a ton of other fibrous breakfasts, as granola and oats are extremely common among all sorts of camping breakfasts. While yogurt itself is not vegan, there are tons of options from soy yogurts to coconut yogurts in stores and homemade, and these can often make a great parfait to start your outdoor day.
Coconut milk yogurt is an especially great option for this, as it'll mix with sweeter fresh fruit add-ins like strawberries and blueberries for a wonderfully sweet taste without too much added sugar. Combine your yogurt with fruit and oats in a standard travel cup, such as a Vegond 12oz Tumbler, and you'll have an excellent breakfast that travels easily if you don't feel like finishing it right away.
Homemade Granola Bars
Granola bars can be a great go-to backpacking food, but many who abide by a vegan diet often feel disappointed in certain popular brands. Prepackaged granola bars are often quite dry and hard to eat, and getting ones with proper fruit flavors can be challenging without getting a large amount of processed sugar.
Making your granola bars is such a great option for a backpacking meal as they're not quite difficult to make before going on your hiking trip. Inspired Taste has a great set of instructions, but the simple version is that they can be held together by the honey and brown sugar after a few hours in a cooler, meaning you can put any set of ingredients in the base for a much more natural bar that you can bring an entire sealed pan of.
Overnight Oats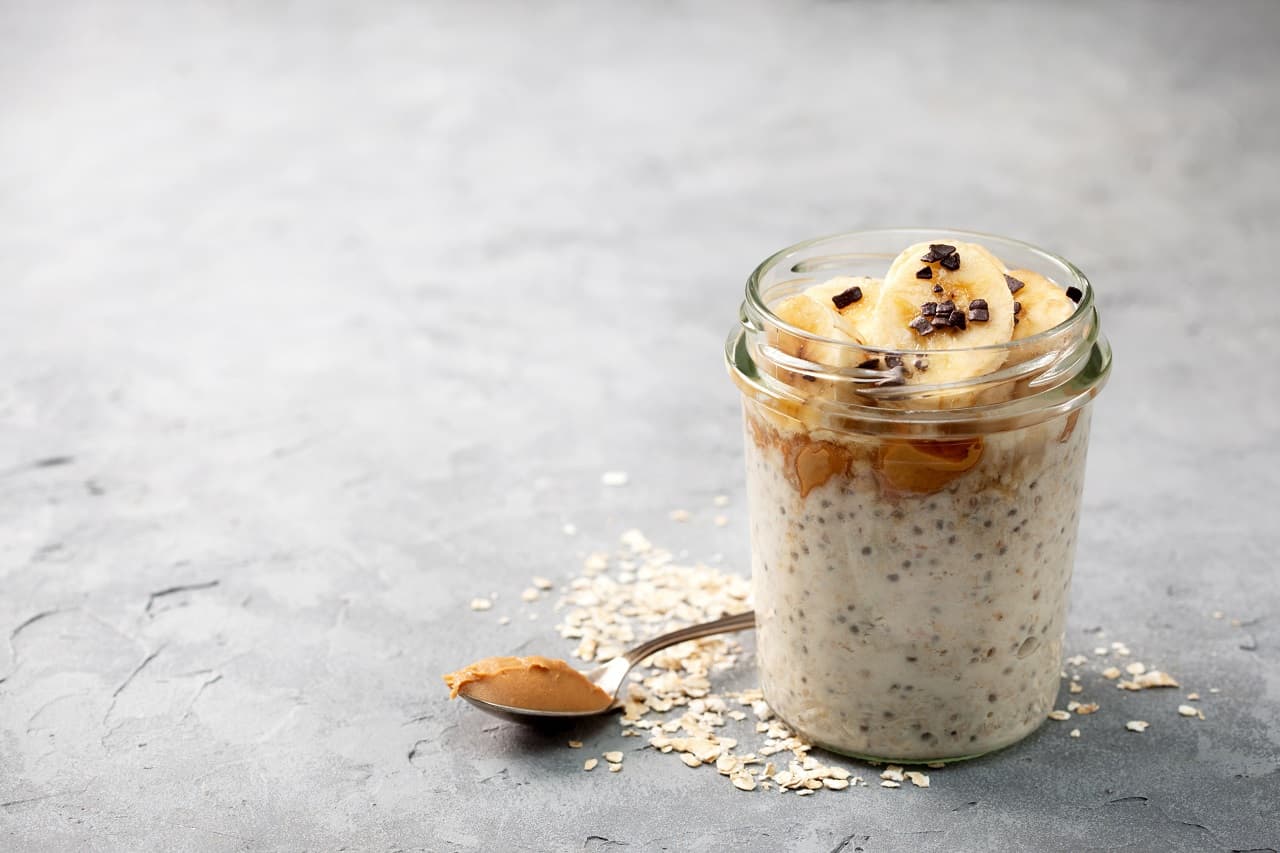 Like parfaits, overnight oats are another great way to get a more fulfilling vegan breakfast that doesn't require a large amount of setup or heating anything up. These are essentially just mixes of oats and dairy-free milk, chilled in a fridge or cooler to soften and turn into lighter oatmeal rather than a yogurt-textured parfait.
Lemons and Zest has a great recipe for a banana bread oat cup that can easily substitute almond milk, and that substitution will also fit even greater with the pecans. You can keep these in a cooler for multiple days, so making them in simple glass mason jars is a great way to keep leftovers overnight for your next breakfast.
Bagel Sandwiches
Many people will look at a bagel and consider it exclusively a breakfast sandwich, but for vegan eaters, it's often a great way to do a veggie sandwich that isn't built primarily around meat. Different bagels have tons of flavors, and much like the homemade granola bars, it's easy to make an especially personalized bagel sandwich.
You can find some suggestions on Simply Quinoa if you want multiple vegan-friendly recipes, but the hummus & veggie is the standout of the group. Few of these sandwiches are better with bread, but the hummus & veggie mix feels much more at home on a homemade or bakery-bought bagel.
Pita Wraps
If you want a vegan meal while camping and hiking with kids, there are a few considerations you may need to make. Kids can be astonishingly picky, but one way to get around this is through meals they can make themselves. Bringing separate ingredients to make pita wraps is a great way to let them build their own food using various veggies and ingredients. Try refried beans, chickpea, nut butter, and vegan cheese.
Alternately, it's just as easy to wrap up a premade wrap to go, and thankfully these can be made with many colder kinds of cheese and ingredients that stay crisp with a flavor. While this recipe on Yummly suggests toasting it, this particular recipe can be a great approach if you're also a fan of bell pepper and feta cheese.
Veggie Salad Foil Packs
It might seem obvious to many long-time vegans, but a good vegetarian salad is an impossible thing to ignore as a good camping food. This is a very even mix of snack and meal, as you can have a fuller traditional salad as a proper meal with pre-roasted bell pepper, red onion, and tomato for a meal, but even just snack on them out of the foil in the middle of the day.
With this particular dish, the bigger thing to consider is the material where it's stored. Many camp foods recommend wrapping in aluminium foil because it can be easy to cook them over a fire, but it's also a great way to use a much less wasteful and reusable wrapping material if you want to keep things fresh.
Tomato Gazpacho
While this vegan camping meal won't hydrate you the same way as water will, long hiking trips may leave you with a need for sustenance without being able to stop. As a result, it's great to have something to eat on the go, and perhaps the best thing to have in these cases is a nice Stainless Steel Thermos of soup.
Heated soups will often keep well in the right containers, but even bringing a chilled soup for hiking on hot summer days can be a huge relief and will keep you far better throughout your entire hiking trip. As a result, trying this tomato gazpacho recipe from Cookie & Kate can be just the thing to keep you going on a long adventure.
Peanut Butter & Jelly Sandwiches
A good PB & J is hardly just for kids. They're one of the easiest and first sandwiches anyone will have and can often be one of the healthier options when you don't want something as hearty and need a softer meal.
If you want to spice it up, these traditional sandwiches can usually fit all kinds of ingredients since the simple combination of peanut butter and jelly opens up the door to all kinds of unique nut butters and different fruit jellies. However, even going with the basic style is just as reliable.
Banana Boats
The last thing you'll need from your camping meals are desserts, something that can be especially difficult to do with a vegan diet. Many camping desserts involve non-vegan marshmallows and chocolates, causing many vegans who go with large groups stuck without any sweets. Thankfully, there are tons of alternatives out there that aren't just vegan versions of common camping desserts.
Banana Boats essentially involve using a banana peel as a bowl, in which you mix any other fruits and nuts with the fresh banana to make a great combination of flavors. You can indeed cook it in foil if you want an extra-crisp flavor, but mixing in a simple combo of sliced strawberries and vegan chocolate sauce will give a great sweet snack that's just as delicious when cool as it is when heated over a flame.
Silken Tofu Chocolate Pudding
One of the easiest desserts from this list, besides the banana boats, silken tofu pudding is a quick wet dessert that ends up being astonishingly chocolaty. They can be made with a simple recipe from Spoon University, using silken tofu and almond milk for the jelly base while cocoa powder and plain sugar provide it with flavor.
It requires about fifteen minutes in a fridge or cooler before serving, but you easily mix it before leaving and right in the campsite. Beyond that, it'll keep its consistency well in any cold area and will be an easy snack to mix with anything from berries to graham crackers for a little extra crunch.
Peanut Butter Fudge
Unlike many of the options in this list, peanut butter fudge isn't something you can just make instantly. You will need to prepare it before you leave, but compared to many other custom homemade fudges, this is a great vegan approach that won't take much time at all and can be done entirely in a microwave.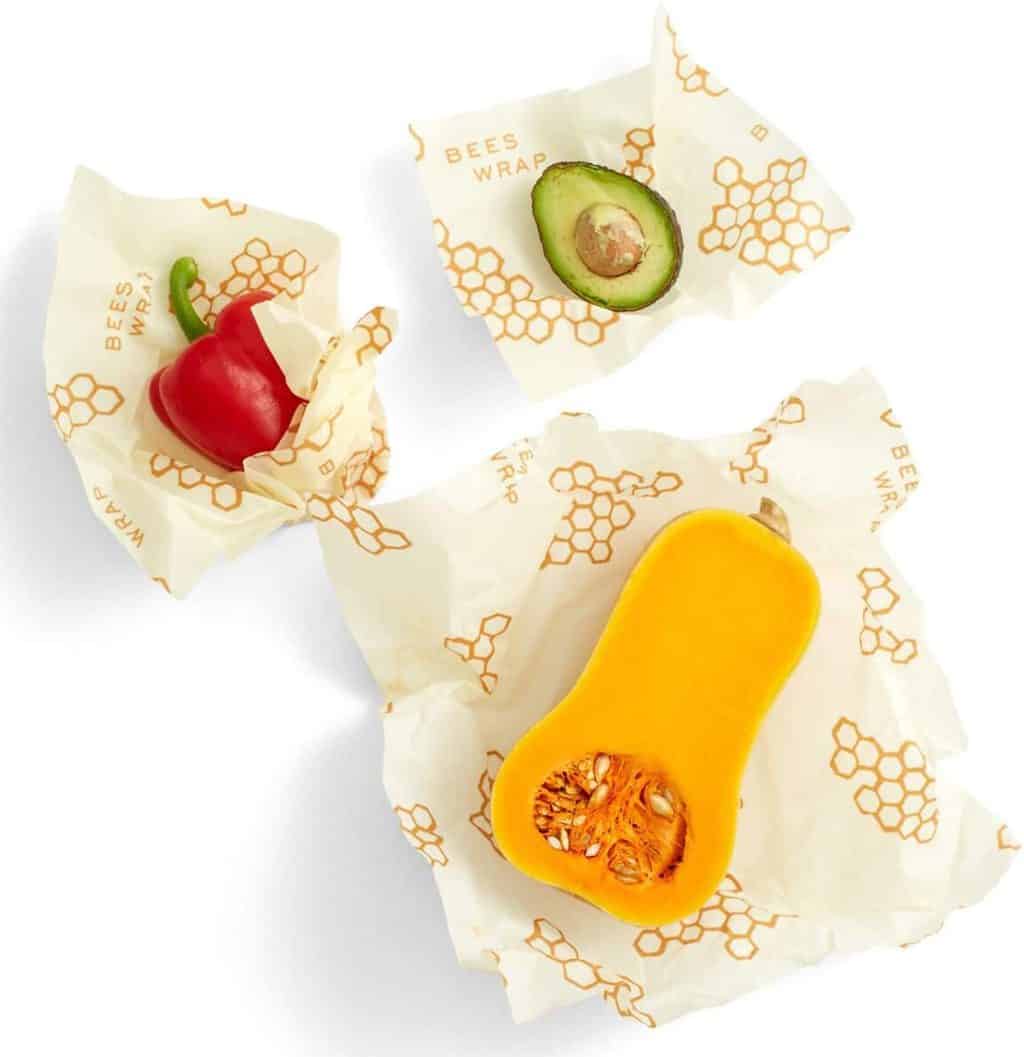 This recipe from the popular site Loving It Vegan can get you started, and you're plenty free to add in any other toppings you think would fit this peanut-centric dessert. Additionally, keeping it in a looser wax paper like Bee's Wrap is a great way to help it maintain its flavor while taking up far less space in your backpack.
Fruit Salads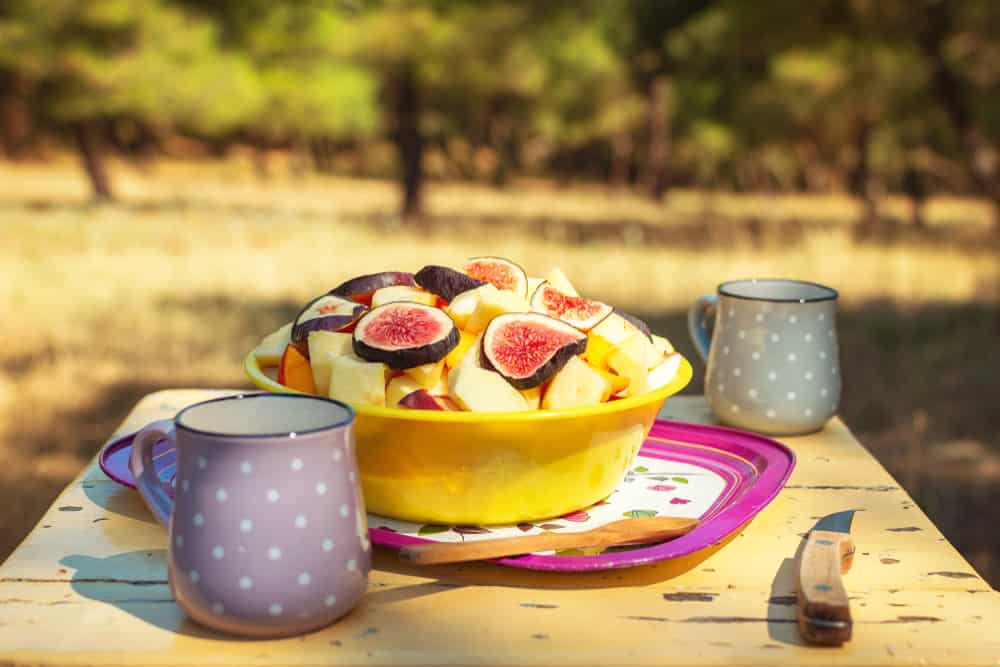 Fruit salads are another obvious choice for any vegan hiker, but something worth mentioning is that this is a great way to treat yourself to an alcoholic dessert for your late nights after a long hike. Fruits will mix with any alcohol you store them in, particularly if you use a well-sealed container that remains tight throughout the day, so a boozy fruit salad can be a great way to mix sweetness with a little casual tipsiness with friends.
Any at-home bartender can surely make any mix they feel is best, but Flavour and Savour have a great recipe for a straightforward boozy fruit salad. Their mix has a wide set of melons and strawberries with Limoncello liqueur, making it a sweet approach if you aren't fond of harder alcoholic tastes.
Gingerbread Bites
One last dessert worth mentioning is a great recent trend in the form of energy bites, smaller desserts packed with nutrition to provide you with a great feeling by energizing you and satisfying your hunger. You'll likely want to prepare them beforehand so that you can properly crush the ingredients with your kitchen, but making them with ingredients brought along the way can be done just as well with simpler tools.
You can make several styles, but a great one to surprise your hiking partners with are these Gingerbread Energy Bites from Jessica in the Kitchen. These feature a great combination of ginger, cinnamon, dates, and rolled oats to provide a ton of fiber but give a nice sweet spice that makes for a unique taste compared to nearly any other camping dessert out there.
Final Thoughts on no cook Vegan Meals for camping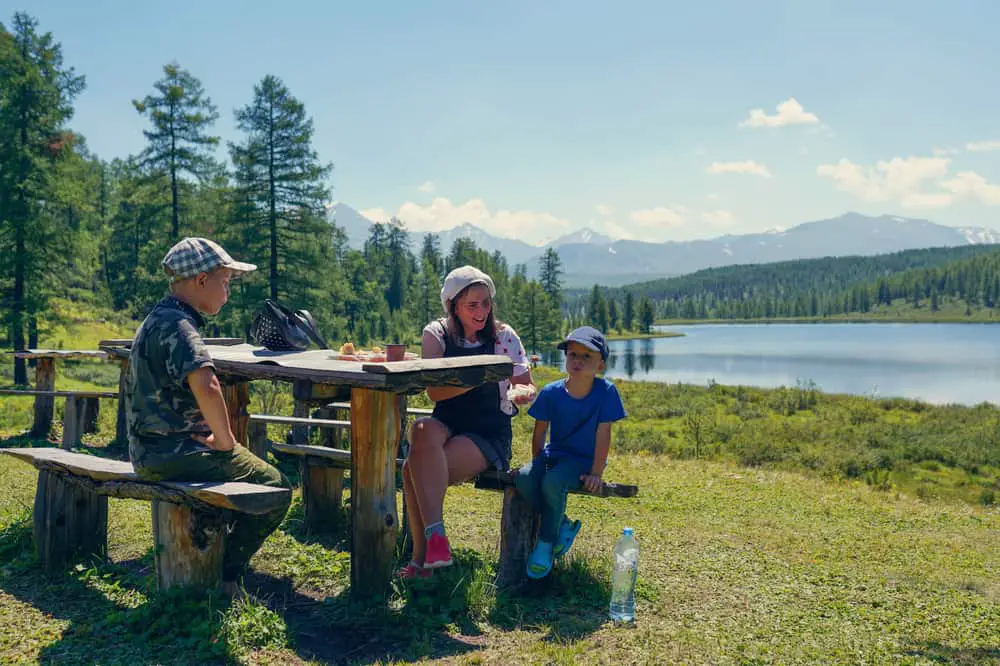 Even though it can be difficult to plan meals for a cooking trip with a vegan diet, many camping foods have a great overlap with most healthy food choices. Hopefully, these ideas can give a bit more variety to your meals and snacks during your hikes and camping trips, or at the very least give you some great backyard snacks to help you enjoy summer without spending too much time in the kitchen.