Washington State, nestled in the Pacific Northwest, is a haven for outdoor enthusiasts with its diverse and breathtaking landscapes. The Evergreen State offers a rich variety of hiking trails that cater to all levels of experience, from the casual stroller to the seasoned trekker.
With thousands of miles of trails amidst verdant forests, rugged mountain peaks, and pristine lakes, Washington's extensive trail network promises unforgettable adventures for every hiker.
The state's iconic trails showcase its unique geological features and vibrant ecosystems, encompassing scenic wonders from the rainforests of Olympic National Park to the dramatic cliffs of the Columbia River Gorge.
In addition to offering a refreshing escape into nature, Washington's hiking trails provide ample opportunities to witness remarkable wildlife and immerse oneself in the state's deep-rooted history and cultural heritage.
Whether you're seeking a leisurely day hike or a challenging multi-day backpacking trip, Washington State has something for everyone.
Get ready to lace up your hiking boots, pack your essentials, and embark on an extraordinary journey through some of the most spectacular landscapes in the United States.
Best Regions for Hiking
North Cascades National Park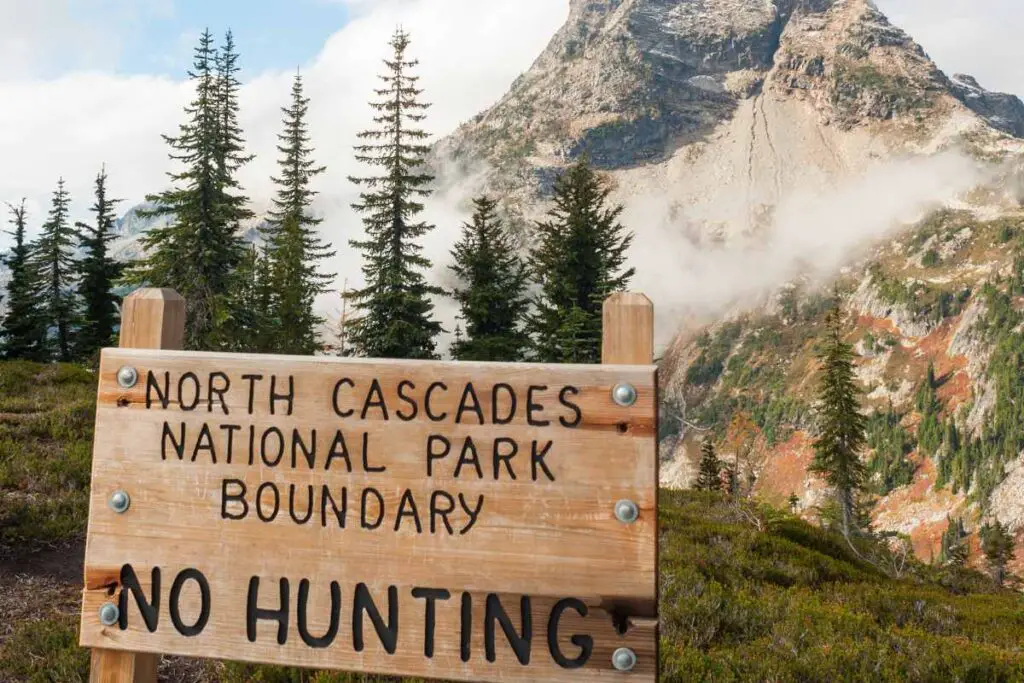 North Cascades National Park offers an array of spectacular hikes for all skill levels.
This park, known for its stunning alpine scenery and diverse ecosystems, is home to hikes such as the Blue Lake Trail, a 4.4-mile roundtrip hike with an elevation gain of 1,050 feet, and the Diablo Lake Trail, which provides breathtaking views of Diablo Lake.
Olympic Peninsula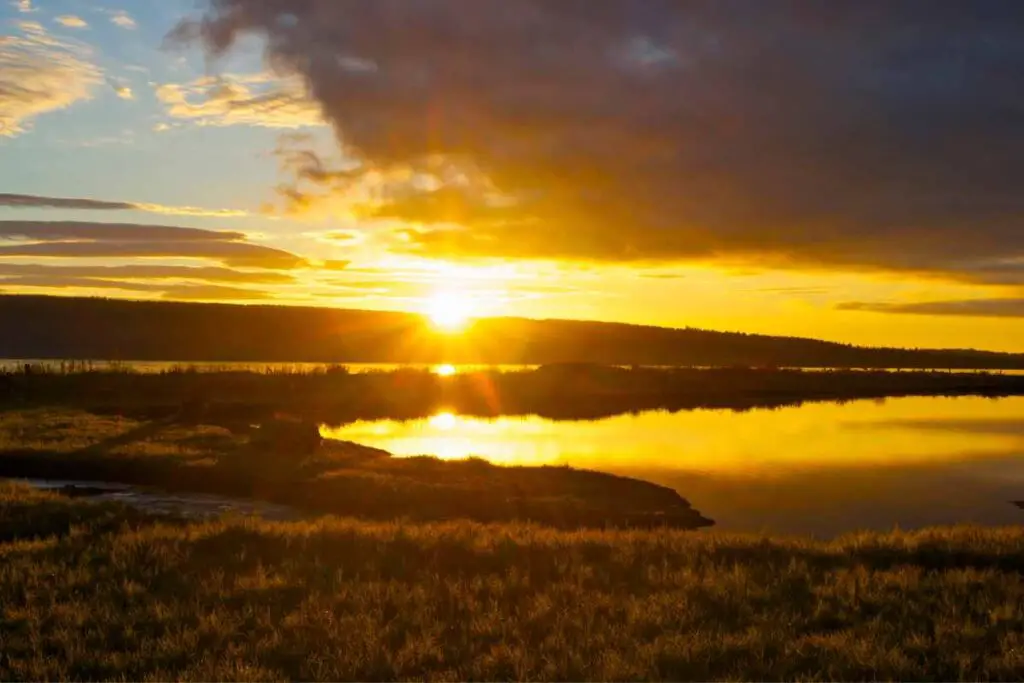 The Olympic Peninsula, located in western Washington State, features a unique combination of lush rainforests, rugged coastline, and high mountain peaks.
Some popular hikes in this area include the Hoh Rainforest trails, which showcase the area's iconic moss-draped trees, and the coastal trails that wind along the rugged shoreline, providing unforgettable views of the Pacific Ocean.
Mount Rainier National Park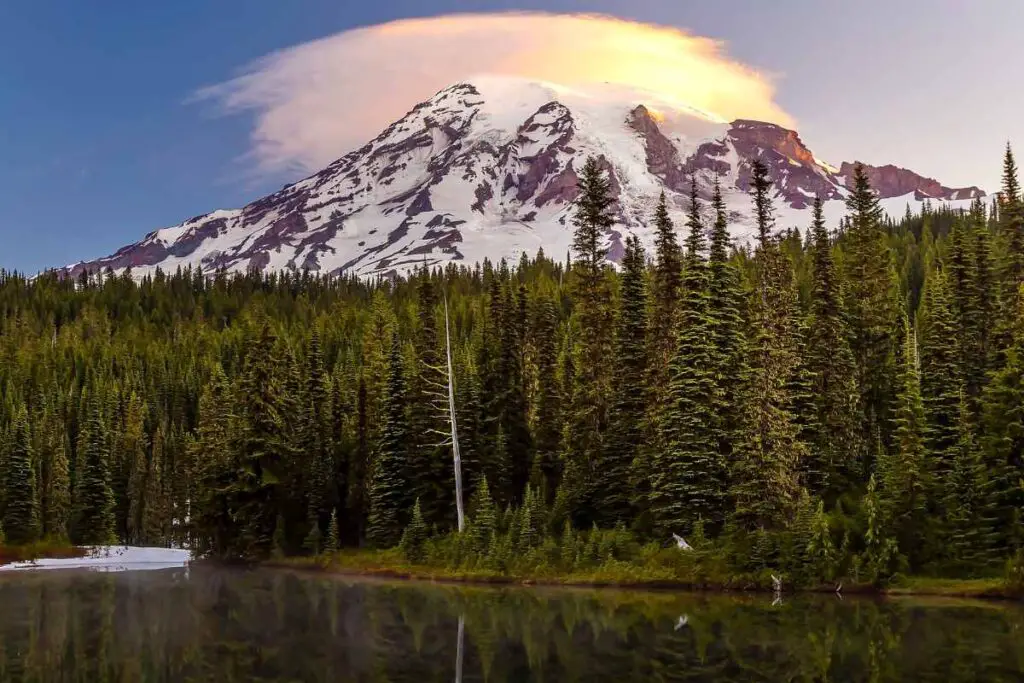 Mount Rainier National Park, centered around the iconic Mount Rainier, offers a variety of hikes for all experience levels.
From the easy, family-friendly trails, such as the Nisqually Vista Trail, to the more challenging hikes, like the Skyline Trail, this region offers unforgettable views of the majestic volcano, wildflower-filled meadows, and cascading waterfalls.
Alpine Lakes Wilderness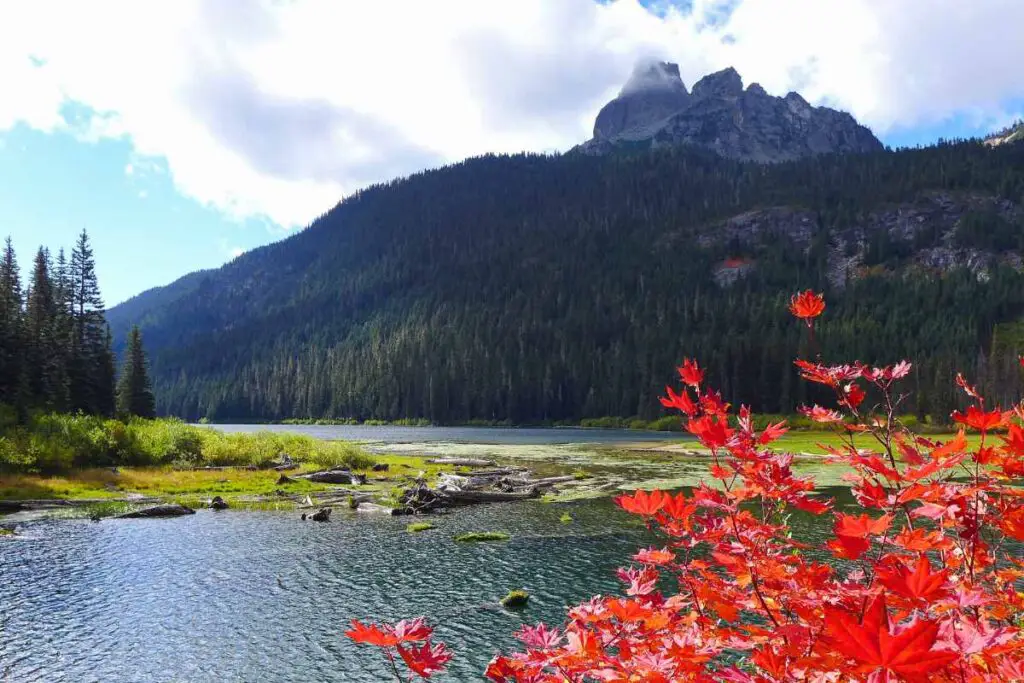 The Alpine Lakes Wilderness, located in central Washington, is a hiker's paradise, offering numerous trails through a diverse landscape of glacial lakes, rocky peaks, and dense forests.
Popular hikes in this region include the Enchantments hike, a difficult but rewarding trek through a series of high alpine lakes, and the 2.3-mile round-trip Twin Falls hike, which leads to a beautiful waterfall and is suitable for hikers of all ages.
Top Hiking Trails
Skyline Trail
The Skyline Trail is a stunning hike located in Mount Rainier National Park.
With a length of approximately 5.5 miles roundtrip and an elevation gain of 1,700 feet, it's considered moderate in difficulty.
This loop trail offers breathtaking views of Mount Rainier and the surrounding area while traversing through beautiful meadows and encountering diverse wildlife.
Enchantments Trail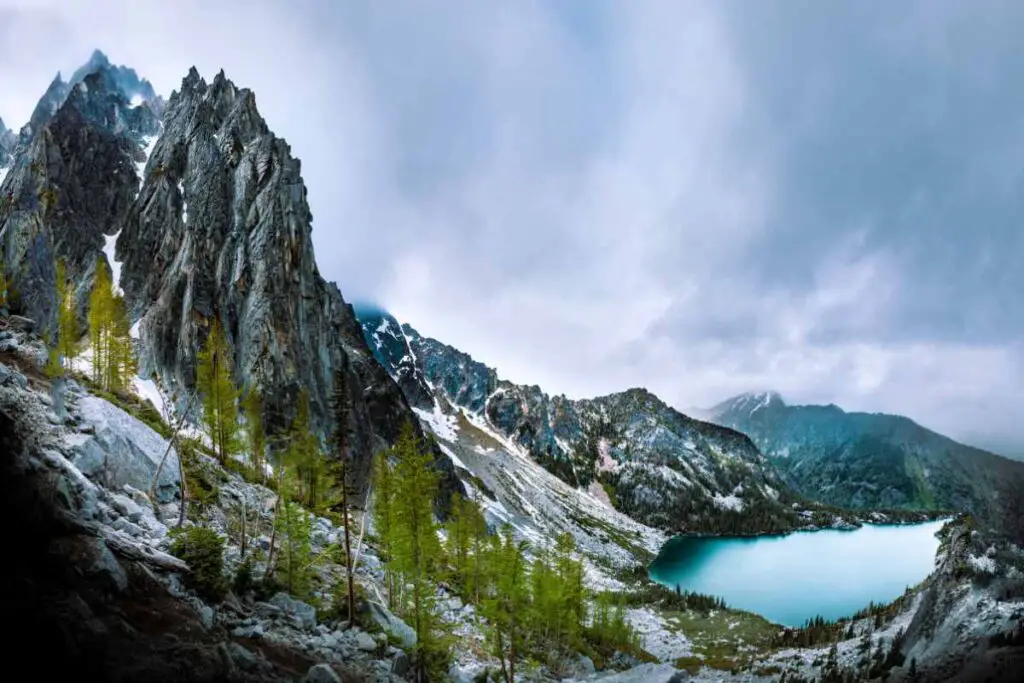 Located in the Alpine Lakes Wilderness, the Enchantments Trail is a premier hiking destination famed for its alpine lakes, mountain goats, and sprawling larch forests.
This strenuous hike is a 19-mile, point-to-point trail with an elevation gain of 4,500 feet – making it well-suited for experienced hikers. The best time to visit is during late September when larch trees turn golden.
Also read – Overnight Hiking In Washington
Hoh Rainforest Trail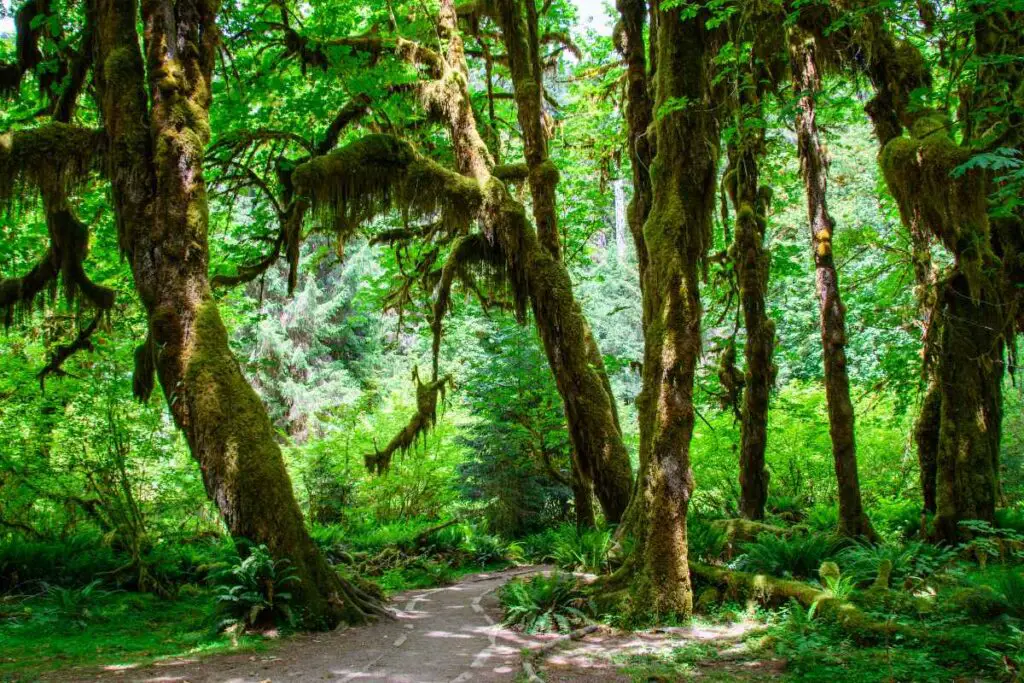 The Hoh Rainforest Trail offers an enchanting hike through one of the United States' only rainforests, located in Olympic National Park.
This mostly flat trail stretches 17.4 miles (round trip) and can be enjoyed by hikers of all abilities. While traversing moss-laden trees, tranquil streams, and lush vegetation, hikers can expect to encounter diverse wildlife such as elk and black bears.
Hidden Lake Trail
For those seeking an alpine lake and breathtaking views, the Hidden Lake Trail in the North Cascades National Park is a must-do.
This challenging 9-mile roundtrip hike boasts an elevation gain of 2,900 feet, rewarding hikers with a pristine, turquoise-colored lake surrounded by jagged peaks and lush meadows.
Cape Alava Trail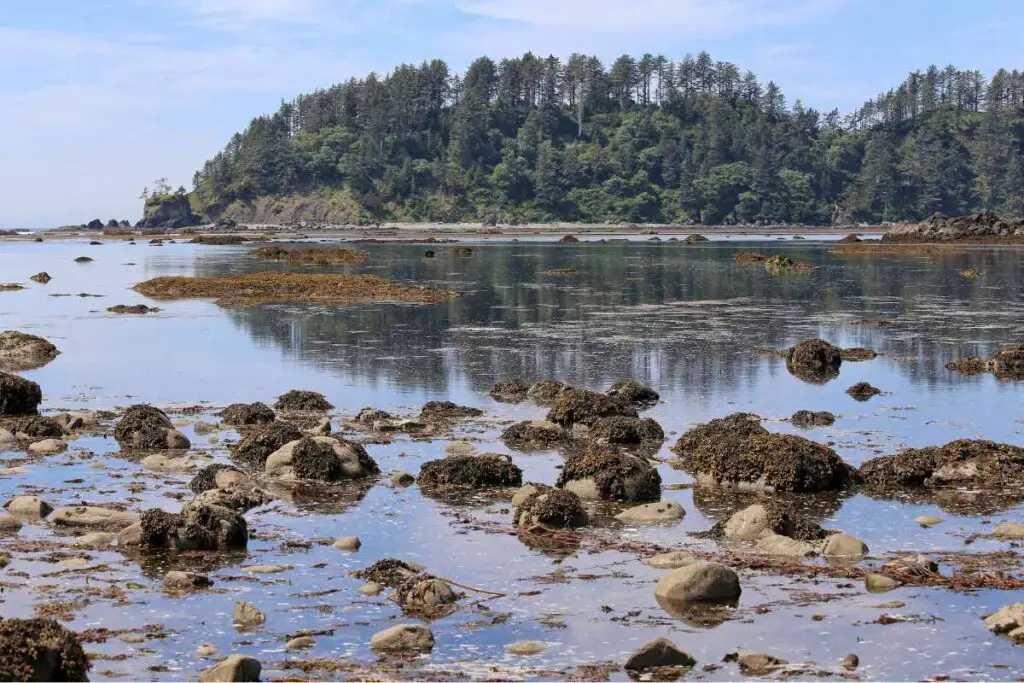 The Cape Alava Trail, part of the picturesque Ozette Triangle in Olympic National Park, offers a unique coastal hiking experience.
This moderate 9.2-mile loop takes about 5 hours to complete and features wild, storm-lashed beaches, diverse wildlife encounters like seals, and remarkable tidal pools.
Hikers will also have the opportunity to view indigenous petroglyphs along the way.
Hiking Tips and Safety
Choosing the Right Gear
When preparing for a hike in Washington State, it's crucial to choose appropriate gear. Avoid jeans, cotton shirts, open-toed shoes, crocs, and restrictive clothing.
Wear comfortable clothes that allow a good range of motion. Make sure to pack the 10 essentials and carry any necessary equipment in a well-organized backpack.
Navigating Wilderness
Planning your route is key to a safe hiking experience. Research the trails, take note of driving directions to the trailhead, and share your itinerary with a friend.
Be prepared to adapt your plan if conditions change, and always carry a map and compass to maintain a sense of direction during your hike.
Hiking Etiquette
The following guidelines will help maintain a positive hiking environment for all trail users:
Stay on designated trails to minimize damage to vegetation and prevent erosion.
Yield to other trail users by stepping off the trail to allow them to pass.
Leave no trace, pack out all garbage, and dispose of human waste properly.
Wildlife Precautions
Maintain a safe distance from wildlife.
Do not feed animals or leave food unattended; use bear-resistant food containers if needed.
If you encounter a bear or other large animal, speak calmly and firmly while slowly backing away; do not make direct eye contact or sudden movements.
Emergency Situations
Make sure you know how to use all the equipment in your backpack, including first aid supplies.
Carry a whistle or other signal device to call for help in case of emergency.
Plan for potential emergencies by learning basic first aid and CPR skills, and knowing emergency contact numbers for the area you're hiking in.
If you become lost or injured, stay put and wait for help. Make yourself visible with bright-colored clothing, a mirror, or other signaling devices.
Washington State's Climate and Best Hike Times
Washington State has a diverse climate, ranging from coastal and temperate rainforests in the west to semi-arid desert conditions in the east.
The state's western side experiences mild temperatures throughout the year, while the eastern side has hotter summers and colder winters.
Read next – Winter Hiking In Washington
This variety in climate offers unique opportunities for hiking enthusiasts, allowing them to explore vastly different landscapes and trails.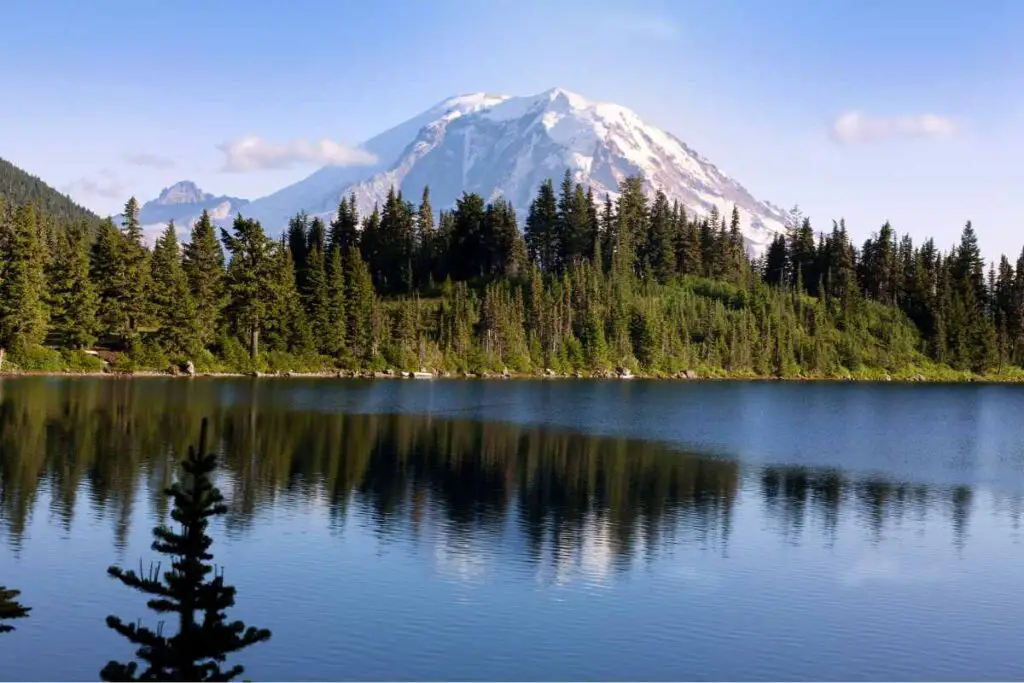 In general, the best time to hike in Washington State is during late spring to early fall (May through October). During this period, the weather is typically warm and dry, making the trails more accessible. However, bear in mind that hiking conditions can vary significantly depending on the specific location and elevation.
For example, in the North Cascades area, high-elevation hikes such as the Blue Lake trail are best tackled between July and September, when the snow has melted, and the wildflowers are in bloom.
At lower elevations, trails like the ever-popular Twin Falls and Little Si are more accessible throughout the year, though slightly more challenging during the wet winter months.
It's important to remember that Washington's weather can change rapidly, especially in mountainous areas. It's always wise to check trail conditions and recent weather reports before embarking on a hike. Additionally, don't forget to pack essential gear such as waterproof clothing, extra layers, and a map or GPS for navigation.
With proper planning and respect for the diverse climate conditions, hiking enthusiasts can relish the opportunity to explore Washington State's stunning landscapes throughout the year and choose trails that cater to their personal preferences and skill levels.
Access to Hiking Trails: Permits and Fees
When planning a hiking adventure in Washington State, it's essential to understand the permits and fees required for accessing various trails.
These passes and permits help maintain the state's natural beauty and ensure a quality experience for all outdoor enthusiasts.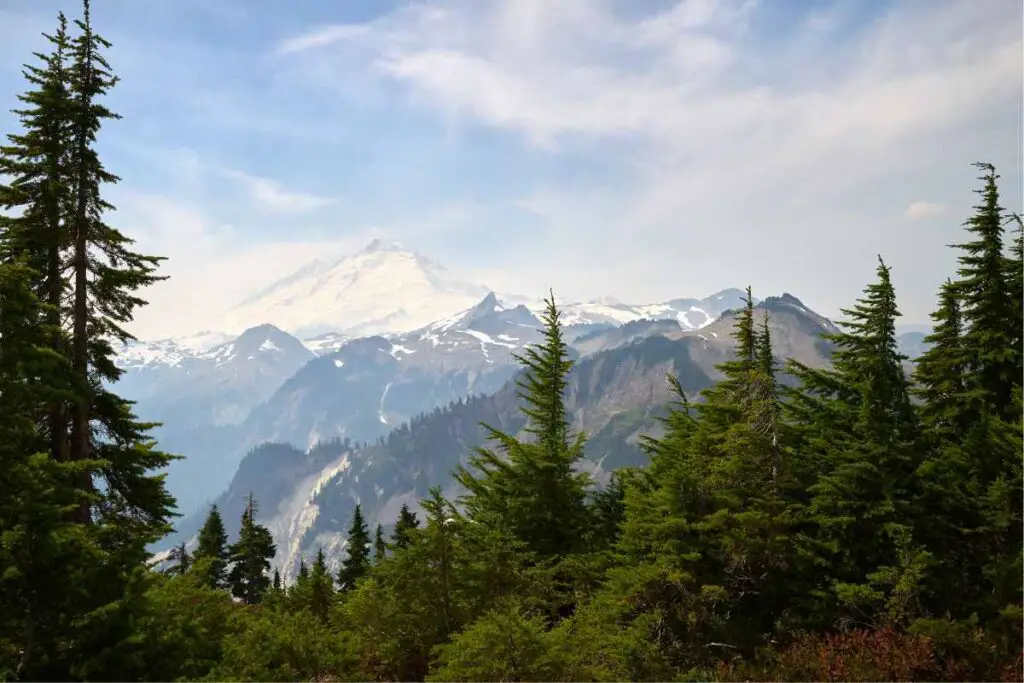 In Washington State, you may need a variety of passes for different trails, including those in national parks, forests, and state lands.
The most common passes include the Discover Pass, the Northwest Forest Pass, and the America the Beautiful Pass.
The

Discover Pass

grants access to state parks and recreation lands. An annual pass costs $30, while a one-day pass is available for $10.

The

Northwest Forest Pass

is required for many national forest sites and can be purchased for $30 annually, or $5 as a day-use pass.

The

America the Beautiful Pass

covers entrance fees for all federal recreation sites, including national parks and forests across the country. The annual pass costs $80 and may be a worthwhile investment if you plan to visit multiple federal sites in a year.
For some popular or sensitive trails, additional reservations or permits may be needed, such as the timed entry permit for the Rocky Mountain National Park between May 26 and October 22, 2023.
Expect to encounter such specialized permit requirements in popular hiking areas or during high-season months.
It's also crucial to note that some trailheads, like the Long Lake Trailhead, may require a day-use parking reservation to ensure adequate availability and manage overcrowding.
In summary, before heading out on your Washington State hiking adventure, be sure to research the specific permit and fee requirements for your chosen trail.
By obtaining the necessary passes and adhering to any additional regulations, you'll contribute to the preservation of the state's natural beauty and enjoy a safe, enjoyable hiking experience.
Family-Friendly Hiking Options
Washington State offers a variety of family-friendly hiking options, allowing everyone to enjoy the great outdoors and create long-lasting memories.
These hikes cater to all ages, ensuring a safe and enjoyable experience for the whole family.
One of the most accessible and enjoyable hikes for families in Washington State is the Hidden Lake Trail in Lake Wenatchee State Park.
This mile-long loop features a wide path ideal for walking side by side as you traverse through a scenic ponderosa pine forest, eventually reaching the picturesque Hidden Lake.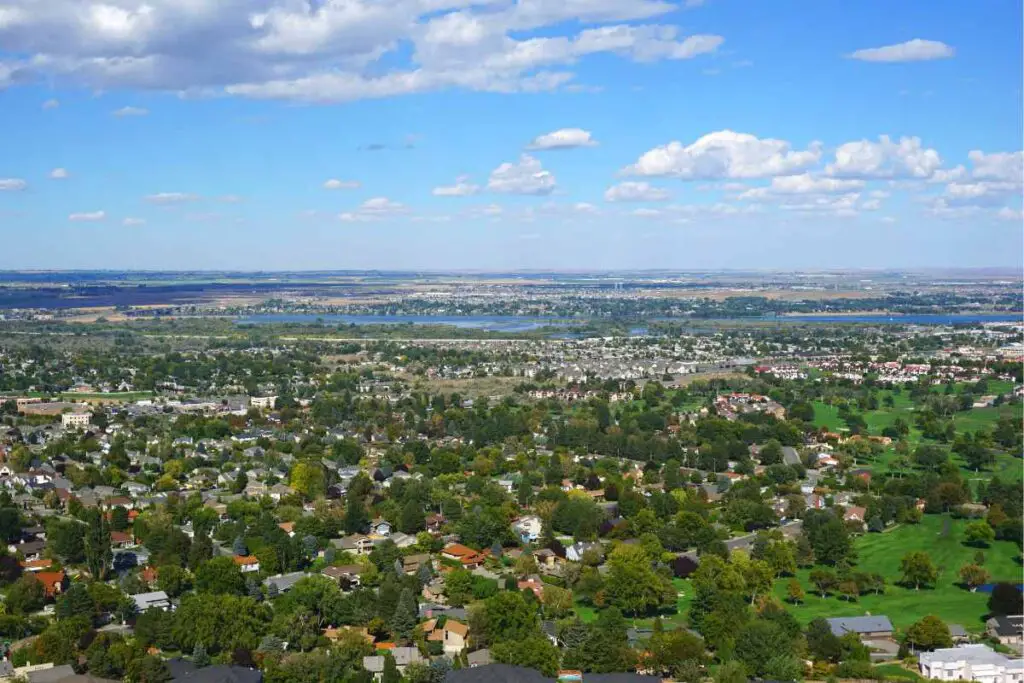 Another excellent option for families is the Rattlesnake Ledge Trail located in the Rattlesnake Mountain Scenic Area. With a reasonable 5.3-mile roundtrip distance, this trail offers stunning views and is only about an hour's drive from Seattle.
It provides a rewarding experience for adventurers of all ages, but keep in mind that summer months bring high foot traffic to this popular destination.
If exploring the Olympic Peninsula is on your family's to-do list, numerous easy hikes await your discovery.
Dense forests, rugged coastlines, and breathtaking waterfalls make the Olympic Peninsula the perfect setting for a family hiking adventure. While challenging, many trails in this region are also suitable for young hikers with a little experience under their belts.
In conclusion, there is no shortage of family-friendly hiking opportunities within Washington State.
Whether you prefer a leisurely stroll in the forest or a more demanding hike with rewarding vistas, you are bound to find a trail that will both challenge and delight your entire family. Enjoy your time on the trails and cherish the memories you create together.
Read later – Best Multi-Day Hikes In Washington State
Accommodations and Camping Options
Visitors looking to explore the best hikes in Washington state will find a variety of accommodations and camping options to suit their preferences.
From established campgrounds within state parks, such as Deception Pass State Park and Cougar Rock Campground in Mount Rainier National Park, to more remote camping trails like the Hall of Mosses Trail in Olympic National Park, there is something for everyone.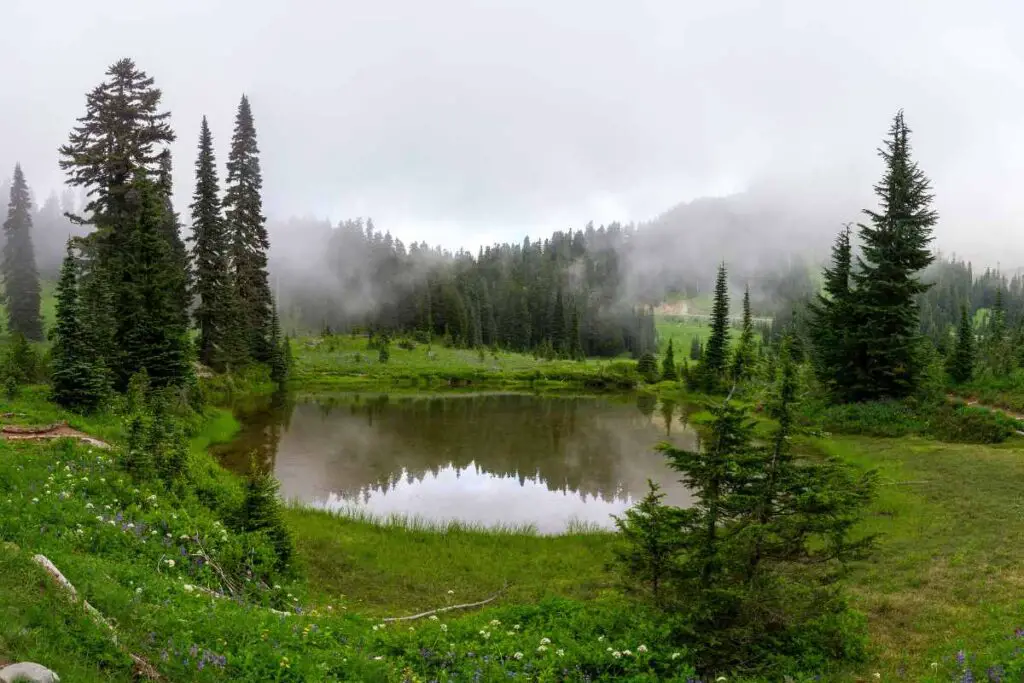 Deception Pass State Park is the most visited state park in Washington and offers easy beach and lake access, as well as miles of hiking trails. Visitors can choose from various camping options, including tent and RV sites. However, it is essential to note that full RV hookups are not available here.
Cougar Rock Campground in Mount Rainier National Park serves as the perfect basecamp for forays into the park. Although this campground does not have full RV hookups, it is conveniently located only 14.4 miles from the nearest town, Ashford. This proximity to civilization makes it an excellent launching spot for explorations in the park's Paradise area.
For a more immersive experience in Washington's temperate rainforest, the Hall of Mosses Trail in Olympic National Park offers a stunning 1.1-mile hike that is suitable for the whole family. Although this trail can be popular and busy, it provides a unique opportunity to experience the lush, verdant landscape up close.
Regardless of your choice of camping or lodging type, it is crucial to plan ahead and make reservations whenever possible, especially during the peak season of July to September.
This will ensure that you have a comfortable and enjoyable stay while exploring the best hiking trails that Washington state has to offer.
Frequently Asked Questions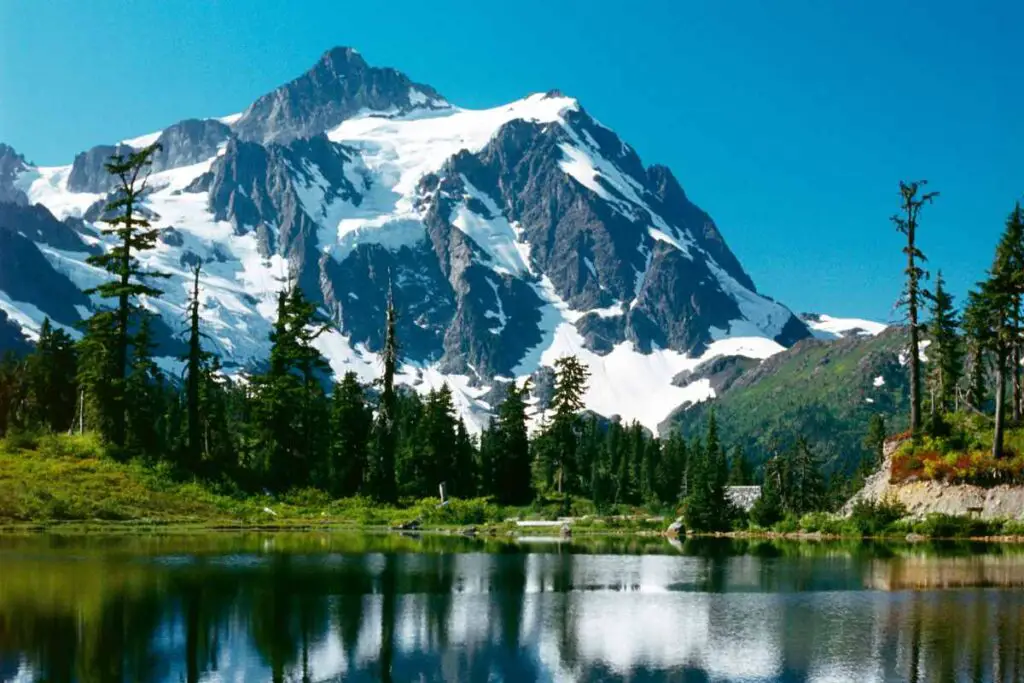 What are the top scenic trails in Washington state?
Some of the most scenic trails in Washington include the Diablo Lake Trail in North Cascades National Park, offering breathtaking views of Diablo Lake, and the Horseshoe Basin Trail in Pasayten, with a length of 12 miles roundtrip and a highest elevation point of 7,200 feet.
Which hikes near Seattle are considered the best?
Twin Falls, located in Olallie State Park, is a popular hike near Seattle. It is 2.3 miles roundtrip and features a beautiful waterfall, making it an enjoyable experience for the whole family. Leashed dogs are also welcome on this trail.
What are some easy yet stunning hikes in Washington?
Washington offers several easy yet beautiful hiking trails. One example is Twin Falls in Olallie State Park, situated just 35 miles southeast of Seattle, with a 2.3-mile roundtrip distance and a difficulty rating of easy/intermediate.
What are the best hiking trails in Olympic National Park?
Olympic National Park offers numerous hiking options for all skill levels. Some of the top trails in the park include the Hoh Rainforest's Hall of Mosses Trail and the Hurricane Ridge Trail, both offering unique, breathtaking views of the park's diverse landscapes.
What is the most challenging hike in Washington state?
One of the most challenging hikes in Washington state is Mount Rainier's Wonderland Trail. This strenuous trail spans 93 miles and circumnavigates Mount Rainier, encompassing a total elevation gain of 22,000 feet. Hikers should be well-prepared and experienced before embarking on this ambitious adventure.
How does hiking in Washington compare to Oregon trails?
Both Washington and Oregon offer diverse hiking trails with spectacular scenery. Washington is well-known for its lush rainforests, glaciated mountain peaks, and beautiful coastlines. Oregon, on the other hand, is famous for its magnificent waterfalls, volcanic landscapes, and dense forests. Overall, both states provide excellent hiking experiences, and the choice ultimately depends on individual preference and proximity to the trails.