Mt Rainier National Park has over 100 miles of trails, offering hikers short walks and strenuous hikes.
These include the Wonderland Trail, Tolmie Peak, and the Burroughs Mountain trail, with each trail offering lush scenery and views of Mount Rainier.
In this blog, we'll talk you through the very best hikes in this stunning part of Washington State.
1. Wonderland Trail – Moderate To Difficult
The Wonderland Trail is a bucket-list hike for keen hikers who want to truly experience Mount Rainier.
Featuring lush meadows, wild waters, and dense forests, this strenuous adventure trail circumnavigates the entire base of the mountain.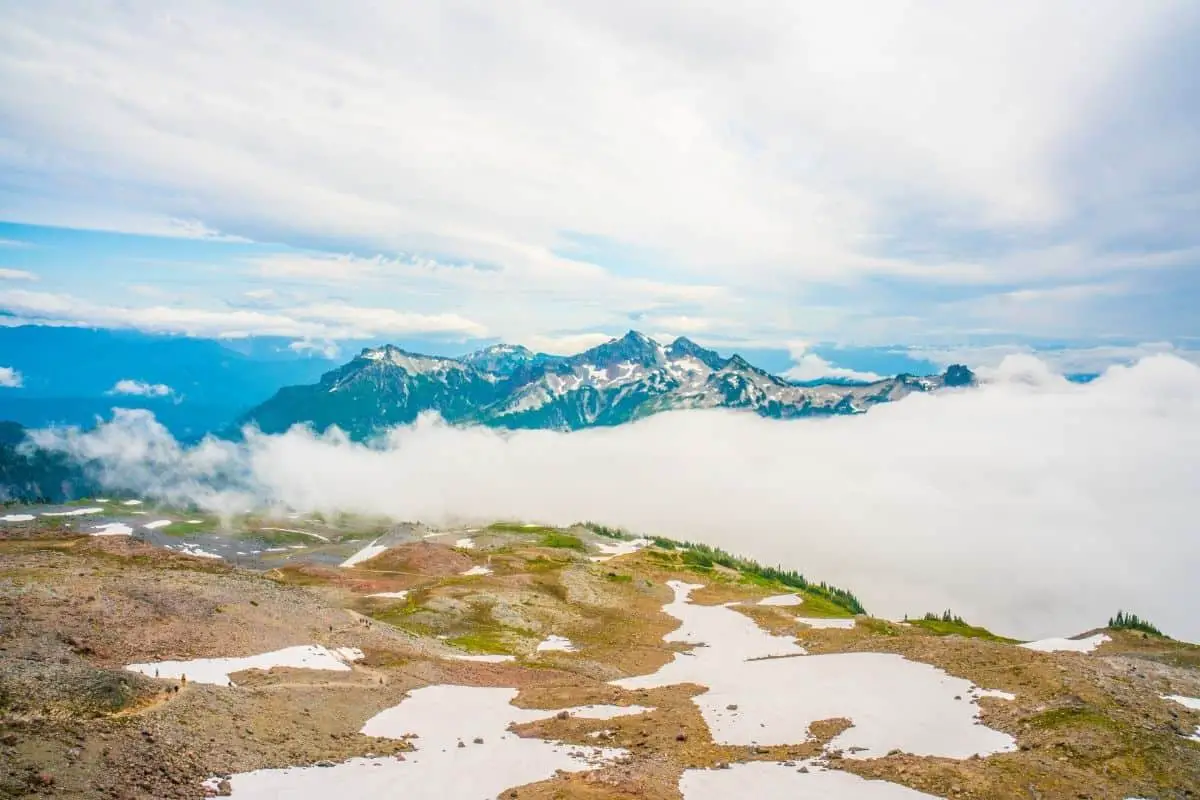 The 93-mile loop isn't for inexperienced hikers and a highly sought-after permit is required. The full 93-mile loop takes experienced hikers about 10 days to complete, but less experienced hikers could enjoy a pleasant day's hike in and around this trail.
Taking the Wonderland trail to Camp Summerland is the perfect alternative.
Primarily used for walking, hiking, and camping, this hike shows you some of Washington's best features including seasonal waterfalls, beautiful scenery, and of course Mount Rainier.
This loop is only 8.2 miles long and only involves a few elevation changes.
2. The Skyline Trail – Easy To Moderate
Circumnavigating the famous paradise area of Mount Rainier National Park, the Skyline trail is one of the most popular hiking trails found in Washington State.
The start of this hike can be found at Henry M. Jackson Visitor Center and the Paradise Inn.
Suitable for every level of hiker, most enjoy the 5.5-mile hike during the peak summer season in July and August. It is during this time of year that the wildflowers blossom across the rugged mountain landscape.
Along the route, there is plenty of scenery to take in so be prepared to stop and admire the beauty that's around you.
Impressive close-up views of Mount Rainier and Nisqually Glacier follow the hike all the way. Perfect for those wanting a simple, yet stunning hike, the Skyline trail is well signposted all the way making your life a lot easier.
3. Naches Peak Loop – Easy To Moderate
If you're looking for a family-friendly day of hiking, the Naches Peak Loop route is a great option. This easy to moderate loop on the northeast side of the mountain begins at Chinook Pass.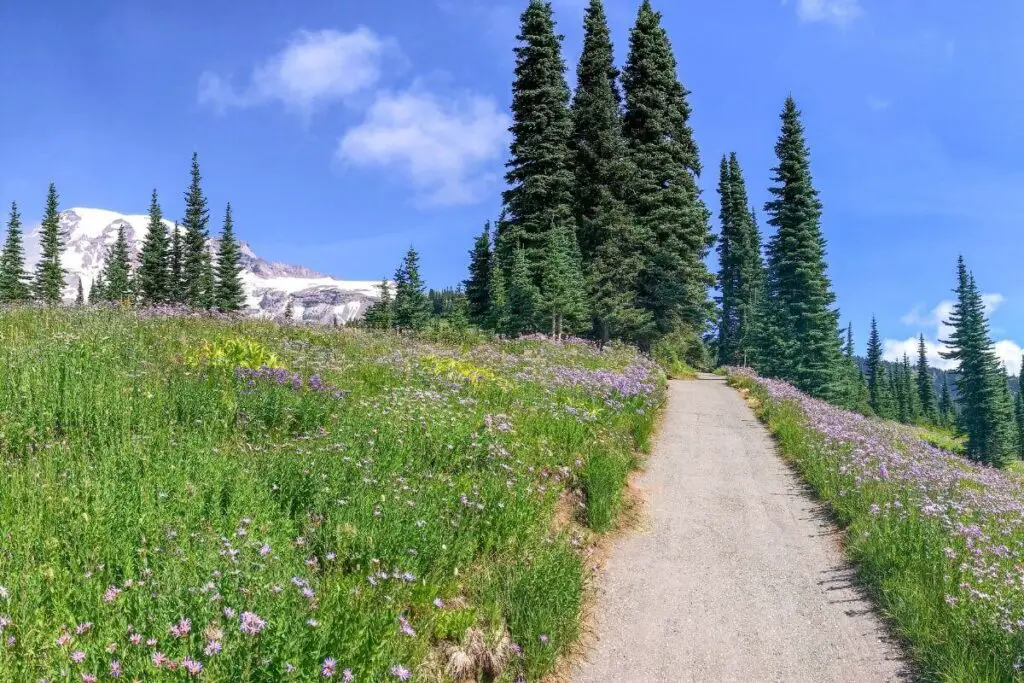 For most of the 3.5-mile walk, you'll find yourself also hiking the Pacific Crest Trail.
Circumnavigating Naches Peak, this lovely, relaxed trail offers incredible views of stunning meadows with Mount Rainier standing tall in the backdrop.
Along this trail, hikers also experience some pretty big views of the charming Dewey Lake.
Parking your car at Tipsoo Lake is your best bet. From here you can tackle the Naches Peak Loop by heading in either direction.
Like the Skyline Trail, we recommend visiting this trail in July or August, when flowers are blooming and the sun's shining.
Starting at a relatively high altitude and only gaining roughly 500 feet, you and your little ones will love this route.
4. Summerland – Moderate To Hard
For those of you seeking a more strenuous day of hiking in Mount Rainier National Park, be sure to check out the Summerland trails.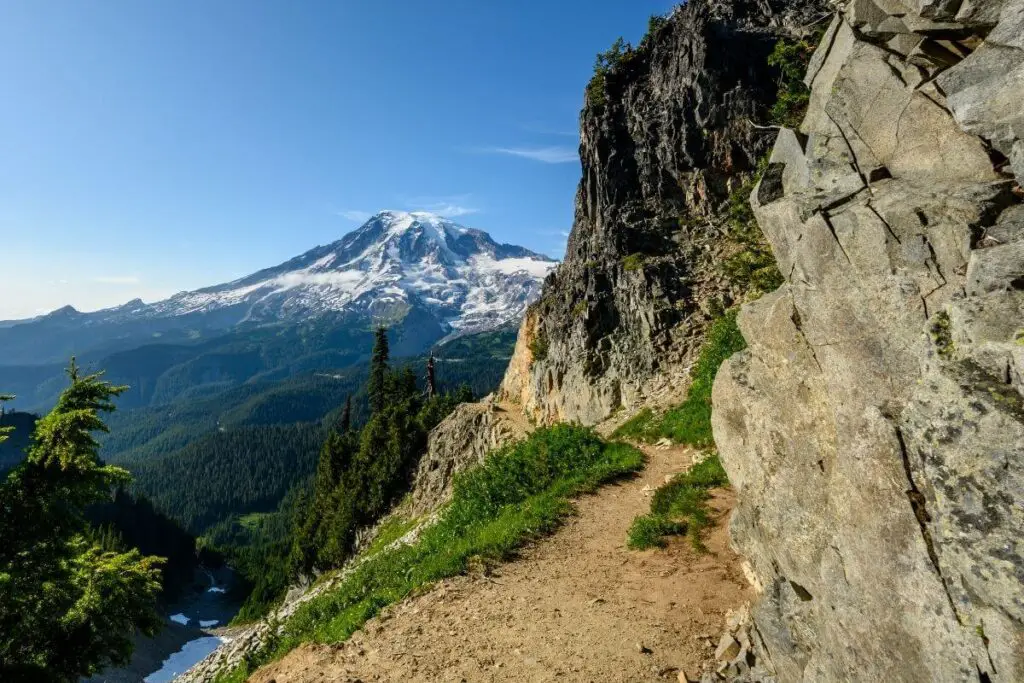 One of the most popular areas of the national park, this 8.5 mile there and back hike takes hikers through sub-alpine scenery that includes unparalleled views of Fryingpan Glacier, Little Tahoma Peak, and once again Mount Rainier.
The trailhead for this hike can be accessed from the White River Entrance. Make sure you arrive early though as the car park fills up quickly.
The beauty of Summerland is that you have more freedom to go off the main trail. Offering more adventure, hikes tend to venture further by exploring other trails. Many ambitious hikers continue to Panhandle Gap, wherewith a permit they can set up a tent to spend the night.
5. Spray Park Trail – Moderate To Hard
With plenty of trail options available, the Spray Park trail is a great location for anybody looking for an abundance of hiking options.
Starting at Mowich Lake campground over on the northwest side of Mount Rainier, this trail is harder to get to.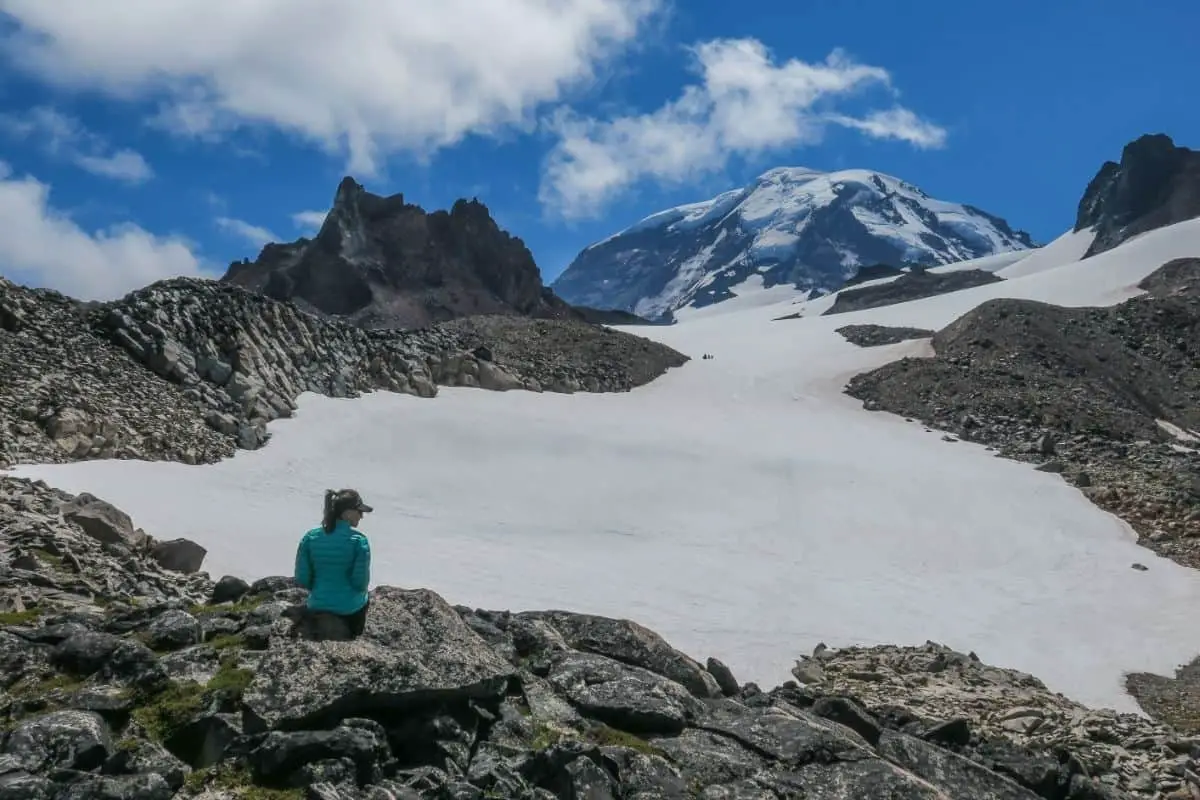 To access the trailhead you must drive along an unpaved Forest Service Road. We must say, though, the views of the falls are well worth the drive and are typically a lot quieter.
You have two ways to hike the Spray Park trail. The 6-mile out and back trail, or the more challenging 17-mile backpacking trail.
The 6-mile trail climbs 1,300, taking hikers through dense forest, offering amazing views of Eagle Cliff and the awesome Spray Falls. The 17-mile loop heads to the Ipsut Pass and the Wonderland Trail.
Highlights of this trail include Carbon Glacier, Carbon River, Spray Park, and Seattle Park.
6. Bench and Snow Lakes
To show your children the natural beauty of Washington State, the family-friendly hike to these two lakes are ideal.
Situated on the South Side of the national park, the total hike only runs for approximately 2.5 miles.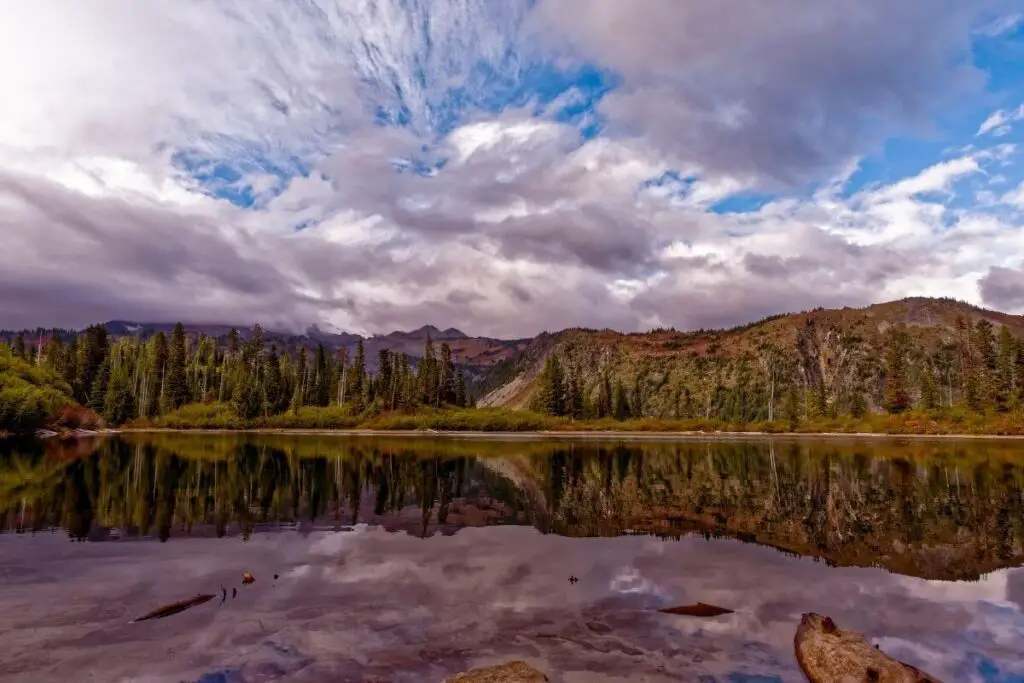 Featuring several ups and downs, the short walk can be a little challenging at times, but its short distance makes things a lot easier.
The trailhead of this trail can be found 1.5 miles east of the Reflection Lakes. All the way along the trail, you can expect to see lush forest, wildflowers, and possibly some wildlife.
Not even a mile into the hike, you'll find the junction for Bench Lake. We encourage you to take a break here because this spot offers arguably the best views.
Even on a foggy day, the views of Bench Lake and occasionally Mount Rainier can be totally one-of-a-kind.
7. Burroughs Mountain Trail – Moderate
Found on the northeast side of Mt Rainier, the Burroughs trail offers a great close-up experience of the mountain. From the Sunrise car park, you have a number of different routes you can take.
The most commonly taken root is the looped trail that first heads towards Sunrise Camp.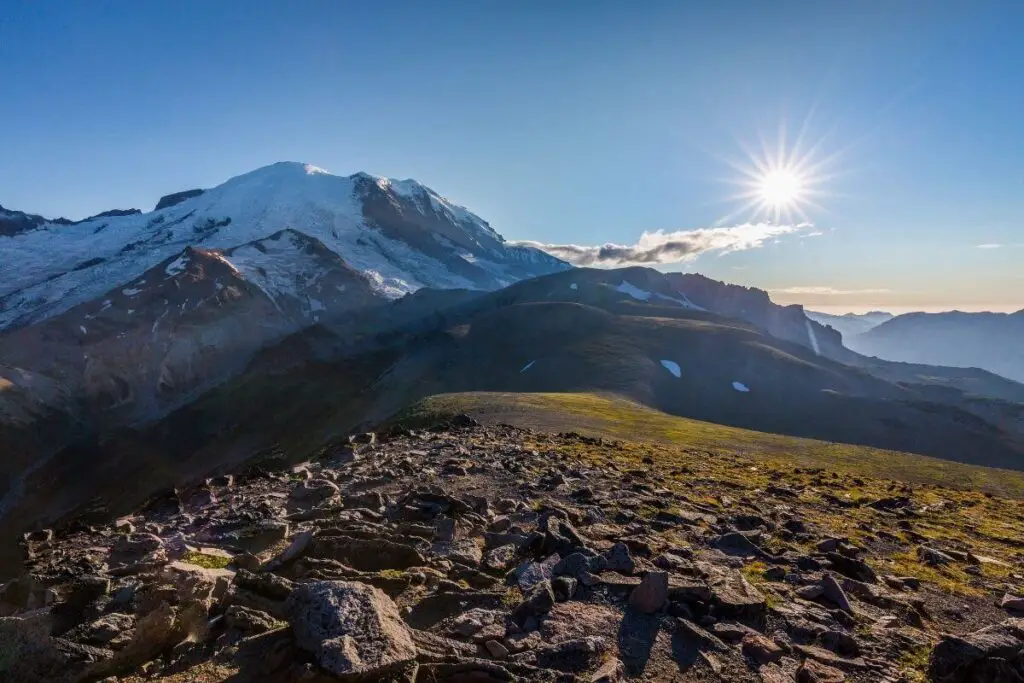 Approximately 9.3 miles long, this trail sits high above the White River and Glacier Basin.
After a short amount of climbing, the trail starts to navigate through subalpine terrain, taking you towards the First and Second Burroughs Mountains.
It is roughly 2.5 miles to the First, a further mile to the Second, and a Third can also be seen by walking a further mile. The view of all three is breathtaking.
To make this trail a round trip, head in the opposite direction to Frozen Lake. This path will take you to Sourdough Ridge, which then follows back around to the parking area.
8. Mount Fremont Lookout – Moderate
Beginning at the Sunrise Visitor Center, the Mount Fremont Lookout trail is a great day hike for able-bodied hikers looking to get a good taste of the mountain.
This trail takes hikers to one of the few remaining fire lookouts found in the National Park.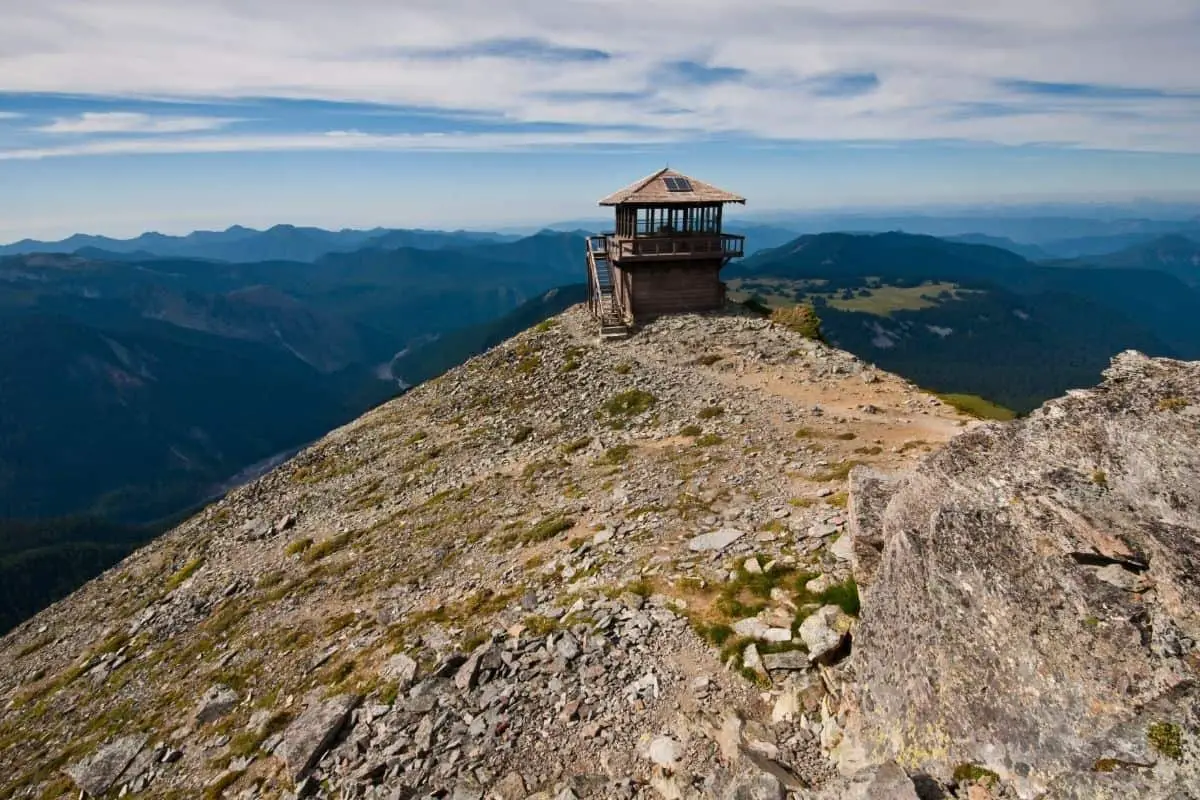 5.6 miles long, on a clear day, hikers are rewarded with hard-to-beat views of Mount Rainier for the duration of the trail.
The lookout sits at over 7,000 feet, so you'll be nice and high, but as the visitor center only sits at an elevation of just over 6,000 feet, the round trip only includes less than 1,000 feet of climbing.
On a pleasant day, this hike is hard to beat. The views are amazing, the path is clear, and there's not too much climbing. What more could we ask for.
9. Rampart Ridge – Easy To Moderate
This 4.6-mile loop trail starts near Longmire Historic District and National Park Inn. Mount Rainier reveals itself about 2 miles into this hike when the trail starts to top out near Rampart Ridge.
By heading clockwise on the ridge you'll be able to keep Mount Rainier in front of you. Hikers often do this because the views on a clear day are mind-blowing.
The trail itself is pretty easy to navigate but there are some steady climbs. During the trail, you gain nearly 1,400 feet in elevation.
The old-growth forest that runs along the trail acts as a good distraction for the more challenging parts of this hike. Halfway through the trail Nisqually River Valley also comes into view.
Towards the end of the trail, hikers are connected to the Wonderland Trail, which brings them back to Longmire.
10. Shriner Peak Trail – Moderate To Hard
Despite the wonderful views found along this trail, Shriner Peak is actually known as the Loneliest Trail in the National Park.
Sitting on the East side of the national park and nearly 4 miles away from the Stevens Canyon Entrance, this trail is a thigh-busting hike with little shade.
These two factors make it better suited to experienced hikers who don't mind getting a sweat on, especially in the hot summer months.
Though this hike is more intense, the views are totally worth all of your effort.
Topping out at Shriner Peak Lookout, you will be greeted with scenic views of Ohanapecosh Valley and 6 or 7 other Cascade Mountains.
Of course, Mount Rainier can also be seen. With 4 miles of tough walking and an elevation gain of over 3,000 feet, this hike is a great option if you like a more challenging day of hiking.
Final Thoughts
There you have it. These 10 hikes are some of the best day hikes found in Mount Rainier National Park.
We hope now you have a good idea of what hikes are available, and you can plan a fun-filled day of hiking in the national park. Maybe you've already picked your next hike.
We are sure whichever one you choose will give you an amazing experience and one that will leave you desperate to return for more.