Hiking is a tough work at times and be both physically and mentally demanding. With this, comes a serious ravenous hunger. 
The thing is, when out roughing it in the wild – you can't just hop in to the nearest Taco Bell. You're going to need a plan. Take some food with you! 
But what do you take? What is the best hiking lunch? Today, we look at some great ideas.
Before You Start
Okay, so before you just stuff your bag with whatever you feel like eating – it's important to think of some things that might hinder your experience and cause problems. Further, as well as thinking about what you can bring with you to eat on your hike, it's worth considering what you should eat before you hike.
Other considerations include:
Weight
You're hiking. It's hard, particularly when trudging difficult terrain. So you're not gonna want to take a really heavy load of food with you. If anything, it is the polar opposite of the point of food as you'll be exerting more energy than the food will provide you.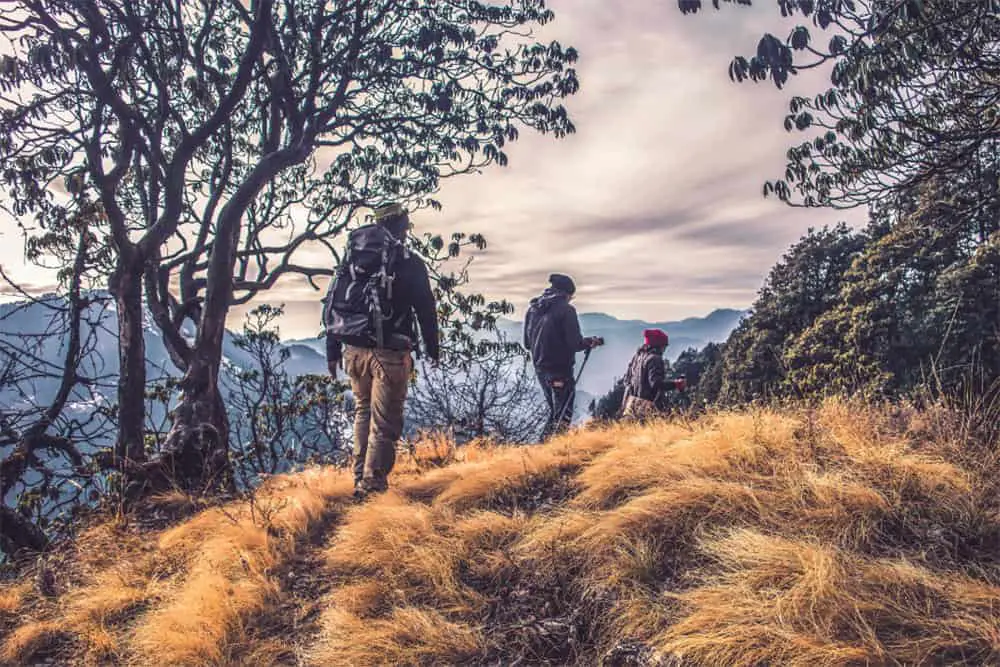 So you'll need to take something lightweight and nutritious. 
Duration Of Hike 
The longer you're travelling, you'll probably need more food and certainly more water. You must think of how to balance the weight of the food in your bag along with what you'll need. 
Perishable Foods 
It's best to avoid perishables if you're travelling a far distance, but if you're taking them – make sure you store them correctly. You don't want things melting or rotting in your bag and causing an offensive smell. 
The Make-Up Of A Lunch 
Whatever you decide to take, the crucial thing is the overall nutritional make-up of the meal. It should consist of carbohydrates, fats and proteins.
Carbohydrates are the initial and main source for the body's use of energy. Fats assist in your body getting the vitamins and other nutrients it needs and proteins help with the repair of your body, such as muscles. This is vital when hiking. 
Sandwiches 
Sandwiches are quick and easy to make and eat. They can contain all of the vital requirements we have just discussed and are made to your specificity. That means you can make them as tasty as you like!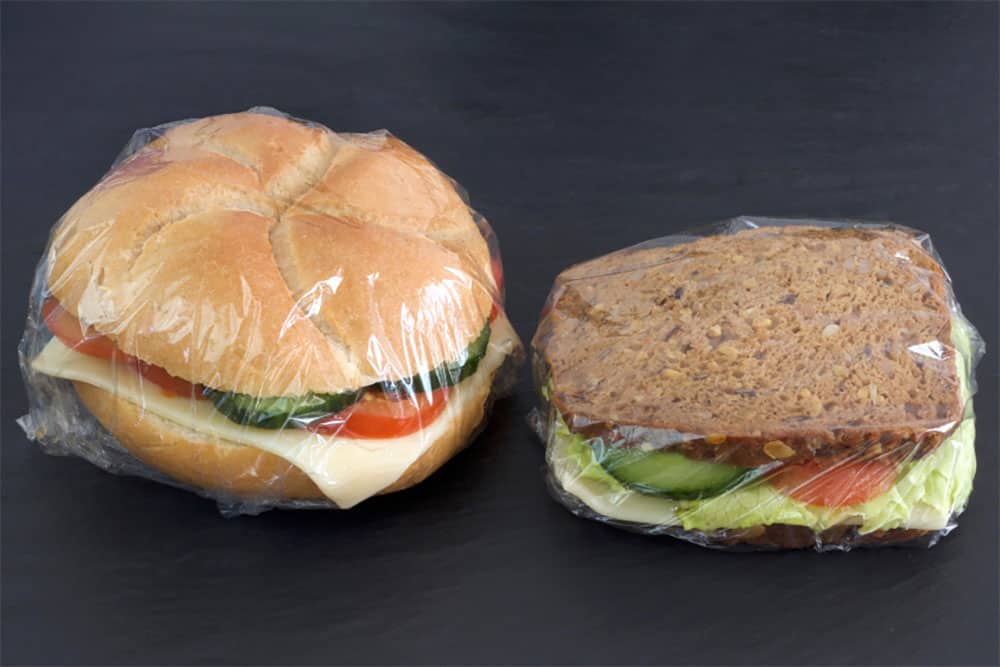 Sandwich ideas: 
Tuna
Chicken
Turkey 
Cheese 
Ham 
Peanut butter and jelly 
Along with those, make sure you get your salad on top of it. Cucumber and lettuce are the best choices due to their versatility (can go to any sandwich.) 
Pasta 
Pasta is a huge source of carbohydrates. It's another quick meal to make before you go hiking and it stores well in a Tupperware box. It's up to you on what your favourite kind of pasta is, but some basic ideas are here:
Penne with tomato 
Spaghetti bolognaise 
Linguini with garlic 
The one thing to remember with pasta over a sandwich though, is you will have an extra item(s) in your bag – the storage for the pasta and fork. 
Cold Dogs 
If you're preparing a lunch for hiking the night before, why not make something tasty hot or cold?
Hot dogs (or in this case cold dogs) are an excellent source of protein and fats which you can compliment with the sauce of your choice.
Try dijon mustard or ketchup for starters! Add some pickles or other salads to your dog and there we have it – lunch is served.
Tuna And Egg Mayo Salad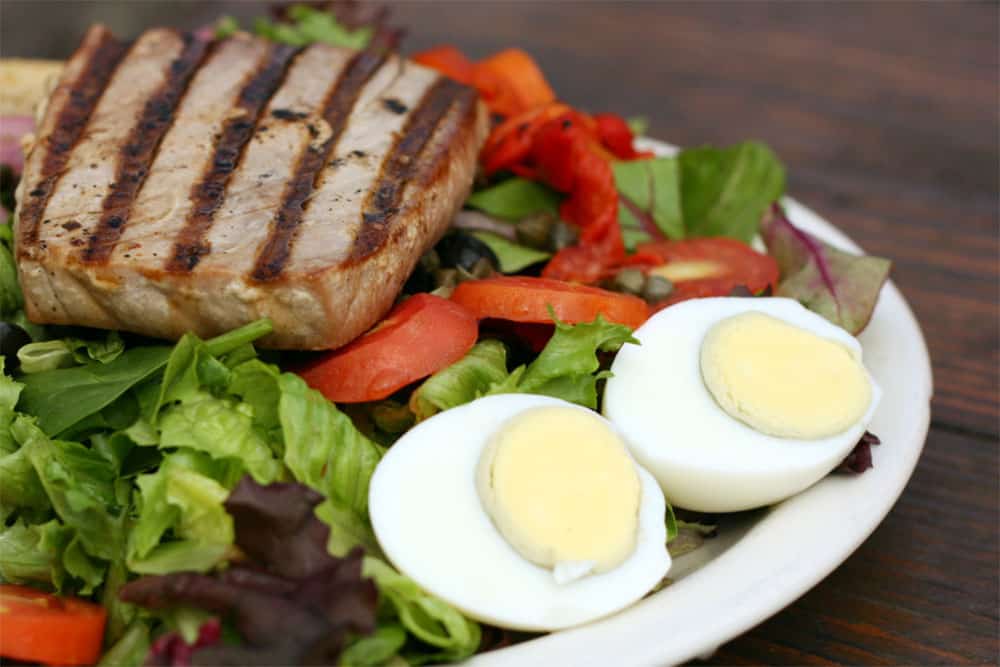 Boil some eggs up, grab a bowl and mix it with some nutritious tuna. This is a very handy lunch to regenerate your muscles and mind. High in protein and vitamins, you'll enjoy this tasty boost at lunch time!
Salmon Wrap
Salmon, like tuna, is incredibly nutritious. High in Omega 3, protein and some fats. Add this to a carbohydrate packed wrap with some vitamin fueled salad and you've got a hiker's lunching dream!
Beef Jerky
Simplicity is your friend. Beef jerky does not need to be chilled or any special storage. It's also loaded with protein. You could take a beef jerky with a sandwich and the weight of your bag will not noticeably change. 
Greenbelly Meals
You've probably seen these at the store. Entirely balanced of nutritional value and incredibly light to carry. Tasty selections to choose from like dark chocolate and banana, you've got a great level of choice.
Crackers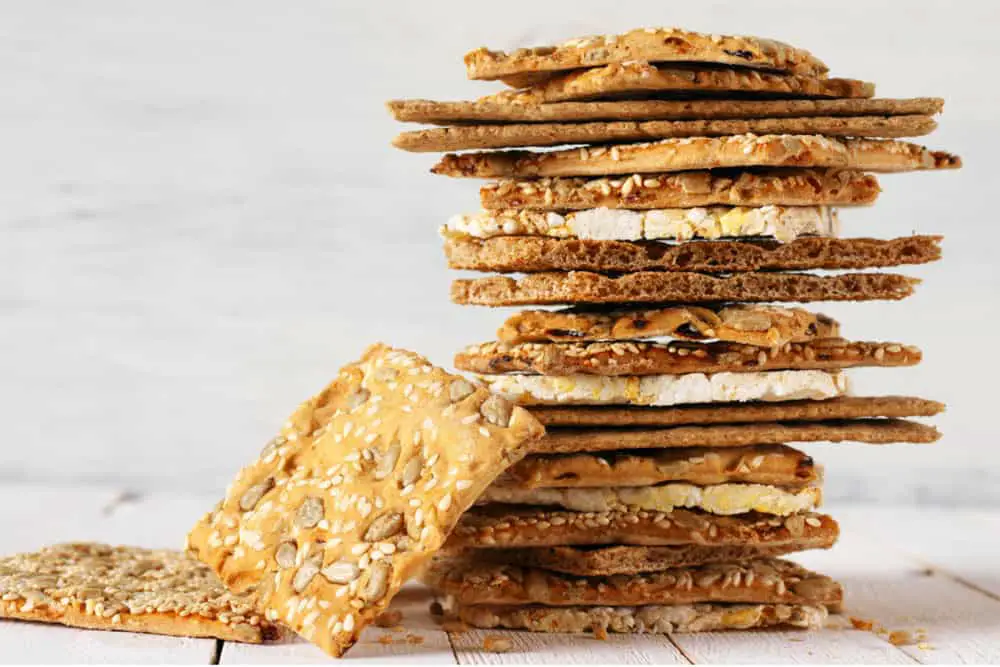 Crackers are a good source of salts and carbohydrates. They don't need any preparation and are instant "grab me and go" food. One downside to crackers is that they are likely to crack up in your bag, so you may need to protect them in something – adding to more weight. 
Bagels 
Same thought process with sandwiches, you can invent your own lunch with a bagel. Things like tuna, salmon, chicken and salami are the fillings to make this your ideal lunch. 
Tortilla Wraps
A lighter choice than the bagel – the wrap benefits from the lesser chance of fillings falling out. Wraps are often easier to pack into your bag too. Try wrapping some cooked chicken, fresh peppers and mayonnaise. Yum! 
Accompanying To Your Lunch
Of course, no lunch would be complete without something to wash it down with! Here are some drink ideas (remember though, nothing beats the classic choice of water!) 
Gatorade: Juicy, hydrating and refreshing. A great drink to replenish your electrolytes. 
Orange Juice: Loaded with vitamin C and hydrating. 
Instant Coffee: Contentious decision due to its dehydrating effects, but take enough water with you and the caffeine effect with coffee will be beneficial for a long hike. 
Reign Energy: No sugar or calories and packed with electrolytes. Beware though, too much caffeine can cause you to pee (meaning losing hydration!) 
Other things you can take with you to add some more fuel to the fire are energy bars, low calorie chips and dehydrated meals. Fresh fruit is always good for you but it has a tendency to perish quickly.
If you plan to take some fresh fruits, make sure you eat them before anything else – and store them carefully. Don't put grapes under a lunchbox! 
Food For Thought 
It's always good to plan your food before you go hiking but above all – stay hydrated!