When you're spending all day on your feet hiking, you're going to need to fuel up occasionally. And to that end, this article is going to give you all the healthy hiking food tips you need. Here goes.
Planning Ahead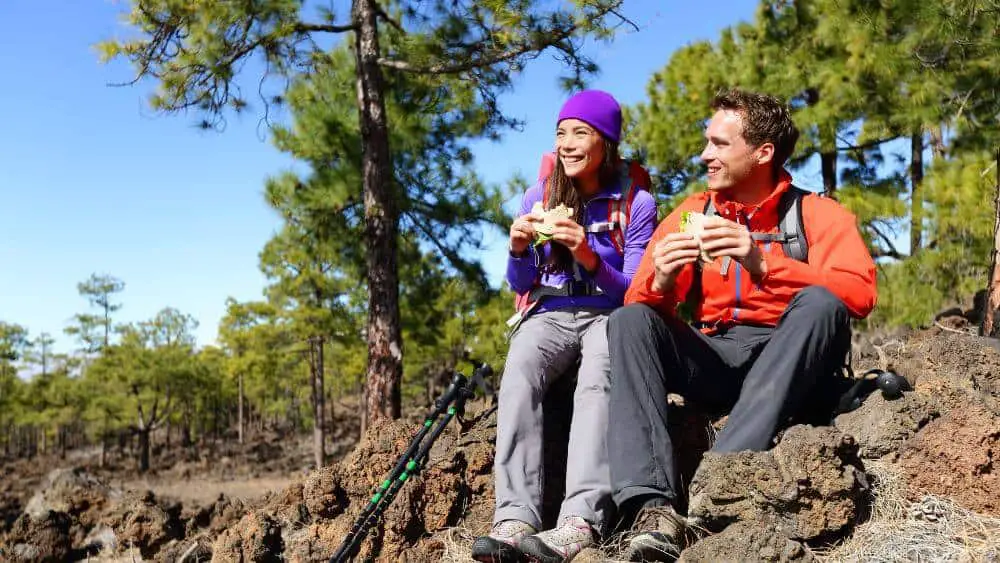 You should put together your hiking food plan well in advance of your hike. The goal is to provide plenty of healthy nutrition while minimizing the weight as much as possible. Ideally, each participant should carry their own food.
Your first decision should be whether or not you want to take cooking equipment with you. And given how lightweight hiking cooking equipment can be these days, there's no reason why you can't take some for an overnight hike.
If, however, you intend to go thru-hiking you might decide that that would be impractical, in which case you can make good use of the section titled "Hiking Food Ideas – No Cooking". 
Read next – Lunch ideas for thru-hiking
Try to choose foods that everyone on the hike will enjoy. Especially if you're limited on the number of pots and pans you can take.
Meals And Snacks
Make a list of the meals you want to enjoy on the trip. We recommend that you begin each day with a carb-heavy meal, such as granola. This should set you up for the day with plenty of energy for the long day ahead.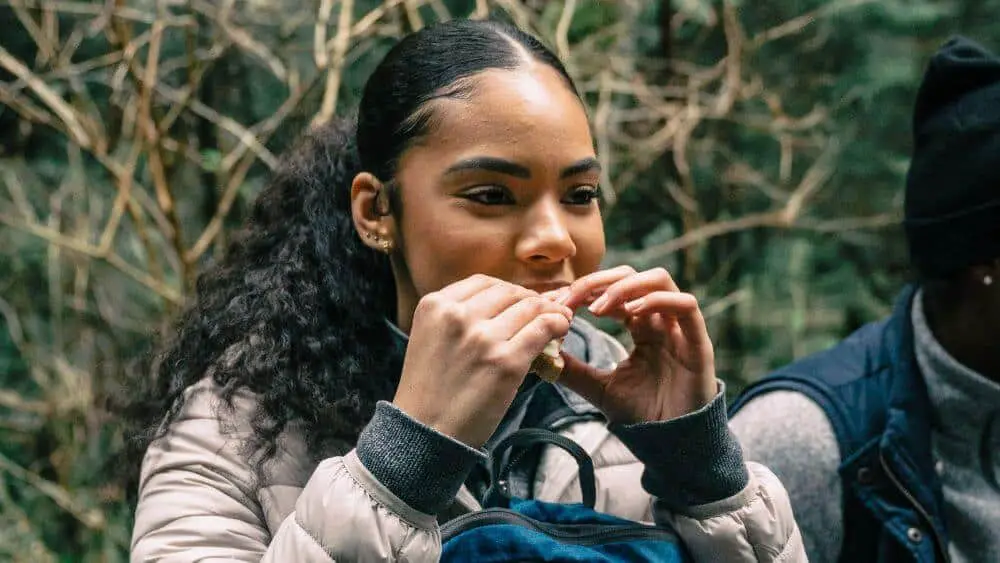 A light lunch such as a salad would be a good idea around midday, and in between meals, be sure to have a snack here and there to keep energy levels up.
By early evening, you're sure to have worked up an appetite. This is the perfect time to set up the campfire and enjoy some nice, hot, comfort food. 
Hiking Food Weight Per Day
A reasonable weight of food to carry per person would be between 1.5 and 2.5 pounds. This does not include the weight of bowls and pans, however. And obviously the more lightweight those are, the better.
This food has to contain plenty of calories to help keep your energy up as you hike, which is why we recommend that each ounce of food you carry provides a minimum of 100 calories of energy.
Hiking Food Essentials
Water
The most essential thing to think about when hiking is hydration. You should either pack water bottles, or invest in a water bladder, and a suitable way of carrying it.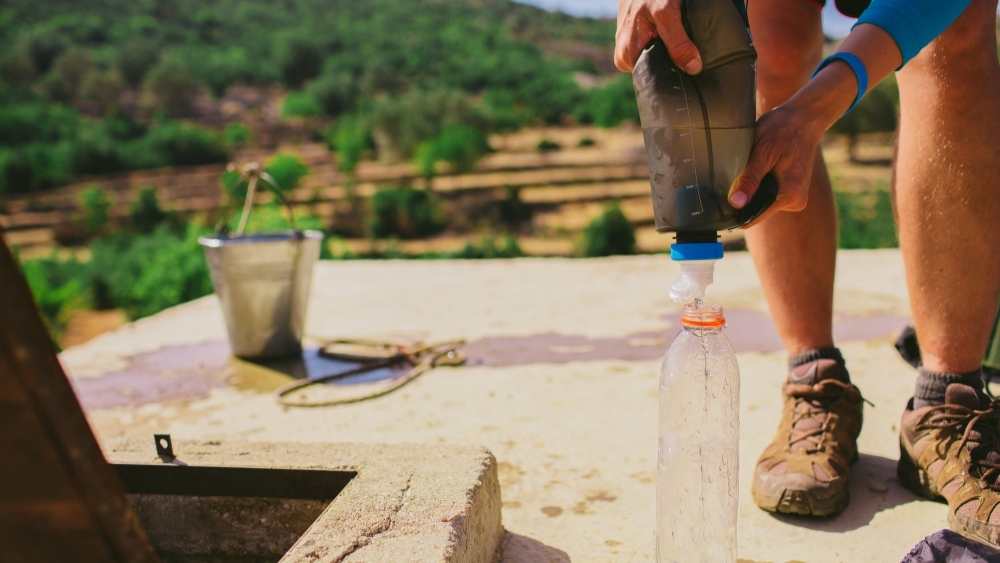 But while many people find room temperature refreshing, if you would prefer to take hot drinks, you can simply fill a thermos flask to take with you, and packets of instant coffee etc.
Meals And Snacks
There's no need to divert from your usual 3 meals a day, and be sure to space them out to keep energy levels up.
You may also wish to take something to snack on, such as nuts and dried fruit. This should help keep you going between meals.
Cooking Equipment, Bowls And Cutlery
In addition to the food itself, you also need to think about stoves, pans, bowls, forks, and such. If you want to enjoy hot foods during your trip, these are essential.
You can buy these items online, and you can get ones especially designed for backpacking trips, which are designed with storage and low weight in mind.
Hiking Food Ideas – No Cooking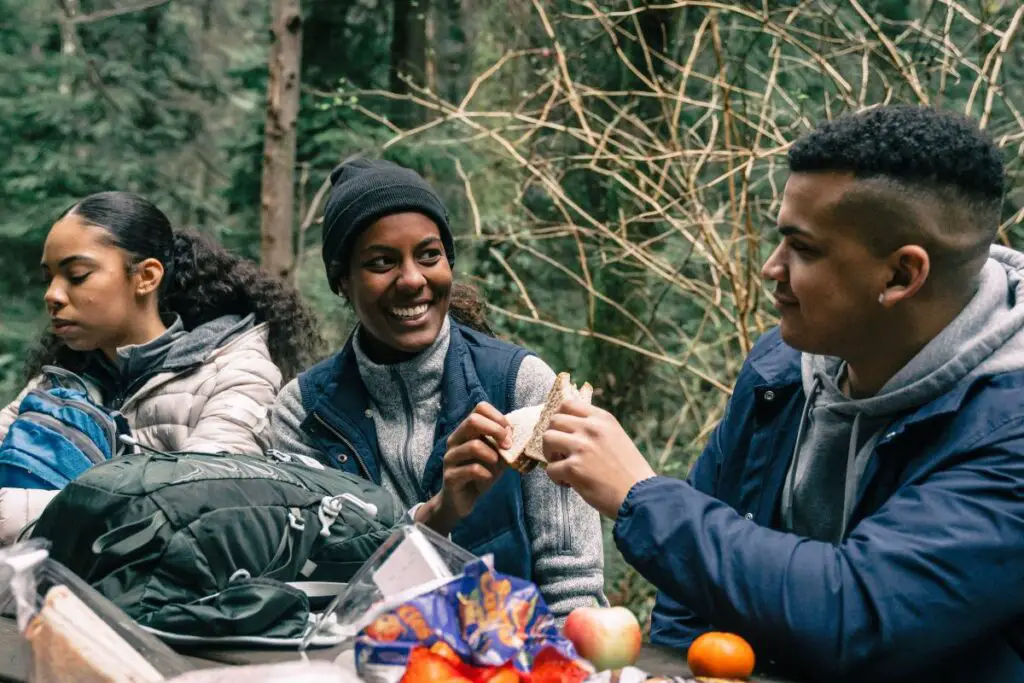 If you decide you don't want to take any cooking equipment with you, that's perfectly fine. 
With these hiking food hacks, you can fuel up whenever you're ready to, without having to bring pots or pans or make a campfire.
Here are some ideas for you:
Pieces of fruit – healthy and good for you, not to mention convenient as a snack
Dried fruit – dry fruits are lightweight and don't spoil
Nuts and seeds – nuts and seeds provide a nice protein boost, and are full of healthy fats
Granola – granola requires no cooking whatsoever, and it would go great with your dried fruit and nuts to make it healthier
Cheese and crackers – crackers are an excellent alternative to bread, because they are less likely to spoil
Salads – salads are a very healthy way to get all the nutrients you need, you can prepare them before you leave, and eat them straight from your backpack
Candy / Energy bars – energy bars make for an excellent snack that you can enjoy as you hike, and not have to stop and sit down to enjoy it
Overnight Hiking Food Ideas
Now, the various foodstuffs mentioned above that require no cooking are perfectly suited for a full day of hiking. But, if you intend to camp out overnight, you might like to plan a nice hot meal by the campfire.
If this is of interest to you, you might want to invest in a small camping stove, so you can whip up some nice warm meals to tuck into after a long day hiking.
If not, then you could concentrate on meals that you can prepare at home but can still enjoy when they are cold, such as pasta or sandwiches.
Here's a list of meals that always go down well after a hard day's hiking:
Meat and vegetable stew – beef, lamb, and chicken are popular
Mac and cheese
Filled tacos
Dessert – after a long day hiking, why not treat everyone to dessert?
For specific recipes (rather than ideas), please scroll down to the section titled "Recipes For Hiking Food".
Food For 5 Day Hike
If you're after long distance hiking food ideas, you should check out this thru-hiking food list.
Packets of dry grains – dry grains are packed with energy and only need a little heat and water  before they are ready. This could include rice, pasta, couscous and more
Packets of meat – meats are packed with protein and make an excellent accompaniment to dry grains, tuna and salmon are easy to get hold of in this form
Seasonings – camp food doesn't have to be boring, even a sprinkle of garlic powder can make a whole lot of difference
Freeze-dried meals – a lot of the freeze-dried meals made especially for hiking are actually very nutritious, and there are loads to choose from on the market – you can even get Chinese and Mexican ones
Instant tea or coffee – just because you're out hiking doesn't mean you have to miss out on your favorite hot drinks
Cheese – cheese comes packed with energy, and can easily be kept for a few days out of the refrigerator
Instant Oatmeal – oatmeal is such an easy dish to make, and really feeling, too. What's more, it goes great with any dried fruit, nuts, seeds, or trail mix that you want to bring
Tortillas – tortillas are the perfect vessel for your peanut butter, cheese and meats
Recipes For Hiking Food
Snow Peak Titanium Trek Plate - Ultralight, Durable Camping Plate - Outdoor Kitchen Essential for Backpacking & Camping - 18 cm
Sleek & Durable Camping Plate: The Titanium Trek Plate is the perfect sturdy and stylish addition to your camping gear collection
Ultralight & Stackable Cookware: This ultralight camping plate is stackable, making it easy to pack and carry in your backpack, car, or camping gear
Camping Plate for Small Meals: Ideal for backcountry, camp, or everyday dining; dinnerware for snacks, sandwiches, and more
Outdoor Kitchen Essentials: These versatile titanium plates can be used as frying pans to cook your favorite meals on camping trips
Experience Nature with Snow Peak: For more than 60 years, we've been making heirloom-quality gear and apparel to help people slow down, connect with others, and feel close to nature
Here follows the link for some of the best hiking recipes on the net:
Tuna Couscous Bowl: This is such a simple, easy recipe. You need very little equipment and the only ingredients you need are couscous, tuna, water and seasoning.
Epic Summer Salad: This healthy recipe requires no cooking whatsoever, which is perfect if you don't want to take pots and pans. And it's really tasty to boot.
Hiking Food Hacks
And now for some more general hiking food tips…
You can get yourself a plate and pan in one, like this one from Amazon.
You can brew teas on the go in a water bottle strapped to your backpack.
You can invest in a dehydrator and dehydrate your favorite meals to take with you.
Eat suitable wild foods you find along the trail, but you need to know what's safe to eat.
Eat as you hike. You don't have to sit down every time you feel a little peckish, simply grab a banana or some such and keep going.
Bring some indulgences – having something to look forward to at the end of the day is all part of the fun.
Ditch the single-serve packaging and lump foods together. The less packaging, the less weight you have to carry.
Wrap Up
So, now you have some ideas about what foods you can take on your next hiking trip.
There are some which require no cooking at all, but if you're stopping overnight or longer, you may wish to invest in a stove and cook one or more of the recipes linked to earlier.
Our top tip is to try and stick to the recommended 1.5 to 2.5 pounds of food per day per person. You need enough food for 3 meals per day, plus snacks as well.