If you are looking for a quality camping mat, you should read our review of the Zempire Monstamat as well as our review of the Zempire Monstamat twin.
What Makes For A Good Camping Mat?
Before we get into the review, we should first cover what you should look for in a camping mat so that you can use these factors and apply them to the Zempire Monstamat.
Warmth
When purchasing a sleeping mat, be sure to look at the warmth rating.
The R-Value is commonly used to assess the warmth of a mat. This is the same figure you could use to calculate the effectiveness of your home's insulation.
In contrast to a vented sleeping bag, you should always get a sleeping mat with an R-Value equal to the lowest temperature you may face.
Plus, if you sleep chilly, always increase the R-Value. Aim for 4-4.5 or higher in the winter, and higher than 5.7 in extreme cold.
Designers may boost the warmth of a sleeping mat in a variety of ways. The first consideration is thickness. You'll be elevated above the ground, with more air between you and cold ground and more air to heat up and keep you warm.
Another technique to provide warmth is to change the materials utilized. Thicker material will keep the cold out a little longer.
Finally, to increase warmth, a layer of down or synthetic insulation might be added.
Construction
Sleeping mats have long had a problem with durability. The materials utilized to make these mats lighter tend to grow thinner and thinner, often at the sacrifice of durability.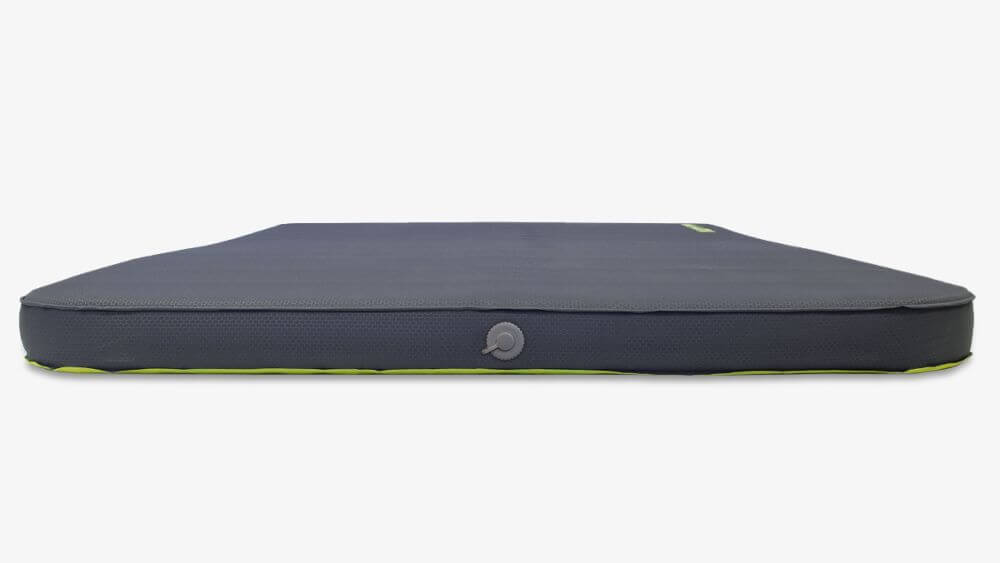 Twin mat prices
Over the years, it has become evident that mats are the camping equipment that degrades the most under severe usage.
The valve can fail, which is a difficult remedy, and the internal baffle walls can disfigure and bloat.
Any punctures, on the other hand, may typically be repaired swiftly on the spot. Most mats come with a puncture repair kit and can be repaired in the same way as a bike inner tube can.
Inflation
Over the last several years, there have been a few adjustments to inflation systems in an attempt to avoid becoming dizzy when blowing up the mattress.
Some still use pumps but because most lightweight mattresses are tiny and thin, you should be able to fill them in 20-30 breaths or so.
The Zempire Monstamat is a self-inflating mat. A self-inflating mat consists of a layer of compressible foam placed between two layers of fabric with a valve that is sealable. When the valve is opened, the foam swells and draws air into the mat.
After a few minutes, the mat should be semi-stiff, but you may need to add a few more breaths of air to make it firm enough to sleep on.
The foam acts as a built-in pump, trapping still air within the mat and providing insulation.
The sealed fabric, combined with the foam, creates a bouncy surface for sleeping. Because the foam is compressible, the entire mat may be wrapped up in a small container simply pressing all the air out.
Zempire Monstamat Review
The Zempire Monstamat, available in single and double sizes, is an excellent example of a self-inflating camping mat. It is 10cm thick and covered in a beautiful stretch ripstop fabric.
The 360-degree valve allows for rapid and easy inflation and deflation, while the heavy-duty 150-denier base adds added durability.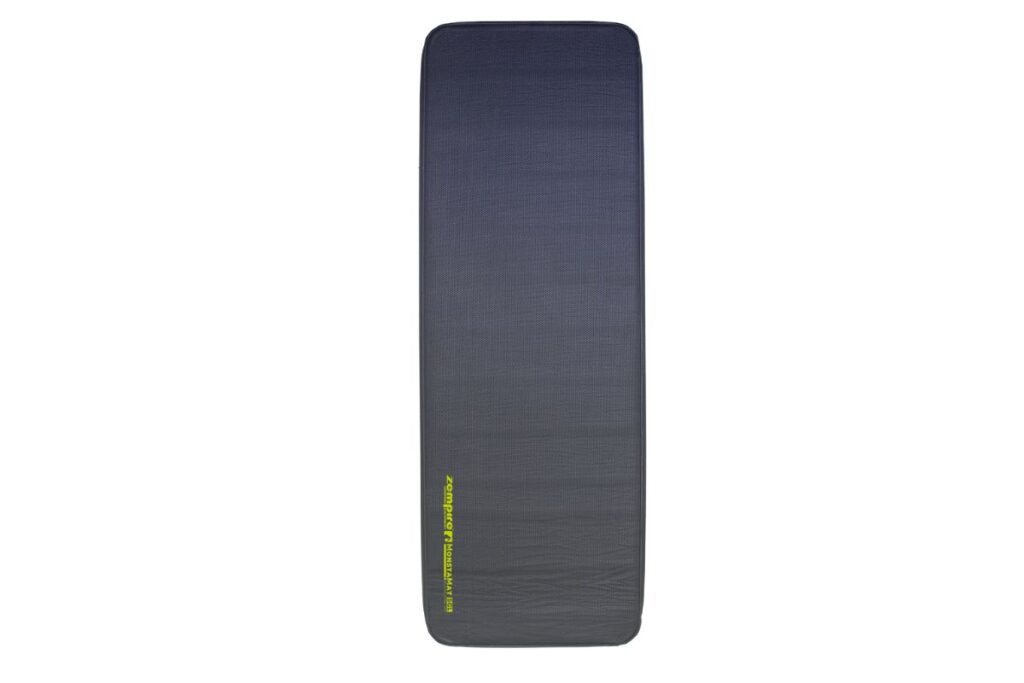 Single size prices
These are a little large to transport, especially the doubles, and are far from light, but for family camping vacations, they are definitely worth making a little extra room in the car.
This is a high-quality mat with 3D construction, a 150D polyester foundation for strength, anti-bacterial treated foam, an open-cell foam structure, compression straps, and, probably most importantly, a no-noise surface.
With a weight of 7kg, this is another wonderful option for individuals wishing to invest in a high-quality camping mattress for usage in a trailer or campervan.
The cost is affordable in terms of camping mats but may still be too much for some, but you are paying for quality.
With a thickness of 10cm and several excellent specifications, this is the greatest self-inflating mattress for vehicle camping in our opinion.
Another great thing about the Zempire Monstamat is that it is very easy to use. All you have to do is take it out of its bag, lay it flat, open the valve and then leave it for a little moment – and then close it again. Now you are all set to add a quilt or sleeping bag and enjoy!
Zempire Monstamat Twin Review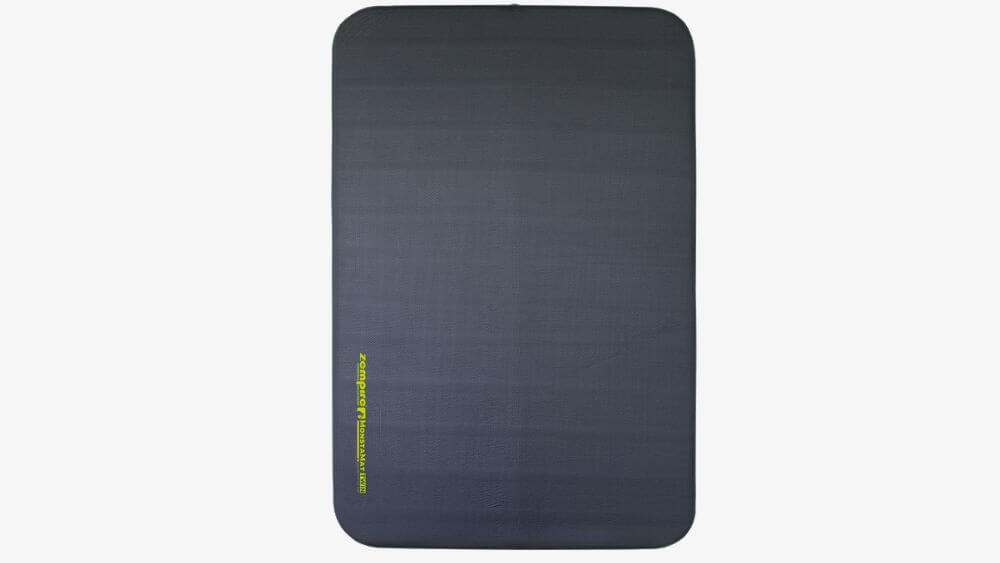 Twin mat prices
Material
The mat's top is made of 40D Super Stretch Rip-Stop, making it incredibly pleasant, soft, and noiseless compared to some mats that have a loud noise when you move on them.
This dark color of the mat means that it doesn't reveal every small mark, which is fantastic for when you are camping as things are bound to get a bit messy every now and then.
Comfort
Because it is a 100mm completely bonded mattress, you can move about without disturbing anyone else on the camping mat, and you don't sink through to the ground even while lying on your side.
This is the closest thing to the sensation of an inner sprung mattress that you can sling on your roof rack and take camping. It is also warm, in addition to being comfy.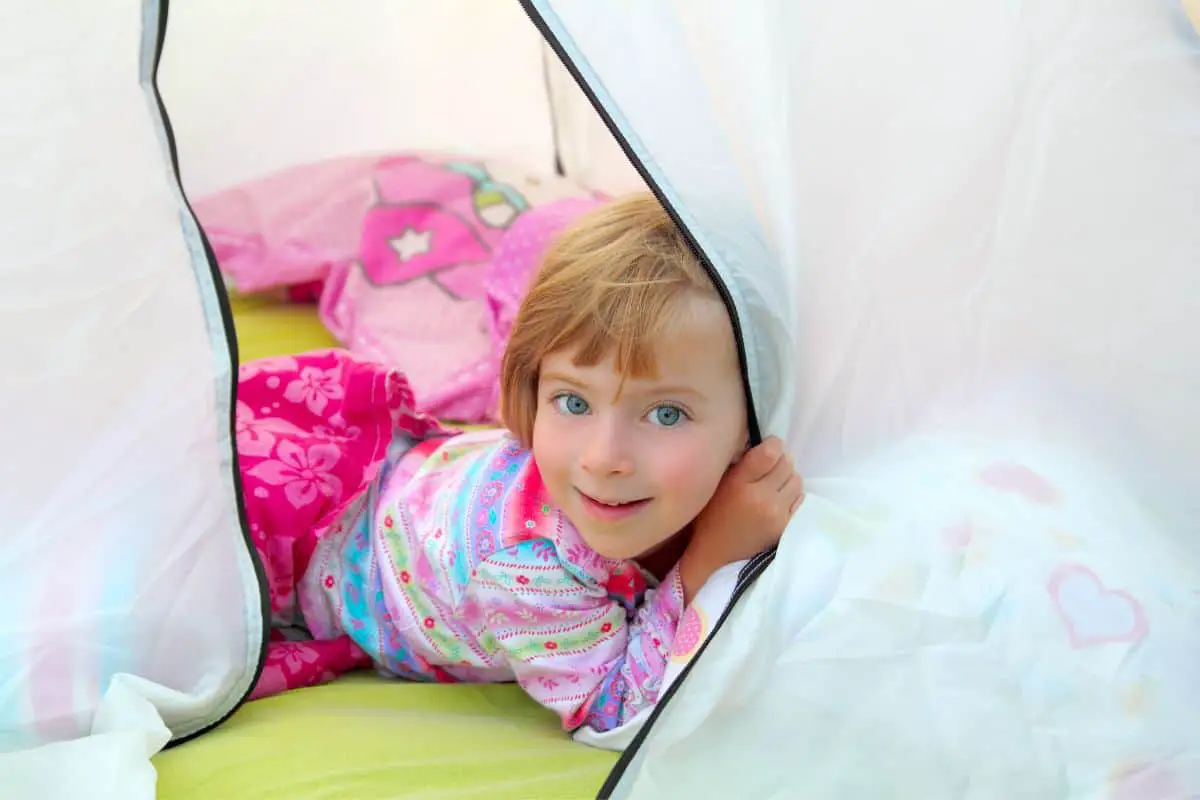 Warmth
With this mattress, when it is below zero outside, you wake up feeling as though the electric blanket is still on, even if it isn't. It is almost as though the warmth from the bed is radiating up from this object.
A drawback of this camping mat could be that apart from other self-inflating mattresses is that the screw-on cap for the valve is difficult to get started when replacing it.
It is actually a tiny issue, and once muscle memory kicks in, it will usually be much easier.
Portability
You don't have to struggle to keep the air out and worry about it re-inflating when you're packing it.
Once the air is gone, it is gone. That is, you can roll it up several times in succession and pack it down incredibly compact and little with ease.
But, more significantly, the bag is large enough that even a rapid roll will allow you to put it back into the bag with ease. It is certainly easier than most, if not all, of its competitors, in my opinion.
Price
At just over $200 USD, this mattress offers all of the quality and functionality of higher-end bonded camping mats in a more accessible price range for the ordinary camper.
The price tag may sound like a lot for a camping mat, but it is definitely worth it.
Pros
There are a lot of pros that come with this product. One of the best things about the Zempire Monstamat is that it is very affordable which definitely gives it a leg up over its competitors who offer the same perks but at a higher price.
Another great thing is that you do not have to wait for the mat to fully deflate before packing it away in its bag. This saves you a lot of time whilst you're out hiking and will give you more time to explore rather than wait in frustration as the mat slowly releases all of its air.
The one-way valve that this camping mat has allows it to deflate quickly and without you having to put pressure on it to speed it up.
On the subject of inflation, the Zempire Monstamat is able to inflate very quickly and does not even require that much air at all before it is comfortable to sleep on.
Whilst carrying this camping mat, you do not have to worry about it unraveling or causing problems as it has a set of velcro straps that help to keep it in place.
Finally, another advantage of this camping mat is that it is fully bonded and has an R rating of 9.5 which is lovely and warm – suitable for taking to cold climates.
Cons
It is quite common for users to feel that the cover of the valve is quite tricky to screw on.
This camping mat can also be a bit bulky when you are traveling with it. This doesn't make it a great option for hiking with it in your backpack as it takes up a lot of space and some people will likely find it too heavy. Instead, if you are able to you can leave it in the car and take it out when you are at the camping spot.
You cannot get this mat in a queen size so if you are camping with a lot of people, you will have to buy more than one of these mats and push them together if you need the space. If you are a larger person in terms of height and weight then you may also feel that it is too small for you which can lead to a loss of heat and overall comfort.
Twin mat prices
Looking After The Zempire Monstamat
To ensure that this camping mat performs as it should, you should always have it on a flat surface with the valve open.
By doing this, the foam will be able to stay expanded as much as possible which makes it nice and comfortable.
It will also make sure that any moisture that is trapped inside the camping mat will be able to get out.
When your mat is stored, it will usually be rolled up but if you are able to, you should let the mat out flat again and inflate it so that the foam will not get distorted by staying in a rolled-up position for long periods of time.
If your mat is punctured, you should repair the damage with the adhesive which should be included in your camping mat package when you purchased it.
Single size prices
If you do not have this adhesive, then you can use any other flexible, strong adhesive.
In order to prevent mildew from accumulating on your Zempire Monstamat, you must make sure it is completely dry before you store it. And when you do store it, it should be kept out of direct sunline and away from moisture and chemicals.
Cleaning the mat is pretty straightforward, all you need to use is warm water and gentle soap. But before you start cleaning you need to close the valve so that none of the water gets into the mat.
Once you have cleaned it, let it air dry, and remember to avoid putting it in a dryer or washing machine as this can damage it and make it unusable.
When you are camping, it is not uncommon for there to be portable gas hobs, campfires, lighters, and more around the area but you should keep them well away from your camping mat.
Finally, using your camping mat on sharp surfaces over and over again can wear out the material on the bottom and can even lead to it losing its ability to inflate properly so avoid it if possible.
Conclusion
Having a camping mat that is good quality is key to getting a good night's sleep in the wilderness.
There are factors that you should think about that will help guide you toward a good camping mat and the Zempire Monstamat happens to have a lot of them.
It is affordable, warm, quick to inflate and deflate, comfortable, and comes in a single or twin size – and this is just to name a few of its wonderful benefits.
However, it is not perfect as there are areas in which it lacks such as the operation of the valve which can be difficult to screw, and it is not the best for lightweight travel as it is quite bulky which is common for inflating camping mats but something to take into consideration about all the same.