Bryce Canyon is located in southwestern Utah. Whilst considered the smallest national park in Utah, it is certainly not one to be missed. 
The national park offers stunning views of its unique hoodoo formation along with grande views of the surrounding landscape and wildlife.
This is a great place to go hiking as the park offers a range of hiking trails each with unique features and unique views. 
If you're looking to hike in Bryce Canyon National Park, here's all you need to know before your trip. 
Is Hiking In Bryce Canyon Difficult?
Bryce Canyon offers a variety of hiking trails which each offer unique and breathtaking views and differ in length and elevation change. No one trail is the same.
Bryce Canyon's elevation reaches over 9000 ft/ 2774 m. So it's no surprise that even the mildest exertion may lead you to break into a sweat or even leave you feeling light-headed and nauseous.
To help combat feeling this way, be sure to drink plenty of water and take breaks as and when needed. 
Some trails at Bryce Canyon are more difficult than others.
The trails are characterized in order of:
easy
moderate
and difficult
The difficult hikes are considered to be more strenuous with an elevation of about 1075 ft/ 328 m to 1716 ft/ 523 m. 
One of the most difficult trails is the Fairyland Point also known as the north of Sunrise Point.
This trail:
takes approximately 4-5 hours to complete
it's 8.0 mi/ 12.9 km long
and reaches an elevation of 1716 ft/ 523 m
This trail is definitely a strenuous one but once achieved it offers spectacular views of the Chinese Wall, giant hoodoos, and Tower Bridge.
Due to its level of difficulty, this trial is often fairly quiet. So, if you're feeling up to the challenge this hike is excellent for getting the best view. 
Factors to Take Into Consideration Before Hiking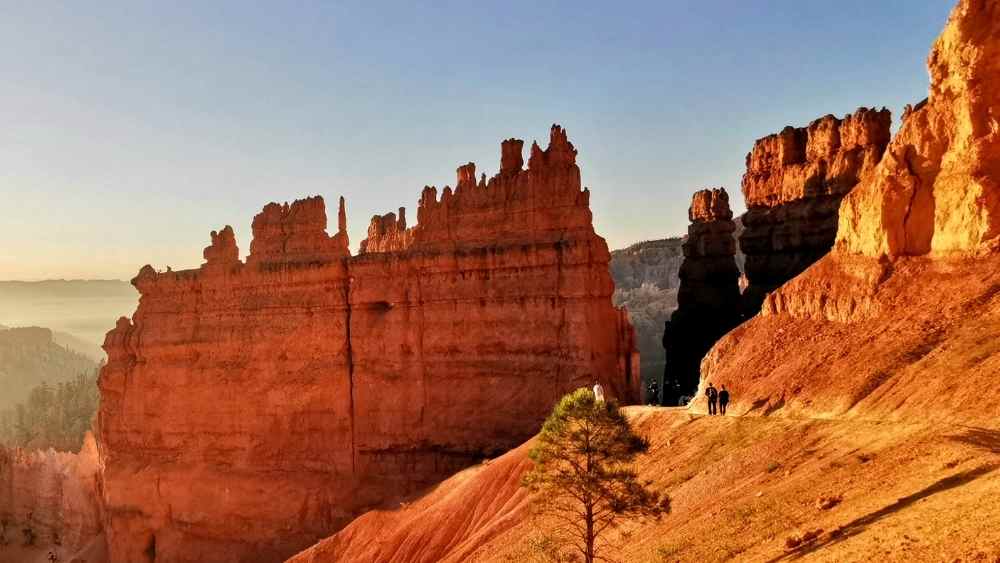 Traveling by Car
If you're traveling by car, make sure to arrive at the park early to start your hike.
During spring and fall, the parking lot tends to be full by mid-morning. So, to avoid any disappointment, be sure to plan your trip ahead of time to get there as soon as possible.
Though it may be an early start, some people consider this to be the best time to hike due to the ambient lighting. 
Thunderstorms
Thunderstorms are a common occurrence in Utah.
If you're thinking of hiking for several days or just for the day, be sure to check the weather forecast before setting off and having all the supplies you need in the event of a thunderstorm occurring. 
Pets
If you're thinking of taking a furry friend along with you on your hike, you may be limited to specific trails as pets are only allowed access to paved trails and they must be leashed at all times.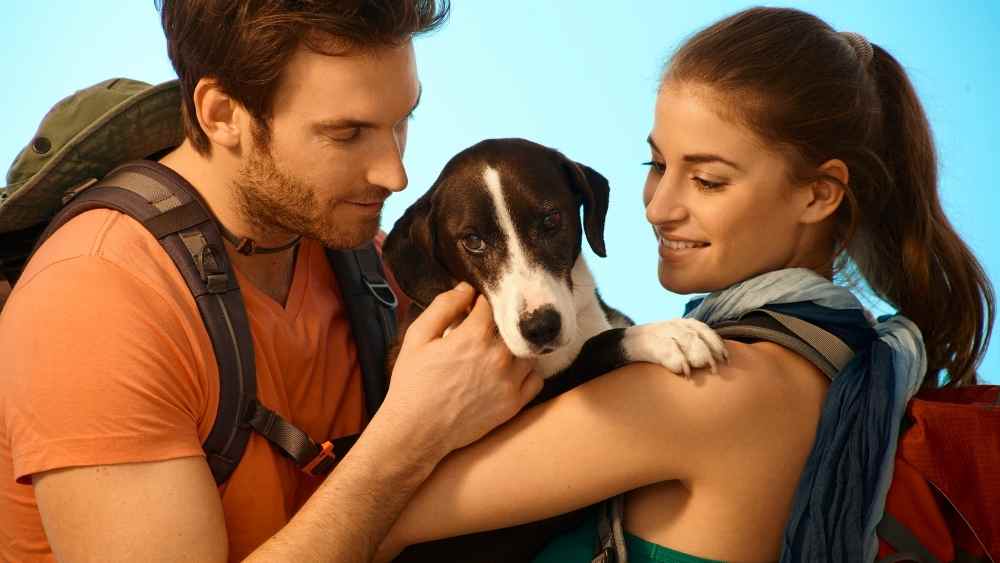 The good news is that If you are set on taking your pet you'll have access to paved areas as well as viewpoint destinations, campsites, and communal areas such as picnic areas.
If you do decide to hike with your furry friend, you'll be able to hike from the section of Rim Trail between Sunset and Sunrise Points as well as shared use bike paths as these are only paved trails in the park.
If you feel like you'll miss out on seeing some great views from these trails, you may want to consider visiting a neighboring park 'Red Canyon,' as there are more pet-friendly paths. 
What Can I Do In Bryce Canyon In One Day?
Whether you simply want to switch things up or you're looking for something to entertain the kids, there is plenty to do at Bryce Canyon.
Hike the Hoodoos
Bryce Canyon offers an activity called 'hike the hoodoos.'
This activity includes some hiking and some scavenger hunting. The aim of this activity is for visitors to hike at least 3 miles of trails with markers at different points.
The aim of this activity is for visitors to document their trail markers to show how far they've hiked.
This is a great activity for anyone looking for a fitness challenge or just simply looking to get out in nature.
"Hike the hoodoos" is great for all the family, especially kids as it encourages them to get involved. This activity is available all year round and it only takes around 2-6 hours to complete depending on how far you want to go.
Birdwatching 
Are you a fan of birdwatching?
If so, Bryce Canyon is the place for you. This National Park is teeming with wildlife with about 175 varieties of bird species.
Whatever time of day you visit, there's an opportunity to spot something special.
This is a great activity to take part in during your hike as it encourages you to stop frequently to take a look around. 
Which Trails Offer Must-See Views?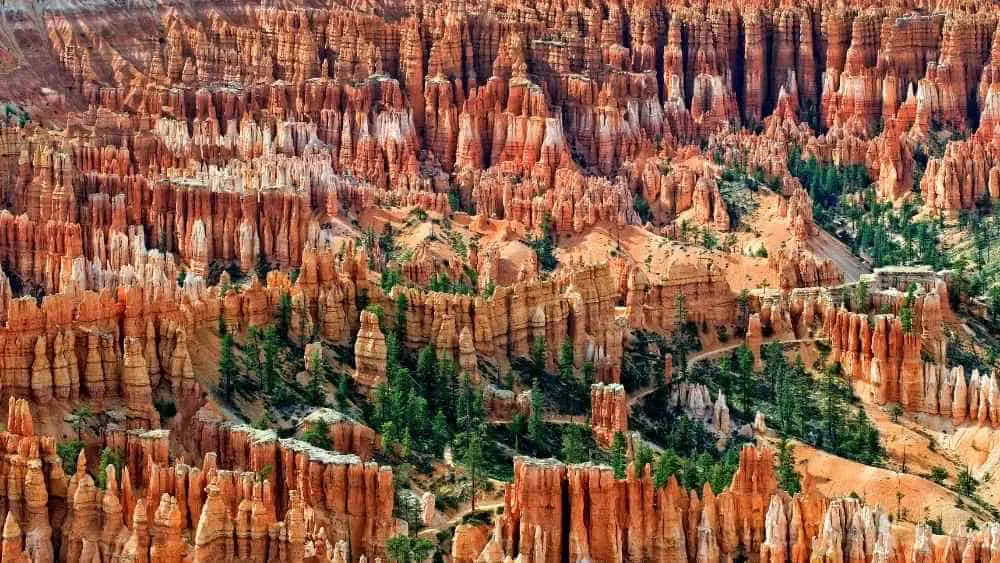 Navajo Loop Trail
Navajo Loop Trail is a must-see. One of the milder trails, this hike is relatively easy and a great choice for beginner to intermediate hikers.
This trail is considered one of the most popular of the trails at Bryce Canyon as it offers stunning views of the surrounding landscape engulfed by golden sunset hues.
This is a great place for anyone looking for a clear view of the valley floor and hoodoo formations including:
Thor's Hammer
Twin Bridges
and Wall Street
Taking between 1-2 hours to complete, with a distance of 1.5 m and a 500 m elevation, this is an epic trail to start on especially if it's your first time visiting the park. 
The Queen's Garden Trail
The Queen's Garden Trail is another standout trail.
The Queen's Garden is a spectacular trail that has a similar feel to the Navajo Loop but offers colorful views of the landscape.
This trail leads to beautiful formations such as Gulliver's Castle, and the Queen's Castle. Again this is a relatively easy and short trail as it is 1.8 m with an elevation of 630 m.
It should take about 30 minutes to complete this trail, leaving plenty of time for you to explore more. 
The Rim Trail
The Rim Trail offers jaw-dropping grande views of the hoodoo formation that make up the park.
This is a great hike to go on if you're planning on visiting for the day as the trail is 5.5 m long and should take between 3-4 hours to complete.
With an elevation of 1754 ft, this is a slightly more difficult hike but a great option if you're looking to challenge yourself. 
What Do I Need For Hiking In Bryce Canyon?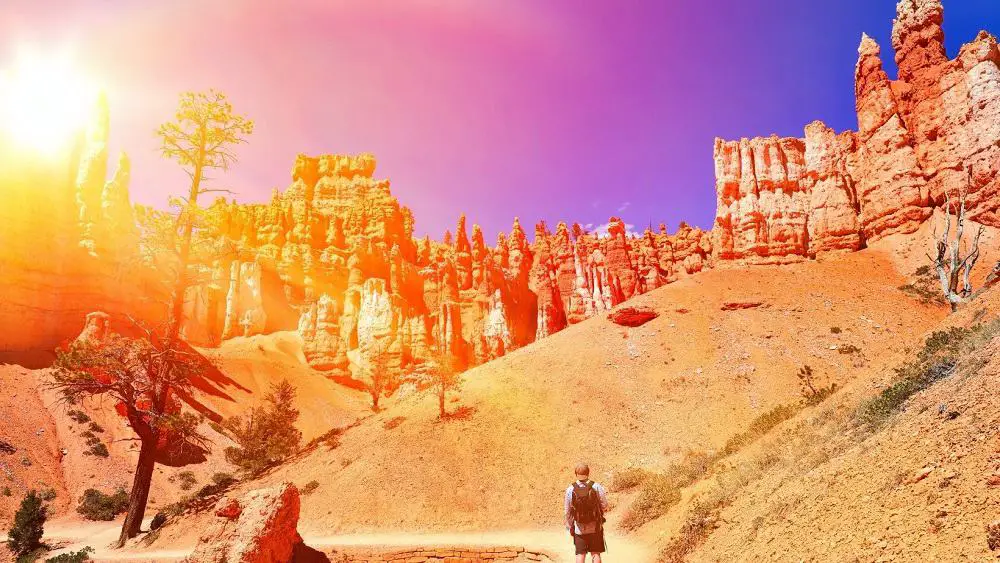 Before your hiking trip, be sure to make sure you have everything prepared with what you'll need. 
A handy bit of kit to have or invest in is a good pair of hiking boots with good traction. With varied terrain, you'll want something that you find comfortable and offers great ankle support. 
Dress accordingly, with layers that you can add or take off. Clothing such as long sleave breathable tops, fleeces, down jackets, and waterproofs are all great items to take with you. 
Carry plenty of water with you no matter what season it is. Hiking can be thirsty work and the last thing you want after trekking for hours is to run out of water. It's advised that you take about 1 liter of water per person for 2-3 hours. This should be enough to keep you hydrated. 
During the winter months, you may face unsteady terrain, it's advised that you take crampons or ski poles with you for extra support and grip. 
Whilst it may not be sunny, it's always a good idea to take some sunscreen with you. Besides sunburn, UV exposure can be dangerous. So, regardless of whether the sun's out or not, you may want to gear up with a layer of sunscreen to protect you whilst you're out hiking. 
When Is the Best Time to Visit Bryce Canyon?
Though beautiful all year round, Bryce Canyon comes alive during the spring and fall.
The best time to visit the park for the most stunning views is from April to May and September through to October as these months offer the best temperature. 
Important Notes:
Remember that Bryce Canyon is a National Park and it's our job to protect it and treat it with respect. With this in mind, remember to not leave a trace behind, this means picking up litter and dog poop.
Visitors are also asked to be respectful of the landscape during their visit by avoiding going off track as this can lead to damaging plant and animal habitats or climbing or taking fragments of rocks and artifacts from the park.
Takeaway 
Bryce Canyon National Park undoubtedly offers exceptional views of its distinctive and beautiful landscape.
The park is not only home to 175 bird species and 400 plant species, it is also home to a variety of mammals, and the incredible hoodoo rock formations that it's so famously known for.
Whether you're thinking of visiting for the afternoon, a day, or several days, hiking in Bryce Canyon National Park will be an adventure that you won't forget.