Campers are always looking for the next best product to improve their outdoor experience, and the tent is often the biggest, heaviest, and most important aspect of their setup.
If you are on the market for a new tent, then you must have heard of The One by Gossamer Gear. 
If you haven't, or you have only heard whispers, then you will want to read our full review! Here we go into plenty of detail to showcase the good and bad of the tent to help you decide if it is the one for you or not.
We know how difficult it can be to select the right tent and are here to put any worries to bed and walk you through the process. Just read on to find out more!
The One Tent Overview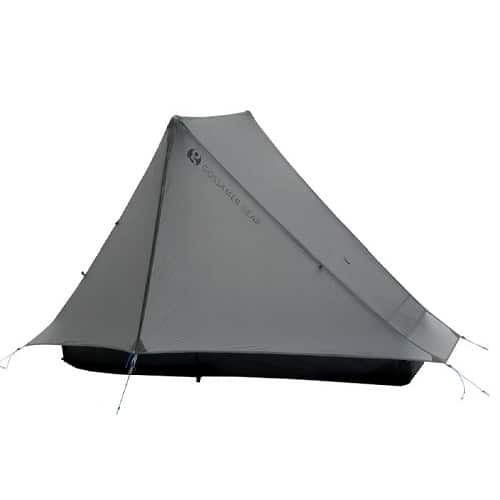 The One tent is a fully enclosed, single-person silNylon shelter, that is erected with two adjustable trekking poles. You can also use two custom-length poles, though these have to be bought separately. 
This tent is very small and is only suitable for a single person. It has just one vestibule and a door on one side of the tent. On the backside of the tent is a solid wall that is protected by a smaller beak-style awning than the one that creates the vestibule. 
This tent design saves weight but at the expense of wind resistance, which means that you need to think carefully about proper tent position during pitching. 
The One tent has established a cult following from hikers to campers and is now routinely sold out. So if this review convinces you that this is the perfect tent for needs, buy it straight away!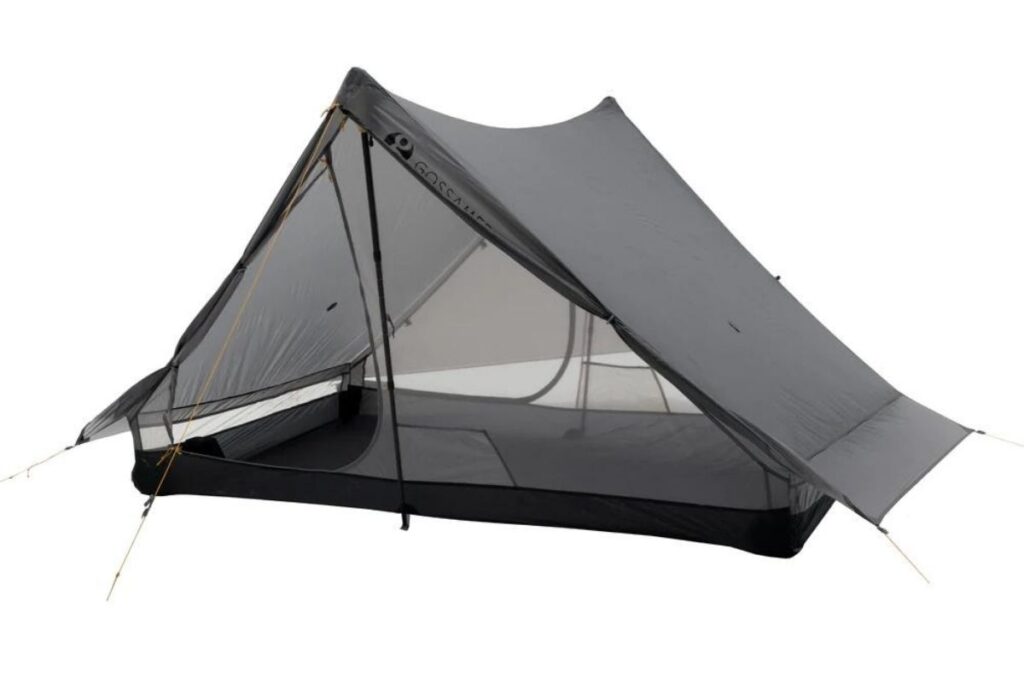 If you appreciate this style of tent but prefer to travel in pairs, try The Two, which is constructed identically to The One but has twin entrances and vestibules.
What You Get With Purchase
The purchase includes the tent, four additional guy wires pre-cut with line locks, which are used to extend the sides of the tent to keep it stable in windy weather, and comes with a lightweight silNylon stuff bag that can easily fit the tent when it is rolled up correctly. 
Additionally, more guy lines and stakes are included. The tent may be erected with two adjustable trekking poles, or by purchasing appropriate-length carbon or aluminum poles from Gossamer Gear.
The tent's seams are taped at the manufacturer, meaning that there is no need for seam sealing after purchase. 
Pitching The Tent
If you have never attempted to pitch a tarp tent before, then you will probably struggle to pitch The One tent at first.
These kinds of tents are much more fiddly, and it takes some practice to understand where everything goes and how to keep the tent stable. 
If this is your first tarp tent experience, then we recommend practicing pitching the tent in your backyard before you go on your first camping adventure with it. 
Once you understand how the tent works though, you should easily be able to pitch the tent all by yourself quickly.
With a little practice, you could easily erect this tent in less than 5 minus, which is great if you are trying to get out of the cold quickly. 
Another reason why this tent is pretty easy to set up is that it is very small with very few parts, so you are spending far less time putting poles together and more time getting cozy in your temporary home. 
To pitch The One tent, begin by staking out all four corners, leaving some slack between them. This simplifies the one-person setup in a windstorm by eliminating the need to secure the tent in place.
Placing the poles in the center of each side is easy in this design since the poles are fastened to grommets and have keepers outside the tent. 
After that, stake out the vestibule and opposite side tensioner, and then quickly go around the tent to confirm all stakeout points are secure. With practice, erecting this tent can be a breeze.
Weight
If you are going for a long hike or are traveling in the wilderness for a few days, the last thing you want is to carry a huge, heavy tent around on your back. 
Compared to other shelters of the same size, The One is pretty heavy, coming in at around 1lbs and 5 ounces.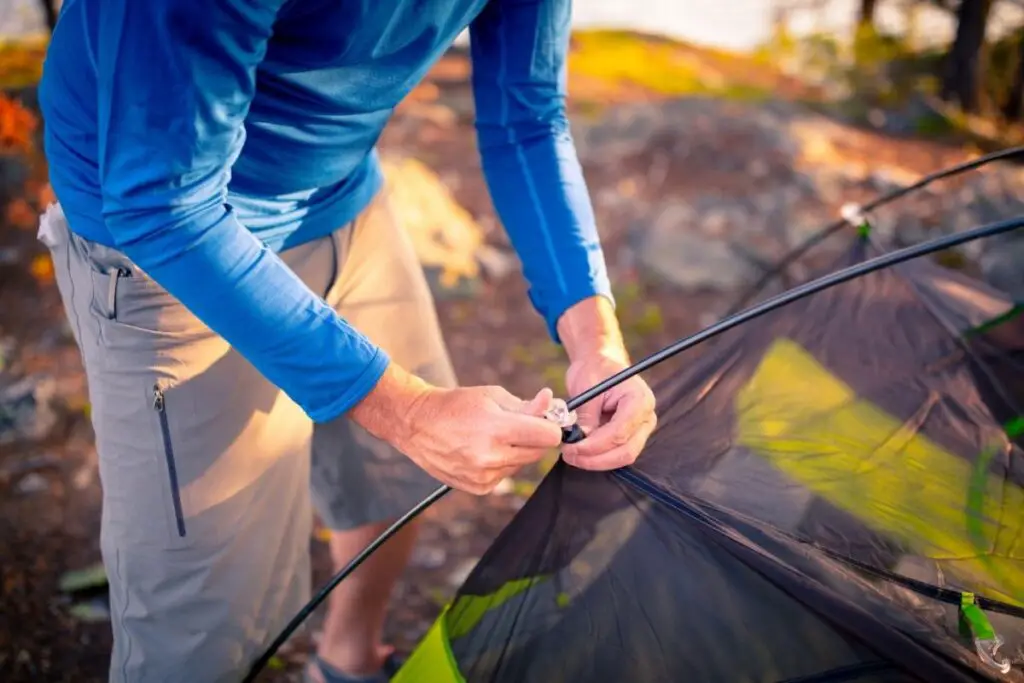 These other similar tents are often made of both lighter and tougher materials, so it is odd that Gossamer Gear has not made use of these same materials in their product. Still, having this tent on you is better than having nothing at all. 
The One tent has a bathtub floor already sewn into the material, which many campers will love for the convenience. This is where a lot of the added weight comes from though, so whether the convenience is worth it is down to your personal preference. 
Though the weight of The One pushes it out of the "ultra-lightweight" tent category, it does come with several weight-saving features that you will love.
The weight-efficient built-in floor and bug protection make this tent well worth the money, especially if you want to use it for an extended period of time.
Design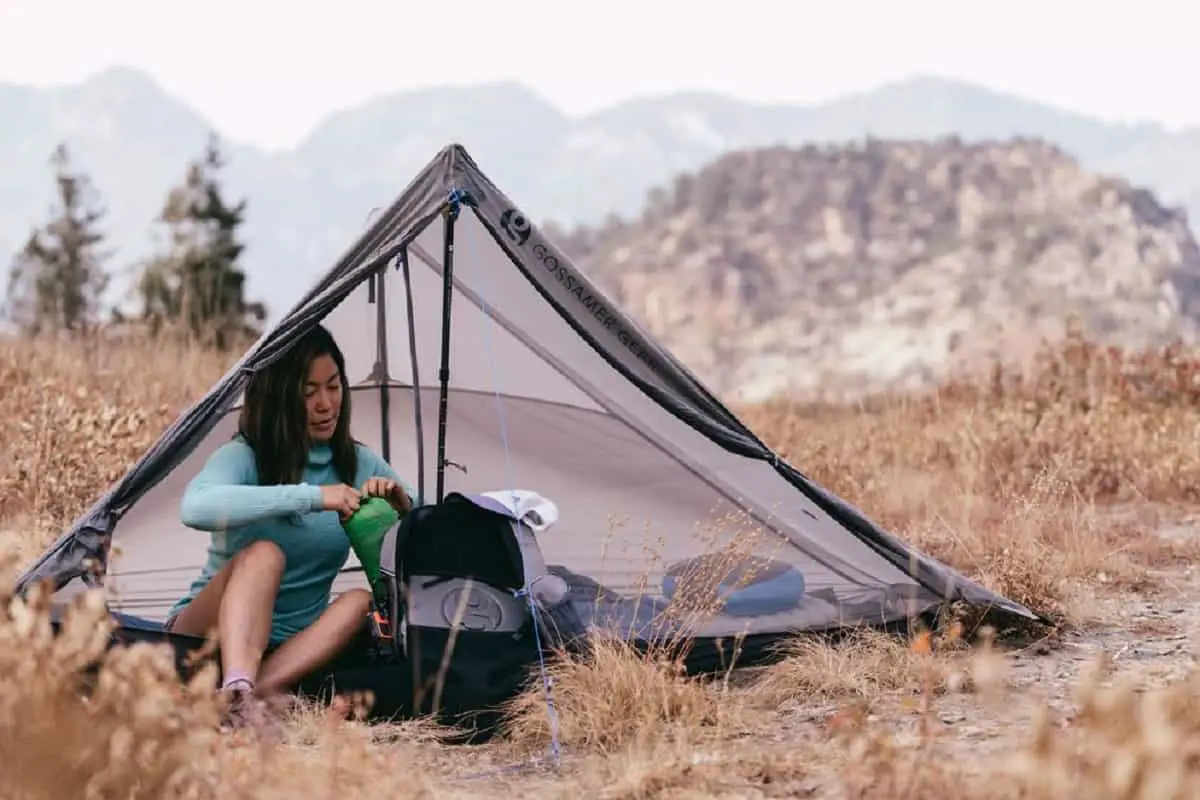 In the style of an A-frame, The One is a tent with a vestibule in the front and it has a rear awning that is attached. The entrance vestibule is rather large, thanks to a large central opening that can close in bad weather or completely open up to allow for fresh air or nice views.
Also, it is large enough to allow you to keep your goods beneath one door while still being able to get out by the other.
In the front vestibule, the whole wall is made of mesh, and the zipper is offset so that you can easily go in and out without accidentally knocking over your trekking pole.
It's more of an awning rather than a genuine vestibule, and it is intended to cover a large back mesh vent that comes down from the roof rather than a true vestibule.
Aside from an awning, there isn't much to see at the back of The One. Its purpose is to cover a high vent that runs the length of the back wall and protects from rain blowing into the tent.
The back wall is constructed of tough fabric, and there's no way to enter the chamber from this area. When setting up the tent, all that is necessary is that you bear in mind that one side of the tent has a door and the other does not.
Additionally, there are two vents in the bathtub floor at the head and foot ends of the tent, which are intentionally located where people tend to expel the most moisture at night, either through breathing or sweating, to help with ventilation.
Though you are unable to completely seal these vents, you may reduce airflow by staking the outside canopy outside low to the ground or by covering the vents with garments or other protective clothing or gear.
Weather Resistance
Usually, an A-frame tent design is very sturdy and weather-resistant, though this tent seems to fare better in the rain rather than windy conditions.
Unfortunately, when it is exposed to the wind, it does not fare quite as well. This is because of the positions of the vestibules. 
There is a vestibule on the side of the tent, while the other side has a vertical wall and a beak awning.
When there is a lot of wind, this vertical wall has a detrimental influence on performance, so it's crucial to remember to set up your tent with the wind direction in mind when possible.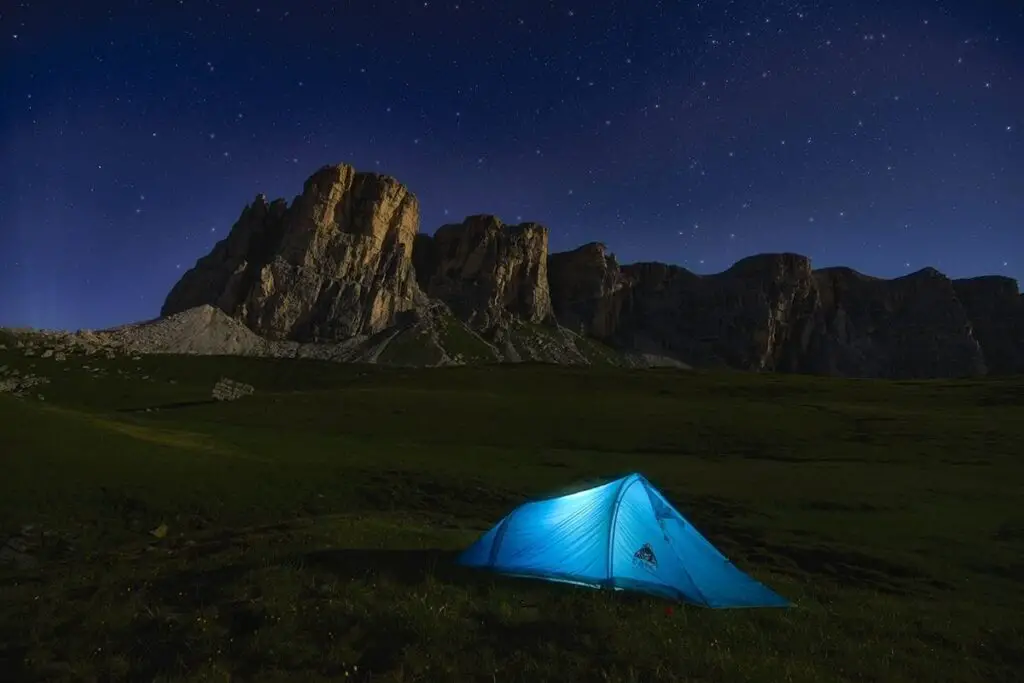 Because this wall is located on the lee side of the tent, it has a little disadvantage when evaluating weather resistance.
Thanks to the good clearance between the tarp and the bathtub floor, water may drain and drop off the canopy without raising any issues about splashback in the interior of the tent.
Line locks are particularly important in moist weather to keep the tent taut and prevent it from drooping.
The tent is also subject to slight criticism in that it is entirely made of SilNylon, as opposed to the more waterproof and lightweight DCF material utilized by some of its competitors.
Although its material has a 1200mm rating of static head, which is enough to protect you from the rain, silNylon can easily sag and stretch when wet, whether from rain, condensation, or dew.
This might mean that you have to go outside in the rain to fix the guy lines or add more stakes.
Because the cost of this tent is half that of a DCF tent, it is significantly cheaper than other tents on the market. Under bad weather circumstances, it performs all of the tasks of a quality tent, and it does so well.
How Well It Adapts To Your Needs
Because the inner floor, walls, and insect netting are all permanently connected, there isn't a way to make this tent modular or to remove the parts that aren't needed in hotter situations.
Because it is not self-standing, it requires six stakes out spots and the ground must be soft enough so they can be held in place properly.
You could also use a substantial number of big and heavy stones if the terrain is too hard to sustain the structure. Flexibility is influenced by these aspects as well.
The interior of the tent is lined with a vertical inner wall that is protected by a little beak awning. As a result of this design, it is necessary to place the structure at a position where the side won't be subjected to high winds. This further restricts its flexibility and decreases its usable space. 
Livability
This one-person tent is comfortable, with plenty of space and conveniences designed just for a single person.
When the tent's peak is properly positioned, it generates equal and steep roof slope angles, ensuring that both your head and feet have ample space to relax comfortably without touching the tent fabric.
The One is capable of retracting both vestibule doors, while the yellow wire keeps tension on the tent. 
It is completely contained on the inside by SilNylon walls and insect netting, providing complete privacy while also protecting buzzing mosquitoes and crawling ticks.
Additionally, the bathtub floor is made of SilNylon and is over seven feet in length from end to end, providing more than enough space for lying down comfortably and enough width to support a fully inflated air mattress.
Additionally, the tent's high ceiling height facilitates sitting upright.
This tent is quite comfy and livable, making it excellent for spending time inside during a storm.
When amping, you will appreciate the spacious vestibule, which provides ample space for storing your belongings.
Due to the vestibule's two zipped flaps, it may easily be used as a stand-alone structure when the weather is favorable, with one or both flaps drawn back and linked to the tarp. There is one storage box inside, as well as a clothesline to keep your clothes off of the floor. 
Pros And Cons
Let's check out the pros and cons of this tent before you leave us today!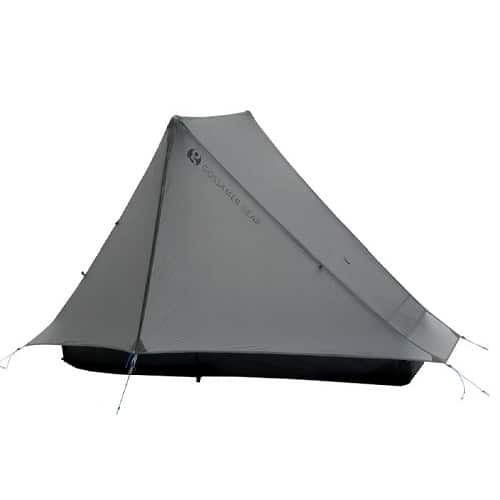 Pros
Seam-sealed – means that you won't have to do this step yourself once you buy the tent, and it keeps rain out
Easy to set up – once you get the hand pg it, The One can be set up in less than five minutes
Roomy inside – this tent is 7 feet long so most people can lie down comfortably, and it is tall enough that you can sit up inside
Bug nets built-in – keeps away those pesky mosquitoes 
Cons
Fabric is a bit translucent – this fabric is not great at blocking out light, so sunrise will probably wake you up
Not perfect in wind – The One struggles in wind, so you must ensure that it is set up properly
Made from silNylon – this is not as durable as other materials
Summary – Should You Buy It? 
Gossamer Gear's The One tent is one of the most cost-effective single lightweight shelter choices on the market. It is one-person in size and made in the time-honored "tarp tent" style, which is a single-wall a-frame tarp supported by twin trekking poles. 
The interior tent is coated with mesh and features a bathtub floor that is sewed in. It's constructed of SilNylon, which isn't the most weather-resistant material available, but it will keep you dry. 
It's a simple design, surprisingly spacious for a single model, and impeccably finished in every manner. If you prefer solo backpacking and want to travel light without sacrificing comfort, then The One tent is the perfect option for you!