In less than a decade, the hiking game has changed tremendously. Tracking whatever measure you can think of and using the data to improve performance is now easier than ever.
Everything from VO2 max to cadence to ground contact time can be tracked in a variety of ways, with one of the most popular ways being via watches. One of the companies responsible for this is Garmin.
If you're looking for a serious sports watch, the Garmin Fenix 6 and Garmin Instinct can are sure to be on your shortlist, but how do you know which one is right for you?
They're both among the best Garmin watches you can buy, but they're built for different purposes. To help you make a decision, take a look at this review of both watches and their many features.
Design
There are two casing sizes available for the Garmin Fenix 6: 42mm and 47mm. If you want the Pro version, you can also choose an extra-large 52mm case.
The base model comes with a stylish stainless steel bezel and a fiber-reinforced polymer case with a metal back. The strap is silicone, so it will feel comfortable on your wrist.
The Pro edition's case is constructed of stainless steel, titanium, or titanium coated with diamond-like carbon (DLC), with silicone, leather, titanium, or nylon as the band.
The Garmin Instinct offers a more sturdy appearance thanks to a fiber-reinforced polymer bezel and case, as well as a silicone shell. It does, however, come in a range of colors.
What Size Fenix 6 Should I Get?
The Garmin Fenix 6 comes in three different face sizes: 42mm (6S), 47mm (6), and 51mm (6X). Each of the sizes has somewhat different features, so the size is not the only thing you should consider when buying this watch.
The S has the simplest features and is also the cheapest out of the range, while the X has the most complex features. The other options are standard, sapphire (with sapphire glass), and solar.
For the casual runner, the S model will probably be best for you as you may only want to track the essential aspects of running such as speed and distance.
For more experienced or professional runners, the X model may be best as it can track respiration, blood oxygen levels, and much more.
Features
The Fenix 6 is the more advanced of the two watches, with more features and improved connectivity. The Fenix 6 has Wi-Fi, which is handy for exchanging training plans and routes before you go out.
Both watches have Bluetooth and ANT+ for connecting to your phone, chest strap heart rate monitors, and other devices.
Additional programs and watch faces can be downloaded to the Fenix 6 that aren't compatible with the Instinct's dual-screen display arrangement and monochrome screen.
The Fenix 6 is the only one of the two with NFC, allowing you to make contactless purchases with Garmin Pay.
Weather and calendar widgets are available on both, as well as the option to control music on your phone.
Both can get app, text, and call notifications, but if you're an Android user, only the Fenix 6 can make a text response or refuse a call with a text while working out.
Extra Features On Fenix 6
The Fenix 6 comes with many extra features that the Instinct does not support.
For a fitness watch, it's astonishing that the Instinct doesn't keep track of anything as simple as breathing rate. The Fenix keeps an eye on it 24 hours a day, seven days a week.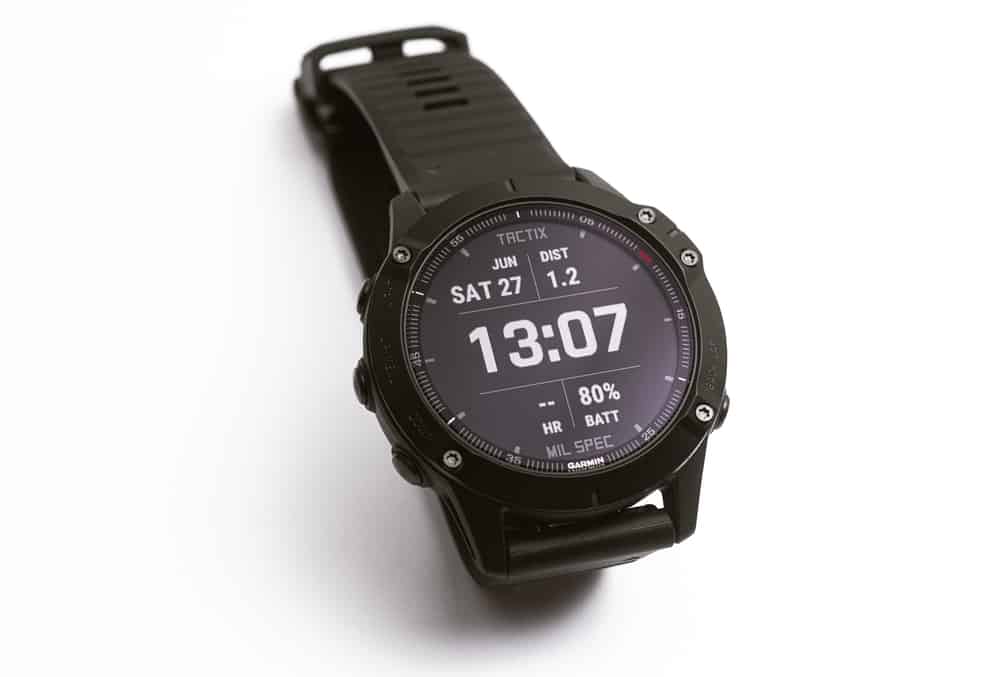 Breathing changes could indicate the start of a cold or an increase in stress so this is a very useful feature to include in a fitness watch.
The Fenix 6 has a pulse oximeter that measures your blood oxygen saturation. The amount of oxygen in your blood is represented as a percentage.
This will give you an indication of how well you're breathing. It's beneficial to detect shallow breathing because it indicates that the body and muscles are getting less oxygen than they need.
While both watches are able to track your sleep cycles, the Fenix 6 offers many more insights into your sleep than the Instinct does. The Fenix 6 gives you a slee[p score, which indicates whether the sleep you are getting is beneficial and effective.
Display
Memory-in-pixel displays are found on both watches. The most noticeable difference between the Fenix 6 and the Instinct is that the Fenix 6 has a color screen of 260 x 260 pixels, whilst the Instinct has a monochrome display with 128 x 128 pixels.
That's not to suggest the Fenix has the upper hand in this though as you may have a preference for one display over another.
In terms of display size, the Fenix comes out on top with a 33mm display. The Instinct has a slightly smaller display at 23mm.
While the Instinct's lower resolution means that less information can be displayed at once, its dual-screen architecture (which includes a small sub-panel separated from the main screen) enables more information to be displayed in a clear and easy-to-understand way at a glance.
This small display can be customized, and its symbol changes as you travel through the watch's many menus, making navigation straightforward. The black-and-white display also aids the Instinct's excellent battery life
The Fenix 6's color display shines when it comes to navigation, allowing you to identify your location, follow routes, use Garmin's golf maps, and create real-time breadcrumb trails.
Health And Fitness Tracking
The Fenix 6 is the more advanced of the two Garmin watches, even though they both contain extensive fitness monitoring and training features.
Both watches excel at satellite navigation, with GPS, Galileo, and GLONASS for precise location tracking across the world, as well as a barometric altimeter for measuring height changes, which is essential for hill sessions.
Both watches have multiple profiles for recording indoor and outdoor activities, as well as cardio and strength training.
The Fenix 6, on the other hand, has a lot more training and analytics capabilities, including a heart rate variability stress test, heat and altitude adaptation, training load calculations, and configurable alerts, which are very useful for hikers.
Both watches feature wrist-based heart rate monitoring, which shows your resting heart rate 24 hours a day, seven days a week. Both can alert you if your heart rate is unusually high or low.
Each watch has Garmin's Body Battery energy tracker, stress tracking, and a breathing timer to help you manage your energy.
You'll need to download the Garmin Connect app to track your sleep cycles and hours, as well as your hydration level and menstruation.
When you pair the Fenix 6 with a Garmin Footpod, you'll gain access to even more information, like real-time cadence and vertical oscillation.
It can be connected to Varia lighting and sensors, which can be controlled directly from the watch. It can also link to cadence sensors and power meters through ANT+.
The Fenix 6 is also a full-featured golf watch, complete with pre-loaded maps for 42,000 courses. It measures shot distance, maintains track of metrics, and serves as a digital scorecard while you're playing.
Weight
When out hiking, the last thing you want is something heavy on your wrist dragging you down. Neither of these watches is heavy, and you will probably not notice you are even wearing one after a while.
The Fenix 6 is the heavier out of the two, weighing 2.8 ounces (80g), while the Instinct weighs 1.8 ounces (52g).
Battery Life
The battery life of these watches is tied to the GPS mode used in both of them. Because GPS consumes a lot of energy, both watches include battery-saving settings that prioritize battery life over continuous GPS data.
Max Battery GPS is Fenix's power-saving mode, and it can last for up to 72 hours. The Instinct's mode is UltraTrac, and it lasts for about 40 hours.
It's worth noting that when measuring your distance and pace in real-time, you'll lose a lot of GPS accuracy in these modes.
In full GPS mode, the Fenix 6 may last up to 36 hours. The Instinct has a 16-hour battery life in the same setting.
Sensors
Sensors in the watch are built-in components that allow it to perceive external characteristics such as distance, GPS navigation, and altitude.
Both watches include three navigation systems: GPS, GLONASS, and Galileo. They also have a Garmin Elevate Wrist-Based Heart Rate Monitor, which measures heart rate while accounting for environmental conditions.
A thermometer, barometric altimeter, and compass are all included. The accelerometer calculates your pace by measuring speed and distance. Changes in your arm's direction are also used to count steps and keep track of your rhythm while hiking.
The Fenix includes more sensors than the Instinct, including the Pulse Ox function. If you're planning a climbing trip, this reading can help you assess your high-altitude acclimation.
This watch also includes a gyroscope. This is a movement-based app that may be used to count reps or steps in an exercise routine.
Smart Features
These are features that you may use every day, and that work by connecting to your smartphone.
The Fenix and the Instinct have Bluetooth and ANT+ connectivity, so they can connect to treadmills, bicycle sensors, and other fitness gadgets.
Smart notifications allow you to reject a phone call with a text while your phone isn't nearby.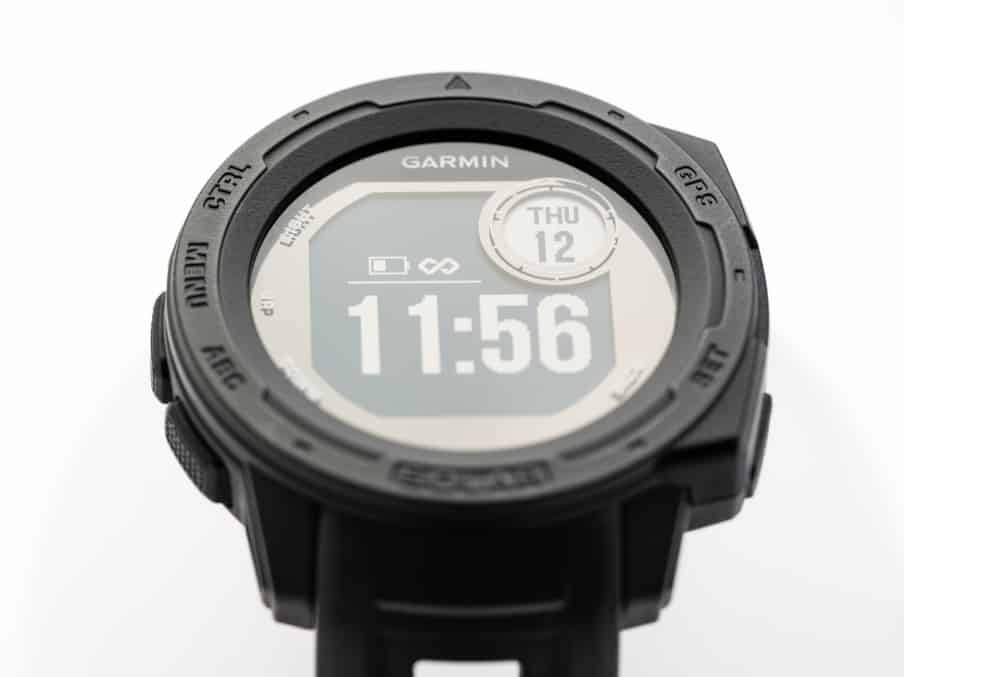 Weather and calendar apps are both included in these watches as well. You can manage your smartphone's music and use the Find My Phone and Find My Watch features on either watch.
They're both compatible with VIRB cameras and can be used as a remote. For real-time data transmissions, both of these devices connect to the Garmin Connect smartphone app.
The Fenix has some useful additions in this area. To begin with, the Connect IQ, unlike the Instinct, allows you to download new watch faces and apps.
The Fenix 6 can also control music on your smartphone and save up to 2000 songs on the watch.
If you don't want to run with your phone, you can connect your headphones to your watch and listen to music without it, which is a wonderful safety feature.
It is also useful as it means you won't have to carry your phone with you, which can be annoying when out on a run.
Both watches are VIRB camera compatible and can be used as a remote. They're both also able to connect to the Garmin Connect smartphone app for real-time data broadcasts.
Garmin Pay, which allows you to pay with your watch instead of cash or credit cards, is another excellent security and smart feature.
A customized battery saver is also available on the Fenix 6, which is a really useful feature.
It's also known as Power Manager, and it shows you what's draining your watch's battery so you can make decisions about what to turn off and what to leave on in the background.
Safety Features
We have already mentioned some of the safety features included in these watches, but there are many more.
Garmin has been adding safety features to their watches for a long time and is always looking to improve on them. Both of these gadgets come with several essential security measures.
Both watches feature Garmin LiveTrack to keep friends and family updated on your current location.
Because someone will always know where you are and where you've gone, this will give you peace of mind on your runs.
The Fenix 6 has a variety of additional features, including Group LiveTrack and Live Event Sharing.
Perhaps more useful is the Issue Detection feature, which will notify an emergency contact if an incident is identified during a workout. Potential collisions, impacts, and falls are detected using the accelerometer and gyroscope.
You can also set up Assistance, which will contact a friend if something goes wrong.
Price
The Garmin Fenix 6 is the most expensive of the two, costing over $500 for the basic 42mm or 47mm variants. The Garmin Instinct is available for around $300 making it a more budget option that still comes with loads of features.
Both watches are available in a range of special and premium variants for an additional fee. Solar glass is also available, which charges the battery and increases its life.
If all power-saving functions are turned on and there is adequate sunlight, the Garmin Instinct Solar can hold its charge indefinitely.

What's The Difference Between Garmin Instinct And Instinct Tactical?
Though we have not mentioned the Instinct Tactical watch in this review, it is another very popular watch in the Garmin line.
The Garmin Instinct Tactical is almost exactly the same as the Instinct but with tactical-specific features included.
Some of the features include stealth mode, night vision goggle compatibility, jumpmaster, waypoint projection, dual-position GPS formatting, and preloaded tactical activities.
There are no variations in the construction of the watches. Although both the original and tactical versions of the Garmin Instinct are known for their toughness and durability, there are no differences between them.
The only changes between the Garmin instinct and the Garmin Instinct Tactical are software.
The original Instinct appears to be the perfect all-around outdoor watch, whilst the Tactical edition appears to be more tailored to specific military profiles and preferences.
Very often, both the Instinct and the Instinct Tactical can be found at around the same price point.
If this is the case, then take a look at the features of each to determine which is the right watch for you. Either way, both make excellent fitness watches.
Conclusion
The Fenix 6 is the more expensive of the two Garmin watches. It has a brilliant color display, as well as full training and mapping features, and it has a metal bezel that makes it seem very stylish.
It's also an excellent smartwatch for everyday use.
Although it isn't as fashionable as an Apple Watch, it does support NFC for contactless payments via Garmin Pay (which the Instinct doesn't) and can be customized with dozens of additional Garmin Connect ID apps.
It is, however, an expensive purchase, costing about twice as much as the Garmin Instinct.
It may be just what you need if you're doing a lot of event training, but if you won't be using all of the sophisticated features, you can save a lot of money by switching watches.
The Instinct is not as stylish as the Fenix 6, but it's more durable and has the same excellent satellite navigation, making it a great choice for rough outdoor activities like trail hiking, trekking, rock climbing, and kayaking.
The Instinct also offers an impressive battery life, thanks in part to its well-designed monochrome display. If you pay more for the Instinct Solar, it will run for weeks instead of days between charges.
If you value premium appearance and advanced functionality, the Fenix 6 is the watch for you. If you're on a budget or prefer no-frills functionality, the Instinct is the best choice.