If you are visiting South England to discover the best its nature has to offer, then you are definitely visiting the Cotswold Way.
With a long walking trail whose stunning scenery is renowned around the world, this National Trail is a 'must' for every avid or even leisure hiker who wants to enjoy stunning scenery, idyllic rural areas, and historical landmarks.
In this article, we have everything you need to know about the Cotswold Way walking trail, so keep scrolling below to find out everything you need to know before you head there!
An Introduction To Cotswold Way
If you asked your friend who's visited South England about which places to visit and they said "go to Cotswold Way for a hike" but you know nothing about it, let us give you a quick introduction.
Cotswold Way is a National Trail found in the southern side of England, right between Chipping Campden and Bath, and it can take you from one place to the other.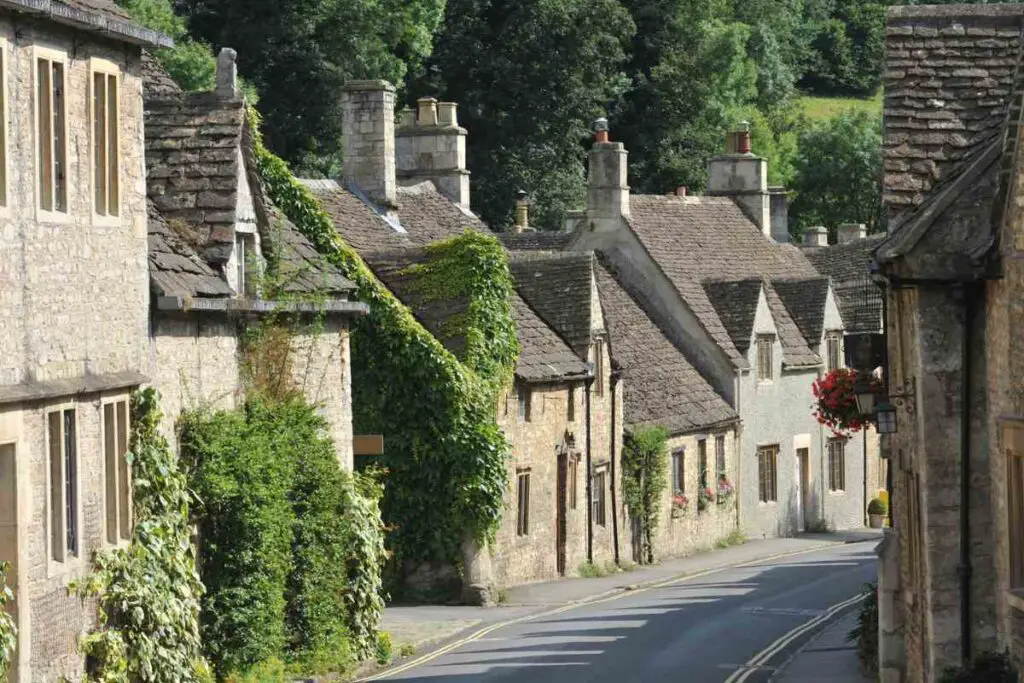 It starts from the market town of Chipping Campden and its end reaches the city of Bath and vice versa, depending on which one is your starting point.
Regardless of where you start walking from, both ends of the trail have a circular sculpted rock on the ground which functions as a reference point.
One of them is next to the Chipping Campden Market Hall and the other one is at the front of Bath Abbey.
The trail has lots of landmarks along the way and many picturesque locations and villages that can give its visitors an authentic taste of rural England.
If this sounds appealing to you, then continue reading below the answers to all the questions that are already crossing your mind!
What Is The Length Of Cotswold Way?
Are you wondering how long the Cotswold Way is to get a rough idea of the hours or days you will spend walking it?
Well, if you love hiking, we have some great news for you: Cotswold Way is 102 miles long!
With that great of a distance to cover, you can understand that we are talking about one of the longest trails in the UK, and one which might take you more than a day to finish.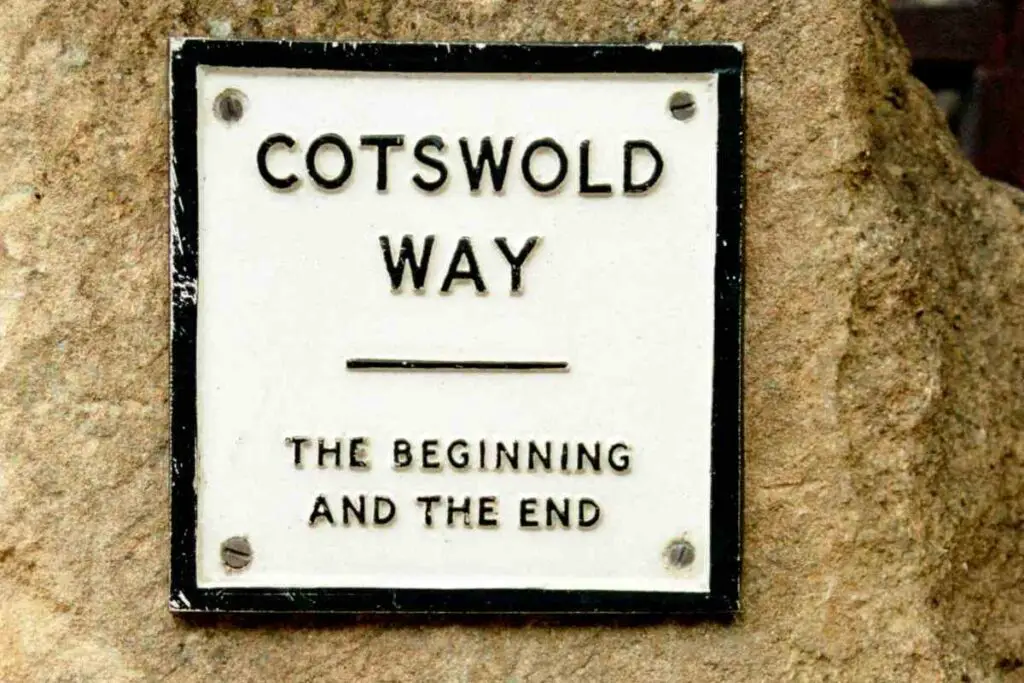 Even so, the precise path estimation is of little practical importance to the typical hiker since lodging, wrong turns, and the incidental break at a local pub will almost certainly add more miles to your itinerary.
As a result, anyone embarking on the Cotswold Way must plan on covering more than 102 miles in order to truly enjoy this lovely place and path.
Having said that, knowing the overall distance of the trail in addition to the individual section distances on the Cotswold Way still seems to be helpful for itinerary scheduling.
How Many Days Do I Need To Hike The Cotswold Way?
Most people spend about 7-10 days walking the Cotswold Way. There is not a precise time frame as that varies depending on how hard you choose to push yourself, given that there is sufficient room to be flexible.
When you are pressed for time and have a great fitness level, you could run more than 20 miles on a daily basis for 5 days straight and reach from one end to the other.
With early morning starts, late night finishes, and no time to explore the surroundings or enjoy a long lunch break, you'd be physically exhausted, but it really is theoretically possible.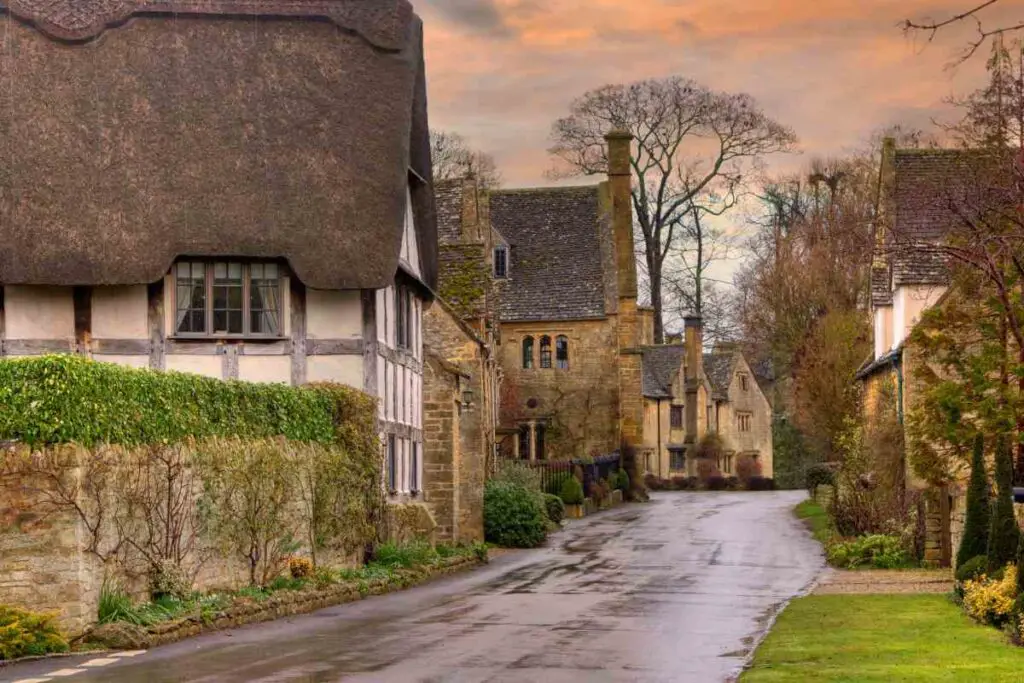 It's more common to hike Cotswold Way for a week, which is also a challenging task but doable for most people with a decent level of physical fitness.
However, if you want to make the most out of your trip and be able to enjoy every moment without having to rush into things or eat your meal faster to keep moving, then you should add a couple more days and stops to your itinerary.
Of course, you are not required to complete the full route.
When you're only visiting the region for two days or just don't feel like walking 100 miles, you can still see many of the best parts of the Cotswold Way on a one-day or overnight hiking trip.
Cotswold Way Route Options Or Stages
There are several route options in Cotswold Way, with the Cotswold Way's website page having split the trail into 15 smaller routes.
These routes are also referred to as Cotswold Way's stages and the reason why they were established is for people to split up their hike into smaller parts that can make it both easier and more enjoyable.
As it is a very long National Trail, Cotswold Way takes some time to complete, while those who choose not to cover the entire trail can also start from one point and finish their walk before they get to either of the finishing points.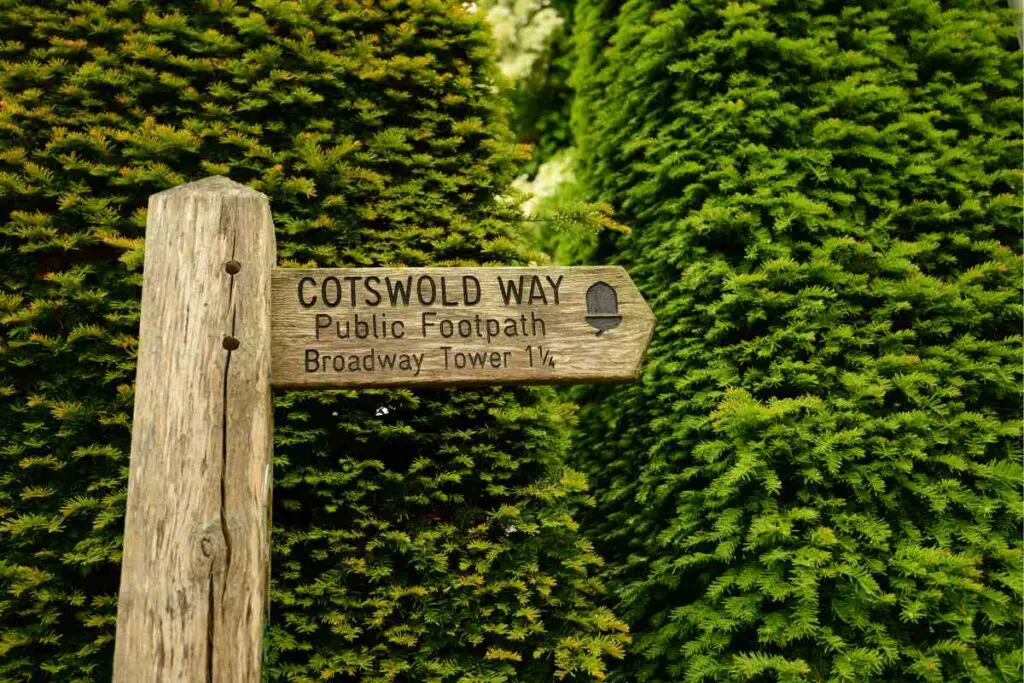 So, for example, you can start from the iconic market town of Chipping Campden and walk all the way to Broadway, which is a 6-mile hike that's easy to complete, with less than 600 feet of ascent.
You can, however, start hiking Cotswold Way from any other point – not necessarily from one of the starting points (i.e. Chipping Campden and Bath).
For Instance – You might choose to start from the market town of Dursley which is one of the middle stops of the National Trail, and head stops when you reach Wotton-Under-Edge, which is a small town 7.3 miles away from Dursley.
For reference, the 15 routes or stages of Cotswold Way when starting from Chipping Campden are:
Chipping Campden to Broadway
Broadway to Wood Stanway
Wood Stanway to Winchcombe
Winchcombe to Cleeve Hill
Cleeve Hill to Dowdeswell
Dowdeswell to Leckhampton Hill
Leckhampton Hill to Birdlip
Birdlip to Painswick
Painswick to King's Stanley
King's Stanley to Dursley
Dursley to Wotton-Under-Edge
Wotton-Under-Edge to Hawkesbury Upton
Hawkesbury Upton to Tormarton
Tormarton to Cold Ashton
Cold Ashton to Bath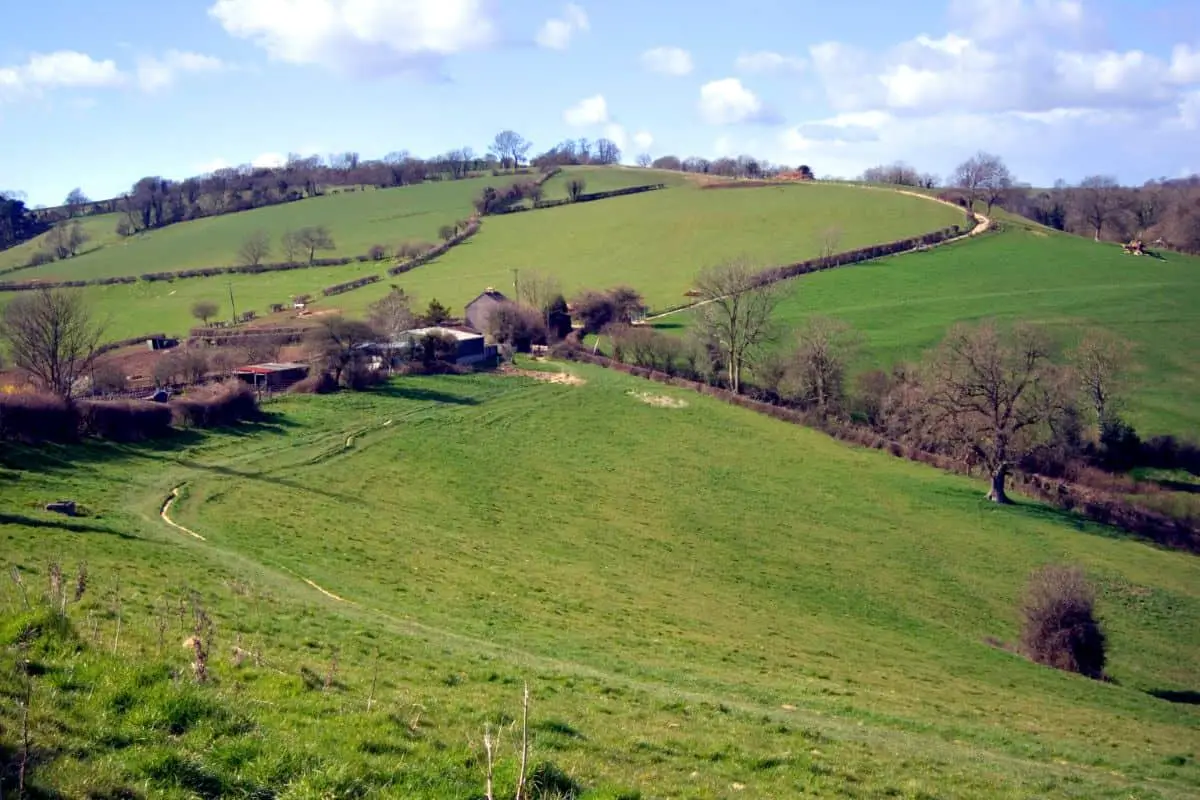 Is There A Cotswold Way Map?
This interactive map of Cotswold Way is very useful for people who are planning on visiting the National Trail and walking the walk!
This map includes all the route options and stops you can make across the path, which can also be your starting point if you choose to walk half the distance or less than that.
Cotswold Way Elevation Map
When speaking of elevations and challenging paths across all of the UK's National Trails, the Cotswold Way is unquestionably at the lower end of the scale.
Even though there are some cliffs along the 102-mile route, there aren't many that would really pose complications for walkers with an average level of fitness.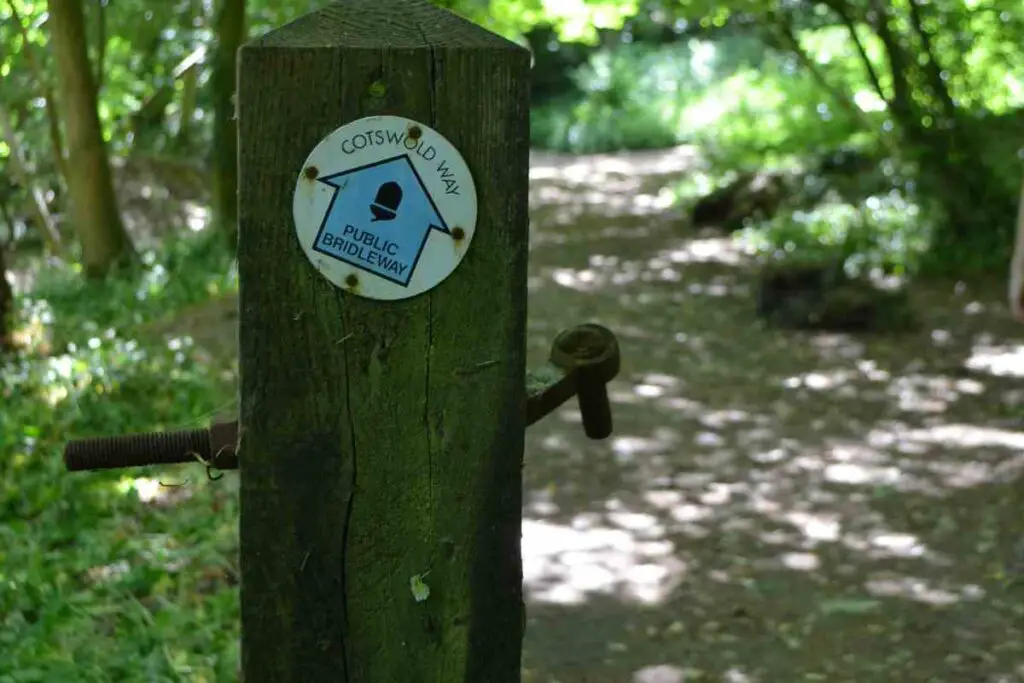 Nevertheless, Cotswold Way has nearly 10,000 feet or 3,000 meters of incline over its full span. This equates to an estimated 1,250 feet of elevation change per day when assessed across the suggested 8 stages.
The path's biggest hills are found mainly in the north part of the trail and will be reached close to the start by walkers traveling from Chipping Campden to Bath.
This is advantageous because that way hikers can deal with these challenging elevation changes while they are still full of energy.
The Cotswold Way's highest point is Cleeve Hill, which is about 330 meters above sea level. When you are traveling in a north-south direction, you'll come across Cleeve Hill near the end of day 2.
The elevation profiles in this table can provide you with an estimate of how much elevation gain and length each stage of the Cotswold Way involves. The left side shows an incline, whereas the bottom shows the distance covered.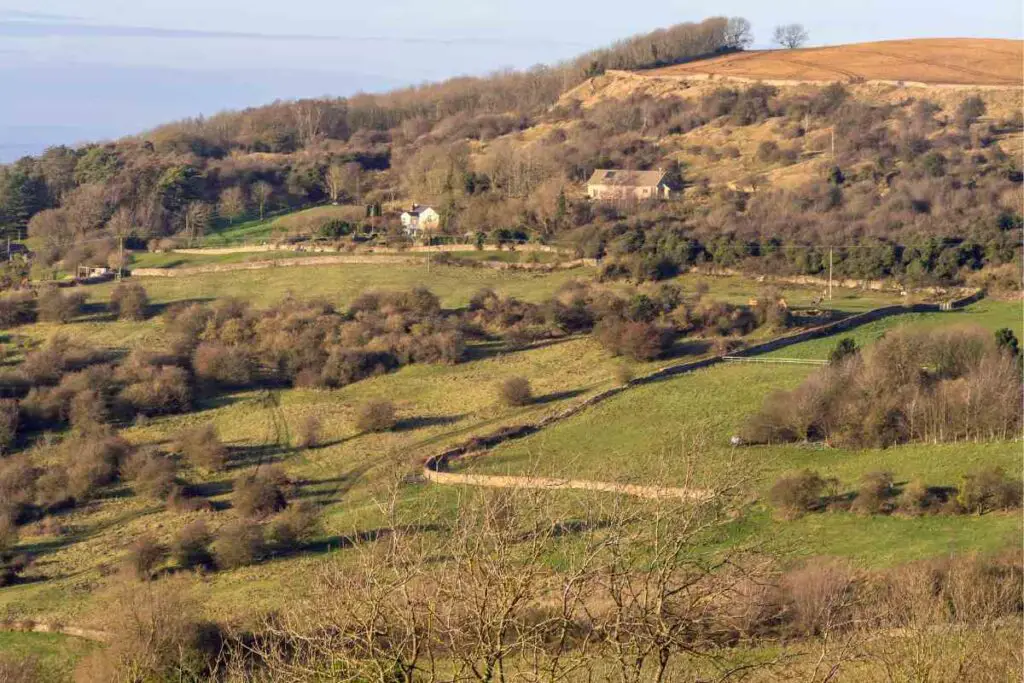 For instance, the route from Winchcombe to Cleeve Hill is long and has a significant elevation gain, whereas the distance between Painswick to Middleyard is also a lengthy one but there's not much of a change in terms of elevation.
When deciding the number of days or stages you'll need to finish the Cotswold Way, keep these elevation statuses in mind.
They can provide you with an idea of how difficult each day will be and help you decide which stages to complete in one day or complete in two during your hike.
Cotswold Way Accommodation
Depending on how far you will get on the Cotswold Way path, there are some accommodation options for you to choose from.
If you are traveling from away and want to stay the night in either of the starting points, that is Chipping Camden and Bath, you can book an overnight stay in one of the hotels nearby.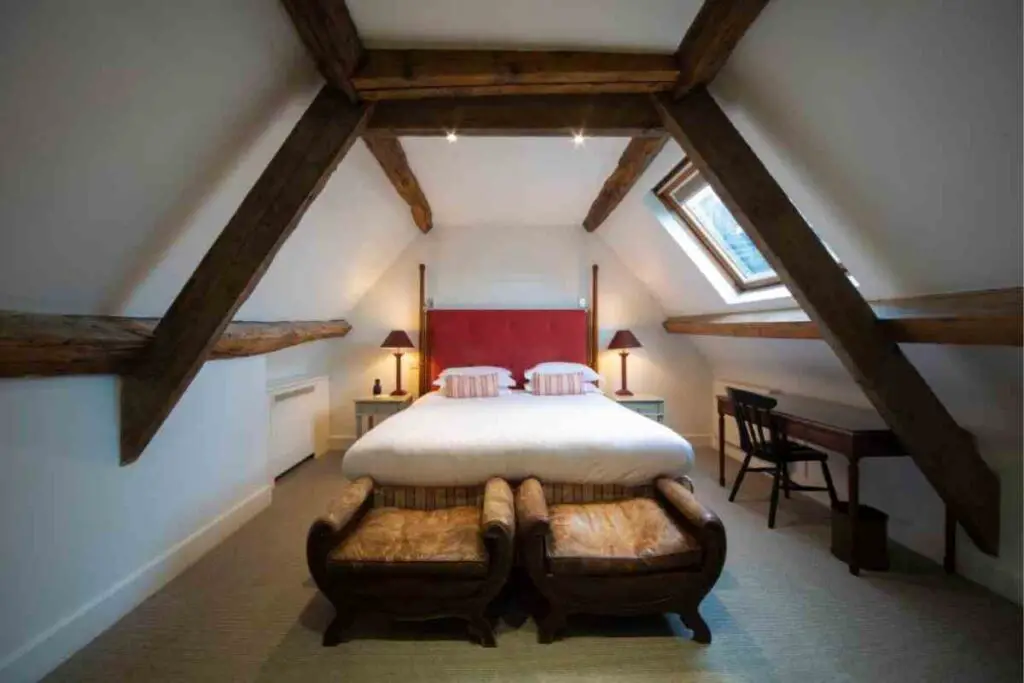 For example, the Cotswold House Hotel & Spa or The Noel Arms Hotel are some good options in terms of proximity to the starting point of the Cotswold Way path in Chipping Camden.
On the other hand, if you are starting your hike from Bath and are looking for a place to stay overnight, there's the luxurious 5-star The Bath Priory or the quainter Little Down Farm Cottages.
Unfortunately, there aren't any cheap options other than a couple of youth hostels you can stay in, like the St. Christopher's Inn or the YHA Bath.
If you are traveling on your RV, then Bath Penn Hill CL Site is the best place to stay, with service points for electricity and water, and hard-standing pitches available on location.
As for the in-between stops across Cotswold Way, each village or small town you will come across during your hike offers accommodation places where you can rest for the night.
However, don't expect to find budget options there. Campgrounds are also scarce, and backcountry camping is prohibited anywhere along Cotswold Way.
In an Emergency – You can ask farm owners if it's possible to pitch a tent in their fields, but you shouldn't just put up a tent and cross your fingers without asking first.
Is The Cotswold Way Signposted?
Even though Cotswold Way was designated as a National Trail in 1998, the trail did not become accessible to the public until 2007.
Therefore, waymarking is in general remarkably good all along the full span of the path, with signposts, the National Trail acorn signifier, as well as other signs appearing on a regular basis.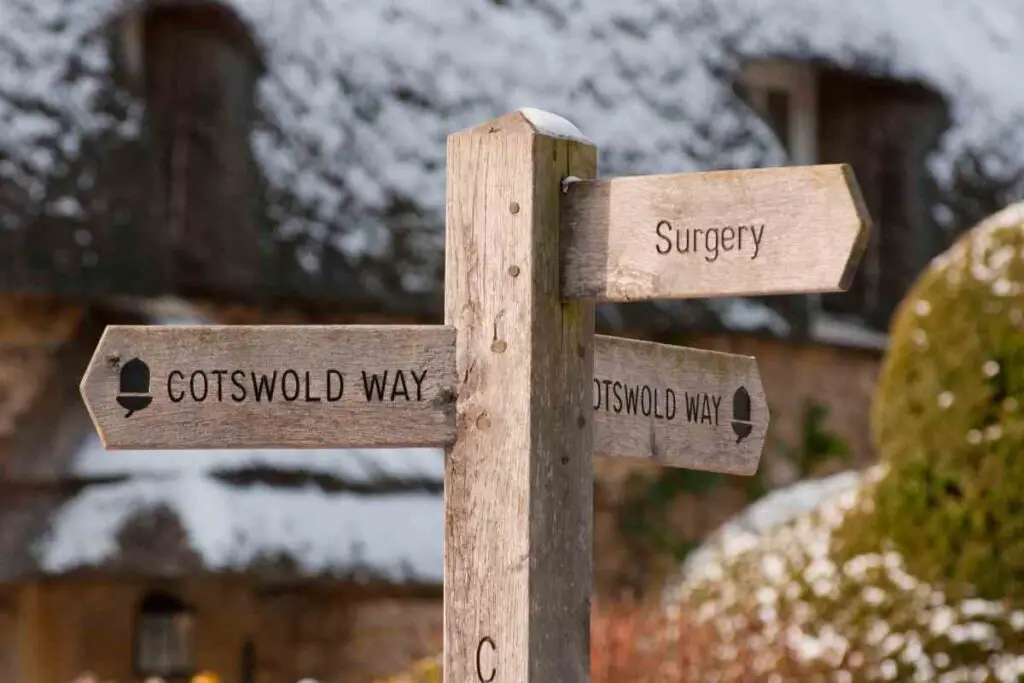 However, it is not unlikely you'll become disoriented, and even the most experienced of hikers might take a few unintentional wrong turns from time to time but never for too long.
So, the thing to keep in mind here is that if you haven't come across a sign within the past 15 minutes of your walking trip across Cotswold Way, you should take that as a sign that you are moving in the wrong direction!
Cotswold Walking Tours
Cotswold Way is an extremely famous hiking destination that many people visit not only from the UK and Europe but from around the world.
That is why it is one of those UK destinations with many walking tours available for those who want to fully experience the trail but are not very confident in doing it on their own.
Here are some of the best ones:
Cotswold Walks Tour
Cotswold Walks offers some great packages which include B&B stays in accommodations across the Cotswold Way trail.
Each one of the packages offers an extra day of overnight stay during the hiking trip, which also means that the more days you spend on the trail, the shorter the distances you will need to cover each day.
For example, the shorter walking tour offered by Cotswold Walks is a 7-day one, with the first day marking the arrival in Chipping Campden and the next 7 days being spent hiking across the trail.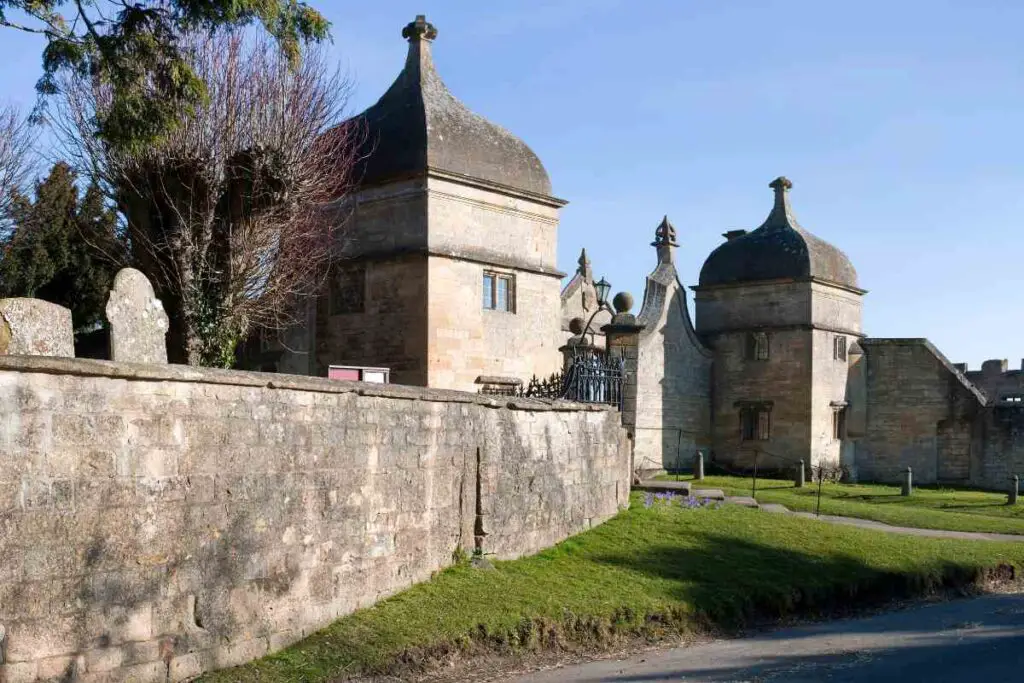 On day 7, and after having covered more than 20 kilometers every day, you can spend the night in Bath and depart after breakfast on day 8.
If, however, that sounds like too much of a distance to cover every day for 7 days straight, then you can choose one of the other packages offered and spend 8, 9, 10, 11, or even 12 nights doing the tour.
The distances you will have to cover each day will be much shorter (especially during that 12-day walking tour), and you'll get to spend more time and have more energy to explore the English villages and countryside across Cotswold Way.
Cotswold Way Luxury Tour
If you want to experience the posh life of Cotswold, then you should book a luxury tour of this National Trail.
The itinerary will be quite similar to the ones of the regular tour and its difficulty will depend both on your fitness level and the number of days you'll spend walking.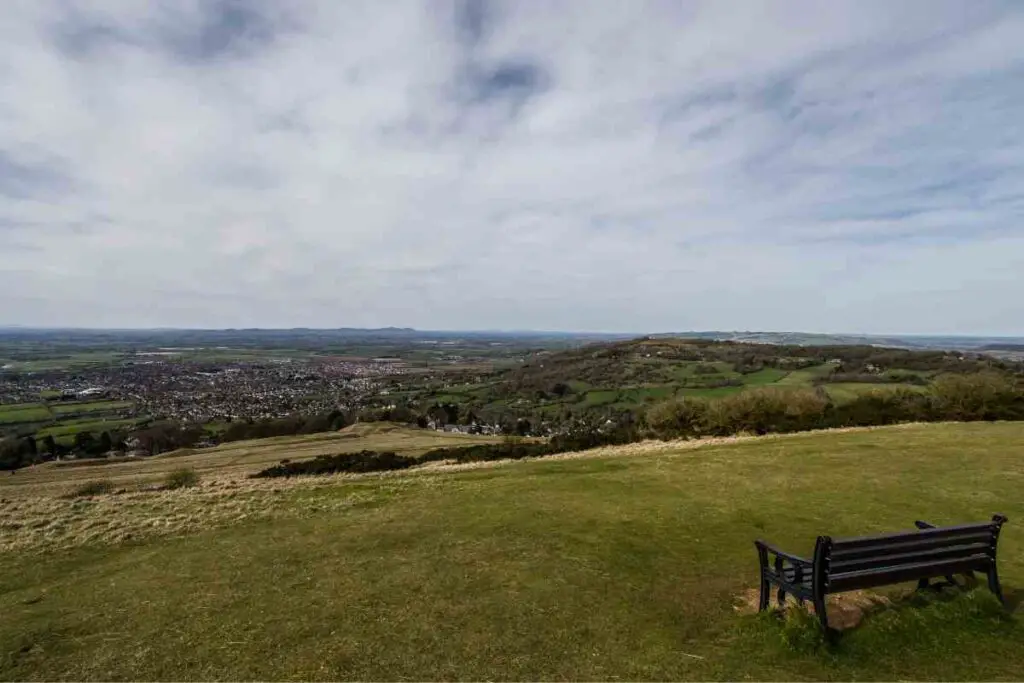 This luxury tour can be booked for either 7, 9, or 11 nights and includes stays in luxury hotels and accommodations in the Cotswold Way villages and experiencing the English fine dining of the countryside.
Cotswold Way Self-Guided Tour
While you might need a guide for your tour, there are many people who prefer to explore the unknown without a person as their guide.
If you identify with that and would rather explore Cotswold Way on your own without having to look for where to stay and plan your itinerary all alone, then these self-guided walking tour packages are what you're looking for.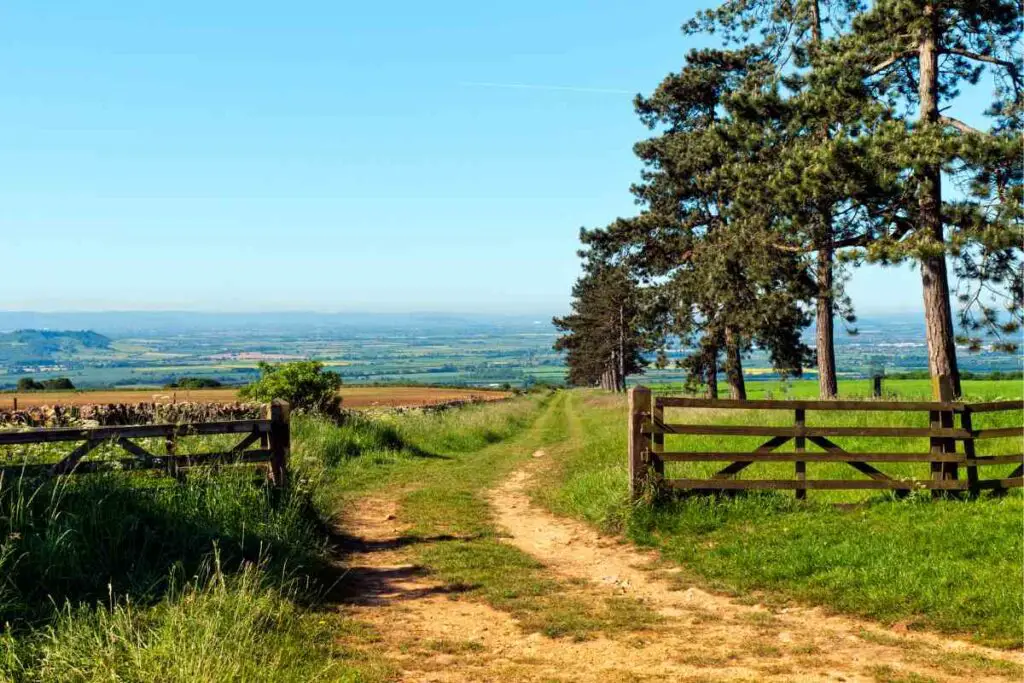 With different duration each, there are 8 different packages provided by Contours Holidays, all of which cover accommodation for the number of nights you'll book, breakfast for the next morning, door-to-door luggage transfer, maps with the Cotswold Way routes, an information pack with your itinerary, as well as travel instructions.
Same as with the guided tour, depending on how many days you choose to spend on the trail, your hiking trip can be from strenuous to easy.
If you choose to cover the entire distance from Chipping Campden to Bath in 7 days, you can expect it to be a challenging trip, whereas spending 13 days might be too slow for others.
Tips For Your Trip To Cotswold Way
Check The Weather
The Cotswold Way is in the southern part of England, so one would anticipate relatively warm, drier conditions than what they'd experience in the Scottish Highlands.
The climate, much like in the whole country, can be unpredictable and fluctuating so there aren't any assurances.
Nevertheless, visiting Cotswold Way during the middle or the end of the summer season can offer a better possibility of sunny weather and clear skies.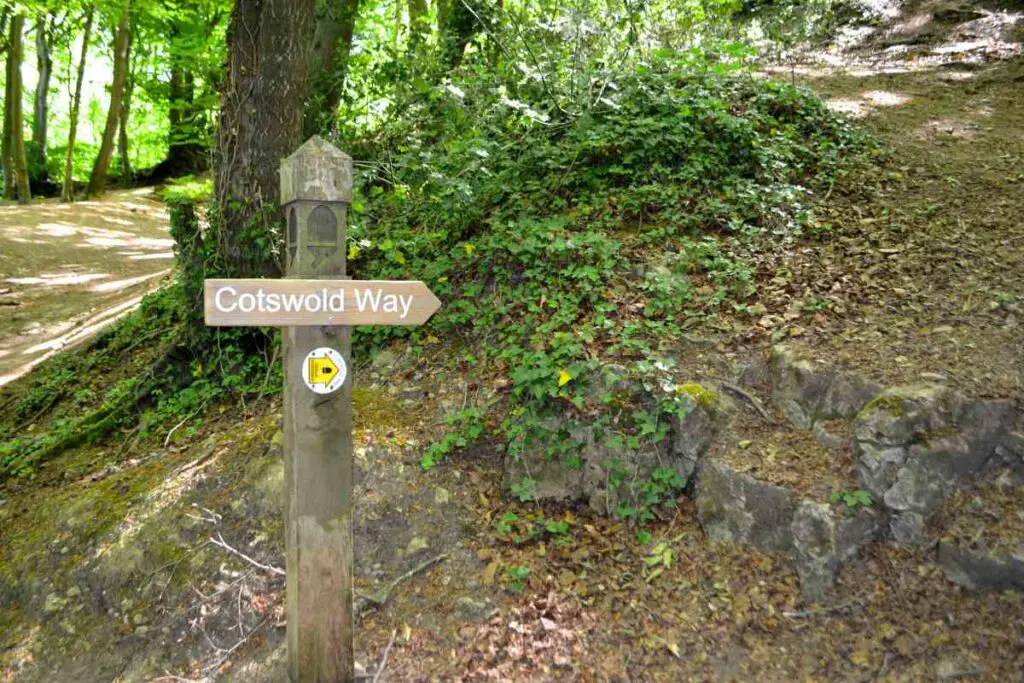 There might be a little rain here and there late at night, but it will be more of a summer drizzle as opposed to a rainstorm.
However, if you are planning on visiting Cotswold Way and walking the trail during the fall or springtime, then you should double-check the weather forecast before you head there.
Not only should you look at the forecasts the week or day before you start your hiking trip, but you should look for any last-minute changes too a few minutes before you start.
Pack The Right Things
When it's time to pack your backpack for your trip to Cotswold Way, there are numerous things to consider, including your lodging, the hiking style, your trip's duration, the season, as well as the possibility of having your luggage transferred from one stop to the next.
Regardless of all these variables, however, there are some basic guidelines all hikers must follow when packing their Cotswold Way gear.
Those are:
Carrying a backpack that's no more than 15kg in weight: Hiking in Cotswold Way involves some elevation gains and several miles between the different route's starting and finish points. That is why you need to carry a backpack that's as lightweight as possible and which includes all the necessary equipment for the day's hike.
Depending on the weather, pack the necessary clothing: you should pack an extra pair of socks, a waterproof or air-resistant jacket, shirts with insulation, and a hat. As for other supplies, a big water bottle or pouch is necessary, and so are some snacks for the road.
Find a baggage transfer solution: if you are traveling from afar and staying in hotels and lodges around Cotswold Way, you should look for a baggage transferer that can move your things from one place to the other.
This way, you won't have to carry all the heavy equipment and extra clothes you'll need for the rest of the week with you while you're hiking.
Fitness Level
Cotswold Way might be one of the easiest National Trails in the UK, but that doesn't mean that anyone can effortlessly finish it.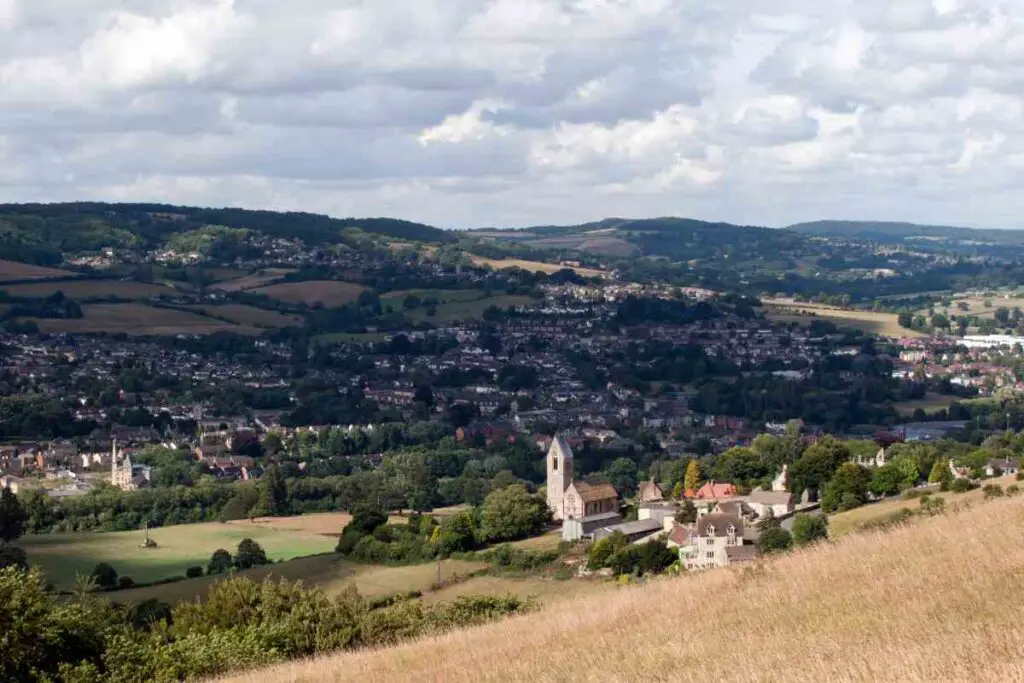 Hiking 102 miles in a week or two requires a good fitness level and cardiovascular health.
Of course, walking the trail in 14 days will be much easier than if you decide to cover the entire distance in a week, but either way, you will need to be physically active to do that.
If you have a sedentary lifestyle and work from home, you might want to go for some long walks or hit the gym for a couple of months before attempting to walk Cotswold Way.
However, if you choose to only walk a part of it, then you could do it but you will most probably be sore the next day.
Hike In A Group
As with all hiking trails, it's best to have some company on your trip.
Nature is beautiful and many people love spending some time on their own when out there, but it's best to be joined by others as in case of an accident or any other emergency, you can always have people around to rely on.
The Bottom Line
The Cotswold Way National Trail is an unforgettable hiking and walking experience for everyone.
Regardless of whether you plan on hiking the entire length of the path or going for one of the short routes, rest assured that it will be a rewarding experience.
However, to make the best out of this trip you need to be well-prepared and consider booking your accommodation beforehand or go with one of the walking tours available which offer you a full package of accommodation, breakfast, a guided or self-guided tour across the trail, and other benefits!