The coast to coast walk is the UK's greatest attraction for avid hikers and one of the greatest hikes in the world.
So, in case you have decided to walk this popular trail or have been challenged by a friend to join them on their hiking trip, keep reading below to find out everything you need to know about this incomparable walk!
What Is The Coast To Coast Walk?
The Coast to Coast walk is regarded as one of the world's best long-distance routes, coming second after the Appalachian trail in the United States.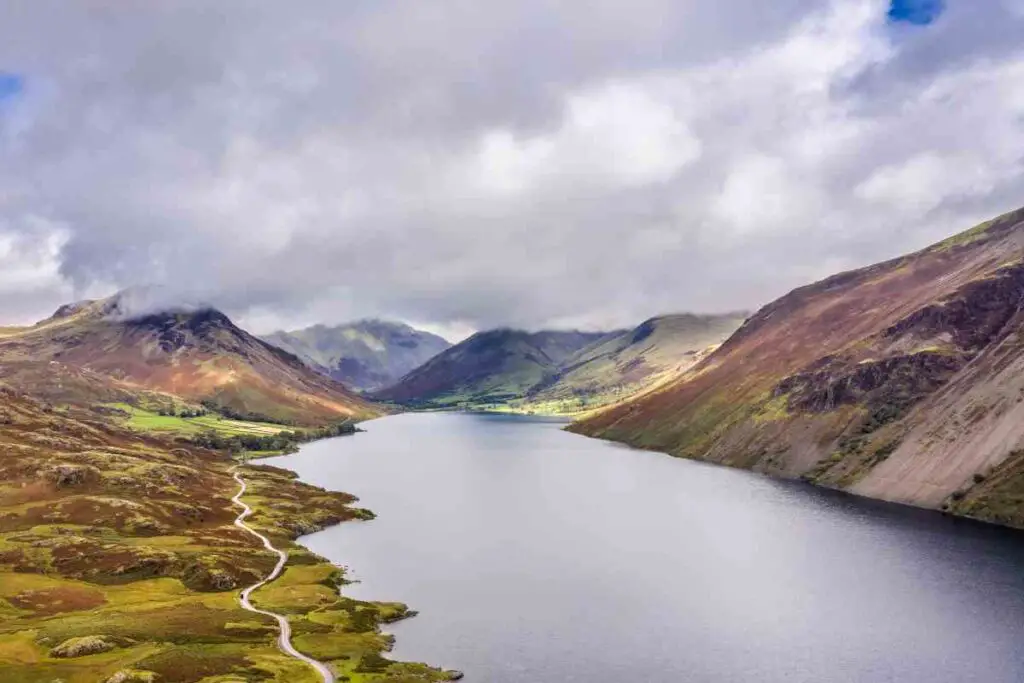 This 192-mile trail begins in St. Bees and passes through 3 national parks in the United Kingdom:
Lake District
the Yorkshire Dales
and the North York Moors
It's more than just a test of endurance; it is also a mental and emotional journey. An opportunity to interact with our natural surroundings, regional community groups, as well as the English civilization and culture.
Where Is The Coast To Coast Walk?
People in the UK might easily understand whereabout the Coast to Coast walk is once they've read the names of the starting and finishing point, which are Saint Bees and Robin Hood's Bay, or those of the in-between national parks you pass through while walking the trail.
However, if you are not from the UK or are not that good in geography, let us explain where the Coast to Coast walk is.
This trail crosses though North West England, while Saint Bees is in Cumbria, a northern county that is also bordering Scotland.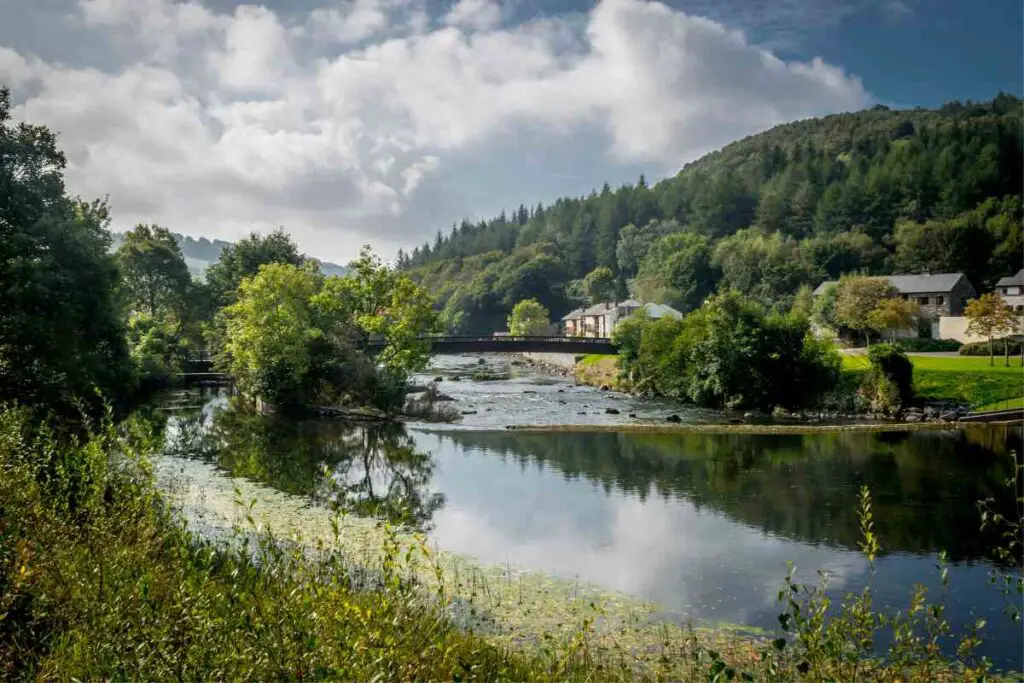 Robin Hood's Bay, in North Eastern England, is a tiny village on the northern coast of Yorkshire, England, found in the North York Moors National Park.
Despite traveling across England, hikers only pass through two counties: Cumbria and the vast stretches of Yorkshire.
You'll peruse the three aforementioned national parks, and ascent mountains, wander through fields, walk across grasslands, visit charming rural areas along the way, and learn about Yorkshire's mining history while you move from the Irish Sea to the North Sea.
Who Developed The Coast To Coast Walk In England?
The trail is very famous and well-known because it was developed by a well-known fell walker from the UK, Alfred Wainwright.
Wainwright created the route by connecting pre-existent defined walking paths, cycle paths, and side streets throughout the UK.
He also wrote and released a travel guide to this trail, which is still available to buy today and which several Coast to Coast hikers carry with them when walking the trail.
Not only that but he also inspired hikers to choose his hiking trip as a model for their own different versions.
Many people, however, seem to want to hike his iconic trail, which has been revised and adjusted many times to avoid privately owned lands and major roadways with lots of traffic.
How Long Is The Coast To Coast Walk In England?
The fact that this trail was 'created' by a fellow hiker in 1973 should not have people assuming it is an easy one to complete.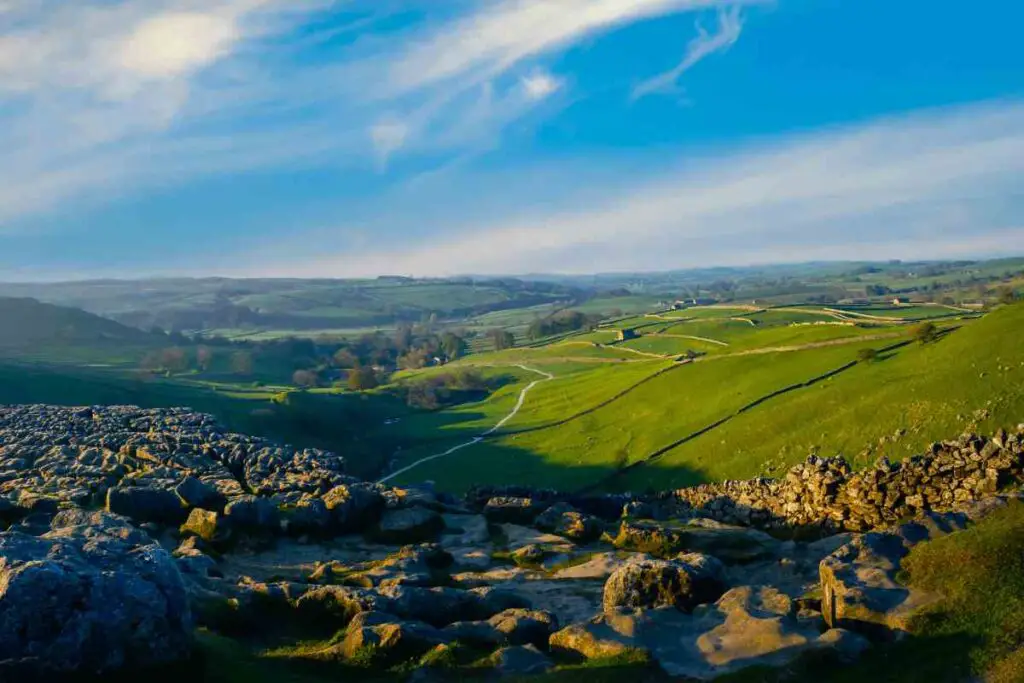 The walk is nearly 200 miles in length and has several challenging parts. To be more precise, the Coast to Coast walk spans 192.2 miles or 309.3 kilometers.
How Difficult Is The Coast To Coast Walk In England?
When contrasted with numerous other hiking trails in the UK, the Coast to Coast Walk seems to be rather walkable, but it is nonetheless quite a demanding one.
As it is a well-known trail and you might have seen Julia Bradbury hike it together with her production crew, it seems fair for you to assume the Coast to Coast walk is not that difficult to complete.
Well, don't be taken in.
It really is a difficult journey that shouldn't be undermined. Several parts have a significant elevation and are completely uncovered – which means they are exposed to all weather conditions – while navigating other parts is sometimes not that simple.
When we add this to the unstable English climatic changes, we do have a trip that shouldn't probably be attempted by inexperienced hikers.
For Example – In cases of extreme fog with the clouds moving down mountains, visibility is greatly compromised. You also have to be comfortable with your navigation skills or ask someone more experienced to come with you.
As you keep hiking, you will also encounter some sharp inclines and downhills and you might run the risk of losing your hiking footwear in certain extraordinarily muddy areas.
But don't let this discourage you from walking the Coast to Coast trail. Not everything is hard work. There's also traditional English charm, such as peaceful fields, simple paths, and calm, country roads.
Still, don't say we didn't warn you: this Coast to Coast trip is not for the faint of heart. If you're unfamiliar with long-distance hiking, you will be better off starting with an easy alternative.
There is also the possibility that doing the Coast to Coast walk too close to the start of your hiking career might very well ruin any future hikes you'd wish to plan, as no other hiking experience could ever compare to this one!
Yet, with correct planning, every fairly fit backpacker can finish this trail. It is also worth noting that the path doesn't get too far from human civilization at any point, which means instant logistics and plenty of chances for shortcuts.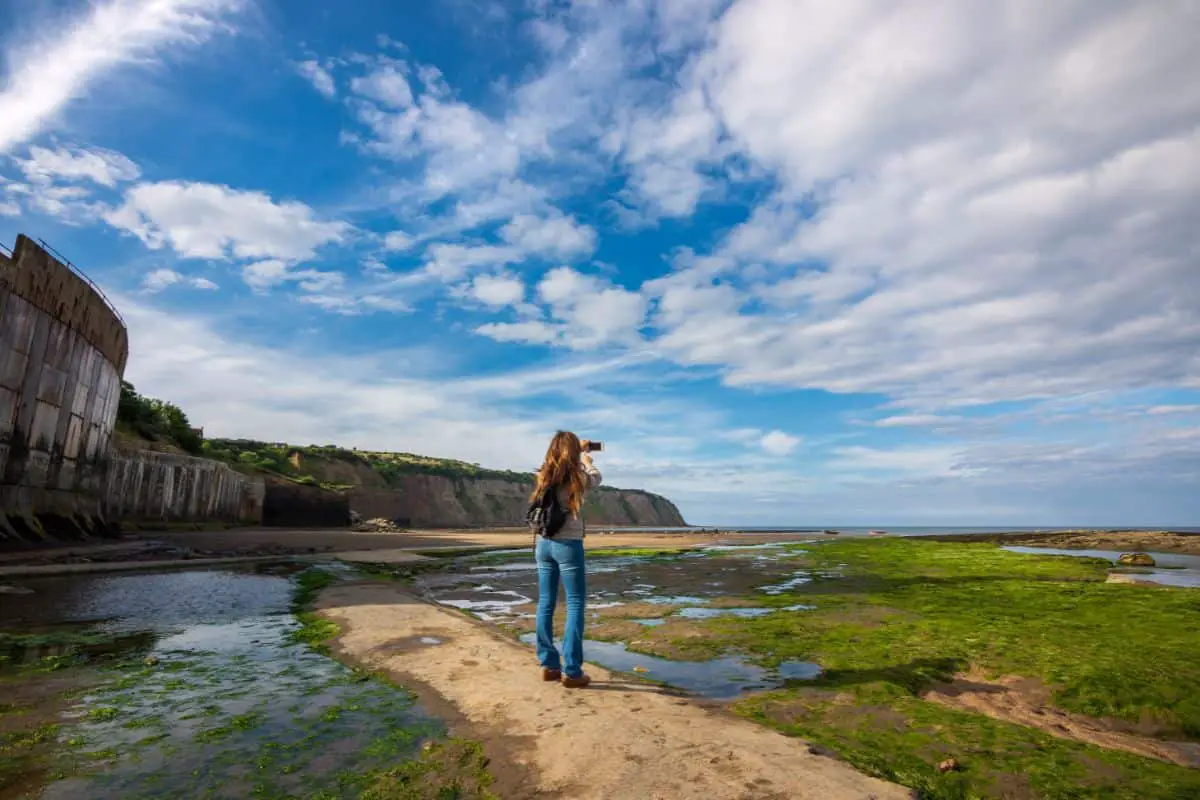 Where Does The Coast To Coast Walk Start And Finish?
The Coast to Coast Walk is a long-distance path that connects Northern England's eastern and western shores.
Typically, the pathway begins in St Bees and finishes in Robin Hood's Bay connecting the three national parks it crosses through Lake District, Yorkshire Dales, and North York Moors.
It is almost a tradition for hikers to dip their feet in the Irish Sea at Saint Bees prior to beginning this journey.
After finishing the trail, hikers get another feet-dipping reward in the North Sea at Robin Hood's Bay, so no matter where you start from you can have a great start on your hiking trip.
What Kind Of Fitness Level Should I Have To Hike The Coast To Coast Trail?
The Cost to Coast hike is a challenging one. There will be a great deal of climbing as well as several of those steep downhills, especially in the Lakes, while you'll also be walking every single day.
As previously stated, if you are a consistent and pretty fit hiker used to walking up and down hills or, even better, mountains, you can begin planning your trip to Saint Bees without thinking about it twice.
If otherwise, you must be ready to sacrifice some of your free time to train for this hike. Choosing to stay in accommodations along the trail while also employing a luggage handling service to transport the majority of your stuff can render the trail simpler.
If, on the other hand, you want to make things more challenging to get to experience nature to the fullest, you can consider spending the night outdoors and carrying your camping gear with you.
The amount of time you will spend on your hiking trip will also determine how to fit you need to be, as completing the Coast to Coast in 10 days, for example, will necessitate a greater level of physical conditioning than completing it in 3 weeks.
Coast To Coast Walk England Map
There are many maps of the Coast to Coast walk in England, but you can check the route map on the walk's official website.
How Much Time Will It Take To Finish The Coast To Coast Walk?
The majority of travelers hike Coast to Coast in 14 to 15 days. You can certainly complete it in less time than that, but, as we've already said, you will need to be a fit and skilled outdoorsman since you'll be hiking great distances every day.
We strongly advise you to take more time completing the trail as this will render your journey way more pleasant and allow you to explore and fully immerse yourself in it.
Heads Up! Even with a 2-week timetable, you will still have to endure some lengthy journeys. So, in case you are concerned about your capacity to keep hiking each and every day without stopping, schedule a couple of rest days in between.
You can make stops at any point along the way, yet it would make more sense to pick a place that has something worthwhile to make your rest day count and stay active.
Coast To Coast Walk Worthwhile Stops
Grasmere
Grasmere is a bustling little jewel of a village that's exemplary of old-fashioned England. It is quite packed with people, but there are plenty of things to see, such as the Wordsworth family grave sites as well as the lake.
There are also many shops and coffee houses, and you will also get to try the tastiest traditional gingerbread in the whole of England there.
Kirkby Stephen
A charming municipality brimming with amenities and local shops, as well as the chance to jump on the popular Settle-Carlisle railway line.
Richmond
In Richmond, there's a great deal of historical record to discover, and plenty of coffee shops to relax and warm your heart with a cup of coffee of English breakfast tea.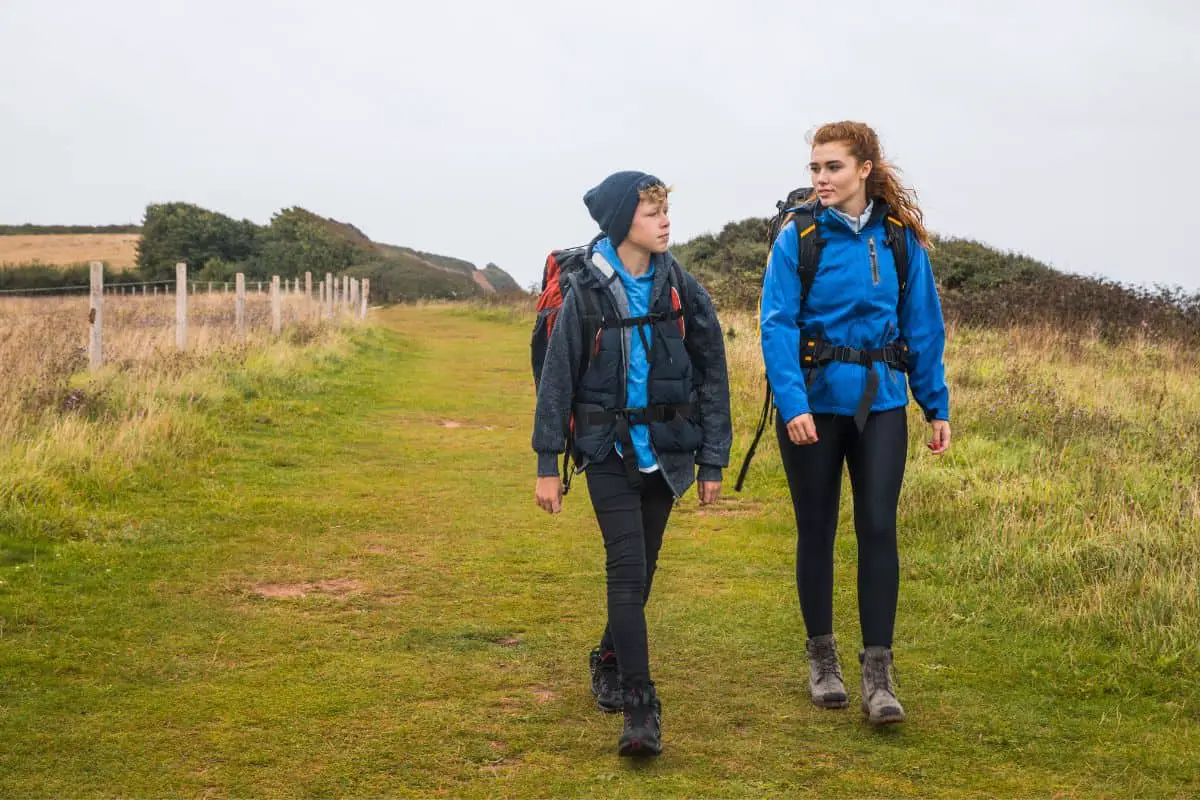 Which Are The Coast To Coast Walk Stages And What Is Their Elevation Profile?
There are 17 stages on the Coast to Coast walk:
1. St Bees to Cleator
This first stage ends in Cleator and has an elevation gain of 605 meters, which is a great one to 'set the mood' for what's coming.
With a distance of 15 kilometers, it is also a lengthy start, so you can now begin to understand why we emphasized the necessity of being skilled and fit to complete this walk.
2. Cleator to Ennerdale Forest
From Cleator to Ennerdale Forest, is a bit of a longer distance, with 2 extra kilometers to cover and a slightly higher elevation of 612 meters. So, count for an extra 30-60 minutes to finish this stage.
3. Ennerdale Forest to Rosthwaite
A 15-kilometer walk from Ennerdale Forest to Rosthwaite can be completed in 4 hours. The elevation gain is the lowest so far, with 585 ascending meters.
However, there is also another option here which is going from Red Pike, High Stile, and Hay Stacks which means you'll cover 6 kilometers less than you will if you stick to the original trail, but you'll have to go higher as the elevation gain here is 943 meters.
4. Rosthwaite to Easedale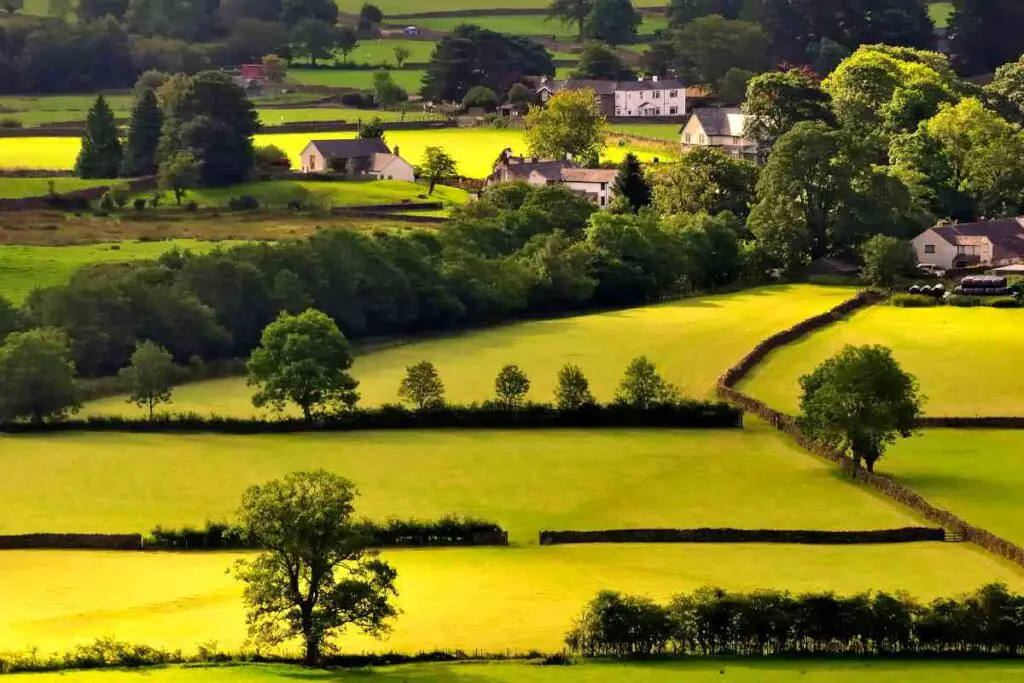 This stage is 13 kilometers long and has an elevation gain of 674 meters. Another option is to follow a trail that traverses Calf Crag and Helm Crag which is only 5 kilometers long and has a much lower elevation gain.
5. Easedale to Patterdale
Another long stage, this one is 11 kilometers long with an elevation gain of 612 meters. Here, there are many alternative paths you can take, but this original path is worth walking.
6. Patterdale to Burn Banks
One of the longest stages on the Coast to Coast walk, the Patterdale to Burn Banks is 18 kilometers long and has a challenging elevation gain of 934 kilometers.
This means that before or after completing this stage, you should have a good break to replenish your body with some food and water.
7. Burn Banks to Orton
Best to have a break in between the previous stage and this one, as the stage from Burn Banks to Orton is 20 kilometers long!
The elevation gain is 428 meters which are about half the previous one, so even though you'll walk a bit longer, it will be much easier.
8. Orton to Kirkby Stephen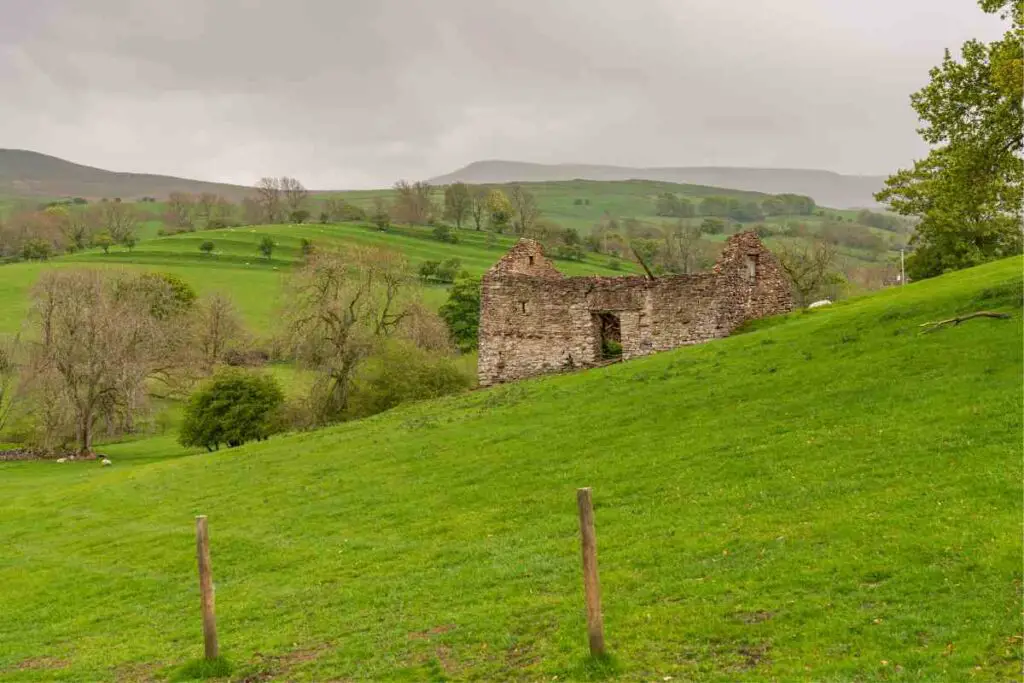 18 kilometers of walking and 301 meters of elevation gain and you will have reached Kirkby Stephen, where you can have another long break that will be much needed.
9. Kirkby Stephen to West Stonedale
To get to West Stonedale, it will be a 19-kilometer hike with 603 meters of elevation gain, which will be comparable to your walk from Easedale to Patterdale, even though this one is about an hour longer.
10. West Stonedale to Grinton
The 10th stage of the Coast to Coast walk is 17 kilometers, with an elevation gain of 574 kilometers, which is another 4-5 hours of walking before you get to the next, and much similar to this one, stage.
11. Grinton to Richmond
One kilometer and 202 meters of elevation gain shorter than the previous stage, this stage will get you to Richmond where you can have a rest day and do some sightseeing before you head for the next, lengthy hike.
12. Richmond to Danby Wiske
One of the two longest stages, this one takes you all the way to Danby Wiske and is 24 kilometers long. However, the elevation gain is one of the lowest ones – 177 meters only – so consider this a long, long walk in the countryside.
13. Danby Wiske to Heathwaite
After your long walk comes another long but slightly shorter than the previous stage. With 20 kilometers to cover, this one ends in Heathwaite and can mark the end of the day.
14. Heathwaite to Blakey Ridge
Starting the next day with the second one of the longest stages of this walk, these 24 kilometers come with one of the greatest elevation gains of this trail too, which is 861 meters.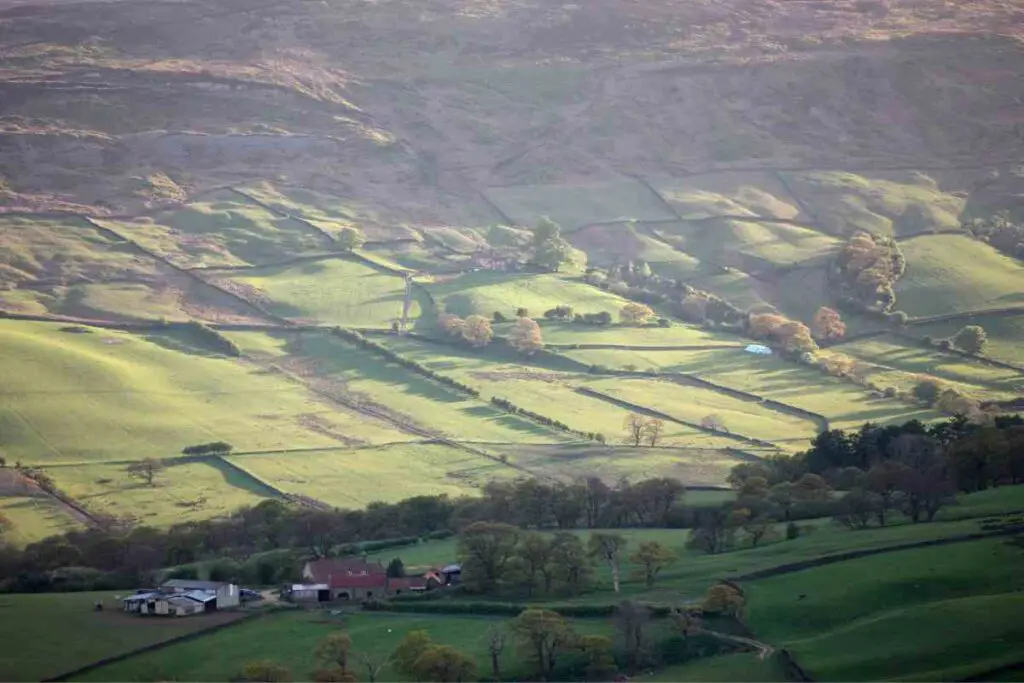 So, take a deep breath, pack lots of water, and expect to spend anything from 6-8 hours getting to Blakey Ridge.
15. Blakey Ridge to Grosmont
21 kilometers and 192 meters of elevation gain will sound like a piece of cake after what you'll have just gone through, and you will make it to Grosmont almost effortlessly.
16. Grosmont to High Normanby
The penultimate stage of this walk ends in Normanby and is 15 kilometers long, with an elevation gain of 449 meters. Not too bad!
17. High Normanby to Robin Hoods Bay
You've finally made it to the last stage which, surprise, surprise, is a short one.
A relaxing 9-kilometer walk from High Normanby to Robin Hood's Bay with 395 meters of elevation gain is the best way to 'decompress' before you dip your feet in the sea once again.
Coast To Coast Walk Guide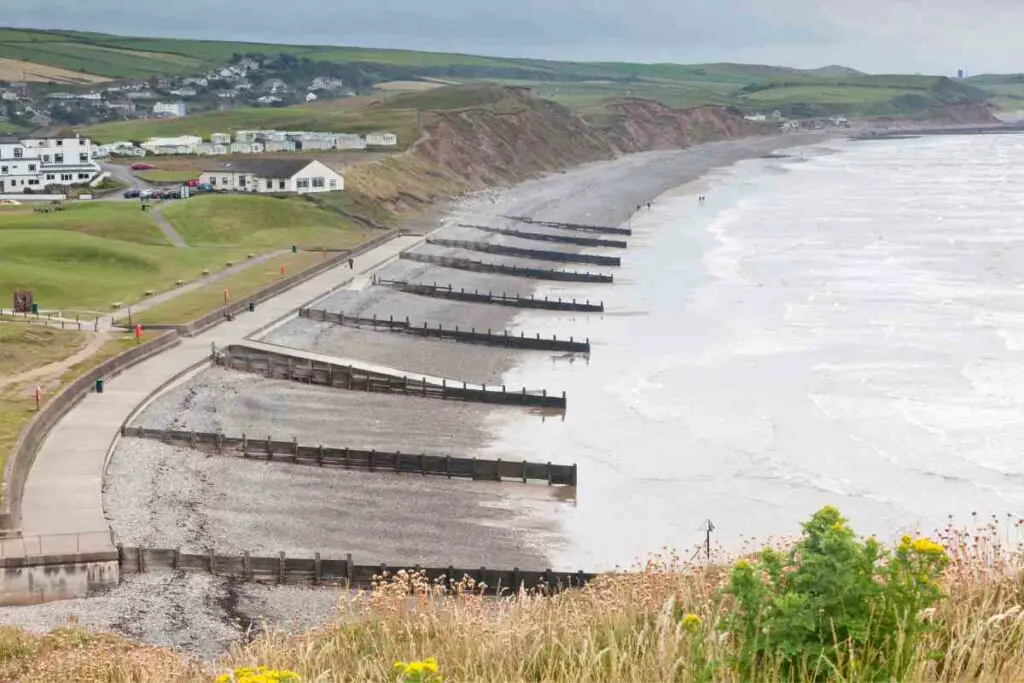 Getting to St. Bees
St. Bees is a small English town that is easy to get to and the place where the trail starts from, with many hikers flying to Manchester to get there by train.
The train station in Saint Bees has numerous train services per day, so you can book a ticket for a time that works best for you.
That will depend on whether you want to spend the night in Saint Bees and get some good night's sleep before embarking on your hiking journey.
Rail transportation from Manchester to Saint Bees ends up taking approximately 3-4 hours and it will cost you anything from £20-£60 as prices vary every season, day, and year.
Leaving From Robin Hood's Bay
Once you have finished walking the trail and you want to get back to Manchester, the bus is the least expensive way to travel from Robin Hood's Bay to Manchester.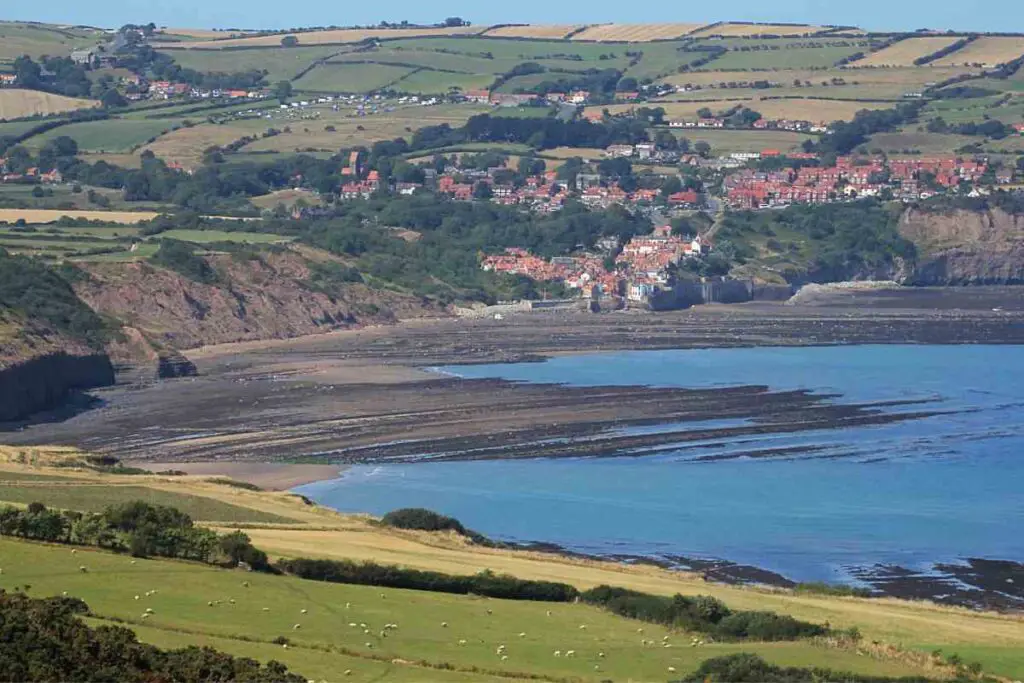 You will, however, have to change buses as you will start from Robin Hood's Bay and get to Middlesborough with one service and then catch another one that will get you to Manchester.
All of this will cost you around £30 but it can take anywhere from 5-8 hours, so if you do want to take the train for a faster trip back to Manchester, you will need to catch a bus that will take you to Scarborough train station and then get on the train that will take you there.
What Is The Best Time To Do The Coast To Coast Walk?
The ideal months to try the Coast to Coast hike are late April to September.
That is because during that time, the sun is out for longer and the English unpredictable weather is slightly calmer – even though you can always experience a thunderstorm in the middle of June!
What to Expect? April can offer some unexpectedly decent weather, however, the days are much shorter and there is always a potential for snow on open elevations, particularly in the Lake District.
Because of the summer school holidays in England, July and August are two extremely busy months for National Parks. On the other hand, September is typically dry and a good time to see the fall foliage.
Coast To Coast Walk Accommodation
There are many YHA accommodation options across the Coast to Coast walk that you can stay in, as well as plenty of hostels, guesthouses, and inns that you can find in every town you choose to rest in.
We do recommend staying at the Thorney How Independent Hostel in Grasmere and the Shepherd's Crook Bunkhouse in Patterdale.
In Richmond, you can stay at the Pinfold House, while Kirkby Stephen has some lovely options like The Cosy Nook Cottage Company – Wybergh Cottage and the Brookfield House Warcop.
Camping
The trail is well-suited for camping, with many campsites, pubs, and farms providing space for hikers to set their tents, while there are also some camping barns where you can stay the night.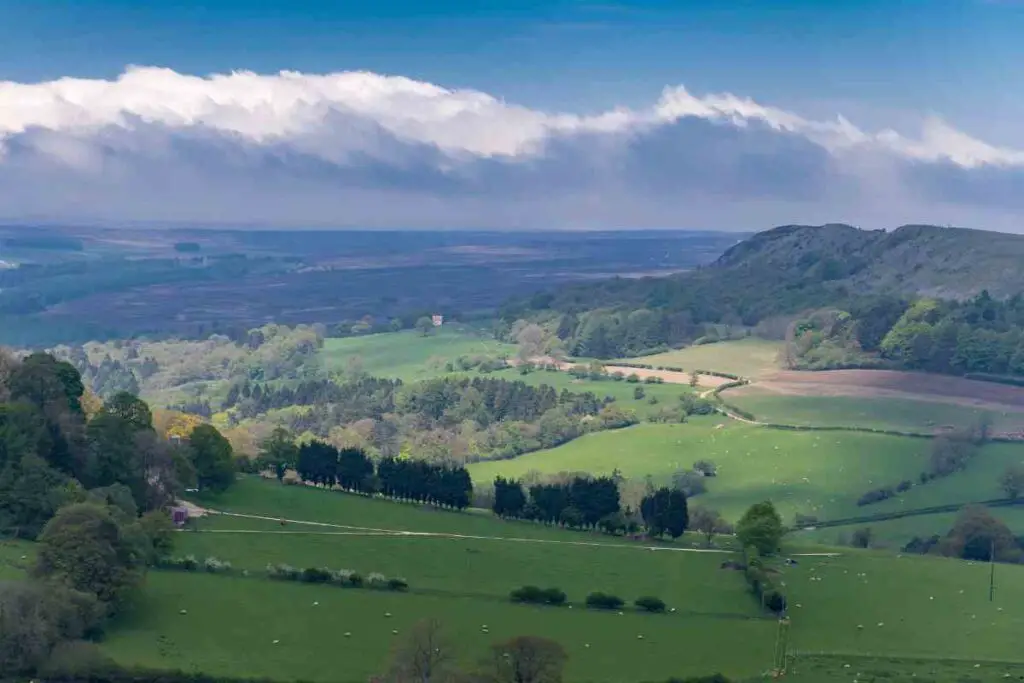 And even though it's not legally allowed to wild camp in England, in the case of hikers who respect and love nature, and especially people like you who'll be courageous and willing to finish this trail, the locals are more than accommodating and tolerant with campers.
Moreover, there are some places, particularly in the Lake District, where wild camping feels like a 'must' with the spots there being amazing.
The Bottom Line
Because of its remarkable and appealing scenic views, the Coast to Coast nowadays ranks among England's most highly regarded long-distance trails.
So, if you are fit enough and experienced with long-distance hikes, plan your trip now!