Where the Mojave and Colorado deserts collide you will find the awe-inspiring 740,000-acre national park of Joshua Tree.
Luckily, you don't have to set off on a 100-mile trekking adventure to see the best of Joshua Tree.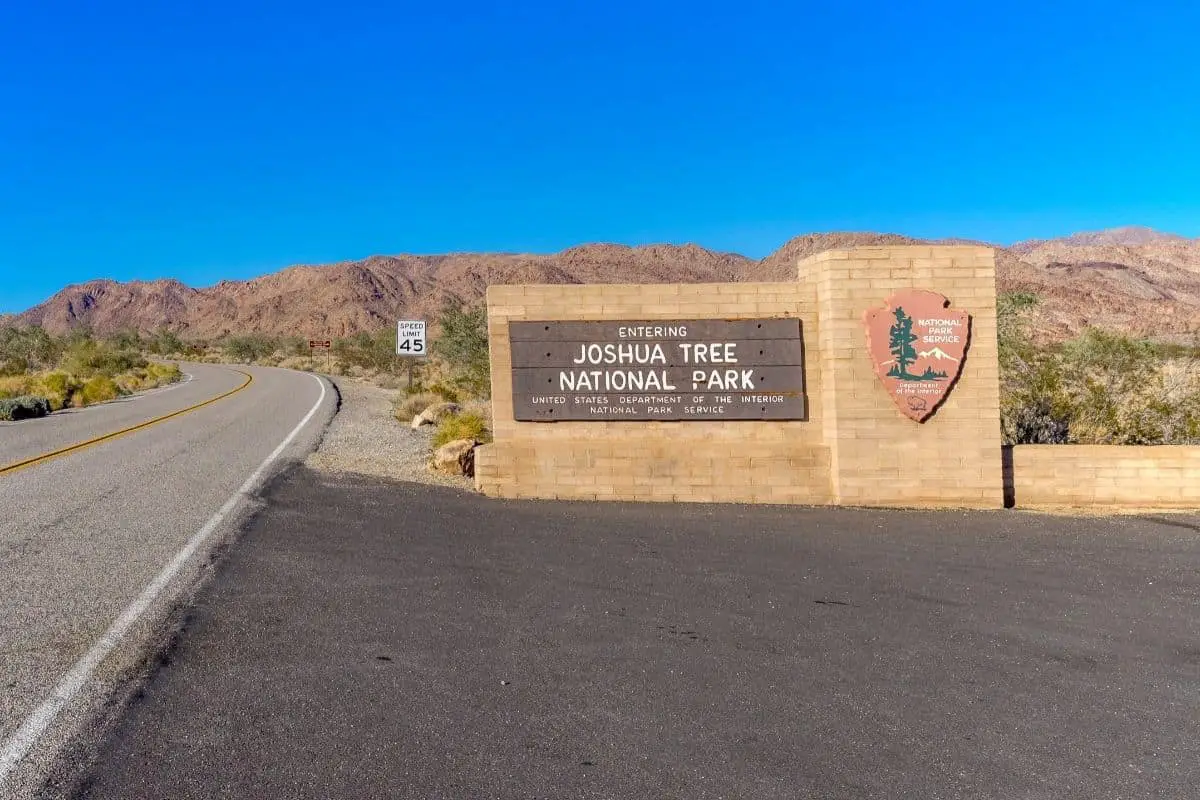 Easily accessible by car and with a bunch of easy to moderate day hikes to its name, Joshua Tree is one of the best national parks in California to hike.
1. Ryan Mountain Trail
Distance: 3 miles
Level: Moderate
Ryan Mountain is a 3-mile out-and-back trail that typically takes just shy of two hours to complete. The hike is considered a moderate one, having 1069 ft of elevation to its name.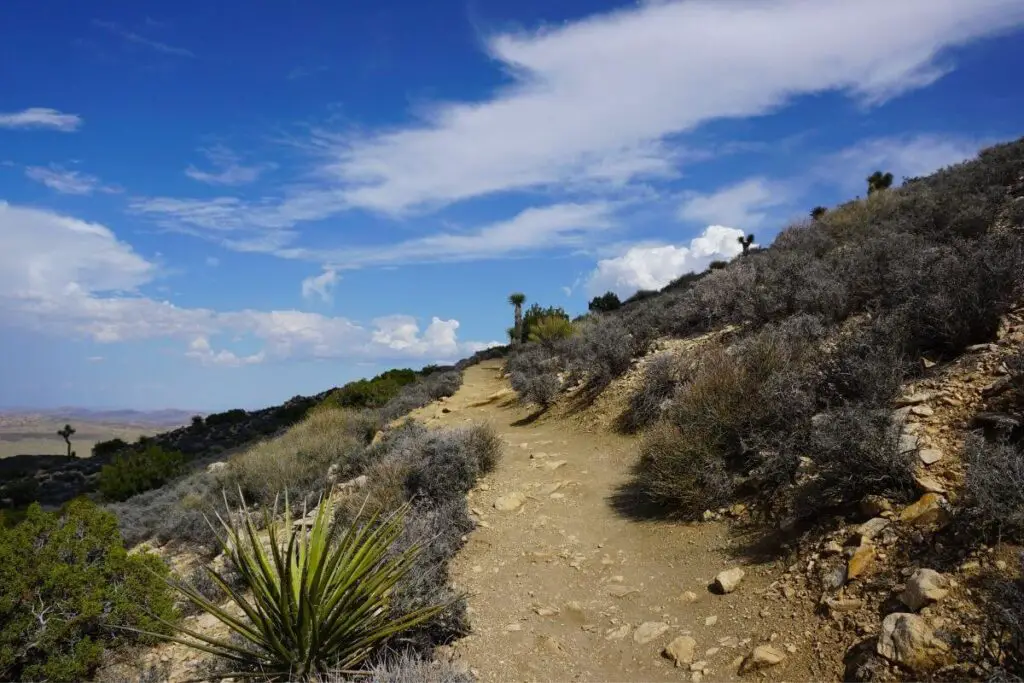 Ryan Mountain is the second highest peak in all of Joshua Tree, so get ready for uninterrupted views of the red-earth desert for as far as the eye can see.
Because of its breathtaking vantage point, the trail is super popular with hikers, and trail runners alike. If possible, setting off early morning will have you beating the crowds and the heat (especially in the summertime).
2. Barker Dam Nature Trail
Distance: 1.1 miles
Level: Easy
This sandy trail that starts at Barker Dam car park and finishes by a charming lake is an easy one for the whole family.
Formed in a natural rock basin as a result of the artificial dam being built, the lake is a picturesque spot to stop for lunch and a swim.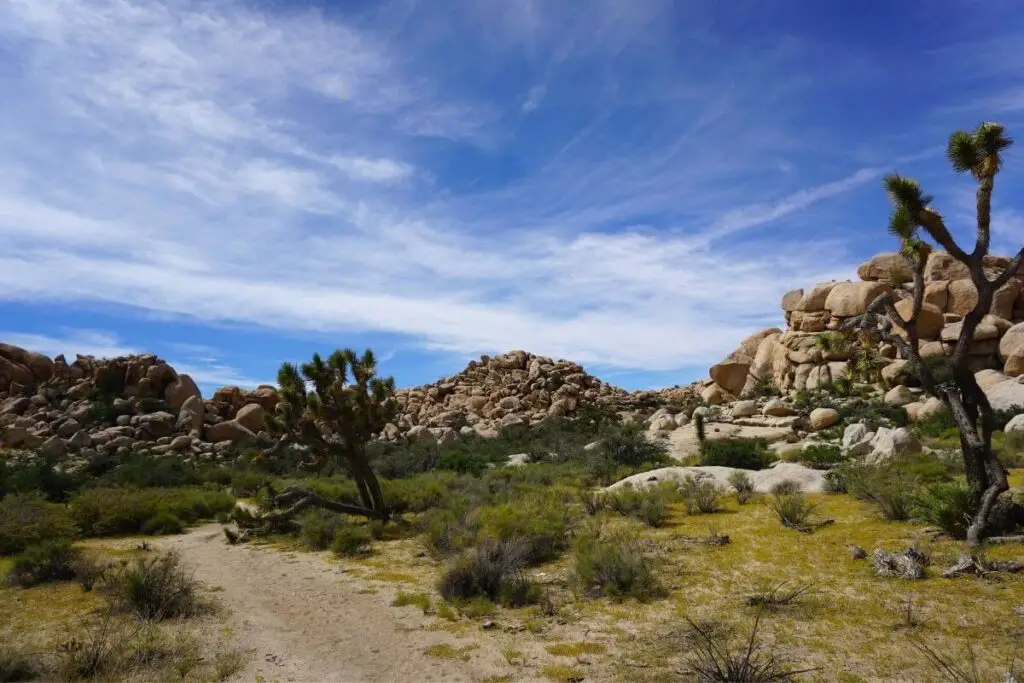 The national park has instilled informative signs along the trail that describe the flora and fauna that you will likely spot along the way.
Migratory wildfowl are known to frequent the lake on their journeys northward so be sure to keep a keen eye out for them.
Another cool reason to hike Barker Dam Nature Trail is the petroglyph sites that can be found a short rock-scramble up the dam.
3. Hidden Valley Nature Trail
Distance: 1 mile
Level: Easy
If you only have time for one short hike in Joshua Tree, you would be silly not to make it Hidden Valley.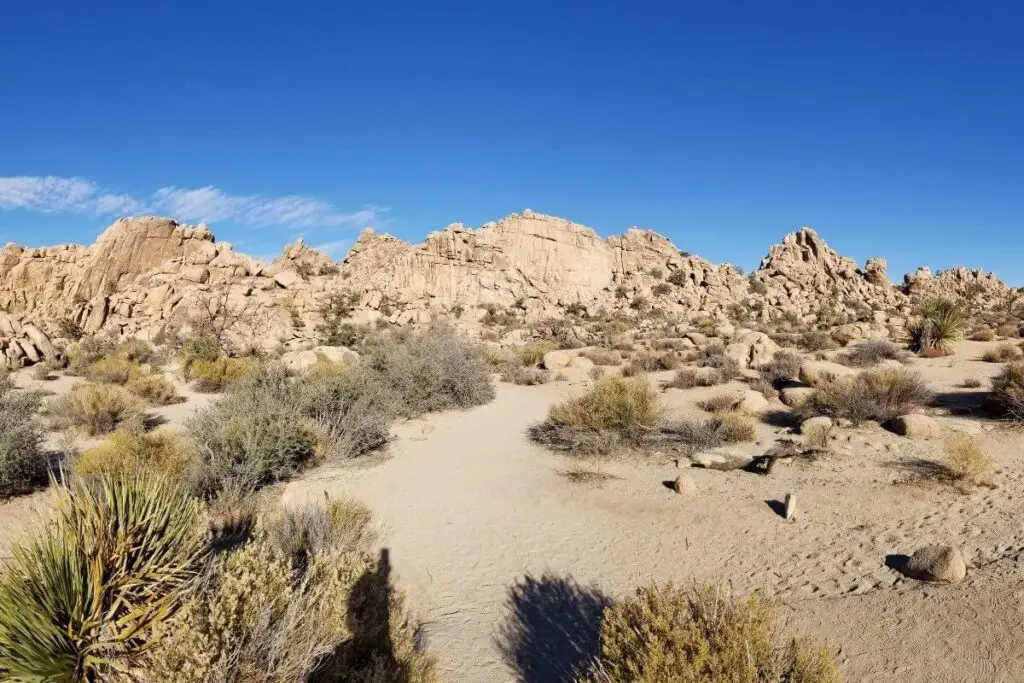 For an easy 1-mile loop, the Hidden Valley Nature Trail encapsulates the full spirit of Joshua Tree with its iconic rock formations.
If you don't just like looking at rocks but climbing on them too, then Hidden Valley is a rock climber's paradise, with big old boulders and craggy sections that call out to be climbed on.
Popular with families, Hidden Valley also features a park campsite giving people the chance to soak in the magic of this alluring place for a few days at a time.
4. Lost Palms Oasis Trail
Distance: 7.2 miles
Level: Moderate
7.2 miles is still considered a short hike right? If you're game for a full day's hiking then Lost Palms Oasis Trail on the southern reaches of Joshua Tree is well worth your time.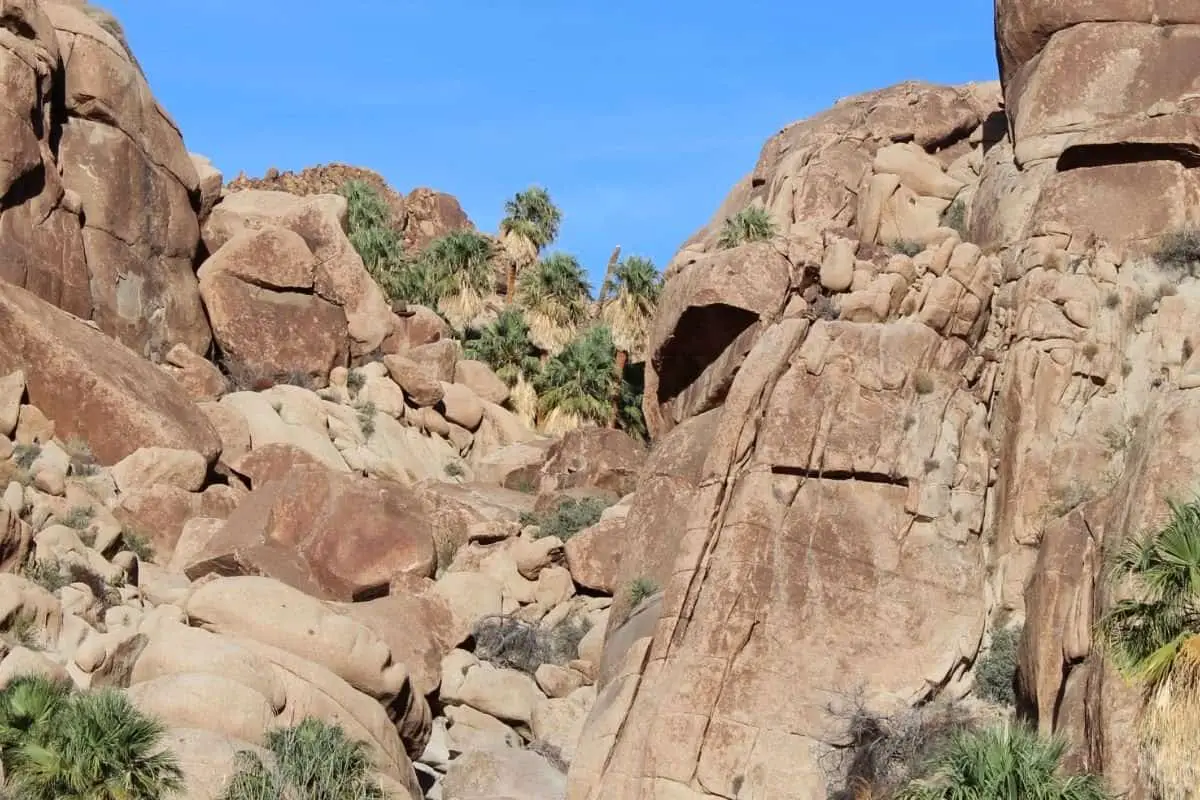 With the highest concentration of native Californian Fan Palms in all of Joshua Tree, Lost Palms can be a heavily-trafficked trail in the peak spring season.
The route is a classic out and back that features 490ft of elevation, which, for its length, is quite minimal.
A great reason to hike Lost Palms Oasis in the spring is its low-lying ground is filled with the bloom of wildflowers.
Yes, it is long, but as long as you have a moderate level of fitness, this hike is predominantly flat and effortlessly beautiful.
5. Skull Rock Nature Trail
Distance: 1.6 miles
Level: Easy
As its namesake suggests, this 1.6-mile loop culminates at a large granite rock that looks just like a skull.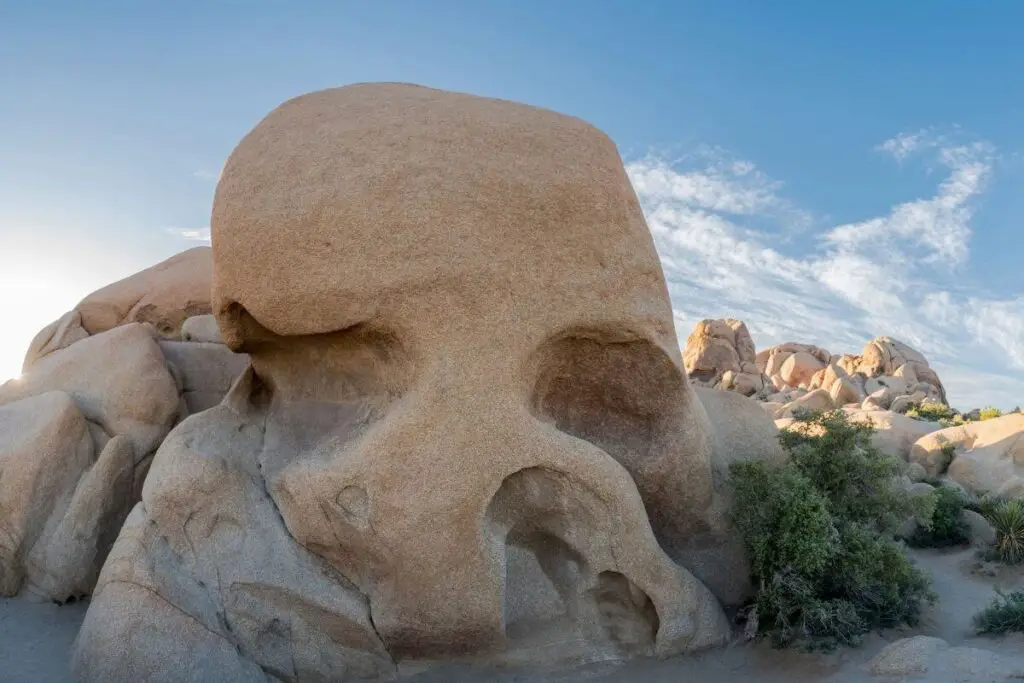 Through centuries of erosion, this remarkably formed rock has two sunken-in depressions that give off the impression of eyes, and the smoothed-off exterior is shaped like a skull.
Skull Rock aside, this is still a very cool trail that takes you through boulder fields, desert washes, wildflower blooms, and tight rocky sections that offer a slice of respite from the harsh desert sun.
Although the official Skull Rock trail ends at the main road, there is an additional 1-mile loop on the opposite side that is less frequented, more primitive, and just as stunning.
6. Split Rock Nature Trail
Distance: 1.9 miles
Level: Easy/ Moderate
Split Rock is a 1.9-mile loop that is classed on the moderate side of easy. The big drawcard of this trail is it's often much quieter than the well-known trails of Hidden Valley and Backer Dam.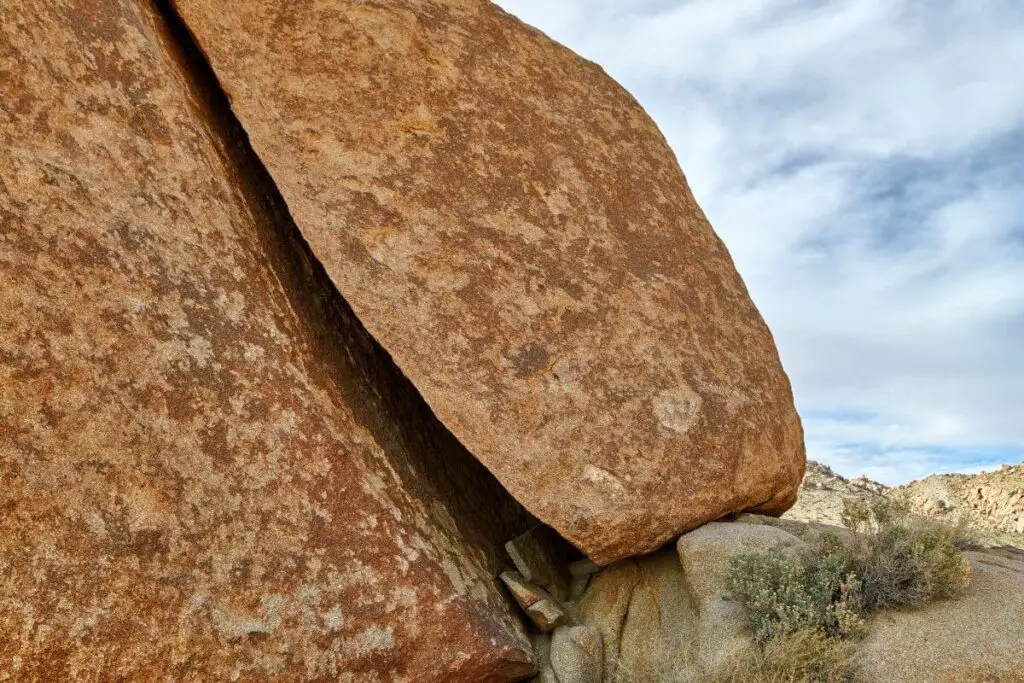 Even though it's less trafficked, Split Rock still takes you through plenty of Joshua Tree's natural beauty.
Unique rock formations, Joshua Trees, and mesmerizing desert views are just part and parcel of hitting the Split Rock trailhead.
The boulders of Split Rock are relatively easy to climb and offer some breathtaking views and photo opportunities. It goes without saying that, no matter how good the photo could be, getting too close to the edge is not recommended.
7. Lost Horse Mine Loop Trail
Distance: 6.7 miles
Level: Moderate
While Split rock may be on the easier side of moderate, the full Lost Horse Mine Loop is considered a harder undertaking than most moderate trails.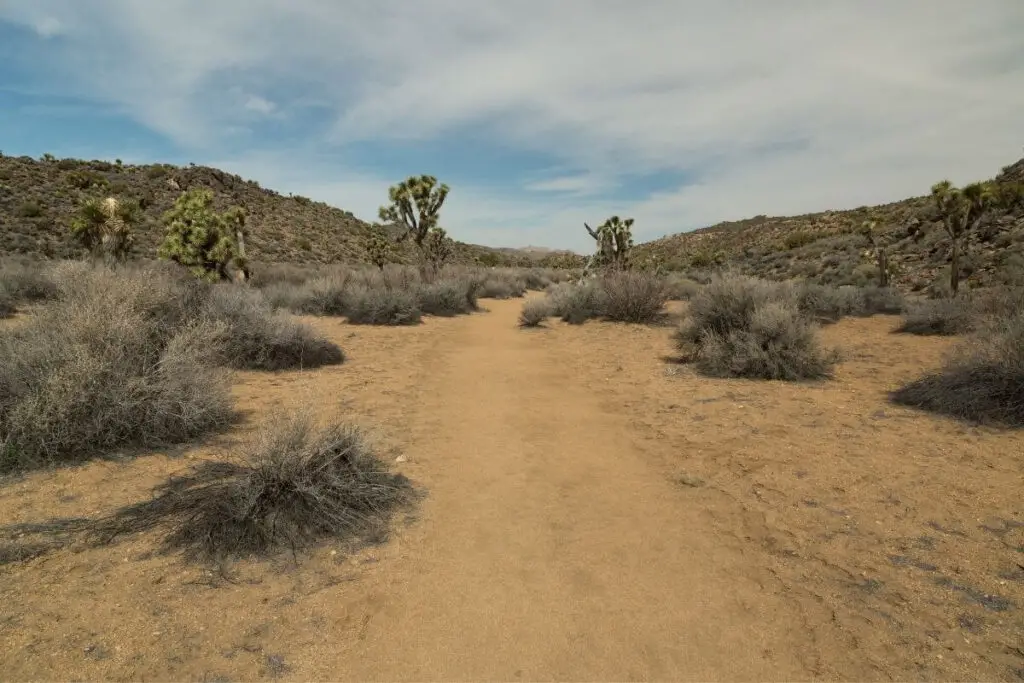 Expect a few sharp ascents as you navigate your way up the southeastern part of the mountain.
If you'd prefer to skip on the ascents and shave a couple of miles off your hike, then there's also an easier 4-mile out-and-back trail that takes you in a direct line to the mine.
A relic of the California Gold Rush, Lost Horse Mine is the most well-preserved mine of all of Joshua Tree.
Mine aside, this impressive trail offers plenty of spectacular viewing points, as well as some of the unique flora and fauna that is endemic to Joshua Tree.
For hikers looking to take on the full trail loop, consider doing it anti-clockwise to get the flatter more mundane sections of trail out the way first and save the thrills for the end before reaching the mine.
Summary
Spending a few action-packed days hiking the awe-inspiring trails of Joshua Tree National Park is a hugely rewarding endeavor. Not only will you get a truer sense of the raw beauty of this famed desert landscape, but you will also bear witness to its pastel shades of perfection at both sunrise and sunset.
The short hikes listed above can all be confidently completed in a day, and, grouped together are the ideal snapshot into what makes this national park one of the special ones. If you've got the time, and are up for the challenge, hiking them all will have you falling into a deep, lifelong appreciation for Joshua Tree.