Several individuals desire to visit Joshua Tree and for good reason.
The park attracts tourists from across the planet with its storybook of evergreens and rocky outcrops that appear to be from another planet.
While there are numerous fully organized campsites close to Joshua Tree, they are frequently quite pricey.
With that being said, can you go camping in Joshua Tree for free?
In this article, we will check the best free camping near Joshua Tree National Park, so keep reading below!
Is There Free Camping In Joshua Tree?
There is free camping within Joshua Tree, but that is only if you want to live a backcountry camping experience.
It is difficult, though, to do it in terms of logistics.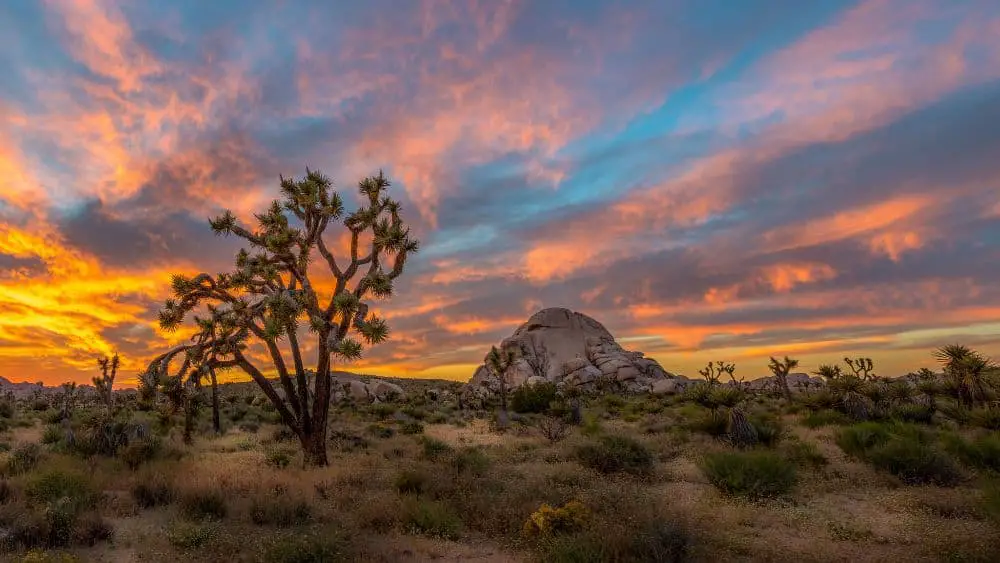 Even so, if you are organizing a big hiking trip with your fellow backpackers, then it's something you should definitely go for.
To experience the backcountry camping life in Joshua Tree National Park, things are quite simple.
It is not necessary to make reservations for permits ahead of time to backcountry camp in Joshua Tree National Park or the surrounding area.
In contrast to many National Parks that have challenging backcountry quotas, all you are required to do in Joshua Tree is park your car and register yourself for a backcountry permit on the spot.
You can do so at the park's trailhead points.
What Is The Policy For Free Camping In Joshua Tree National Park?
The policy requires backpackers to do a 1-mile trek in the park and then walk 500 feet away from the designated trails to find a place to set up their tents.
Since filtered water from ponds and rivers is questionable in Joshua Tree, you should bring plenty of water supplies with you.
Heads Up! When trying to find free camping close to Joshua Tree National Park, make sure the campsite is accessible to the general public. You would not want to camp out only to discover that camping is not permitted in that area.
When you decide to stay overnight, make sure you adhere to all published regulations and leave no trace principles.
If we people don't appreciate our privilege of free camping, we could simply cease having it in the future.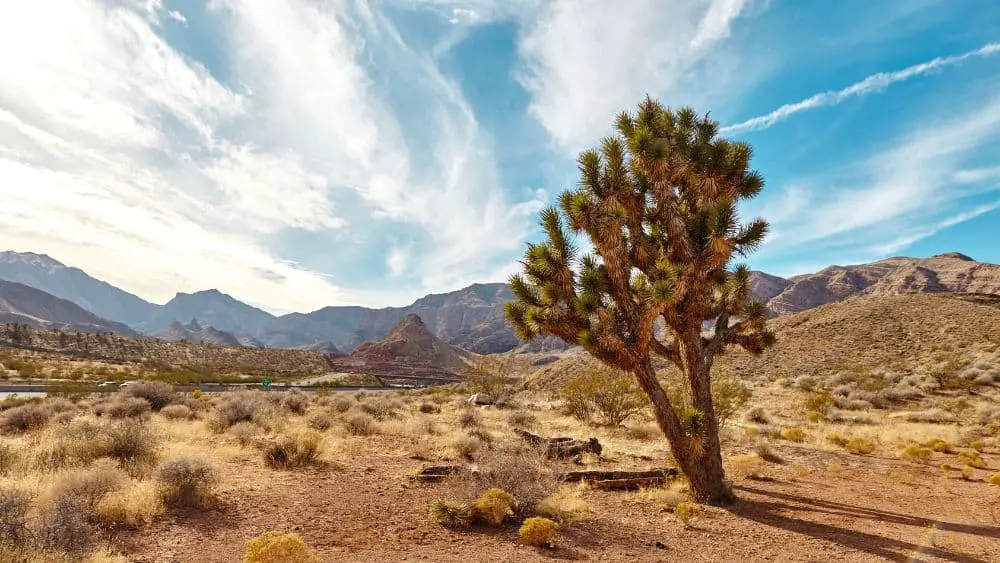 So, backcountry camping is allowed everywhere within Joshua Tree National Park provided that:
You have pitched your tent further than 1 mile away from any roads, and your tent is at least 500 feet away from a trekking path.
Your tent is away from a day-use space, like the ones designated for picnics, visitor centers, and so on.
You do not drive your car off-road when you are inside Joshua Tree. This means you must find a parking space for your Motorhome or car in a designated carpark or far from the traffic flow and afterward walk with your camping gear to a campground within the aforementioned restrictions.
Free Camping Beyond The Joshua Tree National Park
There are two free camping alternatives to the northern and southern sides of Joshua Tree National Park at BLM locations.
These BLM locations are essentially huge, vast desert lots with unlimited access for backcountry camping.
Just like any other backcountry campground, they are not equipped with camping amenities, which practically means that there is no running water, toilets, or trash bins.
This, of course, means that all recyclable and non-recyclable waste is your responsibility, and you should discard everything where you are back home.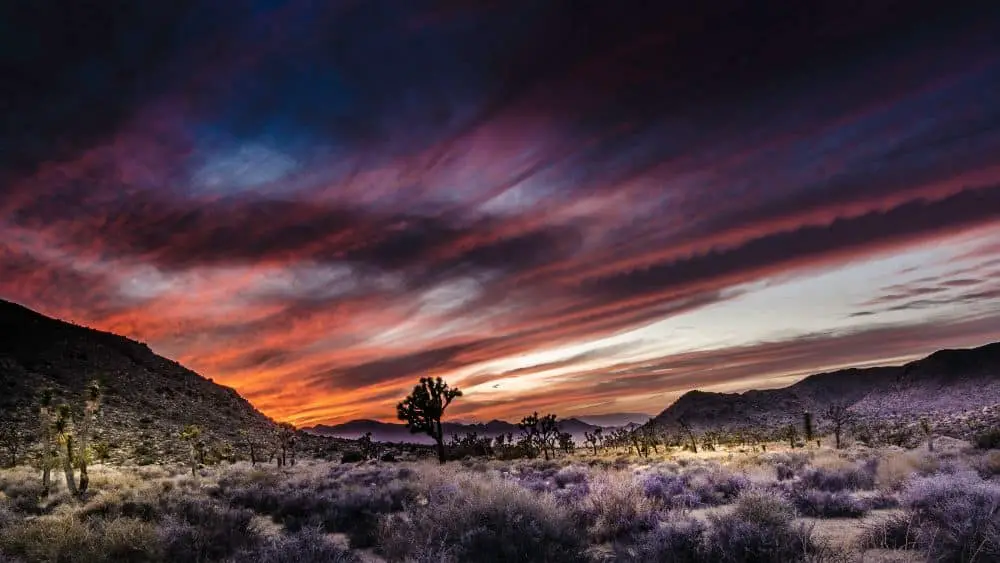 So, in case you don't want to visit a walk-in campground in the National Park and are not ready for a long hiking trip to find an isolated backcountry camping area in the park, such BLM places are excellent alternatives.
The north BLM area is situated close to the Indian Cove Ranger Station, off Twentynine Palms Highway.
The south BLM location is on Cottonwood Springs Road, right before the park's south-side entrance.
More information on these BLM sites can be found on the National Park Service's website.
Call ahead to confirm any extra requirements, as some BLM routes might necessitate a 4×4 vehicle year-round.
Tips For Camping In Joshua Tree
Here are some general tips on backcountry camping in Joshua Tree.
Make Sure You Are Moving And Camping On The Right Surfaces
When exploring the wilderness area, even the ground you walk or camp on is not always durable.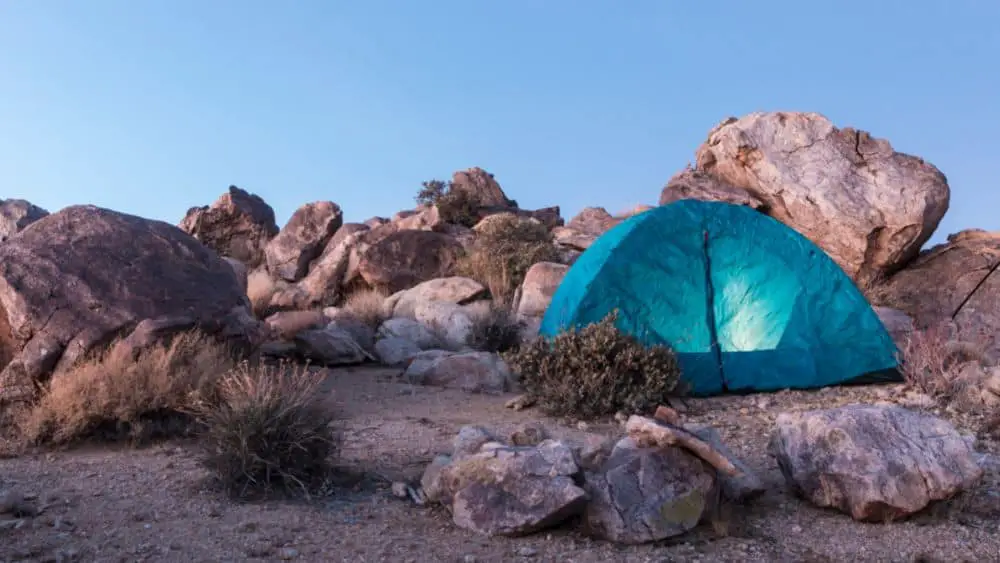 Educating yourself on how to identify biological crusts is important in your work towards preserving pockets of life that provide minerals and organic substances to fragile soil structures and soak up the rain.
Due to the appearance of yellow moss, bryophytes, and other organisms, fully grown crusts usually look bumpy and dark-colored.
You can avoid damaging sensitive strands that could take decades to recover by walking around them instead of walking on them.
The same goes for camping on such grounds.
Never Leave Your Rubbish Behind
The waste you produce – from plastic spoons to toilet paper – is all your responsibility and by no means should you leave them in the park.
Having small garbage bags where you can collect all the waste and then throw it out in the right waste bins back in the city is one of the best ways to show your respect and appreciation for the environment.
Bring Lots Of Water
The park's waterways are not suitable for human consumption and are only destined for native animals.
Water bottles and containers for drinking and food preparation must be brought in and taken with you when you leave.
Treat The Wildlife Around You With Respect
While the idea of feeding wild animals sounds amazing, it is best to avoid doing so.
Our foods can be harmful to them, and a seemingly cute animal can turn into a violent one.
Finally, another thing to remember is that bringing your pet is not permitted in the backcountry.
The Bottom Line
Joshua Tree is an amazing place to visit, and the National Park is undoubtedly the highlight of the area.
However, feel free to choose whether you will go free camping in the park or the BLM sites near it.
Either way, the experience will be rewarding!