Shopping for a tent can be a grueling process as there are so many options out there! It is also a very important job.
When you look for a tent, you are shopping for your home for the holiday and this selection can really make or break your experience!
Are you considering purchasing the Zempire Pronto but you're not sure if it has all the features that you need? Look no further!
This review will tell you everything you need to know about this product, leaving you fully equipped to make the decision on whether this is the tent for you!
A quick look at Zempire Pronto tents:
The Zempire Pronto At First Glance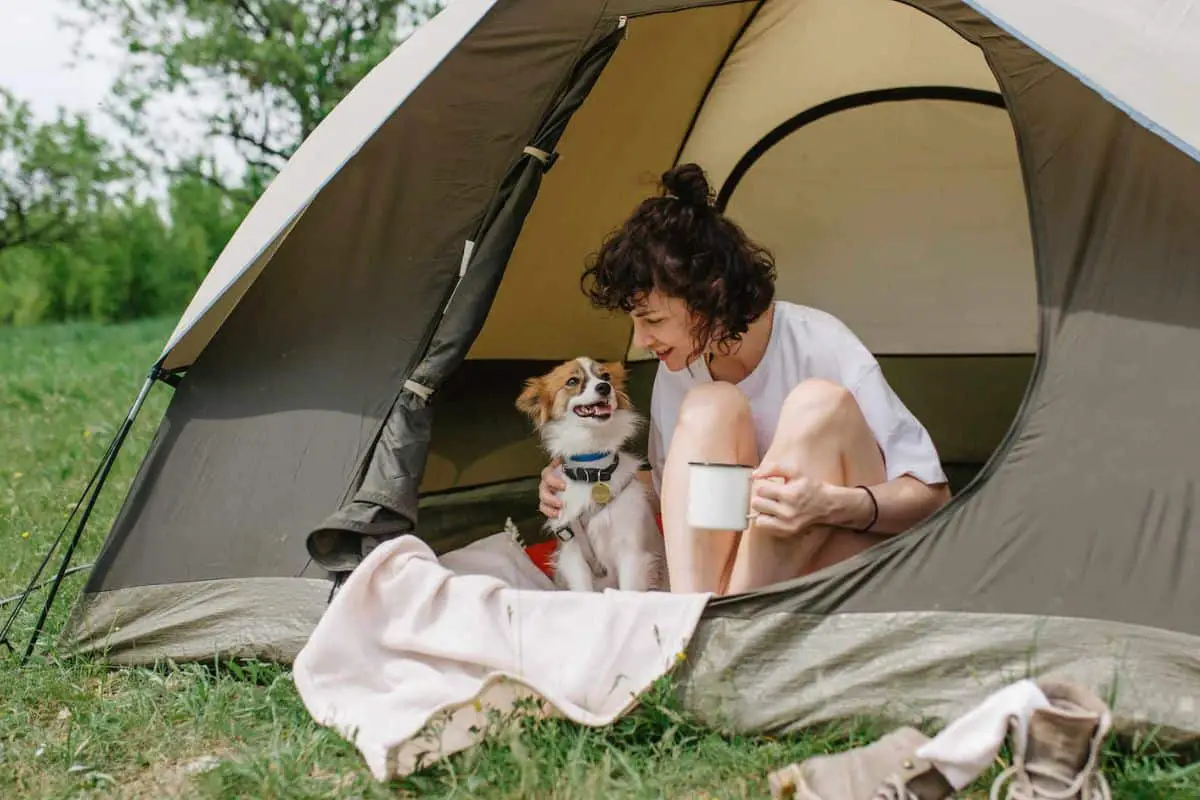 At first glance, this product is fantastic. It is portable and easy to use which are very essential features of a tent!
This tent has all the features necessary for a good camping experience, as well as some extra features you may not find anywhere else!
For instance, the tent includes the ability to zip up the side windows to allow you to look out and enjoy the stars! The Zempire Pronto comes in many sizes which suit different people.
Are Zempire A Reliable Company?
Zempire began 16 years ago, and has since developed into a reliable and popular brand for those who enjoy roaming the outdoors, while still remaining comfortable.
The company was founded in 2006 in New Zealand and they offer fantastic and competitive camping products.
The company was founded by a husband and wife and they focus on the little details in their products to allow them to stand out from the competition.
Portable
This tent is very easy to transport. This is essential when purchasing a tent! If you plan to be able to transport your tent on foot or on a bike, you will really need it to be lightweight and portable.
Even if you plan to throw the tent in the back of your car, no one wants a tent that takes up lots of space!
Chances are, you'll need that space for your surfing gear, warm clothes or kids toys. The portability of this tent is a real pro.
Easy To Pitch
If you're like me, the worst part of the camping experience is pitching your tent, and taking it down again after your camping fun!
This model of the Zempire removes the stress of this part of the experience. With this model, you will have the tent set up in no time with the inflatable airframes.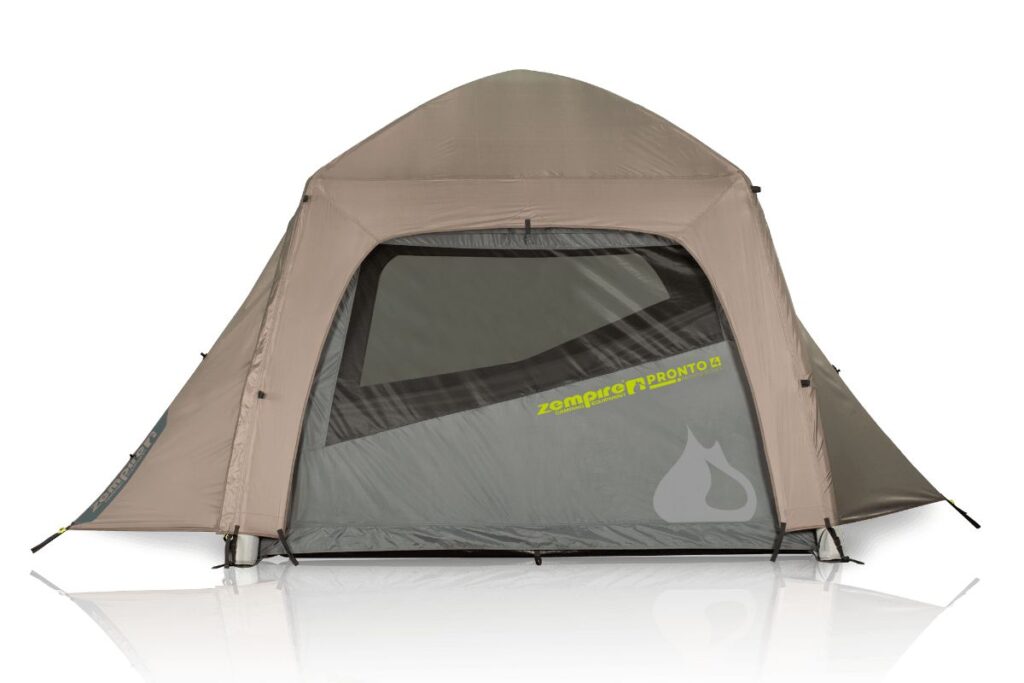 Very little construction is necessary, you simply have to blow the tent up using the pump that is provided with it and then do some securing of the tent by putting in the pegs and the guide ropes.
This inflatable feature is very modern, but before long everyone will have them!
They really do transform the difficulty level of putting up a tent. They also make taking it down again a breeze as you simply need to deflate them.
For those who are used to the more traditional pole tents, the inflatable tents can be slightly more difficult to get to grips with which can slow down the pitching process.
While this may slow you down in the first instance, over time you will become more accustomed to it and you won't be able to go back!
Fantastic Layout
This tent includes a great layout no matter which size you have opted for. It has a very large sleeping space, which many tents lack.
The mesh windows that are able to be opened up if you're lucky enough to enjoy great weather are a great feature for keeping the tent cool, while the mesh layer keeps those much hated insects out of your sleeping space!
The tent consists of a separate sleeping area in the rear which is separated from the rest of the tent with a zipped door.
The tent also has a front awning which is a great place to store your shoes and wet clothes if you haven't been so lucky with the weather!
The front fly door, which provides the much needed solace from the rain, can also double up as a shade awning, giving you some sheltered outdoor space if the weather is warm.
Ventilation
Ventilation is also a great feature of a tent which not all designs include. When the weather is warm, it is really important to have some ventilation which allows your tent to cool down during the evening.
If you don't mind risking letting the bugs in, you can even unclip the fly net completely to allow for even more ventilation.
You can open the large window panels on each side to allow a breeze to flow through the test.
Durable
This tent is also built to last! It is built using a strong and reliable waterproof material and will not let you down.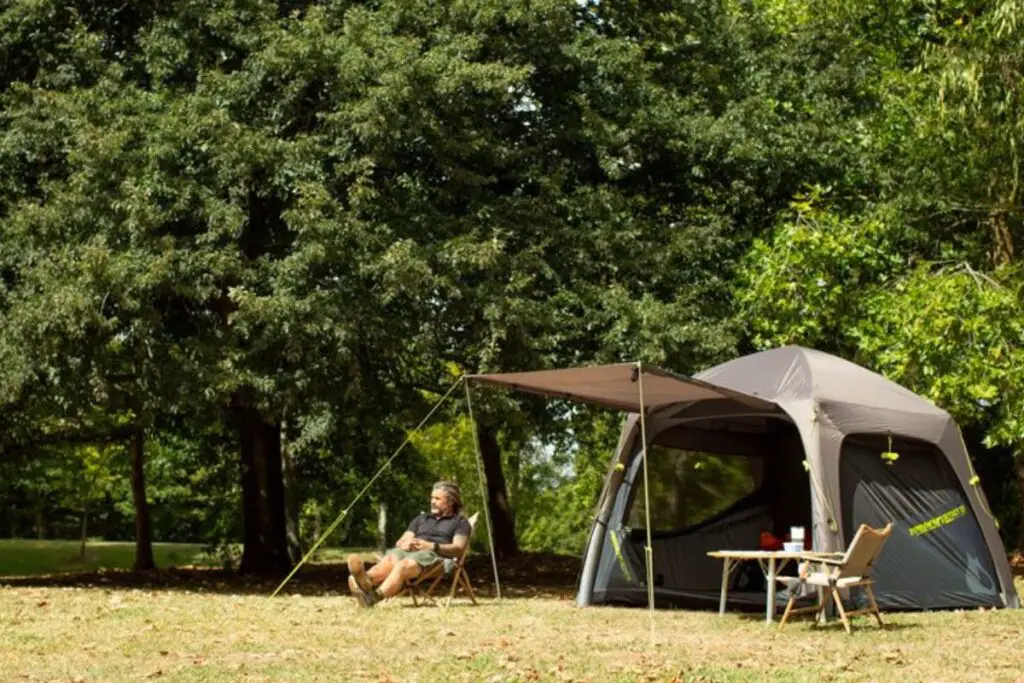 It will suffer some expected wear and tear, and, like any tent, will need to be treated well in order to provide.
Great In All Weather
This tent has features which help you to enjoy yourself in all weather. If you are experiencing very hot weather, you can open up the doors and windows for fantastic ventilation.
If you are experiencing cold or wet weather, this tent will protect you fantastically from the elements. You can close it up and get warm and cozy inside with plenty of space for indoor seating.
You can also protect your shoes and wet clothing from the elements by using your awning.
Warranty
All Zempire products come with a warranty which means that if you don't get on with the tent then you can always take it back.
If anything goes wrong within the warranty, you can always take it back and get a replacement or a refund. Check the conditions of your particular warranty before you buy!
Some Bad Customer Experiences
Like any product, it is not flawless, and some customers have reported negative experiences.
Because the product includes the fairly new feature of being inflatable, this sometimes can malfunction. If this happens, it is extremely unfortunate and can really affect your holiday.
However, all in all, there are very few negative experiences and the warranty that is provided with the tent does cover you in case something happens that is not your fault.
What Is Included With The Zempire Pronto Tent?
When you purchase this tent you should expect the following contents to be included:
The main tent body
Rain fly
A pro series pump to pump up the inflatable sections of the tent
A peg bag containing 22 6mm tent pegs
Guy ropes (3.5mm)
Pole bag containing 2 x 6 section poles
A repair kit to repair small damages including adhesive tube patches and zip ties
An instruction manual
What To Look For When Buying A Tent
When you're purchasing a tent, there are so many things to think about. It can get overwhelming and you may not know where to start.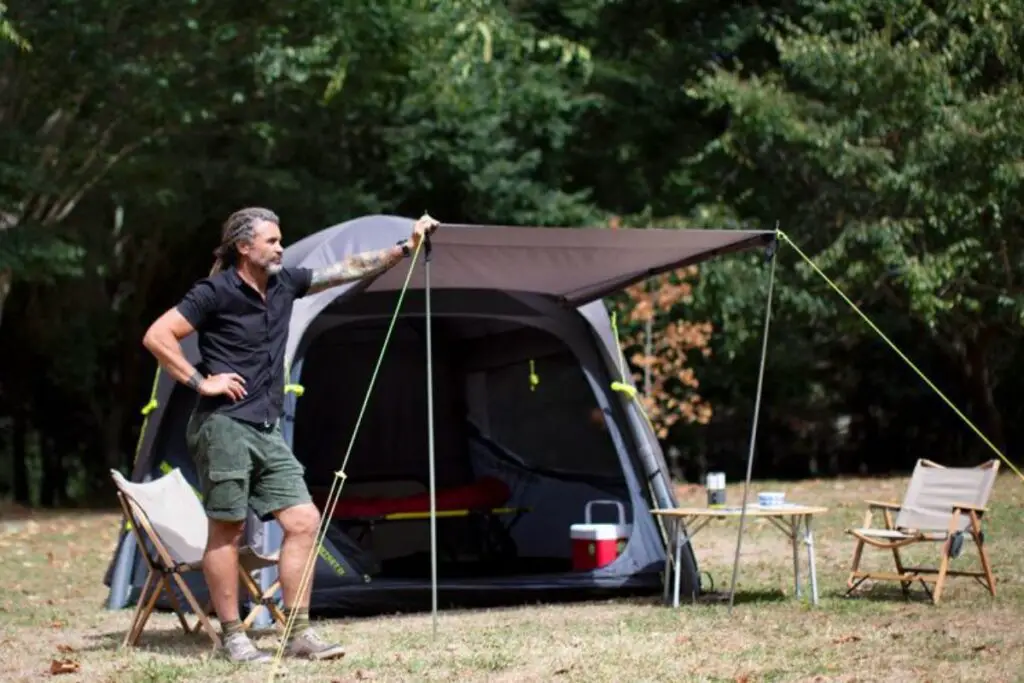 Below is a list of things you should look out for when you're looking to purchase a tent:
Size of the tent
Make sure that you're looking at a tent that is the size you want. Here you have to consider the amount of people you are hoping to sleep in the tent, as well as the amount of communal space you hope to have. You should also consider the size and weight you are willing to transport. The Zempire Pronto comes in many different sizes.
Seasonal rating
You should also consider whether the tent you are looking at is suitable for the places you are going to take it and the weather conditions that it is likely to see. Having a tent that is suitable for adverse weather conditions when you need it will make or break your trip!
Ease of use
The level of difficulty you face when you're setting up your tent is very important. You don't want to spend hours pitching the tent when you first arrive, only to find you've done it wrong and have to start all over again!
Tent ventilation
The ventilation levels in your tent are very important, especially if you're camping in warmer climates. Tents can get very hot and that is not a great sleeping environment! Look for tents with mesh ventilation to ensure that you don't wake up in a very hot and moist environment!
Warranty
Warranties on tens are very important because people have certain preferences and some tents just don't work for some people. They are very important purchases so you should check your manufacturer's warranty to ensure that it has one and it covers all the areas that you need it to.
Tent Durability
The durability of a tent is very important as you need it to be able to withstand any weather that it is exposed to. All aspects of the tent need to be durable. The poles, the fabric and even the pegs! If you start out a trip with a tent and the pole snaps on day 2, you have a problem on your hands! Also ensure that you take a tent repair kit with you for any wear and tear that comes with camping.
Frequently Asked Questions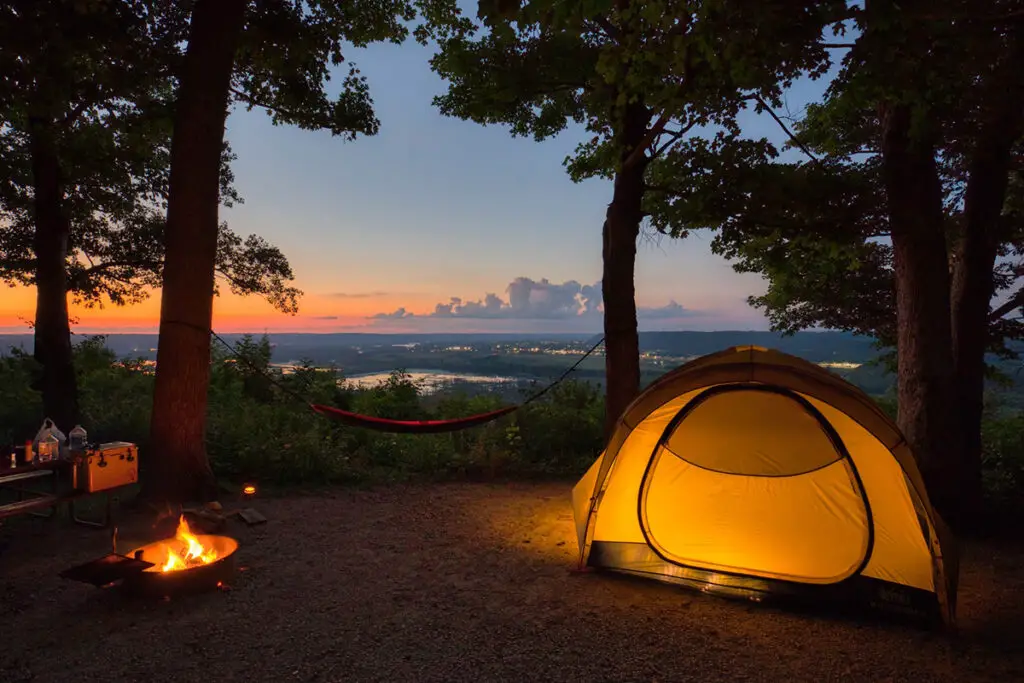 Who Owns Zempire?
Zempire is owned by the New Zealand couple Richard and Sophie Knauf. This small company has grown into a global community of people who love the brand!
Are Zempire Tents Waterproof?
Zempire tents are exceptionally waterproof compared to their competitors.
Because of their inflatable beams and their large floor area, they will keep you and your fellow campers safe from the elements, warm and dry (or cool if you're in a hot climate).
Are Zempire Tents Suitable For All Weather?
Zempire tents are suitable for all weather conditions. They can withstand the rain, the cold and the heat, allowing for a fantastic camping experience whatever the weather.
What Else Will I Need To Take Camping With Me?
When you go camping, the tent is just one of many important things you will need to take with you to get the best experience possible. You will also want to take with you the following items:
Sleeping bags for you and your fellow campers
Air beds for everyone
A travel towel
Warm clothing!
A portable phone charger
Pillows. This may be a luxury for some campers, but if you have the space to pack them, they will make your experience a lot more comfortable. Check out here our selection of the best camping pillows on the market today.
Are Zempire Tents Wind Resistant?
Zempire tents are very good in the wind. Compared to their competition, they are great at withstanding strong winds and adverse weather conditions.
What Do I Do If My Zempire Pronto Tent Has Mold And Mildew On It?
Make sure that you don't pack your tent away when it is damp or wet. Or, if you end up having to do this, make sure that you take the tent out when you get home to dry it out. Mold will damage your tent.
If it happens, you should try some natural cleaning products on your tent to try and remove it. Don't use any harsher cleaning products because they can be corrosive and may damage your tent further.
You can also place the tent in direct sunlight after you have cleaned it, as this will dry the tent fully and can kill some of the existing mold.
Are The Inflatable Tubes On The Zempire Pronto Reliable?
The inflatable tubes on the tent have been tested. They have been tested by being put under high pressure to test that they will not burst in any temperature. Heat will not cause the inflatable tubes to burst.
Take a quick look at Zempire Pronto tents:
Final Thoughts
The Zempire Pronto is a fantastic tent for all kinds of camping. I am yet to find a valid flaw with this product and it is highly recommended by everyone who has used it.
Choosing a tent can be a pressurizing job as it has the power to make or break your holiday, but with this one, you really have nothing to worry about!
Now you have all the information you need surrounding this tent, you can make an informed decision on whether it is the right choice for you!