If you thought that showering and camping are two things that cannot be used in the same sentence, you are wrong.
Showering when camping is a healthy practice you need to adopt if you want to make the most out of your camping experience and stay healthy and as clean as you can, thus avoiding any diseases, infections, or even skin irritations that can ruin your trip.
Why You Should Consider Showering When Camping
When camping, most people do not tend to shower every day, and yet showering enough just to scrape away the dirt and oil off your skin is highly recommended.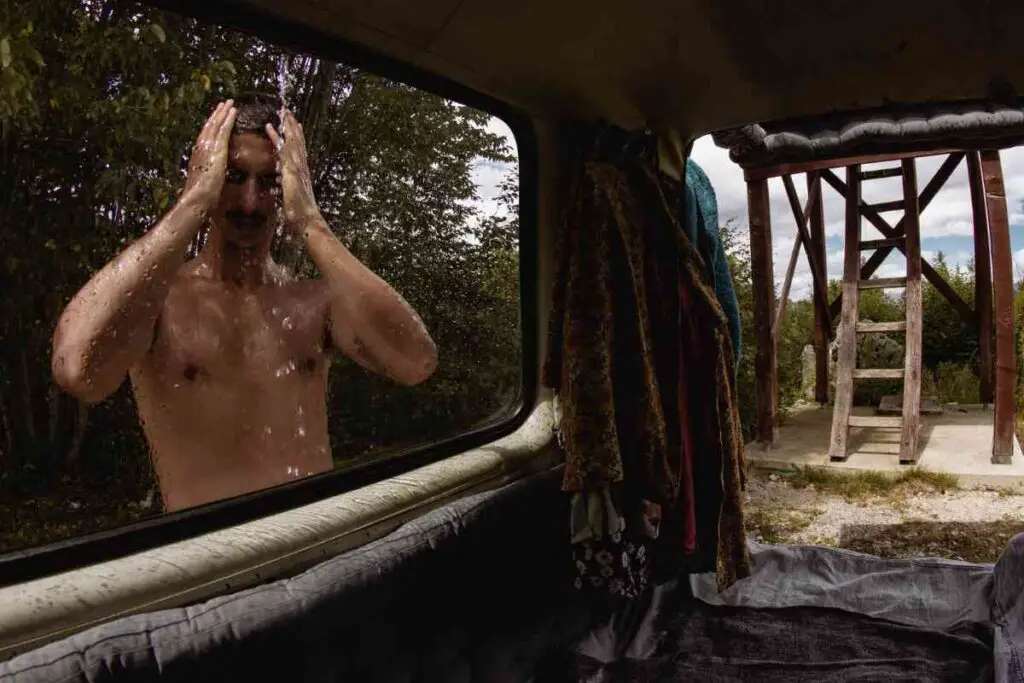 Showering can help with removing bad bacteria from your skin, keeping acne away, and preventing any bad body smells, all while ensuring that you feel clean and get a more restful sleep at night.
Even though showering every day may not be necessary, especially when you aren't dripping with sweat or engaging in sports or intense hiking, everyday showers are widely regarded as a healthy practice.
To keep some basic hygienic practices, you must shower in fresh water every couple of days at the very least.
If river water or lake water is not accessible, you will have to utilize an alternative approach to wash and render your outdoors experience more pleasurable.
How To Shower When Camping
As we have already mentioned, rinsing off in a river or lake is a great way to shower daily and keep yourself and your body as clean as possible.
If a river or lake is not accessible, then you might be wondering where you can shower. Here are some alternatives for that: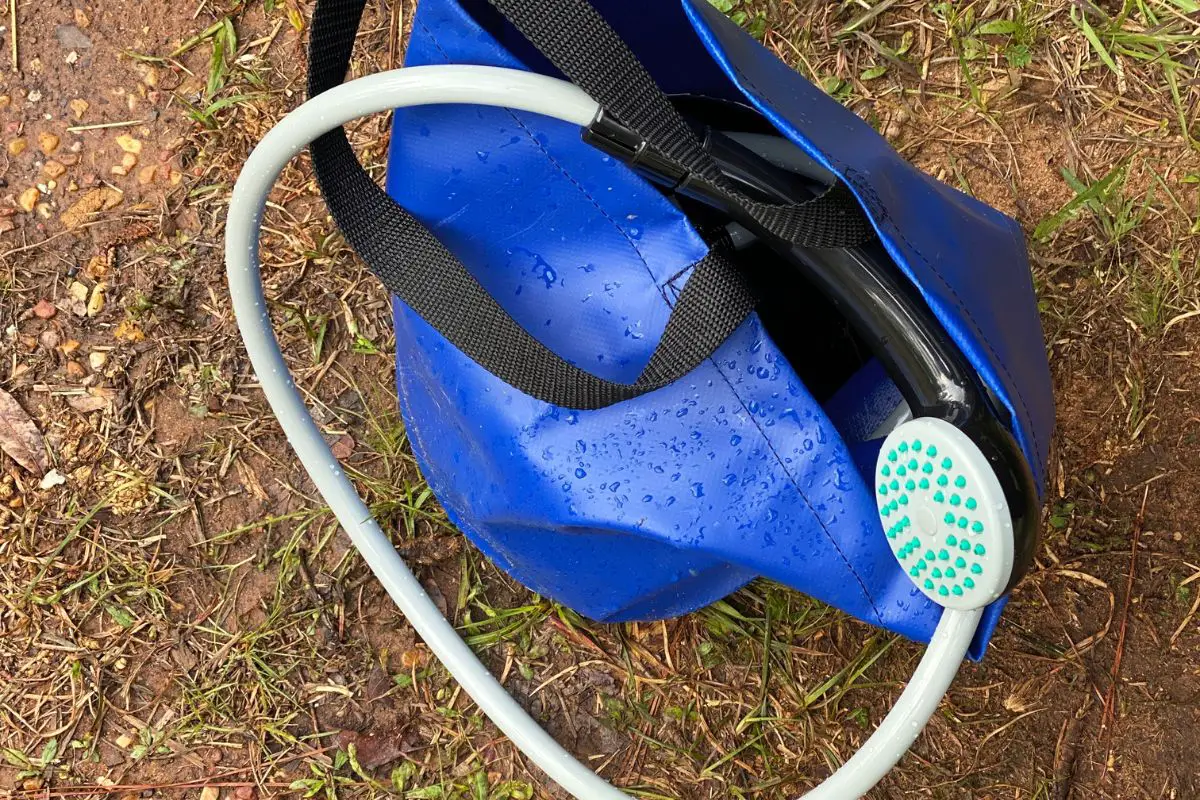 Stay At A Campsite With Showers
Certainly, the simplest solution is to obviously reserve space at a campsite with shower stalls or heads available on-site.
While some people might disagree with this option claiming it ruins the wild camping experience, we disagree with that.
Having a shower head you can use to take a cold shower when camping out in the woods simply offers you the chance to rinse off the extra dirt and keep some levels of hygiene.
It is far from a spa experience, so rest assured that it will not ruin your time there.
Campsite showers are generally standard showers, but they do offer relative privacy when they are placed in individual cubicles, similar to those found in gyms.
At crowded campsites and during the summer season, there may be a long queue at rush hours such as the early morning and evening hours, so bring your head torch and think about taking your shower late at night while people are cooking or enjoying their dinner.
Consider Showering At A Truck Stop Shower
When you are on the road, you could avoid the long shower lines at campsites by stopping at a service or petrol station with showers.
These types of showers may sound frightening, but they are actually quite clean and kept to good hygienic standards.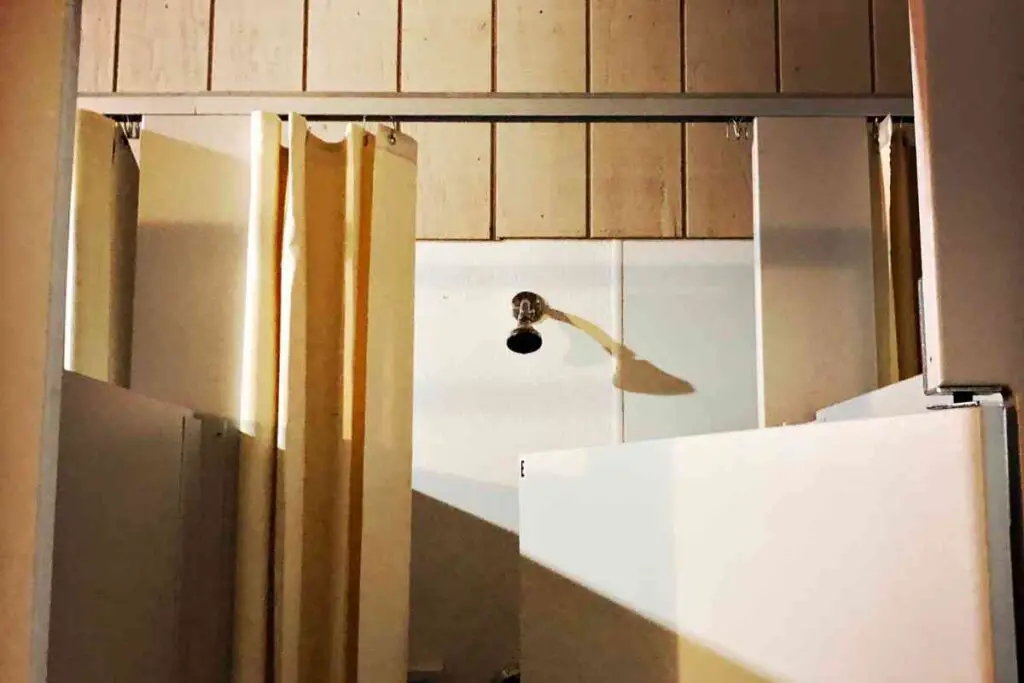 Truck stop showers are sometimes even equipped with hairdryers, but you will have to carry your own body wash, hair products, and towels, while some flip flops you can wear on your feet are strongly advised.
Simply head to the counter and tell the employee you want to shower. They will then walk through the process.
Generally, after you have paid, they will provide you with a code that you'll need to access the showers once they are no longer occupied.
Consider Getting Portable Camping Showers
Portable camping showers come in different designs and dimensions. They can be small enough to fit in a pocket or big enough to look like a complete shower unit.
Irrespective of their size, they all have a refillable bag you can fill with water that can be heated from solar power without the need for any electricity.
These portable showers are extremely useful, and they can be carried with you even when you go wild camping in the backcountry, away from civilization and any organized campsites.
If you're applying body wash when showering, choose to install your portable shower in a location that will be more than 200 feet away from any surrounding rivers, lakes, or seawater.
Sale
KIPIDA Solar Shower Bag,5 gallons/20L Solar Heating Camping Shower Bag with Removable Hose and On-Off Switchable Shower Head for Camping Beach Swimming Outdoor Traveling Hiking (Green)
Heat absorbing design:This solar shower bag is made by environmental friendly and leak proof materials which are safe to human health. It heats water to 113°F (45°C) in 3 hours with direct sunlight.
High Water Capacity:This camping shower bag can carry up to 5 gallons water for showering outdoor,let you enjoy a better and refreshing shower anywhere.
Supplied With Useful Accessories :It supplied with a hose, a shower head and a water tap. Upgraded shower head offers an easy on/off switch with low to high water flow, easy to whirl.
Wildly Use: this camp shower is suit for outdoor camping, hiking, backpacking, self-driving, fishing or hunting.It's the best gift for for Men Husband and Father's Day.The perfect camping accessory for him.
Use Your Sponge
The traditional sponge bath is simple but effective, and all that is required is a convenient and big camping bucket or basin, a sponge, and some soap and water.
Choose a secluded place away from the rest of the people camping in the same area as you and, once again, make sure you keep a minimum of 200 feet distance from all natural waters.
If your bucket is large enough, you can even sit or stand in it and soak yourself with water on the areas that sweat the most, such as your feet, inner thigh, and armpits.
Use a small amount of body wash, then keep wiping it away with the sponge, and, once you are done, pour the excess water over your head for a quick shower.
Wipe Yourself With Antibacterial Wipes
While it is definitely not the ideal way to keep yourself clean and it is certainly not the same as showering, wiping the dirt off your skin with some antibacterial wipes is still better than nothing.
However, not all wipes are the same, and when it comes to camping, you need to make sure you have some disinfectant, and antibacterial wipes that come in convenient packaging that's both easy to carry and light in weight.
Sale
Surviveware Biodegradable Wet Wipes, Face and Body Wipes for Post Workout and Camping, Wipes for Adults, Large Wipes, 32 Count
UNSCENTED WET WIPES: Clean yourself with our unscented biodegradable wipes from head to toe without being overwhelmed by a smell or attracting unwanted bugs on the trail. Our wipes are alcohol free, pH balanced, and made with aloe. Suitable for sensitive skin.
IDEAL CLEANING WIPES FOR POSTERIOR PAMPERING: At some point, a "number two" is inevitable while out in the woods. The soft cloth of our biodegradable wipes will definitely help keep monkey butt at bay.
DEGRADES NATURALLY: After that number two in the woods, simply bury the body wipe and the magic starts to happen. Our camping wipes biodegrade naturally and start to decompose 28 days after use, taking only 6 months to fully degrade, far shorter than 100 years for plastic-based baby wipes.
UPGRADED PACKAGING: We've made our new packaging more effective in making our body and face wipes last longer than ever. A single 8" x 12" cloth is all you need to clean your entire body when water is inaccessible, then close the packaging and the other wipes stay fresh.
MULTIPLE USES: When on the road, having multi-functional gear is essential. With our adult body wipes you have one article that can be used as a shower, an equipment cleaner and a hand and face wash for the kids. Our wipes can also be used to cleanse pets!
Moreover, getting some biodegradable wipes and ones that are suitable for your skin will make sure you won't have any skin irritations or harm nature in case you lose one of them in the woods.
The Bottom Line
Showering when camping is important if you want to keep yourself clean and healthy, and thankfully there are many ways you can do it.
Simply choose either of the options we have shared in this article and stay clean while camping in the wild!