San Jose, located in the heart of California's Silicon Valley, offers a diverse landscape that attracts outdoor enthusiasts with its picturesque scenery and range of hiking trails.
Whether you're a seasoned hiker or simply looking to enjoy the natural beauty of the South Bay, San Jose has a multitude of breathtaking trails and hikes to choose from.
From easy strolls around suburban lakes to challenging climbs that reward adventurers with stunning views, San Jose boasts an array of hiking opportunities for people of all skill levels.
Embark on your next adventure in the city's open spaces and witness the diverse ecology, wildlife, and serene landscapes that define the hiking experience in San Jose.
As you explore the verdant trails near the bustling tech hub, you'll discover the true charm of this modern city.
Reconnect with nature and enjoy some of the best hikes that await you in the scenic and vibrant region of San Jose, California.
Exploring San Jose's Top Trails
San Jose offers a variety of hiking trails for outdoor enthusiasts to explore and enjoy the natural beauty of the South Bay.
From downtown parks to more challenging climbs, there are trails suitable for hikers of all skill levels.
Almaden Quicksilver County Park
One of San Jose's gems, Almaden Quicksilver County Park boasts around 37 miles of trails. The park's rich history of mercury mining is evident in attractions like the Senador Mine.
A popular route is the Senador Mine to Mine Hill Loop, which combines the Senador Mine Trail and the Mine Hill Trail.
The trail provides captivating views of the rolling hills and colorful wildflowers while passing through old mining sites.
Alum Rock
Alum Rock Park is a nature lover's paradise, nestled in the eastern foothills of San Jose.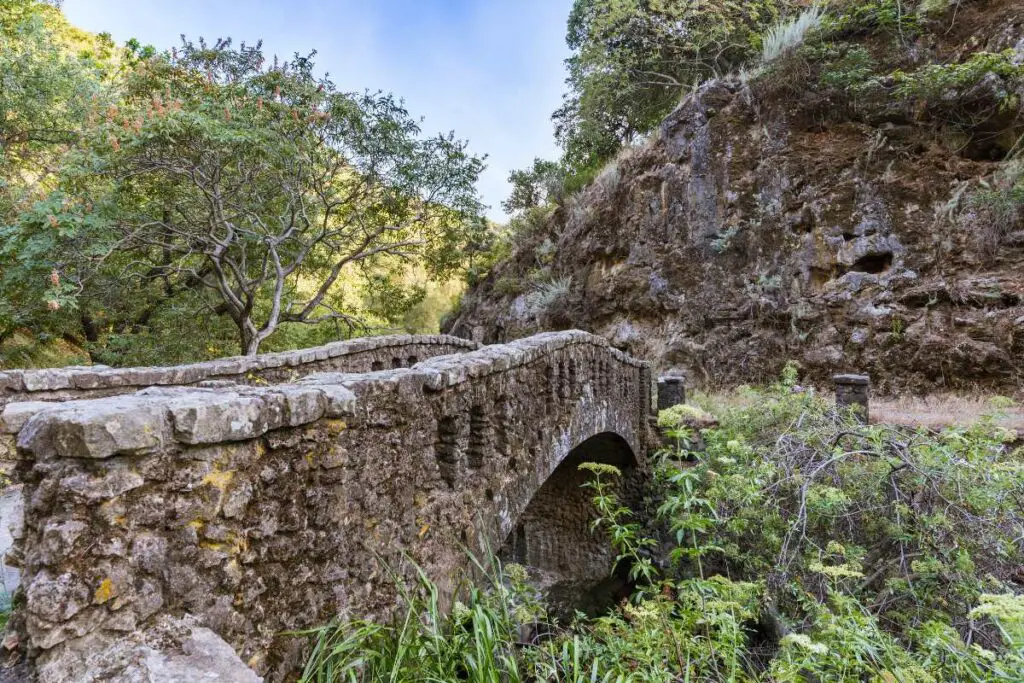 A popular choice among hikers is the Alum Rock South Rim Trail, a moderate trail offering stunning views of the valley below.
The diverse flora and fauna make this trail a favorite among bird watchers and nature enthusiasts.
Santa Teresa County Park
Visitors to Santa Teresa County Park can take advantage of several multi-use trails.
One of the most popular hikes is the Coyote Peak and Ridge Trail Loop, which provides a combination of easy and challenging sections, ultimately leading to the summit of Coyote Peak.
The loop also connects to the Rocky Ridge Trail, offering hikers even more visual delights of the South Bay.
Coyote Peak
Coyote Peak is a prominent feature of Santa Teresa County Park.
Rising to an elevation of 1,155 feet, the Coyote Peak Trail offers a moderately challenging hike to the summit with plenty of rewarding views along the way.
The 360-degree panorama of the valley, downtown San Jose, and the Santa Cruz Mountains is worth the effort.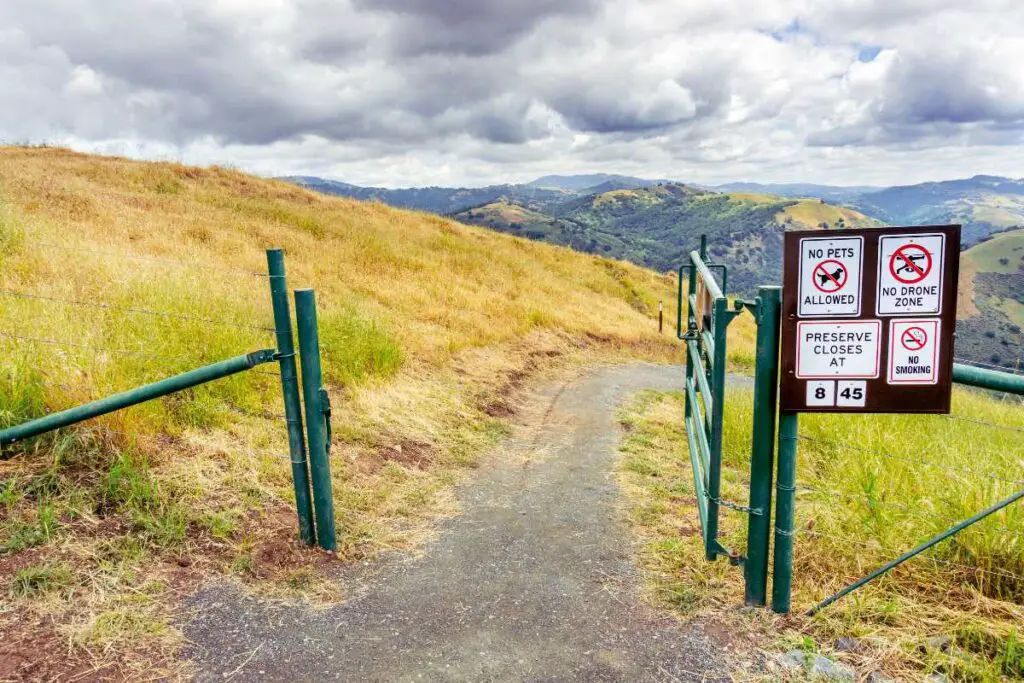 Sierra Vista Open Space Preserve
Located in the eastern foothills of San Jose, Sierra Vista Open Space Preserve features several picturesque trails.
The Eagle Rock Trail and Sequoia Trail are two great options for hikers seeking captivating views and tranquil surroundings.
For a more challenging hike, consider the Peak Trail or the Mount Umunhum Trail, which offer panoramic vistas of the entire South Bay and even the San Francisco skyline on clear days.
Hiking to Scenic Viewpoints
San Jose, located in the heart of Silicon Valley, offers a variety of hikes with stunning views of the surrounding landscapes, providing picturesque scenes of the South Bay, San Francisco Bay, and rolling hills.
The following trails promise remarkable viewpoints and an enjoyable outdoor experience.
San Francisco Bay Viewpoint
The Almaden Lake Loop is an accessible hiking trail winding around the serene Almaden Lake.
This 1.3-mile loop, with a mere 36 feet elevation gain, is suitable for hikers of all experience levels and offers a panoramic view of the San Francisco Bay.
The trail boasts an abundance of wildlife and wildflowers, perfect for a peaceful nature walk. It is particularly enchanting during sunset, as the colors blend over the Santa Clara Valley.
Coyote Hills Regional Park
Located in the South Bay, the Coyote Hills Regional Park is home to various hiking trails featuring panoramic views, rolling green hills, and vibrant wildflowers.
One of these trails is the Aquila Loop Trail, a casual hike for those seeking an easy outdoor adventure. The loop provides a scenic view of Silicon Valley and the surrounding hillsides.
However, it is recommended to hike during cooler months, early mornings, or late afternoons due to the lack of shade.
Mount Umunhum Summit
For those seeking a more challenging hike, the Mount Umunhum Summit in the Diablo Range offers a rewarding excursion.
The summit provides a breathtaking view of the San Francisco Bay, Santa Clara Valley, and even further to Eagle Rock.
The hike encompasses a variety of landscapes, including forests, meadows, and chaparral-covered slopes. The combination of these natural elements provides a dynamic and spectacular hiking experience, capped off with a stunning view at the summit.
Off-Trail Activities in San Jose
San Jose offers a variety of off-trail activities for those looking to explore the city's natural beauty and urban charm.
Visitors and residents alike can enjoy wildlife viewing, city hikes, art walks, and biking in the heart of Silicon Valley.
Wildlife Viewing
One of the highlights of exploring San Jose's parks is the opportunity to observe the diverse wildlife in their natural habitats.
Calero County Park and Hellyer County Park are popular destinations for birdwatchers and nature enthusiasts.
While visiting the Guadalupe Reservoir or Calero Reservoir, be sure to keep an eye out for the many species of birds, deer, and other native critters that inhabit the area.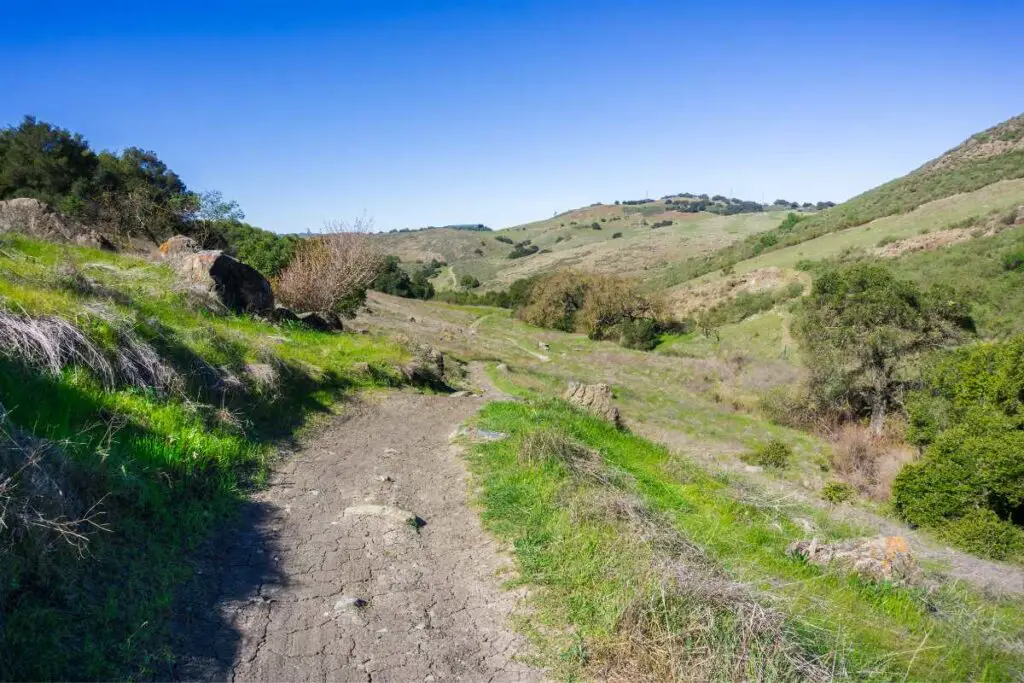 City Hikes
For those who prefer to stay within the city limits, San Jose offers several urban hikes with beautiful views of the surrounding area.
The Morgan Hill area is home to the challenging Hacienda Trail, which provides hikers with stunning views of the city and nearby mountains.
Additionally, the serene Alum Rock Park connects to the Sierra Vista Open Space Preserve via the Todd Quick trail, offering a natural escape within the city.
Art Walks
San Jose is also known for its vibrant public art displays that can be found throughout the city.
Stroll down the streets to discover murals, sculptures, and installations that showcase the creativity of local and international artists.
Highlights include the Alviso Slough Trail and Los Gatos Creek Trail, both of which feature beautiful artwork to admire as you enjoy a leisurely walk.
Biking
The city of San Jose offers numerous biking trails for riders at all skill levels.
One of the most popular routes is the Guadalupe River Trail, which follows the river through the heart of the city and provides stunning views of the skyline.
Alternatively, cyclists can venture to the nearby Hellyer County Park to bike along the scenic Coyote Creek Trail, or they can tackle the challenging terrain in Calero County Park.
More Highlights of San Jose's Open Spaces
San Jose, surrounded by nature and open spaces, offers an abundance of spectacular hiking trails.
This section focuses on three of these trails:
the Aquila Loop Trail
the Santa Cruz Mountains
and the Rolling Hills
Aquila Loop Trail
The Aquila Loop Trail, located within the Almaden Quicksilver County Park, offers hikers a serene excursion through oak forests, open meadows, and colorful wildflowers.
The trail's switchbacks provide moderate challenges for hikers, but the breathtaking views of the surrounding hills make it all worthwhile.
Additionally, the Sierra Vista Open Space Preserve, adjacent to Almaden Quicksilver County Park, offers even more opportunities for exploration, teeming with salient wildlife and beautiful landscapes.
Santa Cruz Mountains
The Santa Cruz Mountains stretch from San Francisco to the Monterey Bay and are one of the most stunning natural features near San Jose.
These mountains are home to numerous state parks and open space preserves, ensuring that hikers will have plenty of opportunities to experience the region's diverse ecosystems, including redwood forests, oak woodlands, and wetlands.
Keep an eye out for native wildlife such as deer, bobcats, and various bird species as you enjoy the panoramic views, lush forests, and picturesque lakes.
Take a look – Santa Cruz Hiking Trails
Rolling Hills
Another beloved hiking destination in San Jose is the area's rolling hills, which can be found at many open space preserves and parks, including the Coyote Valley Open Space Preserve.
Here, hikers can wander through grasslands and serpentine rock outcroppings, surrounded by California bay and oak trees.
Encountering wildlife is common in these areas, with sightings of coyotes, mule deer, and ground squirrels, as well as turkey vultures, golden eagles, and red-tailed hawks soaring overhead.
The rolling hills' diverse terrains provide various levels of hiking difficulty, making them suitable for hikers of all experience levels.
Frequently Asked Questions
What are the best hikes in South Bay?
Some of the best hikes in South Bay include Alum Rock Park, which offers a variety of trails for hikers of all skill levels, and Coyote Hills Regional Park, featuring a less strenuous, 4.9-mile Bayview and Meadowlark Loop with panoramic waterfront views.
Which trails are top-rated in Santa Cruz Mountains?
In the Santa Cruz Mountains, highly-rated trails can be found in places like Sanborn County Park, offering hiking experiences suitable for both beginners and advanced hikers alike, while exploring majestic redwood forests and breathtaking views.
Where can I find hikes with the best views near San Jose?
For breathtaking views and photo opportunities near San Jose, consider hiking on the Alum Rock South Rim Trail, known for its varying landscapes and picturesque outlooks. Additionally, the Mission Peak hike provides sweeping views of the San Francisco Bay Area.
What can I expect from the Alum Rock South Rim Trail?
The Alum Rock South Rim Trail is a moderately challenging hike spanning approximately 6 miles, boasting diverse terrains, including lush forests, open grasslands, and rocky landscapes. Along the way, you'll be treated to impressive views of the surrounding valleys and foothills.
Can you recommend popular Saratoga hiking trails?
In Saratoga, the Fremont Older Open Space Preserve offers several popular hiking trails, such as the Hayfield and Seven Springs Loop, which explore diverse habitats and provide great opportunities for wildlife spotting and enjoying scenic vistas.
How difficult is the Mission Peak hike?
The Mission Peak hike is considered a moderately challenging to difficult trail due to its steep inclines and exposed terrain. The hike spans approximately 6 miles round trip with an elevation gain of around 2,100 feet, rewarding hikers with panoramic views of the surrounding region at the summit.