Located in Banff National Park in Alberta Canada along the Trans-Canada Highway, the Banff Area is home to some of the most breathtaking views in the world.
With turquoise-blue lakes, panoramic peaks, wonderful wildflowers, and a range of wildlife, it's no wonder adventurers come from across the planet to take to the trails and enjoy a hike along the landscape to see what Banff has to offer with their own eyes. 
With over 994 miles of trails, the whole park has a hike for everyone. From a stroll around the lake to an easy hike to some incredible viewpoints or even a super challenging trek with thousands of feet of elevation, yet some of the most breathtaking scenery the entire way up, we've brought you some of our favorite hikes and shared them with you so you know exactly where you should visit next time you're in the beautiful Banff area.
Tunnel Mountain
Located right in the heart of Banff and only a short walk away from the town center, it makes perfect sense to kick our list off with Tunnel Mountain.
Though it has 'mountain' in its name, don't let this put you off if you're a beginner hiker. It's one of the smallest mountains in Banff with only 873 feet of elevation, so you'll be sure to make it to the top to take in some breathtaking views of the surrounding valleys.
The hike is 2.8 miles long and offers many different viewpoints along the way over the Bow River and Mount Rundle for those Instagram-able photo opportunities. If you want to step up that photo game, the trial is also perfect for capturing both sunrise and sunset.
Banff Bow River Trail
Before we venture outwards into the deeper parts of Banff, we wanted to point out the beautiful Banff Bow River Trail. A 2.3-mile trail, it's accessible to all and particularly popular with families as you can push a stroller along the path.
You can also access it if you have mobility issues and the paved paths allow for wheelchair access too so that everyone can enjoy the pristine wilderness and natural beauty of Banff.
It's located within the town so perfect to incorporate into a day trip in the center of Banff, whether you do it in the morning with a coffee or after your evening dinner. Along the trail, you'll loop through the Cascade of Time Garden and follow the river to Bow Falls.
Bow River is also a prime habitat for elk when it comes to birthing their young as they enjoy hanging around near the town, so keep an eye out!
Chephren Lake
Chephren Lake is without a doubt one of the most breathtaking lakes in the whole of Banff and sits just above the Waterfowl Lakes along the Icefields Parkway.
It offers great views of the glaciated peaks and the lakes on this hike are that famous glacier blue color, so are perfect for photos, yet you don't have to worry about facing the crowds at Peyto, Louise, or Moraine.
The 4.8-mile trail waves through the woods and is great for the entire family, but ensure you bring your hiking boots as it can get super muddy!
Parker Ridge
If you're looking for a short and sweet hike that still offers some amazing views, look no further than Parker Ridge. Only about a mile long and with no more than 882 feet of elevation, this hike is accessible to all.
Despite this, it still promises to blow hikers away with some of the most incredible views over the Saskatchewan Glacier when you reach the ridge.
Bear in mind though that this hike comes with around a 2-hour drive from Banff town, yet if you were already heading to the Icelands Parkway for the day, or heading up to Jasper, it's a great place to stop along the way.
Johnston Canyon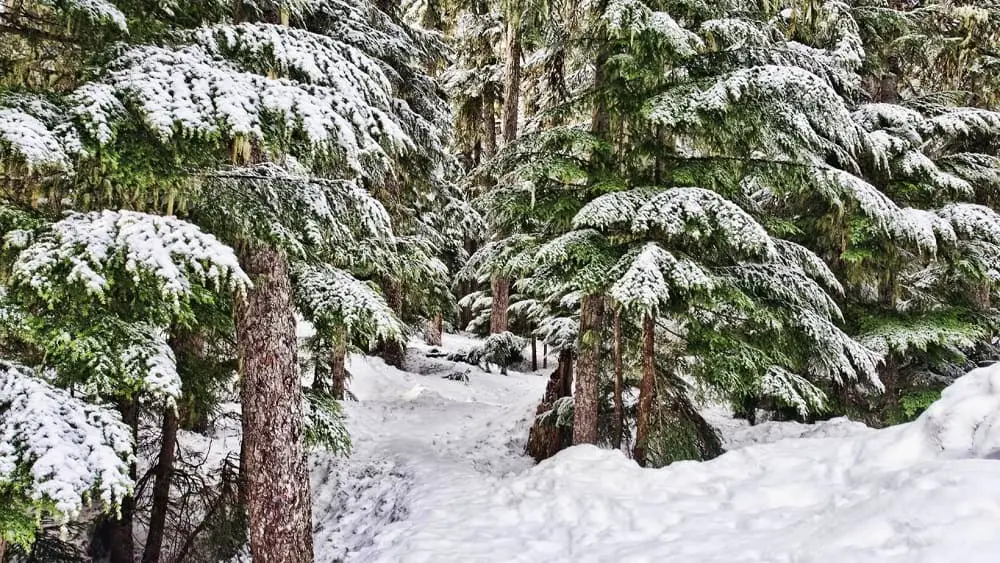 The Johnston Canyon hike is perfect if you're visiting Banff in the winter. It has fewer tourists than in the summer and its frozen waterfalls make it one of the most magical places on earth. However, due to the low temperatures and slippery ice, we recommend buying some ice cleats for this hike.
If you're feeling extra adventurous, you can even book an ice climbing tour as once you reach the end of the hike, you'll be greeted by ice climbers on an incredible frozen fall, which will only make you want to join in. It is still a great hike to venture to in the summer however as you'll be able to see the water flow and lush green scenery.
At 7.3 miles long, it's not the shortest hike, yet is accessible to all ages and abilities and is open all year-round.
Rockbound Lake
If you're looking for a moderately difficult hike that features one of Banff's most beautiful lakes, make sure to check out Rockbound Lake. If you climb past the lake, you're also promised some peace and tranquility if you need a moment to breathe and reflect on your beautiful surroundings.
The views open up to the incredible Bow Valley but you will spend a long time deep in the forest too. You'll eventually end up in Tower Lake and then Rockbound Lake which is flanked by steep cliffs and offer even more jaw-dropping views.
If you want to extend the 10.9-mile hike, you can also summit Castle Mountain by continuing past the lake or Helena Peak, but bear in mind this adds another 6.5 miles onto the hike so only venture on if you're running off of that adrenaline kick and have enough spare energy. We promise if you do, it's more than worth it.
Healy Pass
Around 13 miles long, Healy Pass is for slightly more advanced hikers wanting a longer hike. The hike peaks two times in the year, first in the summer, which floods the valley with millions of beautiful wildflowers, and again in the fall when the larch trees begin to turn gold.
As hikers make their way along the trail and reach the pass, they can see the stunning views of the surrounding peaks as well as Egypt Lake further down. Along the trail, the alpine meadow and lush greenery as well as views of the Rockies, Mount Assiniboine, make the trail one of the most popular hikes in the national park.
However, be mindful of doing this hike in wet weather as the forest can get extremely muddy around 4.4 miles in with so many keen hikers taking to the trail every day.