Free for anyone to walk, the Hadrian's Wall Path is one of the UK'S National Trails that has become one of the best destinations for hikers from around the world.
With several historical landmarks to discover and the English countryside and nature there to embrace and take photos of, it is undoubtedly a trail you need to walk, and we have a comprehensive guide to help you plan your trip.
In This Article – You will find all the information you need on the history of Hadrian's Wall, the length and difficulty of the Wall's path, as well as some tips on training for your big walk, booking the right accommodation, and planning your itinerary!
What Is The Story Behind Hadrian's Wall?
Hadrian's Wall was constructed by the Roman legions who followed Emperor Hadrian's commands upon his trip to Britain in 122 AD.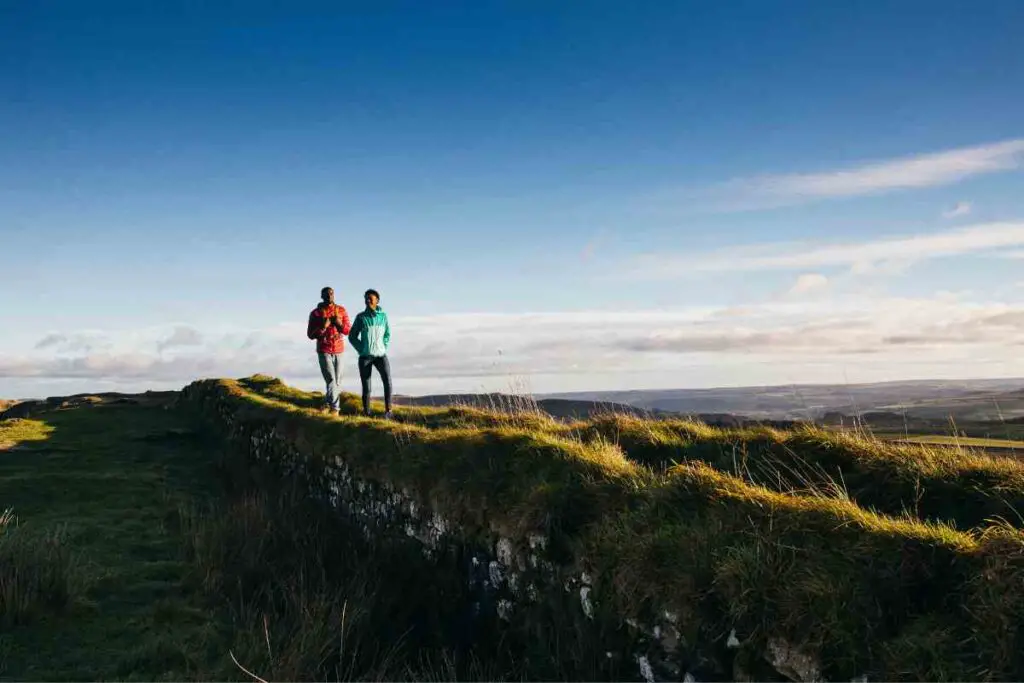 It is the most famous Roman Empire country border, and it was constructed to help shield Roman England from Barbarian Scottish lands, as well as to retain Roman dominance in the northern parts of Britain, enabling them to oversee who could enter and exit the country.
The Construction Of The Wall
The wall was built over a six-year period by three vast armies (each one of them being of about 5,000 soldiers) of infantry soldiers from the British armed forces.
The majority of it was constructed with stone, but the last section of 30 miles on its east side was built of turf.
The wall was finally finished and has a length of 80 miles that was covered with castles, 17 bigger permanent posts, and several watchtowers.
It was among the biggest constructions ever developed by the Roman empire, standing 15 feet tall and 8 to 10 feet in width.
Hadrian's Wall Longevity
After the passing of Emperor Hadrian, Emperor Antonius Pius transferred the borders to the periphery of the Scottish Highlands, briefly abandoning Hadrian's Wall.
In 140 AD, the Antonine Wall was built entirely from turf, but it was only 20 years later that the Romans went back to Hadrian's Wall, repairing the damages it suffered when it was abandoned and constructing a new route.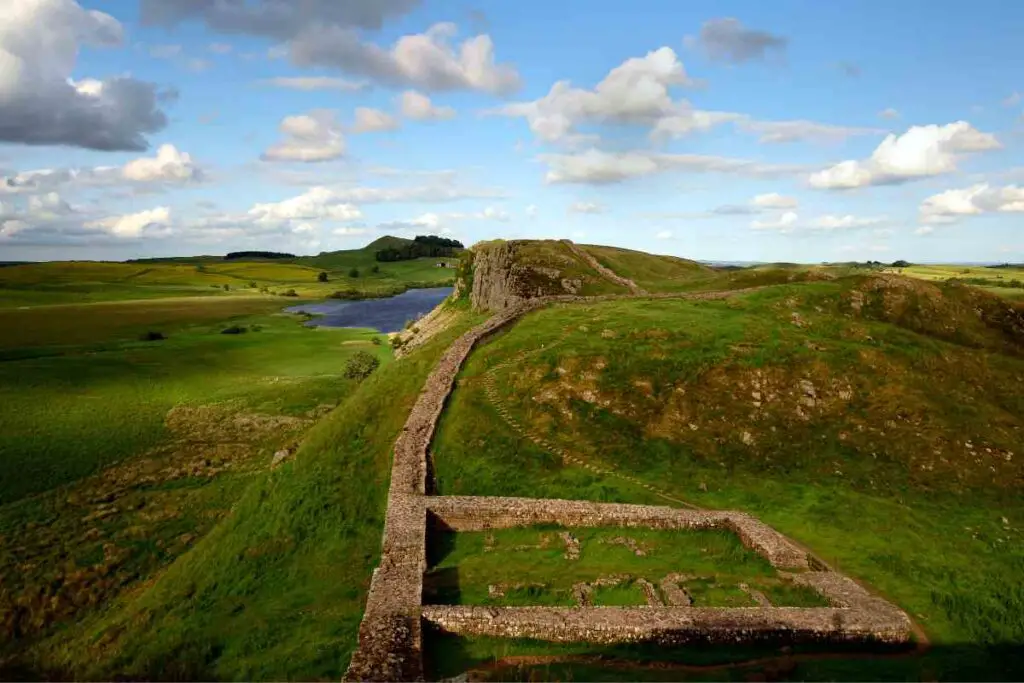 Following wars are thought to have remodeled the wall (ruining it in places), but also altered structures such as the barrack buildings and the General's estate.
Later in time, Hadrian's wall was turned into a mineshaft to store stone for the construction of surrounding forts, residences, and houses of worship.
It was only in the mid-nineteenth century that archaeologists started looking into Hadrian's Wall and emphasizing the importance of preserving what remained of it.
Is Hadrian's Wall Still Standing?
Presently, less than half of it is still standing. The majority of Hadrian's Wall, like several other now-ruined heritage structures in the United Kingdom, wasn't methodically demolished but instead was left to fall to pieces.
The central upland part of Hadrian's wall has the lengthiest consistent part of the Wall that is still visible today.
The Hadrian's Wall Path – The national trail we're looking to discuss in this article National Trail, runs the length of the Wall, but upland remnants are also visible from the adjacent B6318 road.
The upland portion of the Wall includes numerous small forts in addition to Housesteads Fort, which is one of the UK's best-preserved Roman monuments.
Other sections of the Wall can be found across the path, heading from the western side to the eastern, yet the middle portion is still the most striking.
The Wall follows a geomorphological schism through this section, with rises and falls across numerous bumpy ridges.
What Is The Location Of Hadrian's Wall?
Hadrian's Wall runs through Northumberland and Cumbria, which are located in the northern part of England.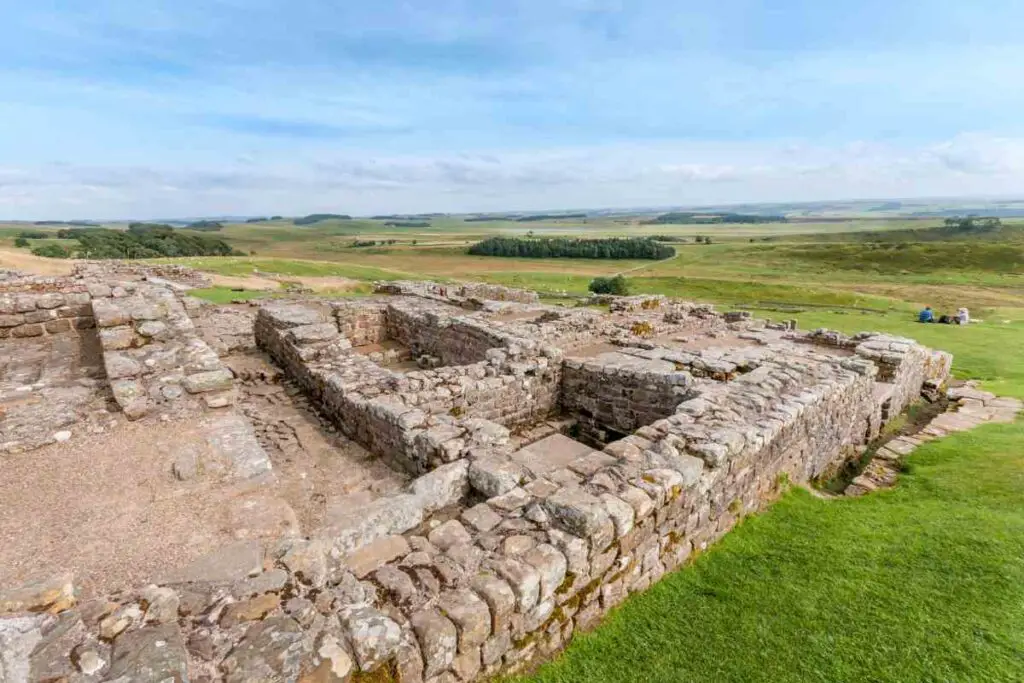 From the eastern point to its western end, the Wall reaches from Bowness on Solway in Cumbria to Wallsend in Newcastle.
Crossing the country horizontally on that specific height, Hadrian's Wall served as the Roman Empire's northwestern border.
How Long Is Hadrian's Wall?
The wall at first stretched for 73 miles and today is part of the "Frontiers of the Roman Empire" World Heritage Site.
It stretches from the eastern to the western side of England, however, Hadrian's Wall Path is approximately 11 miles longer than Hadrian's Wall, covering 84 miles and requiring around 6-8 days to finish it.
With the Wall considered to be the first of its kind, stretching more than 70 miles from sea to sea, going on this hiking trip is undoubtedly a notable experience.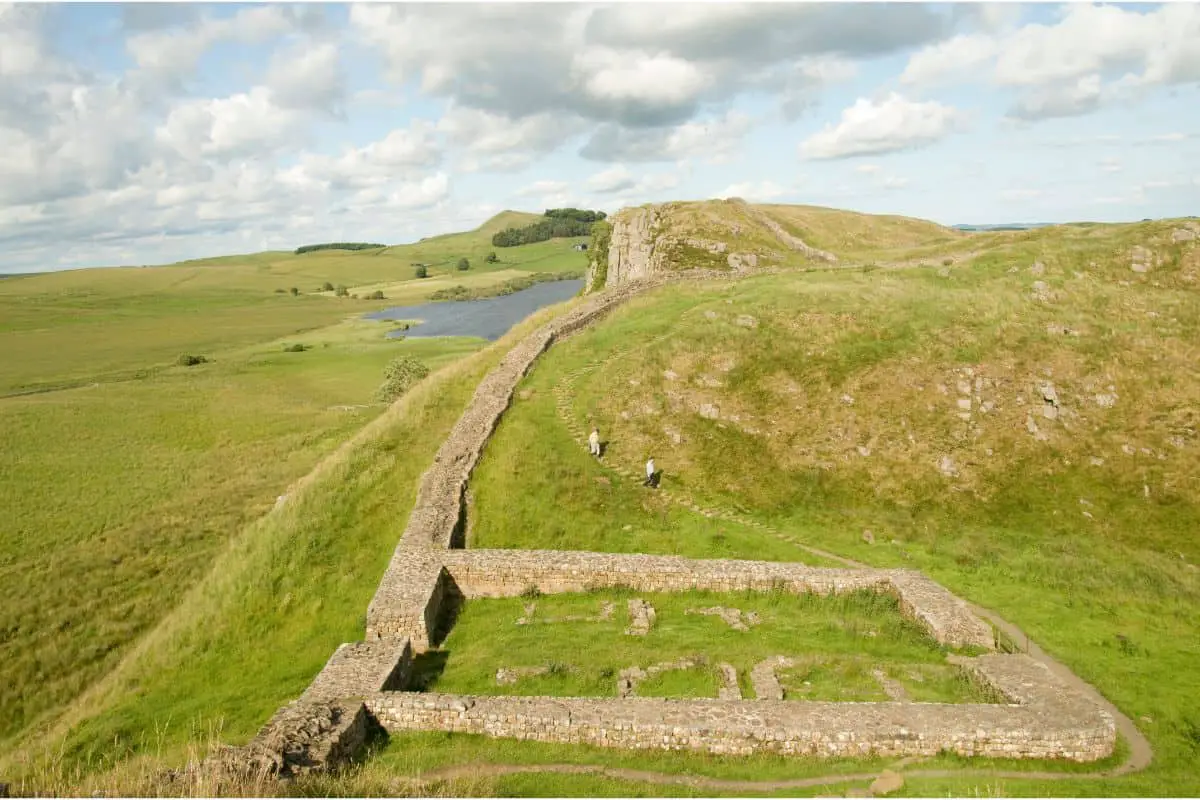 Hadrian's Wall Walk Difficulty
It may not seem like a big distance when looking at it on a map but walking the entire 84-mile distance of Hadrian's Wall Path National Trail means you will get from one side of the UK to the other, trekking a wide range of terrain, which includes a section of the Pennine Way.
The trail is classified as easy to moderate, and yet the overall outcome of a 6-day or 8-day hiking trip on your body is not insignificant.
Regardless of your fitness level, Hadrian's Wall path covers a long distance that requires patience and good apparel, as depending on the weather you might need to account for rain, cold, and humidity.
Moreover, there are some parts of the trail that are difficult and strenuous, like the one from Haltwhistle Burn to Cawfields, so you need to make sure you are physically and mentally prepared for that and that you have the necessary supplies and equipment with you.
Training For Hadrian's Wall Walk
Hadrian's Wall Path extends all along the homonymous wall and is graded differently based on the number of days you will spend hiking.
Usually – The hiking trips last a week more or less and involve walking at an average pace. However, most of the path is of moderate difficulty, which means you'll need to have at least a basic fitness level to fully enjoy the walk.
Training before your walk on the Hadrian's Wall National Trail is essential and doing it by walking long distances is a physical activity that is both enjoyable and beneficial.
Walking is a low-impact activity that keeps you moving and enjoying the outdoors, helps with losing weight (if necessary), and improves your cardiovascular health and your overall well-being.
To begin, it is critical to take it easy and to keep increasing your fitness level "one day at a time." Getting fit is not a quick fix, so there's no need to rush the process.
Try exercising for about 30-45 minutes 3 times a week, every week. Your daily exercise can be walking, running, riding a bike, or swimming. During the weekend, you can go for long walks or mountain biking that involve a few ascents as well.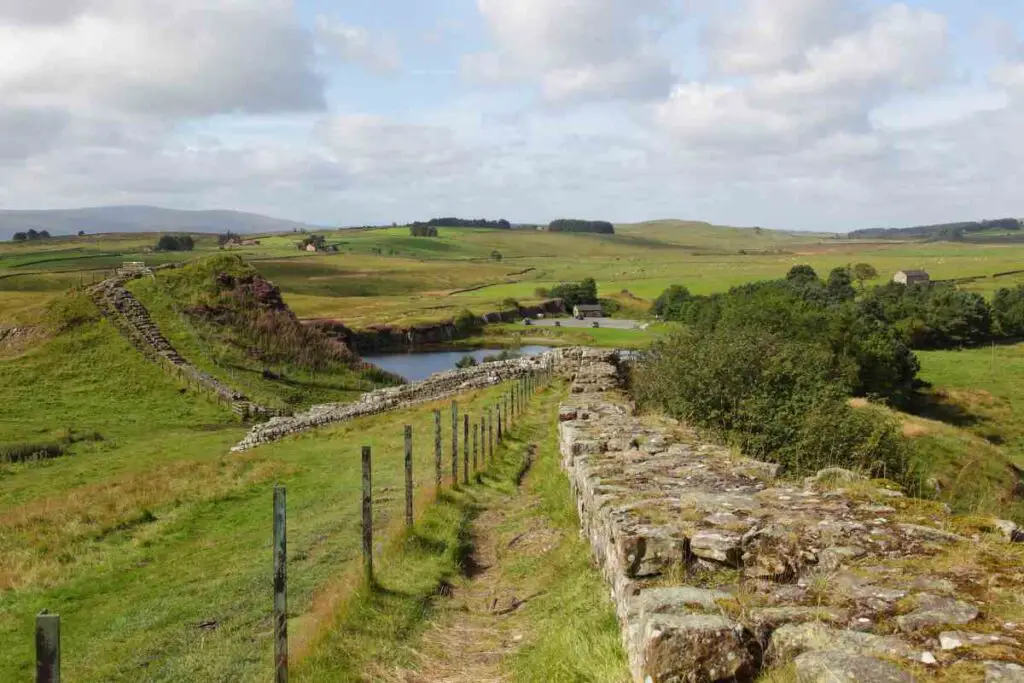 In addition to that, consider following these tips and tricks to add some extra exercise to your daily routine:
Increase your walking whenever and wherever you can: go for another walk around the block or set an alarm for every hour and get up and do some steps.
Change some parts or your entire journey to work: parking farther away from your office, getting off the subway at earlier stops, or taking public transportation in the morning and walking home when you finish work, these are all options you can make to add some extra steps to your day.
Ask your friends or relatives to join you for a stroll along the neighborhood: spending some quality time with your loved ones can go together with exercising, so invite them for a walk with or without a coffee in hand to catch up with them and exercise together.
Take short strolls during your breaks at work: instead of just sitting in the office for an extra hour, go for a walk and grab something to eat on the go.
Purchase a smartwatch or a step counter: counting your steps and knowing the distance you cover to complete your daily step goals can help you set some new goals and challenges to complete.
Don't take the taxi: of course, we're not talking about a three-hour walk from the airport home, but when it's a short walk from the city center to your place, you can walk or gradually adapt and learn to allow additional time for walking to and from bus/train stops.
Take your backpack to work: you'll need to become accustomed to carrying a backpack, so swap your work bag for your backpack on your strolls.
Remember, however, that this is not a chore but rather a way to promote your mind and body's health. You are doing this for yourself!
How To Train 6 Months Before Walking The Hadrian's Wall Path
If you are 6 months away from your hiking trip, here are some things you can do to train right for the big walk:
Start slowly and set some monthly targets you want to hit: these targets will vary depending on your physical conditioning, but they could include effortlessly completing your 3-mile walk by the end of the first month to feeling the same ease when walking 5 times that distance after 5 months!
Be consistent: hitting your goals only once a week or walking a long distance only on the weekends won't get you far. Dedicate some days in the week or at least your weekends to covering long distances and training for the Hadrian's Wall National Trail.
Rest: make sure to take adequate rest time to avoid overworking and exhausting your body before walking the path.
How To Train 3 Months Before Walking The Hadrian's Wall Path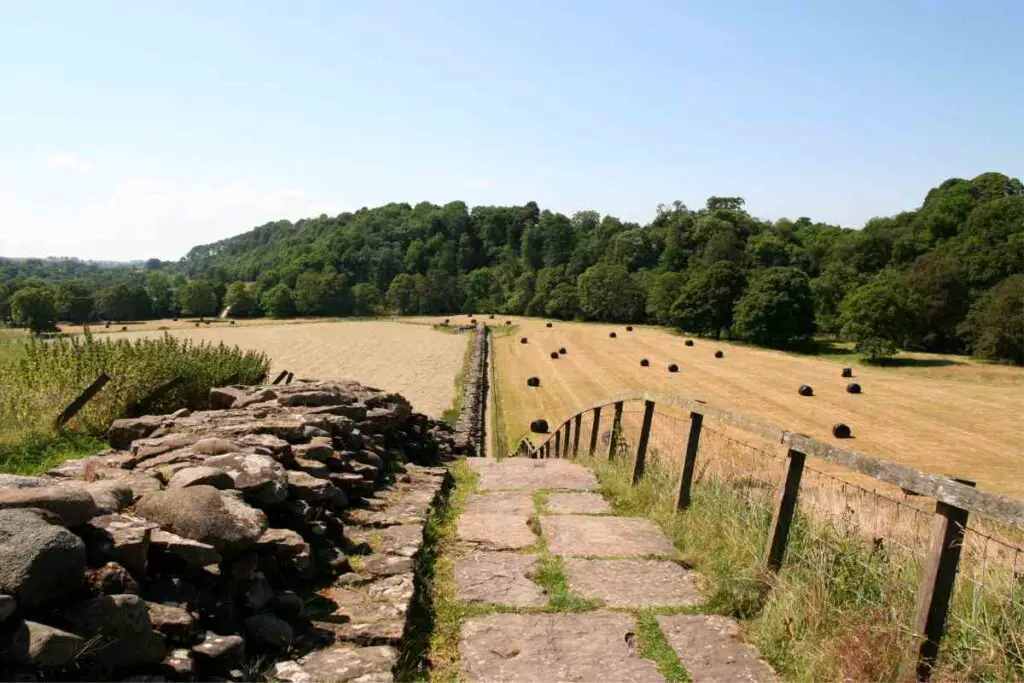 When you are 3 months away from your big walk:
Use the suggestions above to incorporate more movement into your normal schedule and create a goal of completing at least one of these additional walks, regardless of how short they are, day after day.
Set reasonable but bold weekly or biweekly targets for extending the duration of your walks.
Create a reminder on your smartphone or write one down in your diary every week that will encourage you to complete your long-distance training walks.
How To Train 1 Month Before Walking The Hadrian's Wall Path
If you decided to join your friends in their Hadrian's Wall hiking adventure a month before you head to the trail, there are still some things you can do to improve your fitness level:
Quite the public transport or your car: instead of driving to work or taking the bus, walk to and from your office to get used to walking a lot in a day. If your work is close to your home, then get up earlier and go for a long walk around the neighborhood.
Gradually increase your daily walks of 2-3 miles you do per week to longer ones of 306 miles.
One week before heading to Hadrian's Wall, work your way up toward completing a minimum of one walk per week that is comparable to the average distance you'll cover in a day during your hiking trip.
Make sure you complete such long distances in at least two consecutive days.
Of course, you'll need to already have an active lifestyle and generally exercise in your life, otherwise walking 83 miles in a week is simply too much for you to handle!
Hadrian's Wall Walk Suggested Itinerary
The usual itinerary consists of seven days of walking, and it is considered to be the typical route and the most prevalent Hadrian's Wall Path excursion.
The hiking days are 9-15 miles in length, quite evenly spread out, and easy enough for people who are familiar with the idea of walking long distances in one day.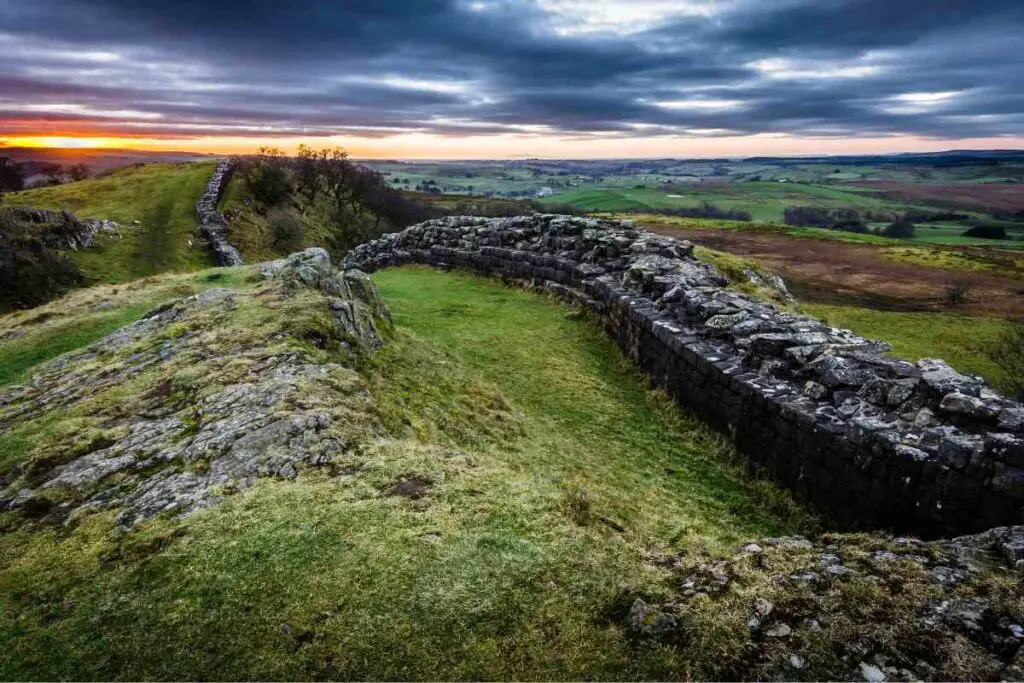 This itinerary has several different versions from that point onwards.
Go Harder…
For starters, you can go harder. If you'd like to make the trail a little more difficult, you can modify your itinerary and make it shorter by going for a 6-day, 5-day, or 4-day trip.
The four-day course is mostly for professionals in the field (literally). It is a substantial hike of more than 20 miles a day that, due to the difficult landscape of the route, is only suggested for seasoned hikers.
The 5-day hike is relatively easier, bringing the average hiking day to about 16 miles, even though there are a few difficult days during this trip too.
The 6-day itinerary is ideal for individuals who wish to go beyond the basic schedule but still have time to visit some heritage landmarks.
…Or Take It Easy
If you don't think you're in shape or would rather spend extra time wandering along the journey and taking the entire experience in, you can extend your trip and make it an 8-day or 9-day walk, with 15 miles or less per day to cover.
Go For The Highlights
It is understandable if you are not a fan of hiking for that many days or that many miles a day.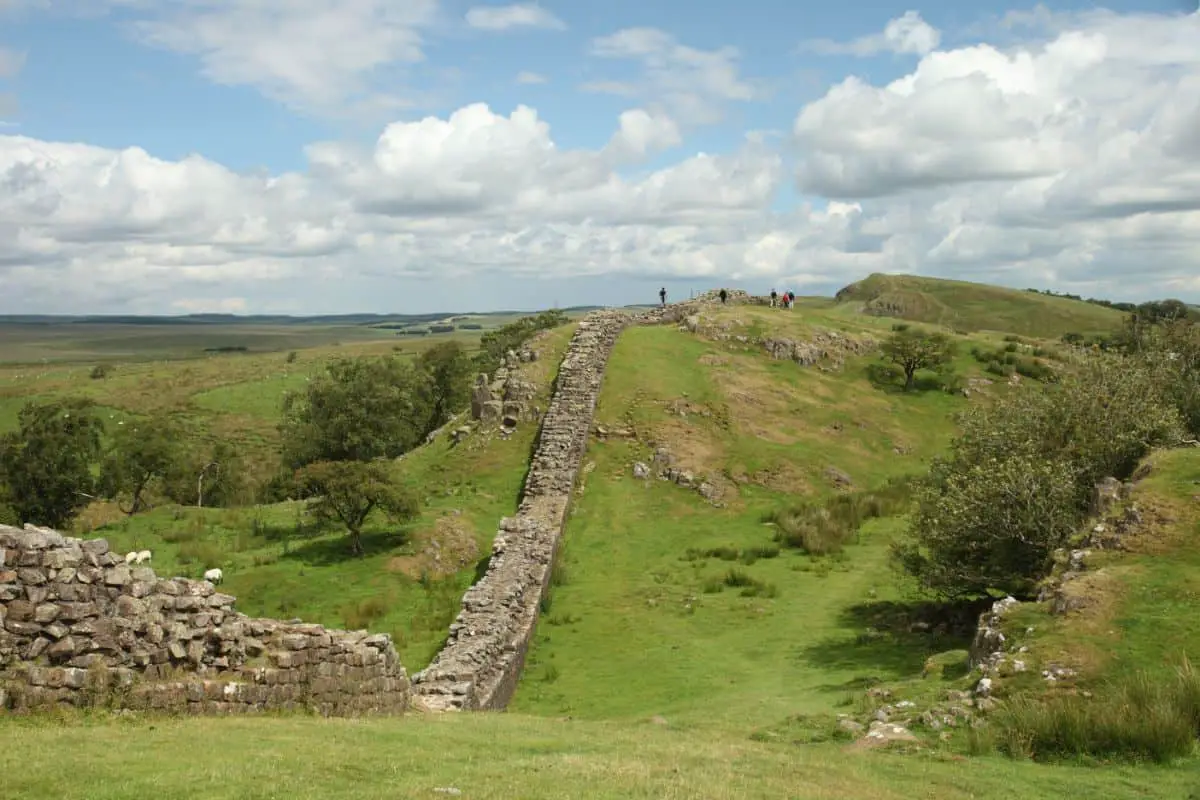 It is even more reasonable for you to prefer to see the highlights of the Hadrian's Wall path and skip the boring walk across empty fields when it's not your thing.
In those cases, you can simply go for a day's hike or for a couple of extra days of hiking in the central part of the National Trail, where the greatest landmarks of the wall are.
Which Direction Should I Walk Toward When Walking The Hadrian's Wall Path?
Choosing which direction you will take when walking the Hadrian's Wall Path is an important point to consider when trying to plan your hiking trip because it can be walked both ways.
The traditional route starts from the eastern side of the Wall and finishes at the western side.
This has a number of benefits:
First of all, you can see the landform transformation from Newcastle's urban bustling city to the picturesque vast stretches of Northumberland to the end destination by the ocean.
Secondly, whenever the weather is fine, you can follow the movement of the sun and enjoy your hike under the atmospheric sky color schemes and sunshine.
Hiking in this direction also makes it simpler for you to reach the beginning of the walk because of the greater transport links to Newcastle.
Nevertheless, numerous walkers hike the Hadrian's Wall Path from eastward. The principal motivation for this is that they will typically get the Atlantic wind behind them during their walk.
Even though this makes hiking more convenient, Hadrian's Wall Path is among UK's National Trails with low altitudes, therefore it is not that vital in comparison to other paths.
Yet, regardless of which direction you choose, the setting is just as beautiful, and the historical background is equally interesting.
Is There A Hadrian's Wall Path Map?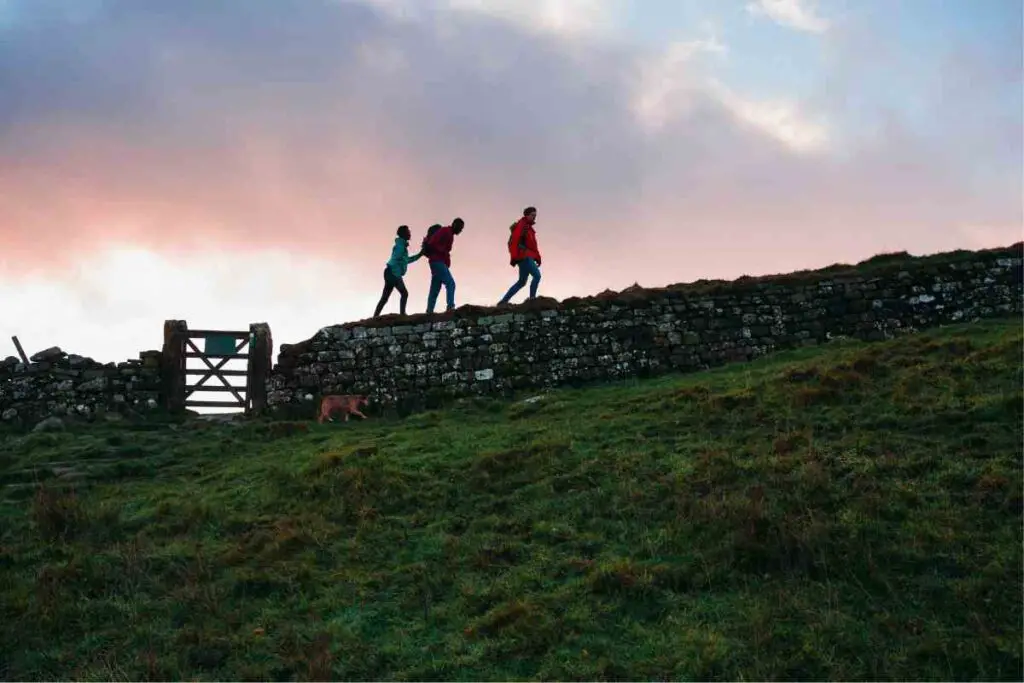 The official National Trail website offers some downloadable leaflets that include information and a map of Hadrian's Wall.
Hadrian's Wall Organized Walk
As with all the National Trails in the UK that are popular among locals and international visitors, Hadrian's Wall Path can be discovered and walked either independently or by joining one of the several organized walks available.
Hillwalk Tours
Hillwalk Tours offers anything from a 5-day to an 8-day hike with different starting and finishing points across the path, as well as an 11-day hike covering the entire distance.
These hikes are classified as 'gentle' and participants can cover an average of 8-9 miles per day, with the company's hiking tour packages including accommodation, breakfast, luggage transfer, detailed maps, route notes, GPS, and many other benefits.
Celtic Trails
Celtic Trails offers packages that take you hiking across the entire path or half of it and are available from March until October.
That is because these months are generally recommended for hiking the Hadrian's Wall Path, as the trail is rather fragile and prone to deterioration during wintertime.
Included with these tour packages are accommodation with breakfast, luggage transfer, transfer from the accommodation to the path, as well as a complete walk pack with maps, directions, and other details.
Hadrian's Wall Path Accommodation
If you are going to walk the Hadrian's Wall path with your friends and have already planned to go on your own without joining an organized walk, there are several accommodation options across the path that you can choose from.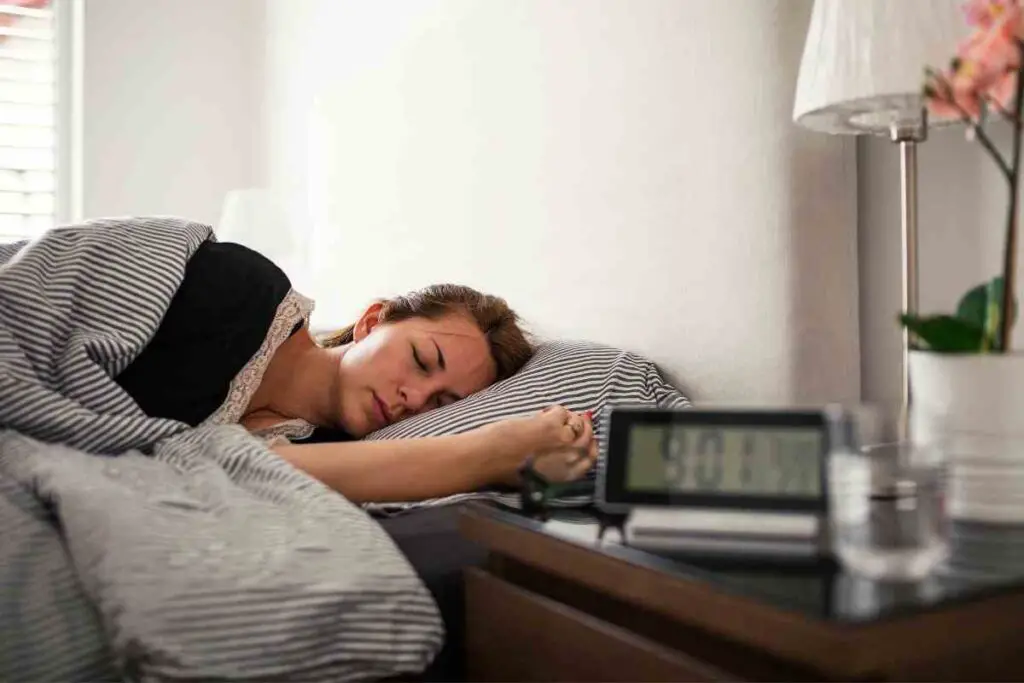 If you are starting or ending your trip in Newcastle, you can stay in Motel One, a budget design hotel that offers some affordable rooms, depending on availability.
To make the most out of your stay and trip to rural England and try some local beers as a rewarding treat, it's worth staying at The Keelman's Lodge, a 4-star accommodation with pub and micro-brewery, once you reach Newburn and Heddon-on-the-Wall.
For more beers and delicious burgers, you also want to book a stay at the Twice Brewed Inn & Brew House once you are in Hexham.
When in Carlisle, you can stay at the Crown & Mitre Hotel, which is perfectly located close to Cumbria's Museum of Military Life and the Knoxwood Wildlife Rescue Centre.
For a full list of the available accommodations across the Hadrian's Wall path, check out the relevant page on the National Trails official website.
However, make sure to book them well ahead of time. Given the path's walkability for specific months – from March until October – there is great demand from other people traveling independently or in bigger organized tours.
The Bottom Line
If you decide to go on a hiking trip on the Hadrian's Wall path, rest assured that you won't regret it.
This National Trail is one of the UK's most historic landmarks and, even though there's less than half of the Wall still standing, the historical background and English countryside are more than enough to make this trip a worthwhile one.
The 84-mile path can be covered in a week, but you can always spend more or less time walking it, depending on your physical fitness and free time.
Regardless of how many days you choose to spend walking it or how much distance you will cover, make sure to wear the right clothes and have the necessary equipment with you!