If you're looking for a new watch, you may be torn between the Garmin Instinct or the Garmin Vivoactive 4. It's important to get the watch that suits you best, so this article will break down some of the features and benefits of each model to help you make your choice.
Not only that, it will take a look at what each model is missing, and which watch will suit you more based on what you might be looking for.
The Garmin instinct is a great choice if you enjoy spending time in the great outdoors. It's made out of a strong fiber-reinforced polymer and has a chemically strengthened glass lens to create a durable product that's sure to last.
And with up to 14 days of battery life, you'll be able to get plenty of use before you need to recharge.
The Instinct is perfect for outdoor activities like hiking and camping. It has multi-GNSS support, which allows you to track your location in terrains and environments that GPS alone won't cover.
Additionally, the Tracback routing feature will navigate a route back to your starting point. And with its ABC censors (Altimeter, Barometer, and Compass), you're sure to never lose your way.
Another great feature of the Instinct is its compatibility with your smartphone, which will allow you to receive notifications and alerts to your watch; you're also able to respond to texts if you have an Android phone.
Other features include built-in health tracking that will monitor your heart rate, steps, and other fitness information, compatibility with Quickfit bands, and the Garmin Connect app which will help you keep track of your goals and statistics.
If you want a watch to accompany you on hikes, mountain climbing, or even just day-to-day use, the Garmin Instinct is a great choice for you. To help see the benefits and some downsides, take a look at the lists below.
What's Good?
14 days of battery life will keep you going without needing to recharge 
Built to last – made of super durable materials, and with a 10 ATM water resistance rating, the Instinct can handle whatever you throw at it
Easy access to GPS and other navigation systems will make sure you never lose your way
The 16 MBs of memory will keep track of your stats  
Tracback routing creates a path back to where you came from, perfect for long hikes 
The included health programs will help you focus on your fitness and can be paired with the Garmin Connect app
What Could Be Better?
The Instinct offers less information than the Vivoactive and offers fewer features
No touchscreen can make navigating between screens and options a bit more difficult
The Instinct doesn't come with Quickfit/fast release bands, unlike the Vivoactive 4.
The Garmin Instinct is a great choice for people who need something durable and practical, with helpful extras to keep track of your health and activity. It's also great for outdoor activities, perfect for someone who enjoys anything from hiking to skiing.
Sale
Garmin Instinct, Rugged Outdoor Watch with GPS, Features Glonass and Galileo, Heart Rate Monitoring and 3-Axis Compass, Graphite
Rugged GPS watch built to withstand the toughest environments.Supported Application:Phone. . Wireless comm standard:Bluetooth
Constructed to U.S. Military standard 810G for thermal, shock and water resistance (rated to 100 meters)
Built in 3 axis compass and barometric altimeter, plus multiple global navigation satellite systems (GPS, Glonass and Galileo) support helps track in more challenging environments than GPS alone
Monitor your estimated heart rate, activity and stress; Train with preloaded activity profiles. Strap material: Silicone
Stay connected with smart notifications (with a compatible smartphone) and automatic data uploads to the Garmin connect online fitness community
If you're looking for a watch that can do it all, the Vivoactive 4 is the watch for you. This watch is ideal for anyone with an active lifestyle, whether you enjoy going to the gym or like to start your day with a morning jog.
The Vivoactive 4 is great for monitoring your health and fitness – you can keep track of statistics like heart rate, hydration, and breathing, and with over 20 preloaded sports apps you'll never run out of ways to exercise.
On top of that, you can bring up animated and easy-to-follow workouts on the touch-screen display to help you learn a new routine, or link your watch to the Garmin Connect app to create your own custom workout.
The Vivoactive is a perfect watch to wear to the gym. Not only can you monitor your stats and view custom workouts, but you can also connect to wireless headphones and listen to playlists through Spotify or other compatible music services.
The 5 ATM of water resistance means that you can also wear the Vivoactive in the pool while still keeping a track of your exercise. And with the tracking feature, you can use your phone to find your watch and vice versa for added peace of mind. 
What's Good?
You can download and play music through Spotify and other compatible music services
Connect your watch to wireless headphones so you can listen to music during workouts
Safety and tracking features like Find My Watch and Find My Phone add extra security to your devices
You can connect to your phone to receive messages and alerts to your watch
With Garmin Pay, you can make contactless payments without needing to bring your wallet
There are plenty of sports apps, workouts, and on-screen exercise animations to keep you moving
What Could Be Better?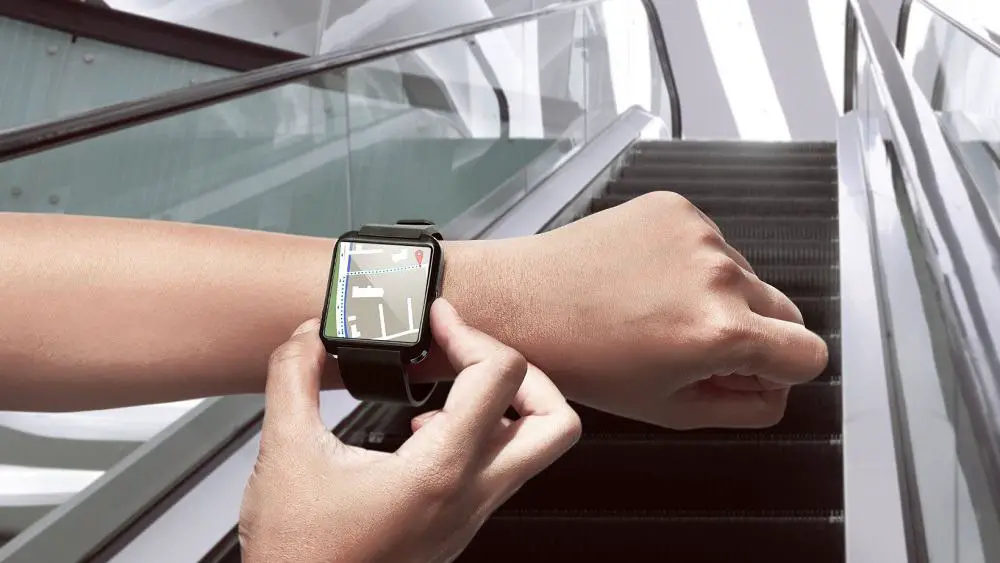 With 8 days of battery, the Vivoactive 4 has less battery than the Instinct
The screen can get crowded with the number of stats and apps
Depending on your preference, the touchscreen can be a benefit or a hindrance 
Garmin Newest vívoactive 4 GPS Smartwatch, Lightweight,Waterproof, Phone-Free Music, Built-in Sports APPs, Smart Notifications, Advance Sleep Monitoring, Ghost Manta Silicon Brand
【Wrist-Base Heart Rate】The watch constantly samples your heart rate and will alert you if it stays too high or too low while you're at rest. It also helps gauge how hard you work during activities — even underwater
【Bulit-In Sports APP】Track all the ways you move with more than 20 preloaded GPS and indoor sports apps — including walking, running, cycling, pool swimming, golf and more
【Phone-Free Music】Download songs plus playlists from your Spotify, Deezer or Amazon Music accounts (subscription may be required). Use wireless headphones (sold separately) for phone-free listening
【Smart Notifications】Receive emails, texts and alerts right on your watch when paired with a compatible smartphone. You can even respond to texts if you have an Android phone
【Battery Life】Smartwatch mode: Up to 8 days, GPS mode with music: Up to 6 hours, GPS mode without music: Up to 18 hours
Which is Better For You?
Both watches are great choices, but to help you choose between them here are some ideas for which watch will suit your lifestyle best.
The Garmin Instinct is better if:
You enjoy more intense outdoor activities such as hiking or mountain climbing
You want something durable and long-lasting
You need GPS and other navigation like Tracback to help you navigate difficult environments
The Garmin Vivoactive 4 is better if:
You want a versatile watch that can do it all
You prefer indoor or moderate outdoor exercise like jogging or going to the gym
You are Interested in cultivating workouts and tracking your health
Final Thoughts
Whether you end up choosing the Instinct or the Vivoactive 4, you're sure to be making a great choice. Both watches are great for fostering a healthy, active lifestyle. Now you just need to choose which watch to get!