Here follows a quick guide on how to use the Garmin Instinct, complete with a link to a PDF of the manual, and a guide to changing the watch face.
Quick Start Guide
Before we begin, we'd just like to wish you congratulations on receiving your Garmin Instinct. It's one of the best watches out there of its ilk, and I think you'll be pleasantly surprised with just how easy it is to use.
Device Overview
Before you begin using your Garmin Instinct, you'd be well advised to familiarize yourself with the buttons on the bezel. You can use them as follows:
CTRL
– Hold to turn the device on
– Hold to view the controls menu
– Select to turn the backlight on or off
GPS
– Hold to view your GPS coordinates or save your location
– Select to choose an option in a menu
– Select to view activities or start or stop an activity
SET
– Hold to view the clock menu
– Select to go back to the previous screen
ABC (Also DOWN)
– Hold to view the altimeter, barometer, and compass screen
– Select to scroll through menus and the widget loop
MENU (Also UP)
– Hold to view the menu
– Select to scroll through menus and the widget loop
Charging the Device
Before you can start using your Garmin Instinct, you must first charge up the device. This, as with everything else about the Garmin Instinct, is simple and straightforward.
First, you need to plug the smaller end of the USB cable into the device's charging port.
Then, simply plug the larger end of the cable into a USB charging port.
You must leave the device to charge up until it is 100% charged.
Pairing Your Smartphone with Your Device
Once your device is fully charged, you can then proceed to pair it with your smartphone.
It's worth noting at this point that in order to use the connected features of your Garmin Instinct, it must be paired with your smartphone via the Garmin Connect™ Mobile app, and not via Bluetooth.
Here are the steps you need to follow:
On your smartphone, head over to the relevant app store. Then search for, download and install the Garmin Connect™ Mobile app.
Next, you need to bring your Garmin Instinct within 10 meters (that's approx 33 feet) of your smartphone.
To turn on the watch, select Control.
You can manually pair your smartphone to your Garmin Instinct by holding down MENU, and selecting Settings > Pair Phone.
Now, you can add the device to your Garmin Connect Account. All you then have to do is to simply follow the on-screen instructions.
Viewing the Controls Menu
As with any gadget, the key to accessing the device's main features comes from accessing the main menu, or the controls menu.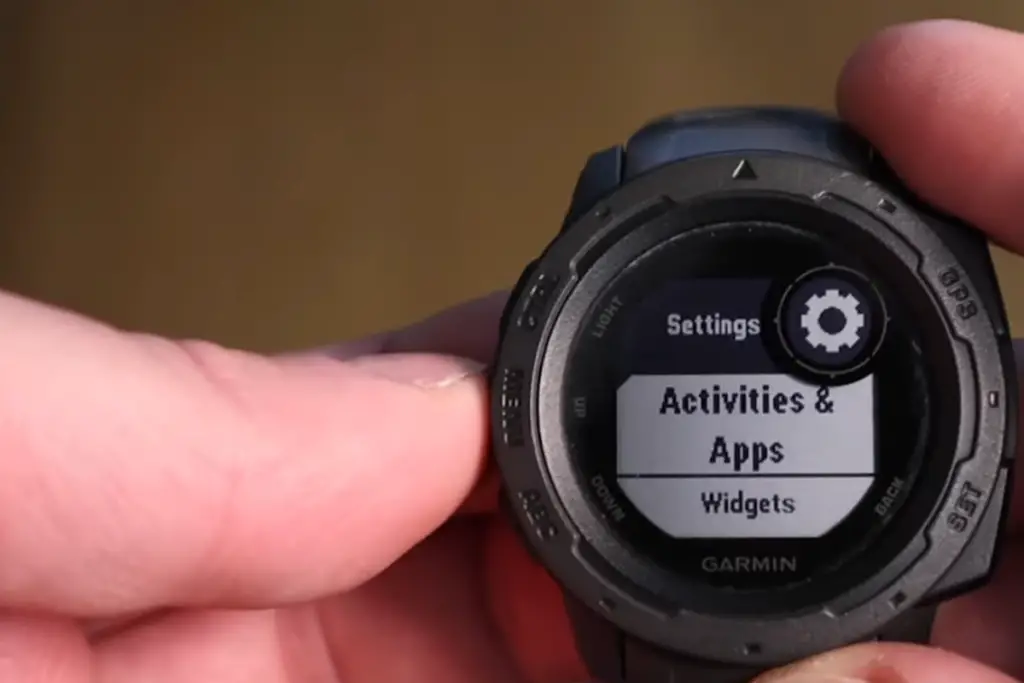 From the controls menu, you are able to carry out such tasks as locking the keys, turning on the do-not-disturb mode, and turning the device off.
In order to access the controls menu, simply hold down CTRL. You can then select UP or DOWN to scroll through the various options. You can access the controls menu from any screen.
You can customize this menu as you wish, by changing the order, or even by adding or removing options.
For more information on how to do this, please refer to the Garmin Instinct Manual PDF. (We will shortly be telling you how to get hold of this manual, just scroll down.)
Viewing Widgets
For the uninitiated, a widget is very much like an app. The Garmin Instinct comes with several preloaded widgets that are readily available for you to use.
The widgets are presented in what is known as a widget loop. To access this widget loop, simply select UP or DOWN, and the device will scroll through the widget loop.
Setting Up And Using Garmin Express
Garmin Express is an app for your computer that you can use for managing software updates, uploading data to Garmin Connect, and for registering the product.
To set up Garmin Express on your PC or laptop, you need to carry out the following steps:
Connect your Garmin Instinct to your computer using a USB cable.
From your preferred web browser on your computer, head over to www.garmin.com/express.
Then follow the on-screen instructions.
Garmin Instinct Manual PDF
To view and read the official Garmin Instinct Manual PDF, please click on this link. From here, you will also be able to download a PDF file of the manual, which you can then print off if you so wish.
Alternatively, if you wish to receive the Garmin Instinct Manual via email, please head over to this link. The manual is 2.5 MB in size.
This manual is very comprehensive and will cover everything you need to know about how to use the Garmin Instinct.
Garmin Instinct Change Watch Face
Changing the watch face of your Garmin Instinct is also very straightforward. The steps are as follows.
First, you need to hold MENU.
Then select Watch Face.
Then preview the various watch face options by pressing UP or DOWN.
Then press GPS.
Once you have decided which of the various watch faces you want to use, you can then activate said watch face by selecting Apply.
Once you have activated your preferred watch face, you can then customize what data is displayed on the watch face. The steps to take are as follows.
Select Customize.
Press UP or DOWN to preview the various options.
And when you are ready, press GPS.
Final Words
This guide to using the Garmin Instinct should be more than enough to get you started with your Garmin Instinct.
If you should ever need any further information on any aspect of the watch, the Garmin Instinct Manual PDF that we referred you to earlier will have you covered.
We recommend that you email the manual PDF to yourself, and flag it as important on your emails, so that you can readily access it at any time.